A-List of the Best 20 Harem Anime with Op Mc
We have 20 Harem Anime series with op main mc that will bump your heart faster, Harem anime genre, may not be the most famous theme of Japanese manga and anime series, but we guarantee that all of these harem anime series that we are covering, really worth to watch, because there is harem and there is op mc, so be it romance or action, these two genres are what all these anime series have in common.
So let's Countdown our Harem Anime Top List:
20. Absolute Duo (Dub)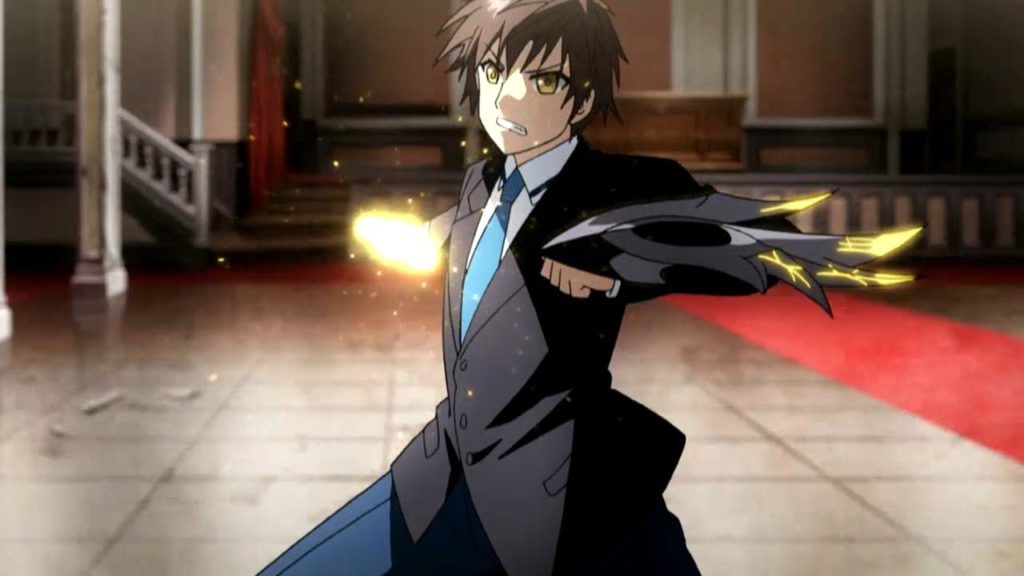 Episodes: 12
Genres: Action, Harem, Supernatural, Romance, Ecchi, School
Summary
This Harem Anime with op mc revolves around skilled youngsters called "Blazers"  who can create weapons from their souls.
Kouryou Academy is a school where students with various skills can learn how to use them under the tutelage of staff with decades of experience.
Each student is partnered up with another, striving to obtain The Power of "Absolute Duo".
After losing his sister, Our protagonist, Tooru Kokonoe, wants to join this academy because he needs this power in order to protect the people he loves.
The story goes from there!
19. Maken-Ki! (Dub)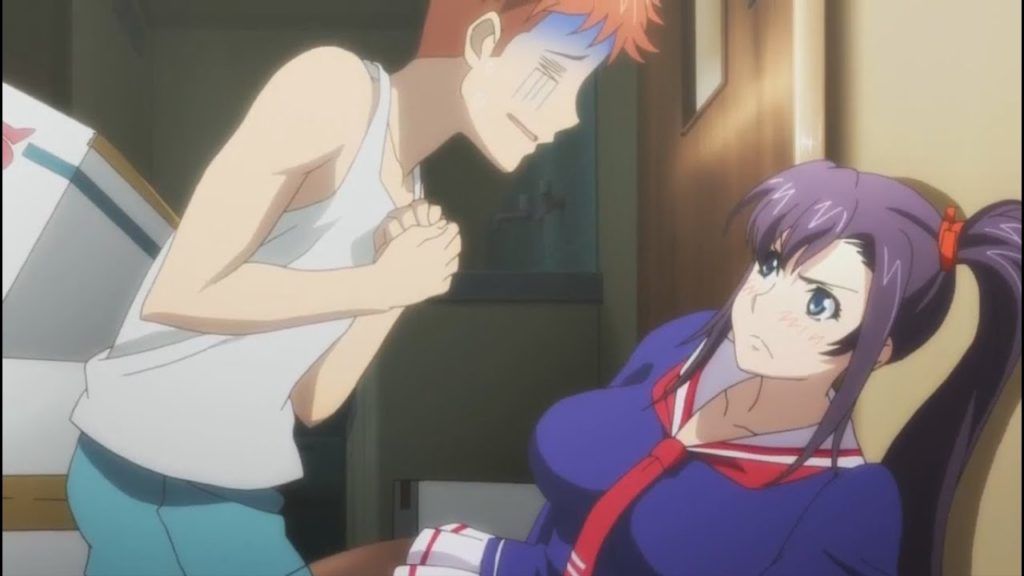 Episodes: 23 / Two Seasons 

Genres:

 Action, Ecchi, Harem, Martial Arts, School, Super Power
Summary
This is a romantic comedy harem anime Takeru Ohyama, a typical teenage boy, who will turn into an Op Mc.
Now that an all-girls school became co-ed, it's finally time for Takeru to join! However, just as he soon finds out that he will not be surrounded by many pretty girls, his dreams are dashed at the realization that this unconventional academy might actually be more than just meets the eye.
Because, all of the students here are using "A Maken" a special tool, like a gun, that helps them release their magical abilities in duels!
It's hard to imagine Takeru, who has been tasked with the important mission of obtaining a Maken, will be able to do it while also fitting into a new school and dealing with all types of girl problems.
18. Death March kara Hajimaru Isekai Kyousoukyoku (Dub)
Episodes:

 12

Genres:

 Adventure, Fantasy, Harem
Summary
This is an Isekai anime that follow Ichirou Suzuki a 30-year-old programmer, who has been overworking and sleeping at his desk too much. Now he falls asleep and wakes up as the hero of a fantasy RPG world as he controlled everything in his favorite game.
If this were a fantasy world with a younger version of himself, and a new name Satou. he found himself surrounded by an army of lizardmen launching an assault on him.
Fortunately, Satou will unintentionally launch a powerful spell that wipes the whole army out completely. Then his level will reach 310 points. He is now in a new fantasy world—one with wondrous things like magic. The protagonist, Satou, tries his hand at various quests.
17. Seireitsukai no Blade Dance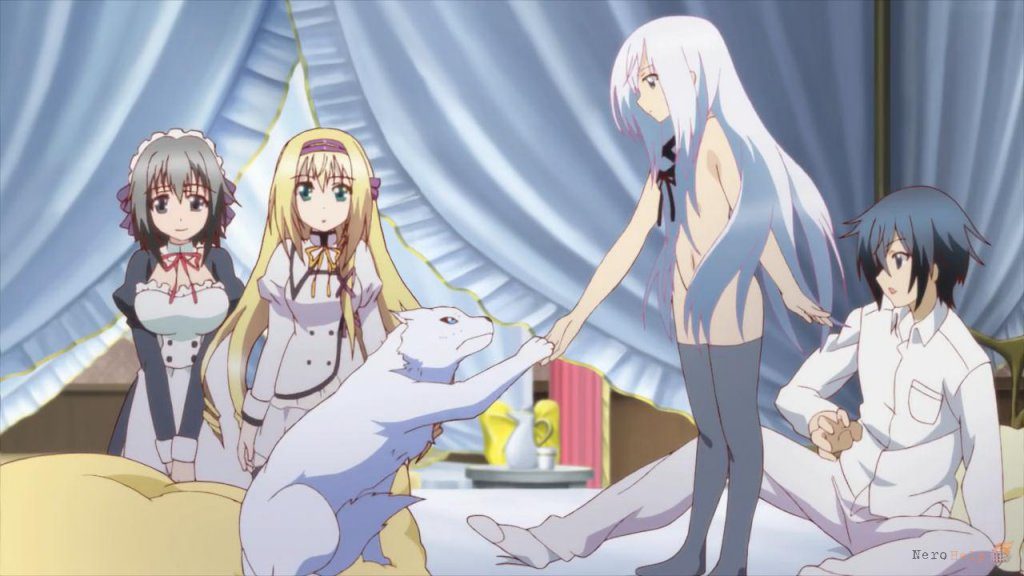 Episodes:

 12

Genres:

 Action, Harem, Comedy, Supernatural, Romance, Ecchi, Fantasy, School
Summary
This harem anime takes place at a prestigious school for holy shrine princesses called Areishia Spirit Academy. Here, girls are training to become elementalists and do their best to build contracts with spirits so that they can compete with each other.
Well, it used to be only girls could do this but maybe not for much longer. Kamito Kazehaya is now the only boy who can't form a contract with a spirit.
As a result, the academy headmaster asked him to attend Princess's school and forced him to participate in a special tournament.
Kamito is now wanted by a "girl" to be her contracted spirit. So is Kamito going to even make it until the tournament with that on his plate?
16. Infinite Stratos (Dub)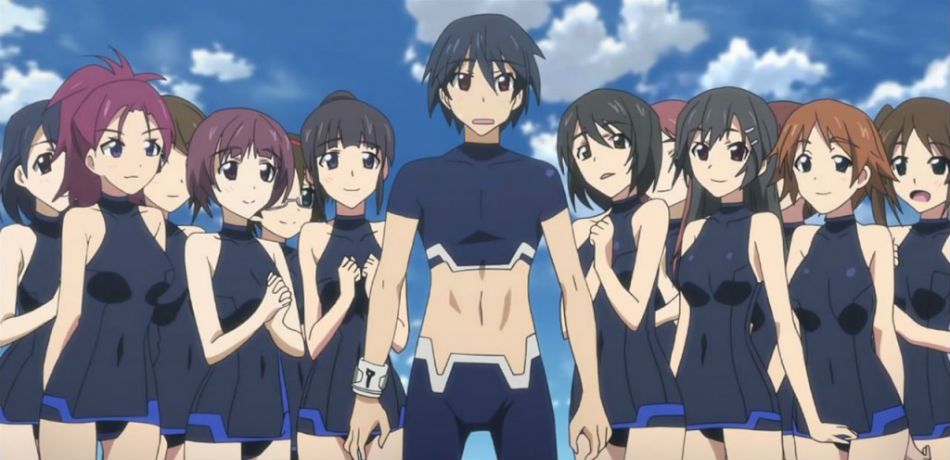 Episodes: 24  Two Seasons 

Genres:

 Action, Sci-Fi, Harem, Comedy, Ecchi, Mecha
Summary
Infinite Stratos is a weapon that can be used by women only. It has immense power and has been banned from military use because of this.
The protagonist, Ichika Orimura, is the only male capable of using an IS. Thus, He is forced to attend Infinite Stratos Academy.
The Academy is an all-girl school that caters exclusively to graduate students aspiring to become professional IS pilots. Ichika and the other girls at this training school need to do their best to protect themselves and the academy from any threats that might happen.
Continue Reading By Clicking the Next Button
15. Gakusen Toshi Asterisk (Dub)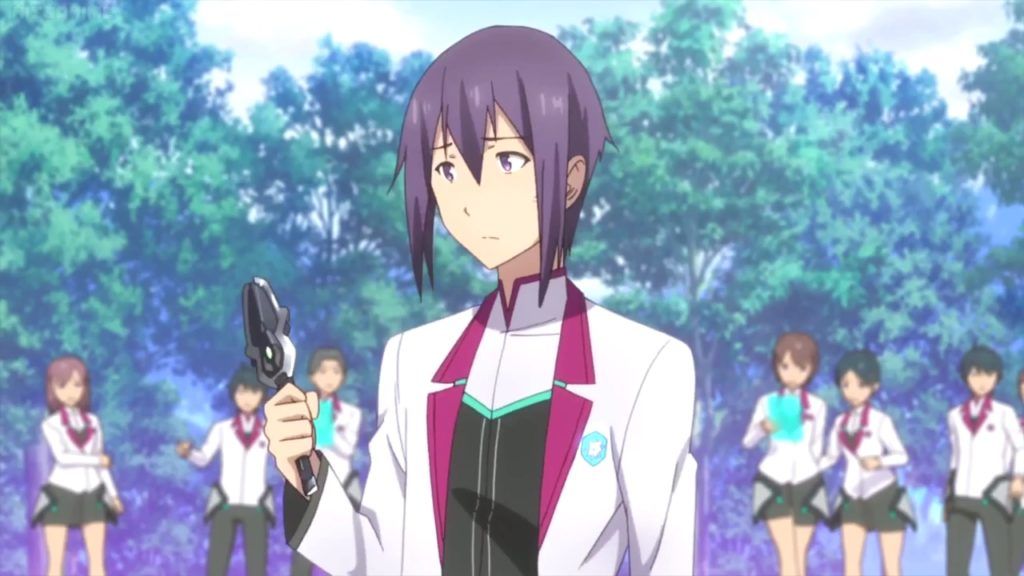 Episodes: 24  Two Seasons 

Genres:

 Action, Comedy, Ecchi, Fantasy, Harem, Romance, School, Sci-Fi, Supernatural
Summary
Long ago, an event called Invertia changed the power balance around the world. People in positions of authority rose to the top, like the Integrated Enterprise Foundation. Additionally, humans with incredible new abilities called Genestella are starts appearing and are now part of humanity.
Gakusen Toshi Asterisk is a school adventure and action anime about an ordinary student named Ayato Amagiri. After transferring to one of the world's most prestigious schools for Genestella students.
The anime follows the daily life of students. They learn to harness their powers while also battling against each other in duels. However, Ayato has no interest in participating in these duels and instead has another motive for joining this prestigious school. That's something that you'll have to find out for yourself.
14. The Testament of Sister New Devil (Dub)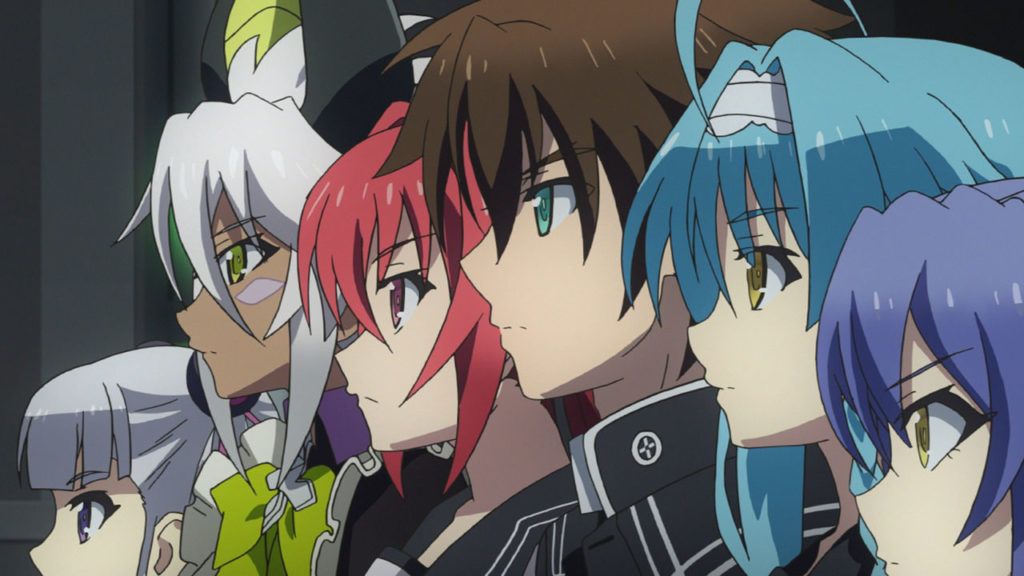 Episodes: 24  Two Seasons

Genres:

 Action, Ecchi, Fantasy, Romance, Harem, Demons
Summary
Basara Toujou learns the hard way that he does not make a good first impression on his new stepsister, Misaki Kirihara when he sees her in the bathroom. His dad brings home two pretty girls and says they're his new sisters Initially reluctant, he eventually has to accept the idea of taking in the Naruse sisters: redhead Mio and petite silver-haired Maria.
However, when these ordinary-looking girls turn out to be demon girls (Mio the daughter of the Demon Lord, and Maria her loyal succubae servant) Basara is forced to reveal himself as a member of a clan of heroes dedicated to eliminating demons.
Well, after beginning to take care of his new sisters, Basara instead decides to protect them with his powers and forms a master-servant contract with Mio to keep an eye on her.
While being observed by the Heroes and always threatened by demons, Basara tries to protect his new family members by hiding their identities. In addition, Basara himself is hiding a dark secret from his past.
13. Ichiban Ushiro no Daimaou (Dub)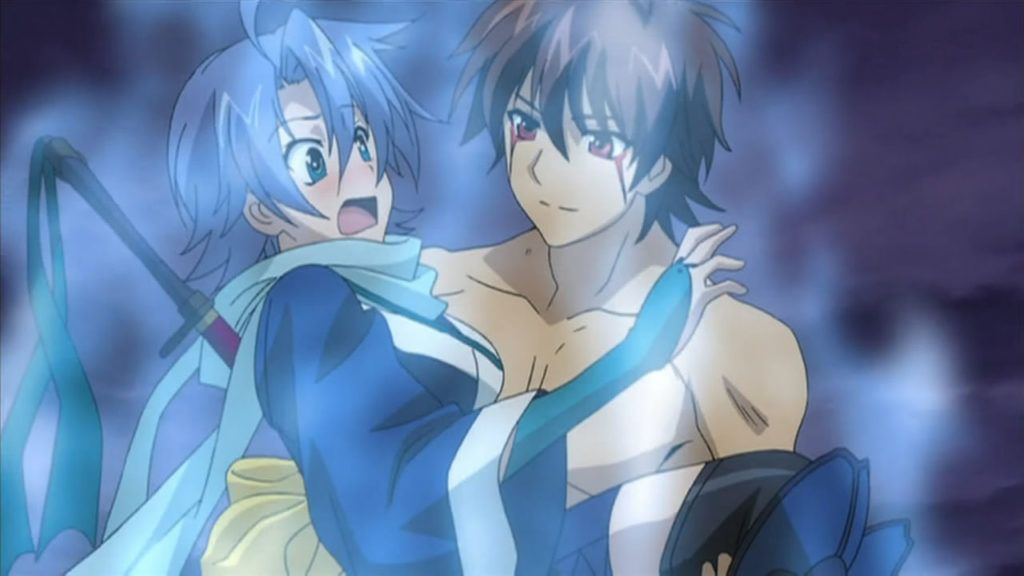 Episodes: 12 

Genres:

 Action, Harem, Comedy, Magic, Ecchi, Fantasy, School
Summary
This is a great harem anime with an overpowered mc. The story follows Akuto Sai as he transfers to Constant Magic Academy. There he befriends a virtuous ninja clan member, Junko Hattori.
On their way to school, they make a promise to make the world a better place. However, the situation suddenly takes a turn for the worse upon his arrival—it is prophesied That Akuto will become the Demon King!
Rumors of his destiny spread around the school, he begins to feel like they're all against him. Junko starts to question Akuto's sincerity. But Akuto isn't letting his predicted future control what he truly is. Despite this, everything he says or does seems to only be reinforcing his fate.
Furthermore, he is surrounded by a harem of pretty girls and has been the object of romantic desires, with their own different ideas for what to do with him. Akuto has recently gained new powers. But he is determined to make his own luck and fight for his beliefs which are now stronger than ever before.
12. Hagure Yuusha no Aesthetica (Dub)
Episodes:

 12

Genres:

 Action, Super Power, Ecchi, Fantasy
Summary
About 30 years before the story in Hagure Yuusha no Aesthetica shows a number of Earthlings transferred to another dimension with only 50% of them returning. One, for example, is Akatsuki Ousawa who was sent to Alayzard in order to defeat Dark Lord Garius and he did it. Afterward, he returned to his original world.
The others may have brought back souvenirs, but Akatsuki's choice is much more special—he brings back the Dark Lord's daughter Miu, who he'll soon declare to be his long-lost sister!
Akatsuki and Miu find themselves in a new school called BABEL, where they learn how to use their powers. In order to be able to assist humanity in the future, will Akatsuki and Miu be able to keep her true identity a secret or will their plans to live peacefully together go up in flames?
11. Seiken Tsukai no World Break (Dub)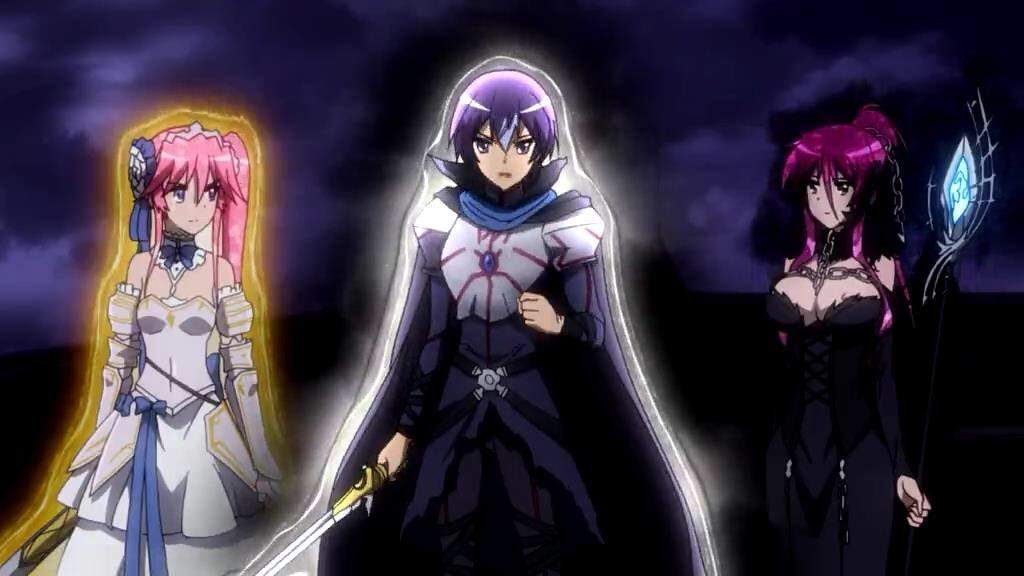 Episodes:

 12

Genres:

 Action, Fantasy, Harem, Romance, School, Supernatural
Summary
World Break is another good harem with an OP protagonist, however, the series takes place at Akane Private Academy where students are able to maintain their memories of their past lives and train in Ancestral Arts so that they can become defenders against monsters. Known as saviors, the students are split into two categories: Kurogane who are able to use their prana to summon magical weapons, and Koroma who can use offensive magic.
The story begins this time six months before the major climaxes of the series during school opening ceremonies on the first day. After the ceremony, Moroha meets Satsuki Ranjou who reveals that she was Moroha's sister in a past life.
Moroha was a strong and capable prince and had impressive sword skills. He also meets another girl, Shizuno Urushibara, who eventually reveals that she also knew Moroha in an entirely different past life where he was a dark lord capable of using destructive magic but saving her from slavery.
Can these characters who are living in the present but are stuck in the past truly get to a better future?
10. Inou-Battle wa Nichijou-kei no Naka de (Dub)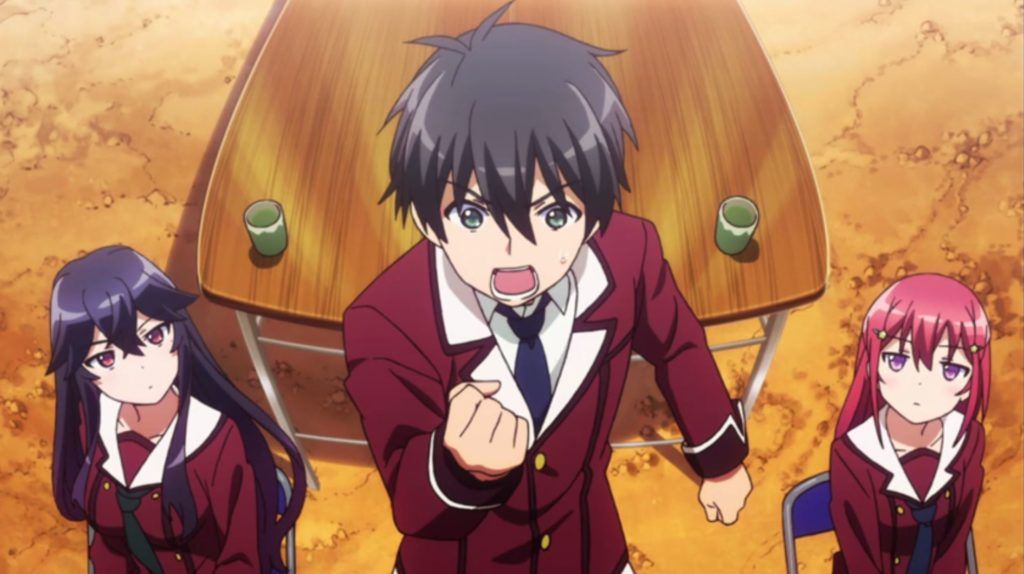 Episodes:

 12

Genres:

 Harem, Slice of Life, Comedy, Supernatural, Romance, School
Summary
The Literature Club convenes for its regular meeting on one fateful night, but none of the four members can predict what is to come. They suddenly found themselves with an unforeseen power—and it's not just any other power either. They're capable of producing black flames. Unfortunately, Jurai's power is just for show and can't do anything worthwhile, and has been outclassed by those around him.
The Literature Club has been theorizing why these changes were made and the mystery has only grown over time. Because, these five students, who had been granted supernatural powers, started to lead a completely different life.
9. Trinity Seven (Dub)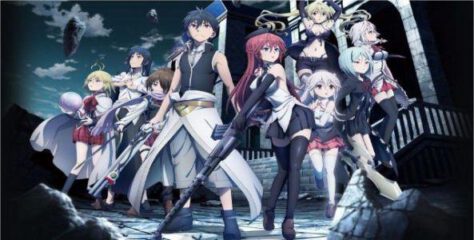 Episodes:

 12

Genres:

Action, Harem, Comedy, Supernatural, Magic, Romance, Ecchi, Fantasy, School
Summary
One day, the red sun disappeared and Arata Kasuga's town was destroyed. But all might not be lost; by using the magical tome given to him by his childhood friend and cousin Hijiri Kasuga, Arata's world gets recreated.
In order to investigate this phenomenon, a woman named Lilith appears before Arata who is given two choices: hand over the book, or die. However, Arata chooses to enroll in the top-secret magic school, which is also home to six other magical users.
These six students, together with Lilith, make up the Trinity Seven–the elite group of students in this school. They each possess their own unique power and skill. Arata, with the ambition to save his friend and hometown, won't stop at anything. Along with help from his newfound friends he is able to do just that.
8. Date A Live (Dub)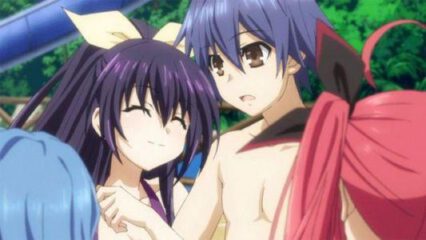 Episodes: 32  Three Seasons 

Genres:

 Comedy, Harem, Mecha, Romance, School, Sci-Fi
Summary
"Before the world ends, kill me or kiss me."
Thirty years before the events of Date A Live, an enormous explosion devastates east Asia and kills 150 million people. This is the first known "Spacequake", an inexplicable natural disaster that has since become commonplace.
Fast forward to the future. The high school second-year Shidou Itsuka lives alone with his cute little sister while their parents are away.
What do these things have to do with each other?
While rushing to save his sister from a sudden Spacequake, Shidou is caught in the blast and, in the midst of the chaos, finds a mysterious girl. It turns out that this girl is actually a Spirit, a powerful being from another world whose arrival devastates the surrounding area.
Thankfully, Shidou is rescued by an anti-Spirit strike team… led by his little sister?! This vicious task force is locked and loaded, ready to exterminate Spirits with extreme prejudice.
But this violent method is not for Shidou. He discovers the one way to neutralize these Spirits peacefully: make them fall in love. Now, it's up to Shidou to save the world by dating those who threaten to destroy it!
7. Strike the Blood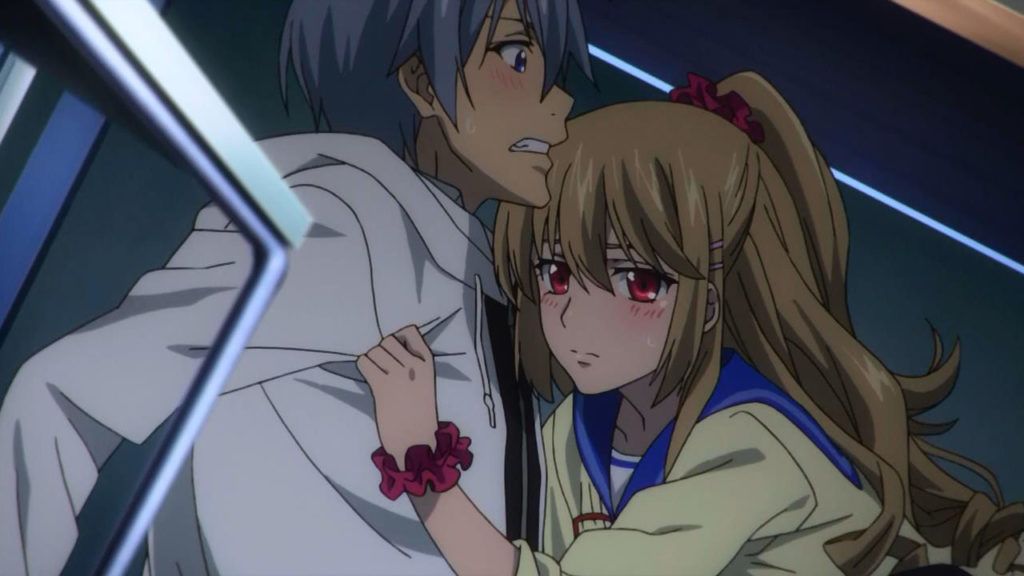 Episodes:

 24

Genres:

 Action, Harem, Supernatural, Ecchi, Vampire, Fantasy, School
Summary
Kojou Akatsuki's days are ordinary – for now. However, One fateful encounter leaves him with the remarkable abilities of a vampire! It isn't long before he receives the attention he deserves when it is found out that he is the fourth primogenitor.
Fearing Koujou's destructive potential, the Lion King Organization sends in an apprentice sword-shaman to intercept him. It is clear that Yukina's primary function is to monitor Kojou Akatsuki and stop him if he becomes a threat.
When circumstance forces Kojou and Yukina to co-operate, they decide to work together in order to protect the city from all sorts of dangers.
6. Sekirei (Dub)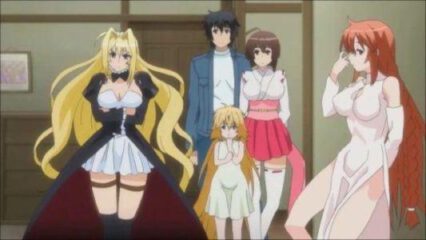 Episodes: 25  Two Seasons

Genres:

 Action, Comedy, Ecchi, Harem, Super Power
Summary
Minato Sahashi fails in his college entrance exams for the second time, resulting in him being regarded as worthless by those around him. However, the course of his seemingly bleak future changes dramatically when a beautiful, supernatural woman falls from the sky and into his life.
That woman, Musubi, is a unique being known as a "Sekirei," a humanoid extraterrestrial with extraordinary abilities. These aliens are known for kissing humans carrying the Ashikabi gene in order to awaken additional latent powers deep within.
Musubi kisses the bewildered Minato, initiating a bond between the two of them. This drags him into the high-stakes world of the Sekirei. Where he and his new partner must compete against others in a battle for survival called the "Sekirei Plan." However, unbeknownst to the contestants, there is far more at risk than what the competition initially entailed.
5. Zero no Tsukaima (Dub)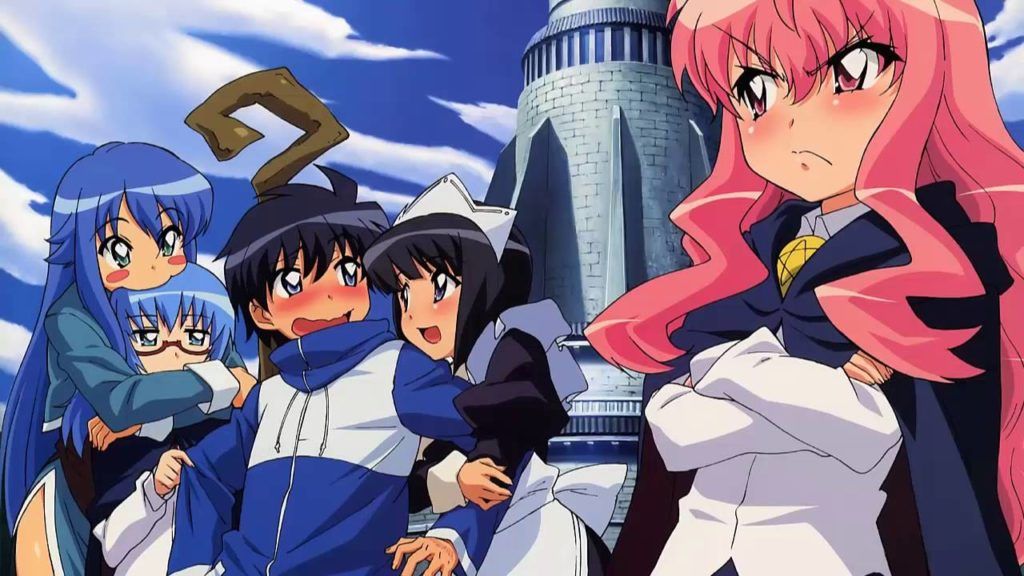 Episodes:

49   Four Seasons

Genres:

Action, Adventure, Harem, Comedy, Magic, Romance, Ecchi, Fantasy, School
Summary
Louise Françoise Le Blanc de La Vallière is a student at Tristain Academy, arguably the world's most prestigious school for magic, but she has a major problem. She is unable to cast magic properly and she is mocked as "Louise the Zero" by her classmates. She manages to summon something successfully during a summoning ritual, only for it to cause a catastrophic explosion! Everyone thought this was yet another failure. When the smoke cleared, Saito Hiraga appeared in front of them.
Now that Louise has captured Saito as her familiar, she forces him to do chores and eat from the floor. However, when his hand starts carving from the summoning ritual, rumors have it to be the mark of a powerful familiar named Gandalfr. Wild, adventurous, and explosive, Zero no Tsukaima is an amazing harem anime with op mc.
4. Sora no Otoshimono (Dub)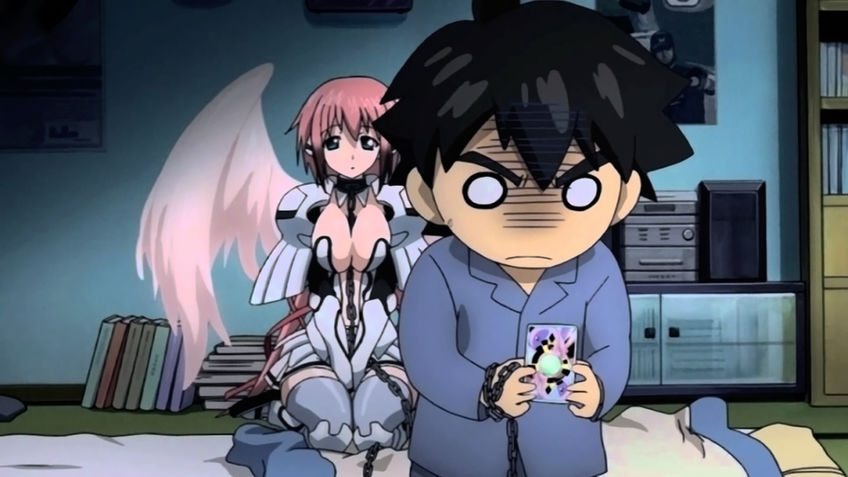 Episodes: 25  Two Seasons 

Genres:

 Sci-Fi, Harem, Comedy, Supernatural, Romance, Ecchi, Shounen
Summary
Since his childhood, Tomoki Sakurai has been getting up in the morning with tears after a dream about an angel. His childhood friend Sohara Mitsuki worries about this and decides to ask the help of Eishirou Sugata, an eccentric sky maniac.
The scientist says that this dream mentions the New World, which is a phenomenon that researchers are baffled by. Recruiting the New World Discovery Club's first members, Eishirou schedules a time to meet up in order to observe the mystery in the sky.
That day, Tomoki's peaceful life is changed forever when a strange girl falls from the sky and begins to call him master. Sora no Otoshimono follows the daily activities of the New World Discovery Club as they begin to learn more about the Angeloids that have arrived on Earth.
3. Is This a Zombie? (Dub)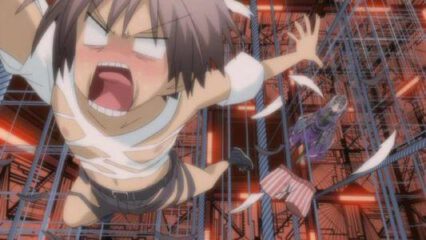 Episodes: 25  Two Seasons  

Genres:

 Action, Comedy, Ecchi, Harem, Magic, Supernatural
Summary
Not every zombie is the horrific, monstrous, and human-eating type. The story starts in a night while walking home from the convenience store, regular high school boy Ayumu Aikawa is killed by a serial killer Well, He is just as suddenly brought back to life by a necromancer named Eucliwood Hellscythe. One small caveat: he's not a human anymore, now a zombie.
Things get even weirder for him when he accidentally steals a magical girl's uniform, and thus her powers! Haruna, the ex-magical girl, orders him to fight evil creatures in her place until they can figure out a way to get her powers back to her. Does it seem that life is just going to get stranger and stranger for poor Ayumu from here on out in Kore wa Zombie desu ka?
2. High School DxD  (Dub)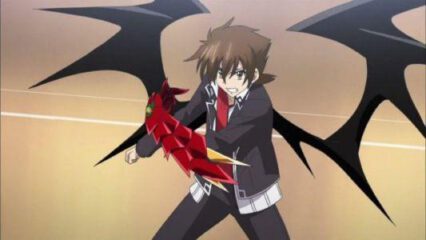 Episodes: 48  Four Seasons

Genres:

 Comedy, Demons, Ecchi, Harem, Romance, School
Summary
High School DxD is one of the most popular anime of all time with a great plot and characters. This show has a high school student as the protagonist and many girls to fall in love with such as the powerful Rias Gremory.
The main character does nothing productive with his life, except peeps at women and dreams of having his own harem one day. People have been saying that Issei's luck is looking up when a pretty girl asks him out on a date.
However, he eventually learns that the girl is actually a villain who brutally killed him. He does get some redemption when Rias Gremory, one of the most famous devils in the world, comes and resuscitates him as her servant.
Now that he is involved with his new comrades, Issei must train and fight in the angel-devil world to survive while also getting many hilarious and epic moments along the way.
1. Isekai no Seikishi Monogatari (Dub)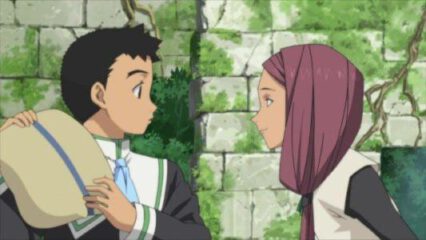 Episodes:

 13

Genres:

 Action, Comedy, Ecchi, Fantasy, Harem, Mecha, School
Summary
Tenchi Muyo! War on Geminar is our Number 1 in this list of top harem anime with op mc. The story follows Kanseki Masaki as he's transported to another world and begrudgingly agrees to save the world. To get out of this strange land, he agrees to help them kill Empress Lashara.
Lashara quickly deals with her attackers as she has observed Kenshi's skills and tells her men to bring him in alive. Only to find out that the pilot is male which is extremely rare on Geminar.
Believing it to be a waste to kill him, she makes Kenshi her attendant. As the empress' new servant, Kenshi must accompany Lashara to the Holy Land, an academy where Mechanoid pilots hone their skills. His arrival attracts attention, but Kenshi is unaware that something sinister is brewing within the academy and it could plunge the entire world into war.
Featured: