The Most Endearing Anime With Angels That You Shouldn't Miss!
Today we will be talking about the best anime about angels that you should watch! because In the anime world, angels have taken on a variety of roles.
Some of these roles are more fantastical and some are more human. This list will help you decide what anime with angels to watch to get a good sense of the different aspects that those supernatural beings portray in these fantasy worlds.
With no further addition, Here are some of the best angels anime series to watch that you can stream on Netflix, Crunchyroll, Hulu, and Funimation.
21. The World God Only Knows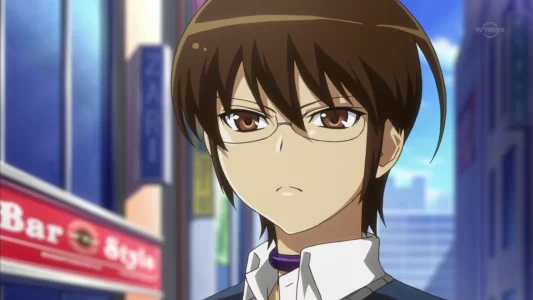 Episodes: 36, Three Seasons

Studios:

 Manglobe

Genres:

 Comedy, Romance, Supernatural, Harem
Kicking off the list of the best anime about angels with "The World God Only Knows", a series that follows the story of Keima, a famous game player who spends all his time playing dating sims. In reality, he doesn't want anything to do with girls in real life because he's an overly invested fan of the dating sim games.
One day, Keima happened to accept an anonymous offer from Elsie on one that challenged his supremacy. However, Elsie is actually A demon from hell who wants your help in retrieving any evil spirits that have scattered themselves throughout the human world.
In order to capture these spirits, Keima will have to conquer what he hates the most: the hearts of three-dimensional girls! Enslaved Elsie via a deadly collar, He has to put his pro gaming skills to the hard test as he must break into the hearts of so many real-life girls.
20. Pita Ten
Pita Ten is a good anime with angels that you will simply enjoy! The story follows Kotaro, an average boy who worries about the pressures of how his life will turn out while still enjoying simple things with his school friends.
Much to his surprise, He finds Misha at his door one day and they ask to be friends. It's strange because she is an angel, and turns out that she does more bad than good.
From then on, Kotaro with his friends Koboshi, Takashi, and Shia starts spending their days getting into all sorts of adventures together.
19. Maria The Virgin Witch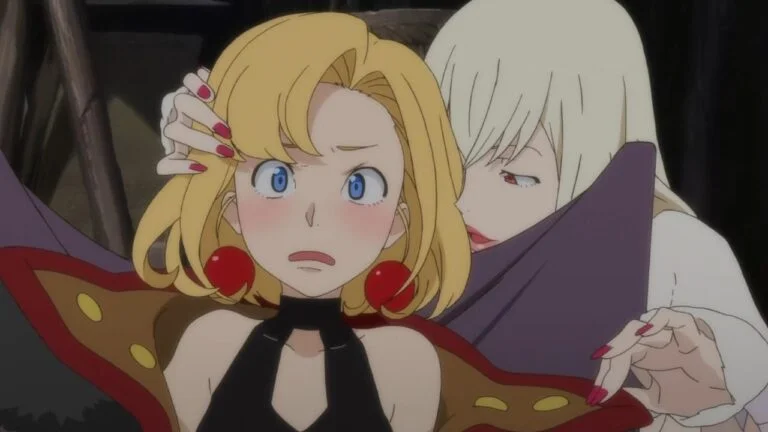 Episodes: 12

Studios:

 Production I.G

Genres:

 Comedy, Fantasy, Romance, Historical, Seinen
Maria the virgin witch, was more enjoyable than I expected it to be. This anime series was one of my favorites about witches and angels that really stand out among others. The story takes place around a beautiful, blonde, stubborn, peaceful witch who tries to stop any conflicts in the forest near where she lives.
Despite being a tough girl, she shows kindness to those few friends to whom she's closest to. The anime progresses, showing us that the Heavens above complain about how troublesome this witch is. They don't like this person tampering with their own natural affairs.
18. Midnight Occult Civil Servants
Episodes: 12

Studios:

 LIDENFILMS

Genres:

 Fantasy, Mystery, Supernatural
This is another good angel anime series which is about a newbie at work called Miyako Arata was assigned to the Nighttime Regional Relations Department squad in Shinjuku, which is like a big branch found in each of Tokyo's 23 wards to investigate paranormal activities.
Arata's special skill is the Ears of Sand, which translates to the understanding of non-human speech. These creatures also say that Arata is the Heian-era exorcist, Abe no Seimei, resurrected in spirit.
17. Angel Tales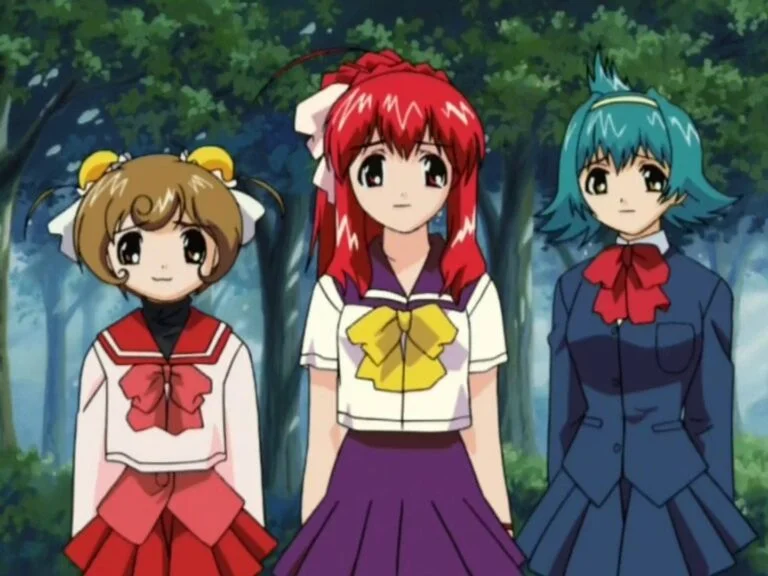 Episodes: 11

Studios:

 Tokyo Kids

Genres:

 Fantasy, Romance
There once was a young man. He worked at a store that closed down, and he bumped into a sign on his way home. He happened to be recently laid off and was very depressed about it. However, He gets good news from a fortune teller, and his life changes for the better. Guardian Angels are called to help him out of such jams!
This fantasy romance anime showcases these guardian angels, who came from the other world, and are actually reincarnations of the animals this young man took care of before. Now they want to show their gratitude for all the kindness he showed them while they were alive.
16. Colorful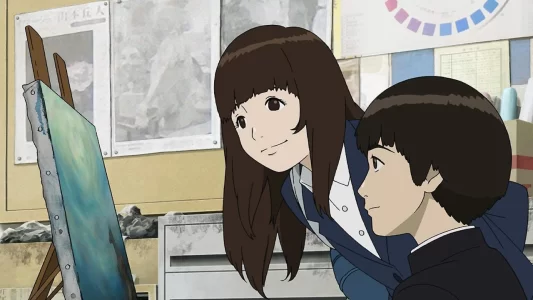 Episodes: 1

Studios:

 Sunrise, Ascension

Genres:

 Drama, Slice of Life, Supernatural
Colorful is an amazing anime movie that takes on the themes of angels, drama, and life hardships. It is a story that explores the daily struggles of humans and how they handle them, which take too long to confront.
The plot follows a soul that wakes up in the body of the victim Makoto. It must find a way to fit into his existence and figure out why he committed suicide. The soul must unravel two mysteries — the secret of the dark sin it committed in its previous life and why Makoto killed himself.
15. Kobato
Episodes: 24

Studios:

 Madhouse

Genres:

 Comedy, Drama, Fantasy, Romance
Kobato is anime about angels that viewers of all ages can watch- It is a recommended series for anyone, any day. The plot of Kobato. starts out simple enough – a girl assigned the task of healing people's damaged hearts. In the first half of the series, we see glimpses into the more complex realities and harsh experiences beneath our hero.
From the very start, Kobato deals with very real-life struggles from misunderstandings with friends and tragic love affairs to family issues.
As the show progresses, we learn about more than just a girl with a dream. We also learn about her motivations and how certain events can change everything for her. There are various deep moments throughout that startle you since they're not like anything else anywhere else in an anime series.
14. Angel Sanctuary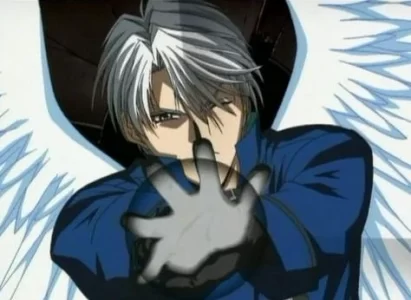 Episodes: 3

Studios:

 Hal Film Maker

Genres:

 Action, Drama, Romance, Supernatural, Reincarnation
Setsuna Mudo is a young high school student who just wants to make his way without getting in trouble from the bullying he got from seniors. And it doesn't help that he's in love with his younger sister, Sara, who only sees him once a month. But there's more to Setsuna than meets the eye – he has a lot of secrets going on…
The anime chronicles the adventures of Setsuna, who was suddenly attacked by these powerful angels and demons, all of whom claim they know his true identity. Angels say he's the reincarnation of their leader, and the demons say he led them to war against the Lord himself. There is Heaven and Hell, and Setsuna finds himself pulled between both sides as a recent chain of events threatens to throw the world into chaos. Will he be able to stop it?
13. A Centaur's Life
Episodes: 12

Studios:

 Haoliners Animation League

Genres:

 Comedy, Fantasy, Slice of Life, School
So! Do you like anime about other supernatural beings? Then I recommend checking out A Centaur's Life. It's got angels, dragons, catgirls, monsters, and demi-humans! If you're looking for a fluffy fun anime series to watch, nothing gets much better than this one.
The story centers around the main character Himeno, who is a centaur girl, who is sweet and shy. She lives in a world where everyone else has horns, wings, tails, and other supernatural parts. Regardless of how supernatural the story may seem, Himeno and her friends still have fun and normal daily school life!
12. Neon Genesis Evangelion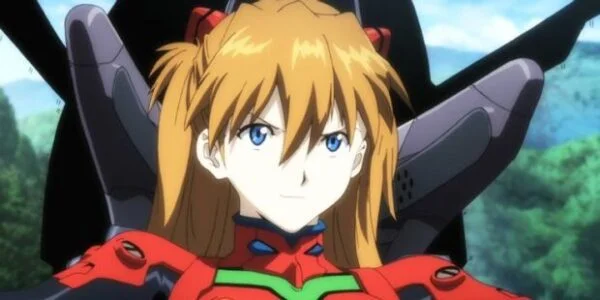 Episodes: 26

Studios:

 Gainax, Tatsunoko Production

Genres:

 Action, Drama, Sci-Fi, Mecha, Psychological
Neon Genesis Evangelion is a series of genre-bending anime that is actually rife with religious imagery, Angelic entities, bizarre space monsters that can take almost any shape, animals, and even inanimate objects.
This mecha anime starts out when dark monsters from space descend onto Earth to destroy humanity. Enters a reluctant young man, who joins a small squad of pilots under the commands of his father who is cold and dictatorial. This squad uses giant machines in order to fight against violent monsters.
11. D.N.Angel
Episodes: 26

Studios:

 Xebec

Genres:

 Action, Comedy, Fantasy, Romance, School
D.N Angel is a good anime about angels to watch, it follows Niwa Daisuke is the average kid, until his fourteenth birthday when a strange event changes everything.
He tries to declare his love for da girl of his dreams and in doing so, fails. Suddenly, whenever he thinks about this girl he's taken over by the legendary phantom thief known as Dark Mousy.
The reason Daisuke's mother made him turn into Dark and steal valuable works of art is actually unknown…But while the series progresses he'll learn more about his classmate who seems to have the same ability too.
10. Haibane Renmei
Episodes: 13

Studios:

 Radix

Genres:

 Drama, Fantasy, Mystery, Slice of Life, Psychological
A Haibane, which is actually a halo with angelic grey wings, wakes up in the village of Old Home and has no memories of her past. Named Rakka due to the dream she had while inside the cocoon. She is now started getting familiar with living in this strange town.
It's also important to note that there are some strict rules placed on a Haibane. They can't leave the village or go near the walls. This rule along with not knowing the reasons behind some of Haibane's disappearances, Rakka and the others know so little about their own kind.
Haibane Renmei is a drama fantasy anime about angels which tells Rakka's story but also follows the lives of those around her. It is a coming-of-age tale about finding identity, sanity, and ultimately finding salvation.
9. Ceres, Celestial Legend
Episodes: 24

Studios:

 Studio Pierrot

Genres:

 Adventure, Comedy, Drama, Horror, Romance, Supernatural, Psychological
This is a good anime with angels that can touch your heart and make you feel sad. It is full of intense, action-packed fighting scenes and suitable lessons.
Ayashi no Ceres presents an epic story of a teenage girl who has been sucked into a new life filled with danger and constant threats while those who are around her and those she loves are getting hurt.
There are many love triangles in this series and many messages are delivered throughout it. Sometimes these are poignant, other times they're light and sweet. You won't be disappointed when knowing what's really going on at the end of this series.
8. Panty and Stocking with Garterbelt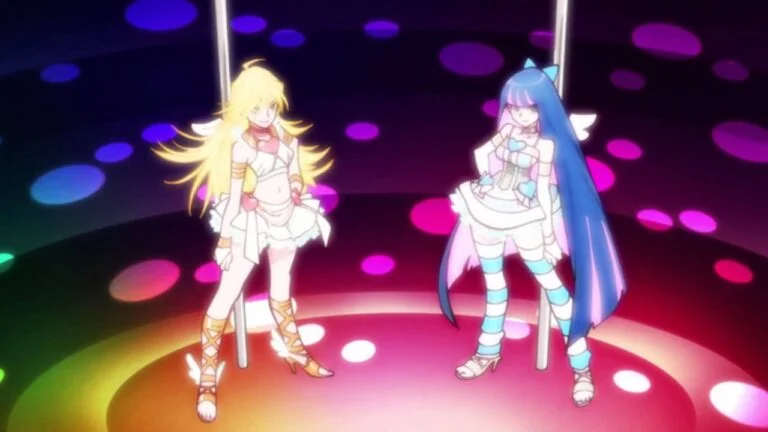 Episodes: 13

Studios:

 Gainax

Genres:

 Action, Comedy, Supernatural, Ecchi, Parody
The Anarchy Sisters, Panty, and Stocking were kicked out of Heaven and now these angles got to pay their way back in by defeating ghosts lurking in the city! Garterbelt is here to help them out. To dispatch the spirits, the characters need weapons, and what is better than turning their underwear into weapons they can use.
When it comes to their job, neither of them is all that serious. Panty likes to sleep with anything that walks and Stocking eats a lot of sweets rather than hunting. Panty and Stocking are a couple of unruly angels who battle ghosts, self-loathing, and their own impulse to stray off-course in the anime "Panty & Stocking with Garterbelt."
7. Gabriel Dropout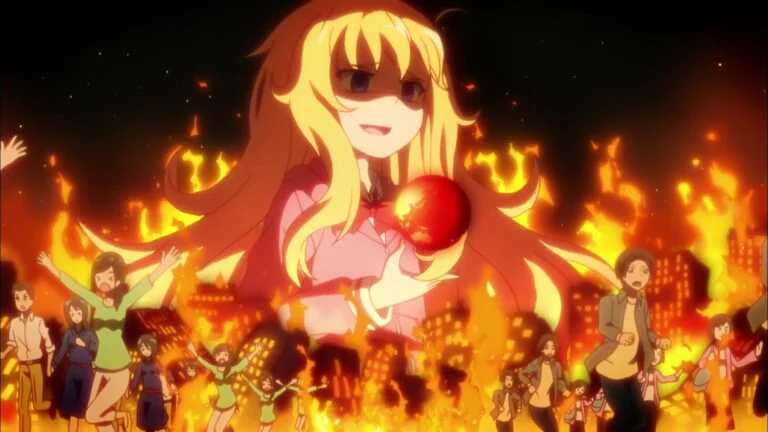 Episodes: 12

Studios:

 Doga Kobo

Genres:

 Comedy, Supernatural, Mythology, School
The story of this amazing angel anime tv show is simple but interesting due to the comedy plot it creates: our main character, Gabriel, was a kind, top-tier angel who always helped others. But, after coming to Earth she developed an addiction to online gaming.
In the series, there are lots of entertaining moments that angels and demons come up with. They avoid the typical standards we set them and it makes for lots of jokes. There are a ton of different twists and turns to Gabriel that are both thought-provoking and humorous. She is always an entertaining character to follow.
6. Shingeki no Bahamut: Genesis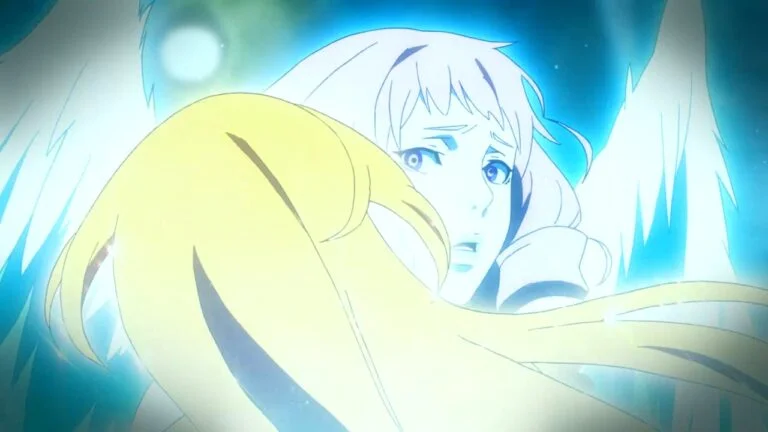 Episodes: 12

Studios:

 MAPPA

Genres:

 Action, Adventure, Fantasy, Supernatural
Shingeki no Bahamut: Genesis is an anime that tells the story of a group of unlikely heroes. They find themselves caught in a grand battle between angels and demons, but they still have to forge their own path in spite of it all.
The series is a wild ride with its heavy info-dumping, well-developed characters, and dynamic storytelling that takes plenty of fantasy tropes. While the excitement is never in short supply.
It is really another cool anime with angels, humans, monsters, dragons, and demons coming in different shapes and sizes to have a battle royale. The action is fast-paced leaving little time for boredom!
5. Heaven's Lost Property
Episodes: 25, Two Seasons

Studios:

 AIC ASTA

Genres:

 Comedy, Romance, Sci-Fi, Supernatural, Ecchi, Harem
There are so many good anime about angels to watch, but I think Heaven's Lost Property is one of the best out of them. It is about a boy named Tomoki, who has been living a quiet life, that will turn upside down when the beautiful, winged Angel Ikaros falls from the sky – and starts calling him master.
Sora no Otoshimono follows the daily activities of a young man and his friends as they learn more about angels who come to Earth. The show is diverse and spans genres of romance, comedy, and action, which make it appeal to just about any viewer. It's enjoyable to watch and you won't get bored watching it.
4. Bludgeoning Angel Dokuro-chan
Episodes: 6

Studios:

 Hal Film Maker, Nomad

Genres:

 Comedy, Ecchi, Gag Humor, Gore
This is a good angel-themed anime show that you should check out in order to follow the epic story of a high student named Sakura Kusakabe, who is going to commit a crime 20 years later sometime. The crime will be? Preventing all female humans from developing after 12 years of age, with immortality as their reward.
Therefore, Dokuro Mitsukai is sent from the Future to earth, taking on the form of an angel with a magical spike bat named Excalibolg. However, instead of killing him, Dokuro is going to work hard and keep Sakura from concentrating on anything to prevent him from creating his criminal tech.
With Dokuro trying to disobey the orders, the angel Sabato is sent out to handle the mission. Between the impulsive Dokuro, who often murders Sakura with her bat before reviving him with magic words, and the electric baton-wielding Sabato, Sakura's life is always at risk.
3. Daughters of Mnemosyne
Episodes: 6

Studios:

 Xebec

Genres:

 Action, Romance, Horror, Sci-Fi, Supernatural
What if there was such a thing as immortality? People might not think twice before asking for it, but this is not a good thing for Rin Asougi, a private investigator who has gone through many struggles just to survive. The many attacks from people who want her dead have taken a toll on her for a long time.
She's been around for a long time and many stories have revolved around her. She always manages to keep coming back to life no matter what she's faced with. In one story she meets someone who claims that his memories are wrong.
Agreeing to help him, Rin discovers that Kouki is not the person she thought he was and it's only a matter of time before she realizes that she really needs to avoid him. The one she's up against knows all too well what Rin is like and if he can take her out, she probably will be dead forever.
2. Angel Beats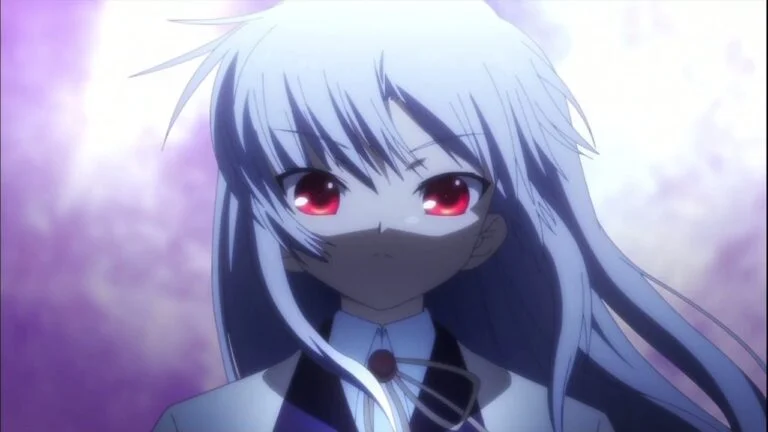 Episodes: 13

Studios:

 P.A. Works

Genres:

 Drama, Supernatural, School
Angel Beats is a good anime to watch. It's different because it's set in a fictional afterlife and The story is about an afterlife in which a high school boy wakes up after dying and meets up with a group of dead students, who refuse to "move on" to the next life because they have some sort of peace to make with the world and themselves.
There is a unique mix of common school life against the supernatural. There is romance, fighting, and a lot of emotion. It is also short, so it's easy to marathon if you like those kind of anime about angels. It has a good meaning behind it (to some extent), and the ending is worth seeing for all those feels.
1. High School DxD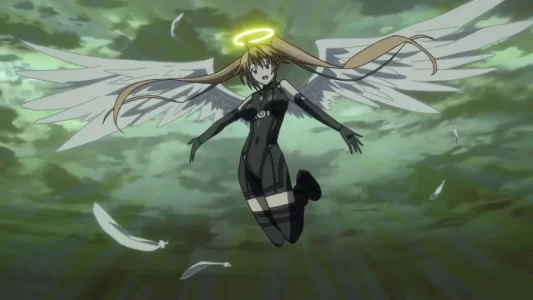 Episodes: 48, Four Seasons

Studios:

 Passione

Genres:

 Action, Comedy, Romance, Ecchi, Harem, School
"Highschool DxD" is a popular anime series about demons and angels, and follows the exploits of a boy named Issei Hyodo and his relationship with a girl named Rias Gremory, the daughter of one of the most powerful devils in existence.
High school student Issei is brought back from the dead after a tragic first date with an angel. His savior, however, is a devil, and now he must serve her and her entire family.
This is a really good anime that has a huge cast of well-developed characters, action, and romance in it. While their personal quirks are what makes the show appealing.
Don't Miss: