Best Anime About Demons and Their Epic Powers
To celebrate FearFest, we are bringing you this list of the 20 Best Anime about Demons or characters that have Demonic Powers. Although demons are typically seen in a negative light in the real world when they come from an anime series I think that they can be quite cool and awesome to watch!
These Awesome Demons characters add a surprising touch to the story. As they go beyond what we know as supernatural beings and creatures from our nightmares.
However, on this list, we focus on both popular and underrated anime TV shows about demons and their abilities.
Here We Go!
20. Tokyo Majin Gakuen Kenpucho (dub)
Genres: Action, Horror, Supernatural, Drama, Martial Arts, Fantasy, School
Studios: AIC Spirits
Episodes: 27 / Two Seasons
Synopsis:
Kicking off the list with the best anime about demons with "Tokyo Majin", a story about something that is happening in the world of Tokyo and it just happens to be stirring this spring. A Quiet boy transfers to a Magic Academy located in Shinjuku.
The new Boy's skills in martial arts and social invisibility quickly earn him the friendship of a rough student. After some fortunate incidents and challenges, he also meets Yuuya Daigo of the wrestling club, captain of the girls' archery club Komaki Sakurai and Aoi Misato, Student Council President.
When they were all together, they felt this surge of power, awakening a new set of supernatural abilities in each of them. Now that they've gotten their powerful gifts, the kids at Magami want to protect Tokyo.
Battling monsters, makes the five friends start to realize there may be something more dangerous than a few random, malevolent demons in Tokyo.
The friends have been disrupted by a mysterious force, and A perpetrator is a person who used dark magic and has wicked intentions, to unleash the evil forces. Can our teenagers overcome their fear and insecurities to wage war against this darkness?
Read Also: Here are The Amazing New Romance Anime Series of 2019 to watch
19. Devil Survivor 2 The Animation (Dub)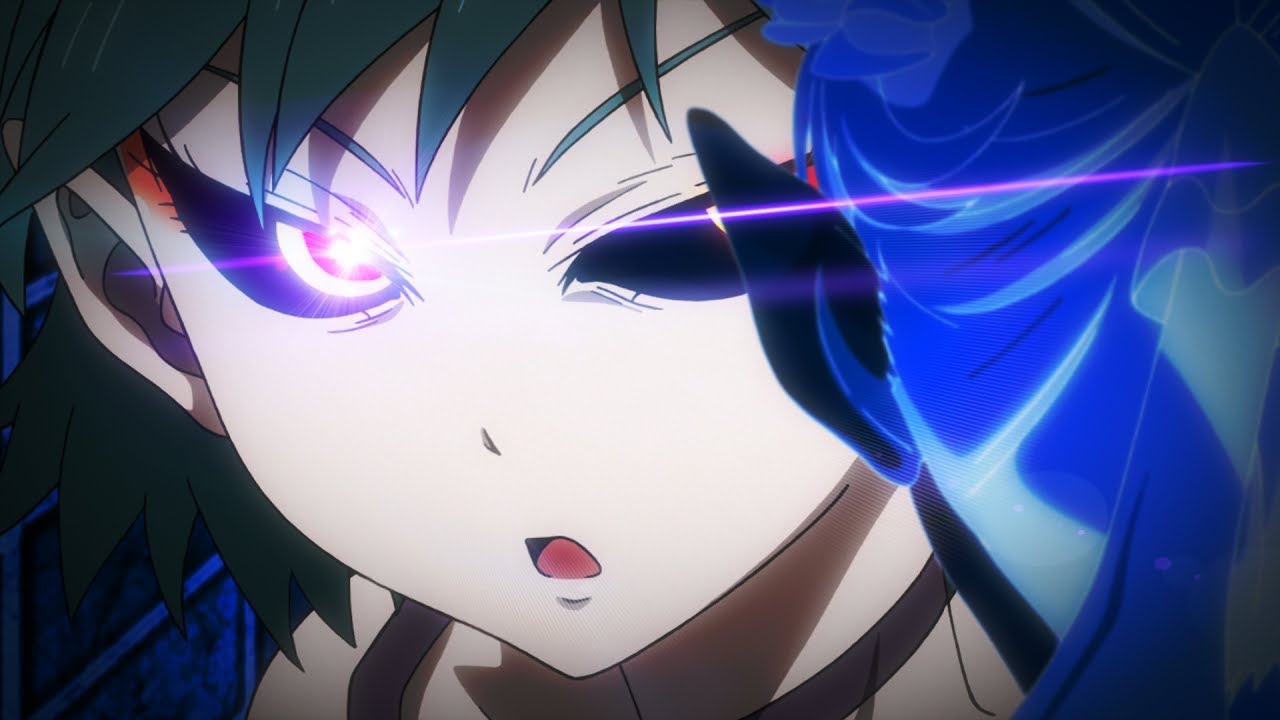 Genres: Action, Demons, Supernatural
Studios: Bridge
Episodes: 13
Synopsis:
This is a demon anime tv show about some sort of magical creatures called the Septentriones who invade Japan. On Sunday, they attack the country and mean to cause harm to its inhabitants.
The heroes in Devil Survivor 2 signed a pact with the devil to become Thirteen Devil Messengers–an organization tasked with protecting the world from demon threats.
When the Septentriones show up, they'll be there for just once a day before being gone again – so you have up to 7 days day to defeat them.
18.  Seisen Cerberus (No Dub)
Genres: Adventure, Fantasy
Studios: Bridge
Episodes: 13
Synopsis:
This is an underrated anime about demons that follows The kingdoms of Amoria, Ishilfen, and Vanrodis, who all have to work together to maintain peace in Kuna'anh. This will be difficult because a single change in one region could cause serious problems for the whole continent.
Despite their many fears, one fear that all of these countries share is the evil dragon, Daganzord. He is the only creature who seems to have the ability to devour everything.
Ten years ago, a group of mages attempted to seal away the evil beast with a ritual but failed. The ritual that was later named the "Balbagoa Tragedy" resulted in many lives being lost.
Hiiro the main character is someone who has lost his parents in the tragedy but was saved by Giruu. With whom, Hiiro has learned to fight with the goal of getting revenge Now that he's grown up, he goes out and looks for Daganzord in order to avenge his family or get consumed by it.
Read Also: The 10 Anime where Popular Boy fall in Love with Unpopular Girl
17.  InuYasha (Dub)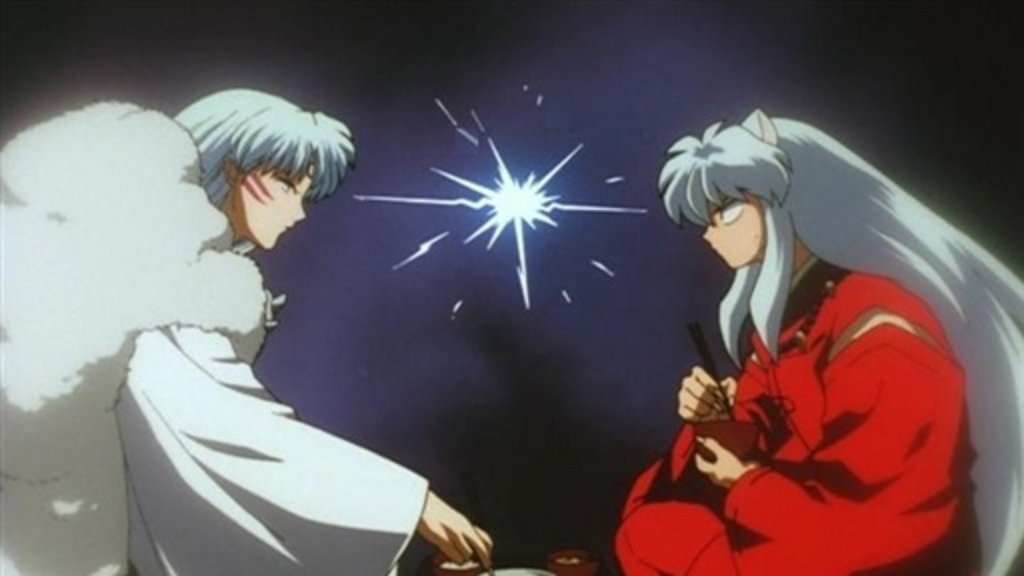 Genres: Action, Adventure, Comedy, Historical, Demons, Supernatural, Magic, Romance, Fantasy
Studios:   Sunrise
Episodes: 193 / Two Seasons
Synopsis:
Can't believe that so many fans don't know this masterpiece exists! so, when talking about anime about demons, Inuyasha is a must-watch!
Inuyasha is an epic series that follows Higurashi Kagome, who after being pulled down the well by a demon finds herself in feudal Japan, where she soon learns she will undergo a journey she has never dreamed of!
Back during the time of feudal Japan, Kagome along with Inuyasha and other companions will go after a jewel shard that shattered into countless pieces in an attempt to retrieve it from demons who are also after its power. Hence, she must join forces with half-demon InuYasha for the quest before the jewel's power falls into the wrong hands.
16. Twin star exorcists (No Dub)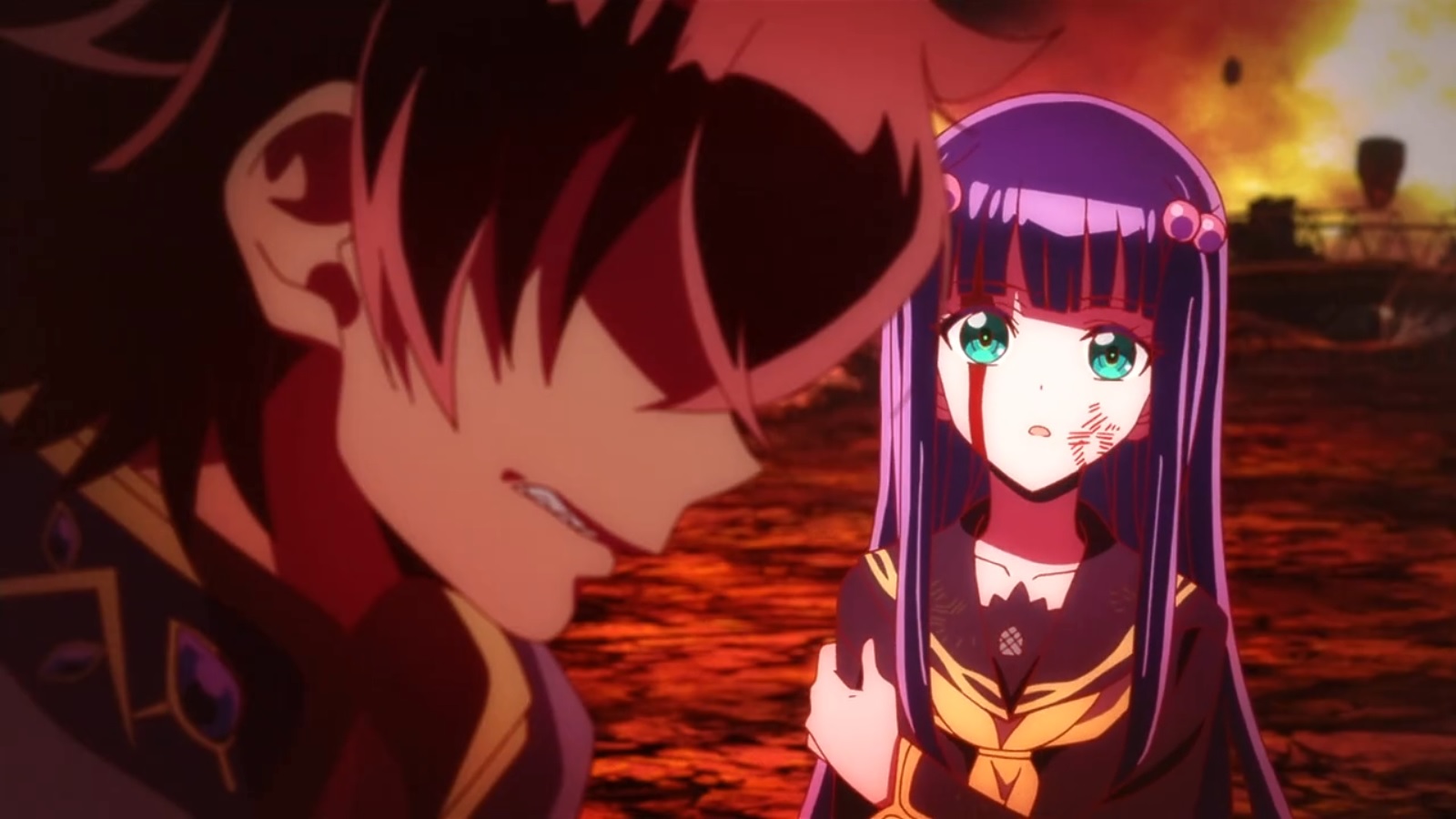 Genres:  Action

,

 Fantasy

,

 Shounen

,

Supernatural
Studios:  Studio Pierrot
Episodes: 50
Synopsis:
This anime about demons follows a group of exorcists who travel between 2 worlds – a parallel world filled with monsters known as "Kegare". Benio Adashino is an exorcist who possesses skills even more impressive than the other people in her profession due to her natural strength.
In the beginning, she falls into the arms of Rokuro Enmadou- While, a villain steals some kids- Benio rushes to save them and then they find themselves in Kegare. From then on, the duo will go on missions of killing demons called "impurities" that live in this imaginary world called Magano.
Sousei no Onmyouji is an amazing demon anime that tells the story of two talented exorcists who are destined to become the Twin Star Exorcists.
Read Also: The best 10 Anime Where Main Character Is Emotionless
15.  Ao no Exorcist (Dub)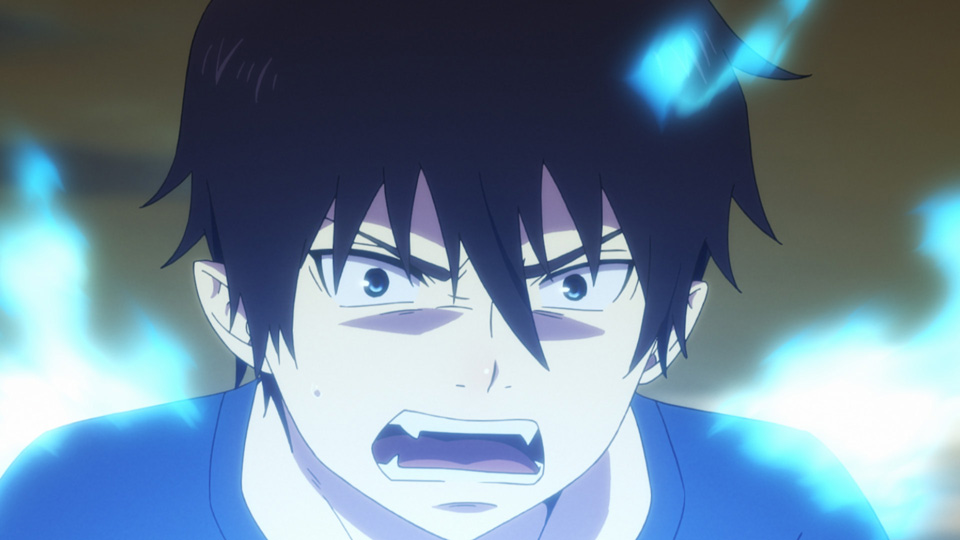 Genres:   Action, Demons, Fantasy, Shounen, Supernatural
Studios:  A-1 Pictures
Episodes: 37 / Two Seasons
Synopsis:
This Anime is a story about how humans and demons, who are two sides of the same coin, are separated by the realm they live in. To move from one space to the other you have to be possessed, which is something that happens in a lot of ghost stories.
However, Satan the ruler of Gehenna has a hard time finding a suitable victim to possess, so he stays stuck in his own world. He sends his son intending that he will grow up and eventually be able to take over Assiah.
AO NO EXORCIST is an anime about demons that follows a boy named Rin, who one day is chased by some demons. When he discovers that he's the very son of Satan, his world turns upside down. While his demon father is waiting for him to come back so they can conquer Assiah together.
Rin refuses to join the king of Gehenna, so trains to become an exorcist. He wants to fight alongside his brother, Yukio, and defend Assiah.
14. High School DxD  (Dub)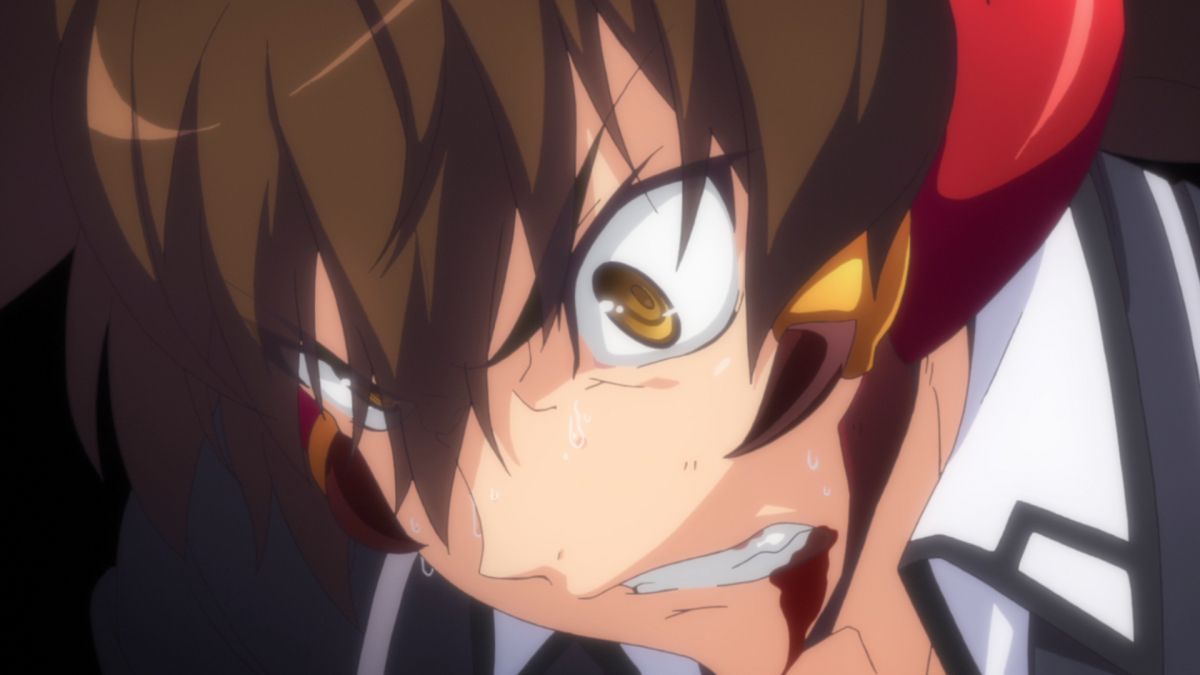 Genres:  Comedy, Demons, Ecchi, Harem, Romance, School
Studios: TNK
Episodes: 37 / Four Seasons
Synopsis:
High school student Issei Hyoudou is your average pervert dude who mainly watches girls, and has a lot of ambition to someday have his own harem.
It looks like Issei is in luck when a beautiful girl asks him out on a date, but she ends up brutally murdering him for an unknown reason.
However, he gets a second chance at life when beautiful senior student Rias Gremory, who is a top-class devil and a kind woman reincarnates him as her servant in the Occult Research Club.
Issei is adjusting to a new life where he has to train and fight monsters to survive. While there are always a lot of funny moments when he goes on new adventures with his friends. He also has to keep his secret identity from his family and friends.
Read Also: The 10 Magic School Anime Series where The Mc is Op
13. Shinmai Maou no Testament (Dub)
Genres:  Action, Harem, Demons, Romance, Ecchi, Fantasy
Studios:  Production IMS
Episodes: 12
Synopsis:
I like this Anime because it's not only about demons, but it has harem and ecchi elements too! So, "Hey, you said you wanted a little sister right?"
Toujo Basara is a first-year high school student and he's in a bit of an awkward situation. His father tells him will get a little sister, he will be getting remarried, and it left young Basara in deep thought too.
He then went overseas after bringing Basara two beautiful step-sisters. But Mio and Maria's true forms turned out to be the Demons? So, how things will go from then on?
12. Ichiban Ushiro no Daimaou (Dub)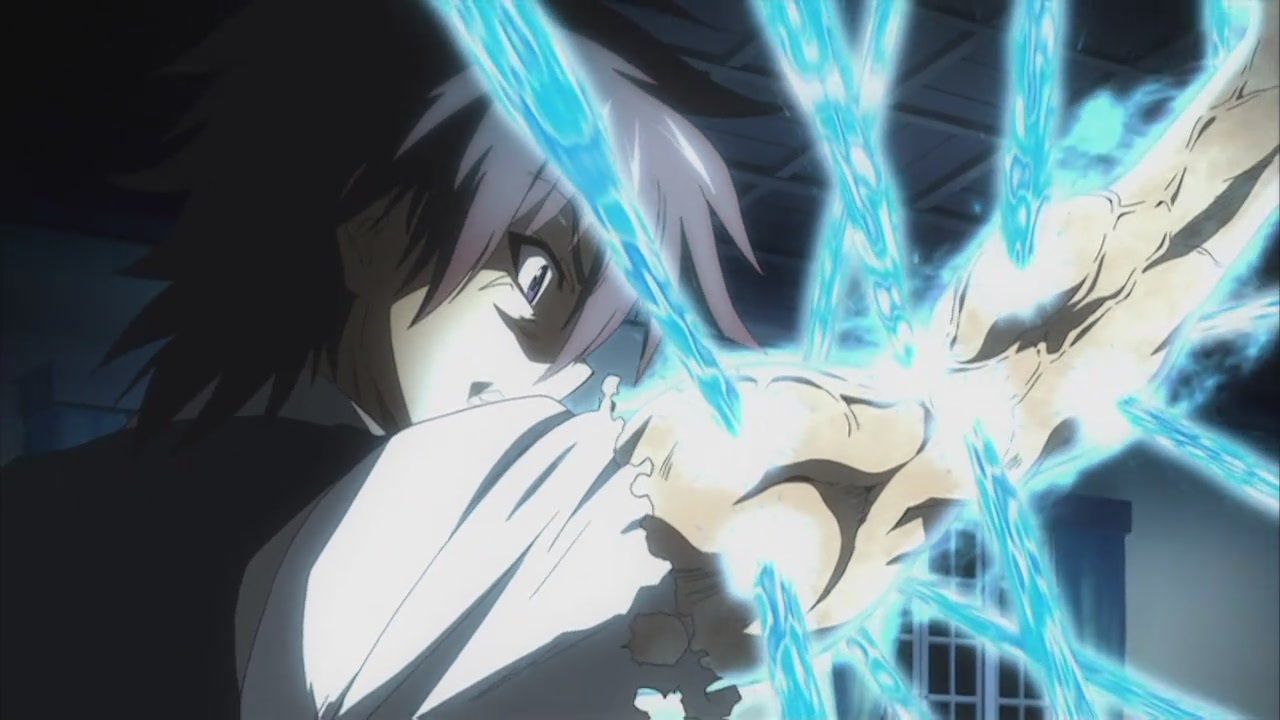 Genres:  Action, Harem, Comedy, Magic, Ecchi, Fantasy, School
Studios: Artland
Episodes: 12
Synopsis:
New transfer Akuto Sai meets a young ninja girl called Junko Hattori. They vow on the way to the academy that they will make the world a better place together and change for the better- but it is not long before their friendship takes a turn for the worse.
Apparently, he's gonna be the next Demon King. As word of his destiny gets out, people around him start to fear ever being near him, and Junko starts losing faith in him.
Akuto is determined to refute his predicted future, but it seems like everything he does only reaffirms that he is the Demon King.
Plus, he has a load of attractive girls following him around who each have their own plans for him. From potentially arresting him to showering him with love.
This is an anime about demons that portrays the story of a demon king who, with his newly awoken powers, must learn to cope with his constantly growing list of misfortune and find a way to prove that he can change fate.
Read Also: The 10 Best Anime Series Where The MC is an OP (Overpowered) Girl
11. Kyoukai no Kanata (Dub)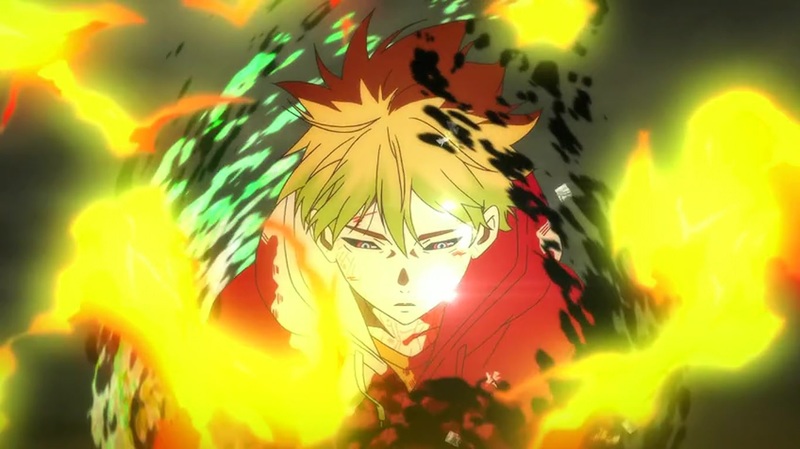 Genres:  Slice of Life, Supernatural, Fantasy
Studios: Kyoto Animation
Episodes: 12
Synopsis:
Mirai Kuriyama is the only surviving member of a clan of Spirit World warriors. She's also in charge of hunting down "youmu"—creatures that are said to come from negative human emotions. Mirai's day on the school roof is interrupted by meeting a boy who has looks that she can only describe as "half-youmu."
In a panicked state, she plunges her blood saber into him only to realize that he's an immortal being. From then on, the two form an impromptu friendship where Mirai constantly tries to kill Akihito whenever the chance comes.
Additionally, Akihito eventually manages to convince her to join the Literature Club, which also houses two other Spirit World warriors. As the group's bond strengthens so does the tenacity of the youmu around them. However, the fun days will turn into a fight for survival when one of the most powerful youma is unleashed.
10. Blood Lad (Dub)
Genres: Action, Comedy, Demons, Seinen, Supernatural, Vampire
Studios:  Brain's Base
Episodes: 10
Synopsis:
Blood Lad is an anime about demons and vampires. The protagonist is called Staz and is the lord of a demon world, but he actually doesn't like human blood. He's more into Japanese culture.
When he learns that a Japanese teenage girl accidentally wanders into the demon city, he leaps at the opportunity to meet her in order to know more about the otaku world.
However, while Staz is fighting an intruder on his turf, Fuyumi is killed by a monster and becomes a wandering ghost. Now, Staz promises Fuyumi that he will find a way to get her life back no matter the cost.
Read Also: The 10 Anime Series Where Bad Boy Falls in Love with Good Girl
9.  Overlord (Dub)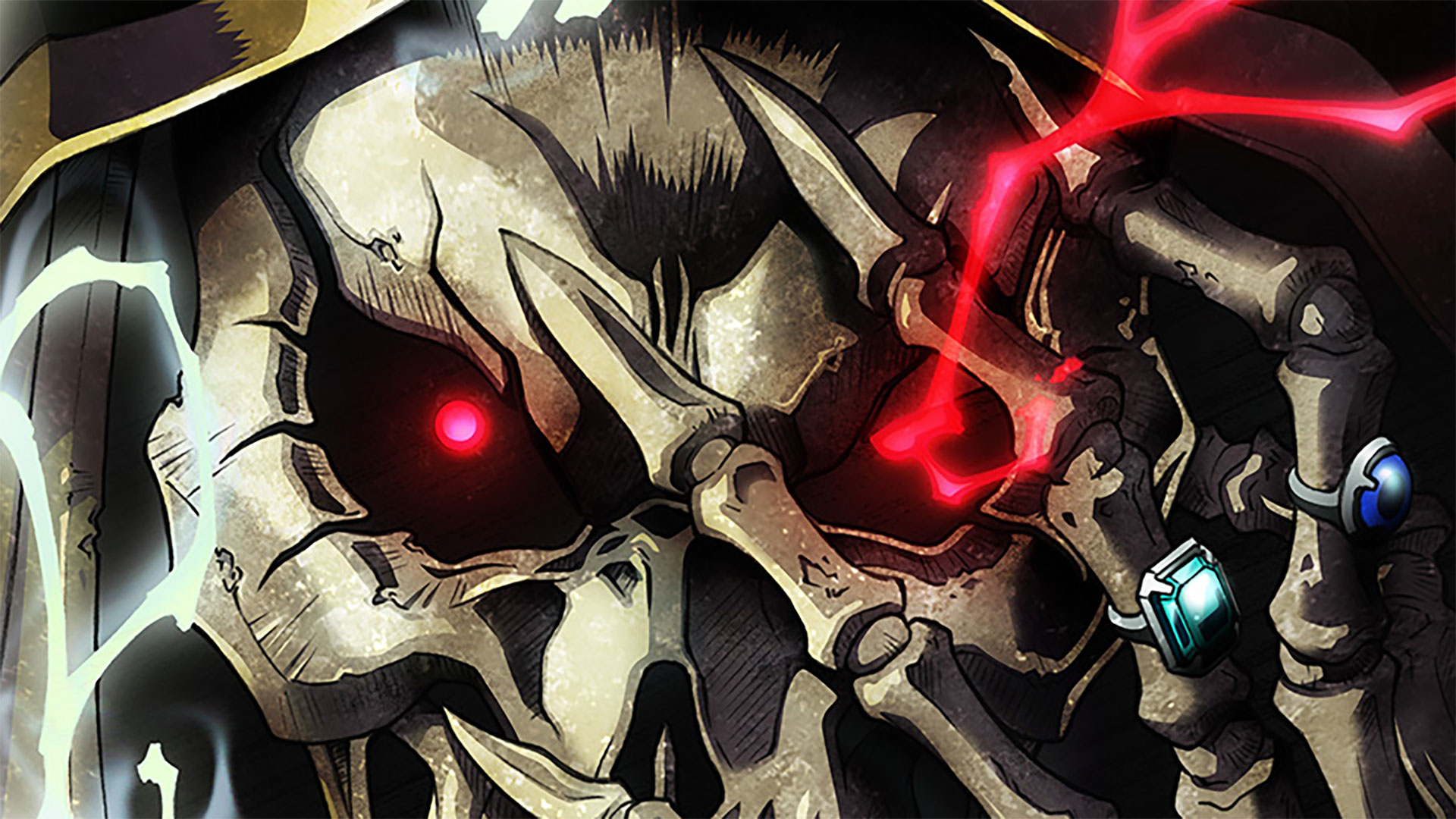 Genres:  Action, Game, Adventure, Supernatural, Magic, Fantasy
Studios: Madhouse
Episodes: 26 / Two Seasons
Synopsis:
This cool anime about demons has an Op Demon Lord Protagonist that no one can beat! The story kicks off by showing us that the final hour of the popular virtual reality game Yggdrasil is here.
Yet, before the server is due to close, a powerful wizard called Momonga made the decision to play his last moments in the game.
For some reason, Momonga is still conscious even though the hands of the clock have already struck midnight. However, to his surprise, the non-player characters appear to be coming alive and feeling emotions too.
While he is in game, Momonga gives some orders to his minions to help him investigate and take over the new world. He is trying to figure out why this is happening and find out if there are others who are in the same situation.
8. Medaka Box (Dub)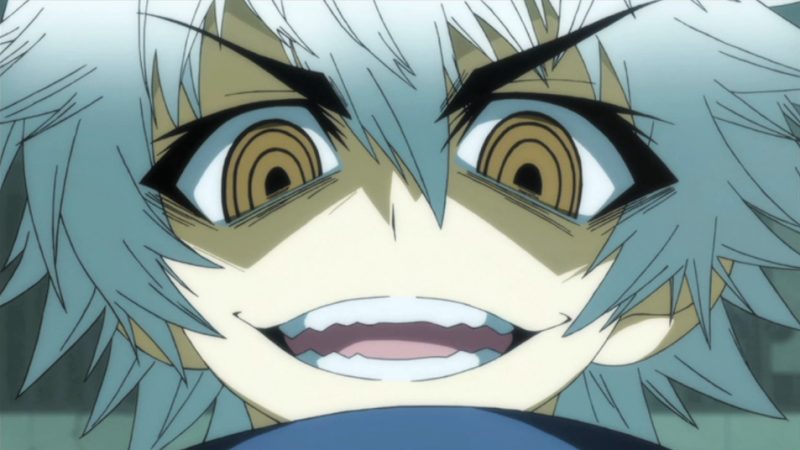 Genres:  Action, Comedy, Ecchi, Martial Arts, School, Shounen, Super Power
Studios:  Gainax
Episodes: 24 / Two Seasons
Synopsis:
Medaka Box is a good action martial arts anime tv show that you should watch. The mc is an OP female protagonist that you will fall in love with!
it follows: Medaka Kurokami became the student council president, and resolved problems by asking for suggestions. At first, people submitted small requests like rescuing lost puppies.
She and her friend Zenkichi stumble across something incredible when they go exploring at Hakoniwa Academy. And it turns out that their school, along with Medaka herself, are somehow at the heart of a growing storm!
As what seems like an innocent discovery becomes more dangerous, the Student Council and its members find that there's plenty of depth to themselves. They also find out about new mysteries and how deep things go. But then everything gets completely out of control!
Read Also: The 10 Anime Series Where The Main Character is a Villain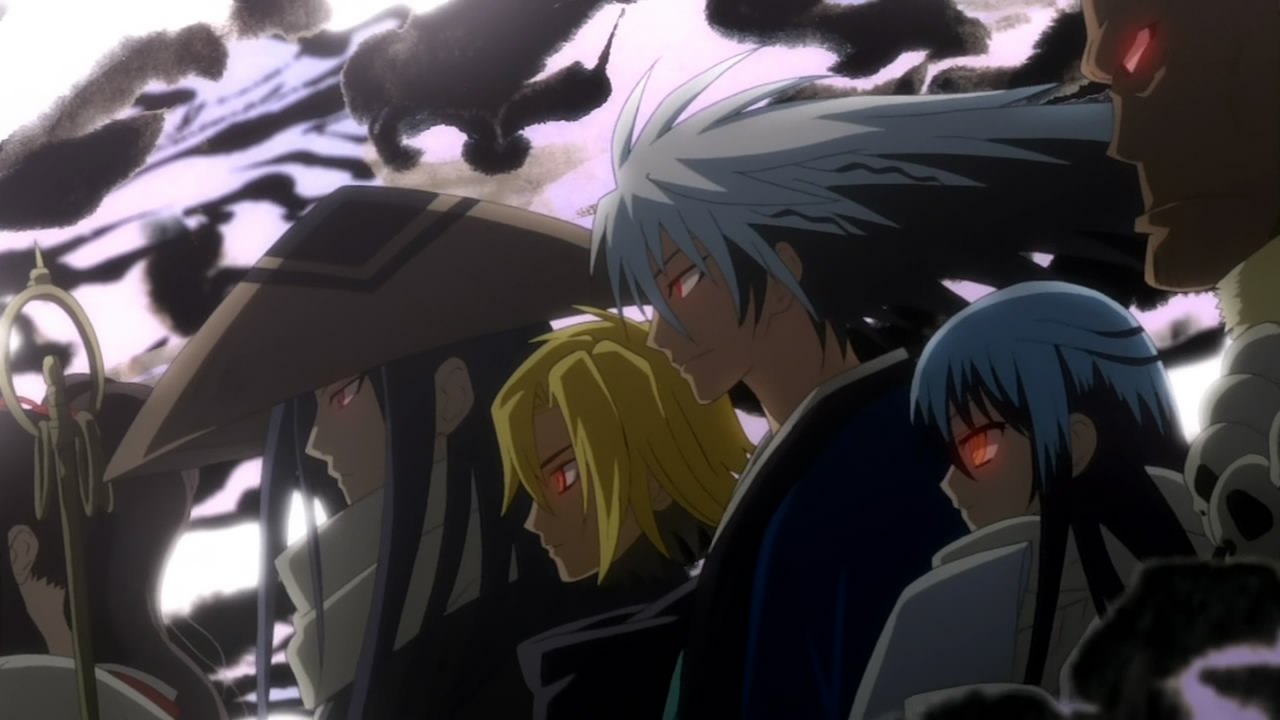 Genres:  Action, Demons, Shounen, Supernatural
Studios: Studio Deen
Episodes: 48 / Two Seasons
Synopsis:
Do you love tough anime characters from the Demon World in anime series? This one should be perfect for you. The whole series follows Rikuo Nura, an average-looking middle school student who is actually a demon lord in disguise.
No one knows how he comes home every day to a house full of youkai. He doesn't transform into anything and stays in the guise of an ordinary guy by day. Though many would like Rikuo to live a more stoic life, he remains committed to living as normally as possible.
6. Hataraku Maou-Sama! (Dub)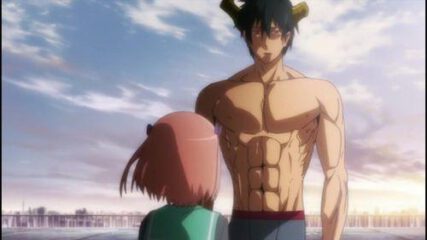 Genres:   Comedy, Demons, Supernatural, Romance, Fantasy
Studios:  White Fox
Episodes: 13
Synopsis:
This demon anime show is really what I'd call an anime that deserves another season—it would be better to carry on such a wonderful story. The characters and the plot were amazing for this anime. It's about a Demon King "Sadao", who is only one step away from conquering the world when he is defeated by Hero Emilia, who then forces him to drift to the other side of the world.
The only skills the Devil King has are superpowers, fighting abilities, and conquering countries, But they're obviously not necessary in his new situation. Because in modern Tokyo, Sadao needs to do some freelancing in order to be able to afford to live on his own.
Read Also: The 10 Anime Where The MC Has A Split Personality
5. Owari no Seraph (Dub)
Genres: Action, Military, Supernatural, Drama, Vampire, Shounen
Studios: Wit Studio
Episodes: 24 / Two Seasons
Synopsis:
It's slipping my mind which anime series we're talking about, but there are sure a lot of vampire ones. Wait! Is this the one where humans turn into demons or vampires? Yes, actually it is and it has the same vibe as that of the best dementia anime series.
The story is about a virus that was published in this fantasy world, which makes the death rate for humans over 13 years old is 100%. Meanwhile, vampires emerged from the world's dark corners and enslaved mankind.
The protagonist of the series is Yuuichirou Hyakuya, a young boy who lives in an orphanage that's currently under vampire control. There, children are treated as livestock.
Even as a prisoner, he still dreams big. He dreams of killing vampires. He'll eventually get the skills to kill them all too.
4.  Mob Psycho 100 (Dub)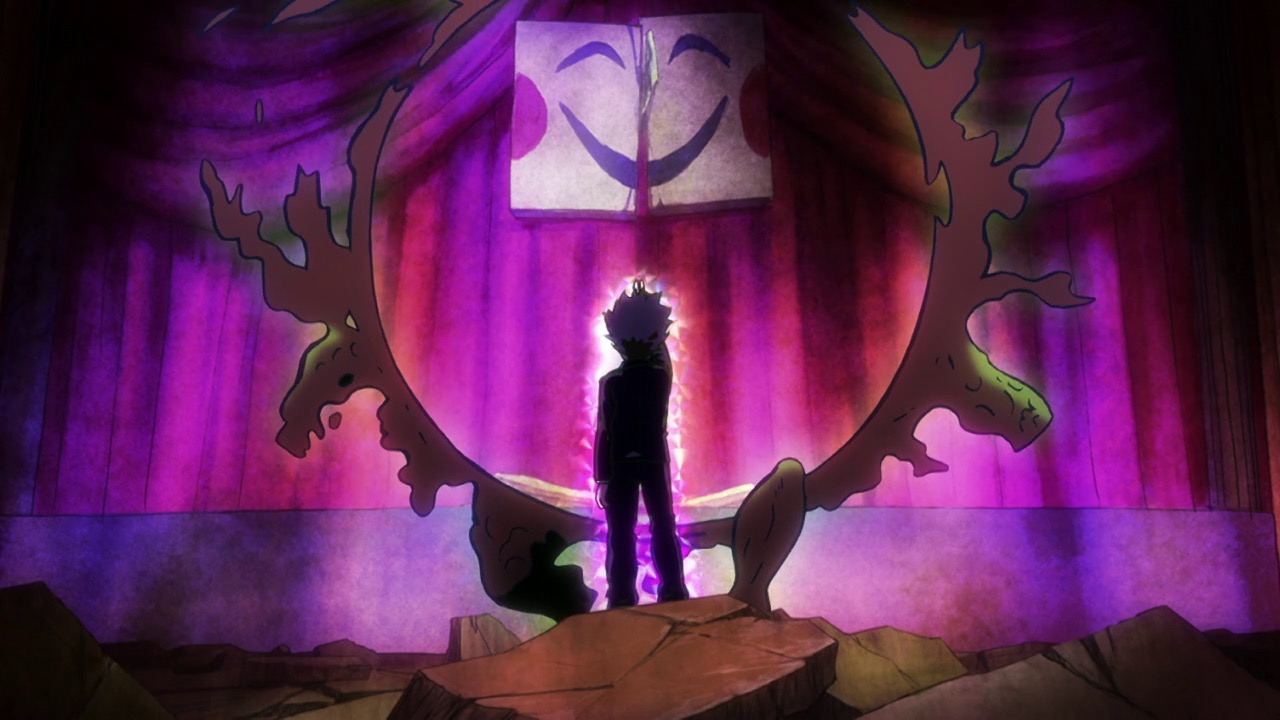 Genres: Action, Slice of Life, Comedy, Supernatural
Studios: Bones
Episodes: 25 / Two Seasons
Synopsis:
This is one of the top anime series going on recently and its story centers around Kageyama Shigeo who is an 8th grader with psychic powers. His task will be to fight off demons and strange beings that may threaten the world.
From a young age, he had the ability to bend spoons and move objects with his mind. He later stopped using them publicly due to the negative attention they were bringing him.
All e wants to make friends with a girl in his class, Tsubomi. While he goes about living each day with his mentor for guidance and advice. But later, it appears he will have some sort of "purpose" in life than being an ordinary boy who hides his power.
Read Also: The 10 Anime Where Mc unleashes his Power to Save his Lover
3.  Densetsu no Yuusha no Densetsu (Dub)
Genres: Action, Adventure, Magic, Fantasy, Shounen
Studios:  Zexcs
Episodes: 24
Synopsis:
The general concept of the legendary heroes anime series is about demons and monsters vs humans. The story follows Ryner Lute, a lazy student at the Royal Magician's Academy.
One day, the Roland Empire went to war with their neighboring country Estabul, and meanwhile, Ryner lost all of his classmates in the conflict.
After the war, Ryner makes plans to search for relics of a "Legendary Hero" at the king's request and comes across a deadly curse spreading throughout the continent. Now he must fight on the front lines of the war with his comrades.
2. Beelzebub (No Dub)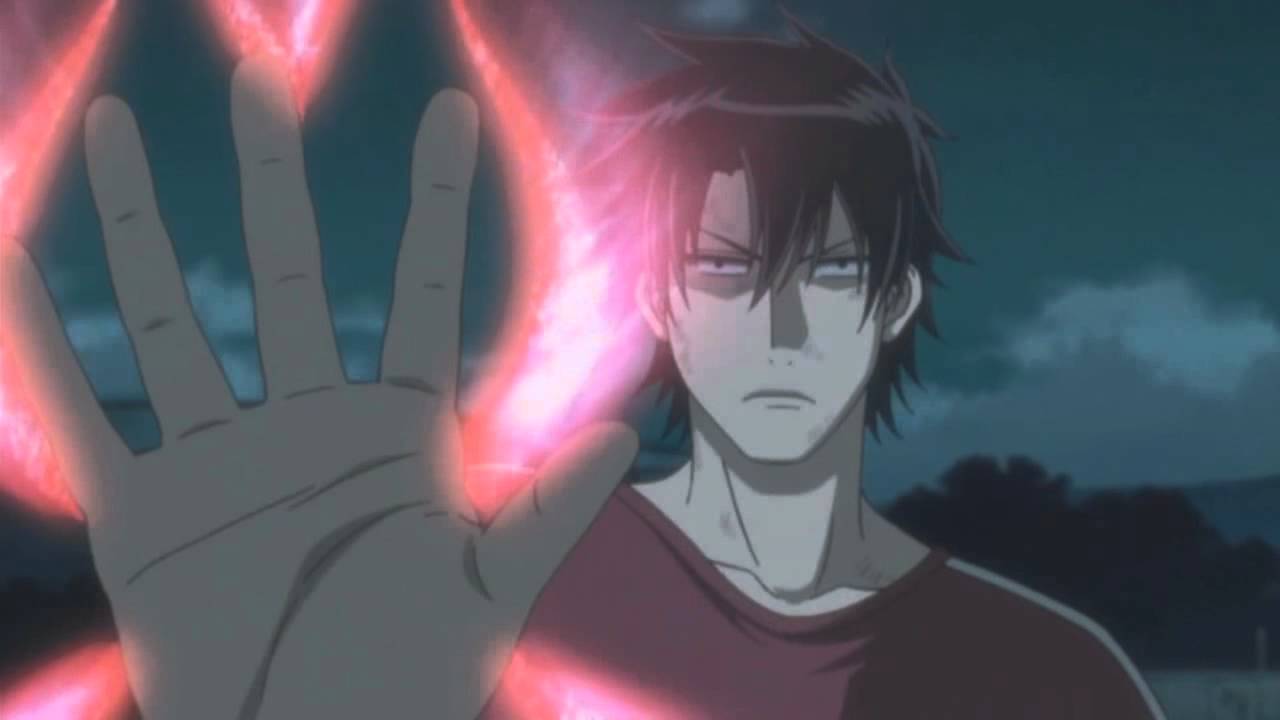 Genres:  Action, Comedy, Demons, Supernatural, School, Shounen
Studios:  Pierrot Plus
Episodes: 60
Synopsis:
Beelzebub is an underrated anime about demons that is a lot of fun to watch. The story follows the main character Oga, who is tasked with 'raising the son of the demon king.
Something really weird happened to this guy who is a delinquent at his school. His name is Tatsumi Oga, while he falls asleep near a river one day, he sees a dude floating down the river. He pulls the man to shore and it turns out that he splits in half – and there's a baby!
This kid is the demon king's son and he'll be living in Tatsumi's world, with his demon maid Hilda from now on.
Therefore, 'The Story of Beelzebub', which is one of the best demon anime series I've seen so far, follows Tatasumi's life with the demon child as they combine their power to face everything at their delinquent school.
See Also: Here are The 10 Anime Series Where Main Character is Immortal
1. Nanatsu no Taizai (Dub)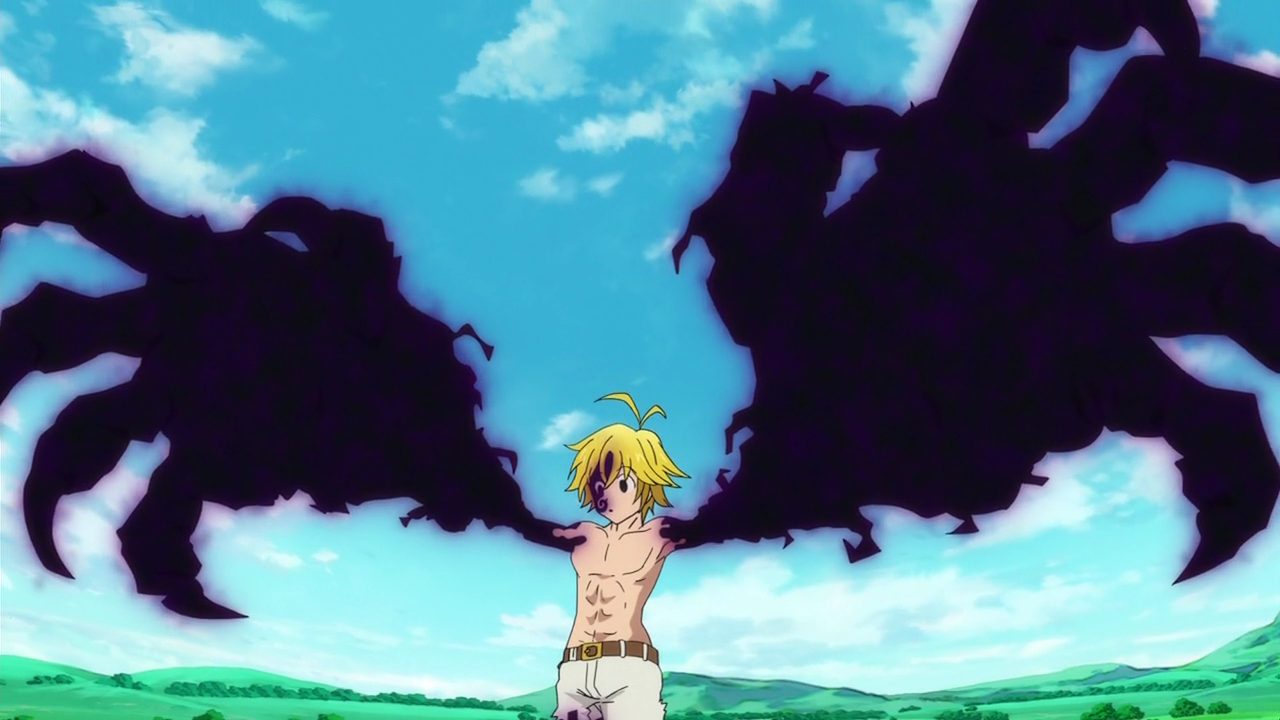 Genres: Action, Adventure, Supernatural, Magic, Ecchi, Fantasy, Shounen
Studios: A-1 Pictures
Episodes: 41 / Two Seasons
Synopsis:
One of the main plots in this anime is about demons and how Holy Knights use powerful magic to protect a region known as Britannia.
It is said that these seven holy knights turned their blades on their friends and fellow warriors, trying to overthrow the ruler of Liones. The Holy Knights managed to defeat the Sins, and people were still convinced they were dead.
Ten years later, the Holy Knights staged a coup d'état and have since been in control of the Kingdom of Liones.
Nanatsu no Taizai follows the adventures of Elizabeth, a princess from Liones kingdom, as she searches for the Seven Deadly Sins. With their help, she not only hopes to reclaim her kingdom but also bring peace to an unjust world.
Watch these Anime Series at Crunchyroll , Anime-Planet,  Animelab, KissAnime, MasterAni