The Top 25 of the Hottest Sexiest Anime Series!
Anime has always been known for its visually stunning animation and captivating storylines. However, some anime go above and beyond in terms of sexual content and appeal.
We have compiled a list of the top 10 hottest and sexiest anime of all time for your viewing pleasure. Hence, most of these anime tv series offers you the chance to see some hot sexy anime girls in some heartwarming, funny, and embarrassing moments, and you'll really start looking for a girlfriend if you are still single.
With no further ado, here we are rounding up the sexiest hottest anime series that consists of alluring and spicy girls, perverted boys, and unstoppable extreme uncensored scenes…
Here We Go!
25. Infinite Stratos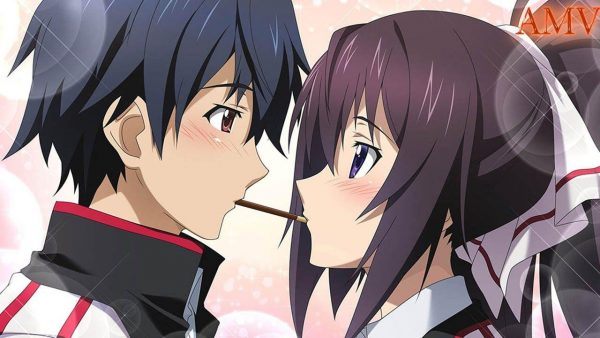 Episodes: 24 / Two Seasons
Studios: 8bit
Genres: Action, Sci-Fi, Harem, Comedy, Ecchi, Mecha
Let's start our sexy anime list with this school ecchi anime series that revolves around a lucky boy who will uncover that he can use a powerful exoskeleton weapon, Infinite Stratos (IS), which can be used only by women, and now he is sent to the all-girl Stratos high school to study.
"IS" is an overpowered weapon that an international treaty has been signed banning its use as a military asset. Ichika Orimura is the only male able to use it, then he forcibly joins the Infinite Stratos Academy: an all-girl school,  which trains graduate students to become IS pilots.
The legendary pilot Chifuyu Orimura,  and Ichika's older sister will guide Ichika and the girls, so they can use everything at their disposal to defend themselves and their academy against the dangers that will arise during the course of their thrilling school life. 
See Also: 11 Best Romance Comedy Action Anime Series you Should Watch
24. Hagure Yuusha no Aesthetica 
Episodes: 12
Studios: Arms
Genres: Action, Super Power, Ecchi, Harem, Fantasy
Here is a hot and refreshing hot and sexy anime series that starts off its story about thirty years prior to the start of Hagure Yuusha no Aesthetica, where a number of people from Earth transfer to other worlds with only about half of them being able to return.
One of them is Akatsuki Ousawa, who was sent to Alayzard to defeat the Dark Lord Garius, which he did, however, before returning to his original world. He brings back with him the Dark Lord's daughter "Miu",
So, will Akatsuki and Miu be able to keep her true identity a secret, or will their plan to live peaceful lives together go up in flames?
23. Hajimete no Gal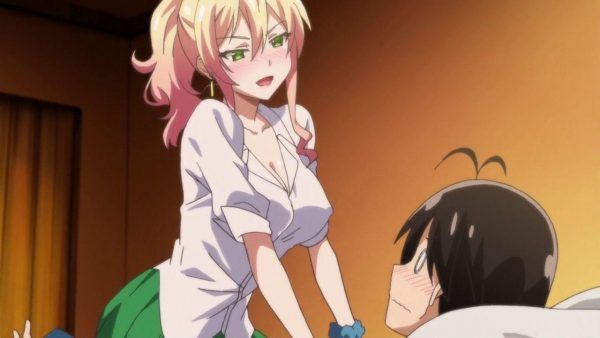 Episodes: 10
Studio: NAZ
Genres: Comedy, Romance, Ecchi, School, Shounen
Hajimete No Gal is a good ecchi comedy anime tv show and yeah this is one of the sexiest recommendations of today. Set in Spring. which is The "season of love", and it looks like it's hard for Junichi to find a girlfriend.
So, in order To break this situation issue, Junichi's friends have forced him into confessing to the gal, Yame Yukana. However, it seems that things do not go well as he expected. Hence, a series of "firsts" begins!
Read Also: 15 of The Top Anime Girls Of 2019 Who Will Make You Go WOW!
22. How To Not Summon A Demon Lord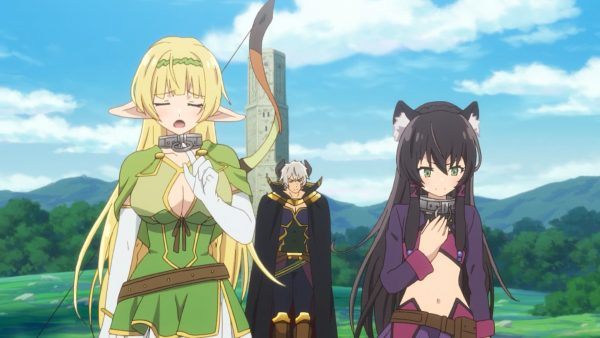 Episodes: 12
Studios: Ajia-Do
Genres: Comedy, Ecchi, Fantasy, Harem, Magic
Here is an Isekai game anime that you will absolutely enjoy, and yeah don't worry it is filled with a bunch of sexy hot anime girls with seductive appeals too! The series depicts that When it comes to the fantasy MMORPG Cross Reverie, none can match the power of the demon king Diablo.
Possessing the game's rarest artifacts and an unrivaled player level, he overpowers all foolish enough to confront him. But despite his fearsome reputation, Diablo's true identity is Takuma Sakamoto, a shut-in gamer devoid of any social skills.
Defeating hopeless challenges day by day, Takuma cares about nothing else but his virtual life—that is, until a summoning spell suddenly transports him to another world where he has Diablo's appearance!
You will enjoy this pick because this is truly a very typical Isekai anime series with an overpowered MC who transports to another world as a Demon Lord and then gets surrounded by a hot and sexy harem.
21. Monster Musume
Episodes: 12
Studio: Lerche
Genres: Harem, Comedy, Romance, Ecchi, Fantasy, Seinen
So many pretty sexy and alluring anime girls, embarrassing moments, and funny hot situations are all included in this ecchi anime that you will probably enjoy! Kimihito Kurusu is living a quiet, normal life alone until monster girls came crowding in!
Now Japan is the first country to promote accepting non-human species to live inside society. After the incompetence of the interspecies exchange coordinator Agent Smith asks Kimihito to be the host and take care of Lamia, who will start attracting various breeds. Resulting in the growth of a thirsty harem and attraction. However, these interactions between species are forbidden by the law! Hence, With new species often appearing and events materializing out of thin air, where Kimihito and his harem go is anyone's guess!
See Also: Here are The Best Reverse Isekai Anime Series to Watch!
Continue Reading By Clicking the Next Button