What is an ecchi anime tv show? ecchi is a genre of Japanese series that includes hot, sexy, and fanservice content.
The term "ecchi" is often translated as "perverted," as the genre is characterized by sexy girls, comedic moments, revealing clothing, and sometimes seductive and teasing situations.
If you're looking to spice things up and set the mood, these Ecchi anime series are the best choice to watch on platforms like Netflix, Crunchyroll, or even Youtube.
In this refined list of the 49 best ecchi anime tv shows, you can explore hot teasing, romantic comedies, provocative thrillers, and dirty dramas within the world of Japanese anime and manga series.
Here We Go!
49. Hajimete no Gal
Let's start our compiled list of ecchi anime tv shows with this recommendation "Hajimete no Gal". The story is set in Spring. which is The "season of love",  and it looks like it's hard for Junichi to find a girlfriend.
So, in order To break this situation issue, Junichi's friends have forced him into confessing to the gal, Yame Yukana. However, it seems that things do not go well as he expected.
Hence, a series of "firsts" begins!
48. Mieruko-chan
Premiered in 2021, Mieruko-chan is an anime produced by Passione that follows the story of Miko, who one day gains the ability to see grotesque beings that others can't.
Instead of panicking, Miko chooses to ignore them completely. Can she maintain a poker face and go about her daily life while being surrounded by horrifying monsters?
This comedy, ecchi, horror, slice of life anime is sure to entertain everyone with  its unique and spooky storyline.
47. More than a Married Couple, but Not Lovers
Now we have More than a Married Couple, but Not Lovers, a drama ecchi anime set in a society where high school students are paired for marriage training.
Jirou Yakuin, a third-year student, is matched with Akari Watanabe, a gyaru with a completely different personality.
Even with their differences, they aim to become top performers and switch partners to pursue their respective crushes.
To achieve this, they must convincingly play the role of a perfect couple, navigating the complexities of their relationship along the way.
46. How NOT to Summon a Demon Lord 
Next up, we have How NOT to Summon a Demon Lord, a 2018 isekai ecchi anime that follows an elite gamer who gets transported to another world as his game character, Diablo.
Despite his powerful abilities, his social awkwardness becomes a hindrance. To navigate this new world, he adopts the persona of a Demon Lord and acquires two companions: a well-endowed elf and a cat girl.
Together, they face various challenges, from handling relationships to engaging in fierce battles against formidable beasts. 
45. Rent A Girlfriend
Rent A Girlfriend is a must-watch ecchi anime filled with romance, comedy, and sexy moments, making it a hot series you should not miss.
Set in Japan, where people can rent companionship online, including girlfriends. Kazuya, heartbroken after being dumped, decides to try this service and is pleasantly surprised by how cute and sweet his rental girlfriend turns out to be.
However, she insists on keeping their arrangement a secret, which becomes challenging as they attend the same university and live close to each other.
To complicate matters further, Kazuya discovers that she is not as nice in real life as she portrays herself to be during their relationship.
44. Prison School
Prison School is quite a fun ecchi anime to watch! but it is full of £rotic sadi$tic and hardcore anime scenes, which make it a mature anime made for adults so plz be you should be +18 to watch it!
The story of this series takes place at an all-girls school, It'll start out with an all-girls setting, but eventually, the school is opening up to have boys and girls enroll in more diverse groups. At first, there'd be only five boys.
Boys can sometimes find it difficult to interact with girls at school, so the boys decided to head into the girls' locker room.
The boys quickly discover they have more in common with each other than they think – which is peeping on girls!
But as soon as the Underground Student Council finds out about their plan, their freedom is abruptly taken from them and they are thrown into the school's prison with the sentence of an entire month of harsh punishments.
Thus, starts the story of the boys' harsh lives in Prison School, a righteous struggle that will ultimately test the bonds of friendship and their perverted brotherhood.
43. Keijo!!!!!!!!
This is one of the hottest ecchi anime series on our list, and it revolves around a sexy sport called Keijo where only females can participate by standing on platforms in a pool and their goal is to knock off their opponents using just their butts and breasts.
This sport is popular nationwide, and many people take part in the hope that they can be the next Keijo champion.
Nozomi decides to sign up for Keijo, in order to win money that can help her poor family. Her strategies are top-notch, and she has the spunk and skills to make her debut tournament a success!
As she climbs the ranks, Nozomi finds out that to become a star in Keijo, she must face intense competitions which will challenge not only her body but also her soul.
42. Renai Bokun
Here is a romance ecchi anime series along with a pretty tsundere girl who happens to be the love interest of the anime main character Aino.
The story follows a beautiful girl named Guri who suddenly appears in front of Aino Seiji. The girl has a "Kiss Note" that makes two random people kiss each other and turns them into couples.
Guri tries to kiss Seiji and they awkwardly kiss. However, Seiji has a crush on the hot girl Akane Hiyama!
Thus, as soon as Akane hears that he kissed Guri, she reveals the obsessive and psycho feelings that she holds for the unfortunate boy and proceeds to viciously attack them.
This is a romantic and heart-touching anime about showing people's hidden side and what it means to be in love!
41. Grand Blue
Grand Blue is a good mature romantic comedy with ecchi themes that will undoubtedly hook you with its refreshing story.
After Iori Kitahara moves to a seaside town for college, he experiences a college life he never expected.
The story follows a new chapter in his life, filled with diving adventures alongside beautiful girls and hilarious escapades with a group of lovable characters.
The anime, brought to life by the collaboration of Kenji Inoue and Kimitake Yoshioka, is a glorious college tale brimming with booze-fueled antics that are sure to entertain and keep you entertained throughout the series.
40. My Dress-Up Darling
My Dress-Up Darling, also known in Japanese as Sono Bisque Doll wa Koi wo Suru, is an ecchi romance anime from 2022 that will capture your attention with its top-notch animation style.
The protagonist, Wakana Gojou, is haunted by a childhood incident where a friend disapproved of his love for traditional dolls.
As a result, Wakana lives as a loner and finds solace in the home economics room at his high school. He views people like Marin Kitagawa, a popular and trendy girl always surrounded by friends, as beings from another world.
However, when Marin, known for her cheerful and outgoing nature, discovers Wakana sewing after school, she can't resist roping him into her secret hobby: cosplay!
This sudden invasion from the lively and alluring Marin challenges Wakana's wounded heart. 
39. Fuuka
Diomedea is a well-known studio that has produced several ecchi anime series, and "Fuuka" is one of their standout works. This anime combines drama, music, and romance genres to deliver an engaging story.
The protagonist, Yuu Haruna, moves to a new town and encounters a peculiar girl named Fuuka, who surprisingly doesn't own a cell phone. Fuuka's mysterious allure, akin to a summer breeze, captivates those around her.
As fate intertwines their paths, Yuu finds himself entangled in an unexpected and passionate love story with Fuuka.
38. Kodomo Jikan
Kodomo Jikan is an ecchi anime with comedy, drama, and loli characters that viewers may enjoy. The series follows Aoki Daisuke, a new elementary school teacher eager to guide his young students.
However, he faces unexpected challenges with Kokonoe Rin, a saucy third grader who possesses knowledge beyond her years and harbors mistrust and disdain for adults.
Rin fiercely protects her friends Kuro and Mimi using questionable methods like harassment, extortion, threats, and sexual blackmail. Yet, she exhibits kindness and selflessness towards her friends.
As Daisuke tries to earn Rin's trust and help her overcome her darker tendencies, he must navigate the complexities of her troubled past without falling prey to it himself.
37. Umisho
The refreshing Umisho is another fantastic ecchi anime to watch, especially during these hot days. The story follows Kaname Okimura, who has a fear of water due to a childhood incident and desires to overcome it by learning how to swim.
To confront his fear, he decides to join Umisho's swimming club, but not as a swimmer—rather, as the manager. Initially, things progress smoothly and slowly for Okimura, until a peculiar family arrives in town, floating their home to the shore.
Among them is Amuro Ninagawa, a hyper and childlike girl with astonishing swimming abilities.
Intrigued by her unorthodox swimming style, the Umisho swimming club recruits her, bringing excitement, complexity, and a whole new dynamic to school life, making things both interesting and challenging for Okimura.
36. The Café Terrace and Its Goddesses
Premiering in spring 2023, The Café Terrace and Its Goddesses is one of the latest additions to our ecchi anime list. The series revolves around Hayato, who inherits his late grandmother's struggling café.
Initially viewing it as a burden, he intends to sell it swiftly for profit. However, everything changes when he discovers five stunning girls residing there.
Pleading with him to keep the café open, Hayato reluctantly agrees. Now, he must find a way to run the seaside shop while also learning to coexist with these lively and spirited women.
Can he successfully manage the café and adapt to living with these unruly but enchanting ladies?
35. Dragon Crisis
Dragon Crisis is a Japanese anime that debuted in winter 2010 and was produced by studio Deen. The anime spans various genres such as action, ecchi, and fantasy.
The story unfolds in a world where individuals seek out rare and potent items called Lost Precious. Among them are Ryuuji Kisaragi's parents and his cousin Eriko, who has returned from studying abroad.
When Eriko involves Ryuuji in intercepting a special treasure from the dangerous Fang organization, he gets caught up in an unexpected adventure.
To their surprise, the Lost Precious they discover is not a jewel or trinket but a rare dragon girl who immediately forms a bond with Ryuuji.
They name her Rose and take on the responsibility of guiding her through the world, ensuring her safety, and introducing her to new friends and other dragons they encounter along the way.
34. Princess Lover
Produced by GoHands, Princess Lover is a 12-episode ecchi harem anime that promises an enjoyable experience with its theme of sudden girlfriend appearances.
The story follows Teppei Arima, who, after rescuing a distressed girl named Princess Charlotte Hazelrink, discovers he is the heir to the wealthy Arima business empire.
Introduced to a world of luxury, Teppei encounters various characters, including his personal maid, Yuu, and his arranged fiancée, the sharp-tongued fencer Sylvia.
As he navigates high society, Teppei also encounters other girls, such as the snooty Seika Houjouin and, surprisingly, Princess Charlotte Hazelrink.
Despite his initial awkwardness, Teppei finds himself surrounded by girls vying for his attention.
Amidst the attention and pursuit, Teppei must adjust to his newfound circumstances and decide how to handle the romantic complications that arise.
33. Inukami!
Inukami is a heartwarming anime that features fanservice and revolves around the Kawahira family, known for their expertise in dealing with troublesome spirits using inukami, powerful dog spirits that assume human form.
Each family member is expected to form pacts with strong inukami to fulfill their duties, but there's a black sheep in the family: the perverted Keita. Unlike others, Keita charges people for his assistance.
His inukami, Youko, is determined to make him completely devoted to her, often punishing him by teleporting him naked into the city whenever he strays.
His frequent arrests for indecent exposure have led to his outcast status within his family and society. However, despite his quirks, Youko, an inukami of the highest caliber, chose to be his partner.
As the story unfolds, the question arises: Is there more to Keita than meets the eye beyond his perverseness?
32. A Sister's All You Need
Airing in 2017, A Sister's All You Need is an anime series that spans genres of comedy, ecchi, romance, and slice of life. The story revolves around Itsuki Hashima, a novelist with a deep fascination for little sisters. He yearns for a little sister in his life, believing it would make everything more enjoyable.
Surrounded by an eccentric group of individuals, including the genius author Nayuta, the college student Miyako, the illustrator Puriketsu, and the stern tax accountant Ashley, each character faces their own concerns.
Despite their worries, they lead peaceful daily lives filled with novel writing, video games, alcohol, and the mundane task of filing tax returns.
Amidst all the fun and camaraderie, Itsuki continues to ponder the absence of a little sister in his life.
31. Mahoromatic
First aired in 2001, Mahoromatic is a truly distinctive ecchi anime series that tells the story of Mahoro. She possesses a unique combination of skills—she excels in cooking, cleaning, and is a formidable combat android.
However, Mahoro has made a life-changing decision to relinquish her weapons, thereby extending her remaining lifespan from 37 to 398 days.
As she becomes Misato Suguru's maid, Mahoro finds herself embroiled in a different kind of battle—protecting Suguru's innocence.
Be it fending off advances from an amorous teacher or dealing with ecchi magazines, Mahoro strives to safeguard Suguru's purity.
So, will Mahoro succeed in preserving Suguru's innocence while navigating the challenges that lie ahead?
30. Tsugomomo
Tsugomomo is a great anime that explores many different genres including action, comedy and ecchi. If you're looking for something fresh, then this series is worth checking out!
The story follows Kazuya Kagami, who has a treasured gift from his mother. One day, a girl named Kiriha appeared before him. She then moved in with him and began living with him in his room.
Basically, Tsugumomo is about a guy who finds out that the power of his Mom's gift, which will open a whole new world filled with hot girls and fan service cuteness.
It's one of the best recently-aired ecchi anime series and you should definitely check it out.
29. Date a Live
Here is a sexy and naughty anime quote "Before the world ends, kill me or kiss me." Date a Live is one of the best harem ecchi anime series that has so much kissing scenes to enjoy!
The story follows the student Shidou Itsuka, who lives alone with his lovely little sister while their parents are away.
One day while a sudden Spacequake occurred he rushed to save his sister. Thus, when he arrives, he meets a powerful spirit girl who has been rejected by a devastated world.
However, the girl, who Shido names Tohka, happens to have wiped out much of humanity 30 years ago, and now she is back.
Well, the only way to stop her is to date her.
28. Campione!
Animated by Diomedea, Campione! is a captivating fantasy ecchi anime with an op mc surrounded by many hot anime girls!
The story follows Kusanagi Godou, who is suddenly stuck with the unwanted position of Campione!, who must fight Heretical beings whenever they try to muscle in on the local turf.
Not only is this likely to make Godou roadkill on the Highway to Heaven, but it's also a job that comes with a lot of other problems.
Like how to deal with the fact that as a Campione, he is now attracting multiple pretty female followers. After all, they're just there to aid him in his demi-godly duties, right?
So why is it that their leader, the sword-mistress Erica Blandelli, seems to have such a devilish interest in encouraging some very unorthodox activities?
So, Get ready for immortal affairs, heavenly beautiful harems, and lots of dueling deities taking pious in the face as the ultimate smash, bash, and thrash of the Titans rocks both Heaven and Earth.
27. Maken ki
Spanning genres of action, school, ecchi, and superpower, Maken Ki is another great anime that must be added to you watch-list.
It follows Takeru Ohyama, a pervert transfer student, who joins a new school that doesn't require entrance exams, and it just turned co-ed!
Unfortunately, his dreams of happy high school life are dashed when he finds out the school is much more than it seems. All of the students wield a special item—a Maken—to unleash their magical abilities in duels!
So, Can Takeru find a Maken that works for him? Even while trying to fit in at a new school and dealing with all kinds of girl problems?
26. Freezing
Freezing is drama action-packed anime with ecchi and fanservice scenes. The story is set in the future, where humans are under siege by aliens called Novas.
These aliens leave devastation once they show up, but it's the effort to battle them off that becomes known as a Nova Clash. The creation of people with superpowers is part of a desperate plan to save humanity.
A military academy exists to allow the human race to flourish and learn how to work as a team. They are trained in "Pandora" girls and "Limiters" boys that have been implanted with stigmata.
A boy named Kazuya Aoi is a newcomer at this private military academy. On his first day, he attends an exciting battle in which Pandoras fights. He mistakes one of the Pandoras for his sister who died in the past and ends up hugging her…
So, although she lost her match, she actually enjoyed his hug, and then they became a duo. The only question is whether or not they can survive the machinations of their upperclassmen and the impending battle with Novas.
25. Eromanga Sensei
Eromanga Sensei is a spicy ecchi anime series that has become very popular among fans of fanservice tv shows.
The whole idea of the show is about a manga artist who draws the most sensual stories. After the unexpected death of their parents, Sagiri became estranged from her step-brother Masamune and it seems like she has lost social touch with the outside world.
While supporting what's left of his family, Masamune made a living by being an author of light novels. He has one small problem though; he doesn't have the chance to meet his idol, Eromanga-sei, who is most famous for drawing the most sensual manga series.
When he finds out that his little sister was his partner the whole time, he gets a big shock. Masamune and Sagiri have to strategically work together now to make their way in the light novel industry.
Eromanga-Sensei is about the development of their relationship, as well as the struggle for success. While Sagiri learns how to grow out of her shell and keep her true persona from others. Will she be able to?
24. Mayo Chiki
Mayo Chiki is a heartwarming anime with a story revolving around Kinjirou Sakamachi, who is afraid of being touched by the opposite sex due to his upbringing.
When he accidentally discovers that the school idol Subaru is actually a girl in disguise, his life becomes more complicated.
In exchange for keeping Subaru's secret, Kinjirou must overcome his fear of girls with the help of Subaru and Kanade, leading to a delightful and humorous journey.
This addictive anime combines comedy, romance, and crossdressing themes, which makes for an entertaining watch.
23. The Fruit Of Grisaia 
The Fruit Of Grisaia is a top ecchi anime series known for its beautiful girls and occasional panty shots. The story is set in Mihama Academy, a school resembling a prison for troubled individuals.
Five female students, each with their unique reasons for enrolling, live their lives within its confines. When the first male student, Kazami Yuuji, arrives, the tranquil atmosphere of Mihama is disrupted.
As Yuuji interacts with the girls, their pasts and struggles come to light, leading to questions about whether he can help them overcome their burdens or if his own past will be too much to bear.
22. We Never Learn
We Never Learn," a rom-com ecchi anime from 2019, centers around Nariyuki Yuiga, who desperately needs a special scholarship. In order to obtain it, he must tutor three genius girls.
One excels in literature but struggles with science, another is a math prodigy with a passion for the arts, and the last one is incredibly athletic but faces challenges in other subjects.
As university application deadlines approach, Nariyuki faces the daunting task of teaching the seemingly unteachable in time.
What makes this ecchi anime stand out is that, despite expectations of a typical fanservice show with plenty of sexy jokes, We Never Learn will surprise you with its clever build-up and well-developed characters.
21. Is This A Zombie?
Back in 2011, Is This a Zombie? was considered one of the most-watched anime series of the year. This anime stands out for its funny, unique, and weird approach to a powerful protagonist.
The story follows Ayumu, who was murdered by a serial killer but is brought back to life by the mysterious Eucliwood Hellscythe, transforming him into a zombie, much to his dismay.
Now, as an immortal zombie, Ayumu finds himself at the mercy of his supernatural and silent companion.
However, his troubles don't end there. After accidentally stealing the powers of a magical girl named Haruna, Ayumu is forced to take on the embarrassing role of a magical boy in her place.
As if that wasn't enough, he also has to deal with the addition of a hostile vampire ninja to his household.
Amidst all the chaos, Ayumu must navigate his new life, fight against attacking monsters, and seek vengeance against his killer, all while trying to preserve what little dignity he has left.
20. Don't Toy With Me, Miss Nagatoro
In 2021, Don't Toy With Me, Miss Nagatoro (Japanese title: "Ijiranaide, Nagatoro-san") emerged as one of the best anime series.
This school ecchi anime centers around a junior girl, Nagatoro, who teases and torments Senpai, a boy from a lower grade.
When Senpai visits the library after school, he becomes the target of Nagatoro's super sadistic behavior. Despite her annoying and teasing nature, there's an undeniable adorableness to her, making it a painful yet intriguing experience for Senpai.
The anime portrays the evolving relationship between these two characters, with Nagatoro's extreme sadistic and temperamental nature serving as a central theme. As you watch this story progresses, you'll find something awakening inside of you.
19. Heaven's Lost Property
Heaven's Lost Property is a 2010 anime encompassing Comedy, Ecchi, Fantasy, and Harem genres.
The story centers around Tomoki, whose life takes an extraordinary turn when an angelic android named Ikaros falls from the sky and becomes his wish-granting servant.
Soon, another android named Nymph joins them, adding to the chaos.
While Tomoki hopes for a peaceful existence with his newfound companions on Earth, his teenage impulses and mischievous desires lead to even more mayhem.
Additionally, a new curvaceous android named Astraea arrives, raising suspicions about her true intentions.
18. Kill la Kill
Kill la Kill is one of the most popular anime series of all time, this Japanese animated tv show is produced by Trigger, and spans genres of action, comedy, superpowers, and of course ecchi.
The show follows Ryuuko Matoi, who has been wandering the land searching for her father's killer. She will arrive at a school of super-humans, ruled by the imposing and cold-hearted student council president Satsuki Kiryuuin alongside her powerful underlings, the Elite Four.
In the school's brutally competitive hierarchy, Satsuki bestows upon those at the top special clothes called "Goku Uniforms," which grant the wearer unique superhuman abilities.
Although beaten in a fight against one of the students in uniform, Ryuuko retreats to her razed home where she stumbles across Senketsu, a rare and sentient "Kamui," or God Clothes.
After coming into contact with Ryuuko's blood, Senketsu awakens, latching onto her and providing her with immense power.
Now, with Senketsu and the Scissor Blade, Ryuuko faces the Elite Four, hoping to reach Satsuki and know the truth behind her father's murder once and for all.
17. Dakara Boku Wa, H Ga Dekinai
Dakara Boku wa, H ga Dekinai is just another recommended romantic ecchi anime with supernatural themes that you should not skip! The story can be summarized with the Quote: "NEVER make a deal with a wet lady you've only just met".
In this series, that's a lesson Ryosuke Kaga learns the hard way when he foolishly agrees to let Lisara Restole, use some of his "essence" to stay in this world.
Because despite her smoking hot appearance, Lisara's actually a Shinigami, a Messenger of Death. However, she doesnt steals years off his life as any decent Shinigami would do.
16. Rakudai Kishi no Cavalry 
Next we have Rakudai Kishi No Cavalry, a school ecchi anime where the mc is op and is surrounded by numerous gorgeous female characters.
The show highlights the story of Ikki Kurogane, as he defies the odds that everyone thinks he can't do. Ikki is the lowest of the low at his academy, while others have magical power and are high ranking.
He is the only low ranker… a rank F. But, at each and every turn he does the unthinkable from beating an A ranker to winning a tournament in order to graduate and achieve his dream of becoming strong when you have no chance of being able to.
Hence, Ikki wants to prove that even the weak can be strong, all the while gaining new friends, wisdom, and experience.
15. Strike The Blood
Animated by Silver Link studio, Strike the Blood is another great action ecchi harem anime with an overpowered main character named "Kojou Akatsuki.
Our protagonist spends his days as an ordinary high school student, who during a fateful encounter leaves him with the remarkable abilities of a vampire.
It isn't long before he is thrust into the center of attention when it is discovered that he is the fourth primogenitor.
Fearing Kojou's destructive potential, the Lion King Organization sends in an apprentice sword-shaman. Yukina Himeragi, must monitor, and should he become a threat, she must kill the boy deemed the world's most powerful vampire.
By circumstance, the two form an unlikely alliance as Kojou comes to terms with his abilities and they both struggle to protect the city from various emerging chaotic forces.
14. Highschool of the Dead
One of the best anime about zombies of all time is The Highschool Of The Dead.
Produced by the renowned Madhouse studio, this is a must-watch horror ecchi anime series that follows Takashi and Rei, who together with other students are on a journey, to find their family members and uncover what causes this overwhelming pandemic.
Joining them is Saeko Busujima, the beautiful president of the Kendo Club; Kouta Hirano, an otaku with a fetish for firearms; Saya Takagi, the daughter of an influential politician; and Shizuka Marikawa, their hot school nurse.
13. Isekai no Seikishi Monogatari 
Tenchi Muyo! War on Geminar is on this list because it's considered one of the top harem ecchi anime with an op mc that I have seen so far!
The story of this ecchi anime revolves around Kenshi Masaki who finds himself in another world. To get back home, he agrees to help them assassinate the new empress of the Shtrayu Empire, Lashara Aasu XXVIII.
As her army fights them off, Lashara takes note of Kenshi's abilities and demands that her attacker is captured alive, Only to find out that the pilot is male which is extremely rare on Geminar.
Believing it to be a waste to kill him, she makes Kenshi her attendant. As the empress' new servant, Kenshi must accompany Lashara to the Holy Land, an academy where Mechanoid pilots hone their skills.
His arrival attracts attention, but Kenshi is unaware that something sinister is brewing within the academy and it could plunge the entire world int
12. The Testament of sister new devil
The Testament Of Sister New Devil is actually a must-watch action ecchi and fantasy anime that boats fanservice, sexy girls, and heartwarming scenes.
The series highlights: Running into your new stepsister in the bathroom is not the best way to make a good first impression, which Basara Toujou learns the hard way.
When his father suddenly brings home two beautiful girls and introduces them as his new siblings.
So, he has no choice but to accept into his family the Naruse sisters: busty redhead Mio and petite silver-haired Maria. But when these seemingly normal girls reveal themselves as demons.
Mio the former Demon Lord's only daughter and Maria trusted succubus servant—Basara is forced to reveal themselves as a former member of a clan of "Heroes," sworn enemies of the demons.
However, having begun to care for his new sisters, Basara instead decides to protect them with his powers and forms a master-servant contract with Mio to keep watch over her.
With the Heroes observing his every move and the constant threat of hostile demons, Basara has to do the impossible to protect his new family members.
Moreover, the protector himself is hiding his own dark secret that still haunts him to this day…
11. Monster Musume No Iru Nichijou
Monster Musume is a romance ecchi anime features many pretty girls, £rotic moments, and funny scenes  that you will probably enjoy!
The story focuses on Kimihito Kurusu, who is living a quiet, normal life alone until monster girls came crowding in! Now Japan is the first country to promote accepting non-human species to live inside society.
After the incompetence of the interspecies exchange coordinator Agent Smith asks Kimihito to be the host and take care of Lamia, who will start attracting various breeds.
Resulting in the growth of a harem flush with £roticism and attraction. However, this hot interaction between species is forbidden by the law!
Hence, with new species often appearing and events materializing out of thin air, where Kimihito and his harem go is anyone's guess!
10. To Love-Ru
To Love Ru bu studio Xebec is a school ecchi anime, our main character Rito Yuuki is a shy boy, who attempts to confess his love for his crash since junior high and classmate Haruna Sairenji.
Unfortunately, his situation becomes even more challenging when one night, a mysterious girl crash-lands right on top of a bathing Rito.
Furthermore, Rito is in more confused when he discovers that this girl, is the crown princess of an alien empire who left her home.
Despite being a princess of a powerful planet, the girl wants to marry the timid Rito in order to avoid an unwanted political marriage.
To LOVE-Ru is an anime full of fanservice and sensual themes that depicts Rito's daily struggles with the bizarre chaos that begins upon the arrival of a mysterious girl.
9. Sekirei
With 25 episodes and two seasons, this anime can be the best recommendation for you if you are into superpowers, action, harem and ecchi series.
The story focuses on Minato Sahashi, who fails in his college entrance exams for the second time, resulting in him being regarded as worthless by those around him.
However, the course of his seemingly bleak future changes dramatically when a beautiful, supernatural woman falls from the sky and into his life.
That woman, Musubi, is a unique being known as a "Sekirei," a humanoid extraterrestrial with extraordinary abilities.
These aliens are known for kissing humans carrying the Ashikabi gene in order to awaken additional latent powers deep within. Musubi kisses the bewildered Minato, initiating a bond between the two of them.
This drags him into the high-stakes world of the Sekirei, where he and his new partner must compete against others in a battle for survival called the "Sekirei Plan."
However, unbeknownst to the contestants, there is far more at risk than what the competition initially entailed.
8. Kakegurui
Kakegurui is an epic psychological gambling anime featuring a group of attractive and alluring girls. The story is set in Hyakkaou Private Academy, a school for the elite with a unique focus on gambling.
In this world, the sons and daughters of the wealthiest families sharpen their skills in reading opponents and making deals through intense gambling matches. Winners enjoy a life of luxury, while losers face harsh consequences.
However, when Yumeko Jabami joins the academy, she brings her own brand of high-stakes gambling, challenging the established order and showing the students what it truly means to be a high roller.
7. Infinite Stratos
This is a 2011 ecchi harem anime with an all-girls school setting that you will enjoy. The story highlights the emergence of the Infinite Stratos, which is a powered exoskeleton that revolutionized the world's power dynamics.
With the IS systems becoming a catalyst for peace, it is exclusively women who possess the ability to pilot them. However, everything changes when Ichika Orimura is revealed as the first male with the capability to control an IS.
As a result, his plans for the future are abruptly discarded, and he is enrolled in the female-dominated Infinite Stratos Academy by the command of the Japanese government.
6. Shomin Sample
Shomin Sample is a steamy anime series that you'll enjoy watching. The story revolves around Kimito Kagurazaka, an incredibly average guy with ordinary grades, abilities, looks, and a nonexistent love life.
However, his life takes a dramatic turn when he's unexpectedly abducted by a mysterious organization and forced to enroll in a super elite academy for wealthy, classy, and privileged young ladies.
Kimito discovers that he has been chosen as a "commoner sample" to help these sheltered and naive girls adjust to normal society.
But there's a significant catch—Kimito must refrain from showing any romantic or sexual interest in the girls, or face severe consequences.
Can this commoner navigate the secret world of high society and maintain his composure amidst the challenges that lie ahead?
5. Love Hina 
Love Hina is a prominent harem ecchi romantic anime that left its mark in the year 2000. The series follows the story of Keitaro Urashima, who has faced setbacks in life.
Regardless of the numerous attempts, he has been unable to fulfill a promise he made to a girl fifteen years ago—to get into Tokyo U. However, fate takes an unexpected turn when he starts working for his aunt, managing an all-girls dorm.
Living amidst the diverse personalities of the feral Kaolla, timid Shinobu, sake-loving Mitsune, blade mistress Motoko, and punch-happy Naru, Keitaro must strive to keep his focus and honor his promise.
As he navigates his life in the dorm, he wonders if he will ever reunite with the girl from his past. Can Keitaro overcome the challenges and eventually fulfill his long-awaited promise?
4. Please Teacher!
Please Teacher or Onigai Teacher is an ecchi romance anime that follows the story of Kei Kusanagi, a shy teenage boy who has yet to experience romance.
However, his life takes an unexpected turn when he discovers that his beautiful new teacher is actually an alien. To preserve her secret identity, they are compelled to enter into a pretend marriage.
As their relationship develops, the line between pretense and genuine affection becomes blurred. Will their connection evolve into something deeper as they navigate the complexities of love?
3. Rosario To Vampire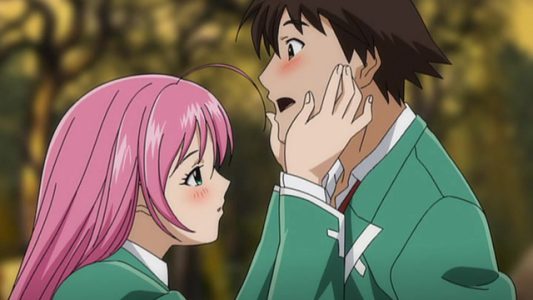 Rosario Vampire is a hot ecchi and engaging vampire anime that follows the story of Tsukune Aono, a fifteen-year-old boy who lacks remarkable qualities.
After flunking his high school entrance exam, he finds himself enrolled in a highly unusual school. Youkai Academy is no ordinary educational institution—it's a place where monsters coexist with humans.
While the other students are required to maintain their human forms, Tsukune, as the sole human attendee, can avoid their bloodthirsty attention.
However, his presence catches the eye of various alluring creatures, including the vampire Moka, a voluptuous succubus, and a young witch.
Tsukune's once-average life takes a thrilling turn as he navigates his newfound encounters with the supernatural.
2. Shokugeki no Soma
One of the greatest cooking anime that will motivate you to be a Chef is Food Wars, an ecchi anime by J.C.Staff that follows Souma Yukihira, who ever since his childhood, helps his father by working as the sous chef in the restaurant his father runs and owns.
Throughout the years, Souma develops a passion for entertaining his customers with his creative, genius, and daring culinary creations. His dream is to someday own his family's restaurant as its head chef.
Yet when his father suddenly decides to close the restaurant to test his cooking abilities in restaurants around the world, he sends Souma to Tootsuki Culinary Academy, an elite cooking school where only 10 percent of the students graduate.
The institution is famous for its "Shokugeki" or "food wars," where students face off in intense, high-stakes cooking showdowns.
As Souma and his new schoolmates struggle to survive the extreme lifestyle of Tootsuki, more and greater challenges await him, putting his years of learning under his father to the test.
1. Highschool DxD
Topping our list with High School DxD, produced by TNK studio is one the most popular anime of all time, this is a good ecchi, harem anime filled with pretty females, especially the hottest anime girl I have ever seen "Rias Gremory".
The story follows the student Issei Hyoudou who is a pervert. He does nothing productive with his life, peeping on women and dreaming of having his own harem one day.
Things seem to be looking up for Issei when the pretty rias ask him out on a date. although she turns out to be a fallen angel who brutally kills him!
However, he gets a second chance at life when Rias Gremory, who is a top-class devil, revives him as her servant. Now, Issei must train and fight in order to survive in the violent world of angels and devils.
Any given adventure leads to many hilarious and epic moments with his new comrades. all the while keeping his new life a secret from his friends and family in High School DxD!