Ecchi anime series: The List of the 22 best ecchi Anime tv shows of all time to watch
What is an ecchi anime series?
Ecchi anime refers to a genre of those japanese tv shows that includes hot, sexy, and fanservice content. The term "ecchi" is often translated as "perverted," a result of how the genre is typically characterized by sexy girls, comedic, revealing clothes, and sometimes even seduction and teasing situations.
So, you should know that these Ecchi anime series, are the best choice that we all need to watch on Netflix, Crunchyroll, or even on Youtube, in order to spice things up and set the mood.
Hence, in this list Of the 22 Best Ecchi Anime tv Shows feel free to explore the hot teasing, Romantic comedies, provocative thrillers, and dirty dramas within the world of Japanese Anime and Manga Series.
Here We Go!
22. Hajimete no Gal
Episodes: 10
Studio: NAZ

Genres:

Comedy, Romance, Ecchi, School, Shounen
Let's start our list of ecchi anime tv shows with this good recommendation "Hajimete no Gal", which is a good comedy ecchi anime based on the manga series of the name.
The story is set in Spring. which is The "season of love",  and it looks like it's hard for Junichi to find a girlfriend. So, in order To break this situation issue, Junichi's friends have forced him into confessing to the gal, Yame Yukana. However, it seems that things do not go well as he expected. Hence, A series of "firsts" begins!
21. Prison School
Episodes: 12
Studio: J.C.Staff

Genres:

 Comedy, Ecchi, Romance, School, Seinen
Prison School is quite a fun ecchi anime to watch! but it is full of £rotic sadi$tic and hardcore anime scenes, this is a mature anime made for adults so plz be you should be over 18 to watch it!
The story of this school ecchi anime series takes place at an all-girls school, It'll start out with an all-girls setting, but eventually, the school is opening up to have boys and girls enroll in more diverse groups. At first, there'd be only five boys.
Boys can sometimes find it difficult to interact with girls at school, so the boys decided to head into the girls' locker room. The boys quickly discover they have more in common with each other than they think – which is peeping on girls!
But as soon as the Underground Student Council finds out about their plan, their freedom is abruptly taken from them and they are thrown into the school's prison with the sentence of an entire month of harsh punishments.
Thus, starts the story of the boys' harsh lives in Prison School, a righteous struggle that will ultimately test the bonds of friendship and their perverted brotherhood.
20. Keijo!!!!!!!!
Episodes: 12
Studio: Xebec

Genres:

Action, Sports, Ecchi, Shounen
This is one of the newest ecchi anime series on our list, and it revolves around a sexy sport called Keijo where only females can participate by standing on platforms in a pool and their goal is to knock off their opponents using just their butts and breasts.
This sport is popular nationwide, and many people take part in the hope that they can be the next Keijo champion. Nozomi decides to sign up for Keijo, in order to win money that can help her poor family. Her strategies are top-notch, and she has the spunk and skills to make her debut tournament a success!
As she climbs the ranks, Nozomi finds out that to become a star in Keijo, she must face intense competitions which will challenge not only her body but also her soul.
19. Renai Bokun
Episodes:

12 

Studios:

 EMT²

Genres:

 Harem, Comedy, Supernatural, Romance, Ecchi, School
Here is a romance ecchi anime series along with a pretty tsundere girl who happens to be the love interest of the anime main character Aino.
The story follows a beautiful girl named Guri who suddenly appears in front of Aino Seiji. The girl has a "Kiss Note" that makes two random people kiss each other and turns them into couples. Guri tries to kiss Seiji and they awkwardly kiss. However, Seiji has a crush on the hot girl Akane Hiyama!
Thus, as soon as Akane hears that he kissed Guri, she reveals the obsessive and psycho feelings that she holds for the unfortunate boy and proceeds to viciously attack them. This is a good Ecchi Anime about showing people's hidden side and what it means to be in love!
18. Tsugomomo
Episodes: 12
Studio: Zero-G

Genres:

 Action, Comedy, Supernatural, Ecchi, School, Seinen
Tsugomomo is a great anime that explores many different genres including action, comedy and ecchi. If you're looking for something new, this series is worth checking out! The story follows Kazuya Kagami, who has a treasured gift from his mother.
One day, a girl named Kiriha appeared before him. She then moved in with him and began living with him in his room.
Basically, Tsugumomo is about a guy who finds out that the power of his Mom's gift, which will open a whole new world filled with hot girls and fan service cuteness. It's one of the best recently-aired ecchi anime series and you should definitely check it out.
17. Date a Live
Episodes: 34 / Three Seasons
Studios: J.C.Staff, Production IMS

Genres:

 Comedy, Ecchi, Harem, Mecha, Romance, School, Sci-Fi
Here is a sexy quote "Before the world ends, kill me or kiss me." Date a Live is one of the best harem ecchi anime series that has so much to offer! The story follows the student Shidou Itsuka, who lives alone with his lovely little sister while their parents are away. One day while a sudden Spacequake occurred he rushed to save his sister.
Thus, when he arrives, he meets a powerful spirit girl who has been rejected by a devastated world. However, The girl, who Shido names Tohka, happens to have wiped out much of humanity 30 years ago, and now she is back. Well, The only way to stop her is to date her.
16. Campione!
Episodes: 12
Studio: Diomedea

Genres:

 Comedy, Ecchi, Fantasy, Harem, Magic, Romance
Campione! is fantasy ecchi anime with an op mc surrounded by so many hot anime girls! the story of this Japanese animated series follows Kusanagi Godou, who is suddenly stuck with the unwanted position of Campione!, who must fight Heretical beings whenever they try to muscle in on the local turf.
Not only is this likely to make Godou roadkill on the Highway to Heaven, but it's also a job that comes with a lot of other problems. Like how to deal with the fact that as a Campione, he is now attracting multiple pretty female followers. After all, they're just there to aid him in his demi-godly duties, right?
So why is it that their leader, the sword-mistress Erica Blandelli, seems to have such a devilish interest in encouraging some very unorthodox activities? So, Get ready for immortal affairs, heavenly beautiful harems, and lots of dueling deities taking pious in the face as the ultimate smash, bash, and thrash of the Titans rocks both Heaven and Earth.
15. Maken ki
Episodes: 22 / Two Seasons
Studio: Aic
Genres: Action, Ecchi, Harem, Martial-Arts, School, SuperPower
This is another great romance comedy ecchi anime that follows Takeru Ohyama, a pervert transfer student. His new school doesn't require entrance exams, and it just turned co-ed!
Unfortunately, his dreams of happy high school life are dashed when he finds out the school is much more than it seems. All of the students wield a special item—a Maken—to unleash their magical abilities in duels! So, Can Takeru find a Maken that works for him? Even while trying to fit in at a new school and dealing with all kinds of girl problems?
14. Freezing
Episodes:  24 / Two Seasons
Studio: A.C.G.T

Genres:

 Action, Military, Sci-Fi, Harem, Drama, Romance, Ecchi, Martial Arts, Seinen
This ecchi anime is set in the future, where humans are under siege by aliens called Novas. These aliens leave devastation once they show up, but it's the effort to battle them off that becomes known as a Nova Clash.
The creation of people with superpowers is part of a desperate plan to save humanity. A military academy exists to allow the human race to flourish and learn how to work as a team. They are trained in "Pandora" girls and "Limiters" boys that have been implanted with stigmata.
A boy named Kazuya Aoi is a newcomer at this private military academy. On his first day, he attends an exciting battle in which Pandoras fights. He mistakes one of the Pandoras for his sister who died in the past and ends up hugging her…
So, although she lost her match, she actually enjoyed his hug, and then they became a duo. The only question is whether or not they can survive the machinations of their upperclassmen and the impending battle with Novas.
13. Eromanga Sensei
Episodes: 12
Studio: A-1 Pictures

Genres:

 Comedy, Drama, Romance, Ecchi
This is another good ecchi anime series that has become very popular and is called "Eromanga Sensei"! The whole idea of the show is about a manga artist who draws the most sensual stories.
After the unexpected death of their parents, Sagiri became estranged from her step-brother Masamune and it seems like she has lost social touch with the outside world.
While supporting what's left of his family, Masamune made a living by being an author of light novels. He has one small problem though; he doesn't have the chance to meet his idol, Eromanga-sei, who is most famous for drawing the most sensual manga series.
When he finds out that his little sister was his partner the whole time, he gets a big shock. Masamune and Sagiri have to strategically work together now to make their way in the light novel industry.
Eromanga-Sensei is an ecchi anime about the development of their relationship, as well as the struggle for success. While Sagiri learns how to grow out of her shell and keep her true persona from others. Will she be able to?
12. Kill la Kill
Episodes: 24
Studio: Trigger

Genres:

 Action, Comedy, Super Power, Ecchi, School
Kill la Kill is one of the most popular anime series of all time, this Japanese animated tv show follows Ryuuko Matoi, who has been wandering the land searching for her father's killer. She will arrive at a school of super-humans, ruled by the imposing and cold-hearted student council president Satsuki Kiryuuin alongside her powerful underlings, the Elite Four. In the school's brutally competitive hierarchy, Satsuki bestows upon those at the top special clothes called "Goku Uniforms," which grant the wearer unique superhuman abilities.
Although beaten in a fight against one of the students in uniform, Ryuuko retreats to her razed home where she stumbles across Senketsu, a rare and sentient "Kamui," or God Clothes. After coming into contact with Ryuuko's blood, Senketsu awakens, latching onto her and providing her with immense power. Now, with Senketsu and the Scissor Blade, Ryuuko faces the Elite Four, hoping to reach Satsuki and know the truth behind her father's murder once and for all.
11. Dakara Boku Wa, H Ga Dekinai
Episodes: 12
Studio: feel.

Genres:

 Comedy, Ecchi, Romance, Supernatural
Here is Another Ecchi Anime Quote: "NEVER make a deal with a wet lady you've only just met". In this Ecchi Anime Series, That's a lesson Ryosuke Kaga learns the hard way when he foolishly agrees to let Lisara Restole, use some of his "essence" to stay in this world. Because despite her smoking hot appearance, Lisara's actually a Shinigami, a Messenger of Death. However, she DOESN'T steals years off his life as any decent Shinigami would do.
10. Rakudai Kishi no Cavalry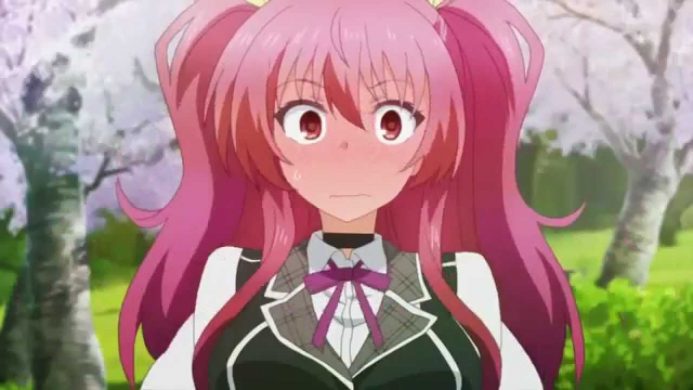 Episodes: 12

Studios:

 Silver Link., Nexus

Genres:

 Action, Romance, Ecchi, Fantasy, School
This Action Ecchi anime where the mc is op highlights the story of Ikki Kurogane as he defies the odds that everyone thinks he can't do. Ikki is the lowest of the low at his academy. While others have magical power and are high ranking.
Moreover, He is the only low ranker… a rank F.  But, At each and every turn he does the unthinkable from beating an A ranker to winning a tournament in order to graduate and achieve his dream of becoming strong when you have no chance of being able to. Hence, Ikki wants to prove that even the weak can be strong, all the while gaining new friends, wisdom, and experience.
9. Strike The Blood
Episodes:

 24

Studios:

 Silver Link., Connect

Genres:

 Action, Harem, Supernatural, Ecchi, Vampire, Fantasy, School
Strike the Blood is another great ecchi harem anime with an overpowered main character "Kojou Akatsuki", who spends his days as an ordinary high school student, who during a fateful encounter leaves him with the remarkable abilities of a vampire. It isn't long before he is thrust into the center of attention when it is discovered that he is the fourth primogenitor.
Fearing Kojou's destructive potential, the Lion King Organization sends in an apprentice sword-shaman. Yukina Himeragi, must monitor, and should he become a threat, she must kill the boy deemed the world's most powerful vampire. By circumstance, the two form an unlikely alliance as Kojou comes to terms with his abilities and they both struggle to protect the city from various emerging chaotic forces.
8. Highschool of the Dead
Episodes: 12
Studio: Madhouse

Genres:

Action, Horror, Supernatural, Ecchi, Shounen
This is a must-watch ecchi anime series! its plot follows Takashi and Rei, who together with other students are on a journey, to find their family members and uncover what causes this overwhelming pandemic. Joining them is Saeko Busujima, the beautiful president of the Kendo Club; Kouta Hirano, an otaku with a fetish for firearms; Saya Takagi, the daughter of an influential politician; and Shizuka Marikawa, their hot school nurse.
7. Isekai no Seikishi Monogatari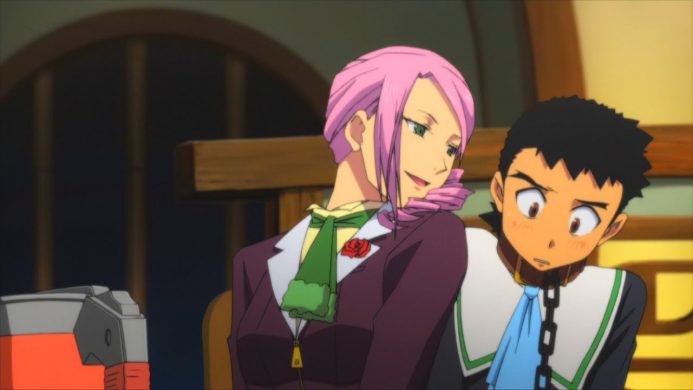 Episodes:

13

Studios:

AIC, BeSTACK

Genres:

 Action, Comedy, Ecchi, Fantasy, Harem, Mecha, School
Tenchi Muyo! War on Geminar is on this list because it's considered one of the top harem anime with op mc I have seen so far!. the story of this ecchi anime revolves around Kenshi Masaki who finds himself in another world. To get back home, he agrees to help them assassinate the new empress of the Shtrayu Empire, Lashara Aasu XXVIII.
As her army fights them off, Lashara takes note of Kenshi's abilities and demands that her attacker is captured alive. only to find out that the pilot is male which is extremely rare on Geminar. Believing it to be a waste to kill him, she makes Kenshi her attendant. As the empress' new servant, Kenshi must accompany Lashara to the Holy Land, an academy where Mechanoid pilots hone their skills. His arrival attracts attention, but Kenshi is unaware that something sinister is brewing within the academy and it could plunge the entire world into war.
6. The Testament of sister new devil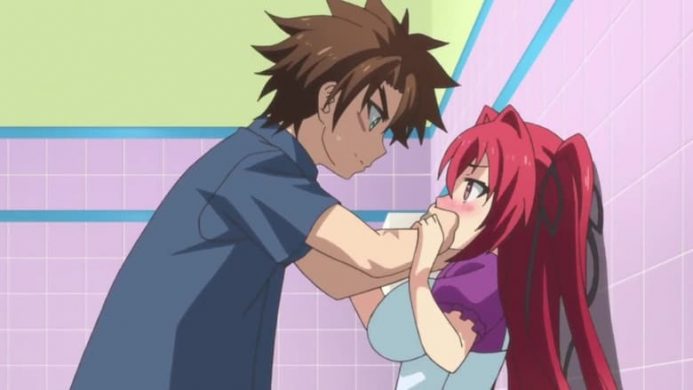 Episodes: 24 / Two Seasons

Studios:

 Production IMS

Genres:

Action, Ecchi, Fantasy, Romance, Harem, Demons
The plot of this ecchi anime tv shows highlights that Running into your new stepsister in the bathroom is not the best way to make a good first impression, which Basara Toujou learns the hard way. When his father suddenly brings home two beautiful girls and introduces them as his new siblings. So, he has no choice but to accept into his family the Naruse sisters: busty redhead Mio and petite silver-haired Maria. But when these seemingly normal girls reveal themselves as demons.
Mio the former Demon Lord's only daughter and Maria trusted succubus servant—Basara is forced to reveal themselves as a former member of a clan of "Heroes," sworn enemies of the demons. However, having begun to care for his new sisters, Basara instead decides to protect them with his powers and forms a master-servant contract with Mio to keep watch over her. With the Heroes observing his every move and the constant threat of hostile demons, Basara has to do the impossible to protect his new family members. Moreover, the protector himself is hiding his own dark secret that still haunts him to this day…
5. Monster Musume No Iru Nichijou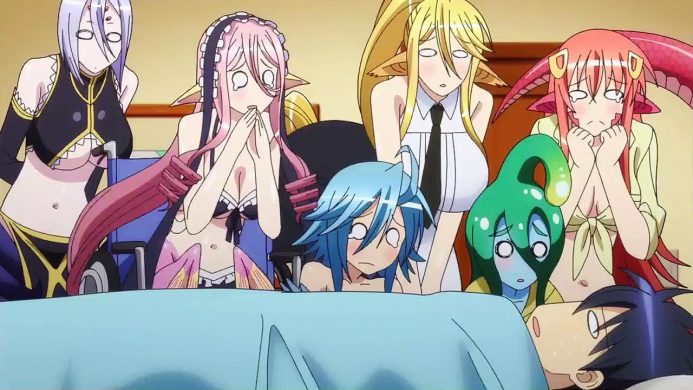 Episodes: 12
Studio: Lerche

Genres:

Harem, Comedy, Romance, Ecchi, Fantasy, Seinen
So many pretty anime girls, £rotic moments, and funny scenes are all included in this ecchi anime that you will probably enjoy! Kimihito Kurusu is living a quiet, normal life alone until monster girls came crowding in!
Now Japan is the first country to promote accepting non-human species to live inside society. After the incompetence of the interspecies exchange coordinator Agent Smith asks Kimihito to be the host and take care of Lamia, who will start attracting various breeds. Resulting in the growth of a harem flush with £roticism and attraction. However, this hot interaction between species is forbidden by the law! Hence, With new species often appearing and events materializing out of thin air, where Kimihito and his harem go is anyone's guess!
4. To Love-Ru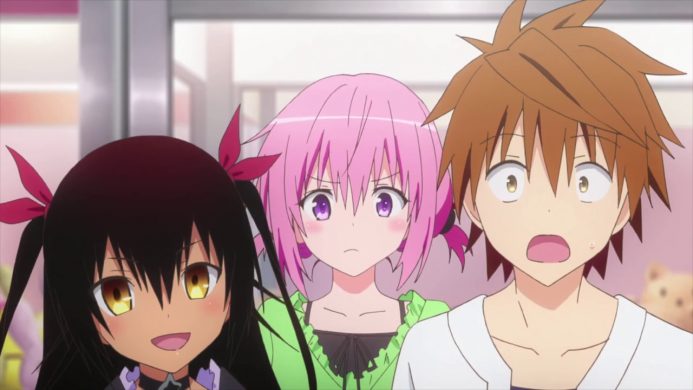 Episodes: 62 / Four Seasons
Studio: Xebec

Genres:

Sci-Fi, Harem, Comedy, Romance, Ecchi, School, Shounen
In this school ecchi anime, our main character Rito Yuuki is a shy boy, who attempts to confess his love for his crash since junior high and classmate Haruna Sairenji. Unfortunately, his situation becomes even more challenging when one night, a mysterious girl crash-lands right on top of a bathing Rito.
Furthermore, Rito is in more confused when he discovers that this girl, is the crown princess of an alien empire who left her home. Despite being a princess of a powerful planet, the girl wants to marry the timid Rito in order to avoid an unwanted political marriage. To LOVE-Ru is an ecchi anime that depicts Rito's daily struggles with the bizarre chaos that begins upon the arrival of a mysterious girl.
3. Sekirei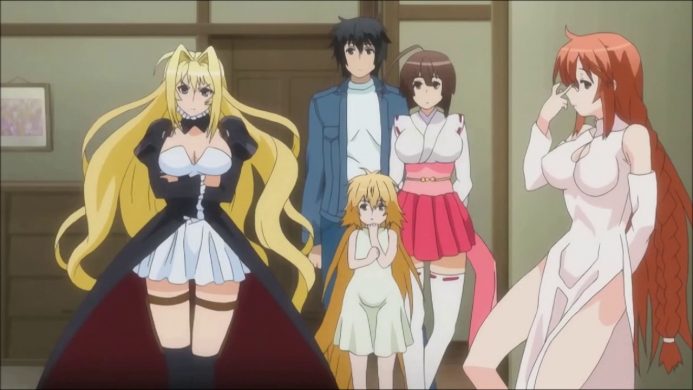 Episodes: 25 / Two Seasons

Studios:

 Seven Arcs

Genres:

 Action, Comedy, Ecchi, Harem, Super Power
This Anime can be the best recommendation for you if you are into superpowers, action, harem and ecchi anime series The story focuses on Minato Sahashi, who fails in his college entrance exams for the second time, resulting in him being regarded as worthless by those around him.
However, the course of his seemingly bleak future changes dramatically when a beautiful, supernatural woman falls from the sky and into his life. That woman, Musubi, is a unique being known as a "Sekirei," a humanoid extraterrestrial with extraordinary abilities. These aliens are known for kissing humans carrying the Ashikabi gene in order to awaken additional latent powers deep within.
Musubi kisses the bewildered Minato, initiating a bond between the two of them. This drags him into the high-stakes world of the Sekirei. where he and his new partner must compete against others in a battle for survival called the "Sekirei Plan." However, unbeknownst to the contestants, there is far more at risk than what the competition initially entailed.
Read Also: Anime Couples Who Shared Love and War
2. Shokugeki no Soma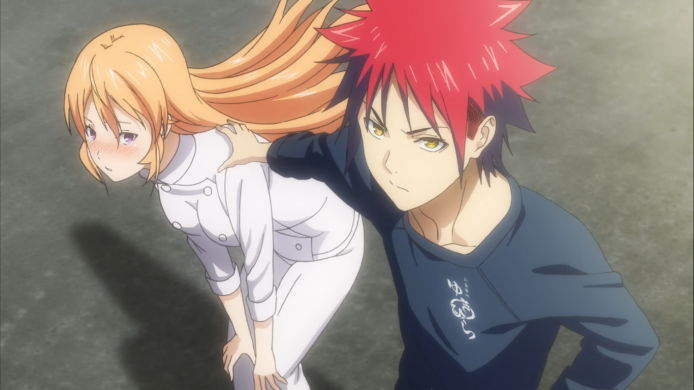 Episodes: 61 / Four Seasons

Studios: J.C.Staff

Genres:

 Ecchi, School, Shounen
One of the greatest cooking anime that will motivate you to be a Chef, Food Wars is an ecchi anime that follows Souma Yukihira, who Ever since his childhood, helps his father by working as the sous chef in the restaurant his father runs and owns. Throughout the years, Souma develops a passion for entertaining his customers with his creative, genius, and daring culinary creations.
His dream is to someday own his family's restaurant as its head chef. Yet when his father suddenly decides to close the restaurant to test his cooking abilities in restaurants around the world, he sends Souma to Tootsuki Culinary Academy, an elite cooking school where only 10 percent of the students graduate. The institution is famous for its "Shokugeki" or "food wars," where students face off in intense, high-stakes cooking showdowns. As Souma and his new schoolmates struggle to survive the extreme lifestyle of Tootsuki, more and greater challenges await him, putting his years of learning under his father to the test.
1. Highschool DxD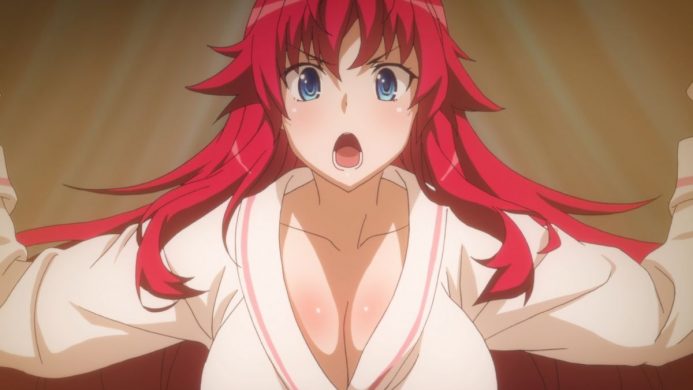 Episodes: 48 / Four Seasons

Studio: TNK

Genres:

 Comedy, Demons, Ecchi, Harem, Romance, School
High School DxD is one the most popular anime of all time, it's a good ecchi, harem anime filled with pretty females, especially the hottest anime girl I have ever seen "Rias Gremory". the story follows the student Issei Hyoudou who is a pervert. He does nothing productive with his life, peeping on women and dreaming of having his own harem one day.
Things seem to be looking up for Issei when the pretty rias ask him out on a date. although she turns out to be a fallen angel who brutally kills him! However, he gets a second chance at life when Rias Gremory, who is a top-class devil, revives him as her servant. Now, Issei must train and fight in order to survive in the violent world of angels and devils. Any given adventure leads to many hilarious and epic moments with his new comrades. all the while keeping his new life a secret from his friends and family in High School DxD!
Read Also: 20 Great Zero To Hero Anime Series