Anime with kisses: The Top 23 Romance Anime With Kissing Scenes you Need To See!
Welcome anime fans, to this compiled list of the best anime with kisses, that features a lot of kissing, hugs, love, and heartwarming couple scenes. There are many different types of anime kisses. Some are sweet and innocent, while others are more passionate and romantic. These kisses can be seen in various anime series., but they all convey the same messages and feelings.
We know that it is cold outside, so just sit tight. Bring your popcorn and pick some anime shows from our recommended romance list. And get ready to see a warm kiss and hug from pretty anime girls. These scenes will warm your heart and make you want to get into a relationship ASAP. So, with no further ado let's kick off our kissing anime list that features the best couple love stories and contains so many heartwarming hugs and kisses that are so hot and sweet.
23. ef: A Tale of Memories
Episodes: 12

Studios:

 Shaft

Genres:

Mystery, Drama, Romance
Kicking off the list of the best anime with kisses with this kiss-themed tv show that offers love, drama, and of course a lot of hugs and intimate moments. the series starts off with some unexpected circumstances, two mysterious teenagers are spending their Christmas Eve together, and the two will also find out that they attend the same high school, Hence, their unforeseen relationship develops even further.
This Romance Drama Japanese Anime series depicts the story of these two mysterious adults, and their couple story, which intertwine in a heartbreaking story of love, kiss, hug, rejection, acceptance, and memories.
Read Also: 11 Best Romance Comedy Action Anime Series you Should Watch
22. Dakara Boku wa, H ga Dekinai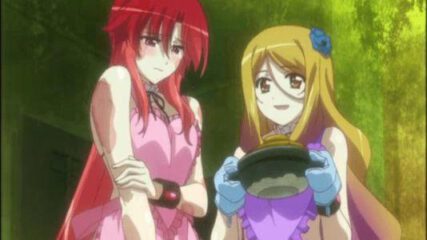 Episodes: 12
Studio: feel.

Genres:

 Comedy, Ecchi, Romance, Supernatural
Next up, we have another anime with kiss and hug scenes and precious advice: "NEVER make a deal with a wet lady you've only just met".
In this Romantic Ecchi Anime Series, there are kiss scenes, hugging moments, and a lesson for Ryosuke Kaga who learns the hard way, when he foolishly agrees to let Lisara Restore, and use some of his "essence" to stay in this world. Because despite her smoking hot appearance, Lisara's actually a Shinigami, a Messenger of Death. However, she DOESN'T steal years off his life as any decent Shinigami would do.
Check Also: The Top 18 Dubbed Harem Anime Series with so many kisses scenes 
21. Guilty Crown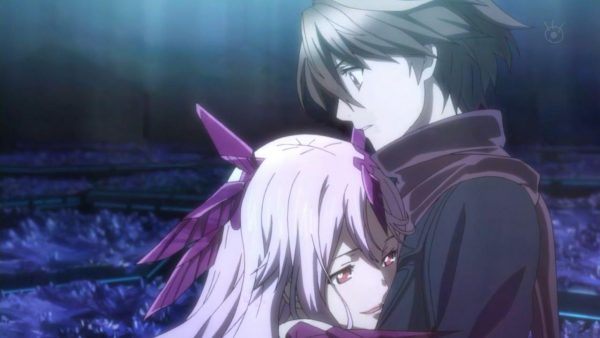 Episodes: 22

Studios:

 Production I.G

Genres:

 Action, Sci-Fi, Super Power, Drama, Romance, Mecha
Guilty Crown is one of the best romance-action anime tv-series with kisses, hugs, and heartwarming moments I have seen so far! this show has epic fights, fought by a sweet couple, who just wants to leave in peace and love.
the story follows Inori, who is an interface for Mana made by GHQ to "contain Mana's mind", who unexpectedly runs into the weak and unsociable Shuu Ouma during a crucial operation. As a result, he obtains an ability that allows the wielder to draw out the manifestations of an individual's personality, or "voids."
After meeting and living with Shu, Inori gradually becomes more emotional, smiling a lot more and even showing embarrassment when she gets too close to Shu. Inori is often shown not to understand her own emotions, to the point that she has to be directly told by Gai that she loves Shu. Over time, she becomes a much friendlier and more open person, not only to Shu but to everyone around her.
See Also: The 15 Best Supernatural Anime Series of 2019 To Watch Right Now!
20. Seto no Hanayome
Episodes: 26

Studios:

 Gonzo

Genres:

 Comedy, Parody, Romance, School, Shounen
One day, while swimming, Nagasumi's leg suddenly cramps, and there is no one in his surrounding who can rescue him. So he desperately starts sinking. But, Just as he accepted his fate, a mermaid appears and saves his life. After some other unforeseen events happen during their time together, Nagasumi decides to marry the mermaid.
So they're newlyweds now and will be sharing their lives together – great! But they're not doing that without facing some hardships while keeping their relationship a secret.
This is an anime full of kisses, hugs, and hardships. Between Gouzaburou's unending attempts on Nagasumi's life, and the eccentric antics of some of their main enemies, a sweet and innocent love blossoms between the two lovers.
Read Also: The Best 37 Cute Anime Girls that you Will want to Receive Kisses from!
19. Rosario to Vampire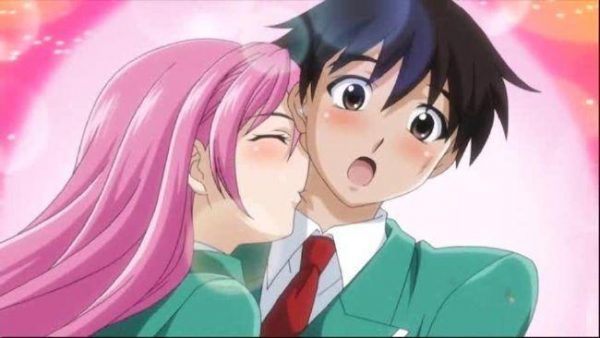 Episodes: 37 / Two Seasons
Studios:  Gonzo
Genres: Harem, Comedy, Romance, Ecchi, Vampire, Fantasy, School, Shounen
Youkai Academy is a school, that gives monsters an opportunity to learn how to interact with humans and coexist with one another as well.
There, All students take normal academic subjects. However, there is one golden rule at Youkai Academy: humans found on school grounds are to be executed immediately.
Tsukune Aono is a teenager who can't get into any other high school because of his low grades. His parents enrolled him at Youkai Academy for his last-ditch effort to get a chance in the education world.
Tsukune had a run-in with the most attractive girl on campus, Moka Akashiya. He decided to stay in this perilous realm in order to further his relationship with her. However, he didn't realize that she has a dangerous secret that she is actually a vampire.
Rosario + Vampire is a romantic anime with kisses, hugging, and heartwarming scenes of interspecies couples. Despite being a romance, The show also has a supernatural element which creates more ambiguity in some characters and their emotions. This ambiguity creates an interesting dynamic for love interests and relationships between these characters.
Check Also: The 10 Sweet Interspecies Anime Couple Love Stories
18. Soredemo Sekai wa Utsukushii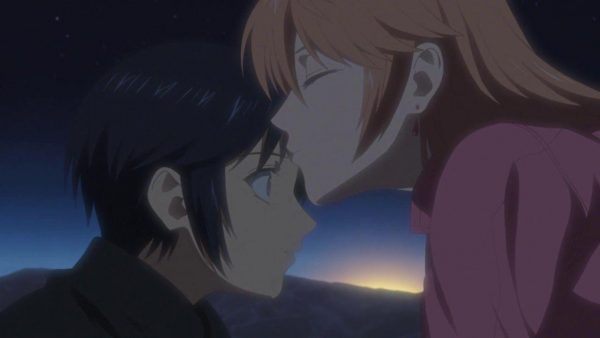 Episodes:  12
Studios: Studio Pierrot
Anime Genres:  Adventure, Romance, Fantasy, Shoujo
In The Sun Kingdom. What they have never seen is rain and everything they knew was daylight.
Livius Iphrikia is a new king of the Sun Kingdom, and in three short years, he has already almost succeeded in conquering the whole world.
While, In the Rain Kingdom, it rains all the time. People can create rain with their voices.
Livius eventually finds out the secret behind the rain and decides to marry one of its princesses.
However, Livius has been widely rumored to have a mean streak. The Princess is worried because of this and has been preparing herself for the worst–that said, she will find out that he is an entirely different person than what the gossip says.
This is a romance anime with kissing, hugging, and plenty of heartwarming couples moments.
See Also: 7 Anime Couples Who Endured and Suffered so much For Love
17. White Album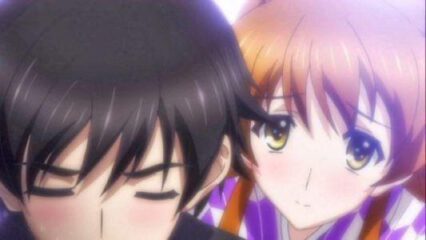 Episodes: 39 / Three Seasons

Studios:

 Seven Arcs

Genres:

 Drama, Harem, Music, Romance
White Album is one of the best romance anime to date. It has been praised for its cute and hot anime kiss moments between Yuki and Touya, which are often overshadowed by their feelings for each other.
Touya Fujii is an ordinary student with a normal lifestyle, who spends so much of his time studying and giving assistance to his girlfriend, who dreams of being a popular Idol Singer. Yuki is not yet as famous as the popular Idol Rina Ogata, but her talent is turning her head on TV.
There are many upsides to the increased attention she has received from the media and from Rina, but it has brought challenges with it. The idol industry is surprisingly cutthroat, and now rival singers have their eyes on Yuki.
The idea of watching your girlfriend on television might seem exciting to some, but trying to understand others' perspectives on the matter can be difficult. Touya and Yuki's love story may not last due to the long and stressful work-life balance, or from any other unexpected challenges that life throws their way.
Read Also: Here Are The 10 Heartbreaking Drama Anime That Will Make Your Eyes Tear
16. Golden Time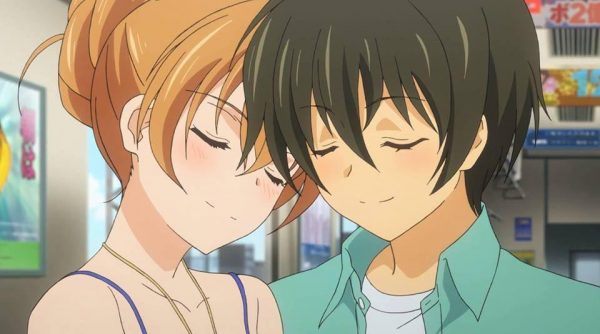 Episodes: 24

Studios:

 J.C.Staff

Genres:

 Comedy, Drama, Romance
Golden Time is a rom-com anime that's filled with kisses, hugs, and many more heartwarming moments that tickle hearts!
The story follows Banri Tada, a freshman at a Tokyo law school, who has lost his memory due to an accident.
He starts college by befriending a fellow freshman, Mitsuo Yanagisawa. Therefore, Kouko Kaga disrupted their relaxation completely – she barges into his life with a gust of wind! This is where their story begins…
Banri feels like he just discovered a whole new world. He has the opportunity to do things that weren't possible before, like making new friends, and falling in love, of course, making mistakes will still happen – that's inevitable. But it'll be worth it when he finally gets to reach a whole new plateau in life with endless possibilities.
Golden Time is filled with one of the best kisses in anime history that will leave you feeling like you are part of the story. They can be simple or complex in their own way, but they always leave an impact on your heart.
Check Also: 33 Exciting Romance Comedy Anime Series you Must Watch
15. Kaichou wa Maid-Sama!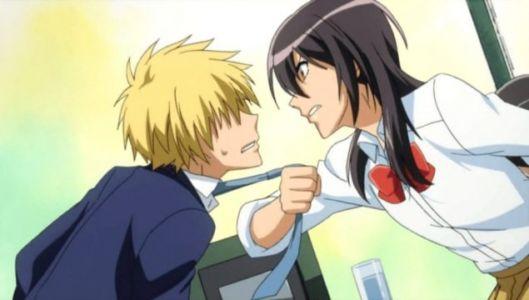 Episodes: 26

Studios:

 J.C.Staff

Genres:

 Comedy, Romance, School, Shoujo
This is one of the perfect romantic school anime, with kisses, heartwarming feelings, and a unique love story.
Ayuzawa Misaki joined the student council as the first female president. It can be hard at a school that has recently initiated a co-ed format, but it seems like she's up for the challenge.
However, Misaki works as a waitress part-time in a french maid uniform. She managed to keep her work secret for a long time until one day Usui Takumi found out and started to have an interest in her.
Thus, He can destroy her reputation with her secret… or he can tease the student council president and use it as an opportunity to get closer to her.
Kaichou Wa Maid Sama has many cute anime kisses that are worth watching. It has been loved for its cute characters and romantic moments. The series has also been praised for its unique character development and well-written dialogue.
See Also: Top 10 Anime Where Popular Boy fall in Love with Unpopular Girl
14. Chivalry of the Failed Knight
Episodes: 12

Studios:

 Silver Link., Nexus

Genres:

 Action, Romance, Ecchi, Fantasy, School
Rakudai Kishi no Cavalry is an ecchi action anime in which there are hot anime kisses, pretty girls, and fanservice. It also has a super cool main character who defies the odds which everyone thinks he can't do. They say he's the lowest at his academy, as everyone is well-ranked for having magical powers.
Not only is he a Ranked F… but he will become the only low-ranked player, who won the tournament by beating a higher A-ranked player and gains his goal of becoming stronger.
Ikki wants to prove that even the weak can be strong, all the while gaining new friends, wisdom, and experience.
Rakudai Kishi no Cavalry is a series that doesn't shy away from showing us panties, swimsuits, fanservice, and various anime kisses scenes that are both cute and steamy. I can't help but gush about them!
Read Also: The Top 20 $exiest Ecchi Harem Anime Series with many Kisses Moments!
13. Paradise Kiss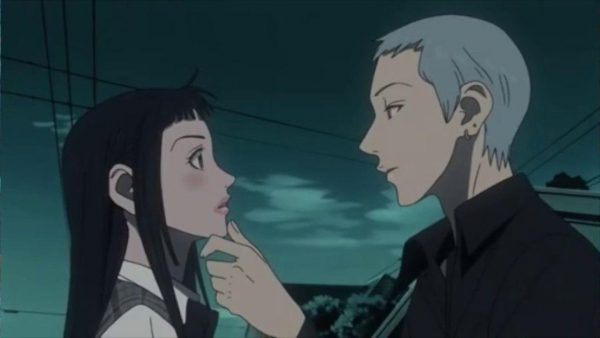 Episodes: 12

Studios:

 Madhouse

Genres:

 Comedy, Drama, Josei, Romance, Slice of Life
Paradise Kiss anime series is about a high school student named Yukari Hayasaka, who has no time for frivolous things.
Yukari has not even decided which university she would like to attend but has just been looking for something new that will take her out of the boring place she doesn't want to be in anymore.
One day, while Yukari is walking down the street, she gets flagged down by a guy with multiple piercings and bleached hair. All she wants is to get away from him, but in the end, she ends up meeting his 3 friends: a group of 3rd-year fashion design students at a prestigious art school.
They want her to be their model for their final project, but Yukari is afraid to lose control over her studies. But the more she gets to know them, the more she respects how hard they work and goes after their dreams.
Can modeling for this eccentric group give Yukari a much-need push in the direction of her own goals? And what about her attraction to the group's leader? Will a relationship work out between them or not? Check Paradise Kiss anime tv show to find out more!
Check Also: Check Out These Best Fantasy Supernatural Anime For 2019
12. Bokura ga ita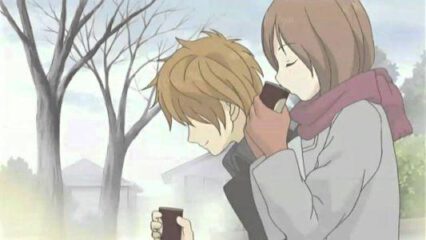 Episodes: 26

Studios:

 Artland

Genres:

 Slice of Life, Drama, Romance, Shoujo
Nanami is completely filled with hope for making new friends in her first year of high school, and she makes one that changes her life. She meets a shy guy named Yuri, who tells her about a popular student in their class: Yano.
Yano sees little value in her, but Nanami doesn't like that!
Nanami begins to slowly warm up and take a liking to Yano. They spend more time together and eventually decide to start dating.
But Nanami has a problem: she can't get too close to Yano since he lost his first girlfriend Nana.
This couple is struggling to stay together amidst the havoc that has befallen their lives. Their relationship has been going up and down ever since Yano started getting involved with Nanami. This is a series full of typical anime kissing scenes, hugs, and epic drama.
Watch to see if they will actually become happy together!
See Also: Top 10 Anime where the Mc Is Op and All Girls Loves Him
11. Strike The Blood
Episodes:

 24

Studios:

 Silver Link., Connect

Genres:

 Action, Harem, Supernatural, Ecchi, Vampire, Fantasy, School
Strike the Blood is a light-hearted series with a lot of romance and an overpowered main character. The story focuses on The protagonist, who is thrust into the center of attention when it is discovered that he is the fourth primogenitor.
The Lion King Organization had advised the use of apprentice sword shamans in order to monitor and assess Kojou's potential threat level. If it becomes clear that he is becoming a threat, she must kill him before he takes too much damage.
Kojou and Yukina are companions by circumstance and end up falling in love with each other and forming an unlikely alliance. She is always ready to share blood with her vampire boyfriend while living their lives of constantly protecting the city.
Read Also: 10 Heart Warming Anime Love Stories, Hugs, and Kisses Scenes Between Demon and Humans
10. Kuzu No Honkai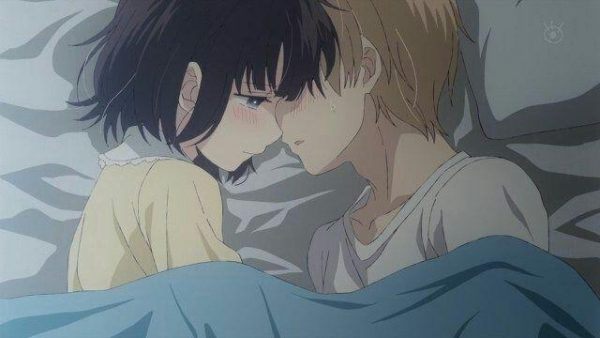 Episodes: 12

Studios:

 Lerche

Genres:

 Drama, Romance, School, Seinen
Kuzu No Honkai is an anime series with the hottest anime kisses ever! The story revolves around typical couple struggles, and mainly focuses on Awaya Mugi and Yasuraoka Hanabi, who at first appear to be the ideal school couple.
They're both pretty popular, but outsiders don't know the secret they share. Both Mugi and Hanabi are crashing on someone else, and are only dating each other to soothe their loneliness.
Mugi is in love with Minagawa Akane, a young teacher who used to be his home tutor. While Hanabi is also in love with a teacher who used to be her family friend.
They find a connection with each other through their grief and loneliness and share intimacy as a way of coping.
Will they always remain like this?
Check Also: 20 Unknown Animes That you Probably Never Heard Of!
9. Seikon no Qwaser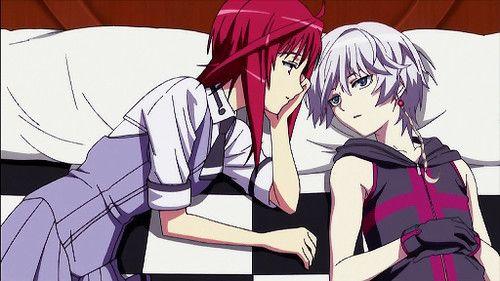 Episodes: 36 / Two Seasons

Studios:

 Hoods Entertainment

Genres:

 Action, Super Power, Supernatural, Ecchi, Seinen
At St. Mihailov Academy, a string of murders has been happening to only female students. No one knows who is committing these crimes, and no one's sure about who is the next girl for this out-of-control killer!
Mafuyu accidentally runs into a young man on the street who is injured and takes him to recover. Unfortunately, that night she becomes the victim of a crime spree. However, instead of going after her life, he trades it with an icon left behind by her father.
Sasha, the young man that Mafuyu helped before, is here now to save her and is always ready to protect Mafuyu from the fate of other victims.
Sasha reveals that he is a Qwaser, who's controlling chemical elements by partaking in a magical substance found primarily in women's breasts.
Seikon no Qwaser is a gripping action ecchi anime with kisses, hot pants scenes, and hugs. Watch Sasha and his friends as they stop the evil from getting any closer to winning in this gripping series.
See Also: The 10 Magic School Anime Series where The Mc is Op
8. Sukite li Na yo.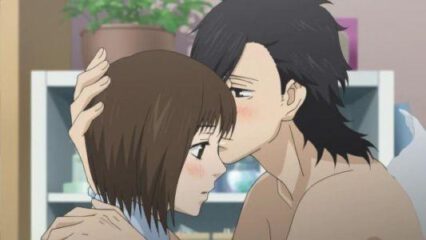 Episodes: 13

Studios:

 Zexcs

Genres:

 Drama, Romance, School, Shoujo
Mei has had a hard time after classmates blamed her for the death of a class pet. After this, she'd rather not get close to people, and at least now she knows the truth about friends.
Mei's life will be turned upside down when a misunderstanding causes her to meet the popular boy Yamato Kurosawa.
As soon as Yamato starts to realize how awesome Mei's personality is, he insists on being friends with her even though she refuses and avoids him. But a sudden kiss from Yamato saved her from the unwanted attention of a stalker. then, she starts to develop romantic feelings for him.
So they start dating and she gets friends, but sometimes it's hard to express your true feelings to the new guy when you're just getting used to the whole thing. Mei struggles with things like this and tries her best to fit in, even though it isn't easy for her.
Are you looking for a hot anime kiss, romantic moment, and warm hug scenes?
Well, you can get all that in this School Romance anime that focuses on Mei and Yamato. Throughout misunderstandings of their new relationship, each other, and the attention of other girls, they slowly grow closer and learn the true meaning of love.
Read Also: The 10 Best Anime Series Where Mc Shows His Power to Save his Lover
7. Amagami SS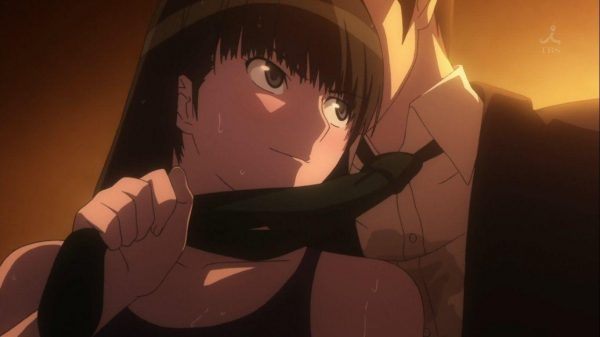 Episodes: 38 / Two Seasons

Studios:

 AIC

Genres:

 Slice of Life, Comedy, Romance, School
In this anime, Junichi had an unsuccessful date. This causes Junichi to hide his true feelings from others, for fear of being rejected again.
Junichi may have a shot to fall in love a second time when he meets several appealing ladies. He find himself romantically interested in Haruka Morishima, Kaoru Tanamachi, Sae Nakata, Ai Nanasaki, Rihoko Sakurai, and Tsukasa Ayatsuji.
As Christmas Eve is upcoming, Junichi is excited to finally spend the holidays with the girl he loves.
Check Also: 7 Best Sweet Anime Couples Featuring Beauty and The Beast
6. Campione!
Episodes: 12

Studios:

 Diomedea

Genres:

 Comedy, Ecchi, Fantasy, Harem, Magic, Romance
This anime follows the story of Godou, a man who recently defeated the Lord of War in a battle for his life. After defeating him he becomes caught up in an unexpected situation that comes with being Campione!
Campione is a Slayer, whose duty is to hunt down and kill the legendary lords who try to muscle in on the local turf. Not only does this make it likely for him to get killed on the Highway to Heaven – but that task brings with it so many other issues.
He's not too sure how to deal with the fact that his enhanced status is attracting a bunch of hot and pretty female followers. It appears that they are surrounding him to help him do his duties.
So, here you go then – This is an anime with kisses, eternal affairs, and intimate harem moments!
See Also: Here are The Best Anime Girls Of 2019 | Amazing Anime Waifu
5. Date A Live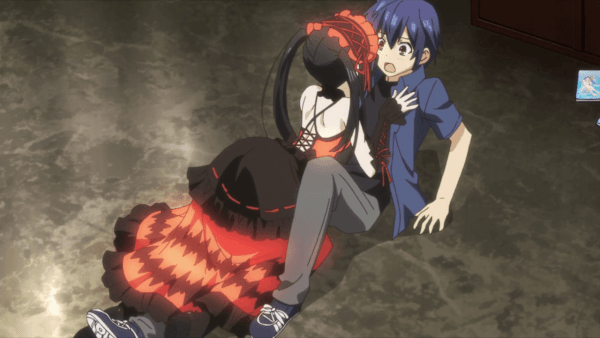 Episodes: 34 / Three Seasons
Studios: J.C.Staff, Production IMS

Genres:

 Comedy, Ecchi, Harem, Mecha, Romance, School, Sci-Fi
Here is another good anime recommendation – Date A Live, which is a really good fighting harem romance anime series with not only kisses and girls but a lot more to offer!
This is the story of student Shidou who lived with his little sister and parents. One day a sudden Spacequake happened and he rushed to save his little sister
There, he meets a beautiful girl who has been rejected from the other world, who just happens to be a powerful spirit.
The girl, who Shido names Tohka, happens to have been wiping out humanity 30 years ago. But now she is back and the only way to stop her is to date her.
Read Also: 33 Exciting Romance Comedy Anime Series you Must Watch
4. Zero No Tsukaima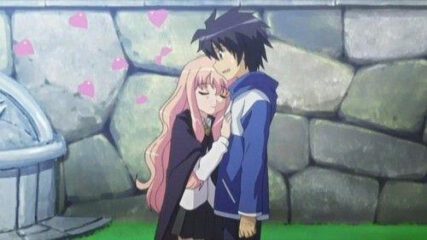 Episodes:

 49  / Four Seasons

Studios:

 J.C.Staff

Genres:

 Action, Adventure, Harem, Comedy, Magic, Romance, Ecchi, Fantasy, School
Zero no Tsukaima is a series following the story of Louise Françoise Le Blanc de La Vallière, who is a mage in a world of wands, cloaks, and royalty. It's an action-romance-filled anime with kisses, harem, ecchi, and fanservice.
Although she studies at the prestigious Tristain Academy, Louise is unable to cast magic properly–catching the nickname "Louise the Zero" from her classmates.
When first-year students start a summoning ritual. Louise's particular one went really poorly, caused an explosion, and looks like another failure. She thinks she's done for, but then Saito Hiraga appears…
Louise treats her familiar Saito like a slave and forces him to do lots of cooking for her cleaning clothes and clear out the bowls. But suddenly his life will change for the better when rumors about Saito's hand that got etched! some say it's because he is a powerful familiar, named Gandalf.
Check Also: Here are the 10 Epic One vs An Army Anime Fights Scenes
3. Yamada-Kun And The 7 Witches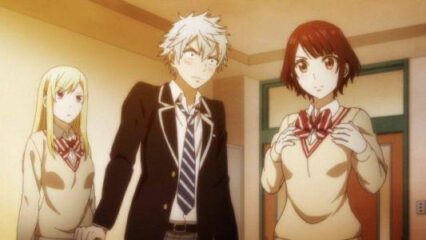 Episodes: 12

Studios:

 LIDENFILMS

Genres:

 Comedy, Harem, Mystery, Romance, School, Shounen, Supernatural
At the private school Suzaku High, Ryuu Yamada attempts to make a positive change and lead a productive life.
In Suzaku High, there is nobody who knows of Yamada's violent delinquent reputation. He's bored with his surroundings and he veered back to the old Yamada, who had terrible grades and often got into fights
The Anime starts on a day when the protagonist falls down on Urara and wakes up to find out that the accidental kiss made them switch bodies. The student council president, Toranosuke Miyamura sees their abilities and asks them if they want to join the supernatural club.
Joining The group, which unsurprisingly, found out about the legend of the Seven Witches of Suzaku High School. They went on a journey to do their first quest of finding out which student is actually a witch.
See Also: 10 Isekai Anime where the MC transports to another world and Becomes Op
2. The World God Only Knows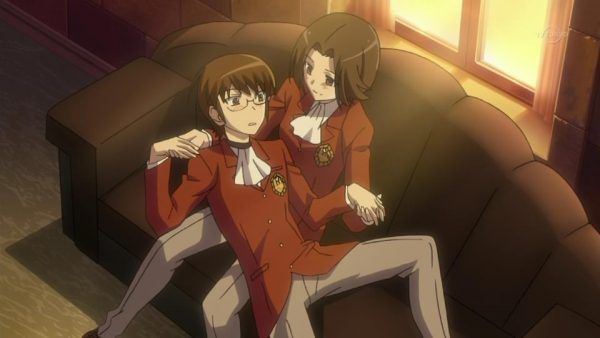 Episodes: 36 / Two Seasons

Studios:

 Manglobe

Genres:

 Comedy, Harem, Romance, Shounen, Supernatural
The world God only Knows is another good romantic comedy anime with kissing scenes and some heart-touching moments in between.
The series is inspired by the dating games and has the main protagonist who is called the "God of Conquest" due to his skills in conquering hearts of women in games. Some might think this is because he's an otaku, but in reality, he just doesn't have much interest in real life.
One day, The protagonist Keima ends up accidentally accepting an unknown offer for a dating sim game. Therefore, it turns out that Keima is tricked into aiding the impish demon from the underworld.
Now, he has more opportunities to get some warm moments, hugs, and kisses because he is able to navigate through the love hearts of these pretty real girls.
Read Also: Top 10 Anime Where the MC is a Badass Transfer Student
1. Renai Boukun
Episodes:

12 

Studios:

 EMT²

Genres:

 Harem, Comedy, Supernatural, Romance, Ecchi, School
Here's a Romance Harem Anime series story that starts out when a beautiful girl named Guri appears in front of Aino Seiji. Guri has a kiss note that pairs random people up together, making them have to become a couple.
She appears as a shinigami, but her real identity is Cupid. Suddenly, Guri tries to kiss Seiji and all hell breaks loose. She's trying to avoid the consummation of the relationship and what can be done about it? Well, Seiji has a crush on hot and popular Akane Hiyama
Akane is a yandere anime girl, she is sweet but psycho! so as soon as she hears that her crush has kissed Guri, she reveals the obsessive feelings that she holds for the unfortunate boy and proceeds to viciously attack them.
Renai Boukun is an awesome harem Anime that contains pin-up style animated scenes of love and romance, which tells the story of two teens who begin their relationship with an unexpected kiss.
See Also: