3. The Rising of the Shield Hero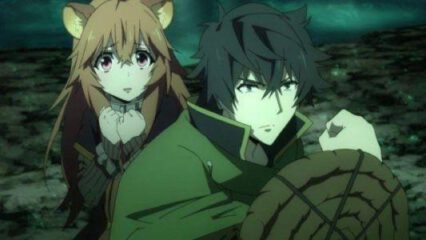 Genres:

 Action, Adventure, Drama, Fantasy
To save another world, the kingdom of Melromarc summons these legendary heroes from modern-day Japan. The call is answered, and the unwitting heroes are transported to this fantasy universe. however, the otaku Naofumi Iwatani is labeled the weakest due to his lack of offensive capability and apparent inexperience.
When the heroes part ways to start their journeys, he only has one willing companion: the beautiful princess Malty Melromarc. However, she soon betrays him, steals all his money, and accuses him of taking advantage of her, For his crimes that he never does.
This anime is about revenge, betrayal, and the main character who turns op as hell, highlighting the story of Naofumi as he is now an outcast of society. Hence, with hatred filling his heart, he will turn evil and set out alone, vowing to take his revenge against those who wronged him.
2. Vinland Saga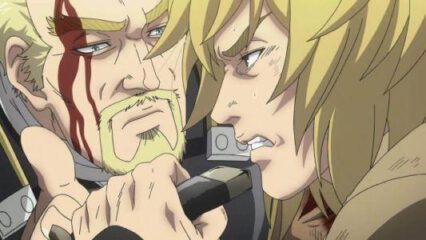 Genres:

 Action, Adventure, Drama, Historical, Seinen
Oh My God, this is a good anime with revenge, vengeance, and betrayal themes, that deserves to be number 1, but we have something else we think should be ranked higher. Overall, Vinland Saga is a Japanese TV anime series that has it all: epic story, well-built and designed characters, amazing soundtracks, breathtaking battles, and one of the best animations I have seen so far! The tale follows Thorfinn, who as a child sat at the feet of the great Leif Ericson and was thrilled to have wild fantasy stories of a land far to the west. But his youthful fantasies were shattered by a mercenary raid.
This revenge anime depicts the story of Thorfinn as he is Being Raised by the Vikings who murdered his family, became a terrifying warrior, and forever sought to kill the band's leader, Askeladd, to take revenge for his father. Sustaining Thorfinn through his ordeal are his pride in his family and his dreams of a fertile westward land, a land without war or slavery…the land Leif called "Vinland"
1. Berserk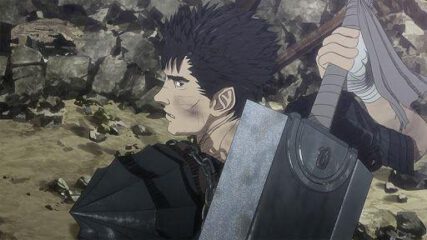 Genres:

Action, Demons, Drama, Fantasy, Horror, Military, Romance, Seinen
Wrapping up our list of the best revenge anime series with Berserk. Well, probably all anime fans know, have seen, or have heard about such an amazing anime tv show, that marked the history of the Japanese anime realm.
The story depicts: Now branded for death and destined to be hunted by demons until the day he dies.
The anime features themes of betrayal, revenge, and rage, while the story focuses mainly on the life of Guts as he embarks on a journey to defy such a gruesome fate, as waves of beasts relentlessly pursue him; Steeling his resolve, his rage is on fire as he takes up the monstrous blade Dragonslayer and vows to exact revenge on the one responsible.
As a result, Guts will be hunting down the very man he once looked up to and considered a friend. Along the way, he encounters some unlikely allies, such as a small elf named Puck, and Isidro, a young thief looking to learn swordsmanship from the former mercenary. Hence, the ragtag group slowly comes together after having decided to join Guts in his quest! They will face incredible danger, unlike anything they have ever experienced before.
See Also: