Here is a list of the Best Schools in Anime that you'd want to go to!
Many anime schools teach in a similar way to that of real-life Japanese Highs. These anime academies can make your dream of meeting the culture and they have various clubs that offer enjoyment. They also offer events and activities like no other school outside of Japan.
So here is a list of the most amazing schools and academies within the fictional world of Japanese manga and anime TV series, that You will wish to attend!
Let's get started on our list of 27 of the best anime schools of all time!
27. Midgar From Juuou Mujin no Fafnir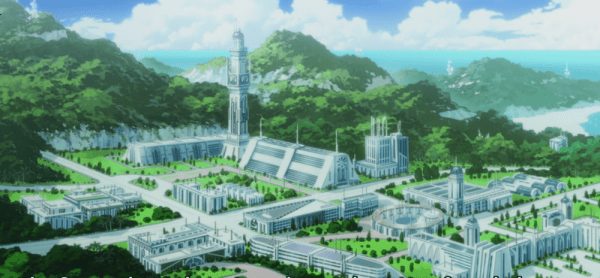 This anime series takes place at Midgar, an all-girl academy, which has been notable just for the action of accepting its first and only male transfer student Yuu Mononobe.
But Midgar is not only an all-girl academy, it is also an anime school exclusive to a group of girls who have extremely powerful abilities in generating dark matter and manipulating it into powerful weaponry.
Read Also: The List of 20 Best High School Anime TV Series
26. Hoshinoumi Academy from Charlotte
This is a cool anime school where Yuu has been using this skill for years to gain the highest grades, which allowed him to enter a prestigious high school. When the enigmatic Nao Tomori catches Yuu using his power, she coerces him and his sister Ayumi into transferring to Hoshinoumi Academy. This is among the best anime schools out there, that watch over and protects students with supernatural abilities.
The student council of the school, led by Nao, is tasked with secretly tracking down adolescents who abuse their powers. There where Yuu is forced to join the student council. They face formidable challenges that bring him closer to the shocking truth that his own, seemingly incomplete ability, might be more powerful than he could have ever imagined.
25. Shohoku High School from Slam Dunk
The Shohoku High School features one of the best sports clubs in anime history that fans would want to attend. This anime school represents the basketball club. Slam Dunk features the characters from Shohoku Academy. The main trio characters, as well as some of their friends, are also featured in this anime school.
Check Also: The Best 10 Anime Where Boy Goes to All-Girl School
24. Sobu High School from My Teen Romantic Comedy SNAFU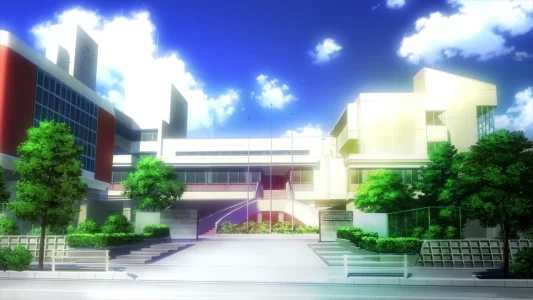 Among the best schools on our list is Sobu High, which is portrayed as the setting and main site of the series, it is modeled after Inage Senior High School in Chiba. Most characters from the show either work at Sobu or attend it.
Like any school in anime, this one also features many clubs, activities, student council, facilities, and many outfits. Notable students in this school include: Hachiman Hikigaya, Haruno Yukinoshita, Yukino Yukinoshita, and Saki Kawazaki.
23. Ousai Academy from Seitokai Yakuindomo
Next up we have Ousai Private Academy, another prestegious anime school that all fans would wish to join. This amazing place serves as the main setting of the Seitokai Ykuindomo series and where most of the characters spend their days either as students or school workers. Ousai was an all-girls high school for a long time, before turning into a co-ed.
Featured: The 22 Best Anime With Overpowered Girls To Watch
22. Kamiyama School from Hyouka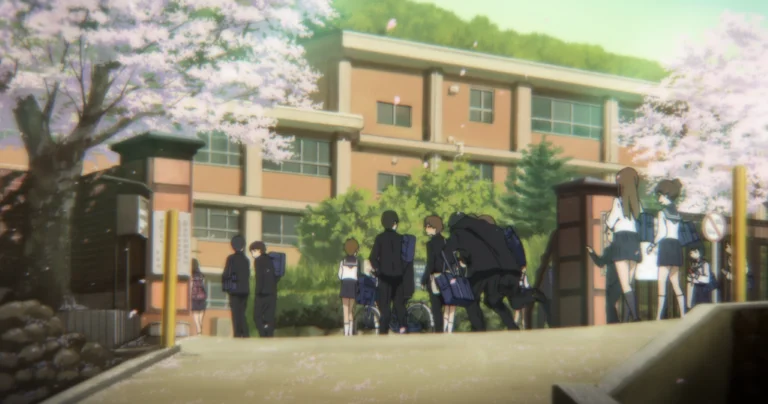 If you are looking for the best anime schools in the Japanese fictional world, you should consider looking at Kamiyama High School. This is an awesome place where the whole series takes place in. This is a school in Kamiyama that is based on Hida High School, which is located in Takayama, Gifu Prefecture.
Kamiyama High School is an active school with a lot of clubs, such as the India-ink Painting Club, A Capella Club, Classic Literature Club, etc. While their cultural festival is well known due to its productivity and creativity.
21. Roman Academy from Monthly Girls' Nozaki-Kun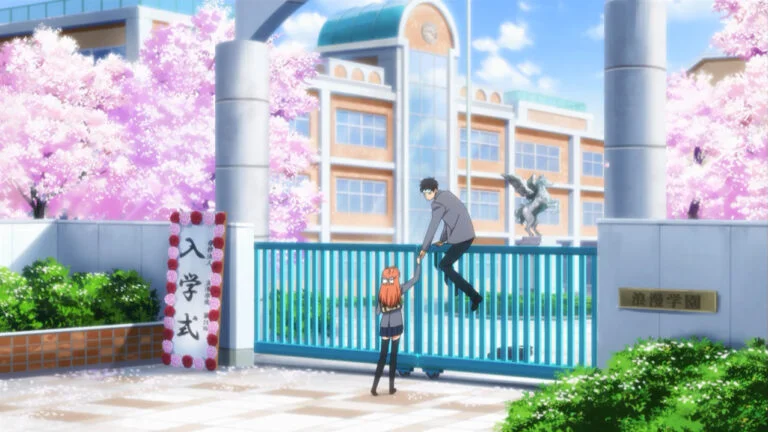 One of the best anime high schools on this list is Roman Academy, which teaches students from 15 to 18 years of age.
It is a big school that hosts both male and female students. Outside there are bike racks and plenty of sports fields to enjoy. Many large trees also dot the campus, and there's a Pegasus statue in the front. There's also a giant clock in the center that adorns the main building.
21. The High School from Sakamoto desu ga?
This series has one of the best anime high schools that fans will wish to attend, it is the place where our main character Sakamoto, spends his daily life in a cool, sublime, and badass way.
I really love how the show turns some ordinary silly school events into pertinent life lessons. so with his unexpected behavior and his funny way of solving problems, Sakamoto is a School Boy who will make you wish to be his classmate.
See Also: The 10 Magic School Anime Series where The Mc is Op
20. Hachimitsu Private Academy from Prison School
Welcome to one of the sexiest schools in anime ever! and you have been warned this anime contains heavy $exual appeals, fanservice, nudity, and dirty scenes that will bump your blood.
Hachimitsu Academy is a private all-girls high school, which is famous for its strict traditional rules that everyone should abide by.
Read Also: The 18 Sexy Anime School Girls With Pretty Uniforms!
19. Shibasaki High School from Demi-chan wa Kataritai 
Demi-chan wa Kataritai is a Japanese manga and anime series that depicts Takahashi's daily life in Shibasaki high school along with his three Demi students. our sensei is conducting random interviews with the girls to learn more about their powers, ideas, and integration into human society.
Check Also: The 10 Best Romance Schools Anime You Must Really Watch
18. Death Weapon Meister Academy from Soul Eater
Many anime schools usually are a place for educating or training future heroes, who will later help, defend, and protect their world from any threats. Hence, Death Weapon Meister Academy is one of the best anime heroes schools that focuses on harnessing the power of meisters and demon weapons, in order to maintain world order, and prevent the uprising of evils and villains.
See Also: 10 Best Anime Where a Boy Goes to an All-Girl School
17. Cross Academy from Vampire Knight
Vampire Knight is an anime series that takes place at Cross Academy, which is a school attended by two types of students: the Day Class, a term that refers to an ordinary human who attends their classes by days and the Night Class, who are vampires attending the same school secretly in order to keep their existence hidden.
Read Also: 10 MAGIC Anime at School Where Mc is an Op Transfer Student
16. Fumizuki High School from Baka to Test to Shoukanjuu Ni!
Baka to Test to Shoukanjuu Ni is a Japanese manga and anime tv show, and the story of this series takes place at the Umizuki Academy, which is the school where the main characters are enrolling, The school's Principal is Kaoru Toudou. Therefore This academy is well known for using a unique system, that happens to be the first of its kind.
Check Also: Top 10 New Action Romance Schools Anime Series
15. Yōkai Academy from Rosario to Vampire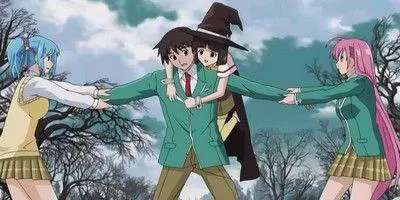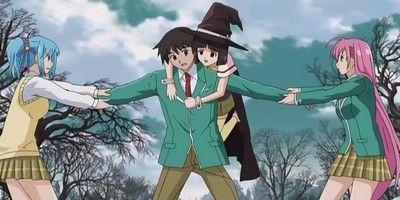 Yōkai Academy is a hidden anime school that only a few humans know about, why it is hidden? well because it is built for monsters. Hence, in this school Humans are not allowed to attend or even know it even exists. but keep in mind that the academy is not different from humans ones, as it teaches academic subjects, be it literature, foreign language, mathematics, art, gym, or cooking. while also teaching monsters how to fold into the human society and learn to cope and live in peace with them.
See Also: Top 10 School Anime With an OP MC who has Magic Powers
14. Tokyo Butei High School from Hidan no Aria
Wanna be an armed and overpowered detective? well, you should attend Tokyo Butei High School, which is the main place where the plot of the Hidan no Aria manga and anime series takes place.
This is among the funniest anime high schools, that offer students the opportunity to develop their detective intuition, fighting abilities, and the perfect way to use various deadly arms.
Read Also: The Best 37 Cute Anime Girls From Anime and Manga Series
13. Tokisadame High School From Nichijo 
Tokisadame high school is derived from the anime and manga creators' real life, as it is the school he used to attend during his childhood. and in the anime, this Academy is where most of the Nichinjo anime main characters spend their daily routines, funny moments, and hilarious events. furthermore, it is the workplace for Izumi Sakurai, Manabu Takasaki, and Kana Nakamura. while The headmaster is Principal Shinonome.
Check Also: 11 Best Romance Comedy Action Anime Series you Should Watch
12. Holy Forest School From Great Teacher Onizuka 
This is a delinquent anime school where the GTO  series mainly takes place in. It is a private school that will get changed by the arrival of the former delinquent Eikichi Onizuka, who wants to become a good teacher and get the chance to meet beautiful and hot school girls.
However, our pervert sensei will encounter various students who suffer from different social problems, be it bullying, or sexual harassment that may lead to horrible incidents such as gangs, violence, and worst, suicide. Hence, he decided to solve these problems in his own way.
See Also: The 10 Comedy Anime That will Make You Laugh Out Loud
11. Academy City from A certain Magical Series
Academy city is the primary setting of the Toaru Majutsu no Index series and its side stories and spinoffs. Also known as the Academy City of Science and Technology, this is an enclosed sovereign city-state whose territory consists of a walled enclave within the Tokyo Metropolitan Employment Area.
They have the standard Japanese schools anime facilities including lockers for students, parking for staff, a teachers' room, a cafeteria, and an auditorium. The roofs are also accessible to students.
Read Also: The Top 18 Dubbed Harem Anime Series Recommendations
10. Ouran High School from Ouran High School Host Club
Ouran Academy is an elite High school for rich students. But Haruhi Fujioka is a middle-class scholarship student, a rarity at the school. The story of this anime kicks off While our girl was looking for a quiet place to study, there she stumbles upon an empty room which turns out to be the club room for the school's Host Club.
Check Also: The 15 Best Supernatural Anime Series of 2019 To Watch Right Now!
9. True Cross Academy from Blue Exorcist
The True Cross Academy is a good anime school where students trains and harness their skills to become mighty Exorcists. At first glance True Cross Academy looks like a normal ordinary school, however, it also contains a "cram school" dedicated solely to Exorcists, which offers various courses, and is only accessible with a specific magical key.
See Also: The 22 Best Action Anime 2019 you Need to Watch
8. National Magic University First Affiliate High School from Mahouka Koukou no Rettousei
The National Magic University is the main setting of Mahouka Koukou no Rettoussei, and it is one of the most advanced anime magic schools ever, as This University handles a lot of research for the country and important requests for national defense.
Read Also: 10 Anime where MC Transfers To Another World And Becomes OP
7. Kunugigaoka Middle School from Assassination Classroom
Kunugigaoka Junior High is a prestigious private school located in Tokyo, Japan. It is renowned for being one of the top schools in all of Tokyo and has a high rate of successful students. among them Class 3-E students, whose lives will turn upside down as they will receive many life lessons from the former villain monster Koro Sensei, who works as their homeroom teacher and trains them to become mighty assassins in the hope to someday they will put an end to his misery life.
Check Also: 10 Anime Series Where Main Character is a Demon
6. Totsuki Culinary Academy From Food Wars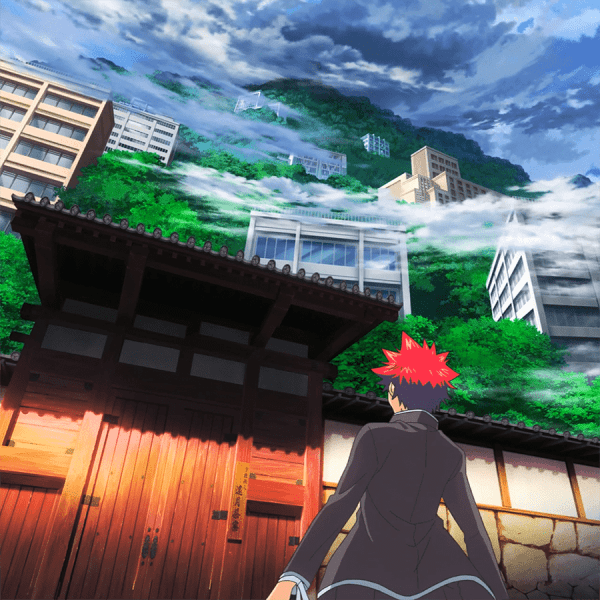 Shokugeki no Soma or Food Wars is a Manga and Anime series that has really succeeded in promoting yet showing us that even culinary-themed tv shows can compete with the best masterpieces series, and get on the podium of the greatest anime of all time.
It's all thanks to the Totsuki Culinary Academy which is one of the popular international culinary schools in Japan,  it is the primary setting of Shokugeki no Soma Anime tv Shows, where the main character, Sōma Yukihira, embarks on his adventure to become the best chef in the world.
See Also: The 18 Amazing Cooking Anime That Will Make You want to be a Chef
5. Seirin High School From Kuroko's Basketball
Seirin High what a school for BasketBall fans to attend, yeah this is a dreamy high school for a basketball team in Tokyo where the cool main characters Tetsuya Kuroko and Taiga Kagami take part in.
Seirin High basketball club was established only one year before the current story. so the team only consisted of first and second-years, The club's captain is Junpei Hyūga. while Seiren's coach is the daughter of a sports trainer, Riko Aida. her gender and age have made some others think that she is a manager.
Read Also: Best Sports Anime Series of All Time to Watch
4. Otonokizaka High School From Love Live!
Welcome to the Otonokizaka High School, where the idol group u's take part at. this academy is located in Japan. This high school has various clubs including an auditorium, a gym, a running track, an archery dojo, and even a stable where alpacas are tamed. The anime depicts the story of this school as it starts losing its students to some emerging private schools in the area, which led to the decision that the school would be closed in the next three years, as a result, the idol group will decide to put their efforts to prevent this from happening.
Check Also: The 28 Best Cutest Anime Girls that will Melt your Heart
3. Karasuno High School From Haikyuu!
Karusono high school like so many Japanese high schools has various clubs, including the former overpowered volleyball club, that now suffers from constant losing.
However our main character Shouyou Hinata will later join Karasuno High School's volleyball team—only to find that his sworn rival, Kageyama, is now his teammate. Thanks to his short height, Hinata struggles to find his role on the team, even with his superior jumping power.
Surprisingly, Kageyama has his own problems that only Hinata can help with, and learning to work together appears to be the only way for the team to be successful.
See Also: Here are the Top Upcoming New Anime Series 2020
2. Luna Nova Magical Academy from Little Witch Academia
We all Love watching magic anime series, with cute magical girls, and with magical schools as the main setting. well, Luna Nova Magical Academy is the perfect sample for such themed-anime tv shows, it is also known as Luna Nova Witchcraft Academy, or simply called Luna Nova Academy, which is one of the most prestigious witch magical academies in all of Europe.
Read Also: Here Are The 10 Heartbreaking Drama Anime That Will Make Your Eyes Tear
1. U. A. High from Boku no Hero Academia
Yay, this is Boku no hero academia, and without any doubt, it is a great anime tv show to watch, as you'll learn the meaning of being weak and living in a world where only the strong fit.
The story follows Deku, who after Enduring many months of grueling training, will finally start enrolling in UA High, a prestigious high school famous for its excellent hero training program, And this year's freshmen look especially promising.
See Also: The Best List of  20 Great Zero To Hero Anime Series