The 20 Hottest Ecchi Anime Series To Be Addicted to Right Now
Ecchi anime series: This is our do-List for today, school is back in session, meeting cute girls is in the air, and hotty anime tv show offerings are still as hot as ever. Hence, most of these anime tv series are so hot, that you'll really start looking for a girlfriend if you are still single.
Ecchi anime is not just for teenagers. These days, it's more about the story than the scantily-clad characters (though that's never a bad thing). So, here are the best ecchi anime series to be addicted to right now. Tv shows that consist of the hottest harem, and unstoppable extreme ecchi…
"Please be advised that this article discusses an anime series that contains ecchi elements. These elements may include sexual content, partial nudity, and mature themes. Viewer discretion is advised. The article will focus on the plot, themes, and characters of the anime, but it will also mention the ecchi elements and their context in the story. The purpose of this article is to provide an overview of the anime for interested readers, but it is not intended to be explicit or offensive in any way. We encourage readers to familiarize themselves with the content of the anime before viewing it, and to make their own informed decision about whether or not it is suitable for them".
Here We Go!
20.

Freezing
Studio: A.C.G.T

Genres:

 Action, Military, Sci-Fi, Harem, Drama, Romance, Ecchi, Martial Arts, Seinen
Summary:
This
harem
ecchi anime takes place in the future, where humans are under siege by an alien race a.k.a Novas. These aliens leave devastation in their wake whenever they appear, with the efforts to stave them off becoming known as Nova Clashes. Girls  "Pandoras" and Boys "Limiters" are implanted with stigmata to give them superpowers and are trained in military academies, where they learn how to work as a team if humanity is to have a chance of surviving.
Freezing focuses on Kazuya Aoi as debuts his first day at the West Genetics military academy, right when a battle royale is being undertaken by the Pandoras. However, he mistakes a powerful Pandora known as the "Untouchable Queen"—for his deceased sister and embraces her. Hence, Though he costs her the match, she finds that his touch doesn't drive her away and decides to take him as her Limiter. The only question is whether or not they can survive the machinations of their upperclassmen and the impending battle with the Novas…
19.

Rosario to Vampire
Studios: Gonzo
Genres: Harem, Comedy, Romance, Ecchi, Vampire, Fantasy, School, Shounen
Summary:
Youkai Academy is a seemingly normal boarding school, except that its pupils are monsters learning to coexist with humans. Likewise, all students attend in human form and take normal academic subjects, such as literature, gym, foreign language, and mathematics. However, there is one golden rule at Youkai Academy—all humans found on school grounds are to be executed immediately! Tsukune Aono is an average teenager who is unable to get into any high school because of his bad grades. His parents inadvertently enroll him into Youkai Academy as a last-ditch effort to secure his education. As Tsukune unknowingly enters this new world, he has a run-in with the most attractive girl on campus, Moka Akashiya. Deciding to stay in the perilous realm in order to further his relationship with Moka. However, he does not realize that beneath her beauty lies a menacing vampire.
18. Ichiban Ushiro no Daimaou
Studios: Artland
Genres: Action, Harem, Comedy, Magic, Ecchi, Fantasy, School
Summary:
This magic harem ecchi anime follows One of the most promising overpowered transfer students in the Wizard academy. His name is Akuto Sai, he takes a career assessment test and the results say that he'll become a demon king. The students treat him differently after this, Moreover, he is surrounded by a harem of beautiful girls who each have their own plans for him. With his newly awakened powers, Akuto must cope with his constantly growing list of misfortune and fight to prove that his fate is not to be evil.
17.

Campione!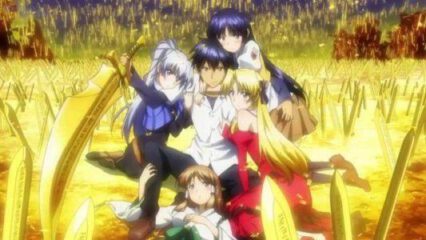 Studio: Diomedea

Genres:

 Comedy, Ecchi, Fantasy, Harem, Magic, Romance
Summary:
This is another hot ecchi harem anime that follows Kusanagi Godou is suddenly stuck with the unwanted position of Campione!, or God Slayer, who must fight Heretical Gods whenever they try to muscle in on the local turf. Not only is this likely to make Godou roadkill on the Highway to Heaven, but it's also a job that comes with a lot of other problems. Like how to deal with the fact that as a Campione, he is now attracting multiple pretty female followers. After all, they're just there to aid him in his demi-godly duties, right? So why is it that their leader, the sword mistress Erica Blandelli, seems to have such a devilish interest in encouraging some VERY unorthodox activities? Get ready for immortal affairs, heavenly beautiful harems, and lots of dueling deities taking pious in the face as the ultimate smash, bash, and thrash of the Titans rocks both Heaven and Earth.
16.

Monster Musume no Iru Nichijou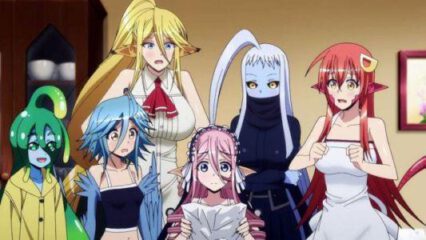 Studio:

 Lerche

Genres:

 Comedy, Fantasy, Romance, Ecchi
Summary:
Kimihito Kurusu is living a life where he's the man of the house–a house full of irresistible monster girls. What's a young man to do while his parents are abroad? Welcome to progressive Japan, where non-human species are allowed to mix and mingle with daily society! But before you get any naughty thoughts, the Interspecies Exchange Act prohibits any sort of sensual interaction between two species. Think the law will stop Kimihito and his newfound abnormal harem? There's always a loophole.
15.

Trinity Seven
Studio: Seven Arcs Pictures
Genres: Action, Harem, Comedy, Supernatural, Magic, Romance, Ecchi, Fantasy, School
Summary:
In this romantic harem ecchi anime, the story focuses on Arata Kasuga who suddenly sees his life wiped out by a bizarre incident known as the "Collapse Phenomenon,". This phenomenon causes worldwide destruction and takes his cousin Hijiri Kasuga to another world. To solve the mystery of the "Collapse Phenomenon" and bring back Hijiri, Arata enrolls in the Royal Biblia Academy. Hence, in this Academy, there are seven beautiful female magic users, who will help Arata in his mission.
14.

Strike the Blood
Studios:

 Silver Link., Connect

Genres:

 Action, Harem, Supernatural, Ecchi, Vampire, Fantasy, School
Summary:
Kojou Akatsuki's days as an ordinary high school student, during a fateful encounter leave him with the remarkable abilities of a vampire. It isn't long before he is thrust into the center of attention when it is discovered that he is the fourth primogenitor. Fearing Kojou's destructive potential, the Lion King Organization sends in an apprentice sword shaman. Yukina Himeragi, must monitor them, and should he become a threat, she must kill the boy deemed the world's most powerful vampire. This is a vampire harem ecchi anime that highlights the two, who form an unlikely alliance as the mc Kojou comes to terms with his abilities and is ready to unleash his power to save his lover and they struggle to keep the city safe from various emerging chaotic forces.
13.

Sekirei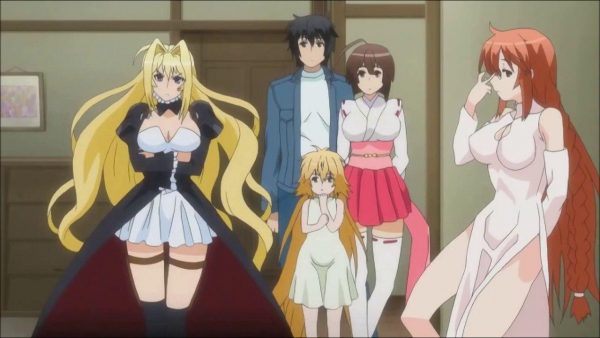 Studios:

 Seven Arcs

Genres:

 Action, Comedy, Ecchi, Harem, Super Power
Summary:
Minato Sahashi fails his college entrance exams for the second time, resulting in him being regarded as worthless by those around him. However, the course of his seemingly bleak future changes dramatically when a beautiful, supernatural woman falls from the sky and into his life. That woman, Musubi, is a unique being known as a "Sekirei," a humanoid extraterrestrial with extraordinary abilities. These aliens are known for kissing humans carrying the Ashikabi gene in order to awaken additional latent powers deep within. Musubi kisses the bewildered Minato, initiating a bond between the two of them. This drags him into the high-stakes world of the Sekirei. Where he and his new partner must compete against others in a battle for survival called the "Sekirei Plan." However, unbeknownst to the contestants, there is far more at risk than what the competition initially entailed.
12.

Date a Live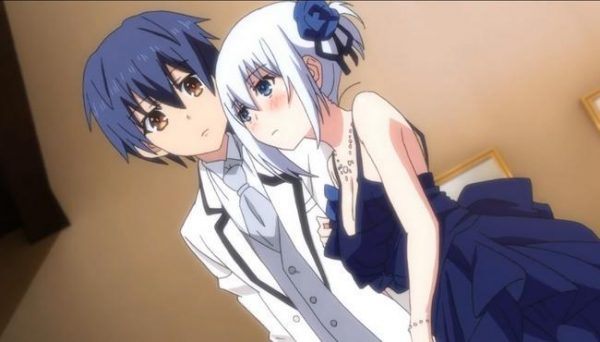 Studios: J.C.Staff, Production IMS

Genres:

 Comedy, Ecchi, Harem, Mecha, Romance, School, Sci-Fi
Summary:
"Before the world ends, kill me or kiss me." The story of this good ecchi anime follow The Student Shidou Itsuka, who lives alone with his Lovely little sister while their parents are away. One day when a sudden Spacequake occurred he rushed in order to save his sister. Thus,  he meets a spirit girl who has been rejected by a devastated world. However, The girl, who Shido names Tohka, happens to have wiped out much of humanity 30 years ago, and now she is back. As a result, the only way to stop her is to date her.
11.

Outbreak Company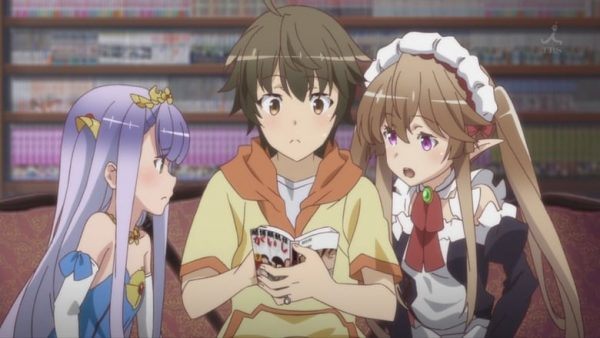 Studios: feel
Genres: Harem, Comedy, Parody, Fantasy
Summary:
Shinichi Kanou is a shut-in otaku with a vast knowledge of anime, manga, and video games. One day, after applying for a job in hopes of escaping his normal lifestyle, he is kidnapped and transported to the Eldant Empire—an anime fantasy world filled with elves, dragons, and dwarves. In this strange land, Shinichi gets an unlikely task from the Japanese government: to spread otaku culture across the realm by becoming an "Otaku Missionary." To accomplish his mission, Shinichi has the full support of the Japanese government, as well as the half-elf maid Myucel and Princess Petralka of the Eldant Empire. Together with this ragtag bunch, he will overcome the obstacles of politics, social classes, and ethnic discrimination to promote the ways of the otaku in this holy land.
10.

Mayo Chiki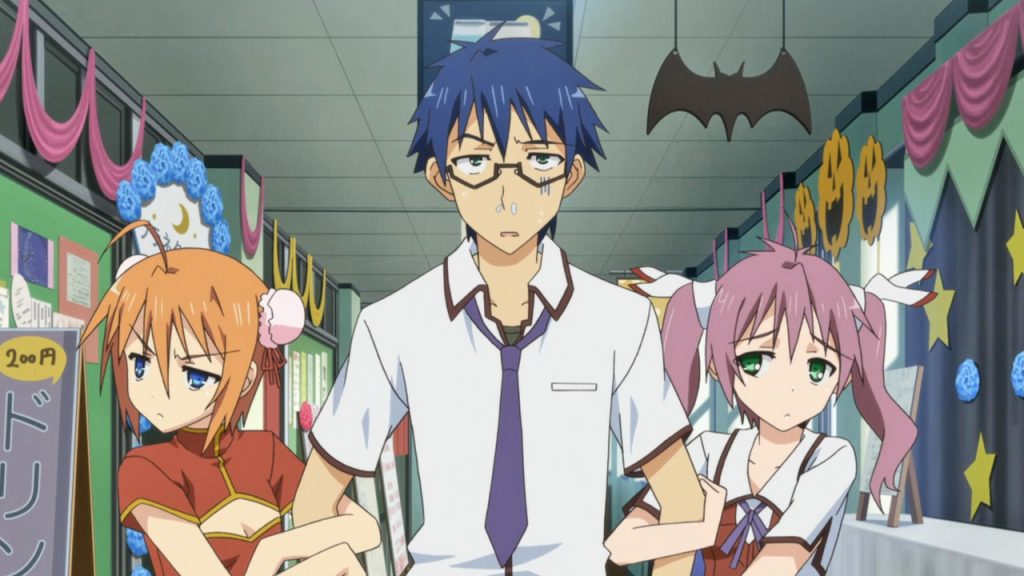 Studios:

 feel.

Genres:

Harem, Comedy, Romance, Ecchi, School
Summary:
You have been warned a lot of fanservice themes are included in this unique harem ecchi anime series. Mayo Chiki is all about When you've got a cute gynophobia, an abnormal fear of women. Hence, even a pretty girl can be a malady, and as the sparring partner for his family of female wrestlers, Sakamachi Kinjiro has the worst case EVER!
9.

Boku wa Tomodachi ga Sukunai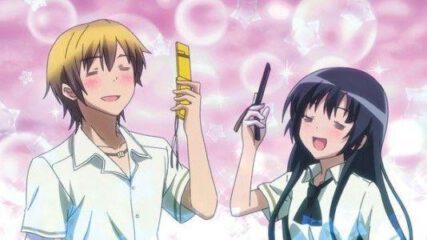 Studio: Aic Build

Genres:

 Ecchi, Slice of Life, Comedy, Harem, Romance, School
Summary:
Kodaka Hasegawa a friendless schooler transfers to a new school, where he wants to make a positive impression, and maybe even some friends. Kodaka discovers he is out of luck when he is seen as a violent delinquent due to his blond hair and intimidating expression. However, his life changes when he finds Yozora Mikazuki talking to her imaginary friend in an empty classroom. After sharing stories of their lonely high school life, Kodaka and Yozora decide to overcome the issues of making friends by creating the Neighbor's Club. The club activities focus on learning social skills and how to fit in, which will allow them to make friends. Hence, some eccentric outcasts, start to join the club. and Odaka may find people he can call friends.
8.

Saenai Heroine no Sodatekata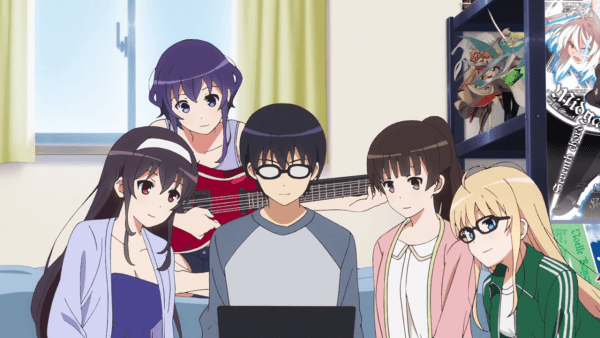 Studio: A-1 Pictures

Genres:

Harem, Comedy, Romance, School
Summary:
Next up in this ecchi anime, we have Aki Tomoya, a high school otaku who used to collect anime and light novels for years, attaching himself to various series with captivating stories and characters. Then he decided to start working in order to be able to create his own game. With remarkable luck, he bumps into the pretty, gorgeous Megumi Katou, after whom he models his main character. Hence, Naturally, the meeting twists his life into a complicated relationship.
7.

Zero no Tsukaima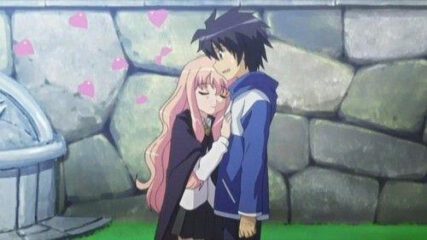 Studio:

 J.C.Staff

Genres:

Action, Adventure, Harem, Comedy, Magic, Romance, Fantasy, School
Summary:
This is a good harem ecchi anime that spans also so many other genres and mainly focuses on Louise Françoise Le Blanc de La Vallière, a mage in a world of wands, cloaks, and royalty. Although she studies at Tristain Academy, a prestigious school for magicians, she has a major problem: Louise is unable to cast magic properly, earning her the nickname of "Louise the Zero" from her classmates. When the first-year students start performing a summoning ritual, Louise's summoning results in a catastrophic explosion! Everyone deems this to be yet another failure, but when the smoke clears, Saito Hiraga appears. Now Louise treats her familiar Saito as a slave and forces him to clean her clothes and eat off the ground. But when Saito's hand starts etching from the summoning ritual. rumors have it to be the mark of a powerful familiar named Gandalf.
6.

Kore wa Zombie Desu ka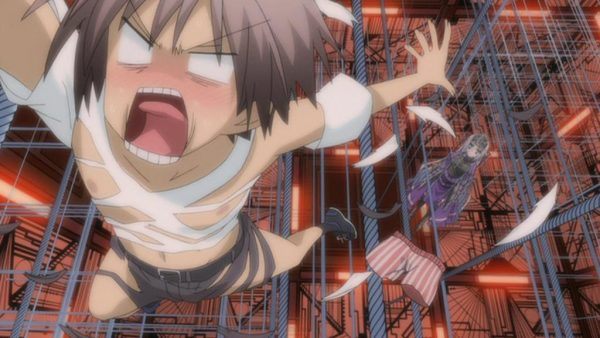 Studio:

 Studio Deen

Genres:

 Action, Comedy, Ecchi, Harem, Magic, Supernatural
Summary:
Not every zombie is the horrific, monstrous, and human-eating type. The story of this harem ecchi anime starts on a night while walking home from the convenience store, regular high school boy Ayumu Aikawa is killed by a serial killer He is just as suddenly brought back to life by a necromancer coming from another world a.k.a Eucliwood Hellscythe. One small caveat: he's not a human anymore, now a zombie. Things get even weirder for him when he accidentally steals a magical girl's uniform, and thus her powers! Haruna, the ex-magical girl, orders him to fight evil creatures in her place until they can figure out a way to get her powers back to her. Does it seem that life is just going to get stranger and stranger for poor Ayumu from here on out in Kore wa Zombie desu ka?
5.

Love Hina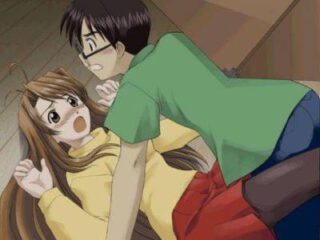 Studios:

 Xebec

Genres:

 Comedy, Romance, Slice of Life, Ecchi
Summary
Well, this is one of the most original harem ecchi anime series ever, the story revolves around Keitaro Urashima, who made a childhood promise to a girl that they'd attend Tokyo U together. Unfortunately, he ranked extremely low in the National Practice Exam, so his resolve was to stay at his grandmother's hotel while continuing his studies. Little did he know, the hotel had been transformed into an all-girls dormitory, and now Keitaro's become the manager! How will he manage to focus on his studies, nonetheless his promise when he's living with 5 other girls?
4.

High School DxD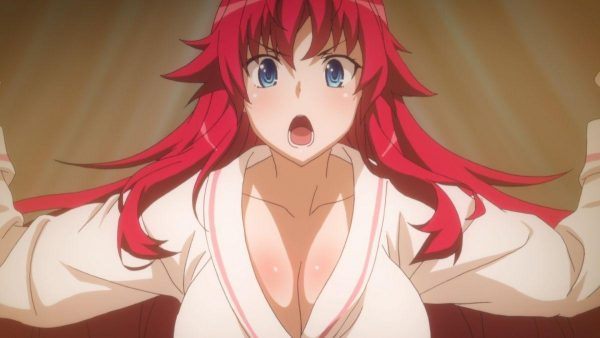 Studio: TNK

Genres:

 Comedy, Demons, Ecchi, Harem, Romance, School
Summary:
High School DxD is one the most popular anime of all time, it's a good harem ecchi anime filled with pretty girls, especially the hot rias Gregory. The story follows the student Issei Hyoudou who is a pervert. He does nothing productive with his life, peeping on women and dreaming of having his own harem one day. Things seem to be looking up for Issei when the pretty rias ask him out on a date. although she turns out to be a fallen angel who brutally kills him!
However, he gets a second chance at life when Rias Gremory, who is a top-class devil, revives him as her servant. Now, Issei must train and fight in order to survive in the violent world of angels and devils. Any given adventure leads to many hilarious and epic moments with his new comrades. All the while keeping his new life a secret from his friends and family in High School DxD!
Read Also: 20 Great Zero To Hero Anime Series
3.

Sora no Otoshimono
Studio:  AIC A.S.T.A.
Genre: Comedy, Drama, Ecchi, Harem, Romance, Sci-Fi, Shounen, Supernatural
Summary:
Next up in this amazing ecchi anime, the story focuses on Tomoki Sakurai, who for as long as he can remember, has woken up crying to the same dream: an angel he has never met disappearing into the skies, saying, "The sky has captured me." But one day, the dream is different. Now, the angel descends from the skies, desperately asking Tomoki for his help. After falling asleep in class, his childhood friend Sohara Mitsuki wakes him up and notices the tears in his eyes.
Worried, she has him consult Eishirou Sugata, their eccentric upperclassman who is obsessed with "The New Continent"—a flying anomaly whose existence no one can explain. With the anomaly set to pass over their town, Sugata decides the trio should meet up at midnight in a bid to solve Tomoki's dream as well as gather more information on The New Continent.
Being the only one who showed up, Tomoki is about to leave when an Angeloid falls from the sky and binds herself to him, declaring him her master. Shortly after, Sohara forces him to join the New Continent Discovery Club, whose sole member is Sugata. Together, they work to uncover the secrets behind The New Continent, Angeloids, and the girl behind his dreams—but what they discover may be much more sinister than what anyone expected…
2.

To Love-Ru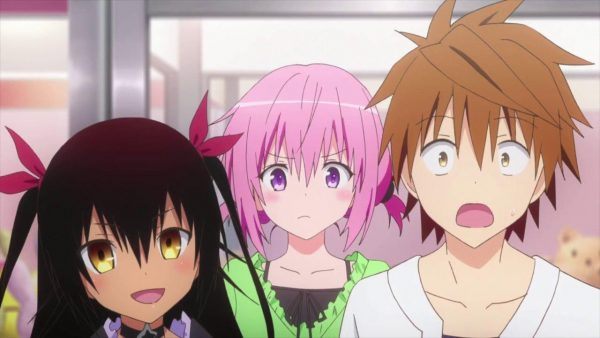 Studio: Xebec

Genres:

 Sci-Fi, Harem, Comedy, Romance, Ecchi, School, Shounen
Summary:
Rito Yuuki is a shy boy who attempts to confess his love to his crush in junior high and classmate Haruna Sairenji. Unfortunately, his situation becomes even more challenging when one night, a mysterious girl crash-lands right on top of a bathing Rito. Furthermore, Rito is more confused when he discovers that this girl, is the crown princess of an alien empire who left her home. Despite being a princess of a powerful planet, the girl wants to marry the timid Rito in order to avoid an unwanted political marriage. To LOVE-Ru is a romance ecchi anime that depicts Rito's daily struggles with the bizarre chaos that begins upon the arrival of a mysterious girl.
1. Isekai no Seikishi Monogatari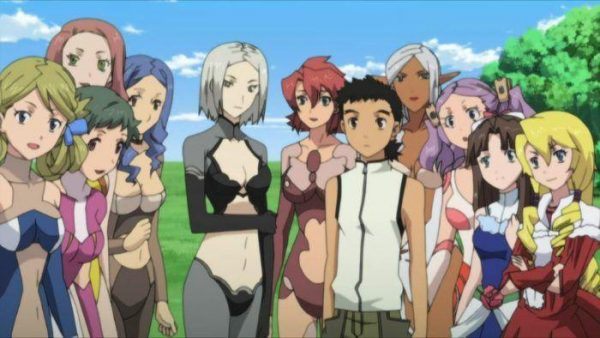 Studios: AIC, BeSTACK
Genres: Action, Comedy,  Isekai, Fantasy, Harem, Mecha, School
Summary:
Tenchi Muyo! "War on Geminar" is one of the top harem ecchi anime series where the Op Mc that you will really love. The story revolves around Kenshi Masaki who finds himself in another world. To get back home, he agrees to help them assassinate the new empress of the Shtrayu Empire, Lashara Aasu XXVIII.
As her army fights them off, Lashara takes note of Kenshi's abilities and demands that her attacker is captured alive. only to find out that the pilot is male which is extremely rare on Geminar.cBelieving it to be a waste to kill him, she makes Kenshi her attendant. As the impressive' new servant, Kenshi must accompany Lashara to the Holy Land, an academy where Mechanoid pilots hone their skills. His arrival attracts attention, but Kenshi is unaware that something sinister is brewing within the academy and it could plunge the entire world into war.
Don't Miss: