best Recommended Zombie Anime to Watch Right Now
Thanks to the popularity of the zombie genre and subculture in the West, as well as worldwide, zombies have started to penetrate Japan's animation industry.
There still aren't as many recommended zombie anime shows and movies as there are live-action ones, but it's only a matter of time until Japanese anime catches up. In the meantime, there are about 20 or so zombie anime fans can watch while they wait for the next episode or season of their favorite zombie show.
And, since finding good anime to watch can be tedious, here are the 10 best recommended zombie anime titles you can binge-watch on the internet right now.
---
10| HIGHSCHOOL OF THE DEAD
Studios: Madhouse
Genres: Action, Horror, Supernatural, Ecchi, Shounen
Episodes: 12
Although not necessarily the highest ranked anime on this list based on MAL (MyAnimeList) scores, Highschool of the Dead is arguably the best zombie anime to date. This has much to do with its serious plot, exciting turn of events, and its similarity to Western zombie TV shows and movies that are popular today. As the title implies, the story follows five high school students—plus two more characters—as they work together to get to safety after their high school overruning by zombies. The show's fan service can be excessive at times, but the gore and violence more than make up for it.
---
9| KABANERI OF THE IRON FORTRESS (KOUTETSUJOU NO KABANERI)
Studios: Wit Studio
Genres: Action, Horror, Supernatural, Drama, Fantasy
Episodes: 12
Set in the Industrial Revolution, Kabaneri of the Iron Fortress is often dubbed as the steampunk Attack on Titan, except the enemies are hard-to-kill undead monsters called Kabane instead of unknown giant creatures. The comparison between the two shows stems from the fact that the people on Kabaneri of the Iron Fortress are kept safe from the Kabane by fortress-like stations and massive walls. One day, a steam locomotive hijacked by the Kabane crashes into one of the stations. Refusing to give in to this ill fate, a young engineer named Ikoma successfully creates a weapon that can kill the Kabane, beginning his journey as a hero.
---
8| SCHOOL-LIVE! (GAKKOUGURASHI!)
Studios: Lerche
Genres: Slice of Life, Psychological, School, Horror, Mystery
Episodes: 12
This show's animation is so cute that it's hard to believe it's a zombie show at first. It's not that surprising, however, as the Japanese animation industry's take on the zombie genre often deviates from the West's. But when you watch the first episode and see cute school girls doing cute things but then eventually learn that they're the only survivors of their school in a post-apocalyptic zombie world, School-Live! can feel a little…dissonant. But no worries, with a MAL score of 7.68, entertainment is guaranteed. Watch these cute girls try to maintain some normalcy while they try to outlast the zombie apocalypse.
---
7| SEOUL STATION
Studios: Studio Dadashow
Genres: Horror, Thriller
Episodes: 1
If you watched and enjoyed the South Korean zombie movie Train to Busan, then you would definitely love the South Korean animated movie Seoul Station, the prequel to this hit 2016 zombie movie. As of this writing, it has 100% on Rotten Tomatoes. It follows the adventure of a young woman who tries to survive after downtown Seoul overruns by zombies. There are only three characters, which makes the movie rather straightforward and easy to follow. And while there's nothing much to set it apart from the rest of the zombie shows and movies we've seen so far, the twist can be seriously awe-inspiring.
---
6| GUNGRAVE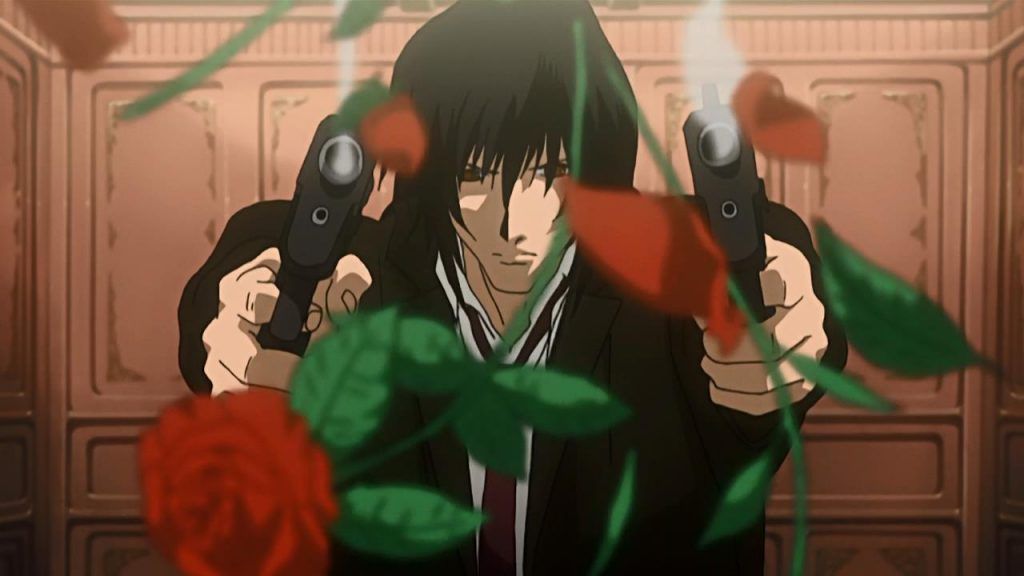 Studios: Madhouse
Genres: Action, Drama, Sci-Fi, Seinen, Super Power
Episodes: 26
Called Beyond The Grave, the main character is previously a human named Brandon Heat who, after being betrayed and murdered by his best friend and mafia syndicate partner, brought back to life as an almost invincible zombie-like creature.
He now lives to get back at the best friend who betrayed him and the syndicate he used to be part of while killing fellow undead on the side.
---
Read about: Here Are The 10 Heartbreaking Drama Anime That Will Make Your Eyes Tear
---
Click the 'Next' button to continue reading