The Top Anime Bad Boy Characters Who Fall in Love With a Good Girl
Today, we will present you a list of the best anime bad boy characters who fall in love with a good girl, creating amazing stories worth watching.
Because we can't talk about emotions and romance stories in anime without talking about the good and bad sides of those given characters who are within such relationships.
By the way, if you love romance anime series, see also this compilation of the best yandere romance anime series
20. The World is Still Beautiful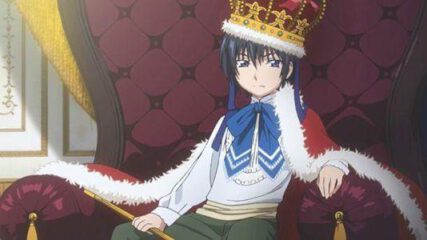 Genres: Adventure, Romance, Fantasy, Shoujo
if you like the anime series where a bad boy falls in love with a good girl, then Soredemo Sekai Wa Utsukushii is a perfect recommendation to watch! This is a series that was released back in 2014 and was produced by Studio Pierrot.
The story is set In the Sun Kingdom, where every day is sunshine, and rain is something that they have never heard of. However, in a faraway land "the Rain Dukedom", the weather is reversed, and everybody has the power to create rain with their voices.
Livius Ifrikia has conquered the entire world and expanded the Sun Kingdom's influence in the three short years since he was crowned king. Upon learning about the powers to create rain, Livius decides to marry Nike Remercier, one of the princesses of the Rain Dukedom.
However, those outside the Sun Kingdom have spread a rumor that Livius is a cruel, ruthless, and tyrannical ruler, and as word reaches the princess, she begins to prepare herself for the worst. But when she finally meets her fiancé, Nike discovers that he is an entirely different person from what she originally expected.
Read Also: 11 Anime Where Bad Girls Fall in Love with Good Boy
19. Inu x Boku SS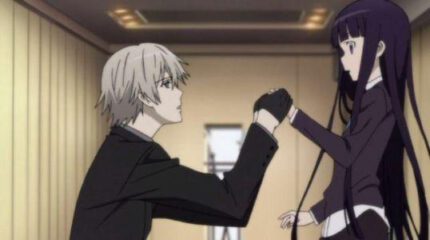 Genres:  Comedy, Supernatural, Romance, Shounen
Inu x Boku SS is a 2012 anime, produced by David Production studio. The synopsis of the series centers around a bad boy who will fall in love with a good girl named Ririchiyo Shirakiin, who is the sheltered daughter of a renowned family.
With her petite build and wealthy status, Ririchiyo has been a protected and dependent girl her entire life, but now she has decided to change all that. However, there is just one problem—the young girl has a sharp tongue she can't control and terrible communication skills.
With some help from a childhood friend, Ririchiyo takes up residence in Maison de Ayakashi, a secluded high-security apartment complex that, as the unsociable 15-year-old soon discovers, is home to a host of bizarre individuals.
Furthermore, their quirky personalities are not the strangest things about them: each inhabitant of the Maison de Ayakashi, including Ririchiyo, is actually half-human, half-youkai.
But Ririchiyo's troubles have only just begun. As a requirement for staying in her new home, she must be accompanied by a Secret Service agent.
Ririchiyo's new partner, Soushi Miketsukami, is handsome, quiet… but ridiculously clingy and creepily submissive. With Soushi, her new supernatural neighbors, and the beginning of high school, Ririchiyo definitely seems to have a difficult path ahead of her.
Read Also: 11 Best Romance Comedy Action Anime Series you Should Watch
18. Yamada-Kun and the Seven Witches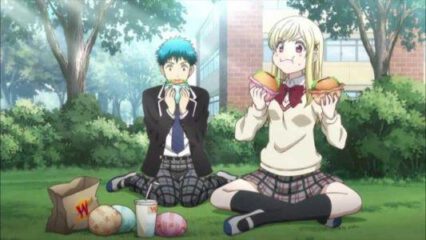 Genres:  Comedy, Harem, Mystery, Romance, School, Shounen, Supernatural
This a good anime that features the main character Ryuu Yamada, who is portrayed as a bad boy entering high school, wanting to turn over a new leaf, and leading a productive school life. That's why he chose to attend Suzaku High, where no one would know of his violent delinquent reputation. However, much to Ryuu's dismay, he is soon bored; now in his second year, Ryuu has reverted to his old ways—lazy with abysmal grades and always getting into fights.
One day, back from yet another office visit, Ryuu encounters Urara Shiraishi, a beautiful honors student. A misstep causes them both to tumble down the stairs, ending in an accidental kiss! The pair discover they can switch bodies with a kiss: an ability that will prove to be both convenient and troublesome. Learning of their new power, Toranosuke Miyamura, a student council officer and a single member of the Supernatural Studies Club, recruits them for the club.
Soon joined by Miyabi Itou, an eccentric interested in all things supernatural, the group unearths the legend of the Seven Witches of Suzaku High, seven female students who have obtained different powers activated by a kiss. The Supernatural Studies Club embarks on its first quest: to find the identities of all the witches.
Read Also: Top 10 Anime Series Where The MC (Main Character) is Villain
17. My Little Monster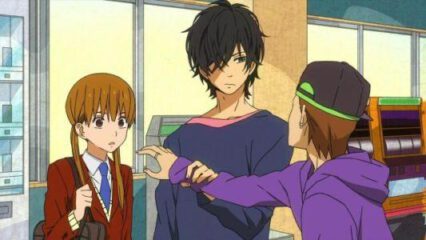 Genres:  Slice of Life, Comedy, Romance, School, Shoujo
This series' synpsis showcases the apathetic, cold, and selfish Shizuku Mizutani whose life begins to change when she meets the anime bad boy Haru Yoshida, a violent troublemaker who stopped attending class after getting into a fight early in the school year.
He is not much different from her, though—he too understands little about human nature and does not have any friends. Much to Shizuku's surprise, he proclaims that she will be his friend and immediately confesses his feelings toward her upon meeting her. Because of her lack of friends and social interaction, Shizuku has a hard time understanding her relationship with Haru.
But slowly, their friendship begins to progress, and she discovers that there is more to Haru than violence. She begins to develop feelings for him but is unsure what kind of emotions she is experiencing. Together, Shizuku and Haru explore the true nature of their relationship and emotions.
Read Also: The List of 20 Best Harem Anime Series to Watch Right Now!
⌈16⌋ Maid-Sama!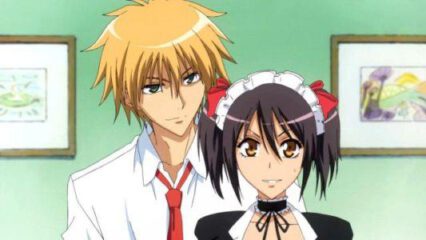 Genres:  Comedy, Romance, School, Shoujo
Among the best anime series with bad boys' characters, we have Kaichou Wa Maid Sama which depicts a cool story that will get you hooked. Being the first female student council president isn't easy, especially when your school just transitioned from an all-boys high school to a co-ed one. Aptly nicknamed "Demon President" by the boys for her strict disciplinary style, Misaki Ayuzawa is not afraid to use her mastery of Aikido techniques to cast judgment onto the hordes of misbehaving boys and defend the girls at Seika High School.
Yet even the perfect Ayuzawa has an embarrassing secret—she works part-time as a maid at a maid café to help her struggling family pay the bills.
The anime at first shows us that She has managed to keep her job hidden from her fellow students and maintained her flawless image as a stellar student until one day, Takumi Usui, a bad yet the most popular boy in school, walks into the maid café. He could destroy her reputation with her secret… or he could twist the student council president around his little finger and use her secret as an opportunity to get closer to her.
Read also: 20 Anime Where MC is Strong But Acts Weak
15. Wolf Girl & Black Prince
Genres:  Comedy, Romance, School, Shoujo
This is a perfect anime about love between a bad boy and a good girl. The story depicts: to gain her friends' respect, Erika lies about having a boyfriend, so when they ask for a picture of her "boyfriend," she hastily snaps a photo of a handsome bad boy, whom her friends recognize as the popular and kind-hearted Kyouya Sata.
Trapped in her own web of lies and desperately trying to avoid humiliation, Erika explains her predicament to Kyouya, hoping he will pretend to be her boyfriend.
But Kyouya is not the angel he appears to be: he is actually a mean-spirited sadi$t who forces Erika to become his "dog" in exchange for keeping her secret. Begrudgingly accepting his deal, Erika soon begins to see glimpses of the real Kyouya beneath the multiple layers of his outer persona.
As she finds herself falling for him, she can't help but question if he will ever feel the same way about her. Will Kyouya finally make an honest woman out of Erika, or is she destined to be a "wolf girl" forever?
14. Shugo Chara!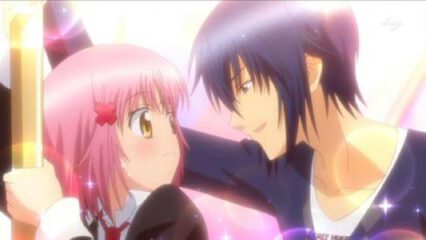 Genres: Comedy, Magic, School, Shoujo
The plot of this magical school anime revolves around Amu Hinamori, a student at Seiyo Elementary, where she has a reputation for being "cool and spicy"; however, her real personality is that of an extremely shy and easily intimidated girl.
One night Amu makes a wish that she would have the courage to be reborn as her "would-be" self. The next morning Amu finds three brightly colored eggs—red, blue, and green—in her bed.
Each egg eventually hatches into a Guardian Character: Ran, Miki, and Su. Guardian Characters are angel-like beings that aid a person in becoming their "would-be" selves and fulfill the person's dreams.
The Guardian Characters accomplish this by giving encouragement and advice, but they can also temporarily change a person's personality and abilities.
With the Guardian Characters, Amu's life becomes much more complex as she now struggles to deal with her new personalities and the Seiyo Elementary Guardians—a student council group where each member has their own Guardian Character—who recruits Amu to search for and seal the X Eggs and X Characters, corrupted forms of people's dreams.
13. Kobato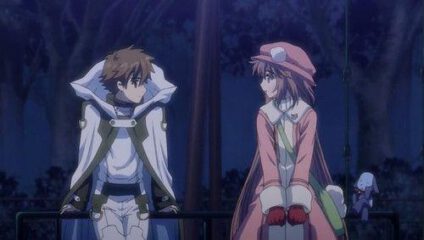 Genres:  Comedy, Drama, Romance, Fantasy
Next up, we have is another good fantasy romance anime that features the theme of a bad boy falling in love with a good girl. The series follows the sweet and naïve Hanato Kobato, who came to Earth on a mission to collect and fill a bottle with "Konpeito," which appears after healing a person's heart that is suffering. Kobato collects these because it is her wish to go to a certain place.
Despite her strangeness, Kobato turns out to be well-suited for this mission as her heartfelt sincerity in helping others earns her the love and admiration of everyone she meets. However, she is not allowed to fall in love with anyone whose heart she heals.
Read Also: The 22 Best Action Anime 2019 you Need to Watch
12. Kodocha
Genres:  Comedy, Drama, Romance, Shoujo
Sixth-grader Sana Kurata has a perfect life. Her mother is a (fairly) successful author, she has a young man employed to keep her happy and safe, and best of all, she is the star of the children's television show Kodomo no Omocha. There's just one thing bothering her, and that's Akito Hayama. Akito is a classmate of Sana's, and ever since he's started acting out in class, the rest of the boys have followed his example.
The anime highlights the everyday antics of girls and their teachers waging a battle to keep the class under control and to get some actual learning done. That rotten bad boy Akito… Sana won't stand for this! The hyperactive Sana decides to dig deeper and find out what makes Akito tick, so the class can go back to normal and the teacher can stop spending every day crying instead of teaching. But the more she learns about him, the more she realizes that there might be more to Akito than meets the eye.
Read Also: The Best 37 Cute Girls From Anime and Manga Series
11. Library Wars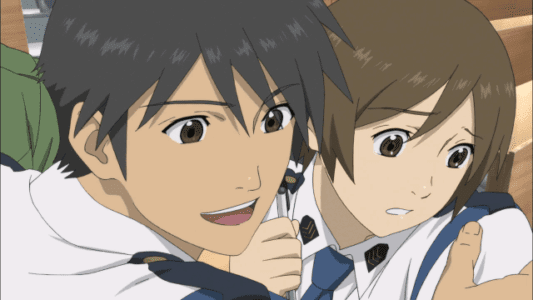 Genres: Action, Military, Comedy, Romance
This military romance anime tv show tells the story of Kasahara Iku, the first woman to join the Library Task Force. In the near future in Japan, the Media Enhancement Law has been forced upon the population to censor all books and media.
To counter this, the Library Defense Force was created. To protect themselves against the Media Enhancement Law Commission, all major libraries are fully equipped with a military Task Force, who take it upon themselves to protect the books and freedom of media of the people.
This anime follows the good girl Iku and her sweet feeling toward a bad boy, and her fellow soldiers as they protect various special books and artifacts from the oppression of the Media Enhancement Law Commission. A love story, war story, and comedy all rolled into one.
Read also: Best Romance School Anime You Must Really Watch
Continue Reading By Clicking The Next Button