The list of the best action anime with vampire characters that are so good to watch.
What are the best action vampire anime that you should watch? Hello anime lovers, and welcome to this brand new anime list that features the best vampire action anime series that Japan has created so far.
So, if you love watching bloody, gore, horror themes, and vampire characters in epic action scenes, then this is the perfect compilation for you!
Now, let us starts our countdown of the best action vampire anime tv shows that are worth watching.
10. Black Blood Brothers
Genres: Action, Comedy, Fantasy, Shounen, Supernatural, Vampire
Studios: Group TAC
Episodes: 12 
Kicking off the list of the best action vampire anime series with Black Blood Brothers. The series focuses on Mochizuki Jirou, aka the Silver Blade, the lone hero who fought and defeated the Kowloon Children despite the loss of his lover, who returns to Japan with his young brother, Mochizuki Kotarou.
Moreover, the two quickly discover that the Kowloon Children who survived the Holy War are seeking to infiltrate the "Special Zone".  While Red Bloods refers to the humans; Black Bloods are the vampires. The Mochizuki Brothers are Old Blood, the last descendants of an elite clan of vampires. Due to, the abduction of Kotarou, Jirou has no choice but to fight once more.
9. Blood-C 
Genres: Action, Mystery, Horror, Supernatural, Vampire, School
Studio: Production I.G
Episodes: 12  
Next up we have Blood-C a good vampire anime that spans genres of action, horror, and school. The anime follows the story of the female main character named Saya, who is portrayed as a Peaceful schoolgirl by day, a fearsome monster by night, who lead a split life.
Armed with a sword for sacred tasks, she put an end to every monster who dares threaten her quiet little village. But all too soon, Saya's is tested, when she overhears the monsters speak of a broken covenant—something she knows nothing about.
And then, unexpectedly, a strange dog appears; it asks her to whom she promised to protect the village, curious as to what would happen if she were to break that promise. So, let's travel with Saya through her struggle, in order to find a way to the truth in a village where nothing is as it seems.
8. Trinity Blood 
Genres: Action, Supernatural, Vampire
Studios: Gonzo
Episodes: 24 
Trinity Blood will really please everyone, who likes vampire-themed anime series that feature action and epic bloody fights. The series revolves around a continuing war between humans and vampires. Therefore, the struggle between the two factions: the Vatican and the New Human Empire, makes many desire a peaceful co-existence between the two species. However, standing between them and this goal is the Rosenkreuz Orden, a group of vampire extremists who manipulate the two sides and pit them against each other. In order To combat them, the Vatican special operations group "AX," led by Cardinal Caterina, must use everything they have—even a vampire who preys on the blood of other vampires.
7. Dance in the Vampire Bund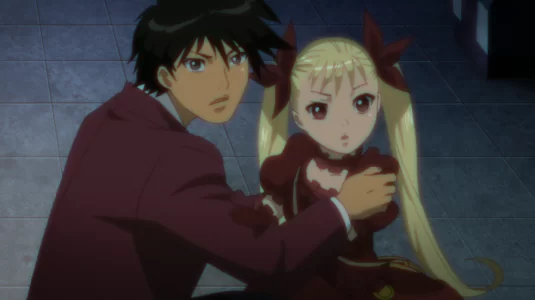 Genres: Action, Supernatural, Vampire
Studios: Shaft
Episodes: 12 
Dance in The Vampire Bund is a good action anime about the main female character Mina Tepes, the princess, and ruler of all vampires, who want a change.
Using the vast wealth of the Tepes line, she has paid off the entire gross national debt of Japan. In so doing, gained the authority to create a "special district" off the coast of Japan that is to become the future haven to vampires the world over.
Now, on the eve of the landmark press conference announcing the existence of vampires to the world. Seems like, terrorists and rival factions are plotting to assassinate Mina Tepes before she has a chance to make her world-changing announcement.
6. Strike the Blood 
Genres: Action, Harem, Supernatural, Ecchi, Vampire, Fantasy, School
Studios: Silver Link
Episodes: 34, Three Seasons
Now, we have Strike the Blood which is a pretty good vampire anime with themes of action, ecchi, and fantasy that you will absolutely like. The series chronicles the story of Kojou Akatsuki's days as an ordinary high school student in the Demon District of Itogami Island come to an abrupt end after a fateful encounter leaves him with the remarkable abilities of a vampire.
It isn't long before he is thrust into the center of attention when it is discovered that he is the fourth primogenitor, an immensely powerful vampire whom most consider merely a legend. Fearing Kojou's destructive potential, the Lion King Organization sends in an apprentice sword-shaman, Yukina Himeragi, to monitor, and should he become a threat, kill the boy deemed the world's most powerful vampire. Forced together by circumstance, the two form an unlikely alliance as Kojou comes to terms with his abilities and they both struggle to protect the city from various emerging chaotic forces.
5. Blood Lad 
Genres: Action, Comedy, Demons, Seinen, Supernatural, Vampire
Studios: Brain's Base
Episodes: 10  
Blood Lad is another good action vampire anime that follows Staz, the vampire boss of a section of the demon world, but he has little interest in human blood. He's more infatuated with Japanese culture.
When he learns that Yanagi Fuyumi, a Japanese teenage girl, accidentally wanders into the demon city, he jumps to the occasion. However, while Staz deals with an intruder on his turf, the oblivious Fuyumi is killed by a monster and becomes a wandering ghost. The disappointed Staz vows to her that he will find a way to bring Fuyumi back to life.
4. Servamp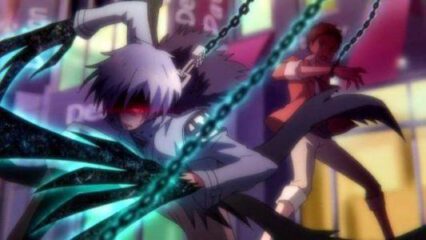 Genres: Action, Comedy, Drama, Josei, Supernatural, Vampire
Studios: Brain's Base
Episodes:12  
The story of this good action anime with vampire characters revolves around a 16-year-old boy (15 at the beginning of the story) named Mahiru Shirota who likes simple things and dislikes difficult things.
One day, he picks up a stray black cat he finds in the middle of the road and gives it the name Kuro (which literally translates into "black"). From this moment on, a contract between the Servamp Sleepy Ash and Mahiru is formed, and Mahiru is pulled into the Servamp war between the seven deadly Servamps and their eighth sibling Tsubaki.
3. Kurozuka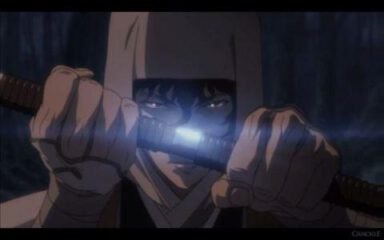 Genres: Action, Drama, Historical, Horror, Romance, Sci-Fi, Vampire
Studios: Madhouse
Episodes: 12 
Kurozuka is anime adaptation of Takashi Noguchi's manga, which itself adapts Baku Yumemakura's supernatural romance novel. The original novel is about a 12th-century man named Minamoto no Yoshitsune (Kurou). Kurou flees into the mountains after losing to his brother Minamoto no Yoritomo, the first Shogun to rule all of Japan.
History records that he committed suicide, but instead, Kurou meets a strange, beautiful woman named Kuromitsu in her mountain hermitage. Eventually, Kurou falls in love with Kuromitsu but then realizes she conceals a dark secret. He learns that he is unable to die and continues to live for a thousand years as Japan evolves into a future society.
2. Owari No Seraph
Genres: Action, Military, Supernatural, Drama, Vampire
Studios: Wit Studio
Episodes: 24  Two Seasons
This is one of the most popular action vampire anime series that you will really enjoy! The story highlights a mysterious virus that appeared on Earth which killed every infected human over the age of 13. At the same time, vampires emerged from the world's dark recesses and enslaved mankind.
Enter Hyakuya Yuuichirou, a young boy, who along with the rest of the children from his orphanage, are treated as livestock by the vampires. Even in captivity, Yuuichirou dreams big! He dreams of killing vampires. He dreams of killing them all.
1. Hellsing Ultimate 
Genres: Action, Military, Horror, Supernatural, Vampire, Seinen
Studios: Madhouse
Episodes: 23, Two Seasons
Finally, we will be ending our list with the masterpiece Hellsing, which is a good vampire action anime tv show that is one of the best series that Japan has created so far. The anime follows creatures of darkness and evil that plague the night, devouring any human unfortunate enough to be caught in their grasp. Hellsing is an organization dedicated to destroying these supernatural forces that threaten humanity.
Yet, the vampire Alucard is working against his own kind as an exterminator for Hellsing. So, with Seras Victoria, at his side, Alucard must battle not only monsters but all those who stand to oppose Hellsing, be they in the guise of good or evil. Therefore, Hellsing Ultimate proves that appearances are not all they may seem! and sometimes the greatest weapon can come in the form of one's worst nightmare.
Don't Miss: