What are the best anime about cooking and culinary that are Like Food Wars, and features similar themes to the Shokugeki No Soma series?
There is just a bunch of anime series like Food wars that you can watch with all different stories, some are new and surprising, while others just copy old plots. However, stories that are about food and cooking are hard to find. That's why there is only a few anime series about it.
Food Wars is a popular anime series that's been airing since 2015. It's set in the world of food and cooking, It has an interesting storyline, which is about a boy who wants to become a chef but he has to work his way up from the bottom. So if you're into that, then this is a great article for you.
Therefore, in our list of the best anime like Food Wars (Shokugeki No Soma), you'll see the best food anime series there are – right now!
9. Chuuka Ichiban!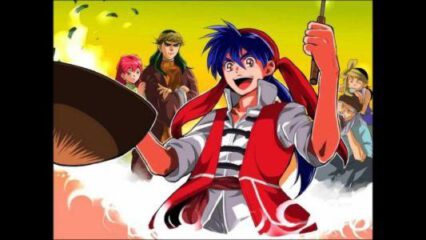 Chuuka Ichiban! is a good anime that is similar to Food Wars. It has the same type of cooking competitions and the same type of characters. The main character is a high school student who wants to be a chef and wins cooking competitions.
After Mao's mother died, he had to go from zero to reach the place of his mother, who was once called the 'Fairy of Cuisine'. His goal is to take the title of Master Chef from his mother's restaurant.
He is continuing to travel to China and learn as much as he can about different cooking methods so that one day he will be able to become a world-famous chef just like his mother was. On his journey, he made lots of friends and even more rivals – cooking competitions are very intense!
8. Yakitate!! Japan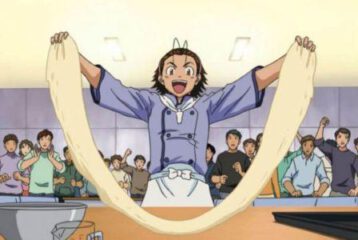 Yakitate Japan is a really good shounen anime. It's a good cooking anime like Food Wars but it's basically all about baking bread and there are some heartwarming stories, hilarious moments, plenty of great characters and it has a lot of arcs dealing with the love for bread.
Honestly speaking Yakitate Japan is one of my favorite anime of all time, A story of a child and his bread invention. Inspired by an old bakery he visits, Kazuma starts making bread that Japanese people will fall in love with. He then begins an epic journey, making friends and enemies along the way to perfecting his bread.
7. Muteki Kanban Musume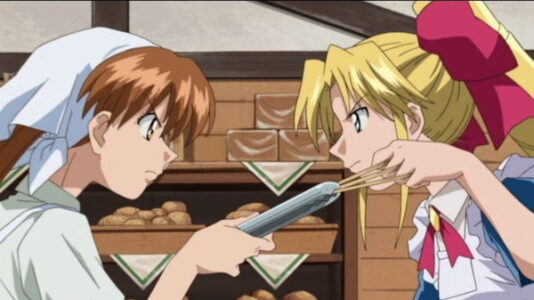 Spanning genres of action, and comedy, Muteki Kanban Musume known in English as Ramen Fighter Miki is a good anime like Shokugeki no Souma. The story here follows Miki Onimaru, a ramen poster girl who works at her mom's Chinese restaurant. She looks like any other teenage girl, but she can get aggressive when provoked.
With her unlikely temper, Miki is usually seen fighting with her friends and mom on a regular basis. This is having a negative effect on their everyday normal life and causing trouble where it doesn't need to be.
6. Ben-To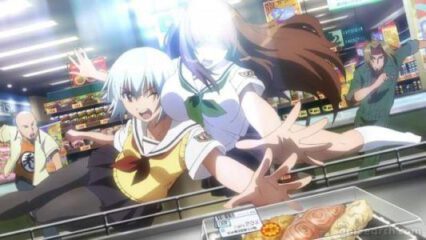 If you like to watch an anime like Food Wars, this one's for you! The show is set in a convenience store where stickers mark food that's been discounted. There are tons of people waiting to grab the discounted items, and it sounds like it would turn into a big riot.
There are some people who lead the fights here. One of these people is Sen "Ice Witch" Yarizui, the president of a club called "Half-Price Food Lover's Club" that You Satou, the Main Character, happens to join. These leaders go head-to-head and fight over stickers which can then be claimed as a victory trophy. Those deemed winners are given the title 'Wolves'.
5. Toriko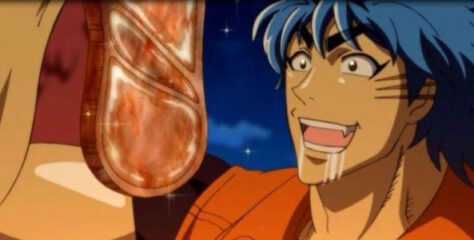 Both anime series are about cooking and food but there are some differences that make Toriko different from Food Wars. In this anime, Toriko is a Gourmet Hunter searching for the most precious foods in the world so he can create his full-course meal.
He's an incredible guy that has this inhuman ability to track down and capture animals. He relies on his strength and knowledge of the animal kingdom to get himself a good list of rare beasts for his menu.
Toriko is accompanied by the weak Komatsu, someone that is inspired by Toriko's ambition. They journey together to become better chefs and to find rare ingredients. However, Toriko and his friends are always fighting the otherworldly Gourmet Corps. They want to control the world's food supply.
4. Koufuku Graffiti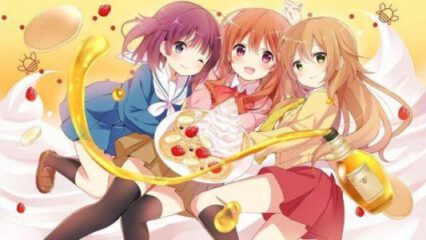 Koufuku Graffiti (Gourmet Girl Graffiti) is a slice-of-life comedy anime about food and cooking. There are a lot of similarities between this and the shōgeki no soma series too! Well, Its one of those rare shows that are so relaxing. The anime girls here often display their cute side which falls under the "moe" genre and it's a fan favorite show because these parts of the show are simply great to watch.
Koufuku Graffiti is a slice of life anime about food. It doesn't offer much outside of that, but you can enjoy it if you know what to expect. Koufuku Graffiti's main subject generally revolves around food. Some other topics it touches on are friendship, daily life, and its lovely female characters. The character development will evolve around bonds that our main characters develop with the food they make.
3. Bonjour Koiaji Pâtisserie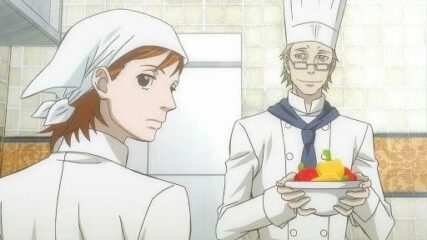 The anime story follows high schooler Sayuri Haruno who wants to harness her ability to make sweets and prove herself at Fleurir Confection Academy. This is a place that will be her one-stop place for meeting new friends, getting help from professors, and learning how to make great sweets.
It is a reverse harem anime tv show about patisseries and many cute sweets. One of my favorite parts of the show is the main character's relationship with her best friend. Even though each episode is short, it's easy to tell how close they are. By the way, the guys in the show are so hot too!
2. Ristorante Paradiso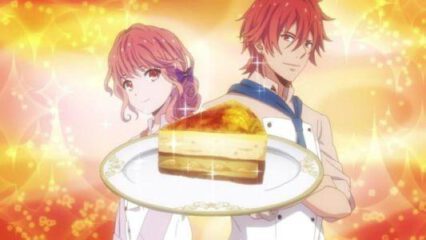 Ristorante Paradiso is a Japanese anime similar to Shokugeki No Soma that aired in 2009. It features drama, , romance, and slice-of-life genres. The story focuses on Nicoletta, a girl who was abandoned by her mom when she was still a little girl. And now that she's 15 and an adult, she tracks down her mom in Rome to ruin her life.
As soon as Nicoletta stepped through the door of the restaurant where her mom was supposed to be, it felt like she stepped into a different world. This fancy place is filled with men sporting spectacles, though they're all much older than Nicoletta. She was impressed by their smiles and swept up in their wise words, Now her revenge has faded away like a dream.
1. Yumeiro Patissiere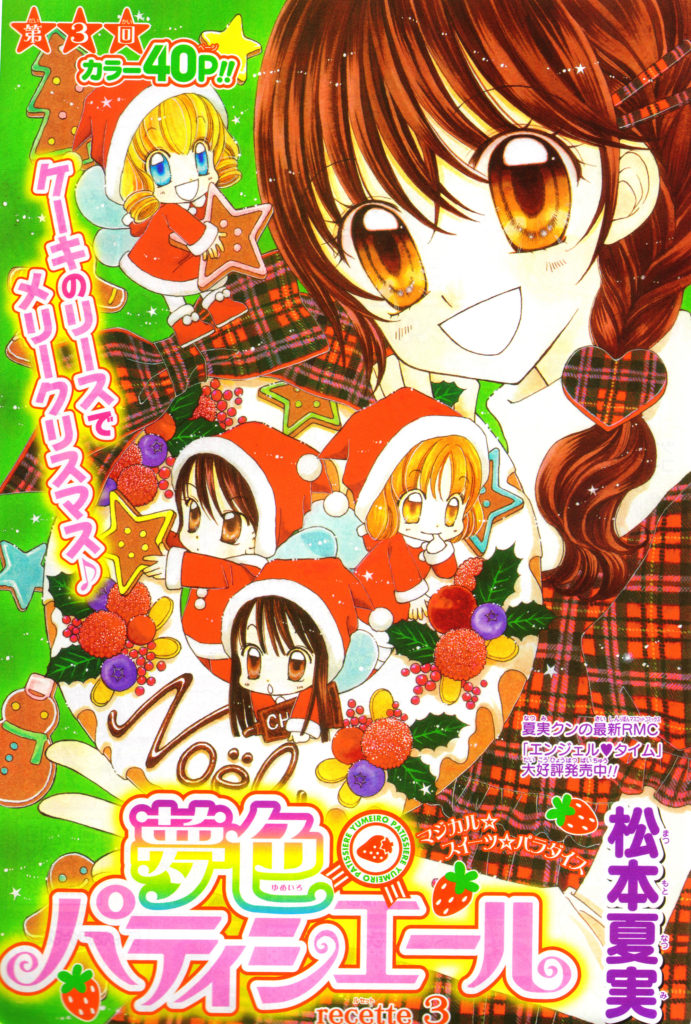 If you are looking for another anime like Food Wars that this one is among the best choices! The story chronicles: Besides her love for cake, Ichigo's never been really successful at anything. When Henri find out about her ability to taste cakes, he offers her a scholarship to St. Marie Academy in the hopes that she'll find what she needs there. She may not have any skills but she's been placed in the top group which just leads includes the top Chefs who are called "Sweet Princes".
These princes are known throughout the school for their magnificent treats. Sennosuke Andou is excellent at mastering the best Japanese sweets. Satsuki Hanabusa is great at making candied flowers and; Makoto Kashino makes a the best things with chocolate! Therefore, Ichigo and the Sweets Princes are working on what they want to do. They are really competing with other pastry chefs.
Don't Miss: