Today we're recommending anime like Re Zero Kara Hajimeru Isekai Seikatsu. Let's see what are some recommended titles that are similar to Re Zero, in terms of stories and characters.
Re Zero is a popular light novel series that's been around for a while. It's about what happens when you die and go to the fantasy-land afterlife, without your memories, while you get constantly interrupted by tons of high-octane action scenes.
This is an Isekai anime story that revolves around a high school student named Subaru who gets summoned to another world on his way back from the convenience store.
With his life spiraling out of control, here comes the biggest crisis for him. The one who summoned him is nowhere to be seen, and with no sign of who to trust and; rely on, things become even more complicated
And when he gets saved by a mysterious girl with silver hair, he decided to accompany and help her in return.
When he finally manages to get a clue, Subaru and the girl are killed by someone. Subaru then awakens in the place he was summoned and learns that he has gained the ability "Returns by Death" and is now a helpless boy who can only save others by dying, in order to prevent what happened in the first place.
So, if you liked Re ZERO Kara Hajimeru Isekai Seikatsu, I recommend watching other similar anime series.
10. Mondaiji-tachi Ga Isekai kara Kuru Sou Desu yo?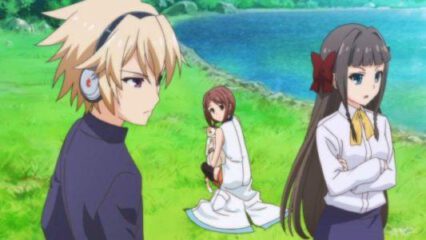 Genres: Fantasy, Supernatural
Kicking off the list of the best anime like Re Zero, we have Mondaiji Tachi, which is an amazing isekai anime that you will absolutely enjoy. The story follows three main characters: Izayoi Sakamaki, Asuka Kudou, and You Kasugabe, who are bored with their regular lives.
So when an envelope arrives for each of them, and when they open it up, they are stunned to see a totally different reality and are transferred to another world. Turns out that The Black Rabbit has called on their help in order to overthrow the Devil King.
9. Ajin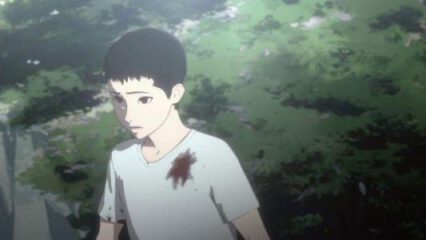 Genres: Action, Horror, Mystery, Seinen, Supernatural 
Ajin is a supernatural anime like Re Zero because it is full of complex ideas about life and death, as well as the dark side of human nature. Have you ever wondered what it means to be human? If that's the case, then you'll want to consider the Ajin species. They were discovered in Africa 17 years ago and have a lot of unique features.
The story elaborates on whether Ajin species are simply inexplicable actions of nature or were they purposefully sent to Earth to destroy it. Some believe they're random occurrences while others think our planet may be the target.
The Ajin has made the news quite a few times, but they mostly remain elusive and mysterious. They make people think of them as unreal and are only found in textbooks or in Tv. However, They're not just unique to Japan though – there have been reports of their sightings all around the world.
A lot happened to the protagonist of this series which eventually changed his life forever…
8. Hai to gensou no Grimgar
 Genres: Action, Adventure, Drama, Fantasy
Much like the story of Re Zero, this anime highlights that before they awaken in a strange world; the youth of the anime series Hai to Gensou no Grimgar remember nothing… Other than their own names, it's strange how they seem to say words they've never heard before, but those words look familiar though!
The group has been asked to join the Reserve Army because monsters dwell just outside of town, threatening its safety. To make a living they have to fight them off.
Having already joined the Reserve Army and left, Haruhiro, Manato, Ranta, Mogzo, and Shihoru have to find a way to survive by themselves. But how they can do so is they can't even fight the weakest monsters.
7. Kono Subarashii Sekai ni Shukufuku wo!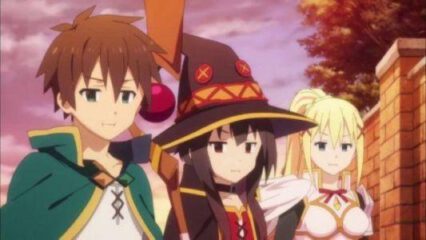 Genres: Adventure, Comedy, Fantasy, Supernatural
Kazuma, a high-school student, and gamer who was spending most of his days within the walls of his room died in an accident thinking that he has performed a heroic act of saving a girl.
He awakens in the afterlife and is greeted by a beautiful girl named Aqua who claims to be the goddess of youth. Her mission is to guide those whose lives were cut short.
Aqua then offers him a choice: to go to heaven or to get sent to another to defeat the Demon King. Of course, Kazuma's gamer instincts kick in, and he chooses the new world as his new adventure. So let us Join Kazuma on his adventures as he tries to transfer his gaming skills from a virtual world to a real one.
6. No Game No Life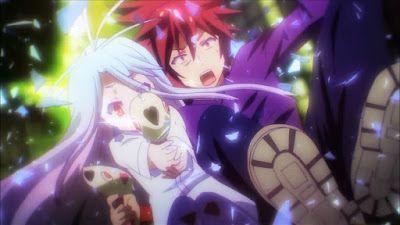 Genres: Adventure, Comedy, Ecchi, Fantasy, Seinen, Supernatural
No Game, No Life is a lighthearted anime like ReZero, the story centers around Sora and Shiro. They're shut-in pro gamers who spend most of their time playing video games.
These two gamers can beat all of their favorite games, and they even realized that the "real world" is just another "crappy game". However, their lives will turn upside down when they were summoned by a mysterious Boy to an alternate universe.
The Boy is the master of this world who stopped the war and made this world, a place where games decide all of the living arrangements – even what happens to nations. There, humanity was taken back by the other races and has been driven into one remaining city.
5. Steins;Gate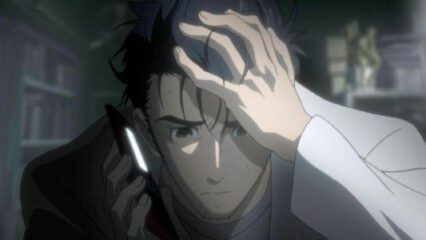 Genres: Comedy, Sci-Fi, Seinen, Thriller
I actually think Steins;Gate is a pretty good anime like Re Zero, as it is about a group of scientist friends who have managed to create a time machine microwave, which is a device that can send text messages to the past.
As they perform different experiments, an organization named SERN, which has been doing their own research on time travel, tracks them down, and now the characters have to find a way to avoid being captured by them and prevent some tragic occurrences from happening.
4. Ookami to Koushinryou- Spice and Wolf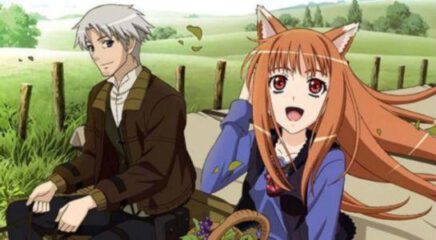 Genres: Adventure, Fantasy, Romance,
Lawrence is a commercial who has a small cart, which he travels with. After visiting a village, he discovers that there is a sleeping girl under the hay in his cart! She has wolf ears, and her tail is sticking out.
The fox girl explains that she has been called a "God" by the townspeople but her name is actually Holo and not otherwise. Lawrence teases her a little, but after hearing more of her backstory he decides to accompany her further north.
They went on plenty of adventures while visiting many different locations during their trip – some of which got them in trouble. As their relationship developed, the bond between them grew stronger.
3. Higurashi no Naku Koro ni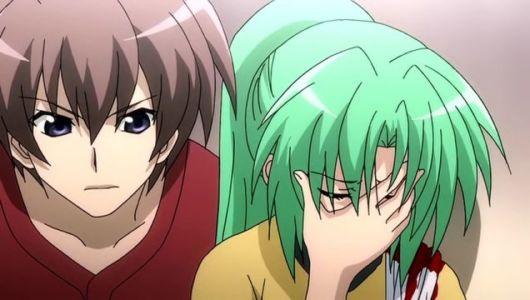 Genres: Horror, Mystery, Psychological, Supernatural, Thriller
Higurashi is just an anime like Re Zero, as Keiichi, the main character, moves into a quiet town and thinks this will be a good adventure.
He plays games with his friends at school, but he never knows what secrets they share. But Keiichi's peaceful days in Hinamizawa will turn into the darkest ones when one fateful day, Keiichi by chance stumbled upon news about a murder. From this point, the events become much more horrific as he soon learns relatives and friends may not be what they claim.
This is a good mystery-horror anime that is told in a series of different scenarios. It will definitely keep you hooked until the end.
2. Endride
15-year-old Shun Asanaga has an optimistic and bright personality. One day, he finds a mysterious crystal in the office of his scientist father. When he touches it, the world becomes distorted, and he is sent into the world of Endra.
There, there is a 16-year-old prince named Emilio of a fantasy kingdom who is doing something that displeases his father, the reigning king. With Emilio now old enough to be king, he takes up the throne and decides to attack Delzain for the unjust imprisonment of his father. However, because he's too weak, he is captured by Delzain and put in prison.
Now Asanaga's mission is to help Prince Emilio get revenge on King Delzaine for usurping the throne from his father.
Well, after watching this show you'll realize that Endride is a good anime similar to Re Zero, but with its own twist.
1. Boku dake ga Inai Machi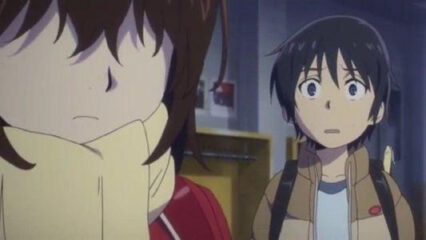 Genres: Mystery, Psychological, Seinen, Supernatural
I like this anime a lot and it's really great! Boku Dake ga Inai Machi is not only an anime like Re zero, but it is one of the most popular ones. It has a similar story to Re zero and its characters are well-developed.
 Satoru is actually a 29-year-old manga artist who will take advantage of "travel back in time," a phenomenon he calls "powerful yet mysterious," to save many lives.
When tragedy is about to strike, Satoru finds himself traveling back in time. Precisely, he gets sent back several minutes before the accident occurs
This is an anime about a young man's attempt to prevent his friend's death 8 years ago. It also features the story of the main character at present time, as he struggles to protect those close to him as well.
Don't Miss: