The best anime series that are like or similar to If It's for My Daughter, I'd Even Defeat a Demon Lord
If you're looking for anime like If It's for My Daughter, I'd Even Defeat a Demon Lord, then, here are the best similar tv shows that you might really enjoy.
If It's for My Daughter, I'd Even Defeat a Demon Lord know, known in Japanese as "Uchi no Ko no Tame Naraba, Ore wa Moshikashitara Maou mo Taoseru Kamo Shirenai." is a good anime that spans genres of fantasy and slice of life, therefore the series doesn't feature much action, but plenty of great and wholesome moments.
The story follows the anime's protagonist Dale, a renowned adventurer. One day he finds a little devil girl in the woods and decides to raise her as his daughter. This leads to many more funny, cute, and sometimes sad adventures.
Now, let the countdown of the best anime that are like and similar to If It's for My Daughter, I'd Even Defeat a Demon Lord Begin!
10. How Not to Summon a Demon Lord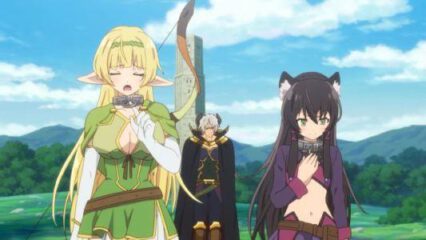 Studios: Ajia-Do
Genres: Comedy, Ecchi, Fantasy, Harem, Magic
Episodes: 12
Kicking off the list of the best anime like If It's for My Daughter, I'd Even Defeat a Demon Lord, with the How Not To Summon A Demon Lord series. The show depicts that no one can match the power of the Demon King Diablo when it comes to the fantasy MMORPG Cross Reverie. Possessing the game's rarest artifacts and an unrivaled player level, he overpowers all foolish enough to confront him. But despite his fearsome reputation, Diablo's true identity is Takuma Sakamoto, a shut-in gamer devoid of any social skills. Defeating hopeless challenges day by day, Takuma cares about nothing else but his virtual life—that is, until a summoning spell suddenly transports him to another world where he has Diablo's appearance! 
Both How Not To Summon a Demon Lord and If It's for My Daughter, I'd Even Defeat a Demon Lord, are two very typical isekai anime with overpowered main characters living in another world surrounded by many beautiful anime girls.
9. Yusibu: I couldn't become a hero, so I reluctantly decided to get a job
Studios: Asread
Genres: Comedy, Romance, Ecchi, Fantasy
Episodes: 12
Dreaming of becoming a hero and vanquishing the Demon King, Raul Chaser enters the Hero Training Program in pursuit of his ambition. However, when the Demon King is defeated and peace returns to the world, the Hero Training Program is suspended forever, making it impossible for anyone to become a hero. Therefore, In the aftermath of the warfare between heroes and demons, Raul Chaser finds himself involved with a demon lord's daughter, with whom he must work together as shop assistants.
This is a really good anime similar to If It's for My Daughter, I'd Even Defeat a Demon Lord Because both are basically slice of life stories set in a fantasy world. 
8. Death March to the Parallel World Rhapsody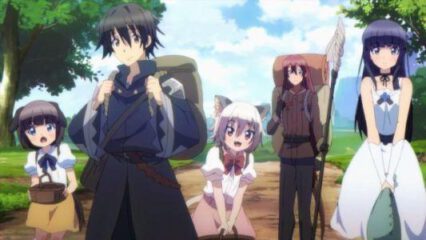 Studios: Silver Link., Connect
Genres: Adventure, Fantasy, Harem
Episodes: 12
Another anime with some similarities to If It's for My Daughter, I'd Even Defeat a Demon Lord is Death March. This is a transported-to-a-game anime series that follows "Satou," aka Ichiro Suzuki, a programmer in the middle of a death march. He was supposed to be taking a nap but somehow wakes up in another world… What lies before him, is what looks like the menu screen of the game he was working on before his nap. He's at a complete beginner stage at level 1. However, he had three "Meteor Showers" which could level a whole map. Suddenly, a whole group of lizardmen appears in front of him. In order to survive, Satou uses Meteor Shower, his level jumped to 310 and he became extremely wealthy. Whether it be a dream or reality, Satou's journey was now beginning.
7. The Helpful Fox Senko-san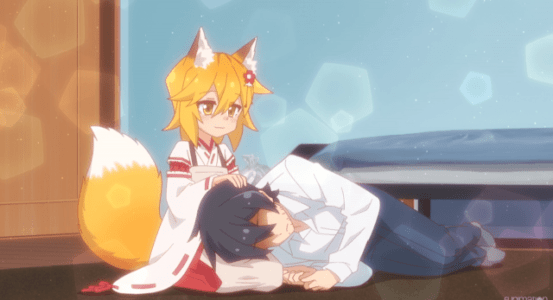 Studios: Doga Kobo
Genres: Slice of Life, Comedy, Supernatural, Romance
Episodes: 12
The everyday life of Nakano, a salaryman working for an exploitative company, is suddenly intruded upon by the fox, Senko-san (an 800-year-old little girl). Whether it be cooking, cleaning, or special service(?)… she'll heal his exhaustion with her tender "care."
Senko-san is a good anime like If It's for My Daughter, I'd Even Defeat a Demon Lord, as both series feature themes of taking care of someone else, which is something that heals souls, and refreshes minds.
6. Listen to Me Girls, I'm Your Father!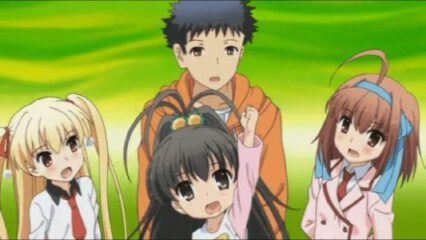 Studios: feel.
Genres: Comedy, Romance, Slice of Life
Episodes: 12
Here is another good anime about raising or taking care of children named "Listen to Me Girls, I'm You Father!". The synopsis of this series follows a college student named Yuta Segawa, who is suddenly given custody of his older sister's three daughters, aged 14, 10, and 3. They're now stuck living together in a 10-square-meter apartment. Meanwhile, Raika, the object of his affection, has a fondness for cuteness, and his unexpected arrival may finally offer an opportunity for them to get together.
5. Poco's Udon World
Studios: LIDENFILMS
Genres: Slice of Life, Fantasy, Seinen
Episodes: 12
Next up among the best anime like If It's for My Daughter, I'd Even Defeat a Demon Lord is Poco's Udon World. The series depicts the story of a 30-year-old web designer Souta Tawara, who takes a break from his job in Tokyo to return to his hometown and sort out his family's affairs. His recently-deceased father's udon restaurant is now closed, and the house Souta and his sister grew up in stands empty. Ridden with guilt over disappointing his father, Souta is beginning to doubt the choices he's made in life thus far.
While trying to figure out how he should move forward, he meets what appears to be a small boy sleeping in one of his father's old kitchen pots, but who turns out to be a shape-shifting tanuki! Cute, playful, and full of energy, Souta names him Poco and the two develop a strong bond. But now he faces a conundrum: should he quit his job in Tokyo and remain in the countryside, or will he again leave his childhood home in favor of the big city, leaving Poco all alone?
4. School Babysitters
Studios: Brain's Base
Genres: Comedy, School, Shoujo, Slice of Life
Episodes: 12
After losing both parents in a fatal plane crash, teenager Ryuuichi Kashima must adjust to his new life as the guardian of his younger brother Kotarou. Although Ryuuichi is able to maintain a friendly and kindhearted demeanor, Kotarou is a reserved toddler still too young to understand the reality of the situation. At their parents' funeral, they are approached by Youko Morinomiya, the stern chairman of an elite academy, who decides to take them under her care.
Both tv shows are similar and they are about a guy in his late teens taking care of a kid that lost his/her parents. In Gakuen Babysitters the older brother takes care of his younger brother after the death of their parents, in If it's for my Daughter… an adventurer takes care of a devil girl he meets in the forest after her father dies.
3. Bunny Drop
Studios: Production I.G
Genres: Josei, Slice of Life
Episodes: 11
Daikichi Kawachi is a 30-year-old bachelor working a respectable job but otherwise wandering aimlessly through life. When his grandfather suddenly passes away, he returns to the family home to pay his respects. Upon arriving at the house, he meets a mysterious young girl named Rin who, to Daikichi's astonishment, is his grandfather's illegitimate daughter!
Bunny Drop is a well-recommended anime that is like If It's for My Daughter, I'd Even Defeat a Demon Lord because both series feature the same pacing of main characters taking care of abandoned girls.
2. Sweetness & Lightning
Studios: TMS Entertainment
Genres: Comedy, Slice of Life, Seinen
Episodes: 12
Sweetness and Lightning is a magnificent slice of life seinen anime that follows a math teacher named Kouhei Inuzuka who has lost his wife and is doing his best to raise his young daughter Tsumugi as a single father. He's pretty bad at cooking and doesn't have a huge appetite to begin with, but chance brings his little family and one of his students, Kotori Iida, together for homemade adventures. With those three cooks in the kitchen, it's no wonder this dinner table drama is so delicious.
1. Barakamon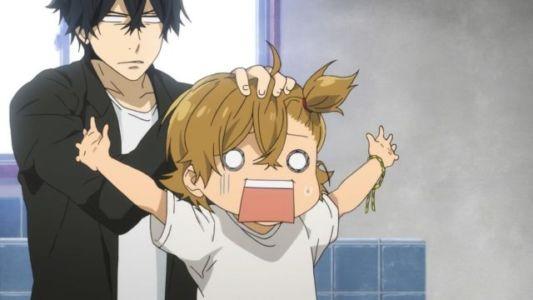 Studios: Kinema Citrus
Genres: Comedy, Slice of Life
Episodes: 12
Wrapping up our list of the best anime like If It's for My Daughter, I'd Even Defeat a Demon Lord, with the masterpiece Barakamon. The series focuses on Sei "Seishuu" Handa, who becomes so enraged at a judge's critique of his work that he actually punches the old man, his father decides that Sei needs to reflect on his behavior and sends him to a remote island to live. Far from the modern conveniences of the city, the moody artist must adapt to his rural environment and his quirky but well-intentioned neighbors. How can he focus on his art when his appliances frequently don't work, his neighbors keep bothering him, and the neighborhood children have turned his house into a secret base?
Featured: