What Are The Best Anime Series like Dr Stone to Watch!
For good reason, Dr. Stone is one of the most popular and the number one anime of the Summer 2019 anime season, with a score of 8.20 and a rank of 334 in myanimelist and other scoring platforms.
It's a fascinating show with a unique premise. One fateful day, all of humanity was petrified by a blinding flash of light. After several millennia, high schooler Taiju awakens and finds himself lost in a world of statues. However, he's not alone! His science-loving friend Senku's been up and running for a few months and he's got a grand plan in mind to kickstart civilization with the power of science!
As a fan you might be wondering now if there are other anime like Dr. Stone out there that are worth your time, well Of course there are!
and that's why you are in the right place because No matter what your tastes, there's something on this list for you.
Get Ready and let's kick this list of the best anime like Dr Stone to watch now!
1. From The New World
Studios: A-1 Pictures
Genres: Sci-Fi, Mystery, Horror, Psychological, Supernatural, Drama
Episodes: 25
Following a sudden outbreak of psychokinesis in 0.1% of the population, a rapid transformation swept the world. The godlike ability to manipulate matter remotely turned many power wielders to violence. Finally, after a chaotic era shaped by the rise and fall of oppressive regimes, psychic humans were able to achieve a fragile peace by isolating their society and creating a new world bound by complex rules.
The anime tells the unique coming-of-age story of Saki and her friends as they journey to grow into their roles in the supposed utopia.
When it comes to similarities between Dr. Stone and From the new world, humanity attempts to deal with a magical catastrophe through science. where From the New World focuses on a society in which incredible psychic powers are the norm. Still, human DNA has been altered in order to prevent people from destroying each other with their abilities.
2. The Disastrous Life of Saiki K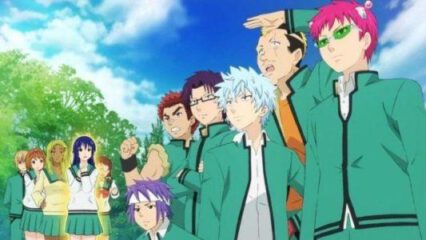 Studios: J.C.Staff, Egg Firm
Genres: Comedy, School, Shounen, Slice of Life, Supernatural
Episodes: 120
To the average person, psychic abilities might seem a blessing; for Kusuo Saiki, however, this couldn't be further from the truth. With a gift of a wide assortment of supernatural abilities ranging from telepathy to x-ray vision, he finds this blessing to be nothing but a curse. As all the inconveniences his powers cause constantly pile up, all Kusuo aims for is an ordinary, hassle-free life where ignorance is bliss.
Despite the fact that Disastrous Life of Saiki K. is a comedy series about a teenage boy with nearly unlimited psychic ability.  But, we spot similarities between the Disastrous Life of Saiki K. and Dr. Stone as Kusuo's older brother Kusuke uses the power of science to either counteract his psychic powers or annoy the heck out of him. Kusuo's personality is actually reminiscent of Senku's – serious, intelligent, and focused; But Senku's desire to use science to overcome the fantastical is all Kusuo.
3. 7 Seeds
Studios: Gonzo
Genres: Adventure, Drama, Mystery, Psychological, Romance, Sci-Fi
Episodes: 12
If you are a Dr. Stone fan, then you will appreciate other anime that depict people trying to survive in a post-apocalyptic future. If so, 7 Seeds is the one to check, a Netflix original where a giant meteorite has collided with earth in the immediate future and All living organisms, including mankind, have been wiped off the face of the planet.
The government, which had foreseen this outcome, took measures to counter the worst-case scenario. In particular was Project "7SEEDS," in which five sets of seven young men and women were carefully selected and placed into teams. Each participant was then put under cryogenic sleep in hopes of preserving the continued existence of mankind.
4. Are You Lost?
Studios: Ezόla
Genres: Adventure, Comedy, Seinen
Episodes: 12
High school girls' survival story of courage and knowledge where they faced a plane crash … thus they're spending the springtime of their lives on a deserted island!! There's nothing there, so they have to make everything!! And eat everything!!.
Are you lost? is a sci-fi adventure story that has its funny moments but is dedicated to telling a serious survival story, which makes it a good anime like Dr. Stone that also puts its characters in peril and forces them to learn survival on the fly, but it does so with comedy.
If you're looking for something a little more light-hearted and silly with some of the same themes as Dr. Stone, Are You Lost? is a good choice.
5. Astra Lost in Space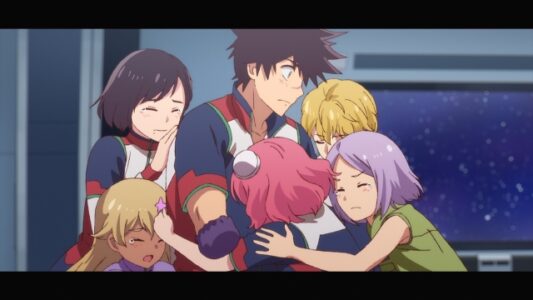 Studios: Lerche
Genres: Sci-Fi, Adventure, Space, Shounen
Episodes: 12
Astra Lost in Space is a good 2019 anime like Dr Stone, as it's also a tale of survival in a strange and seemingly uninhabitable place. In the year 2061 when space travel is possible, the students of Caird High School embark on their Planet Camp.
But soon after Group B5 arrived at their planetary campsite, a mysterious and unforeseen sentient light sphere warps its 9 members into outer space, stranding them 5012 light years away from their home planet. Now they'll have to figure out how to get home again – a process that will take every ounce of their intelligence and survival skills.
Read about: Top 10 Anime where MC Transported To Another World And Becomes The Strongest
6. Nausicaä of the Valley of the Wind
Studios: Studio Hibari, Topcraft
Genres: Adventure, Fantasy
Episodes: 1
A millennium passed since the catastrophic nuclear war under the name of the "Seven Days of Fire," which destroyed nearly all life on Earth. Humanity now lives in a constant struggle against the treacherous jungle that evolved in response to the destruction that mankind caused. Filled with poisonous spores and enormous insects, the jungle spreads rapidly across the Earth and threatens to swallow the remnants of the human race.
if you're a Dr. Stone fan who isn't sure which Miyazaki movie to check out next, you might want to watch Nausicaä of the Valley of the Wind which is an amazing anime movie that is like Dr Stone's storytelling.
That's because both stories take place thousands of years after a calamity that dramatically altered the fate of humanity, and depict humans attempting to rebuild society, and survive the dangers that the natural world presents.
7. Cells At Work
Studios: David Production
Genres: Comedy, Shounen
Episodes: 13
Next up among the best anime like dr stone, we have Cells at Work, a series that chronicles: Inside the human body, roughly 37.2 trillion cells work energetically 24 hours a day and 365 days a year. Dealing with wounds and allergies, getting lost on the way to the lungs, and bickering with similar cell types, the daily lives of cells are always hectic as they work together to keep the body healthy!
Cells At Work may not seem like an obvious similar anime to dr stone, but if you like the latter's penchant for combining education with entertainment, you'll probably appreciate the show as well. Just as much as you did in dr stone, you'll learn a lot about science in Cells At Work – and you won't be bored for a minute.
8. Ascendance of a Bookworm
Studios: Ajia-Do
Genres: Slice of Life, Fantasy
Episodes: Unknown
Motosu Urano, a book-loving college student who just got her Librarian certification and was supposed to enter the job of her dreams after graduation, was killed during a massive earthquake crushing her underneath a pile of her own massive collection of books.
Motosu Urano is transported into a world where only the nobility has access to books, and the poor often lack basic literacy. In her previous life, Motosu's goal was to become a librarian, and she's not about to give up – even if that means literally reinventing books as she knows them.
The ascendance of a Bookworm won't come out in Fall 2019, and it is a good recommendation for those who appreciate the themes mentioned by Dr. Stone.
This anime like dr stone as it focuses on a person from a modern society suddenly transported to a place with wildly different technological capabilities and they have to use their intelligence to rebuild.
9. Jyu-Oh-Sei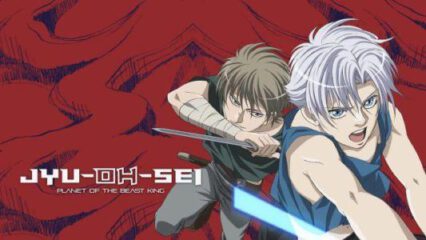 Studios: Bones
Genres: Action, Sci-Fi, Adventure, Mystery, Drama, Shoujo
Episodes: 11
After the murder of their parents, 11-year-old twin brothers Thor and Rai Klein found themselves away from their home planet. awakening on the terraformed planet of Chimaera, where carnivorous plants dominate and the few humans who live there are divided into four groups known as "Rings." Soon after, they meet a young man by the name of Zagi, and the twins learn that only the "Jyu Oh Sei"—the one who conquers these four Rings—who have permission to leave the planet.
This is a similar anime to Dr Stone, as the mysteries behind humanity being encased in stone have yet to be revealed in this series! While Dr. Stone features a similar conspiratorial quality. Besides that, both series focus on survival in the dangerous wilds.
10. Moyashimon
Studios: Telecom Animation Film, Shirogumi
Genres: Comedy, Supernatural, School, Seinen
Episodes: 11
Enter Tadayasu, a freshman college student who can see and talk to cute, chibi bacteria and other microscopic organisms. It's not all fun and games like it sounds, though, because it gets him into all sorts of trouble.
What does any of this have to do with the end of the world? Nothing – but viewers can expect to get the same level of education through entertainment in Moyashimon as they do in Dr. Stone. In fact, many of the skills that Tadayasu learns are the same skills that Senku and Taiju need if they're going to survive.
---
Don't Miss: