Anime Like That Time I Got Reincarnated as a Slime, is our article of today!
so, cheer up if you are one of those anime fans who fall in love with this anime series.
probably, "TenSura" is one of the Greatest new anime that aired on 2018/2019.
the uniqueness of its story, that characters developments, and Isekai theme, where the elements that make it an enjoyable anime to watch.
so here are 10 Anime series that are Similar to at Time I Got Reincarnated as a Slime.
Read also:
9 Anime Like The Rising of The Shield Hero
---
⌈10⌋

Kono Subarashii Sekai ni Shukufuku wo!
KonoSuba is an anime like That Time I Got Reincarnated as a Slime.
Genres:  Adventure, Comedy, Fantasy, Magic, Parody, Supernatural
Production: Studio Deen / Winter 2016
⇓ Synopsis ⇓
Kazuma dies while thinking that he got hit by a car in the process of trying saving a girl and.
A goddess intervenes and offers him a second chance in another world.
While feeling bad at his laughable and pathetic death.
Kazuma decides to transfers to another world, where he can pick one item of any kind to aid him in his quest.
Then, Kazuma selects Aqua. But Kazuma has made a grave mistake—Aqua is completely useless!
Both Konosuba and Kenja no Mago main characters died in an accident, and reborn in another world.
---
⌈9⌋ 

Is It Wrong to Try to Pick Up Girls in a Dungeon?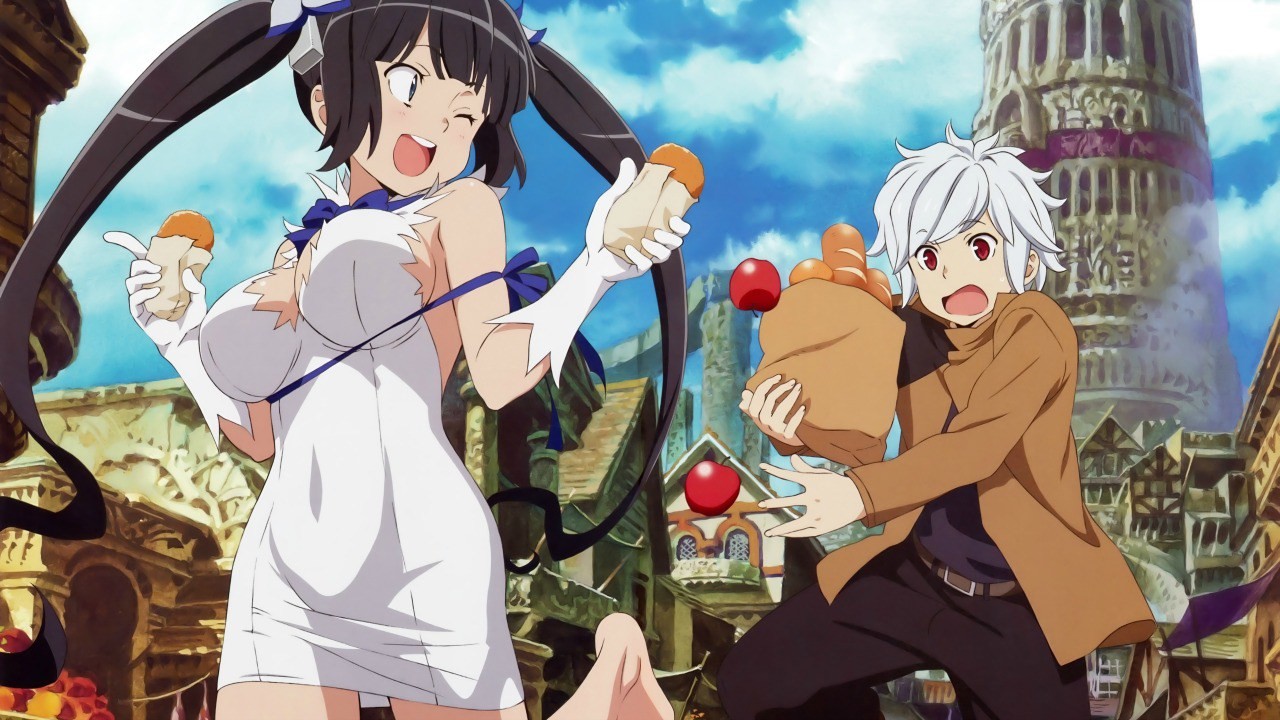 DanMachi is an anime like Tensei shitara Slime Datta Ken.
Genres:  Action, Adventure, Comedy, Fantasy, Romance
Production: J.C.Staff / Spring 2015
⇓ Synopsis ⇓
Life in the bustling city of Orario is never dull.
Especially for Bell Cranel, a naïve young man who hopes to become the greatest adventurer in the land.
After a chance encounter with the lonely goddess, Hestia, his dreams become a little closer to reality.
With her support, Bell embarks on a fantastic quest as he ventures deep within the city's monster-filled catacombs, known only as the "Dungeon."
Death lurks around every corner in the cavernous depths of this terrifying labyrinth, and a mysterious power moves amidst the shadows.
Even on the surface, survival is a hard-earned privilege.
Indeed, nothing is ever certain in a world where gods and humans live and work together, especially when they often struggle to get along.
One thing is for sure, though: a myriad of blunders, triumphs, and friendships awaits the dauntlessly optimistic protagonist of this herculean tale.
---
⌈8⌋

In Another World With My Smartphone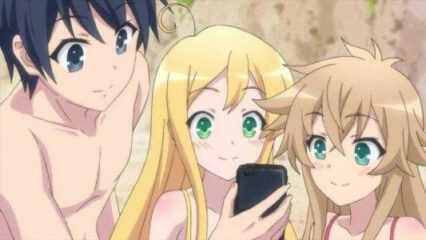 Isekai wa Smartphone to Tomo ni is an anime like That Time I Got Reincarnated as a Slime
Genres: Adventure, Harem, Comedy, Magic, Romance, Fantasy
Production: Reed / summer 2017
⇓ Synopsis ⇓
A Sudden stray bolt of lightning accidentally kills Touya Mochizuki!
As an apology, God allows him to be reborn in a magical fantasy world and will grant him anyone wishes he desires.
And so, Touya chooses to keep his smartphone with him in the next mysterious world.
In his second chance at life, Touya finds it is filled with magic—which he has an affinity for—and befriends cute girls who are vying for his attention.
He inherits the legacy of an ancient civilization and travels around while he tries to discovers the secrets of this new world. possessing powers that rival this world's kings.
---
⌈7⌋

Problem children are coming from another world, aren't they?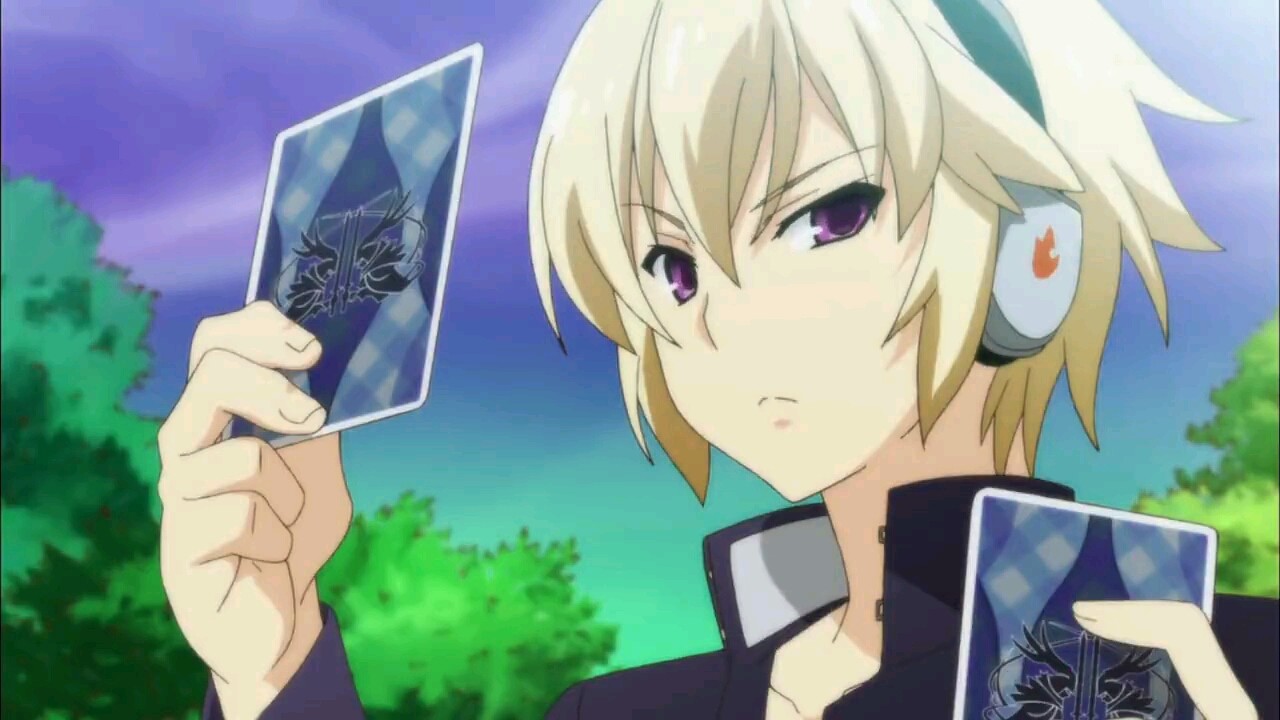 Mondaiji-tachi ga Isekai kara Kuru Sou Desu yo? is an anime like TenSura.
Genres:  Action, Comedy, Fantasy, Supernatural
Production: Diomedea / Winter 2013
⇓ Synopsis ⇓
Three teenagers Izayoi Sakamaki, Asuka Kudou, and You Kasukabe receive mysterious letters that transfer them to another fantasy world.
This world name is, "Little Garden".
Kurousagi greets the trio, and explains to them, that they must use their psychic powers.
Here, the inhabitants use their beyond human gifts to compete and participate in special high-stakes games.
In order to participate, they must first join a community.
Hence, the trio starts their journey to discovers the land named Little Garden and tries protecting its resident.
---
⌈6⌋

How Not to Summon a Demon Lord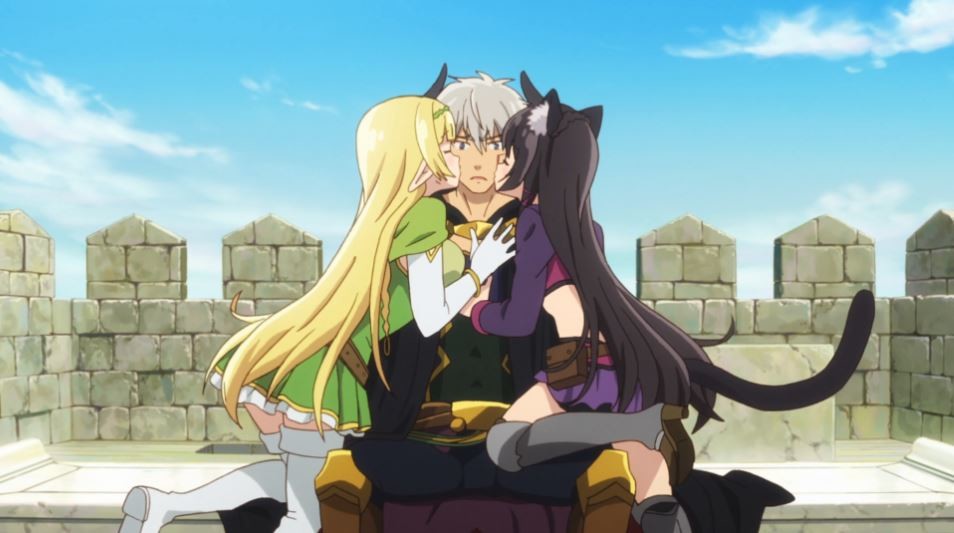 Isekai Maou to Shoukan Shoujo no Dorei Majutsu is an anime like TenSura.
Genres:  Comedy, Ecchi, Fantasy, Harem, Magic
Production: Ajia-Do / Summer 2018
⇓ Synopsis ⇓
When it comes to the fantasy MMORPG Cross Reverie, none can match the power of King Diablo.
Possessing the game's rarest artifacts, he overpowers all foolish enough to confront him.
But despite his fearsome reputation, Diablo's true identity is Takuma Sakamoto, a shut-in gamer devoid of any social skills.
Defeating hopeless challengers day by day, Takuma cares about nothing else but his virtual life
Takuma is greeted by the two girls who summons him: Rem Galeu and Shera L.
Greenwood, a busty Elf summoner.
However, the spell backfires and causes them to become his slaves instead.
Takuma starts learning to adapt to his new existence as Demon King.
---
Read Also:
10 Amazing Anime Like Black Clover to Watch!
10 Best Anime Where MC Is Trapped In a Game