Best anime where mc is trapped in a game
If you like fantasy anime, action, game, and thrill! HERE YOU ARE
So, welcome to this list of anime where the main character is forced to play a game of survival "kill, protect yourself and your close ones, or die".
So, sit tight, as BakaBuzz covers 10 amazing anime where mc is trapped in a game (kill or die) that will hold your breath.
by the way, if you like Isekai anime check out this list Top 10 Isekai Anime with OP MC You Need To Watch.
⌈10⌋ Hack//Sign
hack Sign is an anime where mc is trapped in a game and it's a 2002 Bee Train production.
Genres:  Game, Sci-Fi, Adventure, Mystery, Magic, Fantasy
⇓ Synopsis ⇓
A young Wavemaster, only known by the alias of Tsukasa, wakes up in an MMORPG called The World, with slight amnesia.
He does not know what he has previously done before he woke up. In The World, the Crimson Knights suspect him of being a hacker, as he was seen accompanying a tweaked character in the form of a cat.
Unable to log out from the game, he wanders around looking for answers, avoiding the knights and other players he meets along the way.
As Tsukasa explores The World, he stumbles upon a magical item that takes the form of a "guardian," which promises him protection from all harm.
Subaru, the leader of the Crimson Knights, along with several other players who became acquainted with Tsukasa, set out to investigate why Tsukasa is unable to log out and attempt to get to the bottom of the problem before it gets out of hand.
⌈9⌋

Digimon Adventure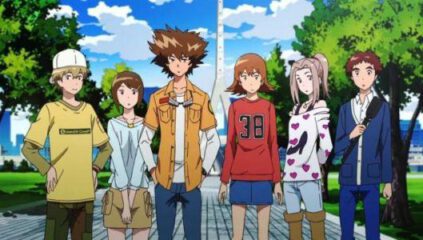 Digimon Adventure is an anime where mc is trapped in a game and it's a 2000 Toei Animation production.
Genres:  Action, Adventure, Comedy, Drama, Fantasy
⇓ Synopsis ⇓
A new batch of Chosen Children is summoned to save the Digital World.
An evil ruler is known as the Digimon Kaiser, or Digimon Emperor is forcing the Digital World's Digimon into enslavement.
The new group of Chosen Children, with the help of their Digimon, then begin a journey to stop the evil Digimon Emperor.
⌈8⌋

Ixion Saga DT
Ixion Saga DT is an anime where mc is trapped in a game and it's a 2012 Brain's Base production.
Genres: Action, Comedy, Fantasy
⇓ Synopsis ⇓
Kon Hokaze transfer into a game, after helping a woman.
Therefore, he must find a way back home.
Which is full of mysterious energy known as Alma.
After saving Princess Ecarlate from attackers.
as a result, he finds himself in the middle of a struggle around Alma.
⌈7⌋

Grimgar: Ashes and Illusions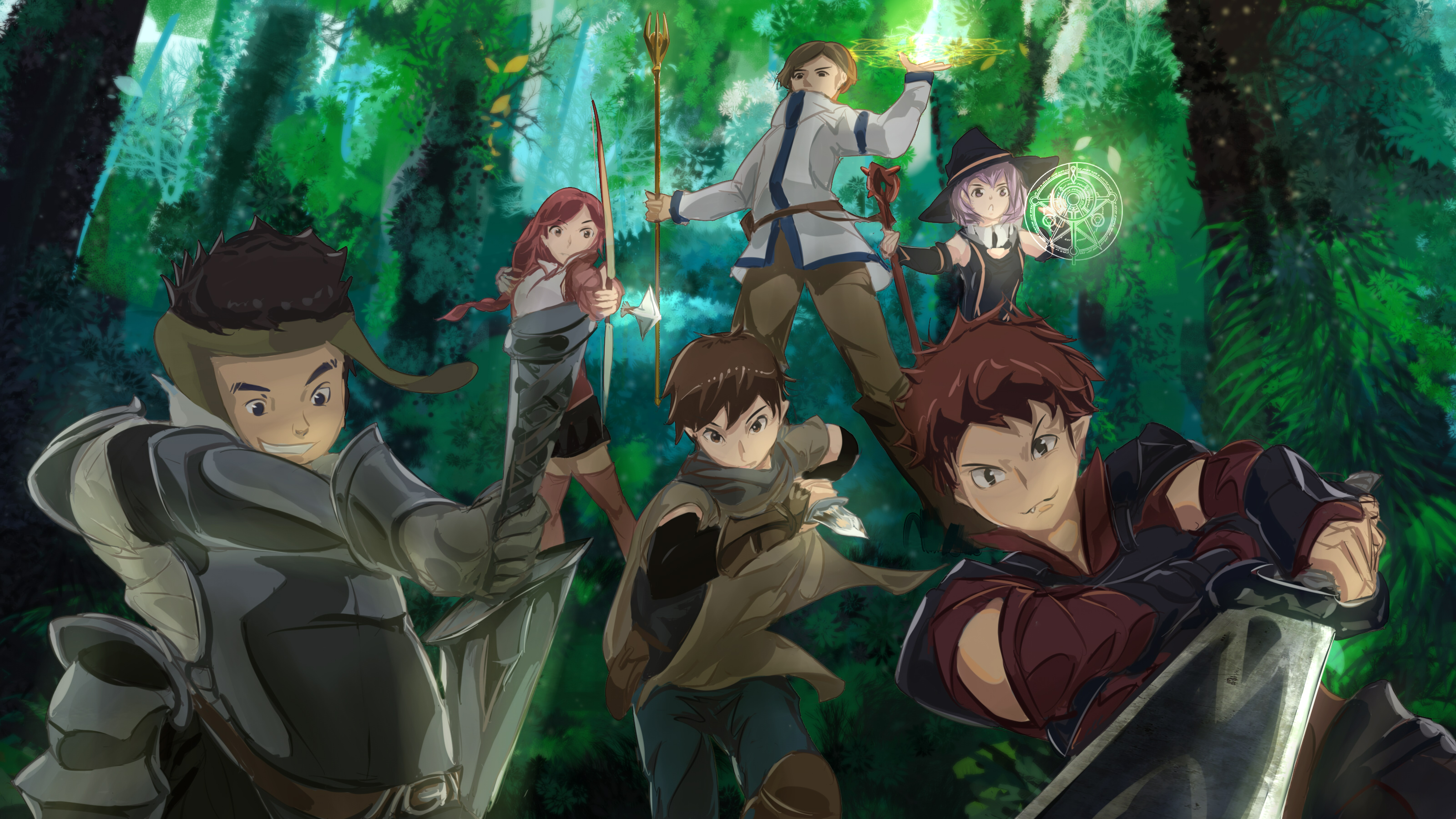 Hai to Gensou no Grimgar is an anime where mc is trapped in a game and it's a 2016 A-1 Pictures production.
Genres:  Action, Adventure, Drama, Fantasy
⇓ Synopsis ⇓
Before Haruhiro had realized what happened, he was surrounded by darkness.
Why was he here? Where was here? Even now, he still didn't know.
Those around him were the same as him, no one remembered anything other than their own names.
And when they emerged from the darkness, the world that awaited them seemed like something out of a video game.
In order to survive, Haruhiro forms a party with the others, learns fighting skills, and as a soldier in the reserve force, takes his first steps into the world of Grimgar.
So, What awaits him there, he doesn't know…
⌈6⌋

The Future Diary
Mirai Nikki is an anime where mc is trapped in a game and it's a 2011 Asread production.
Genres:  Action, Mystery, Psychological, Shounen, Supernatural, Thriller
⇓ Synopsis ⇓
Lonely high school student, Yukiteru Amano, spends his days writing a diary on his cellphone while conversing with his two seemingly imaginary friends Deus Ex Machina, who is the god of time and space, and Murmur, the god's servant.
Revealing himself to be an actual entity, Deus grants Yukiteru a "Random Diary," which shows highly descriptive entries based on the future and forces him into a bloody battle royale with 11 other holders of similarly powerful future diaries.
With the last person standing designated as the new god of time and space, Yukiteru must find and kill the other 11 in order to survive.
He reluctantly teams up with his obsessive stalker Yuno Gasai (who also possesses such a diary), and she takes it upon herself to ensure his safety.
But there's more to the girl than meets the eye, as she might have other plans for her unrequited love…
Read also: 20 Best Horror Anime Where Almost Everyone Dies