The 20 Ideal Anime Girls With Brown Hair You will Wanna Date!
Looking to see anime girls with brown hair? You're in luck – there are plenty of choices! Whether you love curvy hot anime girls or good waifus, our list has the ultimate team for you!
In the world of Anime, anime girls with brown hair are usually standing out from the others. From the main character's sidekick to a powerful witch, these anime girls are sure to brighten up your day!
So, with no further addition here are the 20 best anime girls with brown hair to look out for!
20. Ayumu Kasuga from Azumanga Daioh
Ayumu is a cute brunette anime girl with brown hair from the Azumanga Daioh series that follows the lives of a group of adorable school girls. One of the most popular of those characters is Ayumu, a young brown-haired anime girl with a personality like no other. She isn't dumb per say, but she is… special. Let's just say that the word normal is not in her dictionary. But normal is overrated, which is probably why she has so many devoted fans.
19. Lain Iwakura from Serial Experiments Lain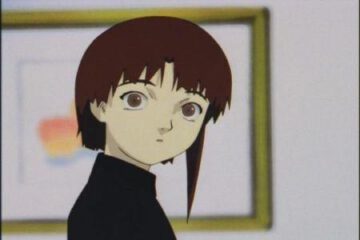 Next up, among the best anime girls with brown hair, we have Lain, who is first shown to be a timid young girl, but throughout the series, she grows multiple and bolder personalities, ultimately discovering her true identity. An interesting fact about this brunette cutie is that her appearance was designed after the popular voice actress, Kaori Shimizu, who also has shiny brown hair.
18. Mirai Kuriyama from Kyoukai no Kanata
Mirai is a "bespectacled beauty" and one of the most attractive anime girls with shiny brown hair who enjoys writing blog articles about her beloved bonsai trees in her free time. She is also incredibly clumsy and is shown to be a horrible liar. When she does attempt to do so though, she has a subconscious tendency to clean her glasses and avoid gazing into the eyes of the person whom she wishes to deceive.
17. Sakura Kinomoto from Cardcaptor Sakura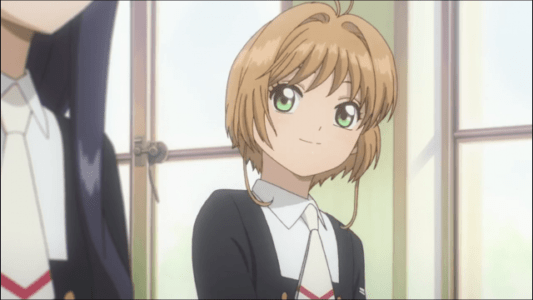 Sakura Kinomoto is one of the best Anime Girls with Brown Hair because she has a strong sense of justice and never backs down from a fight. Sakura is an energetic, magical anime girl with brown hair who is often seen to be naïve and clumsy. Despite her sweet nature, she is also shown to have a vicious temper. Better not get on this brunette's bad side! 
16.  Megumi Noda from Nodame Cantabile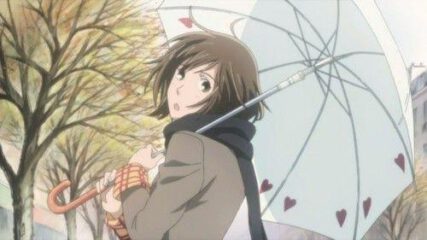 Megumi has short brown hair, and brown eyes and is of normal height. She can be considered cute by most men in the series, but things quickly turn wrong thanks to her weirdness.
In the series, Noda, whose age is twenty, is a free-spirited second-year music student and she appears to be a complete slob–her cooking and cleaning skills are really atrocious.
15. Fuuko Ibuki From Clannad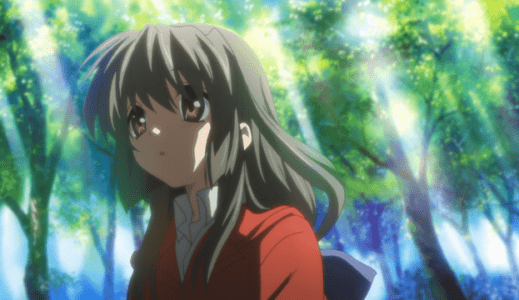 Her bossy nature may have been a bit too much for some people, but once you get to know this sweet anime brunette, she's really a really nice person. With her odd obsession for starfish and her weird habits, it can be difficult to make friends, but deep down she's always looking out for the best interests of everyone around here.
She is always there for those who need her no matter what. She faces some serious troubles herself but manages to put them aside. Even though Fuuko is a supporting character in the series, she has been able to get a lot of fans by being compassionate. Therefore, for us, she also makes this list of the best anime girls with brown hair of all time!
14. Kosaki Onodera from Nisekoi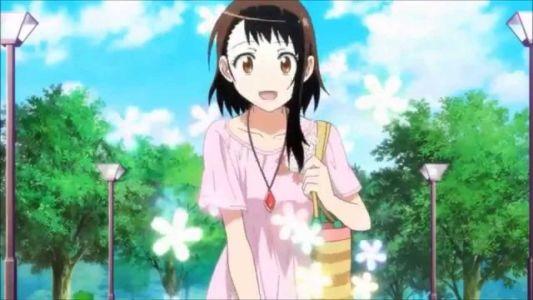 Kosaki from Nisekoi is among the most innocent and kindest anime girls with brown hair we have ever seen! Although she is pretty, she often lacks self-confidence, especially when it comes to her crush, Raku. She is also shown to be an awful cook. However, for some reason, when she is depressed her cooking skills seem to greatly increase!! It seems like when life gets you down… bake a cake!
Kosaki is one of the best female characters in the series, she is friendly and kind to her classmates, has a lot of close friends, and is the most popular female in school before Chitoge transferred, and starts allegedly dating her crush Raku.
13. Misaki Ayuzawa from Kaichou Wa Maid-Sama!
Anime girls typically possess an attractive look, strength, and intelligence. That's how there are so many different types of girls to choose from in the anime world. But Misaki is of course one of the best examples you could ever find.
Misaki is portrayed as both a powerful school president and a cute maid in this anime! At school, she handles things a bit differently than what you might think, and at work, she is a completely different person who does her best to help her family pay off debt. Although she may not fit the regular image of a lovely maid, fans worldwide can't help but fantasize about this badass anime girl with brown hair and a pretty face.
12. Haruhi Fujioka from Ouran Koukou Host Club
If you are not familiar with the Ouran Koukou Host Club series, then I guess an explanation is in order. Yes, the above images are of the same person. Haruhi is a normal teenage girl with lovely brown hair, who decides to enroll in an incredibly high-class school. There, she accidentally breaks a super-expensive vase belonging to the school's famous host club. To pay off her debt, she is forced to join the club as one of its "handsome" members. What other character in anime could look so good as both a boy and a girl?
11. Shiki Ryougi from Kara no Kyoukai
Shiki is a mysterious brown-haired anime girl with a dark secret… She can also be a He. In other words, she has two distinct personalities: one male, SHIKI, and one female, Shiki. However, since this is a list of anime girls with brown hair, let's focus on the female Shiki.
She possesses the Mystic Eyes of Death Perception which give her supernatural abilities. The aurora shimmer of her eyes when using this skill is prettier than a rainbow and more deadly than a lightning bolt. Would you dare stare into her eyes?
10. Rin Toosaka from Fate/stay night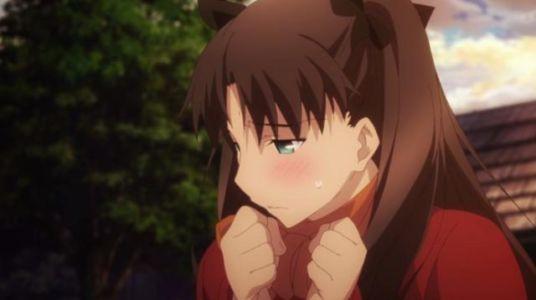 In the series, Rin is introduced as the perfect female character that everyone will dream to date- she is smart, strong, and beautiful. She seemed to have it all! However, throughout the series, we learn that this cool anime girl with brown hair has had it pretty darn rough. The pressure to become a capable magus, while protecting her status as an elite, is actually not that easy. Fans can't help but fall in love with this tsundere-stylish anime girl in distress!
9. Yui Hirasawa from K-On!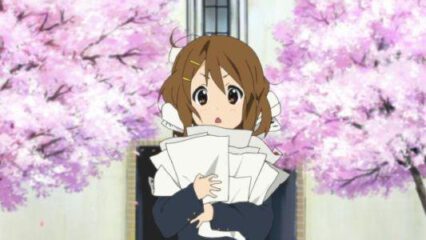 In the series K-On! we have Yui, a cute but fearless anime girl with brown hair who does what she wants when she wants, and as much as she wants to. Yui, who plays the main character, is a guitarist, lead singer, and all-around member of the Light Music Club. She joined the club with no experience. She is a self-taught person who doesn't typically read manuals and relies on her intuition in decision-making. She enjoys eating the sweet delicacies that Mugi brings to the club room. Well, she is a good sample of those Brown-haired girls who just wanna have fun!
8. Nagisa Furukawa from Clannad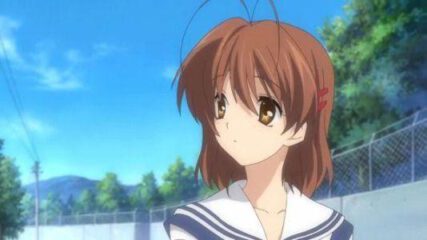 The second Clannad's brunette female character on our list, Nagisa is an adorably timid young high school student who has strong morals, but weak communication skills. She has a cute habit of muttering the names of her favorite foods in order to help motivate herself. She's not only a beautiful anime girl with brown hair, but she also enjoys singing the popular "Dango" tune. I swear her voice is angelic!
7. Mikoto Misaka from Toaru Majutsu no Index 
Mikoto Misaka is the main female character from Toaru Majutsu no Index, and she is also a high-Level esper. She has the ability to generate an unlimited amount of electricity and use it for various purposes such as self-defense and destruction. Although she is powerful, has a bad temper, and is full of pride, Mikoto also is one of the cutest anime girls with brown hair who has a soft side that is friendly, outgoing, and gets easily attached to cute things.
6. Revy from Black Lagoon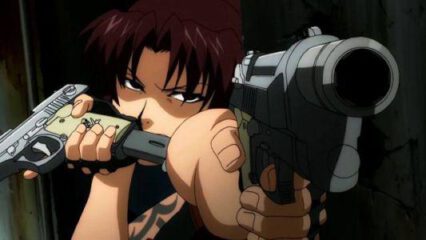 Revy is a female bounty hunter who appears in the Black Lagoon anime series. She was introduced as a mysterious and strong woman who is not afraid to kill anyone who gets in her way. Her character has been well received by fans, making her one of the most popular female characters with brown hair of all time.
Revy is a heavy smoker, as well as a heavy drinker. Her merciless nature makes her a deadly and ruthless killer, who will kill anyone that provokes her. This smokin' brunette has more than a few guns up her sleeves, as well as beautiful brown hair topping her well-shaped body!
5. Haruhi Suzumiya from Suzumiya Haruhi no Yuuutsu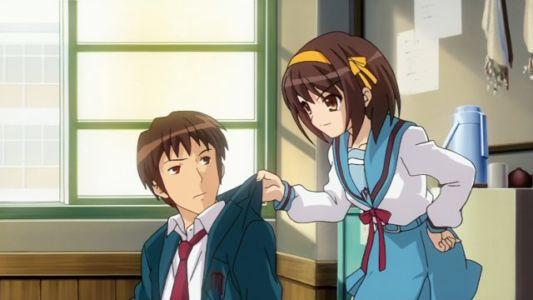 Girls tend to be very fickle, especially when it comes to their hair. Haruhi is a brunette anime girl who enjoys changing the hairstyle of her beautiful brown locks every day to keep things fresh. She seems like your average teenager girl, right? Guess again!
The thing that makes Haruhi so unique is her obsessive interest in aliens, time travelers, espers, and pretty much everything supernatural-related. Hence, with her energetic and friendly personality though, she just may be able to fulfill her dream of befriending an extraterrestrial being.
4. Holo from Ookami to Koushinryou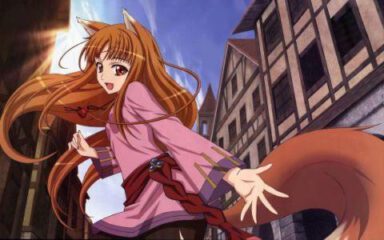 Holo from Ookami to Koushinryou anime and manga series, is a smart, confident, and seemingly alcoholic fox anime girl. Who, despite being in her human form, still retains her wolf tail and ears, which are covered in beautiful brown fur. Holo's popularity probably comes more from her compassionate and caring personality than her background.  Therefore, with beautiful brown hair, a pretty face and a heart of gold, Holo is one fine kitsune that everyone will fall in love with!
3. Taiga Aisaka from Toradora!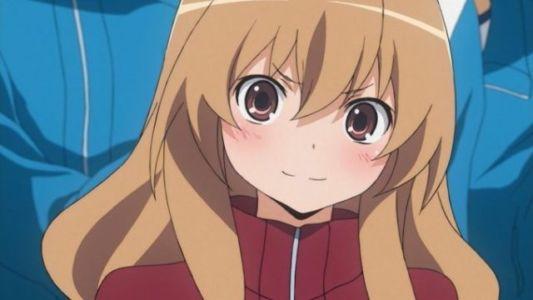 Taiga from the Toradora series appears to be an immature (mentally and physically) tsundere anime girl. Her violent antics have earned her the nickname "Palmtop Tiger", referring to her size as well as her temper. However, despite her sarcastic, cynical, and brutal personality, she is actually a kind and loyal person, most especially towards the people she trusts. Yeah! even a tiger can be tamed.
2. Kurisu Makise from Steins;Gate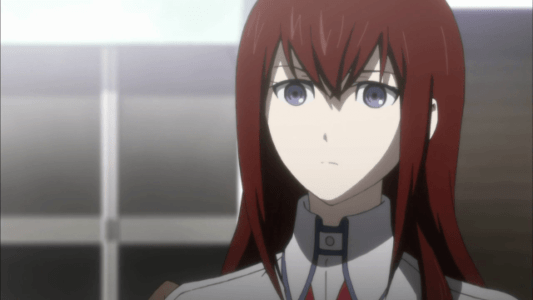 In Steins Gate, Kurisu is an attractive young woman with long brown hair and bright violet eyes. She also has a good personality which makes her popular among many people in the anime community. Kurisu Makise is a female character who has many different layers to her personality, which makes her an interesting protagonist. She has shown herself to be very intelligent and always calm, but also has a dark side to her that makes her seem like an entirely different person. Kurisu is a tsundere anime female character, who shows how even the most seemingly perfect people have their own flaws and weaknesses.
1. Asuna Yuuki from Sword Art Online
Asuna Yuuki is one of the most popular characters in the Sword Art Online anime and manga series. She is the queen of our list, and in the series, she is a swordswoman who has been fighting monsters in the virtual world of Sword Art Online. 
She is the best waifu that has helped shape the anime and manga industry. With over a billion fans and millions of anime viewings, you're unlikely to find someone as popular as Asuna. Not only is she a gorgeous anime girl with brown hair, but she also helped many characters in the series find hope in many ways! and for that, she became a fan favorite both for her kindness, and charisma.
Don't Miss: