Looking for an anime that will make your heart skip a beat? Look no further than anime with love stories! Whether you're a fan of intimate romantic tales, heartwarming friendships, or high school crushes, there's an anime about love out there for you. To help you find the perfect series to showcase the power of love, we've compiled a list of the 23 best anime about love that will melt your heart.
These anime TV shows focus on the trials and tribulations of romantic relationships, ranging from lighthearted to serious, while some others explore the idea of love between different genders or species, which is a common theme in the anime world. So, with no further ado, allow yourself to fall in love with these captivating anime series about love tales!
23. Say I Love You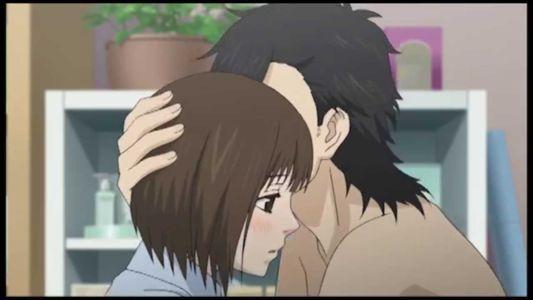 Starting our list of the best anime about love with " Say I Love You", a story that follows Mei, who can't trust her friends anymore. Because, In grade school, her old friends blamed her for a pet's death and they showed they weren't close to Mei, since then, she didn't have another friend or a boyfriend.
One day, a misunderstanding leads Mei to hurt one of the most popular students in school- Yamato Kurosawa. It seems that he takes a liking to her and declares that they're friends before the misunderstanding was resolved. What's even more surprising is that he not only protects Mei from a stalker with a sweet kiss.
22. The Melancholy of Haruhi Suzumiya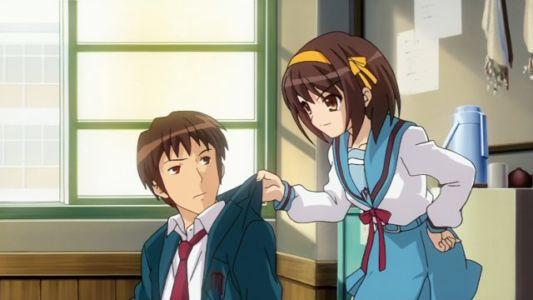 The Melancholy of Haruhi Suzumiya is anime about love romances in high school life. The story is about a girl, Haruhi Suzumiya, who has intelligence far above most people. She is bored with life and wishes for more interesting things to happen. On her first day at her new school, she accidentally tells her class that she will grant any request, so they start trying to make requests of her.
21. Kaguya Sama love is War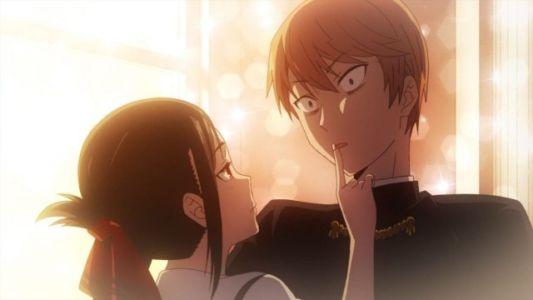 Kaguya Sama Love is war is a heartwarming anime with love, romance, and school themes that takes place at a high school that hosts two students who are well-ranked in the country: Miyuki Shirogane and Kaguya Shinomiya. The student council has Miyuki as their head while the Vice President is Kaguya the eldest daughter of the wealthy Shinomiya family. She really excels in any field. Despite how the other student envied them for being a perfect duo, their relationship isn't going the way it seem. Because they are putting their pride on the line and don't want to admit their feelings to each other. These two are competing in a battle for love. The winner and loser in this game would be based on who is confessing first. So, let's see which of these two can keep up the game the longest.
20. Spice and Wolf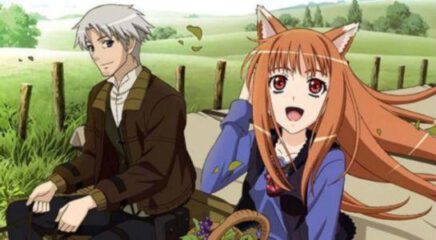 Spice and Wolf is definitely a unique lovely anime that features a couple of interspecies that you really root for. The story focuses on the protagonist, Kraft Lawrence, a traveling merchant, who goes from town to town to make profits. He will encounter a wolf deity by the name of Holo. She decided to accompany him as a charismatic negotiator.
Lawrence with Holo's help thinks that he is able to inch closer to his goal of opening his own shop. However, as Lawrence travels the countryside with Holo in search of economic opportunities, he begins to realize that his aspirations are slowly morphing into something quite different from what he originally imagined.
SPICE AND WOLF is a series that combines two polar genres romance and economy to create an enthralling story that has intricate schemes, dark humor, and witty banter. I could go on for days about the story but I'll leave that up to you. Your search is over! Go watch it right now!
19. Bokura ga Ita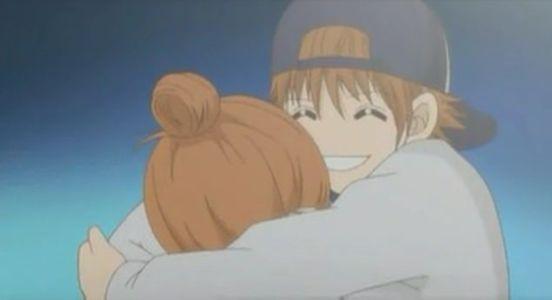 Bokura ga Ita is an anime about love and drama for lovers of romance stories with an interesting plot and a diverse cast of characters. The show follows the lives of two high school students, Nanami and Yano, who soon begin to like each other.
The two spend more time together and decide to start dating. However, their love is not without challenges; Yano has trouble opening up to Nanami Because Nana's death a year before is still very fresh in his mind. Nanami & Yano find themselves struggling against the inevitable overshadowing by Yano's ex. All while they rely on one another to keep the love alive, despite the complicated circumstances.
18. Nodame Cantabile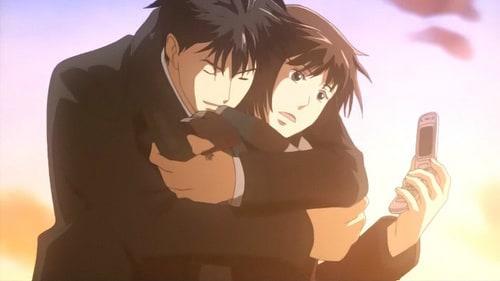 Nodame Cantabile anime is based on manga of the same name. It's a sweet and heart-touching anime that focuses on Shinichi an aspiring pianist who dreams to become an elite in Europe. the story of love kicks off as soon as our protagonist hears Nodame play the piano for the first time, he is in awe of the kind of music she creates.
Nevertheless, Shinichi is surprised to find out that Nodame is also his neighbor, and worse, she ends up falling head over heels in love with him. This good anime is must watch as it is a love story between two people who fall in love with each other through music.
17. Snow White With The Red Hair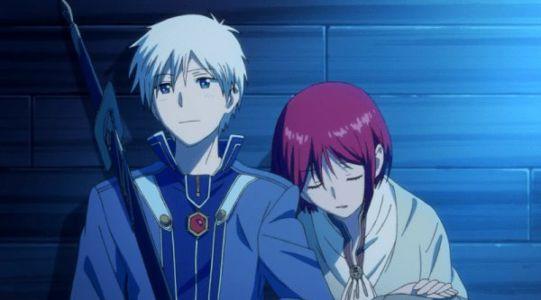 Snow White with The Red Hair is one of many romance anime series that have made their way into the hearts of fans over time. Shirayuki is a pretty young girl born with unique red hair. She meets a famous but foolish Prince Raji, who falls in love with her at first sight and orders her to become his concubine. With nowhere else to go, Shirayuki cuts her hair and runs away to the neighboring kingdom where she befriends a handsome stranger named Zen.
This romance anime series depicts Shirayuki's journey toward a new life at the royal palace of Clarines, while Zen is on his path to becoming the rightful successor to be a prince worthy of his title. As loyal friendships are forged and deadly enemies gradually materialize, Shirayuki and Zen gradually learn to support each other in difficult times.
16. Orange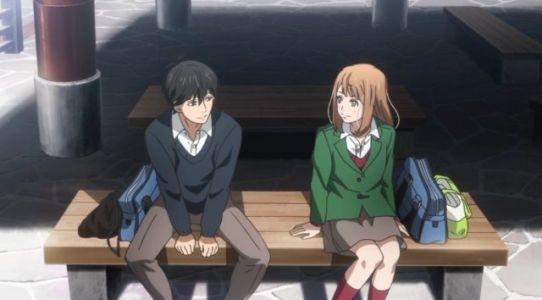 This story was a beautiful and emotional one that stirred up many different emotions. Watching such an amazing ending made us eager to know what happens next since this anime helps us realize the value of friendships, bonds, and true love.
Overall Orange is a sad romantic anime set in high school with a sci-fi twist. Naho Takamiya is 16 years old when she discovers a letter from herself 10 years into the future telling her to watch out for a transfer student named Kakeru Naruse who becomes one of her close friends and maybe more than that
15. My Little Monster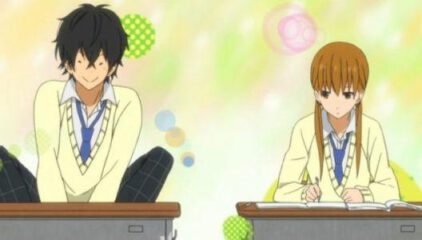 My Little Monster is another good Japanese anime about the growth and love of a high school student named Shizuku, who isn't interested in socializing and finds an unlikely friend, Haru, an emotionally volatile boy at her school.
But slowly she discovers that there is more to Haru than violence. She begins to develop feelings for him but is unsure what kind of emotions she is experiencing. The series follows their journey as they explore the true nature of their relationship and emotions. My Little Monster is a romantic comedy anime that is perfect for the romantic high schoolers out there.
14. Lovely Complex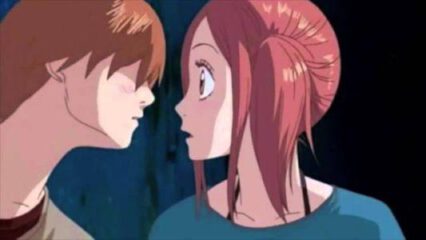 This anime is so good. The characters are all so interesting and the plot is amazing. If you're looking for a good anime about love and drama that can also give you a good laugh this is perfect for you. Lovely★Complex is a rom-com that follows Koizumi and Ootani as they try to find love. They go on a lot of ridiculous antics that hopefully lead to friendship and later, find out an unexpected similarity in their music and fashion tastes.
Risa and Otani are always being laughed at as a funny anime pair. The reason for this is that Risa on average is taller, and Otani on average is shorter. But this doesn't stop Risa from having strong feelings for Otani which shocks him.
13. Horimiya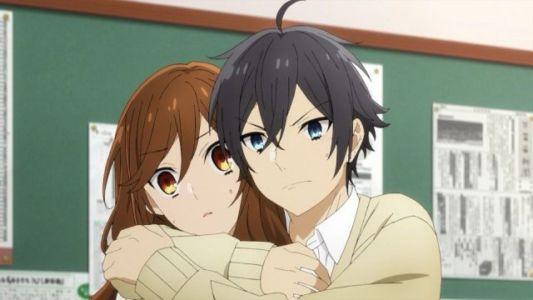 Horimiya is a cute anime about the love stories of school life. At first, no one could expect that TKyouko Hori and Izumi Miyamura would get along. However, the two will quickly become friends as they share many odd similarities – especially in their personalities! They often spend time together in Hori's home and as they gradually open up to each other, they start sharing the hidden parts of themselves with one another.
It's a lighthearted, humorous love story featuring two contrasting conversations. It showcases the fondness and the easy acceptance of the protagonists, that they have for each other through simple interactions. This is a heart-touching story that you will really enjoy.
12. Love, Chunibyo & Other Delusions!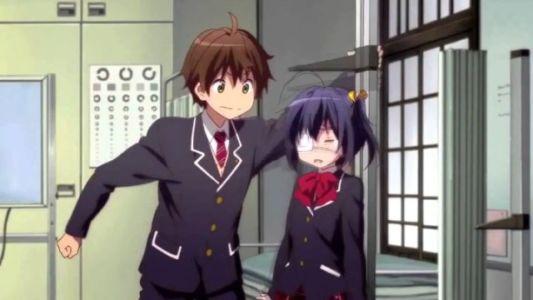 Know in Japanese as "Chuunibyou demo Koi ga Shitai!", this is a light-hearted comedy about high school students Rikka Takanashi, Yuuta Togashi, and their friends. Yuuta Togashi had a very tough life in middle school and has tried to avoid using the same embarrassing personality he used back then. You'll meet him later on as he begins high school and wants to bury that past as well!
However, he meets his old friend Rikka that knows about the old Yuuta and he now tries to get rid of that shameful part of his life. However, it isn't as easy of a process as it might seem. This lovely anime is about love and fantasy and how it is difficult to have delusions, due to depression or bipolar disorder, and how these high school students are dealing with the joys and pains of being in love while living in a dreamy world where everyone has something going on.
11. K-ON!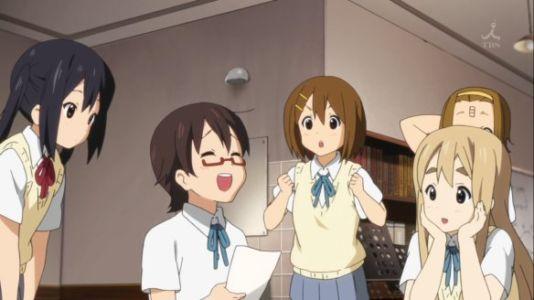 One big change that happens in high school is joining clubs. Yui Hirasawa stumbled upon the Light Music Club that was looking for new members, but since she is unable to play any instruments, she decided to quit.
The Light Music Club is going to disband because it doesn't have any members left. They start offering all sorts of benefits, from food to slacking off during club time, in a last-ditch effort to try to convince Yui to join them. Despite their efforts and despite what they promised her, she insists on leaving the group.
Last-ditch attempts prove effective, and finally with a tender song they convince Yui to join the Light Music Club. After that, their days became full of happy musical routines and sweet friendship moments. From then on, the Members are prepared for anything and everything!
10. School Rumble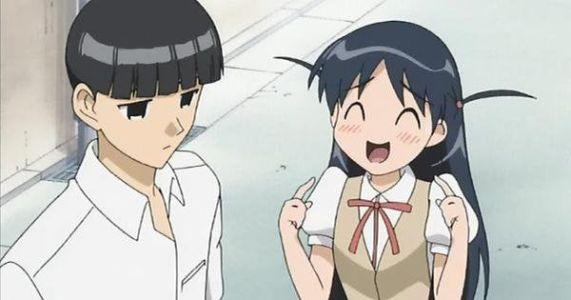 School Rumble is an amazing anime with one of the best love stories ever seen in history! Watching the series will have you rooting for Tenma and Kenji in their quests to win the hearts of those they love. High-school love stories are difficult to navigate sometimes – they can be the spark that sets you on fire or leave you hanging. There's nothing wrong with being a little paranoid when it comes to romance, but if you do hear those three magic words " I Love You", keep your head up and take it all in.
Tenma Tsukamoto is a second-year student who has been on a quest to confess her feelings to the guy she likes. Kenji Harima is also struggling with how he truly feels and is unable to properly express himself despite being a delinquent. Life in high school can be quite complicated, it's hard to juggle all the different aspects of your life! It's even harder to try and keep yourself organized but these two will find that their love will carry them through this tricky path.
9. Kokoro Connect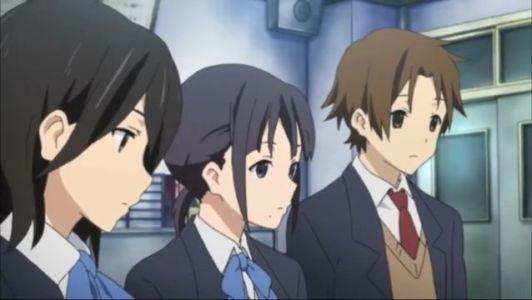 Kokoro Connect is a Japanese anime with love themes that features five high school students' daily lives. It mainly focuses on their interactions with each other and their way of reacting to various occurrences. One day, Aoki and Yui experience a strange incident when they suddenly switch bodies for a while. However. When these supernatural events start occurring to others spontaneously, it proves to be unusual and often creates havoc in their lives.
Although at first, the five students laugh about the confusion, soon everything becomes much more serious when they all find out each other's secrets and realize that they're linked in some way. And when their lives are shattered, the relationship between them begins to impact their lives too.
8. Nisekoi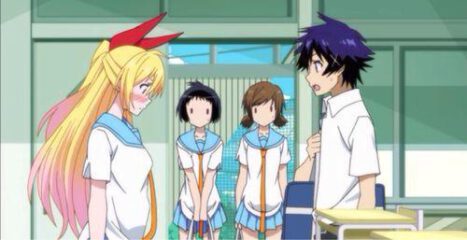 Nisekoi is an anime about a unique love story that follows Raku, a boy who's dragged into a mafia rivalry when he's forced to date Chitoge, the daughter of a rival gang boss. There's plenty of rom-com and drama in this one.
Despite their constant personalities, the two successfully managed to hide from everyone that their relationship is fake. The show goes on about the daily life of this couple who have been forced to get along for the sake of maintaining peace between their yakuza families
Aside from Chitoge, Raku has been also spending more time with different girls lately and he is starting to learn more about them. It turns out that they have some sort of connection to his past as well, which leads Raku to search for a girl he used to know in his childhood.
7. Golden Time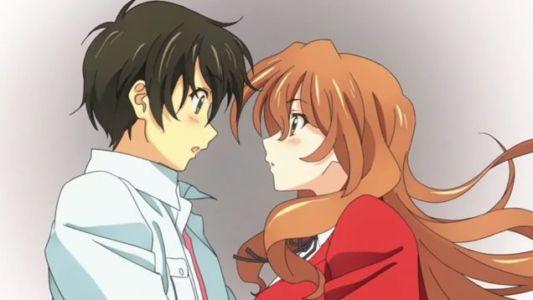 Next up on this romantic list is a drama school anime called Golden Time. It follows Banri Tada who has amnesia in which he forgets all of his memories and all of his childhood. He decides to move on from his current life in Tokyo and begin a new life at law school there. But just as he began to adjust to his college life, the beautiful Kouko Kaga crashes into Banri's life, and their chance meeting marks the beginning of an unforgettable year.
6. Toradora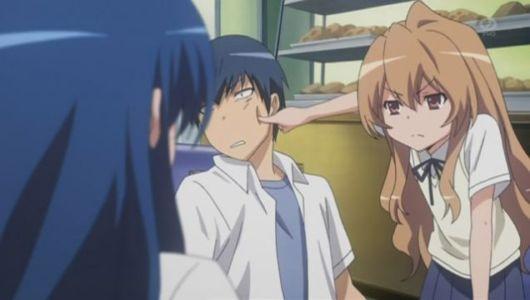 Toradora is a romantic comedy anime series that aired in 2008. The story follows the life of Ryuuji Takasu, a high school student who meets Taiga Aisaka, a cute girl in his class who turns out to be a tsundere. The two high-school students try to help each confess their love to their crushes. Unbeknownst to them, their endgame changes as the time they spend together causes them to have a change of heart, as they end up developing feelings for each other.
5. Your Lie in April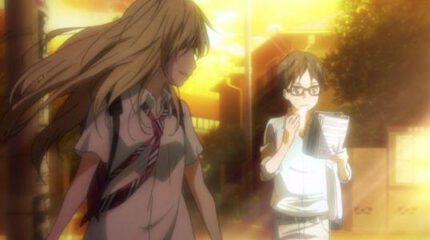 One of the best anime love stories of all time can be found in the Your Lie in April series. This is a breathtaking tv show that features high school life, the struggles of finding true love, and the importance of being yourself. This show follows the personal journey of a piano prodigy who lost his ability to play after a traumatic childhood event. He is pulled back into the spotlight by an eccentric girl with a big secret of her own. Well, all of the characters are in high school and they're all struggling with their personal relationships while trying to make sense of what's happening to the others.
4. Kaichou Wa Maid Sama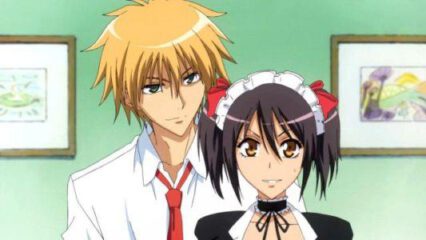 It's hard to imagine anyone not enjoying this anime about love going on at school. It features heartwarming moments and one of the cutest anime couples of all time. The series mainly follows Ayuzawa Misaki, who is the president council of her class at Seika High. Usui Takumi, a classmate from the school, discovers that she is actually a part-time employee at Maid Cafe and then starts blackmailing her to get what he wants. Let's face it, you haven't seen anything like it before and that's in part because the show is so different from the rest of the moe-blobs out there today.
3. Anohana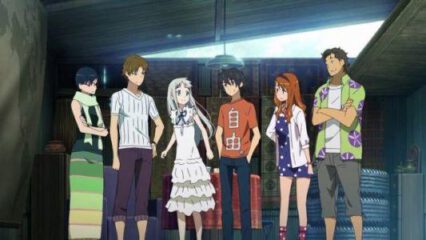 Anohana is a Japanese anime series that was released in the year 2011. It is a story of high school students who find themselves facing their own personal personalities while also trying to cope with their friend called Menma after her death and help her remember and fulfill a wish so she can pass on into the afterlife. The unique culture and setting of the anime are best described through its themes of love, loss, friendship, and family.
2. Fruits Basket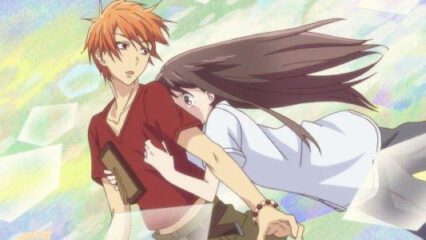 The Fruits Basket anime series is based on a Japanese shōjo manga written and illustrated by Natsuki Takaya. The series is often described as well-written and referenced to be among the most popular in the industry for its compelling storyline, complex character development, and psychological depth.
Of course, this anime is about a love story, probably a cult one! The plot follows the life of a girl named Tohru Honda who decided to leave her family and live in a tent until she will be taken in by the Soma family, she learns that twelve family members transform involuntarily into animals of the Chinese zodiac, then she decides to help them deal with the emotional pain caused by the transformations.
1. Clannad
Clannad is a Japanese anime series that tells the story of Tomoya, who moves to an all-girls, who cares little about school or others meets a lonely girl named Nagisa who had to repeat a year while all her friends finished high school. He decides to hang out with her and soon meets more friendly students. This anime about romance, drama, and school life follows their relationship through various adventures, and it is often compared to other popular anime love stories such as Anohana, and Your Lie in April, but Clannad is still the best out of them when it comes to a sad romance story that will make fans shed tears.
Don't Miss: