Japanese anime movies to watch: Here are the 49 good anime films that Japan has released so far!
Japanese anime movies have their fair share of cinematic masterpieces that should not be skipped over by movie enthusiasts, Although many great movies have come from American superpower businesses such as Hollywood, Warner Brothers, and Disney.
If you are interested in learning the Japanese language, watching TV shows is a great way to improve your listening skill.
Anime is a popular medium that comes in various genres and shapes, therefore, there are many movies adaptation from popular tv shows such as One Piece, Pokémon, Attack on Titan, Naruto, Death Note, Bleach, and others.
These Japanese films are not just movies produced by the well-known Anime Studio Ghibli, but also by many others studios. These anime films have been selected for their great storylines, popularity, and the writer's personal experience.
Are you excited now? Chill, because you have come to the right place to discover the best Japanese anime movies to add to your watch list.
49. Kud Wafter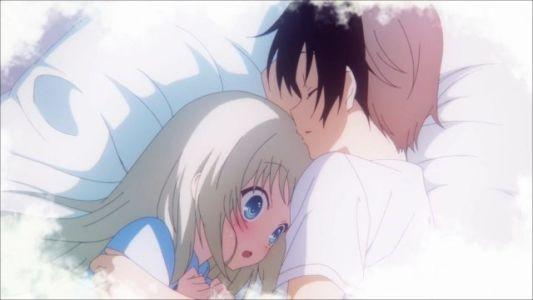 Kicking off the list of the best Japanese anime movies with this 2020 anime movie called Kud Wafter, which was released precisely on November 28th, and is just under an hour long (50 minutes to be exact). It is more of a short magnificent story rather than a full-blown movie but nevertheless has entertained many anime fans around the world.
With different themes like comedy and romance, this is one of the best anime movies to stream right now.
48. Happy-Go-Lucky Days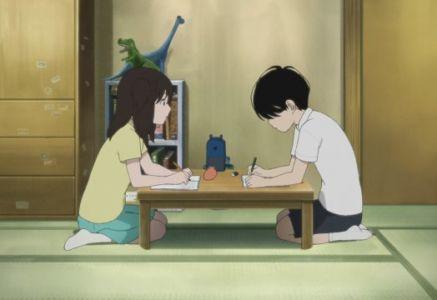 Also known as "Dounika Naru Hibi",  this is a good anime movie that depicts the theme of Love. The story highlights that the hardships of being in love will be a sweet memory. Despite who your love interests are! or what shape it takes, all love and lifestyles have the same value.

The anime film features a very unique art style and is filled with drama, and romance, which is also filled with some slice-of-life themes. Many fans liked it so far, so it is definitely one of the top anime movies worth watching.
47. Majo Minarai wo Sagashite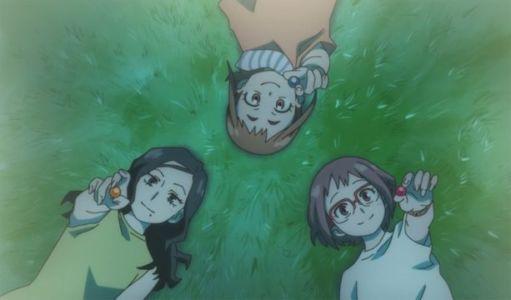 Coming up, we have Majo minarai wo Sagashite, Also known by its English name "Searching for Witch Apprentices", this story brings 3 girls together, and none of them would have met up if it wasn't for a magic gem.
One of the girls is an office worker, another is a college student, and the third is a part-time shop worker. All three are mysteriously brought together in this good comedy, magic-filled anime film.
46. Burn The Witch
Adapted from a manga with only 4 chapters, and an anime tv series with only 3 episodes of 20 minutes each, we have the one-hour-long movie of Burn The Witch.
Lucky for fantasy-loving weebs, this is a story filled with action, magic, and of course, fantasy, and revolves around Noel Niihashi and Ninny Spangcole, who are witches and protection agents for the Wing Bind organization. Their mission is to protect and manage the dragons within London on behalf of the people.
45. Kimi Wa Kanata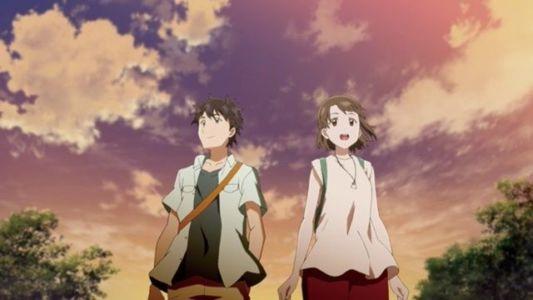 Next among the best Japanese anime movies on our list, we have "Kimi Wa Kanata". Also known as "You Are Beyond", this drama and fantasy-filled anime movie is 1 hour and 35 minutes. The story depicts one of the main characters, Mio, who likes the other main character, Arata. However, she can't seem to find a way to tell him. Over time, something terrible happens, and this is where the story gets even more interesting.
44. Her Blue Sky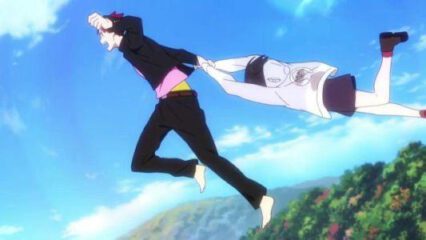 Well, among the best anime movies is this good Japanese
animated film
called "Her Blue Sky". The story revolves around a second-year high school student Aoi, who is an aspiring musician. The movie kicks off showing us Aoi who likes to practice her bass, drowning out all sounds. The music touch made the story so enjoyable, and you will be able to gradually discovers some interesting characters and how Aoi feels about them. There is also a flashback of her past events which showcases why the two
sisters are living together when her love interest Shinno suddenly appears.
43. The Relative Worlds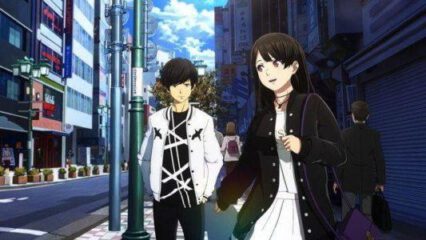 The Relative Worlds is one of the top Japanese drama sci-fi anime movies i have ever seen! The story is set in Japan, focusing on Shin Hazama, and a version of himself who led a different life in another Japan appears. A crack opens in the everyday life that he thought was impossible to change. Boys and girls have to decide what to think and choose when the world changes completely. The battle with another world and another self begins.
42. Maquia: When the Promised Flower Blooms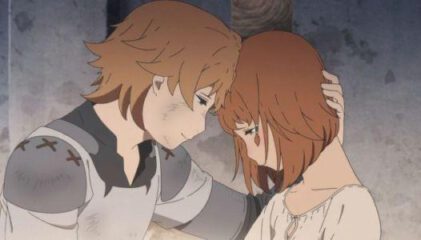 The truth is, I'm deeply in love with this amazing anime movie because it's so good, with great animation, and a uniquely captivating story. This drama fantasy depicts the story of Maquia, only 15, who is going to live for centuries without aging past adolescence. She belongs to the Iorph, a clan of ageless beings a bit like her. who can live for hundreds of years and remain separate from the lives and daily troubles of mankind.
However, Maquia has always felt lonely despite being surrounded by her people, as she was orphaned at a young age. She daydreams about the surface world but dares not travel from her home thanks to the warnings of the clan's chief. Therefore escaping war, she finds a lone surviving infant and decides to boost him as her son. Here the troubles and delightful events begin during this best movie.
41. Our Seven-Day War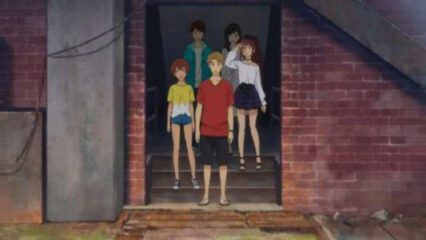 With a score of 6.7/10 on
Myanimelist
and 6.1/10 on IMDB, all I can say about this anime film is that it is so good, and you gotta watch it that's all! Because you will love it and fully enjoy it!
Directed by Yuta Murano, the story of this 2019 anime movie take place in the beautiful town of Saima, when summer is about to start, a group of six high school students intends to go through a mysterious adventure by spending seven carefree days in a ruined mining facility.
40. Hello World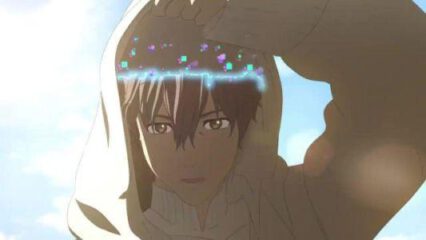 Now we have Hello World, which is one of the best anime movies of all time. This Japanese sci-fi love story film is set in Kyoto in the year 2027, where Kyoto has undergone tremendous technological advancement. Within the city lives Naomi Katagaki, a socially awkward and introverted boy with a love for books, and Ruri Ichigyou, a girl with a cold personality who is often blunt with people. Despite having similar interests, Naomi is afraid to approach Ruri due to her unfriendly nature.
39. Blame!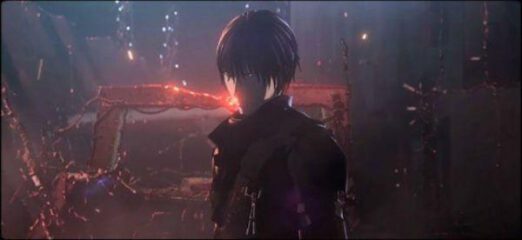 Blame! is that kind of those good anime movies that will make you enjoy every single minute of it, you will watch it with wide-open eyes cuz you can't skip The fight scenes and visuals that are very well done, while the story stays simple and to the point.
Overall, this Japanese animated movie is set In the distant technological future, where civilization has fully integrated with cyber-technology, resulting in automated cities, and resulting also a multi-leveled city structure that replicates itself infinitely in all directions. A virus causes these automated systems to malfunction, sending humanity to the brink of extinction as their own defenses turn on them. Here, suspense, excitement, and the way to solve the virus problem start at the end of this great anime movie.
38. ARAGNE: Sign of Vermillion
This is one of the top supernatural horror anime movies you may have ever seen! Aragne: Life might be better for shy, anxious college student Rin, The apartment she has rented is hardly the sunny palace the rental listings suggested. The housing complex is rundown, grim, and haunted by troubled souls lurking in dark corners. Ghastly crimes are occurring within the vicinity. And a grinning stranger makes his unsettling presence known.
Beyond all this, Rin is coming to understand that something even more sinister is manifesting itself, something at the cursed crossroads of mythology, monstrosity, and life science. Determined to seek out out more, Rin visits the library, where she meets a sympathetic young staffer. But what she learns doesn't begin to place her mind comfortably.
37. Penguin Highway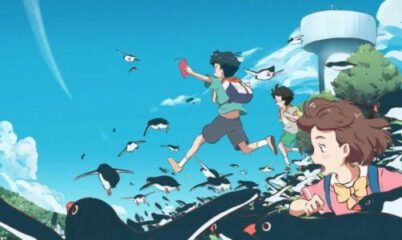 Well, well, well, let me present to you another one of the best anime movies I've ever seen! which story depicts the genius Aoyama, who is merely within the 4th grade, but already lives his life as sort of a scientist. When penguins start appearing in his sleepy suburb many miles from the ocean, Aoyama vows to unravel the mystery. When he finds the source of the penguins may be a woman from his dentist's office, they team up for an unforgettable summer adventure!
36. The Wonderland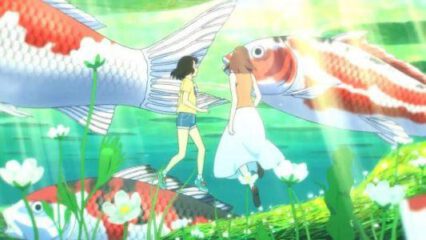 Japanese anime movies are all good, but this one is fire, the animation is fire, the story is fire, and you will watch it on fire… Wonderful and mysterious birthday adventure, one that you will never forget you'll see it during this new good 2019 anime movie. So let's follow a girl without self-confidence, who meets a mysterious alchemist Hippocrates and his student Pipo who are on a mission to save lots of the world. Together, they laid the groundwork for "Wonderland" and Akane is labeled as Wonderland's savior.
35. Love Live! Sunshine!! The School Idol Movie: Over the Rainbow
Now it's time to enjoy some pretty girls, school idols, and happy songs that will cheer you up! this is by far one of the best school anime movies, the story depicts the closure of Uranohoshi Girls' high school, where the third-year students—Dia Kurosawa, Kanan Matsuura, and Mari Ohara—have just graduated, leaving Aqours with solely the primary and second-years. While checking out a replacement place the remaining members can use to practice, they plan to visit the new school they're going to soon enroll in. However, to their surprise, the building seems to be abandoned! It seems that thanks to the varsity board's worries regarding how the freshly transferred Uranohoshi students may burden the clubs, they were instead sent to a branch school.
34. Promare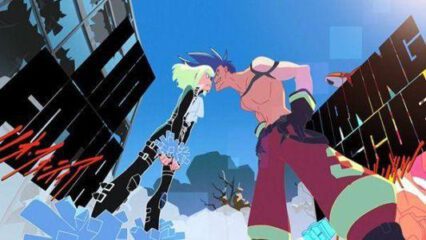 Did you watch the fire force anime series? which is by the way one of the best new 2019 anime tv shows! well if you did, then, you really need to check out one of the best newest anime movies called Promare – especially if you're a studio trigger fan. The story is set after Thirty years have passed since the appearance of Burnish, a race of flame-wielding mutant beings, who destroyed half of the world with fire. When a new group of aggressive mutants appears, a battle begins with Galo Thymos. Galo will have to go up against the leader of Mad Burnish, Lio Fotia. Will Galo triumph, or will the world be engulfed in flames?
33. Fate/stay night: Heaven's Feel II. Lost Butterfly
I'm a big fan of fate series, due to its amazing animation, visuals, fighting scenes, epic soundtracks, and the good storyline that this franchise offers. Luckily, here is another good movie adaptation that stayed faithful to the anime series with a story that is tailored from Heaven's Feel, the third and final route of the visual novel Fate/stay night. Continuing immediately from the events of Fate/stay night: Heaven's Feel I. presage flower, the film focuses on the grail War and therefore the relationship between Shirou Emiya and Sakura Matou, two teenagers participating in the conflict. After Shirou is eliminated from the War as a Master, he continues to hunt for salvation for Sakura and therefore the other participants, meaning to be a hero of justice who saves everyone. He sets a call in the search of the reality behind a mysterious dark shadow and its murder spree determined to defeat it.
32. A Letter to Momo 
Since her father's recent death, a little girl named Momo and her mother move from the crowded town of Tokyo to the remote island of Shio. While still confused by an unfinished letter of her father's, Momo also has to get used to the new living environment and make new friends.
At that time, bizarre events occur inside Momo's house, including strange whispers coming from the attic. Because of her mother's refusal to believe these strange events, Momo throws herself into an odd adventure to discover the source of the weirdness, which leads her to the trio of troublesome spirits, and together, she and those spirits figure out that her moving to this island is somehow connected to her father's unfinished mysterious letter.
This is among the best Japanese anime movies that depict a lovely story of friendship. It also has high-quality visual effects and sound editing. Also, It has a slow pace at the beginning, some humorous moments in the middle, and really touching scenes at the end that could make you shed some tears while watching!
31. From Up on Poppy Hill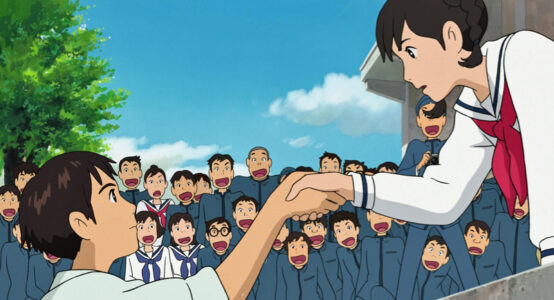 Unlike many other Miyazaki anime movies, this 2011 animated film has no trace of sparkling fantasy, though it still keeps the flawless visual effects that Studio Ghibli is so well-known for.
It also has a simple story about a group of Yokohama students looking to save their school's clubhouse from the wrecking ball in preparations for the 1964 Tokyo Olympics.
I personally think elderly people will have nostalgic feelings when watching this movie, as it reflects the lives of Japanese students as well as other residents during the years 1963-1965.
30. Children Who Chase Voices From Deep Below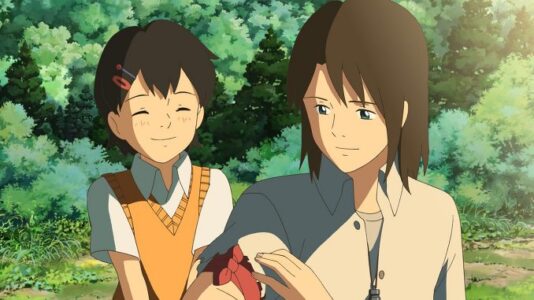 This coming-of-age 2011 anime movie is directed by Shinkai Makoto and animated by Comix Wave film studio. The story involves young love and mysterious music coming from a crystal radio left as a memento by an absent father, that leads a young heroine deep into a hidden world.
Although the rating is not what I expected, the storyline about the characters who have to deal with difficult issues (for instance, loss of loved ones, independence, and life-changing decisions) makes it interesting. This movie is another product of the same producer as Five Centimeters Per Second, therefore, it's easy to understand how they achieved the stunning beauty of the animation!
29. The Place Promised in Our Early Days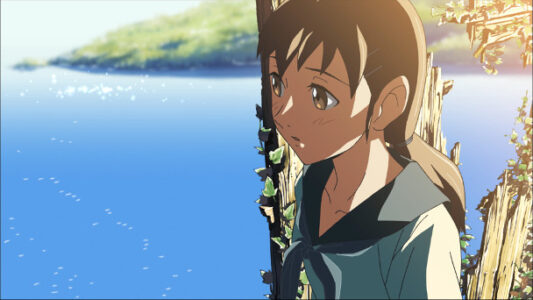 The story takes place in an alternate postwar period, where Japan is divided into the Soviet Union-controlled North and the US-controlled South. An enormously tall tower was built on Hokkaido, which could even be seen from Tokyo. In the summer of 1996, three middle-school students make a promise that they'll cross the border and unravel the tower's secret, but their project was abandoned after one girl, Sayuri Sawatari, became mysteriously ill and was transferred to Tokyo.
Years later, on the brink of another war, a boy named Hiroki Fujisawa finds out that Sayuri had been in a coma since then, and he asks Takuya Shirakawa to help him find a way to wake her up, so as to fulfill the promise between the trio. The film's pace is a romantic reflection of loneliness and bittersweet affection. Even though the romance was not impressive to critical viewers, the music and storytelling style made up everything else. This is a must watch Japanese anime movie that is a fascinating dystopic look at the postwar era.
28. Steamboy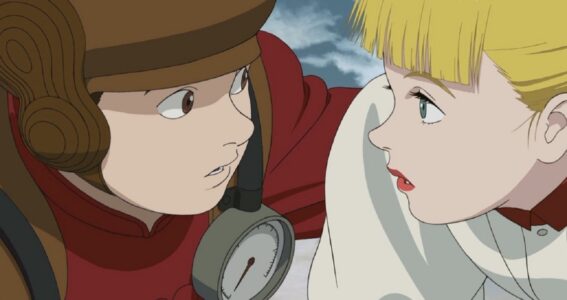 Steamboy is a 2004 Japanese anime movie set In the middle of the 19th century, before the world's first Expo, an invention called the "Steam Ball", has been sent to Rei. Rei, is a young inventor, from his grandfather Roid in the US. Therefore, he then finds himself caught in the middle of a deadly conflict over a revolutionary advance by an organization called Ohara Foundation. Meanwhile, the Ohara Foundation has sent men to acquire the Steam Ball so that they can use its hidden power towards their own illicit ends.
27. The Secret World of Arrietty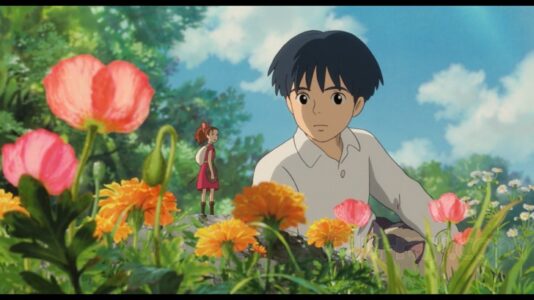 Among the best fantasy anime movies is The Secret World of Arrietty, a film that aired in 2010, and highlights a story that follows the 14-year-old Arrietty and the rest of the Clock family, which consists of four-inch-tall creatures secretly living in a human house.
Hence, they live in peaceful anonymity as they make their own home from items that they borrow from the human inhabitants' houses. However, life changes for the Clocks forever when a human boy discovers Arrietty.
26. Millennium Actress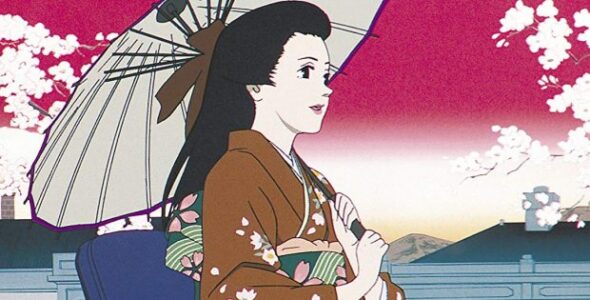 Next up among the best Japanese anime movies, we have Madhouse's Millennium Actress. The plot follows a TV interviewer and his cameraman, who meet a former actress and travel through her memories and career, where she initially became an actress to track down a man she was in love with.
With the drama of her personal life and the color of her working life, the line between fiction and reality becomes blurred. Millennium Actress is one of those good anime movies that are slow-paced, simple, flowing, and full of memoirs with a charming Japanese storyline and a rather sad ending.
25. The Anthem of the Heart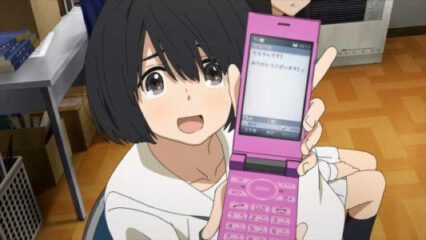 You may pick this movie only by reading its title, because it refers to emotions, heart-touching lines, and pretty songs. therefore, you have to watch it 100%. The story of this one of the best movies ever is all about Jun Naruse, a girl who carries the guilt of ending her family with the words she carelessly uttered, when she was young she saw her father exit a love hotel, among another woman. Without understanding the case, she tells her mother, which leads to her parent's divorce. Hence, while she is crying, she saw a fairy egg that curses her by sealing her words so she won't hurt people again.
24. Code Geass: Lelouch of the Resurrection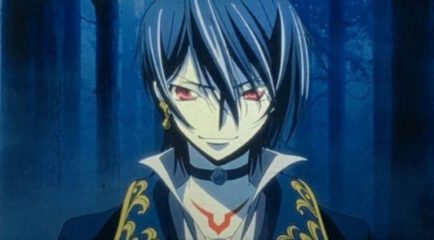 This is not only one of the top japanese movies but also one of the best anime series that everyone should watch! Therefore, allow yourself to dive into an epic story that depicts: After Lelouch's passing at the top of Code Geass R2, the planet has enjoyed unprecedented peace under the guidance of the United Federation of countries. That peace proves to be as fragile as a bubble when Nunnally and Suzaku are both abducted.
The look for two of them leads Kallen Stadtfeld and her fellow investigators to the dominion of Zilkhstan, where they find C.C., who is on a mission to finish the resurrection of the person liable for the best revolution in history—a legend who will get up, take command and save the planet from peril once more.
23. Mirai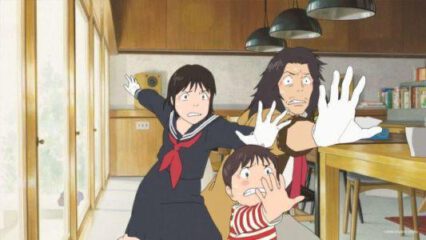 Mirai is a good japanese anime movie with so many nominations, accolades and awards. This is the type of anime movie that grown-ups will enjoy more than youngsters, the story depicts the tale of a young boy named Kun, who feels forgotten by his family when his little sister Mirai arrives. Running away from home, Kun stumbles upon a magical garden that serves as a time-traveling gateway where he encounters his mother as a little girl and has a series of adventures with his baby sister, who is all grown up, opening a new perspective on his world.
22. I Want to Eat your Pancreas 
An aloof boy comes across a book in a hospital waiting room. He soon discovers that it is a diary kept by his very popular classmate who reveals to him that she is secretly suffering from a fatal pancreatic illness. he begins trying to help her experience everything she wants to do before the final day.
Through this process, he learns some powerful truths about himself and the world. It originally appeared as a web novel in 2014 and has since been turned into a manga, a live-action movie, and now finally we have one of the best anime movies ever.
21. The Cat Returns 
This 2002 anime movie is about Haru, an unfortunate girl in most aspects of her life. After helping a cat that got stuck in a lorry, she finds herself involuntarily engaged to a cat prince in a magical world where her only hope of freedom lies with a dapper cat statuette, which also comes to life in the story.
While the movie doesn't have the beauty and depth of some other anime films from studio ghibli, it's still a breezy and entertaining piece of art with a fun, adventurous plot that children would love. This is a great film to check out with your family, and for cat lovers, too!
20. The Girl Who Leapt Through Time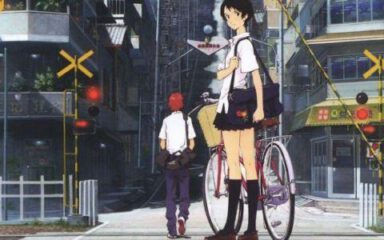 Just watch this 2006 good Madhouse anime movie, loosely based on the novel by Yasutaka Tsutsui of the same name, and you'll know because Japan never fails to amaze you! Are you wondering what could be so special about a girl who has the ability to time travel and tries to use it to solve problems?
The plot follows Makoto Konno, who is in her last year of highschool, but has a tough time deciding what to do with her future. In between enduring the pressure of her teachers and killing time together with her best friends, Makoto's life suddenly changes when she accidentally discovers that she is capable of literally leaping through time, she is going to attempt to use this newfound ability to travel through time to her advantage.
19. To the Forest of Fireflies' Light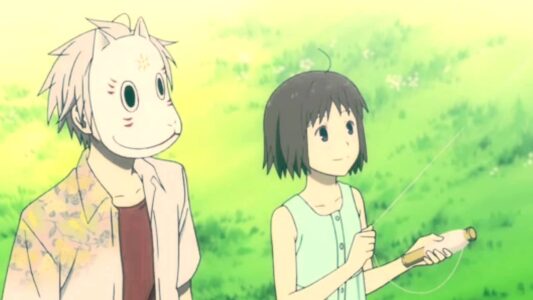 Every summer, a little girl called Hotaru comes back to the countryside for a summer trip. One day, she is rescued by a spirit named Gin when she gets lost in a forest. Despite the spirit revealing that he will disappear if he is ever touched by a human, the two become friends, and this friendship will develop into a love story.
This is a 2011 anime movie made by Brain's Base studio, which has a sad romantic story and you will feel refreshed after watching it.
18. Howl's Moving Castle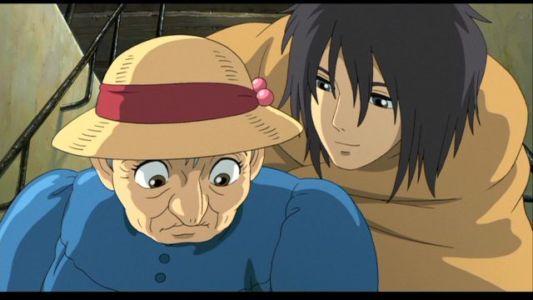 Next up among the best Ghibli anime movies is Howl's Moving Castle, a love story between an 18-year-old girl named Sophie, cursed by a witch and living in an old woman's body, and a magician named Howl. Under the curse, Sophie sets out to seek a cure for her condition, which takes her to Howl's strange moving castle.
In the castle, Sophie meets Howl's fire demon, named Calcifer. The demon makes a deal with Sophie – if she breaks the contract which means he is under Howl's command, then he will lift the curse, and she will return to her 18-year-old self again. In my opinion, this is an excellent movie, from the music to the plot. The characters are interesting and their personalities are described significantly. It is a good anime movie of the 2000s that you simply can't miss!
17. Colorful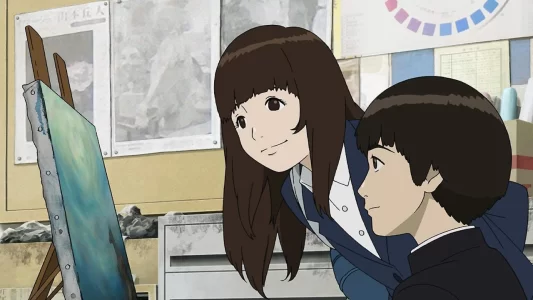 Colorful is a good Japanese anime movie of 2010, adapted from the novel of the same name by Eto Mori, produced by Sunrise studio, and has an epic story with top-notch animation. The solid plot focuses on a sinful spirit, who is granted the chance to prove he is worthy of rebirth by inhabiting the body of a student who killed himself. With a second opportunity at life and a neutral spirit watching over him, the spirit journeys to come to terms with his past sins and figure out what drove the student to commit suicide.
16. Ponyo on the Cliff by the Sea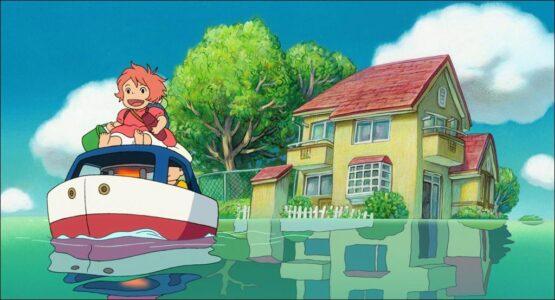 Ponyo on the Cliff by the Sea is a 2008 anime movie that tells the story of an adventure of a five-year-old boy named Sosuke, and his relationship with a goldfish princess named Ponyo who seeks to become a human after falling in love with him.
This movie reminds me of Disney's animated film The Little Mermaid. It is a romantic fantasy that portrays Miyazaki's style in a very good way, and if you want to watch it with the whole family, they will absolutely love it, too!
15. Wolf Children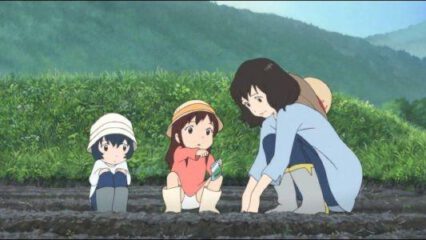 Produced by the popular studio "Madhouse", with a good score of 8.2 on IMDb, the 2012 Wolf Childen is a good anime movie that deals with identity issues. The story follows a college student named Hana, upon falls in love with another student who turns out to be a werewolf, who will leave her behind as soon as he died in an accident after the birth of their second child.
After that, Hana decided to move to the countryside where her husband grew up to raise her two children, who are half-wolf and half-human. Hana's daughter, Yuki, longs to fit in with humans and leave her wolf identity behind, whereas her son, Ame, wants to live as a wolf. This Japanese animated movie is absolutely delightful from the beginning till the end. The story was really touching and emotional, the animation is of a top-notch style, and the music was really pleasing.
14. Asura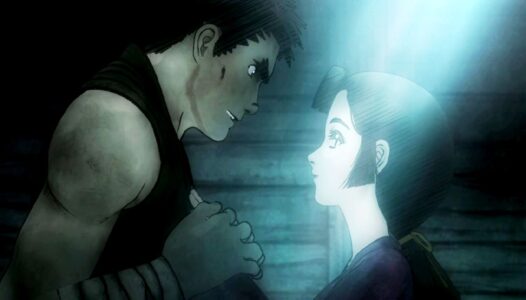 Directed by Keiichi Sato and produced by Toei Animation, Asura is among the best Japanese anime movies that you should really watch. The story follows an abandoned in the barren wasteland of Kyoto, a savage, enraged orphan named Asura, who does whatever it takes to survive in the wild. When he crosses paths with civilization, he must learn to tame the beast within.
Despite the relatively low score from IMDb, this film is a well-told story about human beings and their nature. It made me feel sad for Asura as he has to suffer although it is not his fault. I feel sorry for all of the characters, even if they did horrible things to each other, as it is mostly because of the harsh situation of life that forces them to behave that way. Therefore, if you want to immerse yourself in deep feelings about human nature, you should watch this good anime movie.
13. Grave of the Fireflies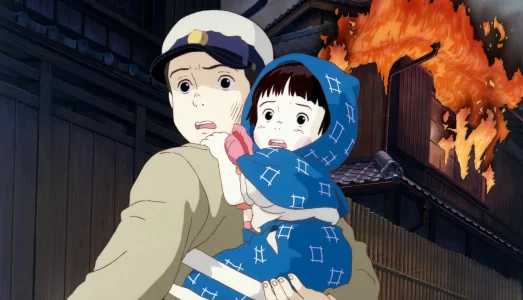 Grave of the Fireflies is a sad drama anime film telling the story of a young boy and his little sister's struggle to survive in Japan during World War II after the death of their mother and the unknown fate of their father. After having quarreled with their aunt, they leave her house and make their home in an abandoned shelter. The two must depend on each other to survive.
This anime movie is produced by Toho's studio and is considered one of the best-animated films that provide a lesson for anyone who wants to harm the world, without thinking about what happens to ordinary people, and those who are often forgotten. Despite the sadness of the story, this piece of art is also providing a nostalgic feel.
12. 5 Centimeters Per Second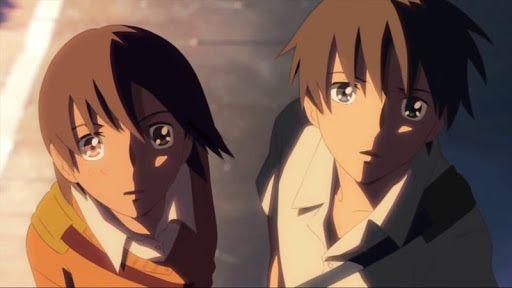 5 Centimeters Per Seconde is directed by Makoto Shinkai and is a production of the studio Comix Wave Film. The story follows Takaki and Akari, who have been classmates since elementary school and they become close friends. Their relationship is tested when Akari moves to another city because of her parents' jobs.
Both of them struggle to keep their friendship alive through letters, and time and distance slowly pull them apart. When Takaki finds out that he is moving even further away, he decides to visit Akari one last time.
With stunning animation and visual effects, beautifully emotional piano pieces, and a slow-paced storytelling style, there is only one word to summarize this 2007 good Japanese movie: flawless! Watch this if you fancy a romantic tale.
11. Ninja Scroll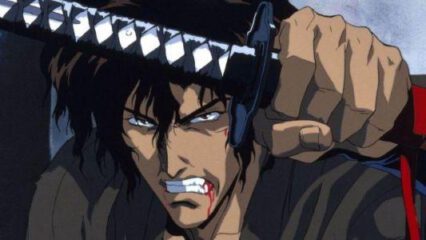 Ninja Scroll is one of the best adventure-action anime movies to watch, with a story that follows an overpowered swordsman-for-hire Jubei.
Jubei hunts down eight powerful ninjas who seek to overthrow the ruling power of the land. It's a threadbare story but it's all in service of dynamic and awesomely ridiculous fight scenes.
Furthermore, Ninja Scroll is a classic film that was released in 1993, which isn't full of tons of philosophy or ruminations on the human condition. But, it does excel in fist-pumping excitement in ways other similar anime movies struggle with.
10. Ghost In The Shell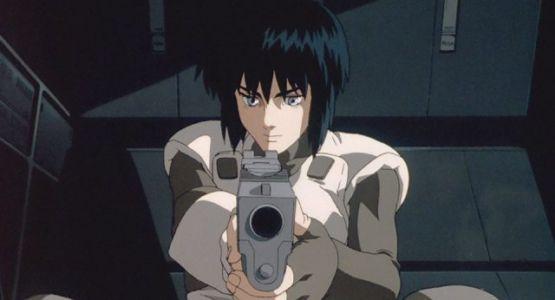 Undoubtedly Ghost In The Shell is one of the most Influential Japanese anime movies. The plot highlights the adventure of Motoko Kusanagi and her partner while hunting a mysterious and powerful hacker called the Puppet Master. The Puppet Master is someone who illegally hacks into the computerized minds of cyborg-human hybrids.
As a result, this pursuit leaves Motoko pondering her own makeup and what life might be like if she had more human traits. Ghost in the Shell is a futuristic thriller with intense action scenes, mixed with slower artistic sequences, and many philosophical questions about one's soul, gender, and human identity.
9. Weathering With You 
With so many nominations and awards, Weathering With You is a fantasy romance Japanese anime movie that everyone will enjoy. This is a good story that focuses on the Sixteen-year-old runaway Hodaka, who tries to provide for himself by living on the streets of Tokyo during a torrentially rainy summer. The weather is unusually gloomy and rainy every day as if to suggest his future. He lives his days in isolation, but finally finds work as a writer for a mysterious occult magazine. Then one day, Hodaka meets Hina on a busy street corner. This bright and strong-willed girl possesses a strange and wonderful ability: the power to stop the rain and clear the sky.
This is a wonderfully released fantasy anime movie of 2019, which is about people who can control the weather, it tackles social issues and personal problems alike while still being a fun story.
8. Tokyo Godfathers 
Released back in 2003, Tokyo Godfathers is one of the greatest Japanese anime movies of all time, which was produced by Madhouse. From the mind of Satoshi Kon comes an epic story set on Christmas Eve, where three homeless people, a young girl, a transvestite, and a middle-aged alcoholic, living on the streets of Shinjuku, Tokyo find a newborn baby among the trash and set out to find its parents, with many adventures along the way.
7. Perfect Blue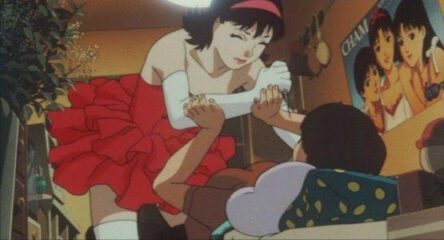 Perfect Blue directed by Satoshi Kon is a 1997 Japanese animated psychological thriller anime film based on the novel Perfect Blue: Complete Metamorphosis by Yoshikazu Takeuchi and written by Sadayuki Murai.
Perfect Blue makes this compiled list as one of the most dazzling visual Japanese anime movies ever made. The story follows A retired pop singer turned actress' sense of reality is shaken when she is stalked by an obsessed fan and seemingly a ghost of her past.
6. Paprika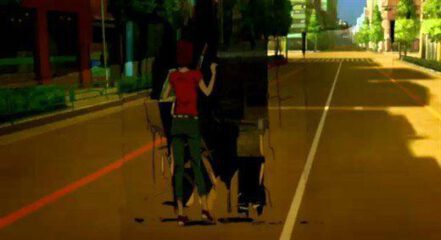 The 2006 Paprika is among the top drama fantasy anime movies that you should really watch! Why? Simply, because this is a masterpiece piece of art that you won't ever forget.
The story is set In the near future, where a revolutionary new psychotherapy treatment called PT has been invented. It seems like a device called the "DC Mini," which is able to enter into people's dreams and explore their unconscious thoughts. Before the government authorizes the use of such advanced technology, one of the prototypes is stolen. While this Device is In the wrong hands, the potential misuse of the device could be devastating.
5. Akira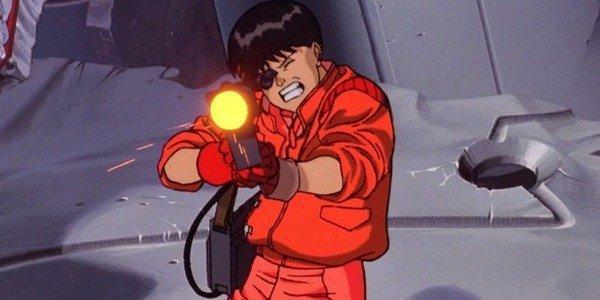 No one can deny that Akira is one of the top Japanese anime movies of all time. The story takes place in Japan, where an explosion of a boy's psychic powers wreaks havoc through Tokyo and leads to World War III. So, in order to prevent any further destruction, they captured the boy and put him in jail.
Now, Neo-Tokyo an area rife with gang violence and terrorism against the current government—stands in its place. Here, Shoutarou Kaneda leads "the Capsules," a group of misfits known for riding large custom motorcycles. During one of these battles, Shoutarou's best friend is caught up in an accident with an Esper who finds himself in the streets of Tokyo after escaping confinement from a government institution. Through this encounter, Tetsuo begins to develop his own mysterious abilities.
4. Princess Mononoke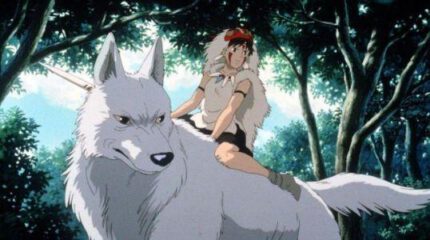 Directed by Miyazaki Hayao, and produced by Studio Ghibli, with a score of 8.4 on IMDb, Princess Mononoke (1997) is set in the Muromachi period (1336-1573).
On a journey to find the cure for a curse that has inflicted and will eventually kill him, Ashitaka, the last Emishi Prince, finds himself in the middle of a war between the forest gods and Tatara, a mining colony, this leads him to meet a human girl named San: Mononoke "Hime", or princess.
Between the forces of humans and the gods of nature, peace is the way. This is another moral lesson for humans about appreciating and living peacefully with nature. This anime movie is thought-provoking about how human development affects nature.
3. Spirited Away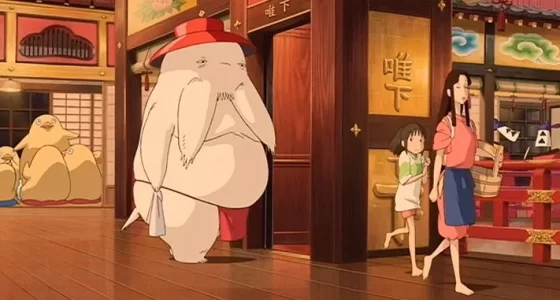 From the mind of Hayao Miyazaki, comes Spirited Away, a 2001 release, that is one of the most praised Japanese anime movies of all time.
This Academy Award-winning masterpiece is a wondrous studio ghibli fantasy about a young girl named Chihiro who discovers a secret world of strange spirits, creatures, and sorcery. Moreover, when her parents are mysteriously transformed, she must call upon the courage she never knew she had to free herself and return her family to the outside world.
2. Koe No Katachi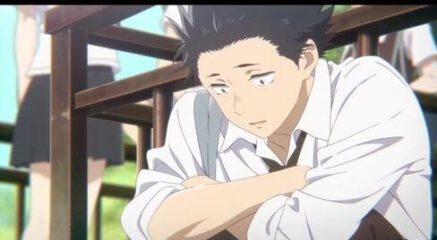 Koe no Katachi known in English as A Silent Voice is a 2016 anime movie that tells the heartwarming tale of Shouya's reunion with Shouko.
Everything starts in elementary school, where student Shouya Ishida sought to beat boredom in the cruelest ways. When the deaf Shouko Nishimiya transfers into his class, Shouya and the rest of his class thoughtlessly bully her for fun.
However, when her mother notifies the school, he is singled out and blamed for everything done to her. Due to Shouko transferring out of the school, Shouya is left at the mercy of his classmates. He is heartlessly ostracized all throughout elementary and middle school, while teachers turn a blind eye.
1. Your Name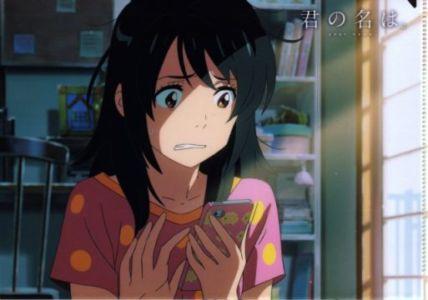 Keep in mind that "Your Name" is the highest-grossing anime movie of all time by worldwide gross, which makes it one of the best Japanese anime movies that you should not miss.
The story kicks off one day when Mitsuha awakens in a room that is not her own, and suddenly finds herself living the dream life in Tokyo—but in Taki's body! Elsewhere, Taki finds himself living Mitsuha's life in the humble countryside. In pursuit of an answer to this strange phenomenon, they also, begin to search for one another.
Your Name is known in Japanese as Kimi no Na Wa. revolves around Mitsuha and Taki's actions, which begin to have a dramatic impact on each other's lives. As a result, the impact is weaving them into a fabric held together by fate and circumstance.
Don't Miss: