If you are a fan of those kinds of heartwarming romantic anime series, then, you'll love our ultimate list of the top 43 best romance anime TV shows of all time. We've ranked these shows based on factors such as popularity, views, and overall enjoyment, to bring you the very best. Our list features a range of sub-genres, including high school romance, shoujo romance, realistic romance, and slice-of-life anime. Please note that our list does not include yuri or Yaoi.
43. Eden of The East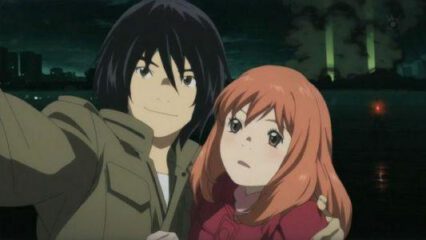 If you're looking for a romance anime series with a thrilling twist, then The Eden of The East is a must-watch. Originally aired in Japan in 2009, the series begins with an attack on a Japanese city by missile strikes that fortunately caused no casualties. Society quickly forgets about the attack and goes on with their normal daily lives, but there's more to the story.
The series follows Saki Morimi, who is saved from an accident by Akira Takizawa, whom she quickly befriends. As the story unfolds, a deadly game, money, cell phones, and the salvation of the world come into play. Saki struggles to unravel the mysteries behind her savior, while Takizawa battles other individuals armed with similar cell phones and returned memories that reveal his connection to the missile attack months ago.
42. Working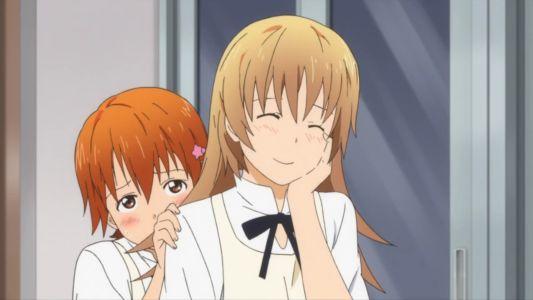 Working!! is quirky workplace romantic anime with nonstop antics that should be on your list. The series follows Souta Takanashi, who has a soft spot for cute and small things, as he accepts a job offer from the child-like Poplar Taneshima to work at Wagnaria, a family restaurant. While the clientele is polite and considerate, working with the manager, floor chief, and Poplar isn't easy. Souta also has to navigate the danger of every confrontation with Inami, who has a fear of men.
41. High Score Girl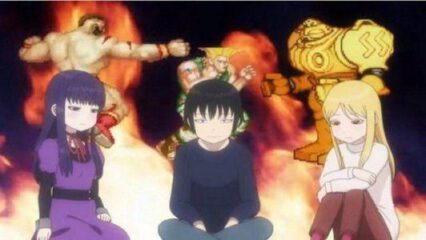 Moving on, we have High Score Girl, a heartwarming romance anime that tells the story of Haruo Yaguchi, a boy who loves playing arcade video games when they were a trend in Japan. However, there were no established career opportunities for him in the world of arcades at that time.
Years later, when Haruo plays against Akira, an expert in fighting games, he suffers a crushing defeat. Haruo feels incompetent and embarrassed. Despite Akira being a perfect girl – rich, pretty, and smart – Haruo only cares about his supremacy in video games.
As Haruo's perfect rival, Akira appears to be his biggest threat. He hates her for it, but also loves her for being someone he can compete with on equal terms. If you're looking for a romantic anime that explores the relationship between two rivals who push each other to be the best, then High Score Girl is a must-watch.
40. Ef: A Tale of Memories/Melodies
Ef: A Tale of Memories/Melodies is a wonderful romance anime that explores different forms of love and the challenges that accompany them. The series is divided into two seasons; the first season, Ef: A Tale of Memories, aired from October to December 2007, and the second season, Ef: A Tale of Melodies, aired from October to December 2008. The first season follows a story guided by two mysterious adults, and it follows the intertwining relationships of various youths as they navigate love, rejection, acceptance, and memories.
The second season, Ef: A Tale of Melodies, centers around Kuze Shuichi, who initially appears to be a womanizer but is actually someone who prefers solitude. Despite this, Hayama Mizuki relentlessly pursues him, hoping to bring him happiness. However, Kuze does not reciprocate Mizuki's feelings and pushes her away, leading to tragic undertones in their relationship.
39. Nagi no Asu kara
If you're running out of some other good romance anime and looking for your next watch, consider Nagi No Asukara. This series follows four sea children – Manaka Mukaido, Hikari Sakishima, Chisaki Hiradaira, and Kaname Isaki – who attend a middle school on the land due to the closure of their local school. However, tensions run high between the land and sea communities, creating challenges that the children must overcome. With a compelling storyline and themes of love and acceptance, Nagi No Asukara is a must-watch for fans of the romance genre.
38. Karakai Jouzu no Takagi-sa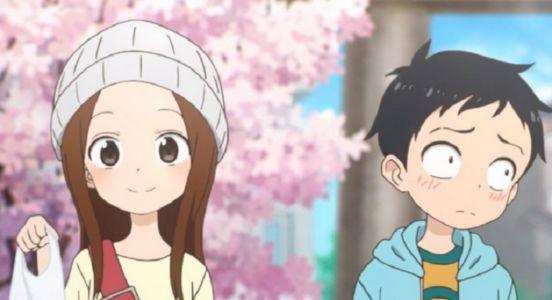 This anime is a delightful combination of comedy, romance, and slice-of-life genres that revolves around Takagi and Nishikata, classmates who engage in daily teasing. Takagi's keen observations of Nishikata's habits make it difficult for him to retaliate. However, Nishikata is determined to make Takagi blush someday by teasing her back, even if having a friend who knows him so well isn't always easy.
37. 5-toubun no Hanayome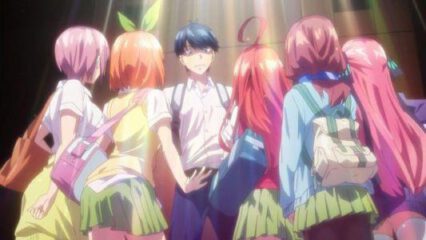 The Quintessential Quintuplets is a unique Japanese school romance anime series that follows the story of Uesugi Futaro, a second-year high school student who receives an offer to tutor five wealthy girls from his class. The only problem is that the quintuplets are all sisters, each with their own unique personality and academic struggles. Despite their initial animosity towards him, Futaro vows to win their trust and help them improve their grades. This comedic romance anime is filled with fun and engaging moments as Futaro navigates his way through the sisters' antics and tries to find the best way to help each of them succeed.
36. Kotoura San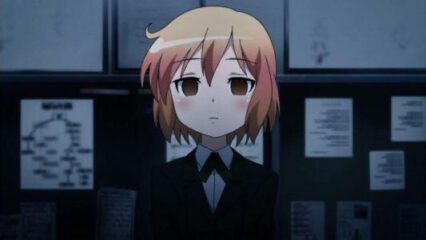 Here is a poignant sad romance anime, that revolves around Haruka, a girl with the ability to read minds. She has always been ostracized by her peers, causing her to become reclusive and distant from others. However, when she transfers to a new school, she meets Yoshihisa Manabe, who is fascinated by her power and is determined to be her friend. Yoshihisa promises never to leave her and helps her to learn how to trust others and open up. Through their relationship, Haruka learns to break down her emotional barriers and embrace the world around her.
35. Blue Spring Ride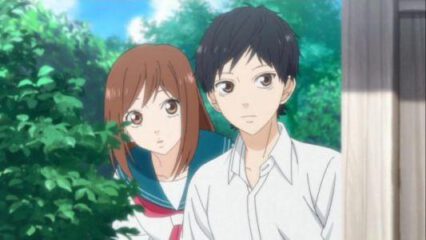 Ao Haru Ride is a romantic drama anime and manga that follows Futaba Yoshioka, a high school student who was once in love with a boy named Kou Tanaka during middle school. When Kou suddenly moved away, Futaba is left heartbroken.
Years later, Futaba encounters Kou again in high school, but he has changed his name to Kou Mabuchi and seems distant and cold toward her. Despite this, Futaba still has feelings for Kou and hopes to reconnect with him. As the story unfolds, the two navigate their complicated past and present emotions, making Ao Haru Ride a captivating romance drama.
34. School Rumble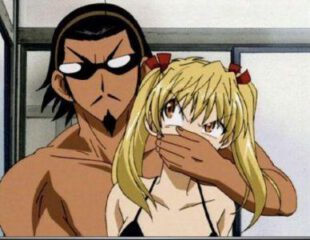 School Rumble is a beloved romance anime that tells the story of a high school girl who struggles to confess her feelings to Harima, a classmate known for his delinquent reputation. Meanwhile, Harima himself struggles to express his own feelings to the one he loves.
As they navigate the complexities of high school life, including schoolwork, friendships, rivalries, and hobbies, the two protagonists must also learn to manage their relationships and overcome misunderstandings. Filled with heartwarming moments and comedic scenes, School Rumble is a classic anime that follows the characters as they strive to win over the hearts of their crushes without facing rejection.
33. Masamune Kun's Revenge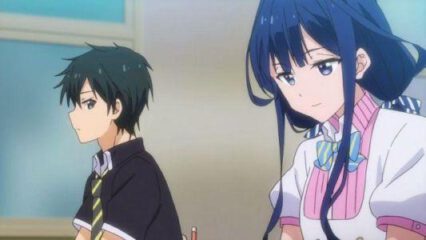 Masamune Kun's Revenge is a school heart-touching anime that follows the story of Masamune Makabe, a former chubby boy who was brutally rejected by a wealthy pretty girl named Aki Adagaki. After undergoing a significant transformation, Masamune returns to school as a handsome and popular teenager, determined to make Aki fall in love with him and then reject her just as she did to him in the past. The series explores Masamune's revenge plan and the complications that arise when he starts developing feelings for Aki.
32. Tsuki Ga Kirei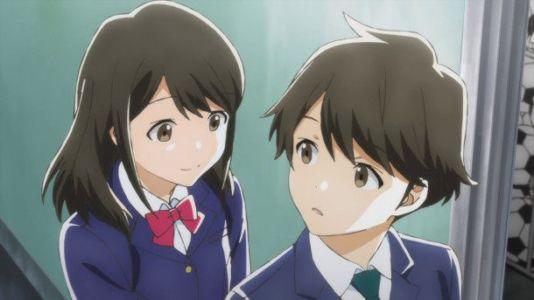 Tsuki ga Kirei is a must-watch for anyone who enjoys a wholesome and sweet love story. The show follows the love story of two middle school students, Akane Mizuno, and Kotarou Azumi. As they navigate the ups and downs of adolescence, they begin to develop feelings for each other and form a sweet and innocent romance.
The show explores themes of first love, communication, and personal growth, as the couple learns to overcome their shyness and open up to each other. The anime also delves into the struggles of their friends and classmates, depicting the challenges of young love and the awkwardness of teenage interactions. 
31. His and Her Circumstances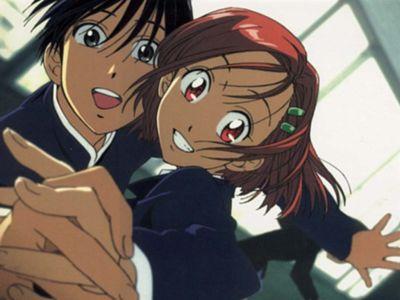 Kareshi Kanojo no Jijou, also known as Kare Kano, is a classic romance anime that focuses on the growth of its main characters, Miyazawa Yukino and Souichiro Arima. Yukino is a top student who appears perfect on the surface, but in reality, she is just trying to gain praise and recognition from others. Arima, on the other hand, is initially seen as the perfect student and is adored by everyone, but he is actually hiding a dark secret. When Arima discovers Yukino's true nature, their relationship begins to shift, and they both start to grow and learn from each other.
30. Yamada Kun And The Seven Witches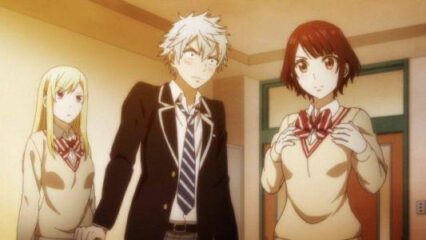 Yamada-kun and the Seven Witches is a romance school anime with a unique take on the body-swap theme. The story follows Ryu Yamada, a high school boy who accidentally switches bodies with Urara Shiraishi after they unexpectedly kiss each other. They soon discover that their school has a secret power–the power to switch bodies when they kiss.
As they delve deeper into this mystery, they realize that there are seven witches at their school, each with a different power. Yamada and Shiraishi will have to work together to find these witches and uncover the truth behind their strange powers.
29. Kiss Him Not Me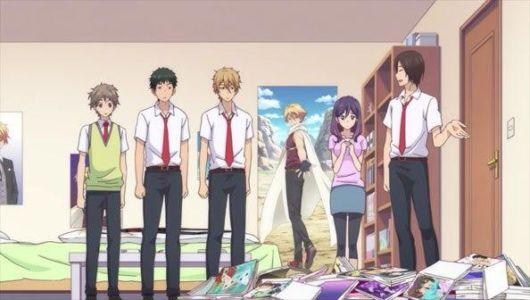 Kiss Him Not Me is a masterpiece romance anime, that is also a reverse harem series that you will enjoy! The story follows the fat girl "Kae Serinuma", who is what you'd call in Japanese a "fujoshi." when she sees boys interacting with each other, Kae gets lost in wild fantasies. Until one day her favorite character dies and she got depression which makes her lose massive amounts of weight.
Now that she is striking in her good looks, she is at the center of attention. She is surrounded by admirers who are attracted to her beauty. Thus, Certain handsome boys at school ask the protagonist out, who doesn't find it exciting at all. As she fantasizes that they would rather date each other instead.
28. Orange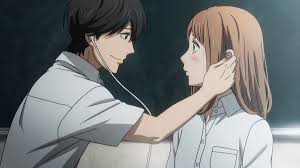 Orange is among the top romance anime of all time that will leave you feeling fulfilled. The story centers around Naho Takamiya, a 16-year-old high school student who receives a letter from her future self, warning her to look out for a new transfer student, Kakeru Naruse. As Naho gets to know Kakeru and the rest of her classmates, she realizes that the letter is an attempt to change the future and prevent Kakeru's tragic fate.
Throughout the series, the importance of friendship, love, and support are highlighted as Naho and her friends work together to protect Kakeru and make the most of their time together. The sci-fi twist adds an intriguing element to the story, making it a unique and memorable experience for viewers.
27. Re: Life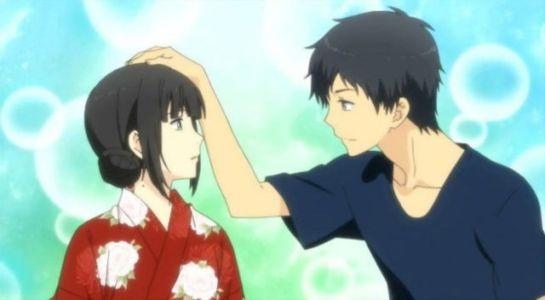 ReLIFE is an engaging anime series that follows the story of a young man who is feeling discontent with his life. Approaching his thirties, he longs for a chance to start over and change everything. Miraculously, he gets his wish and is given the opportunity to become a 10-year-old high school student.
Through his experiences in high school, he discovers the beauty of youth and the importance of the relationships he forms. With new friends, exciting activities, and a high school crush, Arata finds joy and purpose in his new life. Though he knows it won't last forever, he cherishes every moment and learns valuable life lessons along the way.
26. The Pet Girl of Sakurasu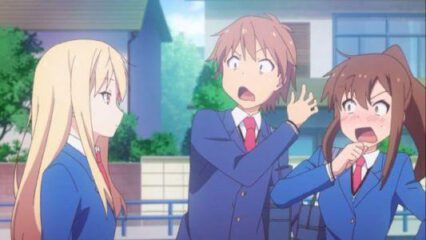 Produced by J C Staff, The Pet Girl of Sakurasou is an excellent school drama romance anime that offers a diverse range of emotions and themes, making it enjoyable for fans of all ages. The plot revolves around Sorata, who is forbidden from keeping pets in his school dormitory. He is then transferred to Sakura Hall, a place for peculiar individuals such as Jin, Ryuunosuke, and Mashiro. Sorata's new responsibility is to care for Mrs. Sengoku and her increasing number of stray cats. This task adds to the challenges he faces in his life.
25. Love Chunibyo and Other Delusions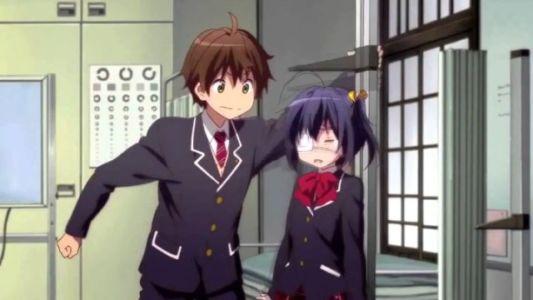 The anime features a captivating blend of romance, school, and fantasy themes, and boasts a colorful and quirky cast of characters that have charmed fans worldwide. The plot focuses on Yuuta, the protagonist, who once experienced "Chuunibyou" syndrome in middle school. However, upon graduating, he attempts to move on from the past. Unfortunately, his life takes an unexpected turn when he becomes entangled with Rikka, an eccentric young girl who disrupts his dream of leading an ordinary life. This heartwarming and hilarious story follows Yuuta as he learns to come to terms with his embarrassing past, but with Rikka's arrival, it seems like his memories will never truly fade away.
24. Say I Love You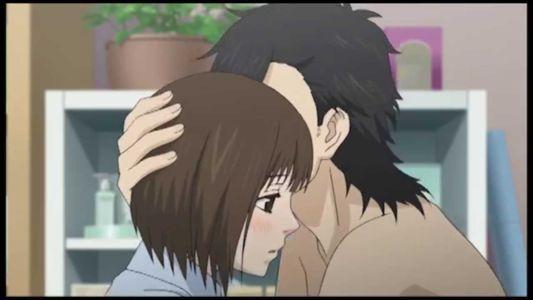 Say I Love You is a romantic anime series that follows the story of an unpopular high school girl who struggles to trust her friends and find love. Due to a painful past, she has no close friends or romantic relationships to enjoy her school life.
One day, Mei accidentally hurts Yamato, one of the most popular students in school, due to a misunderstanding. In spite of this, Yamato takes an interest in her and declares that they are friends before resolving the issue. To Mei's surprise, Yamato goes above and beyond to protect her from a stalker, sealing the moment with a sweet kiss.
23. The Melancholy of Haruhi Suzumiya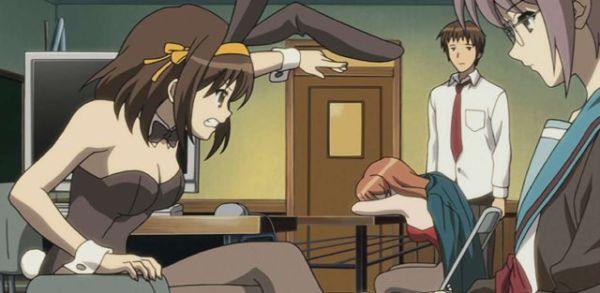 The Melancholy of Haruhi Suzumiya" follows Kyon's proposal to Haruhi to start a club, which led to the formation of the SOS Brigade, catering to those interested in the supernatural. Kyon, Yuki Nagato, Mikuru Asahina, and Itsuki Koizumi are all recruited as new members of this notorious club. The anime's storyline is packed with wild adventures that often take the characters into magical realms. This romantic school anime is centered around the unusual personalities of the characters and their daily escapades.
22. Kaguya Sama love is War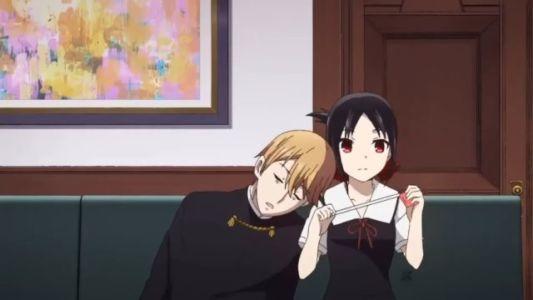 Kaguya-Sama Love is War is a fresh and exciting romance anime series that will leave you eagerly anticipating each new episode. The story is set in a high school where two elite students, Miyuki Shirogane and Kaguya Shinomiya, hold high rankings in Japan.
Miyuki is the student council president, while Kaguya, who comes from a wealthy family and excels at everything, serves as the vice president. Despite being admired by their peers for their seemingly perfect partnership, their relationship is not without its challenges. They are both too proud to confess their feelings to one another, resulting in a battle of wills for love.
The story revolves around their ongoing competition, with the victor being the first to confess their feelings. It's a thrilling game of cat and mouse, and viewers will be hooked on seeing who will emerge victorious.
21. Spice and Wolf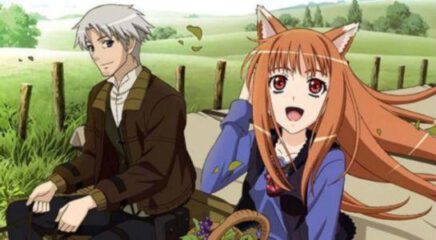 In a world where the economy is ruled by medieval practices and mythical creatures roaming the land, "Spice and Wolf" follows the story of a traveling merchant named Lawrence on his journey to opening his own store.
One fateful day, Lawrence encounters Holo, a wise and witty wolf deity, who offers to accompany him on his travels. As they journey through different towns and face various challenges, they develop a unique bond that transcends the boundaries of species and societal norms. Amidst intricate schemes and dark humor, Lawrence and Holo's relationship evolves into a captivating romance that tests the limits of love and loyalty.
20. Bokura ga Ita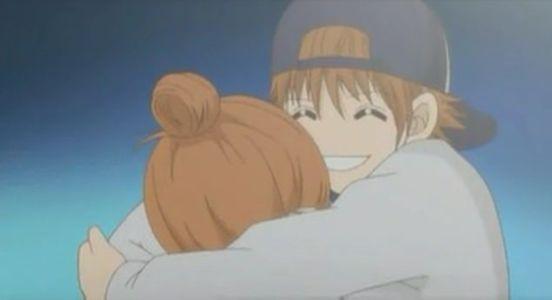 Bokura ga Ita is a captivating and emotionally filled anime that delves into the complexities of young love. The story centers around Nanami, a high school student who falls for the charming and mysterious Yano. Despite their mutual attraction, Yano's past continues to haunt him, as he struggles to come to terms with the tragic loss of his ex-girlfriend.
As Nanami and Yano navigate the ups and downs of their relationship, they are forced to confront their own insecurities and fears. Along the way, they encounter a diverse cast of characters, each with their own unique struggles and experiences. Through its raw and honest portrayal of young love, Bokura ga Ita does its best in exploring themes of loss, grief, and the power of human connection.
19. Ore Monogatari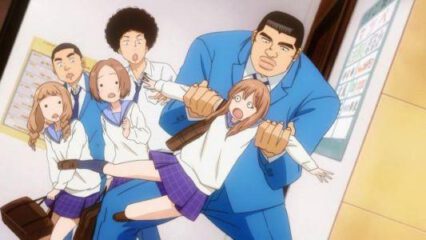 My Love Story is a romantic comedy anime that follows Takeo Gouda, not your average high school student. Despite his muscular build and tall stature, he has a kind heart and is respected by all boys as a brave person.
However, when it comes to love, Takeo's luck is not as good as his best friend's. Despite his own unrequited feelings for Yamato, he often finds himself playing cupid for his friend who seems to have no trouble wooing pretty female students.
One day, Takeo saves a girl's life in a heroic act, but he later suspects that she has fallen for his friend instead. Despite this, Takeo remains steadfast in his love for Yamato and continues to support her from the sidelines, even if it means sacrificing his own happiness. Follow Takeo's journey as he navigates the ups and downs of high school romance, friendship, and self-acceptance.
18. Kimi Ni Todoke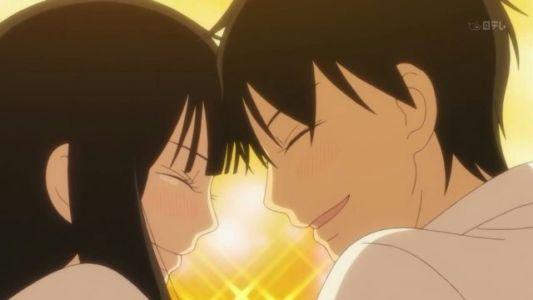 Sawako Kuronuma has always been an outcast at school, misunderstood and misjudged by her peers who fear her quiet demeanor and eerie resemblance to the ghost girl from "The Ring." But deep down, Sawako is a kind and gentle soul yearning for genuine human connections.
Then one day, Kazehaya, the most popular boy in class, breaks the ice and befriends Sawako, seeing past her exterior and discovering her true self. As Sawako's world opens up and she begins to experience the joys and struggles of teenage life, she also finds herself developing feelings for Kazehaya.
But with misunderstandings and obstacles at every turn, Sawako's journey to find love and acceptance is anything but easy. Will she be able to overcome the challenges and find happiness with the boy who has captured her heart?
17. Ouran High School Host Club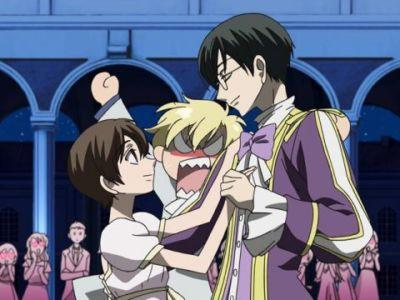 Haruhi, who is initially annoyed with the club's frivolous and shallow activities, gradually learns more about the members and their individual quirks. She becomes more involved with the club's activities and even takes on the role of a host, surprising everyone with her natural talent for entertaining guests.
As she spends more time with the members, Haruhi begins to develop romantic feelings for one of them. However, the situation becomes complicated when the members start to question their own feelings towards Haruhi, leading to a love triangle that threatens to tear the club apart. Despite the drama, Haruhi's presence in the club ultimately brings them all closer together, and they learn valuable lessons about friendship, acceptance, and love.
16. 5 Centimetres Per Second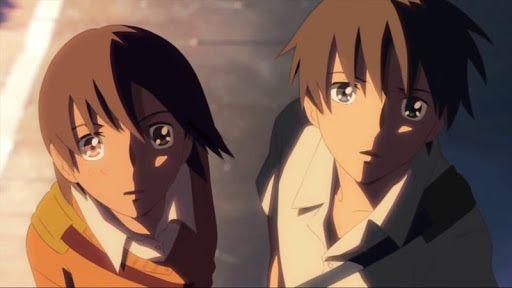 In the anime movie masterpiece, 5 Centimeters Per Second by CoMix Wave Films, Takaki and Akari share an unbreakable bond from childhood. However, fate cruelly separates them, and despite their promise to keep in touch, the passing of time creates an insurmountable distance between them.
Their story is one of heartbreak, longing, and the harsh reality of long-distance relationships. Takaki and Akari find themselves trapped in the past, unable to move on and create new memories. As they struggle to come to terms with their separation, their pain spills over into their everyday lives, causing them to hurt themselves and those around them. 5 Centimeters Per Second is a poignant tale that explores the true meaning of love and the pain of letting go.
15. Nodame Cantabile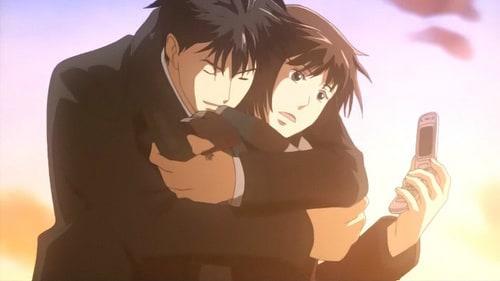 Nodame Cantabile is a beautiful love story between two aspiring musicians. Shinichi Chiaki, a talented pianist, has always dreamt of being the best in Europe. However, his life takes a turn when he meets Nodame, an eccentric pianist who plays with her heart and soul. As their paths cross, Shinichi is drawn to Nodame's unique and captivating sound. Little does he know, Nodame lives next door and has fallen deeply in love with him.
Their love story is not an easy one, but their passion for music and each other keeps them going. It's a story of two individuals who inspire and challenge each other to reach new heights in their musical careers, all while navigating the complexities of love and life. Nodame Cantabile is truly a masterpiece, and watching their journey to find happiness together is a treat for any romance anime fan.
14. Snow White With The Red Hair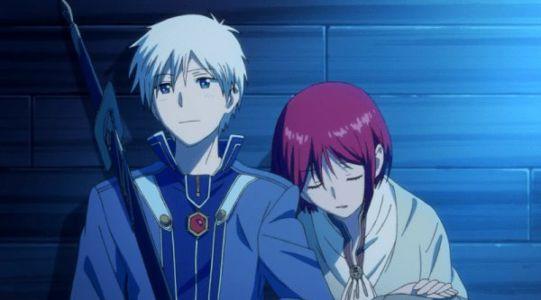 In Snow White With The Red Hair, Shirayuki, the protagonist, was born with striking red hair, which caught the attention of the handsome Prince Raji. The Prince ordered that she become his concubine, leaving Shirayuki in a desperate situation. With no other options, Shirayuki decides to cut her hair and escape to the neighboring kingdom.
In the new kingdom, she meets Zen, a handsome stranger, who becomes her friend and confidante. The anime follows Shirayuki's journey as she navigates her new life in Clarine's palace and Zen's path to becoming a worthy prince. As they grow closer, Shirayuki and Zen learn to rely on each other during challenging times and find themselves falling deeply in love. The show is a beautiful portrayal of the transformative power of love and the strength that comes from overcoming adversity together.
13. My Little Monster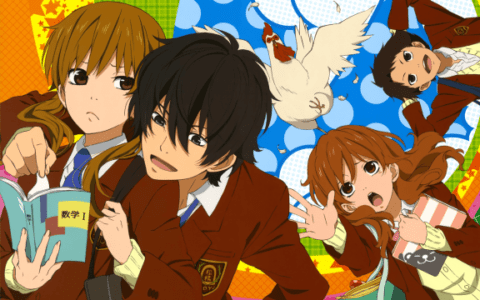 My Little Monster is a mix of comedy and romance, focusing on the unlikely relationship between two high school students with no friends. Shizuku Mizutani is a studious and detached girl, who only cares about getting good grades. Her life takes an unexpected turn when she meets Haru Yoshida, a rebellious troublemaker who is as lost as she is. Haru, who is equally unfamiliar with human emotions, declares that Shizuku is his friend and confesses his love to her.
As Shizuku tries to navigate her newfound friendship and confusing feelings toward Haru, she discovers that there is more to him than his tough exterior. The two explore the complexities of their relationship and learn about their own emotions along the way. With school as its backdrop, this shoujo anime takes a humorous and heartwarming look at the ups and downs of young love.
12. Lovely Complex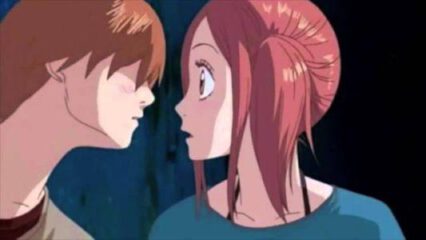 Lovely Complex is a delightful romantic comedy that revolves around the unlikely pairing of Risa and Ootani. Despite their constant bickering and teasing, the two begin to develop a close friendship as they navigate the ups and downs of high school life. Along the way, they discover a shared passion for music and fashion, which only strengthens their bond.
Even with their initial differences and the constant jokes about their height difference, Risa's growing feelings for Ootani surprise even herself. As they continue to explore their relationship, they find themselves on a wild and hilarious journey full of ridiculous antics, heartwarming moments, and unexpected revelations. Let us follows Risa and Ootani as they discover that sometimes, the most unexpected connections can lead to the greatest love stories.
11. Horimiya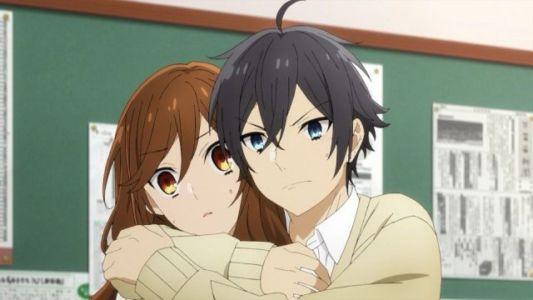 Horimiya is a fresh addition to the romance anime genre that defies expectations. Despite their seemingly incompatible personalities, Kyouko Hori and Izumi Miyamura quickly form an unexpected bond as they discover their shared quirks and secrets. Their time spent together at Hori's home gradually leads to a deeper understanding of one another, as they learn to appreciate and accept each other's differences.
With a lighthearted and humorous approach, Horimiya is a delightful love story that showcases the protagonists' fondness and easy acceptance of each other through simple yet heartwarming interactions. Don't miss out on this heart-touching tale!
10. K-ON!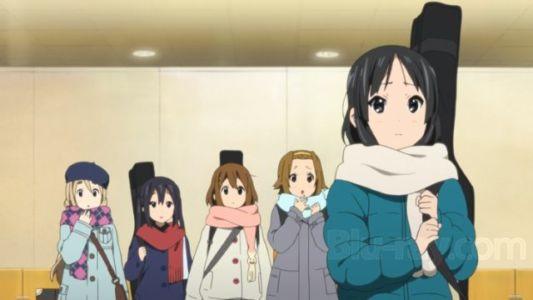 In high school, joining a club can be one of the most rewarding experiences. Yui stumbles upon the Light Music Club, which is searching for new members, but she feels discouraged since she cannot play any instruments.
As the Light Music Club faces the threat of disbandment due to a lack of members, they try their best to persuade Yui to join. Despite their efforts and promises, Yui initially resists joining the group.
However, their last-ditch effort proves successful, and with a heartfelt song, they convince Yui to become a member of the Light Music Club. From that moment on, their days are filled with joyful musical performances and heartwarming moments of friendship.
9. Kokoro Connect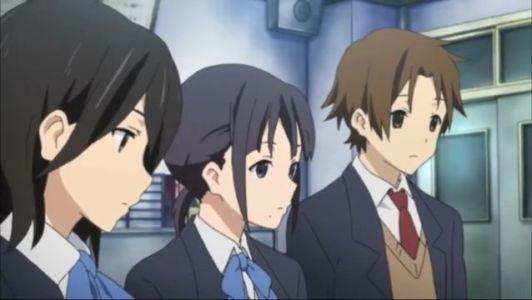 Kokoro Connect is a great anime that follows a group of high school students who become unwittingly linked by a supernatural phenomenon. Aoki and Yui initially swap bodies, but as the others begin to experience the same phenomenon, they discover that they are connected in a deeper way. As they grapple with their newfound connection, tensions rise and relationships are put to the test, forcing them to confront their own conflicts and emotions. This relatable school romance anime is sure to resonate with viewers, bringing back memories of their own high school days.
8. Nisekoi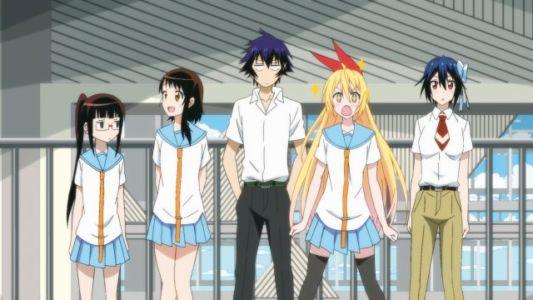 Nisekoi is a hilarious romantic anime that revolves around Raku, a boy who gets caught up in a mafia rivalry and is compelled to pretend to date Chitoge, the daughter of a rival gang boss. With their drastically different personalities, Raku and Chitoge manage to conceal their fake relationship from everyone. Throughout the series, viewers get a glimpse of the couple's daily lives and how they navigate their complicated situations to maintain peace between their families.
While Raku is bound to Chitoge, he finds himself spending more time with other girls who seem to have a connection to his past. As Raku searches for his childhood crush, the story takes an exciting turn with plenty of humorous moments along the way.
7. Golden Time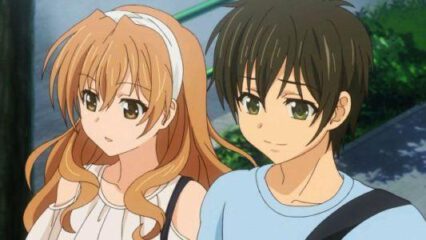 Continuing on our list of romantic anime, Golden Time is a captivating school drama that centers around Banri Tada, a young man who lost his memories of childhood due to amnesia. Hoping to start anew, he enrolls in a law school in Tokyo. One day, he meets Kouko Kaga, a stunningly beautiful girl who turns his life upside down. Their fateful encounter leads to a series of events that take Banri on a journey of self-discovery, filled with new friendships, love, and unexpected twists and turns. While facing various challenges, Banri tries to remain determined to hold on to this newfound happiness and the special moments he shares with Kouko, creating memories that he will always treasure.
6. Toradora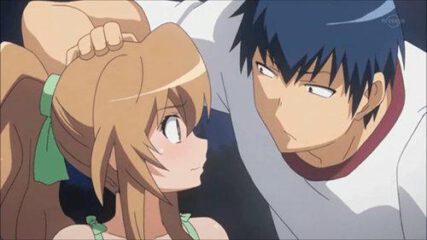 Toradora is a well-recommended romantic comedy anime from 2008 that tells the story of Ryuuji Takasu, a high school student who meets a cute but short-tempered girl named Taiga Aisaka. Despite her tsundere personality, Ryuuji is drawn to her and they soon become unlikely friends.
As they try to help each other confess their feelings to their crushes, their own relationship begins to develop and they find themselves falling for each other instead. The show is a rollercoaster of emotions, filled with heartwarming moments and hilarious antics as Ryuuji and Taiga navigate their feelings for each other and the challenges of high school life.
5. Your Lie in April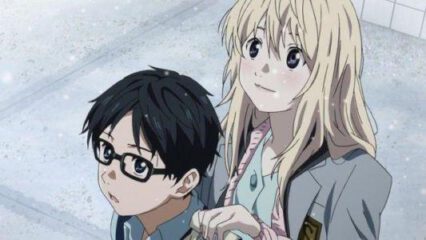 Among the best recommendations, we have Your Lie in April, a touching and emotional coming-of-age romance anime that explores themes of love, loss, and the power of music. It follows the story of Kosei Arima, a gifted pianist who loses his passion for music after the death of his abusive mother.
However, Kosei's life takes an unexpected turn when he meets a free-spirited violinist named Kaori Miyazono. Through their shared love of music, they form a deep and profound connection that helps Kosei come to terms with his past and rediscover his passion for the piano.
Set against the backdrop of high school, the show offers a moving exploration of the complexities of teenage life, as the characters grapple with issues of identity, self-discovery, and the search for meaning in a world that often seems confusing and uncertain.
4. Kaichou Wa Maid Sama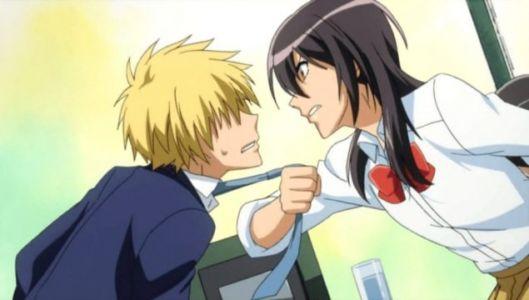 Seika High School has never seen a female student council president before, but Misaki Ayuzawa breaks the mold. She works tirelessly to improve school life for girls, but her strictness with the boys has earned her the nickname "Demon President."
One day, Misaki confronts Takumi Usui, the school's most popular boy, after he rejects a girl's love confession. But when Misaki later finds herself working at a maid cafe, she's embarrassed to see Usui there. Determined not to let him ruin her reputation, Misaki tries to keep her secret safe from him. However, Usui starts visiting the cafe regularly to tease her, and Misaki wonders if he'll keep her secret or reveal it to the whole school.
3. Anohana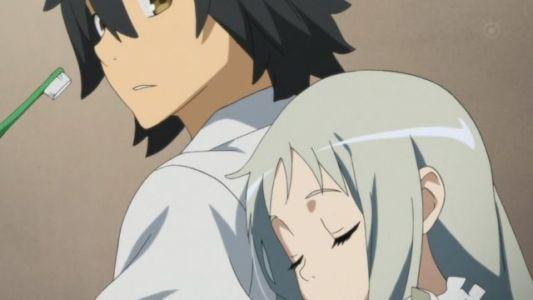 Anohana is a heart-wrenching anime that tells the story of a group of childhood friends who drifted apart after the tragic death of one of their own, Menma. Years later, the group is reunited when Menma's ghost appears to Jinta and asks him to fulfill her wish. This sets the group on a journey to come to terms with their past and find closure for Menma's spirit. Through tears and heartache, the group learns to confront their feelings of guilt, regret, and love for Menma and each other, ultimately finding healing and moving forward in their lives.
2. Fruits Basket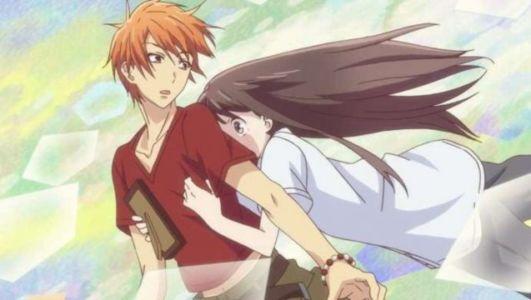 Fruits Basket is an emotionally lovely anime with a romance story that delves deep into the complexities of love, loss, and family. After losing her mother and being forced to live in a tent, Tohru Honda is taken in by the mysterious Soma family. Little does she know, the Soumas are cursed and transform into animals from the Chinese zodiac when hugged by someone of the opposite gender. Tohru is determined to break the curse and uncover the dark secrets that lie within the walls of the Souma household. Along the way, she develops deep relationships with the cursed members and finds herself falling in love amidst the chaos.
1. Clannad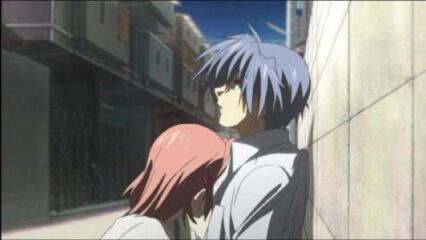 Finally, we have Clannad, a beautiful and touching anime about a high school boy named Tomoya, who meets a shy and introverted girl named Nagisa. As they spend more time together, they become close friends and eventually fall in love.
However, the show is not just about their romance. It also explores the challenges and joys of growing up, dealing with family issues, and learning to cherish the precious moments of life. While the anime can be sad at times, it also has many uplifting moments that make it worth watching. Overall, Clannad is a must-see for anyone who enjoys heartwarming stories, relatable anime couples, and touching relationships.