I personally like anime girls, and especially those red haired ones :). Now, get ready to meet some of the most iconic and unforgettable red-haired anime girls out there! In this article, we're diving into the world of anime to showcase the best and most powerful red-haired female characters.
From classic series to recent releases, these anime girls with fiery locks are sure to leave an impression with their unique personalities and distinct looks. Whether it's ginger, auburn, or copper hues, these red-haired anime characters are sure to capture your attention with their charm and allure.
Without further ado, sit back and enjoy as we introduce you to some of the most popular and beloved red-haired anime girls in the industry!
53. Saki Saki  from Kanojo mo Kanojo
Starting off the list of the best red haired female anime characters with Saki, the girlfriend of Mukai Naoya, and one of the main female characters in the Kanojo mo Kanojo series, along with Naoya's other girlfriend, Minase Nagisa. Saki is a teenage girl with long magenta hair and eyes. When wearing her school uniform, she sports a magenta bowtie and a pair of black thigh-high socks. Saki is described as a cheerful, energetic, and emotional girl. She is also naive and forgetful at times. She excels in sports and can be aggressive towards anyone, especially Naoya, whose actions she finds excessive.
52. Anzu Hoshino from Romantic Killer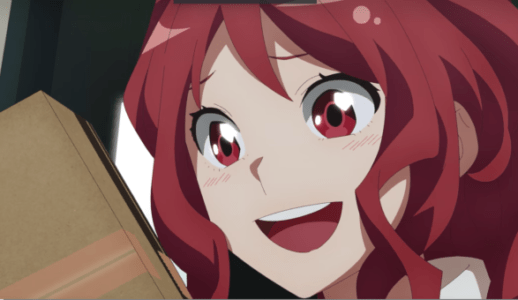 Anzu Hoshino from Romantic Killer anime and manga series is a high school red-haired girl who enjoys video games, cats (especially her pet Momohiki), and chocolate. In her human form, Anzu has red hair with red-orange eyes tinted with flaming orange tips. She wears a white dress with detached star sleeves, a long red skirt with some star shapes, and dark, thigh-high stockings with star shapes at the ends along with a pair of white high heels. Despite her human appearance, people who notice her unusual features usually assume she is cosplaying. Anzu's true form is that of a large dragon with magnificent wings.
51. Tania from Beast Tamer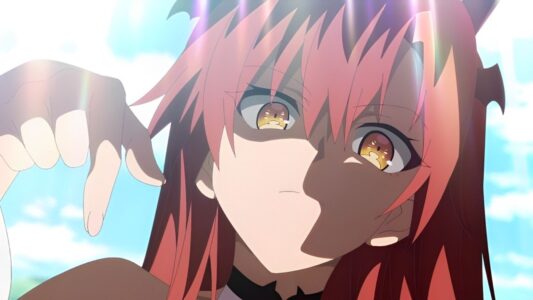 If you're looking for both a beautiful and powerful anime girl with red hair, then Tania from Beast Tamer is the best one!  She is portrayed as a dragon who travels the world seeking out strong opponents to challenge. She is eventually defeated by Rein and Kanade, and after befriending them, she joins their party as their second contractual member. Tania is the main female character in the Beast Tamer series. In her human form, Tania has red hair with red-orange eyes tinted with flaming orange tips. She wears a white dress with detached star sleeves, a long red skirt with some star shapes, and dark, thigh-high stockings with star shapes at the ends along with a pair of white high heels. Despite her human appearance, Tania retains her horns and tail, which makes her stand out. People who notice her unusual features usually assume she is cosplaying. Tania's true form is that of a large dragon with magnificent wings.
50. Rebecca Scarlet from Black Clover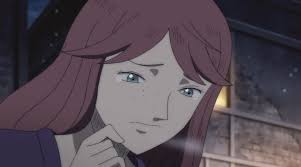 Black Clover is a magic anime series that has gained a lot of popularity among fans, and its characters are all exciting and memorable. One such sweet character is Rebecca, a young woman of average height with a slim and shapely figure. She has long, wavy red hair and deep blue eyes. When she first meets Asta, she acts distant and reserved, but after Asta protects her and gains her trust, she reveals her true nature as a kind and energetic young woman. She is deeply caring towards her siblings, so much so that many people mistake her for their mother. In order to provide for her siblings, Rebecca takes on the job of a housekeeper at the young age of 16.
49. Ayano from Kaze No Stigma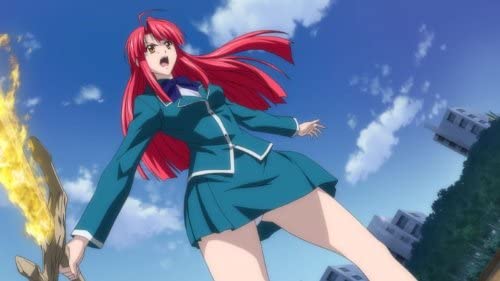 Among the most beautiful anime girls with red hair is Ayano from Kaze No Stigma. She is a young scarlet-haired woman of average height with long, dark red hair styled in a home trim and golden eyes. She is known for being reckless, moody, careless, and presumptuous, and takes her role as a member of the Kannagi family very seriously. Ayano is also very passionate and fiery, both in her actions and in her personality, which is reflected in her fiery red hair. In addition to her fire-based powers in Kaze no Stigma, Ayano also exhibits a hot-headed, tsundere personality. She is fiercely protective of her family and their traditions, and can sometimes show sudden outbursts of anger and desire when it comes to matters of the heart. Despite her sometimes volatile nature, Ayano is a strong, independent woman who cares deeply for her loved ones and will not let anyone harm them.
48. Lilith Asami from Trinity Seven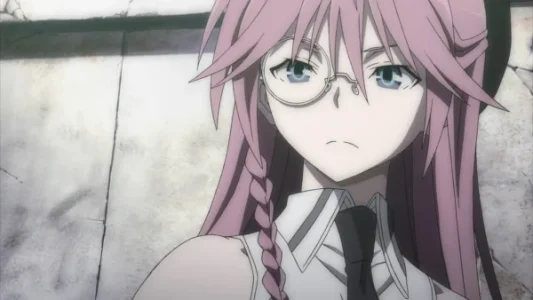 Lilith is by far one of the most beautiful Red-haired female anime characters on our list. She comes from the Trinity Seven series, where she is known for her intense personality, but she can also be quite amusing at times. When provoked, she becomes flustered and turns red, which is endearing and amusing to watch. Despite her tough exterior, she is also a very intelligent young lady who is concerned about her missing siblings. Overall, she is a compelling and entertaining character to watch on screen, and her "tsundere" smile is a highlight of the anime.
47. Satanichia Kurumizawa from Gabriel Dropout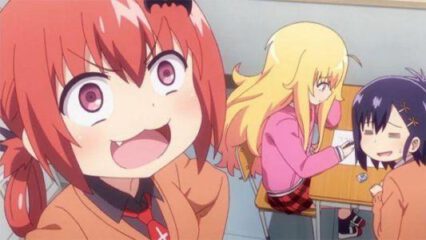 Satanichia Kurumizara is a red-haired anime character, in the show she is known as the devil king, but she is actually a kind and sensitive person who just wants to be liked. Despite her attempts at causing mischief, she often fails and ends up being more sympathetic than evil. She is a very cute and adorable girl, particularly when she is wearing her school uniform, and her red hair and red eyes make her stand out. If you enjoy watching characters who are a little bit impulsive, Satanichia might be one of your favorite anime girls with red hair. She typically wears her school uniform, and a bat-shaped barrette can be seen in her hair. Satania's family is a successful bakery business and considers themselves to be nobility who are above ordinary people, which might contribute to her character.
46. Yatorishino Igsem from Alderamin On Sky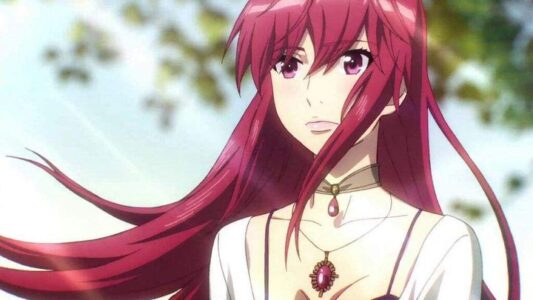 Yatori is a red hair heroine from a Alderamin On Sky anime series, she is known for her immense beauty and her skills as a fighter. She is a pretty anime girl with striking red hair that falls to her thighs (or abdomen when she was a child), purple eyes, full lips, and a slender but strong build. Despite facing difficult circumstances, Yatori always gives her best effort and never shows weakness. However, her determination is tested when she meets Ikta Solork, who challenges her to keep her strong will in check.
45. Liz T. Blood from Blood Lad
Liz is a young girl, approximately 11 to 13 years old, with medium-length red hair styled in twin tails. Despite her shyness, Liz is a kind and charming child. However, she feels ignored by Braz and becomes resentful of Staz, whom Braz seems to favor. Though Liz may initially come across as irritating, she is a lovable character as the story progresses. She has a cute face and craves love and attention, believing that anyone who is kind to her must want something in return. So, since Liz is also visually appealing, she is one of the Top red-haired anime girls to root for.
44. Kahono from Black Clover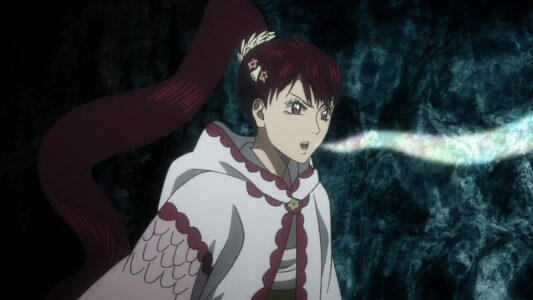 Kahono is a lovely female character with auburn hair from the magical world of Black Clover. She is a thin young woman with red eyes and a well-shaped body. She wears a gold chain necklace with a whale pendant. She is someone who finds peace in the sound of waves and has a bubbly personality. Despite her energetic and lively character, she is also strong and determined, as shown when she speaks with Noelle about her magic. As the Seabed Priestess, Kahono is confident in her dreams and has strong convictions, as demonstrated when she talks with Noelle about her throat issue.
43. Chise Hatori from The Ancient Magus' Bride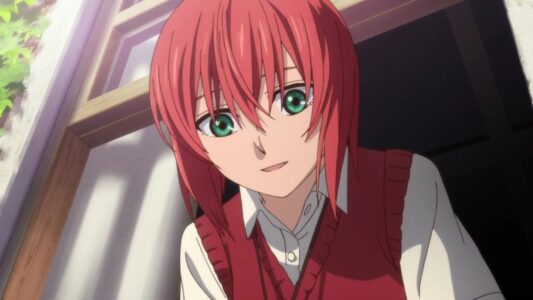 Moving on, Chise Hatori is of the top anime girls with ginger hair. In the series, she is portrayed to have a deeply tragic past, as she was abandoned by her parents at a young age. While the writers do not devote much attention to her in the anime, it is satisfying to see her grow and explore herself more as she becomes older. She is a motivated and inspiring young woman who demonstrates the strength needed to overcome life's challenges and achieve one's goals. Additionally, Chise is skilled in social interactions and is able to make friends easily, despite carrying a heavy heart.
42. Kyoko Sakura from Madoka Magica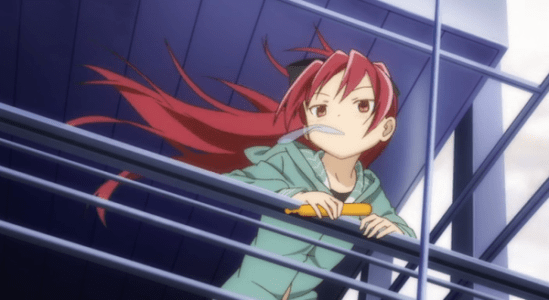 Next up, we have Kyoko, who is one of the most iconic anime girls with red hair. She is a skilled sorceress and a kind-hearted young woman who always tries to help those in need. Despite her tough exterior and tendency towards stubbornness and ego, she has a deep care for others and will go out of her way to support them when they are in trouble. She has a distinctive appearance, with long raspberry-red hair styled in a high pigtail and blood-red eyes framed by rose-colored bangs. Kyoko enjoys wearing her magical attire but is also comfortable without ordinary human clothing. Despite her fiery personality and moments of arrogance, Kyoko is ultimately compassionate and caring towards those she holds dear.
41. Fana from Black Clover
There are a lot of red-haired female characters in the anime series Black Clover, and Fana is one of them. She is a small, slender young person with expressive features. She has thick, wavy, pink/red hair that falls just below her shoulders and large, ocean-green eyes. The center of her forehead is adorned with a purple, multi-colored mage stone, outlined by a red tattoo. Beneath this mage stone, she has a third eye. Despite serving as the main antagonist in the Eye of Midnight Sun arc, Fana is known to be kind, mild-mannered, thoughtful, and respectful. She is also accompanied by a fierce, fiery lizard.
40. Sala Shane from Charlotte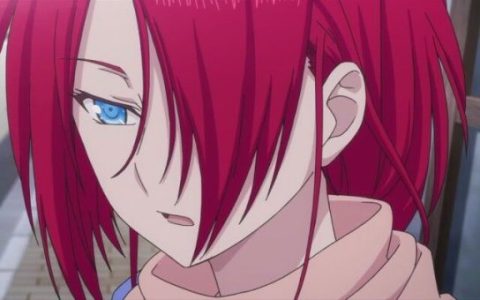 Sala is a lesser-known character on our list, but such a cute anime girl with red hair can be found in the anime Charlotte. She is a thoughtful and determined young woman who radiates positivity. In terms of appearance, Sala has fair skin and long fuchsia hair that is tied back in a pigtail, with a fringe covering her left eye. She has light blue eyes. Sala is generally quiet and exhibits typical tourist behavior, but she is deeply interested in Japan and its culture. At first, she is very eager and enthusiastic, asking Yu if he knows where to find Modern-Yaki, a Japanese dish. Despite being relatively quiet, Sala is a talented artist in the Charlotte universe.
39. Emi Yusa from The Devil Is A Part Timer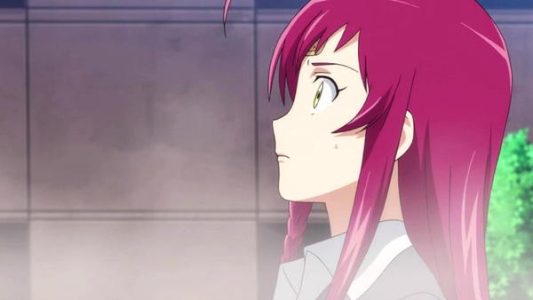 Emi Yusa is a red-haired female anime character in the series The Devil Is a Part-Timer! She is a kind and compassionate person who has long, red hair and is often seen wearing ordinary Japanese uniforms or casual clothes. In the story, Emi is a powerful angel who has already defeated the overpowered demon king Sadaou Maou in the demon world and forced him to flee to the human world. Despite her initial distrust of Maou, Emi eventually comes to see him as a kind and honest person and becomes his friend.
38. Mito Jujo from Owari No Seraph
Mito Jujo is a red haired girl in the anime and manga series Owari no Seraph (Seraph of the End). She is a member of the Japanese Imperial Demon Army and a member of the Jujo family, one of the most powerful vampire clans in the world. Mito has long, red hair and is usually seen wearing the uniform of the Japanese Imperial Demon Army. She is a skilled fighter and is known for her strong will and determination. Mito is also a caring and supportive person and is a good friend to the main character, Yuichiro Hyakuya.
37. Serara from Log Horizon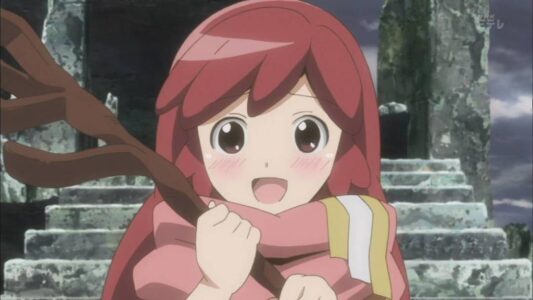 Serara is a young and gentle female anime character with long red hair and a pink scarf with white and yellow stripes. She wears an orange top, a white and blue dress with a pink fabric tied to one side, and a pair of earthy-colored shoes. Despite her kind and trusting nature, she can become easily upset and anxious, especially when it comes to topics like love and marriage. Despite her young age of 15, Serara possesses great healing abilities and is skilled at housekeeping. She has a tendency to wear silly outfits but still manages to look charming in them. Overall, Serara is a lovable and beguiling female character with her red hair and kind personality.
36. Stephanie Dola from No Game No Life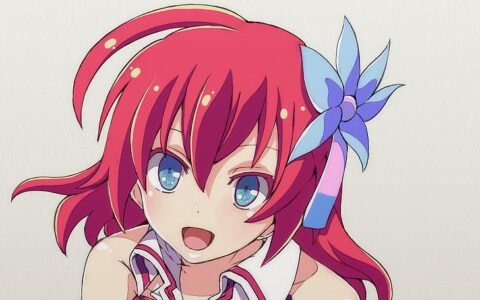 Stephanie is a beloved anime girl with red hair and blue eyes, which makes her a charming female character with a sparkling personality. She is not only beautiful but also highly intelligent and naive, which adds to her appeal. Despite her naivety, she is a capable leader, as demonstrated by her role as the leader of an entire country. Stephanie's traditional Japanese attire only enhances her charm and makes her even more attractive to anime fans. Overall, Stephanie is a captivating and sweet female character who is sure to win the hearts of many.
35. Kallen Stadfeld from Code Geass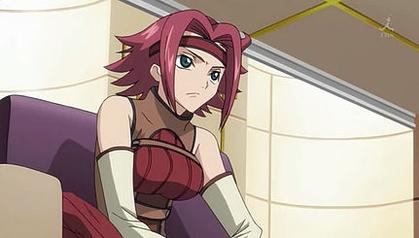 Kallen is a strong and slender young red-haired anime woman with a pretty face and striking blue eyes She is known for her stylish appearance, both at school and in battle, where her hair is often styled upwards. Despite her elegant demeanor, Kallen is a fierce and determined fighter who believes in justice and is willing to do whatever it takes to defend those she cares about. She is highly skilled in combat and is often seen as a formidable opponent on the battlefield. In addition to her physical strength, Kallen also has a strong sense of leadership and is able to command respect and authority, making her a natural fit for a Queen's role. Yeah, Kallen is a well-rounded and interesting character in the anime Code Geass, with a perfect balance of beauty and strength.
34. Kotori Itsuka from Date A Live
Kotori is a charming middle school anime girl with red eyes and long, light coral-colored hair that is usually styled in a twin-tail haircut, held together with strips of various colors. Kotori has three distinct personalities depending on the situation, and the color of the strips she wears often reflects her current mood. As a human, Kotori can be kind and caring, but later on in the anime, she becomes more grouchy and difficult to deal with. Initially, Kotori is a devoted sister, but later on, she takes on the role of the leader of the Fraxinus Airship, which causes her personality to shift slightly a little bit.
33. Sylvia Sherwood from Spy X Family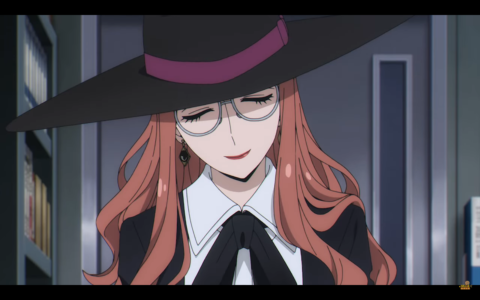 Sylvia can be frustrating at times. She is a full-metal woman who is fully committed to her role as a top gun and leader of the Twilight faction. She is a young woman with a petite body and narrow blue eyes that droop at the corners. She has long wavy orange/red hair and appears to have firsthand experience with war and its consequences. In one scene, she angrily lectures a group of college students who are trying to incite conflict between the East and West, criticizing them for their lack of understanding of the realities of battle.
32. Ryoko Sakaki from Food Wars!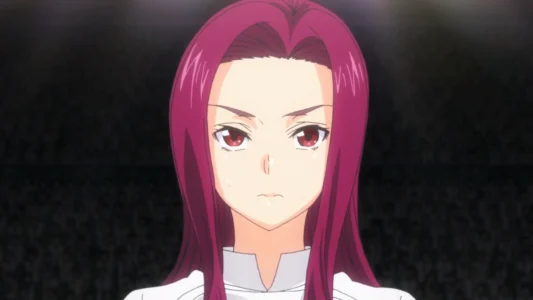 Although she may not be the main character in the anime Food Wars, Ryoko is a well-developed and interesting side character. She is outgoing and loves to have fun with others, and she has more quirks and unique habits than anyone else. Ryōko is also extremely beautiful, with red hair and orange eyes, and a slim and attractive figure. In fact, Ryōko has the potential to be a fan-favorite waifu due to her charming personality and appearance. She has waist-length fuchsia hair with parted bangs that reach her chest, bright orange eyes, a slim body, and a large bust. Ryōko is a kind and gentle person from the Polar Star Dormitory and compared to her more eccentric dorm mates, she is much more sensible and mature, reacting to most situations in a level-headed and appropriate way.
31. Shura Kirigakure from Blue Exorcist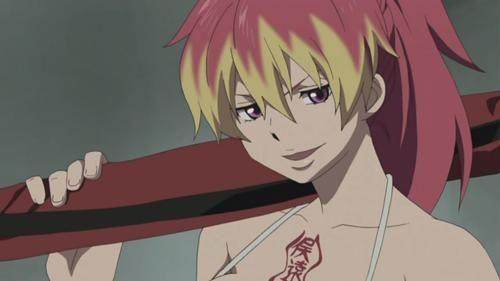 Shura is a striking and confident young woman from the anime Blue Exorcist. She is a pretty anime with re hair (which can appear hot pink) with blonde tips that resemble flames, which she keeps styled in a high braid. Shura has bright green eyes (pink in the anime) and full lips, and she is known for her cool and collected personality. When she is first introduced as Yamada, Shura seems to be quite peaceful and socially distant, preferring to spend her time playing on her PSP rather than interacting with others. She may not be the perfect waifu like some other female characters in anime, but she is a strong girl who can be trusted and relied on.
30. Akane Sakurada from Joukamachi No Dandelion
Among the best anime girls with red hair is Akane Sakurada, a shy and timid high school girl who is known for her extreme reluctance to be in front of cameras. Among a group of 100 bashful anime girls, Akane would stand out as the shyest, and her popularity among her fans is significant despite her shyness. She is so modest that she goes to great lengths to avoid being photographed, including memorizing the locations of all 200 cameras around the city. Akane is kind and compassionate and is always willing to help those in need. She has a standard build and is relatively short, but is noted for her beauty and lack of chest. As a member of the royal family, Akane is important, but she values her privacy and is the shyest member of her family.
29. Tiese Shtolienen from Sword Art Online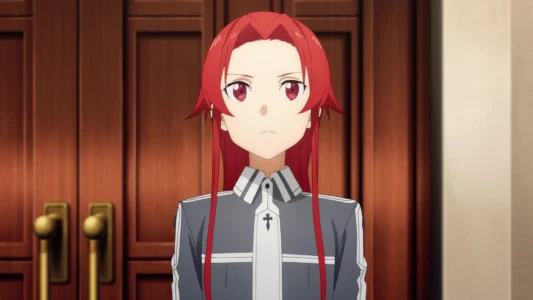 One of the most memorable supporting characters in the series is a hardworking and determined young female who strives to be the best version of herself. Unfortunately, she falls in love with Eugeo and their relationship plays a significant role in the anime. She is a slender and somewhat delicate young woman with dark red hair that is particularly one of the most beautiful girls in the entire series. Overall, this red haired female anime character is a standout in the series and is sure to capture the hearts of viewers.
28. Edward Wong from  Cowboy Bepop
Ed is a thin, copper-colored young person with radiant red hair. She is depicted with red cheek marks to emphasize her youthful appearance. Ed is an intelligent and resourceful individual who is skilled in programming and problem-solving. Despite her intelligence, she is also known for her childlike antics and playful nature. She may sometimes tease and tease others, but when it comes to finding solutions to difficult problems, Ed is the one to turn to. She is not the typical "waifu" type, but her unique personality and red hair make her a standout among other readheads anime girls.
27. Flare Corona from Fairy Tail
Flare is a young red haired anime girl, she has a curious and unsettling expression on her face and often appears disinterested in what is happening around her. Despite her aloof demeanor, Flare is a skilled fighter who is not afraid to use any means necessary to win. She has charming and beautiful eyes, making her a popular waifu in the series. Flare is pale-skinned and of average height, and she typically wears her hair in large plaits. She is often depicted with a detached and mischievous appearance, giving the impression that she enjoys teasing others.
26. Grell Sutcliff from Black Butler
Grell from the Black Butler anime and manga series is an unpredictable and energetic girl with red hair. She is passionate and sincere, and she wears her heart on her sleeve. She is also very sociable and doesn't know how to hide her feelings. Grell is a rare and special individual, and if you are lucky enough to have her in your life, be sure to cherish her.
25. AE3803 "Cells At Work"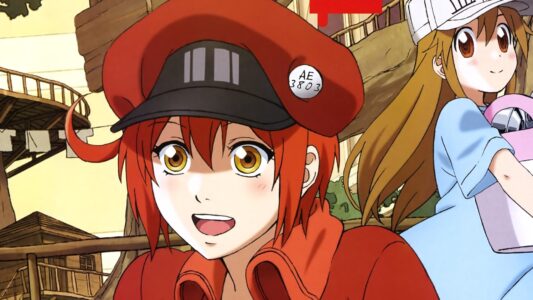 AE3803 is an underrated female character from the anime "Cells at Work!" She is a pretty anime waifu from the show and represents the role of red blood cells. In "Cells at Work!", the body is portrayed as a kingdom and the cells as officers. AE3803 is a cute and charming young woman who is dedicated to working alongside white blood cells to fight off foreign invaders in the body. She is an amazing and exceptional female character and is definitely worth standing out on our list of anime girls with red hair.
24. Karin from Naruto Shippuden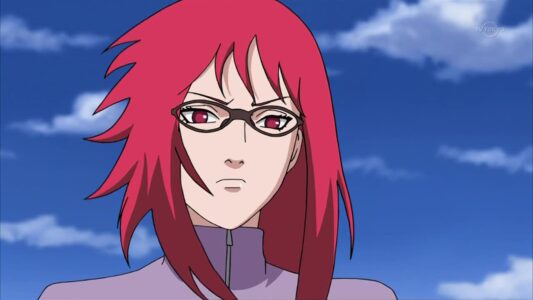 Karin's personality is unpredictable; she can be fierce and assertive at times, leading to her being harsh and critical. However, at other times, she is very flirtatious. Karin has red eyes, a pale complexion, and the signature red hair of the Uzumaki clan, which she styles in a unique haircut. Her hair is short and spiky on the right side, while longer and straight on the left side. Karin is a combination of introverts and extroverts, and she is only interested in Sasuke in the series. She is a caring young woman who wants to heal Sasuke if he ever gets injured in a fight. Initially, Sasuke sees her as a tool for healing, but later in the series, she is touched by Naruto's warm chakra and starts healing injured shinobi during the war. She is the perfect waifu and looks like a hot girl with glasses on. Karin is the one who helps Sasuke and Sakura deliver their child. One could say that she is one of the top anime girls with red hair in Naruto Shippuden, along with Kushina.
23. Suno from Dragon Ball Z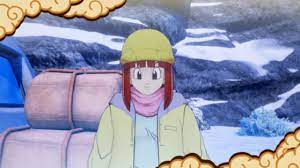 Suno is a young anime girl with red hair from the popular series Dragon Ball. She lives in Jingle Village, where Goku met her while he was searching for the Dragon Balls after the 21st World Martial Arts Tournament. When introduced, Suno was a young ten-year-old girl with medium-length red hair. Due to the climate, she lives in, she is often seen wearing warm clothing. Suno is a very kind girl who saved and protected Goku despite the apparent danger. Despite having just met Goku, she is deeply concerned for him when he launches his attack on Muscle Tower. However, she later shows a similar level of friendship for Android 8.
22. Cecily Cambell from The Sacred Blacksmith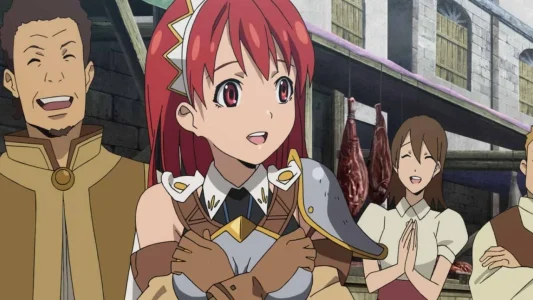 Cecily Cambell is a determined and fiercely loyal knight hailing from the Knight Guards of the Third Independent Trade City. Coming from a family with a long history of knightly service, Cecily followed in their footsteps and became a knight herself, despite her initial lack of proficiency with swords. In her first battle, she almost met her demise if not for the timely intervention of Luke. Known for her bold personality and stubborn nature, Cecily has red hair and eyes that match the fiery determination that drives her.
21. Eris Boreas Greyrat from Jobless Reincarnation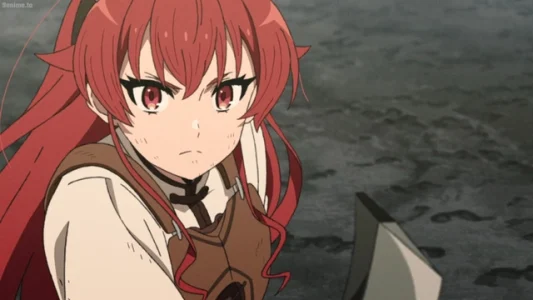 Eris is a hero in one of the most impressive Isekai anime series. She is a member of the imperial class and her character undergoes significant development as the story progresses. Initially, she is innocent and unwilling to compromise, as she is used to getting what she wants. However, as the series continues, she becomes more open-minded and sees things from different perspectives, which leads to her growth and development as a character.
20. Miia from Monster Musume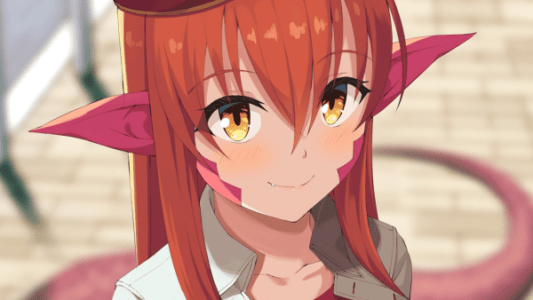 Miia is one of the best red haired anime beauties. She is a stunning Lamia with long, dazzling red hair and golden eyes with slit pupils like a snake's. She has large, sharp, and red ears, as well as teeth and a long tongue. As an international student from a race known for its seductiveness, Miia has a highly lustful personality. One of the best qualities of a waifu is when she is both bold and shy, and Miia fits this description perfectly. She is not only passionate but also overly protective of Kimihito. However, she becomes jealous when Kimihito talks to other girls, viewing them as threats. Aside from her loud voice and possessive nature, Miia is a beautiful and engaging female character who is worth getting to know by watching this anime.
19. Pina Co Lada from Gate: Thus The JSDF Fought There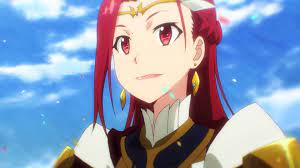 Pina is a cute anime girl who has dark red hair and eyes of the same color. She tends to wear light armor with heavy shoulder pads and a shirt that slightly reveals her cleavage. Piña Co Lada has a serious and tough personality, but after getting to know another person with Itami, she discovers otaku culture and is greatly influenced by it. Pina Co Lada sees herself as a royal and has high aspirations to bring about change in her home country. Initially, she was a good and driven person, but after meeting Itami and learning about weeb culture, her character changes slightly. She is extremely beautiful with blood-red eyes and dark red hair. In addition, she wears a distinctive outfit that sets her apart from the other anime waifus.
18. Maki Nishikino from Love Live!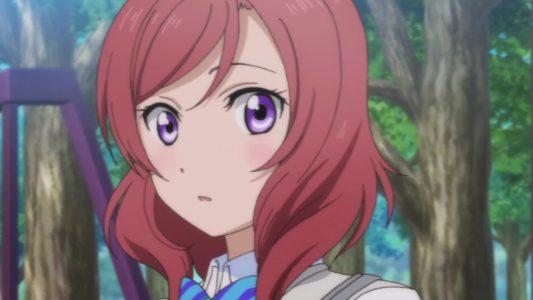 Maki is among the cutest anime girls with red hair you will ever see! She is a female character who exhibits the characteristics of a tsundere, struggling to admit her true feelings to her friends. She also has somewhat immature beliefs, which may be a result of her somewhat sheltered childhood. Despite her potentially deadly blushing abilities, Maki is extremely cute and charming, making her a popular waifu for many fans. She has a Kawaii smile that is irresistibly charming. Her family is also an interesting aspect of the anime, and she is described as bread ginger, which you will understand when you watch the show. Maki can be quite stubborn at times and acts like a mature young woman, even though she is still young. She is a character who will make your heart race with excitement.
17. Kurena Kukumila from 86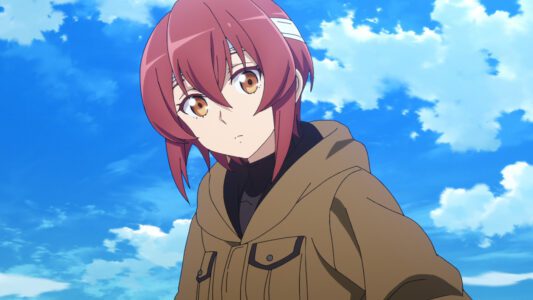 One of those Strong red haired female characters in anime is Kurena, who has the ability to understand and analyze situations. Despite her confident demeanor, she can sometimes act bluffy when her friends tease her in a good-natured way. She has dark red hair, a charming moping face, and excellent warrior skills, and is known for fighting at the forefront as the ultimate warrior of 86. Kurena has chestnut hair and golden catlike eyes like a Topaz, and her hair is styled in a short bob. As a member of the Spearhead Squadron, she wears a desert camouflage combat uniform over an olive green tank top. She aslo holds a deep hatred for Alba due to the murder of her parents by Republican Alba warriors.
16. Makise Kurisu from Steins;Gate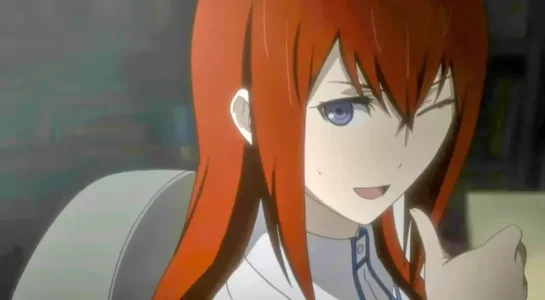 Makise Kurisu is a highly intelligent and driven female anime character with a strong sense of purpose. She has smooth red hair that appears to be even more vibrant when she wears a sterile lab coat. Her relationship with Okabe is clear and deep, and you will find yourself emotionally invested in her well-being as you watch the show. She is the perfect lab partner in terms of expertise and innovation and becomes embroiled in a complex and intriguing time-traveling plot that will keep you on the edge of your seat. Undoubtedly, she is an interesting character, who played a pivotal role in the whole series, and for us! she is one of the top-ranked anime girls with red hair on our list.
15. Mereoleona Vermillion from Black Clover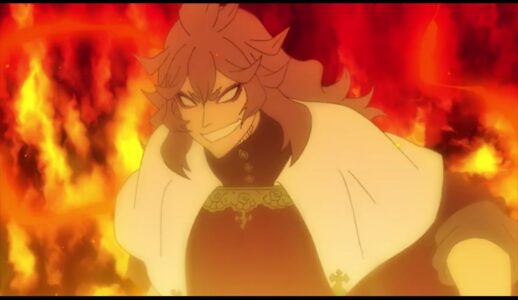 Mereoleona is among the strongest anime girls with red hair of all time. She is the new commander of the vermillions after the defeat of the previous captain (her brother). She is strong and reveals the origin of the mana zone. She easily defeats Rhya, even in his dragon form. She uses fire magic and has orange hair that appears to shine red when she becomes angry. She is very energetic and expects the best from her teammates. She is not someone you would want to cross. If she becomes angry with you even once, consider yourself doomed. There is no saving you. She is, without a doubt, the best anime girl with red hair.
14. Alexandra Magritte from Tada Never Falls In Love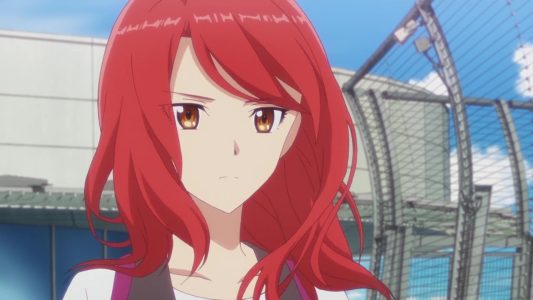 Alex is a stunning young anime girl with long, chest-length red hair and golden eyes. She has a unique sense of style that sets her apart from the other characters in the anime. Despite her quiet and reserved nature, she is fiercely protective of Teresa Wagner. She is portrayed as a secondary character in the anime, but she is well-developed and has a strong personality. She is a member of a particular group in the anime, but she doesn't feel fully connected to them and tends to keep a bit of distance. She has a beautiful figure, with a slim build, red hair, and hazel eyes. She is known for her graceful mannerisms and the way she conducts herself.
13. Minori Kushieda from Toradora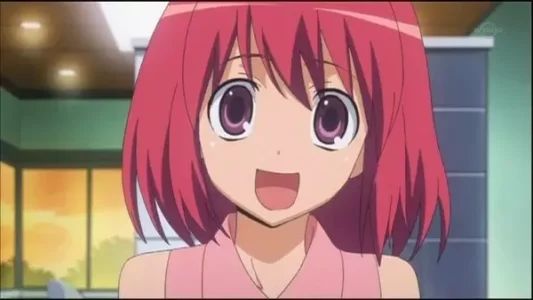 Minori is a highly respected and admired character in the anime series. She is also the most intelligent person in the series. She is very driven, loyal to a fault, and an ambitious young woman. She takes pride in her appearance and is a bit self-conscious, which is understandable. Kushieda has a belief in UFOs, which is quite charming, and you should watch this anime to learn more about her. Overall, Minori is a young woman of average height. She has mid-length red hair and a medium-long fringe that covers a small portion of her forehead. After Episode 20, her frame becomes slightly shorter. Minori is extremely athletic and is the captain of the girls' softball club at school. Later on in the series, she becomes the captain of the mixed boys' and girls' softball team. You will definitely love her character if you give Toradora series a chance.
12. Baccarat from One Piece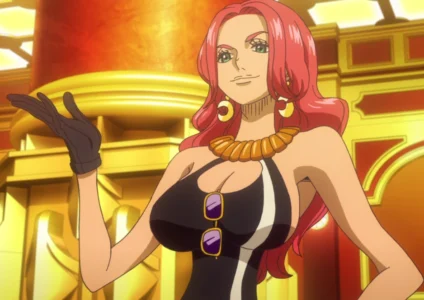 Baccarat is a porter on the floating casino city of Gran Tesoro and a member of Gild Tesoro's team. She appears in the One Piece Film: Gold. Baccarat is a tall and slender woman with light brown skin, long red hair, dark green eyes, a nose similar to Robin's, and a red tattoo on her lower left hip of a coiled snake with a star in the center. Baccarat presents herself as friendly and helpful to guests of Gran Tesoro, guiding them through the city and encouraging them to spend more money and live in luxury. However, her true motive is to lure them into losing everything and being forced to try to repay their debt.
11. Grimm from Combatants Will Be Dispatched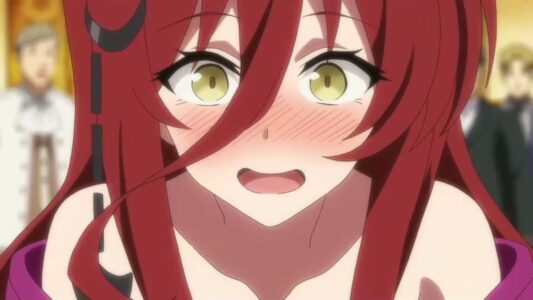 If you are looking for some fiery red haired anime girls, then Grimm is a humorous female character, who will keep you entertained from start to finish. She loves to sleep and mispronounces various words. However, she has the ability to regenerate her body parts, so it's unclear if she can actually be injured. One of her most noticeable features is her pretty red hair, and she uses a wheelchair. Grimm has a mysterious personality, which makes her an intriguing character to watch. Despite her profession as a curve cleric, she is a devotee of what is supposed to be an evil god. However, she has no clue that her goddess is an Evil God. Although Grimm is not physically disabled, she is unable to walk comfortably and cannot wear socks or shoes due to a curse that backfired. Trying to resist this curse causes her to explode. Overall, Grimm is a unique and captivating character in the anime.
10. Shana from Shakugan No Shana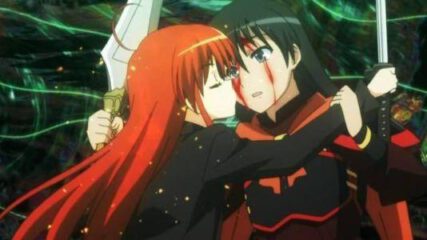 From the action-packed anime series, Shakugan No Shana we have the beautiful Shana, a fiery and fierce female protagonist with bright red hair. She is also known as the Flame-Haired Burning-Eyed Hunter, is a member of the Crimson Denizens, and has the power to manipulate flames. Shana is tasked with hunting down Guze no Tomogara, creatures that threaten the balance of the world. Despite her tough exterior, Shana struggles with her emotions and has a soft spot for her love interest, Yuji Sakai. Therefore, Shana must do her best to be able to protect the world and come to terms with her own feelings.
9. Miu Amano from Blend S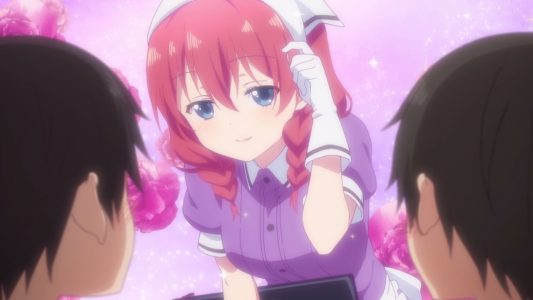 Next up, among the best anime girls with red hair and blue eyes, we have Miu, a young woman from the Blend S series. At first glance, she appears sweet, gentle, and even timid. However, once you get to know her better, you will find that she is a perverted and ambitious young girl who seeks out various things to draw. Despite her mischievous tendencies, Miu is also a responsible young woman who takes things seriously when it matters. She is a well-rounded character with a mix of qualities that make her likable and someone you would want to be friends with.
8. Morgiana from Magi
Morgiana is a female character who has red hair and eyes (both pink in the anime), like all Fanalis. She wears a short white dress with a rope tied around her waist. Her eyelashes are long and distinctive, indicating that she is a Fanalis. Morgiana is a quiet girl who rarely speaks. She has a fondness for strange things, choosing two malevolent-looking dolls as her Household Vessel instead of jewelry. Despite her calm demeanor, she is a powerful and skilled girl on the battlefield. However, due to being a slave for most of her life, she feels inferior to others and views everyone as an outsider, not considering anyone her own.
7. Yoko Littner from Tengen Toppa Gurren Lagann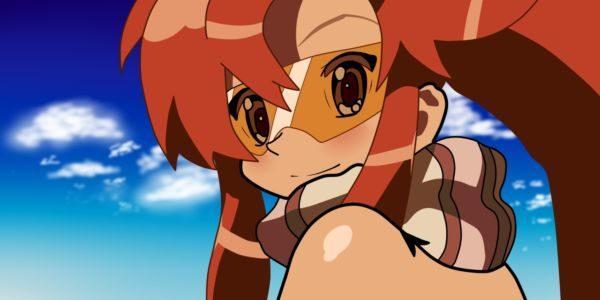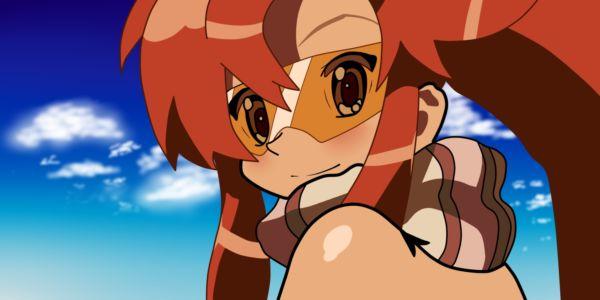 Meet Yoko Littner, the red-haired, confident, and independent heroine of the anime series, Tengen Toppa Gurren Lagann. Known for her revealing outfit and skilled marksmanship, Yoko is a formidable force to be reckoned with on the battlefield. However, beneath her tough exterior lies a warm and caring personality, making her a well-rounded and beloved character. Whether she's protecting her friends and comrades or simply enjoying the company of those close to her, Yoko always shines brightly and leaves a lasting impression on those around her. So, if you're a fan of strong, independent female characters with red hair and a touch of vulnerability, Yoko Littner is definitely the one you won't want to miss.
6. Stella Vermillion from Chivalry Of A Failed Knight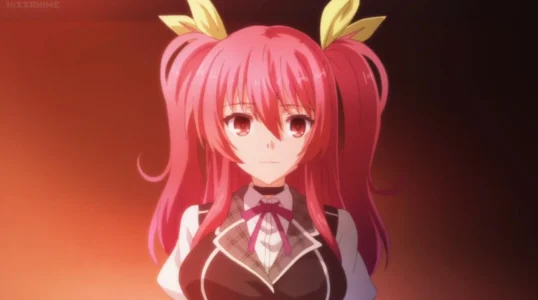 Stella is a beautiful red haired female anime character with a lovely face, fair skin, and ruby-colored eyes. She has long, blood-red hair styled in twin tails with yellow ribbons. She has an adorable figure with large breasts and a curvaceous body. One of the highlights of this anime is the depiction of Stella's charming and cute appearance. She is a shy and kawaii character, making her a popular waifu for many fans. The artists pay special attention to details such as her curves, red hair, and eyes to make her even more attractive. Stella is a perfect love interest for Ikki, and their interactions are always interesting to watch. She is one of the cutest anime girls with red hair you will ever see! and this can be the main reason to watch this anime and fall in love with her character.
5. Erza Scarlet from Fairy Tail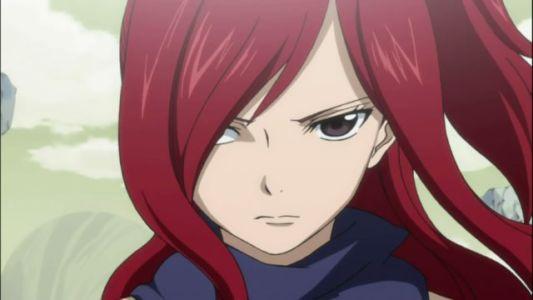 Erza Scarlet is a fierce and powerful female character to be reckoned with in the world of Fairy Tail. Her strong-willed personality and powerful fighting style make her one of the most interesting characters in the entire series. Despite her tough exterior, she is kind and compassionate, and her beauty is undeniable with her striking red hair and curvaceous figure. She is known for her ability to wield a variety of weapons, powers, and abilities in combat, making her a truly formidable opponent, who is always striving to push herself to her limits and beyond. Overall, she is a captivating and dynamic presence in the anime and one that many viewers are sure to fall in love with.
4. Uzumaki Kushina from Naruto Shippuden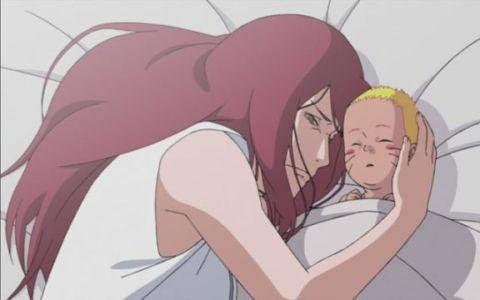 Among the top red haired anime girls you can't forget is Kushina, a popular female who is for her feminine features, violet eyes, and Uzumaki's signature hair color "Red". Growing up, Kushina was a strong-willed, reckless, unconventional, and stubborn woman. According to Jiraiya, she was also talkative and fiery. She is the mother of Naruto Uzumaki and the wife of the great Minato Namikaze. Kushina is one of the strong characters in the series and was even able to control the Kyuubi. She has a large amount of chakra and helped Naruto not give up when he was fighting with Pain. She has the power of 1000 chains that can bind anything. She is a devoted wife and among the most excellent anime mothers of all time.
3. Shirayuki from Snow White With Red Hair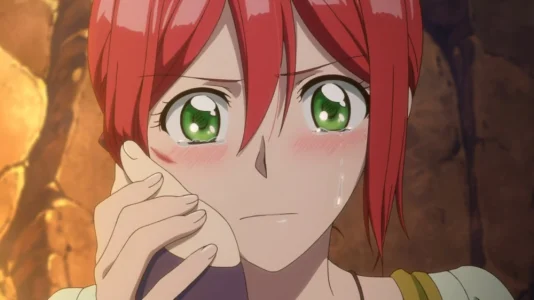 Shirayuki is one of the most iconic anime girls with red hair in history. She may not be a magical girl or good at fighting, but she is an exceptional anime girl with a fair and realistic personality, and her sweet actions are so appealing that they make us love her even more. She also has a strong and genuine relationship with Zen, which feels like something out of a fairy tale. When you see her in "Snow White with the Red Hair," you will fall in love with her shiny smile and cute qualities, which have the ability to melt even the coldest hearts. This anime is very popular and worth checking out. Shirayuki initially becomes a target because of her uniquely red hair, but she decides to cut it off and flee to maintain her freedom. Starting a new life with nothing is difficult, but she is a determined person who is able to adapt to any new situation.
2. Yona from Akatsuki No Yona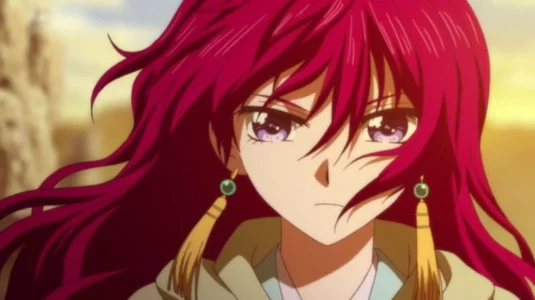 The story of Yona in "Yona of the Dawn" is one of resilience and determination. Yona's world is shattered and she is left with nothing, and at times, little hope. However, she persists and continues on her journey, aided by the people around her. While she is tough and seemingly unbreakable, she also grows and evolves, eventually becoming a force to be reckoned with. Yona is considered very beautifully, often described as pretty and adorable for her age. She is a thin, short young girl with a light complexion and a sweet disposition. She closely resembles her mother Kashi, with large, round violet eyes and similar facial features, but unlike her, Yona was born with wavy red hair. She is adaptable and has a strong sense of empathy, and she shows a strong ability to learn and grow on her journey, remaining hopeful even in difficult times.
1. Rias Gremory from High School DXD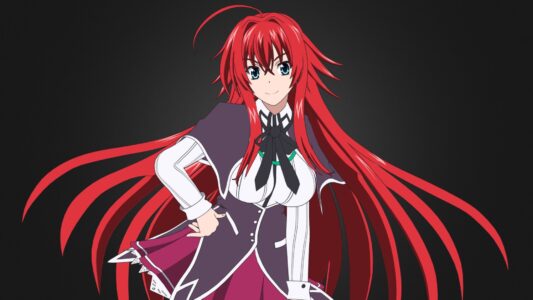 Wrapping up our list of the best anime girls with red hair with Rias Gremory. While having a very enthusiastic and warm personality, similar to a typical redhead and a demon, Rias is also prone to moments of burning anger. She is also prone to taking photos of sin and temptation related to redheads. If you watched this anime, it can't be true if you didn't envy this waifu. She is an extremely beautiful princess, and her relationship with Issei just makes us jealous of all the men in the world. She is ambitious and a little complicated, which you will adore. Her personality is the focus of the entire anime. Don't hide it. Many of you know that she is the most beautiful anime girl with red hair of all time, right?
Don't Miss: