The 33 Good Romance Comedy Anime Tv Shows To Watch Now
Romance comedy anime series is a combination of the two genres that offer the utmost enjoyment for fans. With so many different types available, it can be tough to find the best romantic comedy anime for your needs. Luckily, there are over a hundred available, and we've put together a list of some of the best choices.
The best romance comedy animes are certainly riffing with laughter. In this combined genre, there is a form of romance between two main characters that often enters a comedic stage which makes it so enjoyable to watch. Some examples include To-Love-Ru, My Teen Romantic Comedy SNAFU, and Handa-Kun.
Be it with personal favorites and ending in top-notch romantic romances, here are some of the best romantic comedy anime that you should absolutely check out!
By the Way Here are some anime websites where you can stream all the anime tv shows that will be mentioned on this list: Crunchyroll, Masteranime, and Hulu.
So, let us start our well-picked list of the best 33 romantic comedy anime tv shows of all time.
33.

 

Waiting in The Summer (Ano Natsu de Matteru)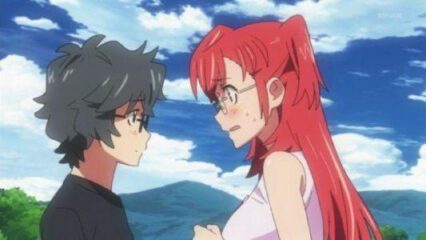 Episodes: 12 

Genres:

Comedy, Drama, Romance, Sci-Fi, Slice of Life
let's kick off our list of romance comedy anime series, with "Waiting in the Summer" which is a rom-com tv show that is set on One Summer night Kaito Kirishima is testing out his new camera on a bridge, suddenly he sees something comes crashing from the sky, injuring him and lose consciousness.
The next morning he wakes up confused, thinking it was just a dream, however, during the day he sees flashbacks from that accident and also vaguely remembers a girl grabbing his hand that night. The new girl he just met at his school, turns out to be the one who grabbed his hand.
Although he can't quite remember, in a strange twist she ends up living with him for the time being. Hence, something much more meaningful will force Kaito and his friends to confront their true feelings and each other.
Read Also: 11 Best Action Romance Comedy Anime Series you Should Watch
32. 

My Love Story!!

(Ore Monogatari!!)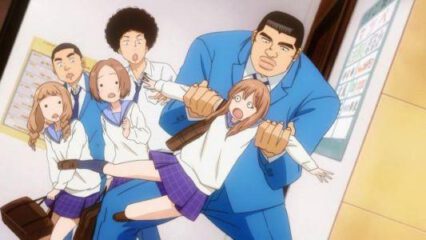 Episodes: 24

Genres:

 Comedy, Romance, Shoujo
Next in this rom-com anime series, Takeo Gouda is not exactly your average high school student. although he possesses a muscular build and tall stature. However, behind his muscular appearance hides a sweetheart, and all boys respect him and consider him a hero due to his courage and chivalry. Unfortunately, his love life is not a successful one.
Takeo's best friend is a cool and handsome person who easily steals the hearts of the female students—including all girls that Takeo has ever liked.
One day, Takeo in a heroic manner saves the gorgeous Rinko Yamato from being molested, and he falls in love with her instantly. But, he suspects that she may like his handsome friend.
Hence, his deep love for Yamato continues to bloom, while Takeo unselfishly decides to act as her cupid, even as he yearns for his own love story.
31.

Blue Spring Ride (Ao Haru Ride)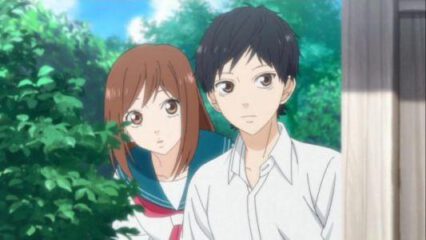 Episodes: 12

Genres:

 Comedy, Drama, Romance, School, Shoujo, Slice of Life
Ao Haru Ride is one of the greatest romance comedy anime of all time. The story focus on The attractive, pretty middle-schooler Futaba Yoshioka,
she was ostracized by the girls of her school, but nothing matters to her, except the opinion of her crush Kou Tanaka, Futaba was in love with Kou Tanaka.  However, this love interest won't work because he transferred. Then she started a new life while trying to be a new girl, and avoiding all unwanted attention. But after a while, her world will turn upside down when her love interest unexpectedly comes into her life once again.
30.

Actually, I am… (Jitsu wa Watashi wa)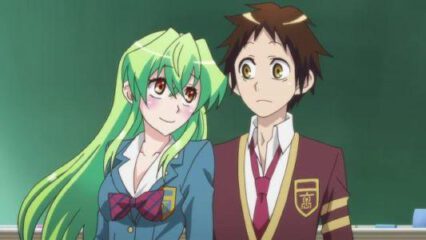 Episodes: 13

Genres:

 Comedy, Supernatural, Romance, Vampire, Fantasy, School, Shounen
One day after school, Asahi Kuromine tries to confess to Youko Shiragami, the girl he has a crush on, but he accidentally finds out that she's actually a vampire. According to her father's rules, Youko truth must be kept secret, so now she will quit school in order to keep her family safe. However, Asahi is in love with her and does not want her to go, so he makes a promise that he will never reveal her true nature secret.
Unfortunately, it's not that easy for Asahi to keep a secret, as he is a person who is easy to read. Then so many troubles will pop out as some strange supernatural starts entering his life, and he must protect all of their identities or face the consequences. Jitsu wa Watashi wa is a romantic comedy anime tv show that follows Asahi's struggles while keeping his mouth shut, and as he deals with his new friends and the unique challenges they bring.
29.

 

Rainbow Days (Nijiiro Days)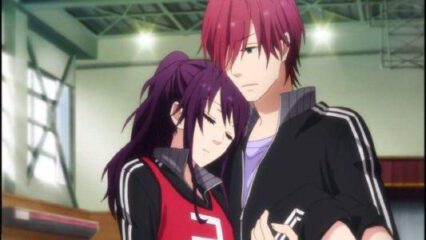 Episodes: 24

Genres:

 Comedy, Romance, School, Shoujo, Slice of Life
Nijiiro Days is an amazing romance comedy anime that details the colorful lives and romantic relationships of four high school boys: Natsuki, Tomoya, Keiichi, and Tsuyoshi.
Their daily routine is trying to have fun by finishing their studies and debating about romance. Natsuki, one of the main characters, instantly falls in love with a girl named Anna who attends the same school as him.
Natsuki and Anna's love story won't be that easy. because, his friends constantly meddle and tease his relationship, so the two must strive to succeed in their own endeavors of love.
28. 

Wotakoi: Love is Hard for Otaku (Wotaku ni Koi wa Muzukashii)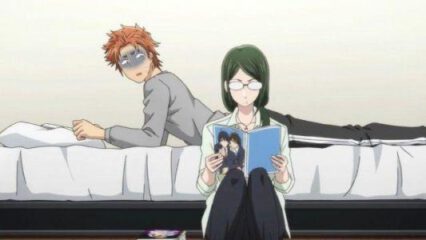 Episodes: 11

Genres:

 Comedy, Romance, Slice of Life
Wotakoi is your next good romantic comedy anime to watch, where Narumi Momose makes a promise that none of her coworkers will know about her dark secret: that she is an otaku and a fujoshi.
But unluckily she met her old friend Hirotaka Nifuji who blow away her cover by asking her whether she will be attending the upcoming Comiket or not. So they work at the same place, Thus the two otaku start dating, and their adorably awkward romance begins.
27.

My First Girlfriend is a Gal (Hajimete no Gal)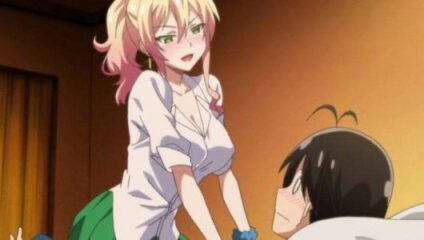 Episodes: 10

Genres:

 Comedy, Romance, Ecchi, School, Shounen
This is a Hot romance comedy anime that you will really enjoy if you like fanservice! The story is set in Spring which is The "season of love" in Japan, and it seems that finding himself a girlfriend was harder than The Nerd Junichi believed.
To break this situation, Junichi's friends force him into confessing to the fashionista, Yame Yukana. However, things do not go quite as he anticipated. thus, A series of "firsts" begins! So Will this relationship work out?
26.

 

Recovery of an MMO Junkie (Net-juu no Susume)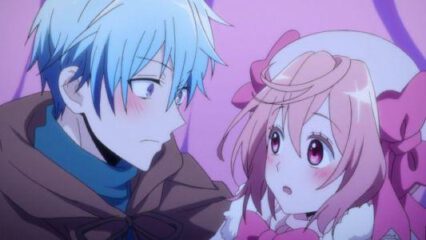 Episodes: 10
Genres: Game, Romance, Comedy
This is a funny romance anime about game themes, where Moriko Morioka is a 30-year-old single NEET woman who is unemployed. After dropping out of reality, she has taken off looking for a different life and she ended up in an online game. Where she reinvented herself as the handsome and dashing male hero "Hayashi" in the MMO Fruits de Mer. While starting out as a beginner, a pretty character named Lily reached out to help her.
the two become inseparable just as Moriko herself becomes more and more engrossed in her new "life" as Hayashi. Meanwhile, in the real world, awaits a shocking encounter with a stranger good-looking elite company employee, a mysterious blue-eyed blonde. However, fate has more in store for them than they ever imagined.
25.

Saekano How to Raise a Boring Girlfriend  (Saenai Heroine no Sodatekata)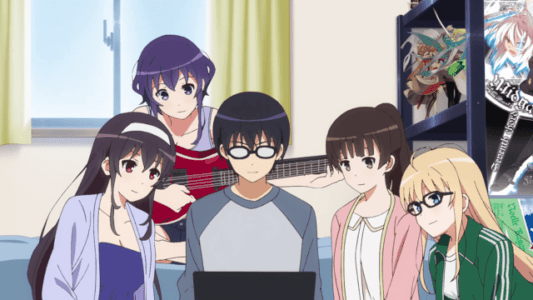 Episodes: 23
Anime: School, Romance, Comedy
Aki Tomoya, a high school otaku used to collect anime and light novels for years, attaching himself to various series with captivating stories and characters. Then he decided to start working in order to be able to create his own game. With remarkable luck, he bumps into the pretty, gorgeous Megumi Katou, after whom he models his main character. Hence, Naturally, the meeting twists his life into a complicated relationship.
24.

Monthly Girls' Nozaki-Kun (Gekkan Shoujo Nozaki-Kun)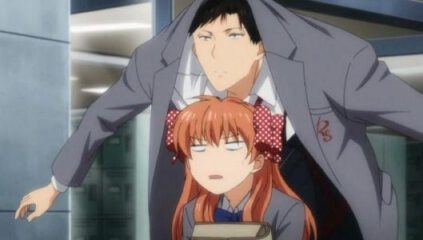 Episodes: 12
Genres: Romance, Comedy, School
This nice romance comedy anime follows Chiyo Sakura, a joyful school girl who loves the oblivious Umetarou Nozaki. Chiyo is in a dilemma when she confesses to her crush Nozaki, he hands her an unfamiliar autograph. As it turns out, Nozaki is actually a  shoujo mangaka, publishing under the pen name Sakiko Yumeno!
A series of misunderstandings leads to Chiyo becoming one of Nozaki's manga assistants. While she is trying her best to make Nozaki notice her feelings. Thus, she befriends many of her quirky schoolmates, including her seemingly shameless fellow assistant, Mikoto Mikoshiba, and the "Prince of the School," Yuu Kashima.
23.

Yamada-Kun and The Seven Witches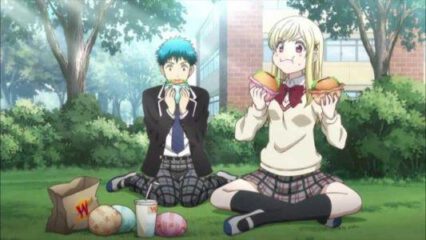 Episodes: 12

Genres:

 Comedy, Harem, Mystery, Romance, School, Shounen, Supernatural
Attending the private school Suzaku High Ryuu Yamada wants to turn over a new leaf and lead a productive school life. In Suzaku High, there is no one who knows of his violent delinquent reputation. Due to being completely bored with his surroundings. Yamada reverts to his old self and is now a lazy one with abysmal grades and often getting into fights.
One day he falls down on Urara Shiraishi, waking up to have switched bodies by accidentally kissing. Toranosuke Miyamura, the student council president discovers their abilities and asks them o join the Supernatural Studies Club.
In this romantic comedy anime, The group digs up the legend of the Seven Witches of Suzaku HighSchool, seven female students who have obtained different powers activated by a kiss. Thus, The Club embarks on its first quest: to find the identities of all the witches.
22.

The World God Only Knows (

Kami Nomi zo Shiru Sekai)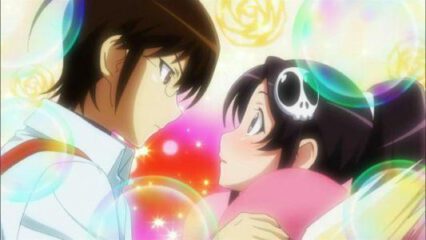 Episodes: 36/Three Seasons.

Genres:

Comedy, Harem, Romance, Shounen, Supernatural
The world God only Knows is another great romance comedy anime series. The series revolves around An expert high school boy Keima Katsuragi, who is the legendary "God of Conquest," and can conquer any girl's heart in dating games. In reality, he chose the two-dimensional world of gaming over real life because he is an obsessed otaku of galge games.
One day, he arrogantly accepts an unknown offer to prove his dominance at dating sim games. Keima is misled into aiding a naïve and impish demon from hell. Thus, now he is put to the ultimate test as he must navigate through the hearts of various real-life girls.
21.

Masamune-Kun's Revenge (Masamune Kun No Revenge)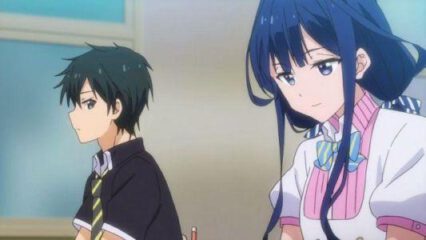 Episodes: 12

Genres:

Comedy, Harem, Romance, School, Shounen 
Next up, this is a good rom-com anime that you will enjoy! The story kicks off: As a child, Masamune Makabe was rejected by the wealthy and beautiful girl Aki Adagaki, she used to call him "Piggy" due to his chubby appearance.
Masamune wants to exact revenge against his tormentor, so s works hard to improve himself and returns as an incredibly high school student. When he encounters Aki once again, he is prepared to exact vengeance. With the aid of the rich girl's maid, Yoshino Koiwai, Masamune slowly begins to build his relationship with Aki, intending to break her heart when the time is right. However, Shockingly, he receives a mysterious letter addressing him by his old nickname. Hence, Unless Masamune unveils the sender's identity, his plan won't succeed before it even starts!
20.

Skip Beat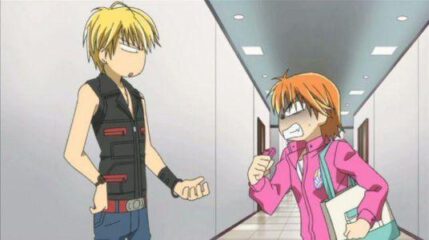 Episodes: 25

Genres:

 Comedy, Drama, Romance, Shoujo
Mogami Kyouko is a Bright, diligent, and naive teenager who went with her childhood friend, Shoutarou Fuwa to Tokyo to pursue his dream of becoming an idol. Despite she is supporting him, Shou deceives her. Kyouko vows to get her revenge by defeating him in the entertainment world too. One day, Kyouko finds out that her beloved Shou sees her as nothing but a free servant. Shocked, heartbroken, and enraged.
Thus, she vows to take revenge on the rookie star by entering the ruthless world of entertainment herself. As she steps into this new life, Kyouko will face new challenges as well as people who will push her out of her comfort zone.
Skip Beat is a masterpiece romance anime tv show that revolves around the growth of a young woman who slowly unlearns how to work herself to the bone for the satisfaction of others and takes her future into her own hands instead.
19.

Special A

Episodes: 24

Genres:

 Comedy, Romance, School, Shoujo
Special A is one of the best romantic comedy anime series on our list. The story follows Hikari Hanazono doing things that ordinary people can not, she was sure that no one can beat her until she met Kei Taksihsima. She wants to win against him, thus she challenged and rechallenged him many times. But she each time. From that point on, she swears that she will best Kei at everything, ranging from academics to athletics.
To attain her aim, Hikari attends the same school as Kei "Hakusenkan", a famous institute for the wealthy. As a duo, they are in the top two rankings in school and are among the seven top students in the "Special A Class". While Hikari treats Kei as a rival, she is completely oblivious that he harbors hidden feelings for her. Together, the members of Special A deal with competition, friendship, and just a bit of romance.
18.

The Pet Girl of Sakurasou (Sakurasou no Pet na Kanojo)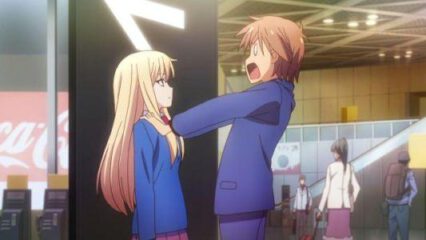 Episodes: 24

Genres:

 Comedy, Drama, Romance, School, Slice of Life
Sakura Dormitory is a dorm of the high school affiliated with Suimei University of the Arts (often shortened as Suiko), which hosts the strangest, most trouble-making students. After being kicked out of the normal dorm for keeping a stray cat, Sorata Kanda moves into Sakura Dormitory.
As he starts to get used to life in the dorm, Mashiro Shiina, a world-famous artist who cannot even take care of her daily life, moves in. Sorata then must become Mashiro's handler. The story focuses on their daily lives as well as their mental growth.
This is a good romantic comedy anime tv show that explores the thin threads combining talent, hard work, romance, and friendship with its ensemble cast.
17.

One Week Friends (Isshuukan Friends)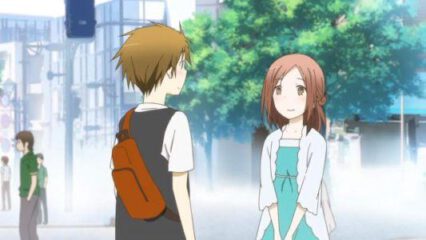 Episodes: 12

Genres:

 Slice of Life, Comedy, School, Shounen
In this rom-com anime, Hase Yuuki wants to ask his crush classmate Fujimiya Kaori if she likes to be his friend. He Likes Kaori Fujimiya because seemingly she is a quiet and reticent girl who ignores and rejects everyone except him.
Will they become friends?
He decides to get close to Kaori in order to understand her better. They spend more time together, and she begins to open up to him. However, nearing the end of the week, she starts to push him away once more.
Thus, The reason for Kaori's cold front: at the end of the week, her memories of those close to her, are erased, as they are reset every Monday. As a result, Yuuki starts asking her the same question each Monday: "Would you like to be friends?"
16.

Maid Sama! (Kaichou Wa Maid Sama)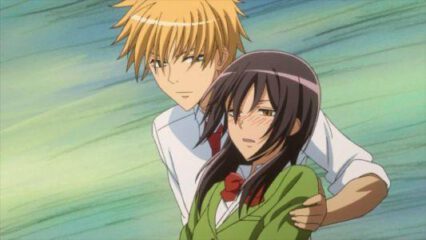 Episodes: 26

Genres:

 Comedy, Romance, School, Shoujo 
Maid Sama is another refreshing comedy romance school that follows Ayuzawa Misaki, who is the first female student council president and it's not that easy to be a female president for a school that recently transforms from an all-boys school to a mixed one. Furthermore, Misaki secretly works as a waitress in a french maid uniform part-time. She managed to keep her part-time job a secret for a long time.
Until, one day, the handsome and popular boy Usui Takumi discovers her secret and starts to have an interest in her. Thus, He can destroy her reputation with her secret… or he can tease the student council president and use her secret as an opportunity to get closer to her.
15. 

School Rumble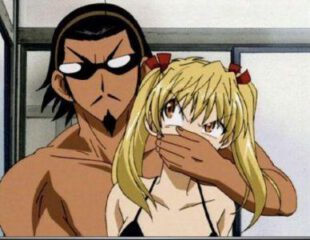 Episodes: 26/Two Seasons

Genres:

Comedy, Romance, School, Shounen
Only the words "I love you," will change everything—such is the nature of the bittersweet trials of high school love. Tenma Tsukamoto, a young high schooler is deeply in love with her crush. Kenji Harima, a delinquent classmate, is in a similar situation, as he cannot properly confess his love for Tenma Tsukamoto. Between school, friends, rivalries, and hobbies, these two are struggling to confess their feelings and their antics lead to crazy situations.
14. 

Please Teacher! (Onegai Teacher)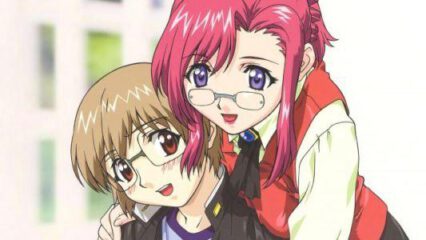 Episodes: 12

Genres:

 Sci-Fi, Comedy, Drama, Romance, School
One day, Kei Kusanagi notices a strange yet pretty woman by the lake. He discovers that she is an alien, her name is Mizuho Kazami, and now she's also his teacher! Thus, he and his teacher gradually get to know each other, and romance blossoms between them. However, soon enough, the principal of the school finds out about their relationship.
As a result, The solution? Get married! Together, the couple must keep their marriage a secret, not only from the high school members but also from her hometown of aliens.
Please Teacher! is a serious comedy romance anime that depicts a love story between a mature teacher and her young student, this is absolutely for adult fans!
13.

Clannad
Episodes: 48/Two Seasons

Genres:

Comedy, Drama, Romance, School, Slice of Life, Supernatural
Although Clannad has some comedy going on, it is still one of the saddest romance anime series of all time, which will make you cry like a bitc*. The story follows A high school delinquent student who cares little about school.
One day, he meets a lonely girl who had to repeat a year while all her friends finished high school. Nagisa claims they are now friends, but Tomoya walks away passing the meeting as nothing. He decides to hang out with her and soon meets more friendly students. As Tomoya spends more time with these friends, he learns more about them and their problems. He decides to help each one overcome her obstacle, thus, he begins to think that life isn't as dull as he once thought.
12.

From Me to You (Kimi no Todoke)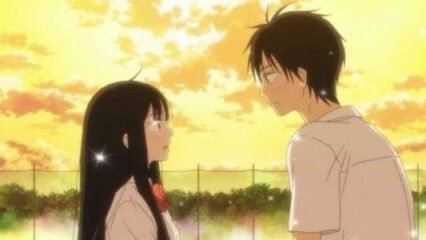 Episodes: 37/Two Seasons
Genres: Slice of Life, Drama, Romance, School, Shoujo
Coming up in this romantic comedy anime we follow the female main character Sawako Kuronuma, who is misunderstood due to her resemblance to the ghost girl from The Ring. Kuronuma Sawako's classmates misunderstand her resemblance to the ghost girl "the ring" which is completely misunderstood by her classmates. Her timid and sweet behavior is usually seen as malicious behavior.
She is just Longing to make friends and live a normal life, and one day she succeeds in doing so when the popular boy in the class, Kazehaya befriends her. Everything begins to change after that, even everyone's perspective of Sawako. Maybe… there is even a little hope for some romance in her future.
11.

Kokoro Connect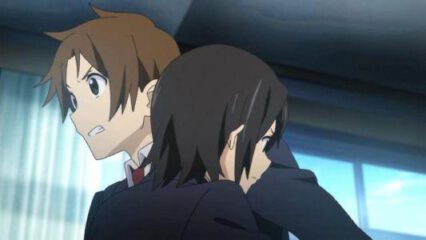 Episodes: 13

Genres:

 Slice of Life, Comedy, Supernatural, Drama, Romance, School
This is a rom-com drama that follows five students who realize that there is no club where they fit in, and they together decide to form the Student Cultural Society. The club consists of Taichi Yaegashi, Iori Nagase, Himeko Inaba, Yui Kiriyama, and Yoshifumi Aoki. One day, They encounter a bizarre phenomenon when Aoki and Yui switch bodies without warning.
So As this supernatural incident continues to happen randomly among the five students, they begin to think that it is not just fun and games. This unwarranted connection also exposes the painful scars hidden within their hearts. As their calm lives are shattered, the relationships between the five students also begin to change… Now forced to become closer than ever, the connection exposes each other's hidden secrets and painful scars. As a result, their relationship starts to change, which could end up tearing the club apart.
10.

My Little Monster (Tonari no Kaibutsu-kun)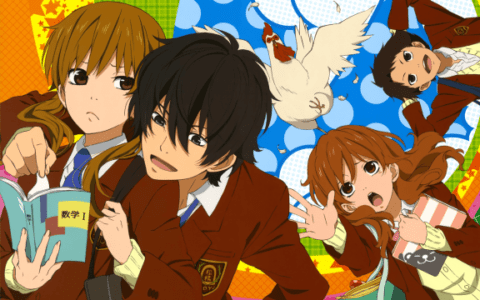 Episodes: 13

Genres:

 Slice of Life, Comedy, Romance, School, Shoujo
My Little Monster is your next best romantic comedy anime that you will love watching. It follows Shizuku, a hardworking student who finds an unlikely friend, Haru, an emotionally volatile boy at her school. She is a hardworking student who is apathetic towards her classmates. She only cares about her grades. However, her attitude will change when as soon as she meets Haru Yoshida.
He is not much different from her, though—he isn't interested in socializing and does not have any friends. He surprises Shizuku when he asks if she wants to be his friend, then he confesses his feelings toward her upon meeting her.
Because of their lack of friends and social interaction, Shizuku and Haru have a hard time understanding their relationship… But slowly, they begin to progress, and she realizes that there is more to Haru than violence. She starts to develop feelings for him but is unsure what sort of emotions she is experiencing. Together, Shizuku and Haru try to discover the true nature of their relationship and emotions.
9.

Haganai: I don't have many friends (Boku wa Tomodachi ga Sukunai)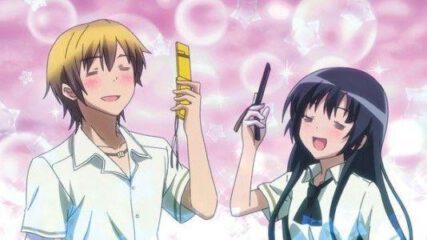 Episodes: 25/Two Seasons

Genres:

 Ecchi, Slice of Life, Comedy, Harem, Romance, School
Kodaka Hasegawa a friendless schooler, transfers to a new school, where he wants to make a positive impression, and maybe even some friends. However, Kodaka discovers he is out of luck when he is seen as a violent delinquent due to his blond hair and intimidating expression.
His life changes when he finds Yozora Mikazuki talking to her imaginary friend in an empty classroom. After sharing stories of their lonely high school life, Kodaka and Yozora decide to overcome the issues of making friends by creating the Neighbor's Club. The club activities focus on learning social skills and how to fit in, which will allow them to make friends. Hence, some eccentric outcasts start to join the club. and Odaka may find people he can call friends.
8.

Golden Time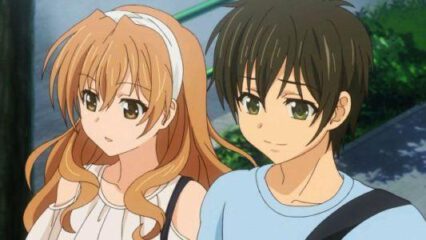 Episodes: 24

Genres:

 Comedy, Drama, Romance
Banri Tada is a freshman at a Tokyo law school. Due to an accident, he suffers severe memory loss. However, he befriends fellow freshman, Mitsuo Yanagisawa, and begins a new life at law school in Tokyo. A gorgeous, yet obsessive, Kouko Kaga barges into his life which leads to the beginning of an unforgettable year
Banri learns that this is a new life and new world, where he can start from zero, have new friends, fall in love, makes mistakes, and grow. Hence, this path will lead him toward a blindingly bright life that he will never want to forget.
7.

Fruits Basket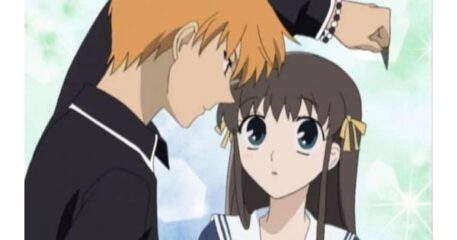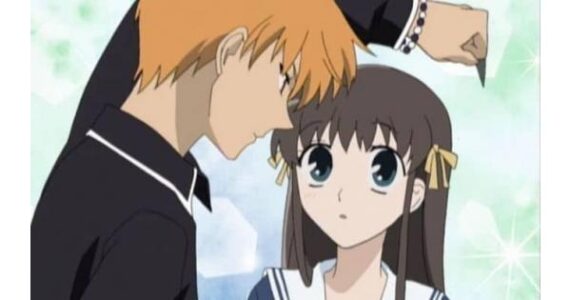 Episodes: 26

Genres:

 Slice of Life, Comedy, Drama, Romance, Fantasy, Shoujo
After her mother's death, Tooru finds herself living with the Sohma family consisting of three cousins: Yuki, Kyo, and Shigure. Tohru finds out the Sohma family secret that when a member is hugged by the opposite gender or they are tired out, they turn into the 12 animals of the Chinese zodiac. Filled with many lovable characters and many plot twists along the way, life at the Sohma house will never be the same again.
6.

Nisekoi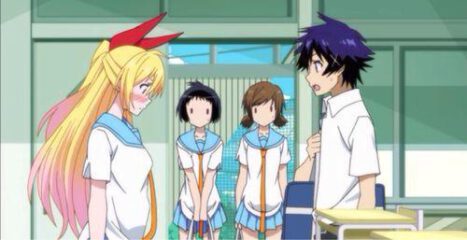 Episodes: 32/Two Seasons

Genres:

 Comedy

,

 Harem

,

 Romance

,

 School

,

 Shounen
This exciting harem romance comedy anime story follows Raku Ichijou The heir to a Yakuza Family. All he wants is to stay away from his yakuza background, in order to live a normal school life by the side of his Crush Kosaki Onodera.
However, an American Bee Hive Gang invades his family's turf, this issue forces him to be in a relationship with the daughter of the head of a gangster family, in order to avoid a gang war, much to their chagrin. Nisekoi focuses on the daily life of this mismatched couple who are seeking to get along for the sake of maintaining the city's peace. With many more girls popping up in his life, his search for the girl who holds his heart and his promise leads him in more unusual directions than he expects.
5.

Ouran High School Host Club (Ouran Koukou Host Club)
Episodes: 26

Genres:

 Comedy, Harem, Romance, School, Shoujo
Ouran High School is a rom-com, reverse harem anime series that Follows Host Haruhi Fujioka, who joins a school called Ouran Academy. While trying to find a quiet place to read, Haruhi stumbles upon a group of boys called the Ouran High School Host Club. Later on, she gets closer to the members of the host club and became a host, but she must act like a boy.
4.

Lovely Complex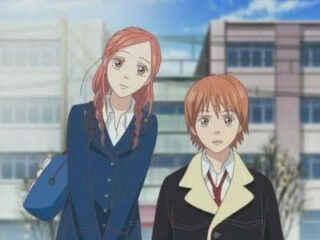 Episodes: 24

Genres:

 Comedy, Romance, Shoujo
In this romantic comedy anime show, Risa and Otani are often laughed at as a funny duo. Risa, a girl, is 172 cm high, which makes her taller than the average girl. And Otani, a boy, 156 cm high is shorter than average guys. They both strive to find their ideal match, so they help each other in doing so. However,  the similarity in their music and fashion tastes. Maybe Risa has a feeling for Otani that makes him shocked. So, could love ever happen between this mismatched duo?
3.

Love, Chunibyo & Other Delusions! (Chuunibyou demo Koi ga Shitai!)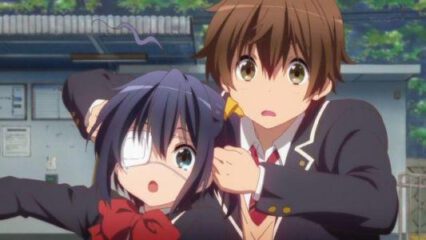 Episodes: 24/Two Seasons

Genres:

 Slice of Life, Comedy, Drama, Romance, School
Everyone experiences a moment where they think they are special, different from normal humans. They may even believe that they got superpowers or think of themselves to have descended from a fantasy world. This "phenomenon" is called "Chuunibyou" and is usually the cause of some of the most embarrassing moments of a person's life.
Yuuta experienced a "Chuunibyou" in middle school. Now, he left his dark past behind him while trying to forget it, Unfortunately, he meets up with Rikka, who will disrupt his ordinary life. In this nice romantic comedy anime, the story follows a boy who wants to leave his embarrassing past behind, the delusions of old are far from a thing of the past.
2.

 

My Teen Romantic Comedy SNAFU (Oregairu)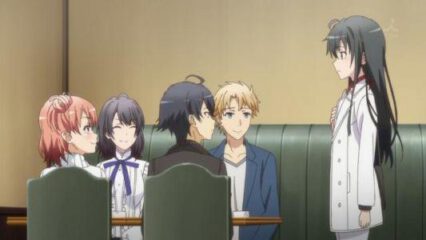 Episodes: 36/Three Seasons

Genres:

 Slice of Life, Comedy, Drama, Romance, School
Another great romantic comedy anime tv show that focuses on an antisocial, narcissistic student is "Hikigaya Hachiman" with a distorted view of life and no friends or girlfriend.
A teacher makes Hachiman join the 'Volunteer Service' club, which happens to have the most popular, beautiful girl: Yukinoshita Yukino. Hachiman finds himself on the front line of other people's problems—a place he never expected to be in. Thus, Hachiman and Yukino use their intelligence to resolve many students' issues. So, will Hachiman's negative view of society prove to be a hindrance or a tool he can use to his advantage?
1.

Toradora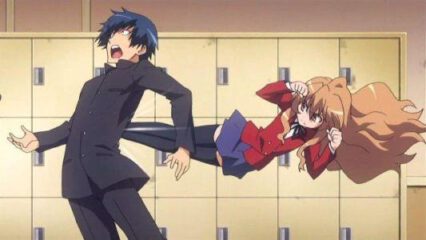 Episodes: 25

Genres:

 Slice of Life, Comedy, Romance, School
Finally, we will be wrapping up our romantic comedy anime list with "Toradora!", which follows Ryuji Takasu, who lives in a falling-down house with his mother, and although being a gentle guy is cursed with a delinquent face causing people to avoid him.
Taiga Aisaka is a tiny, selfish, unexpectedly strong, and tsundere girl who lives in a new apartment next to Ryuji but doesn't know how to take care of herself.
Ryuji starts to look after her, and he discovers that Taiga actually has a sweet side. They reveal their crushes to each other, then they both attempt to help each other with their love life.
Don't Miss: