Love triangle anime series are captivating Japanese animated TV shows that delve into romantic tales featuring three individuals. Each character experiences the joys and challenges of falling in love with at least one other person, creating touching and heartfelt narratives.
In this carefully compiled list of romance anime, we shine a spotlight on love triangle stories, where the complexities of threesome relationships unfold. Without further ado, let us embark on a journey through the best love triangle anime shows, brimming with intricate romance and emotions that will truly touch your heart.
20. Toradora!
Genres: Slice of Life, Comedy, Romance, School
Studios: J.C.Staff
Episodes: 25 
Starting off our list of the best love triangle anime series with Toradora, which is a good romance tv show that follows Ryuuji Takasu, a gentle high school student with a love for housework.
In contrast to his kind nature, he has an intimidating face that often gets him labeled as a delinquent. On the other hand is Taiga Aisaka, a small, doll-like student, who is anything but a cute and fragile girl.
Equipped with a wooden katana and feisty personality, Taiga is known throughout the school as the "Palmtop Tiger." One day, an embarrassing mistake causes the two students to cross paths.
Therefore, Ryuuji discovers that Taiga actually has a sweet side: she has a crush on the popular vice president, Yuusaku Kitamura, who happens to be his best friend.
But things only get crazier when Ryuuji reveals that he has a crush on Minori Kushieda—Taiga's best friend!
19. Honey and Clover
Genres: Comedy, Drama, Josei, Romance, Slice of Life
Studios: J.C.Staff
Episodes: 36 / Two Seasons
Honey and Clover is a good romance triangle anime series that depicts the love story of Takemoto Yuuta, Mayama Takumi, and Morita Shinobu, who are college students sharing a small apartment.
Even though they live in poverty, the three of them are able to obtain pleasure through small things in life.
The anime story follows the lives of these poor college students, as well as their love triangle story when a short but talented 18-year-old girl called Hanamoto Hagumi appears.
18. Chihayafuru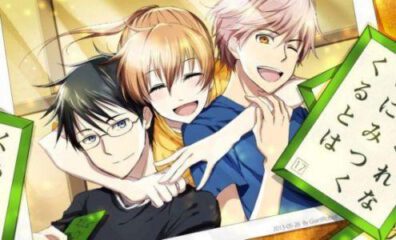 Genres: Drama, Game, Josei, School, Slice of Life, Sports
Studios: Madhouse
Episodes: 50 / Two Seasons 
This is one of the greatest romance anime with a love triangle tale that you must really watch! Chihayafuru is a good romantic sports anime that depicts the story of Chihaya Ayase, who is a strong-willed and tomboyish girl, who grows up under the shadow of her older sister.
With no dreams of her own, she is contented with her share in life till she meets Arata Wataya. The quiet transfer student in her elementary class introduces her to competitive Karuta, a physically and mentally demanding card game inspired by the classic Japanese anthology of Hundred Poets.
Captivated by Arata's passion for the game and inspired by the possibility of becoming the best in Japan, Chihaya quickly falls in love with the world of karuta.
Along with the prodigy Arata and her haughty but hard-working friend Taichi Mashima, she joins the local Shiranami Society.
The trio spends their idyllic childhood days playing together until circumstances split them up. Now in high school, Chihaya has grown into a karuta freak.
She aims to establish the Municipal Mizusawa High Competitive Karuta Club, setting her sights on the national championship at Omi Jingu.
Reunited with the now indifferent Taichi, Chihaya's dream of establishing a karuta team is only one step away from becoming true: she must bring together members with a passion for the game that matches her own.
17. Ef a Tale of Memories.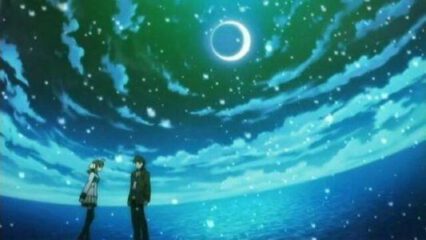 Genres: Mystery, Drama, Romance
Studios: Shaft
Episodes: 12
Next up among the best love triangle anime show, we have this beautiful Japanese animated series, which is set on Christmas Eve, where Hiro Hirono's bike is stolen by a girl chasing a thief who stole her purse.
He gives chase and finds her unconscious and his bike ruined. The girl, Miyako Miyamura, soon awakes and the two begin to talk. After making sure she is okay, they end up spending Christmas Eve together.
Later, Hiro finds out Miyako attends the same school as him and they begin to spend more and more time together, Miyako developing affection for Hiro.
Kei Shindou—Hiro's childhood friend who has long held a crush on him—begins to become jealous and a romance involving three people follows.
The series also tells the story of Renji Asou. One day, he meets Chihiro Shindou, the twin sister of Kei Shindou, at an abandoned train station.
Even though she's very shy, they get along pretty well and begin meeting at the same spot every day. However, Renji finds out that Chihiro was in a car accident years ago and as a consequence, she suffers from a disability: her memory lasts only 13 hours.
Nevertheless, after learning that Chihiro's dream is to write a novel, Renji finally decides to help her fulfill her dream while also trying to make her overcome the difficulties imposed by her condition.
16. School Days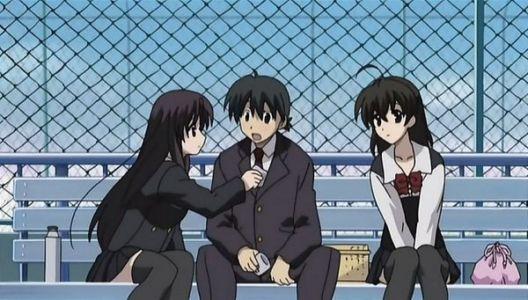 Genres: Harem, Drama, Romance, School
Studios: TNK
Episodes: 12 
School Days is romantic drama anime with a love triangle relationship story that follows a High school student called Makoto Itou, who is the first one to notice, and later, will fall in love with Kotonoha Katsura at the start of his second semester, freshman year.
Immediately, he becomes entranced by her beauty, but his bashfulness doesn't allow him to approach her, even though they ride the same train every day.
Instead, he snaps a photo of her in secret and sets it as his cell phone's wallpaper: a charm that, if kept under wraps, would supposedly help you realize your love.
However, classmate Sekai Saionji spots the picture, but instead of ratting him out, she offers to help set him up with Kotonoha—going so far as befriending her just for him.
Thus, the trio begins a rather impromptu friendship. School Days follows the lives of these three teenagers as they traverse the joys and hardships that come with being a high schooler.
In a story alive and brimming with romance and melancholy, the tale of these three students will linger in the memory long after the momentous conclusion.
15. Ano Natsu de Matteru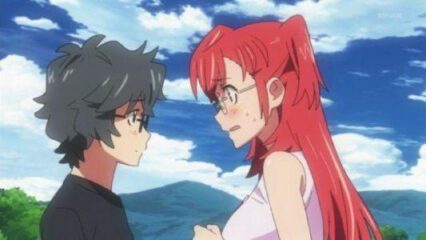 Genres: Comedy, Drama, Romance, Sci-Fi, Slice of Life
Studios: J.C.Staff
Episodes: 12
Ano Natsu De Matteru is a drama romantic love triangle anime tv show that showcases not only a thresome relationship but also many love stories that are going on in the series.
The story mainly focuses on a group of friends as they decide to make a movie over a long summer holiday, they end up learning a little about film-making and a lot more about each other and themselves.
What begins as a simple way to avoid the summer doldrums quickly turns into something much more complex, intimate, and revealing, as the maturing relationships between the members of the young cast take on new, and sometimes very unexpected, turns.
14. Sakurasou no Pet Na Kanojo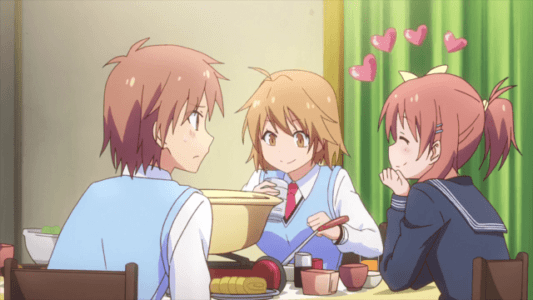 Genres: Comedy, Drama, Romance, School, Slice of Life
Studios: J.C.Staff
Episodes: 24
This is a good school romantic comedy that revolves around a second-year high school student named Sorata Kanda who lives in Sakurasou, the dormitory for problem children at Sorata's school.
One day, Mashiro Shiina – a cute girl who happens to be also a cosmopolitan, brilliant artist – moves into Sakurasou.
Sorata thinks to himself that he should protect Mashiro from the weirdos at Sakurasou, but Mashiro has a surprising secret: She has no idea how to take care of herself.
She gets lost if she goes out, and her room is a complete mess. Sorata's dorm mates designate him as the "master" of Mashiro, and thus, an ordinary boy and a brilliant girl must live like "a master and his pet.
13. Akatsuki no Yona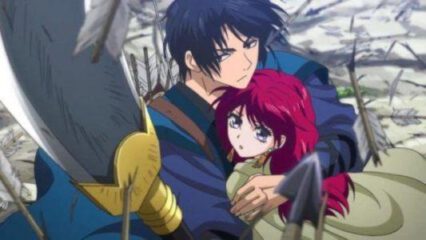 Genres: Action, Adventure, Comedy, Fantasy, Romance, Shoujo
Studios: Pierrot
Episodes: 24
All of the drama; love, war, and even betrayal. Yona of the Dawn is an incredible fantasy romance anime series with a three way love story that deals with the adventures of the cheerful Princess Yona.
Upon her sixteenth birthday, intended to tell her doting father of her love for Soo-won, but her life was turned upside down after witnessing the man she loves cruelly assassinating her father.
Heartbroken by this painful betrayal, Princess Yona fled the palace with her loyal servant Hak. Now, she will take up the sword and the bow on a quest to gain new allies and protect her beloved people.
12. True Tears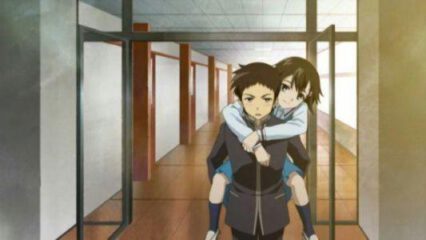 Genres: Drama, Romance, School
Studios: P.A. Works
Episodes: 13
True Tears is an anime that has also a good triangle love story that depicts: Living under the same roof with the girl he has a crush on, should be a dream for Shinichirou Nakagami, but the reality is closer to a nightmare.
At school, Hiromi is bright, academically successful, athletic, and popular. But at home, Hiromi is a completely different person; she's cold, distant, and encased in the protective shell she's erected around herself after a painful childhood.
At school, a strange girl named Isurugi Noe suddenly takes an interest in Shinichirou. Noe loves the school's chickens, especially Raigomaru, who she's convinced can fly.
Thus begins a strange relationship where Shinichirou helps Noe resolve her problems, even as he tries to figure out his own feelings about Noe, Hiromi, and his childhood friend, Andou Aiko.
All the while Shinichirou is also trying to find the key to unlock Hiromi's heart and finish the children's picture book he's been writing. Surprisingly, it's Noe who proves critical to both…
11. Oregairu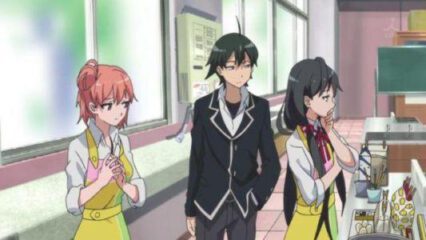 Genres: Slice of Life, Comedy, Drama, Romance, School
Studios: Brain's Base
Episodes: 13
Oregairu is an anime that follows Hachiman Hikigaya, an apathetic high school student with narcissistic and semi-nihilistic tendencies. He firmly believes that joyful youth is nothing but a farce, and everyone who says otherwise is just lying to themselves.
In a novel punishment for writing an essay mocking modern social relationships, Hachiman's teacher forces him to join the Volunteer Service Club, a club that aims to extend a helping hand to any student who seeks their support in achieving their goals.
With the only other club member being the beautiful ice queen Yukino Yukinoshita, Hachiman finds himself on the front line of other people's problems—a place he never dreamed he would be.
As Hachiman and Yukino use their wits to solve many students' problems, will Hachiman's rotten view of society prove to be a hindrance or a tool he can use to his advantage?
10. Ao Haru Ride
Genres: Comedy, Drama, Romance, School, Shoujo, Slice of Life
Studios: Production I.G
Episodes: 12
Ao Haru Ride is another anime about love triangle story, it follows Yoshioka Futaba, who has a few reasons why she wants to "reset"
Her image & life as a new high school student, Because she's cute, she was ostracized by her female friends in junior high. So, because of a misunderstanding, she couldn't get her feeling across to the one boy she truly loves, Tanaka-Kun.
Now in high school, she is determined to be as unladylike as possible so that her friends won't be jealous of her. While living her life this way contentedly, she meets Tanaka-Kun again, but he now goes under the name of Mabuchi Kou.
He tells her that he felt the same way as she did when they were younger, but now things can never be the same again. Hence, Will Futaba be able to continue her love that never even started three years ago?
9. Chuunibyou demo Koi ga Shitai!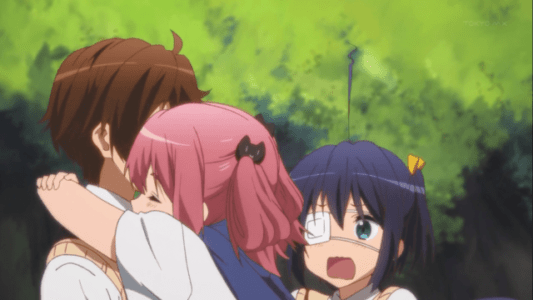 Genres: Slice of Life, Comedy, Drama, Romance, School
Studios: Kyoto Animation
Episodes: 26 / Two Seasons
Chuunibuyou! is that kind of anime that after watching, you will fall in love with it and it may take a special place in your heart too!
The story depicts that Everybody had that stage in their life where they thought themselves to be special, different from ordinary humans. They might go as far as seeing themselves capable of wielding mystical powers or maybe even believe themselves to have descended from a fantasy realm.
This "disease" is known as "Chuunibyou" and is often the source of some of the most embarrassing moments of a person's life.
For Yuuta Togashi, the scars that his chuunibyou has left behind are still fresh. Having posed as the "Dark Flame Master" during his middle school years, he looks back at those times with extreme embarrassment, so much that he decides to attend a high school far away where nobody will recognize him.
Therefore, Putting his dark history behind him, he longs to live a normal high school life. But, unfortunately, he hasn't escaped his past yet: enter Rikka Takanashi, Yuuta's new classmate and self-declared vessel of the "Wicked Eye."  As this eccentric young girl crashes into Yuuta's life, his dream of an ordinary, chuunibyou-free life quickly crumbles away.
8. Shouwa Genroku Rakugo Shinjuu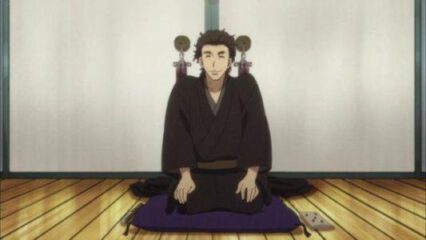 Genres: Drama, Historical, Josei
Studios: Studio Deen
Episodes: 25 
Rakugo storytelling—is one of the oldest and most important of the Japanese arts. Shouwa Genroku Rakugo Shinjuu is a historical anime series that showcases the story of Rakugo and those who build their lives around mastering it, and of the fast-changing nation of Japan in the days after the great war.
For Yotarou, Rakugo is a chance to build a new life after being released from prison. For Yakumo, it's a lifelong struggle to find his voice. For Sukeroku, it comes as naturally as breathing.
Rakugo is what ties these three very different men's stories together, and what brought the woman who would change everything into their lives. On-stage and off, the stories of Shouwa Genroku Rakugo Shinjuu are truly unforgettable.
7. Golden Time 
Genres: Comedy, Drama, Romance
Studios: J.C.Staff
Episodes: 24 
Here is a romantic love drama anime story that will probably make you cry! The story follows: Due to a tragic accident, Banri Tada is struck with amnesia, dissolving the memories of his hometown and past.
However, after befriending Mitsuo Yanagisawa, he decides to move on and begin a new life at law school in Tokyo.
But just as he is beginning to adjust to his college life, the beautiful Kouko Kaga dramatically barges into Banri's life, and their chance meeting marks the beginning of an unforgettable year.
After having a glimpse of college life, Banri learns that he is in a new place and a new world – a place where he can be reborn, have new friends, fall in love, makes mistakes, and grow.
Therefore, as he begins to discover who he was, the path he has chosen leads him toward a blindingly bright life that he will never want to forget.
6. AnoHana
Genres: Slice of Life, Supernatural, Drama
Studios: A-1 Pictures
Episodes: 11
Here is a sad anime that you will never forget, the Anohana tv show is depicting the story of Jinta Yadomi, who is peacefully living as a recluse, spending his days away from school and playing video games at home instead.
One hot summer day, his childhood friend, Meiko "Menma" Honma, appears and pesters him to grant a forgotten wish. He pays her no mind, which annoys her, but he doesn't really care. After all, Menma already died years ago.
At first, Jinta thinks that he is merely hallucinating due to the summer heat, but he is later on convinced that what he sees truly is the ghost of Menma.
Jinta and his group of childhood friends grew apart after her untimely death, but they are drawn together once more as they try to lay Menma's spirit to rest. Re-living their pain and guilt, will they be able to find the strength to help not only Menma move on—but themselves as well?
5. Vampire Knight
Genres: Mystery, Supernatural, Drama, Romance, Vampire, Shoujo
Studios: Deen
Episodes: 26 / Two Seasons
Cross Academy is an elite boarding school with two separate, isolated classes: the Day Class and the Night Class. On the surface, Yuuki Cross and Zero Kiryuu are prefects of the academy and attempt to keep order between the students as classes rotate in the evenings.
As the night class is full of utterly gorgeous elites, this can sometimes prove to be a bit difficult. It is completely necessary, however, as those "elites" are actually vampires. Yuuki and Zero act as guardians, protecting the secrets of the Night Class and the safety of the ignorant day class.
As the adopted daughter of the academy's chairman, Yuuki takes her job with a serious and energetic attitude, It also allows her to interact with her secret crush and savior, the night class' dorm president, Kaname Kuran, and Zero, on the other hand, has a deep-rooted hatred against vampires, and at times, does not hesitate to kill.
This is a love triangle anime that tries to answer the question of whether vampires and humans are able to love and co-exist, even in the strict setup of the Cross Academy. Only time will tell!
4. Nana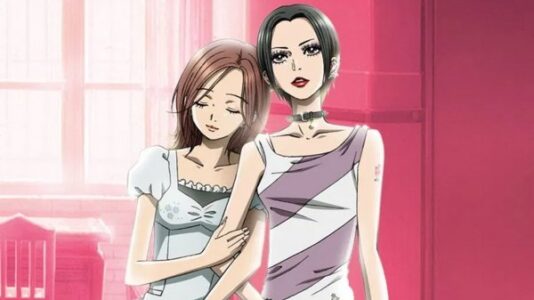 Genres: Music, Slice of Life, Comedy, Drama, Romance, Shoujo
Studios: Madhouse
Episodes: 47
Here is masterpiece anime series animated by the amazing Japanese studio "madhouse", and yeah, this is a sweet love story that follows Komatsu Nana, who moves to Tokyo, following after her boyfriend Shouji to gain a life she has always dreamed of.
On a train bound for Tokyo, she meets Osaki Nana, the vocalist for the punk rock band "Blast", also moving to Tokyo to achieve her dreams of becoming a professional.
Sharing the same name, the two anime main characters perhaps through a twist of fate, ended up becoming flatmates in Tokyo, where together they support each other through each of their love lives and careers.
3. Kokoro Connect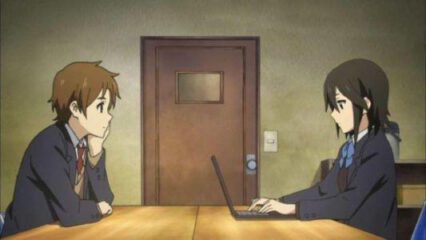 Genres: Slice of Life, Comedy, Supernatural, Drama, Romance, School
Studios: Silver Link.
Episodes: 17
Kokoro Connect is an anime that follows the story of five members of the Cultural Research Club – Taichi Yaegashi, Iori Nagase, Himeko Inaba, Yui Kiriyama, and Yoshifumi Aoki – encounter a bizarre phenomenon one day when Aoki and Yui switch bodies without warning.
The same begins to happen to the other club members, throwing their daily lives into disarray.
At first, the five students find some amusement amidst the confusion, but this unwarranted connection also exposes the painful scars hidden within their hearts.
As their calm lives are shattered, the relationships between the five students also begin to change…
2. White Album 2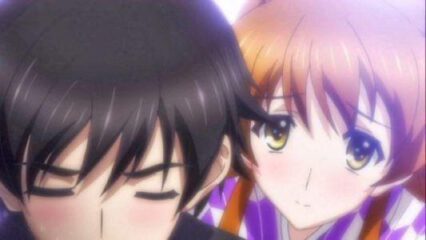 Genres: Drama, Music, Romance, Slice of Life
Studio: Satelight
Episodes: 26 / Two Seasons
Here we have a heartwarming love story that focuses on Haruki Kitahara's light music club, which is on the verge of getting disbanded.
At this rate, the third year's dream of performing at the school festival would never be realized.
However, as his exhausted fingers drift through the chords of "White Album," the first song he would ever play, an angelic voice and mysterious piano begin harmonizing with his lonely guitar.
It is a momentous performance that marks the beginning of everything for Haruki.
White Album 2 orchestrates Haruki's final semester with complex romance and love relationships and exhilarating music, as the curtains of the stage he so desired begin to open…
1. Nagi no Asukara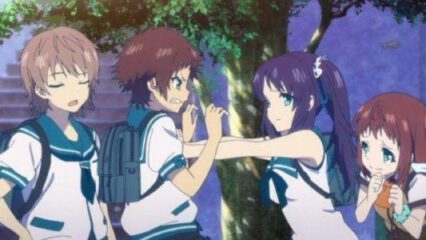 Genres: Drama, Fantasy, Romance
Studios: P.A. Works
Episodes: 26
Nagi no Asukara is a romance anime series about a love triangle fantasy story that is set long ago, all humans lived in the ocean.
But some who longed for the land abandoned the ocean, casting off the special raiments granted to them by the sea god to adapt them to life under the sea.
Though mankind was divided into sea dwellers and land dwellers, each with different ways of thinking, they were all still fellow humans, and they continued to maintain contact as time went on.
Sakishima Hikari, Mukaido Manaka, Hiradaira Chisaki, and Isaki Kaname live in an undersea village, while Kihara Tsumugu lives on land.
When these middle school second-year land and sea dwellers meet for the first time, their hearts begin to undulate like the tides.
The youthful fantasy tale of these young people's lives unfolds in a strange and beautiful world.