The popularity of Japan's anime and its influence is a testament not only to the ingenious creativity of its mangakas and creators but also to the dedicated anime studios that breathe life into numerous stories. Whether sourced from manga, light novels, or games, these anime studios have achieved success and popularity through their magnificent productions.
The likes of "Dragon Ball" and "One Piece" pushed Toei Animation into the spotlight, while Studio Ghibli reached new heights with the timeless success of "Spirited Away," rivaling even Warner Bros.
Yet, these aren't the only esteemed Japanese animation studios deserving tribute. Our mission in this list is to shed light on other anime companies where talented animators work tirelessly behind the scenes, bringing iconic animes to life.
So, without further ado, let's count down our top Japanese anime studios, explore their history, and discover some of their most interesting works.
23. David Production
Located in Nishitōkyō, Tokyo, David Production is a Japanese animation studio that was established in September 2007 by former Gonzo producers Kōji Kajita and Taito Okiura.
The studio became popular for its outstanding works, with notable titles including the anime adaptation of the long-running manga series JoJo's Bizarre Adventure, Sakurada Reset, Cells at Work!, Fire Force, and the 2022 adaptation of Urusei Yatsura.
David Production's name is inspired by the biblical story of David and Goliath, reflecting their dedication to creating outstanding animation style with epic storytelling and characters. Despite being a smaller studio in comparison to others, they are truly doing the best they can to bring some of the best anime to life.
22. Kinema Citrus
Founded on March 3, 2008, by former members of Production I.G and Bones, Kinema Citrus is a talented Japanese animation studio headquartered in Suginami, Tokyo. The studio is guided by business directors Muneki Ogasawara, Yuichiro Matsuka, and Masaki Tachibana.
Their greatest works encompass a wide range, including collaborations like Tokyo Magnitude 8.0 with Bones in 2009, the 3-episode OVA series .hack//Quantum, 2012's Code Breaker, 2014's Black Bullet and Barakamon, 2017's Made in Abyss, as well as 2019's The Rising of the Shield Hero.
With a list that boasts many highly-rated anime titles, Kinema Citrus has undoubtedly earned its place among the best animation studios in history.
21. OLM
OLM, formerly Oriental Light and Magic, is a Japanese animation and film studio headquartered in Setagaya, Tokyo. Established on October 3, 1990, by former employees of Studio Gallop and OB Planning, the studio has evolved over the years.
It's now divided into six production teams, each led by experienced individuals from different backgrounds. OLM has expanded its scope through various subsidiaries and is now part of the OLM Group. As of 2023, it remains an active and influential player in the animation industry.
OLM has a vast collection of hundreds of anime series, OVAs, and movies. Some of their standout anime include Pokémon, Summer Time Render, Berserk, Komi Can't Communicate, and Inazuma Eleven. Yet, we eagerly anticipate more incredible productions from this esteemed anime studio.
20. P.A.Works
P.A. Works is  another great Japanese anime studio established in the year 2000 in Nanto, Toyama. Apart from its involvement in anime, the company is involved in the world of video games. In the past, P.A. Works used to make collaborations with other studios such as Production I.G and Bee Train to create perfect animated works.
In 2008, P.A. Works produced its first anime called  "True Tears," marking their debut as the primary animation studio responsible for the series. This marked the beginning of their mission towards animating some of the most interesting anime in history.
The best among their successes are titles like "Angel Beats," "Another," "Charlotte," and "Shirobako," all of which showcase P.A. Works' skills in providing top-tier anime animation styles.
19. Shaft
Shaft is a popular anime studio known for its distinct and top-notch animation style. Established in 1975, the studio gained popularity with its unique approach to animating series and movies, characterized by multiple camera angles, high-quality visuals, and unconventional storytelling techniques.
Some of Shaft's anime works, such as "March Comes in LIKE A Lion," "Puella Magi Madoka Magica," and the "Monogatari Series," showcase their talented artistic approach, seamlessly blending visual marvels with epic stories.
The studio's successful animation techniques have earned it a dedicated fanbase that trusts them and eagerly starts watching any anime produced by Shaft.
18. Trigger
Founded by former Gainax employees in 2011, Trigger Studio has quickly become an iconic animation studio known for its unique visual style and creative storytelling. Trigger works often feature unique and uncommon stories, combining dynamic action and fighting scenes with distinct character designs.
Trigger's anime series are standout examples within the Japanese medium, with titles like Kill la Kill, Little Witch Academia, and Promare. Trigger is an anime studio that deserves applause from us for bringing to life such amazing anime that we will always appreciate.
17. Studio Deen
Founded in 1975 by former Sunrise producer Hiroshi Hasegawa, along with a team of ex-Sunrise animators, DEEN is a one of the best Japan's animation studios with a rich history.
Its long presence over the years speaks to its esteemed place within the industry, and there's no indication that the studio will fade away anytime soon. With a list boasting over 200 anime productions, Studio Deen has firmly established itself as a good studio in the anime world.
Personally, I have watched numerous anime created by Studio Deen, and I'm excited to recommend a few favorites. These include titles like "Higurashi When They Cry," "Fruits Basket," "Rurouni Kenshin," and "Sakamoto Desu ga?" Each of these shows demonstrates Studio Deen's ability to create an amazing animation style that pleases the eyes.
16. CloverWorks
Located in Suginami, Tokyo, CloverWorks is among the best Japanese anime studios right now.It initially operated under the name Kouenji Studio as part of A-1 Pictures, a sub-company of the parent company Aniplex.
However, in April 2018, the studio underwent a transformation, adopting the new identity of CloverWorks. Notably, in October 2018, CloverWorks took a step further by separating from A-1 Pictures while maintaining its affiliation with Aniplex.
Since its renaming, the studio has produced a diverse range of 25 successful projects, including anime series like "Darling In The Franxx," "Spy x Family," "The Promised Neverland," and "Horimiya." Aside from their great stories, all of these anime were successful due to their high-quality animation, which is all thanks to the CloverWorks studio.
15. White Fox
Started in 2007 by OLM Incorporated producer Gaku Iwasa, White Fox stands as a notable Japanese animation studio. 
In White Fox, they seem to have a production pattern to maintains a deliberate pace, typically releasing two or three anime series annually. Nevertheless, these series often meet huge success within the anime community.
White Fox's adaptations are usually from visual novels, light novels, and occasional manga. Their anime productions often lean towards darker themes, frequently showcasing violence and emotional like what going on in shows like Steins;Gate, Re:Zero − Starting Life in Another World, and Akame ga Kill!.
14. Gainax
Gainax is another cool Japanese anime studio that has produced numerous anime series that spanned a wide array of genres and styles.
Some of their iconic anime include titles like Neon Genesis Evangelion, Gunbuster, Nadia: The Secret of Blue Water, FLCL, and the masterpiece Gurren Lagann. These Gainax works are well ranked in anime history, due to their amazing art style and unique stories.
While Gainax as an anime studio is no longer active, its prolific years, spanning from 1984 to 2018, it is quite likely that many fans have enjoyed at least one Gainax series, a testament to the studio's huge impact on the anime industry.
13. J.C.Staff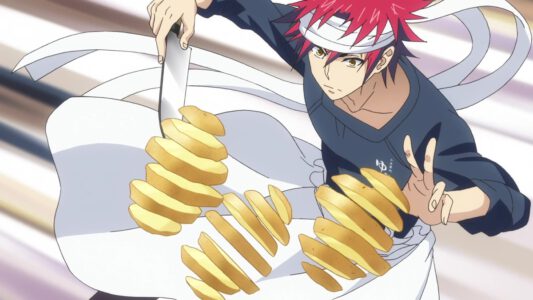 J.C.Staff, situated in Musashino, Tokyo, is a famous Japanese animation studio proudly associated with The Association of Japanese Animations. Founded by former Tatsunoko Production producer Tomoyuki Miyata in January 1986, the studio has independently produced or contributed to a diverse array of over 200 animated works spanning various genres.
Among them, you'll find anime series like the romance comedy Toradora!, the action-packed One Punch Man Season 2, the cooking-themed Food Wars, and the amazing isekai Konosuba. Well, a common thread that ties these anime together is J.C.Staff's distinctive animation style and detailed attention to high-quality visuals.
12. Toei Animation
Toei Animation stands as one of the best and oldest Japanese animation studios, owned by the Toei Company. With its foundation dating back to 1948, Toei has produced so many anime TV series and films, some of which have become a worldwide phenomenon like One Piece and Dragon Ball.
The anime company is so lucky to attract talents like Eichiro Oda, Hayao Miyazaki, Isao Takahata, and Yoichi Kotabe over the years. While primarily known for animating Japanese anime, Toei Animation has also contributed to American works, including iconic titles like Muppet Babies and My Little Pony, Transformers and G.I. Joe.
11. Studio Pierrot
Studio Pierrot, also known as Pierrot Co., Ltd., is a prominent Japanese animation studio that was established in May 1979 by former employees of both Tatsunoko Production and Mushi Production. The studio's headquarters are situated in Mitaka, Tokyo.
Pierrot has played a big role in the world of anime, earning a good reputation for bringing several popular anime series to life. Pierrot's best anime include Naruto, Bleach, Yu Yu Hakusho, Black Clover, Tokyo Ghoul, and Great Teacher Onizuka.
Well, all I can say is that the studio's talent in animation is evident in their work, making them a powerful anime company within the industry. Thank you, Pierrot, for bringing to life such beautiful animes!
10. Production I.G
Back in 1987, Production I.G started out as a small subsidiary of Tatsunoko Production, born from a desire to retain their top-tier animators and give them the creative freedom they craved.
From its humble beginnings, the studio has grown into a significant company, now housing hundreds of employees.
They've been responsible for producing beloved anime like Ghost In The Shell, Guilty Crown, Psycho-Pass, Kuroko's Basketball, and Haikyu!! This has cemented the studio's reputation as a major player behind the success of iconic titles in the anime world.
9. A-1 Pictures
Oh yeah, here is A-1 Pictures, another popular anime studio that has brought to life many great series such as Your Lie in April, Blue Exorcist, and the mainstream Sword Art Online.
These productions have allowed the studio to establish itself as a legendary anime studio, producing a wide range of successful series that span various genres and themes.
You gotta know that this Japanese animation studio was founded in 2005 by ex-Sunrise producer Mikihiro Iwata, and it operates as a subsidiary of Sony Music Entertainment Japan's anime production firm Aniplex.
Well, personally speaking, A-1 Pictures is a studio that have mastered the art of making everything move so smoothly, you can't help but be hooked.
8. Sunrise
Sunrise is a studio with a rich history, renowned for crafting some of the most iconic and enduring anime franchises. Established in 1972, Sunrise, a subsidiary of Bandai Namco, has played a pivotal role in shaping the mecha genre and consistently delivering high-quality anime productions.
The timeless Gundam franchise, alongside masterpieces like Code Geass, Gintama, and Cowboy Bebop, stand as cornerstones of Sunrise's portfolio.
The studio's talent in seamlessly mixing futuristic worlds, political themes, and memorable yet unique characters has solidified its esteemed position as an anime studio that consistently shines among its peers.
7. MAPPA
Founded in 2011, MAPPA Studio by Masao Maruyama, a former Madhouse employee, has swiftly earned high ranks for its top notch animated projects and its policy to tackle unconventional and challenging stories head-on.
Most animes produced by Mappa consistently push the boundaries of animation, resulting in visually stunning and highly watched series.
Most popular titles under MAPPA's banner include "Terror in Resonance," "Yuri on Ice!!!," "Jujutsu Kaisen," and "Kakegurui."
The studio is known for its way to adapt subjects that other studios may shy away from, allowing it to stand out within the world of Japanese animation in a relatively short span of time. 
6. Ufotable
Ufotable is a well-known studio nowadays, founded by former staff members of Telecom Animation Film (a subsidiary of TMS Entertainment) in 2000.
While their initial works consisted of adapting some manga and light novels released in 2002, the studio didn't hit their big break until 2007 with the masterpiece anime movie "The Garden of Sinners."
If you were enchanted by the animation style of the Fate series and the top-notch graphics of Demon Slayer, then you've got to thank Ufotable for working behind the scenes of these popular series and propelling them to the top. This effort has also contributed to Ufotable becoming one of the most renowned anime studios in Japan.
5. Bones
Moving on to Bones, an anime studio that has a reputation for picking the best stories and adapting them into high-quality anime with dynamic animation.
Founded in 1998, the studio has collaborated with a diverse range of creators and mangakas to deliver a wide array of genres and styles.
Well, who doesn't like their works? If you know that Bones' anime includes popular titles like "Fullmetal Alchemist: Brotherhood," "My Hero Academia," "Mob Psycho 100," and "Noragami."
The studio's hard work in creating unique visual styles that go along with epic stories has earned them a high position as a beloved studio within the animation world.
4. Wit Studio
As soon as Wit Studio was founded, which is a sub-company of Production I.G, they managed to produce the masterpiece "Attack On Titan," and from then on, they marked themselves as one of the top animation studios in Japan.
In addition to "Attack on Titan," Wit Studio has also been involved in projects like "Vinland Saga," "Kabaneri of the Iron Fortress," "Seraph of the End," and "The Ancient Magus' Bride."
All of these amazing works have become some of the top-rated anime of all time, further establishing its reputation for delivering high-quality animation that captivates fans with its cinematic flair.
3. Kyoto Animation
Kyoto Animation, often referred to as KyoAni, is famous for its exceptional attention to detail, unique character animation, and adapting emotional stories.
Founded in 1981, the studio has produced a wide range of anime series that features various genres and themes. Kyoto Animation is responsible for some of the most iconic anime in history, including The Melancholy of Haruhi Suzumiya, Clannad, Full Metal Panic, and A Silent Voice, which is one of the best anime films of all time.
Though their style has evolved over time, Kyoto Animation characters are always easily recognizable. The studio maintains its good reputation with a distinct, high-quality style while also adhering to adapting compelling stories that please fans worldwide.
2. Madhouse
Established in 1972, Madhouse Studio is one of my favorite Japanese anime studios. It boasts a team of immensely talented animators – including Osamu Dezaki, Rintaro, Yoshiaki Kawajiri, and Masao Maruyama – who were previously associated with Osamu Tezuka's Mushi Production Studio.
What I admire about Madhouse is their consistent production of iconic anime series and films that often retain their high regard even today. Some of their best productions include "Hunter x Hunter" (2011), "Death Note," "One-Punch Man," and "Claymore."
Therefore, Madhouse has earned a reputation for attracting exceptional directors, with one standout example being Satoshi Kon. They have brought to life Kon's anime marvels such as "Perfect Blue," "Paprika," and "Tokyo Godfathers."
Plus, Madhouse has also made its mark on the international stage, partnering with Marvel to produce various animated series like "X-Men" and "Wolverine." With these achievements, it's safe to say that Madhouse consistently showcases their unique talent in bringing forth the best animation styles.
1. Ghibli
Be you a fan of anime or not, it's sure that you have heard the legendary name Studio Ghibli, which is the best anime studio that exists in the world of animation, both in Japan and internationally.
Founded by the visionary filmmakers Hayao Miyazaki and Isao Takahata, Ghibli has crafted timeless classics that continue to resonate with worldwide fans of all ages.
Known for bringing to life unique storytelling with their breathtaking visuals and deep emotional resonance, Ghibli makes films that are beloved for their ability to take viewers into fantastical worlds while conveying profound themes.
Works like Spirited Away, Princess Mononoke, My Neighbor Totoro, and Howl's Moving Castle have and will always stand as some of the most appreciated Japanese cinema works of all time.