Here is a list of the best classic '90s anime series that are still popular as of now!
Hey, anime fans, welcome again to this tribute list of the best 90s classic anime series that we grow up with. Though their animation style may be outdated by today's standards, still both the heart and the uniqueness of these good 90s classic anime tv shows still hold up today. That's why we are here to make a nostalgic list of the best old Japanese anime series that marked the years of the 1990s that are still so good to watch up to now.
With no more ado, let's start the countdown of our the best and greatest 90s anime series ever!!!
20. Orphen  (1998)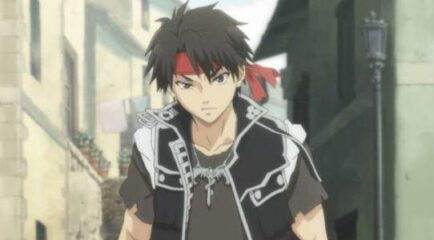 Let's kick off our nostalgic list of the best classic 90s anime series, whit this cool tv show called Orphen, which offers a good fantasy action story in a nice way. This old anime series follows Azali, who due to an accident, became unable to control her magical sword's power. what is worst, is that she turns into a form of a great dragon, and since then, people starts calling her by the name Bloody August. Later, a young magician Krilancelo, promises that he will do his best to return Azali to her former self.
Read Also: Top 10 Anime with the Best Animation Ever
19. Pokémon  (1997)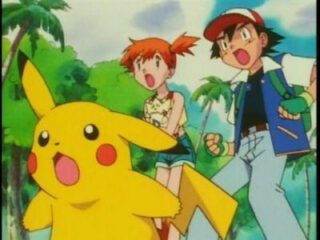 Pokemon is a Japanese classic tv show that's not only one of the greatest 90s anime tv shows but also a series that has done a good job in promoting and introducing the Japanese medium even more popularity in the whole world.
This is an old anime series based on the popular Game Boy game "Pocket Monsters" in which children raise a pocket monster and train it to fight other monsters. In this show, Satoshi and his Pokemon, Pikachu, travel the land hoping to improve their skills and eventually become the grand champions.
It consists of 276 episodes that have in a TV show from 1997 to 2002 to watch the epic adventures of Pokemon which became the first manga series to reach such a wide western audience. Well, years after its release, the original Pokemon 90s anime series is still in the top 3 of the best anime series of all time.
18. Outlaw Star  (1998)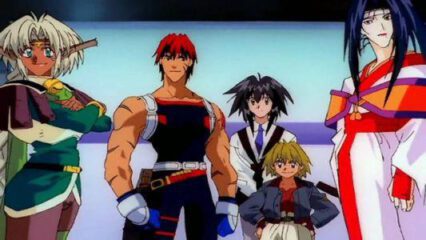 Produced by Sunrise, and aired in 1998, Outlaw Star is another awesome anime series of the 90s that you should watch, Because you will enjoy it from the beginning till the end, and you won't get bored.
The series takes place in the "Toward Stars Era" universe in which spacecraft are capable of traveling faster than the speed of light. Outlaw Star follows Gene and his friendly crew as they brave the final frontier, adventuring across the stars, and looking for answers to the secrets about Melfina. meeting evil bounty hunters, space pirates, Taoist mages, and even cat girls, there is sure to be an exhilarating adventure around every corner.
17. The Vision of Escaflowne  (1996)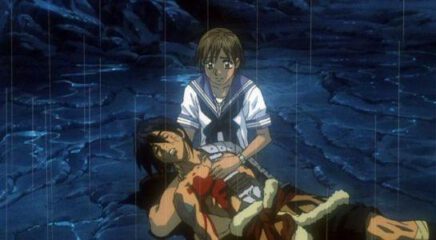 This show was also one of those great classic 90s anime tv shows, that pulled me into watching Japanese anime. Therefore, after watching so many shows up to now, I can say that it is still one of my all-time favorite series to date. So, what makes it so great?
First of all, the series' characters seem so realistic, the animation style is so good even in that period, the soundtracks are fantastic, and the story is just so deep for a fantasy romance series, that covers various themes, including the conflict of fate against free will.
The plot depicts the tale of Hitomi, a girl with psychic abilities who gets transported to another magical world. Where, she and her friends find themselves under attack from a villainous empire, and the Guymelf Escaflowne provides the key to it all.
16. Now and Then, Here and There  (1999)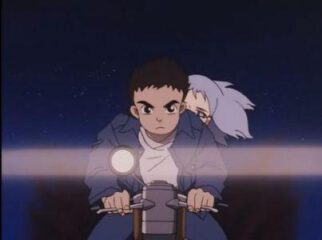 This is such a great 1999 anime series, it's so unique, and epic, that you won't get bored while watching this amazing old but gold tv show.
the story of this 90s adventure fantasy anime series follows "Shu", who runs to the defense of a young stranger who is being attacked for her magic pendant, only to find himself transferred into another desert world where water is a scarce commodity and he is forced to join an army of children there.
This is a great haunting story of an isekai world, and of the protagonist, who faces torture, hunger, and the horrors of war in order to save the lonely girl he has just become friends with.
15. Revolutionary Girl Utena  (1997)
Although the animation is outdated by today's standards, Revolutionary Girl Utena is among the best anime from the nineties and will always remain a series to watch and must be watched by all fans. It features a beautiful design of her distinctive character in addition to her amazing music, then sabotaging fairy tales and magical girls, Utena stands out in the heyday of the 90s anime.
The story follows Utena Tenjou, a tomboy who's popular with all the girls at a prestigious academy. She dreams of becoming a prince, and when she finds herself wrapped up in the machinations of the Student Council, she has her chance to duel for the princess and enters a world that she never expected.
See Also: The Best 36 Twisted Dark Anime Series to Watch Right Now!
14. Sailor Moon  (1992)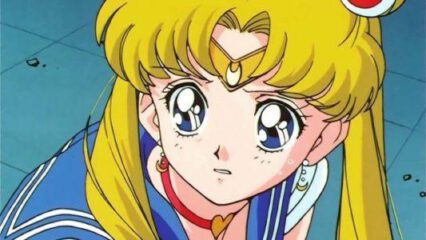 Oh yeah, if you love watching magical anime girls in action, sailor moon is a 90's leading anime series in this field. The story highlights Bunny, a very dissipated schoolgirl, who discovers that she is the reincarnation of Serenity, princess of the Moon and that her mission is to protect the Earth from the evil forces which prevail.
Thanks to a magic brooch, she can transform into Sailor Moon and then benefit from magic powers. Throughout her adventures, she will meet Bourdu the masked man, and other Sailors who will assist her in this eternal struggle between good and evil.
13. Slayers  (1995)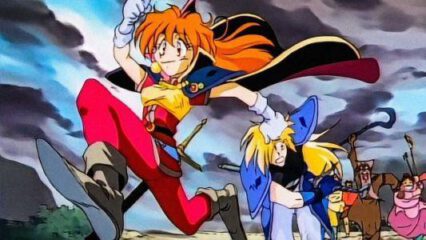 Slayers is a good classic anime series from the 90s that you will really like, Just go watch it ASAP!! This is a series following a powerful, greedy witch named Lina Inverse who wanders the world, stealing from bandits. One day, as she is waiting to attack s bandit group for revenge. she will not succeed in doing so. But luckily, while arrested by the bandits, a foolish man enters the scene and saved her.
After defeating them, the idiot knight decides to escort Lina to Atlas City. However, without realizing it, Lina has stumbled upon a powerful magical object among her most recent stolen goods Now they both are hunted by mysterious people who are after this item, This way they begin their adventure, one where the fate of the world itself may be at stake.
12. Neon Genesis Evangelion  (1995)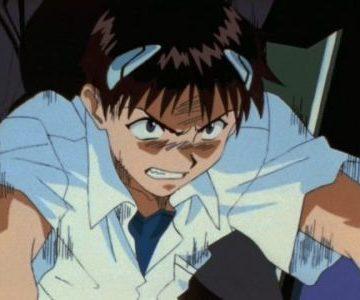 Neon Genesis Evangelion, commonly referred to as Evangelion or Eva, is a Japanese anime television series that was broadcast on TV Tokyo back in the 90s.
Fifteen years after a global cataclysm known as the Second Impact, Humanity's last hope lies in the hands of Nerv, a special agency under the United Nations, and their Evangelions. giant machines capable of defeating the Angels who herald Earth's ruin. Gendou Ikari, head of the organization, seeks compatible pilots who can synchronize with the Evangelions and realize their true potential. Aiding in this defensive endeavor are talented personnel Misato Katsuragi, Head of Tactical Operations, and Ritsuko Akagi, Chief Scientist.
11. Serial Experiments Lain  (1998)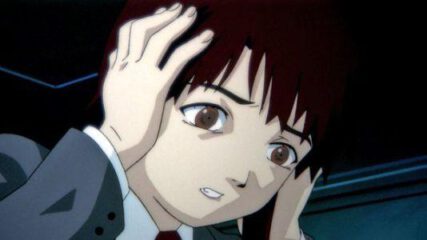 Next up we have the masterpiece anime of the nineties, precisely of 1998, that follows the story of a withdrawn girl named Lain, an awkward and introverted fourteen-year-old, who becomes obsessed with the interconnected virtual realm of "The Wired".
Lain's life is turned upside down as she begins to encounter cryptic mysteries one after another. Strange men called the Men in Black begin to appear wherever she goes, asking her questions and somehow knowing more about her than even she herself knows. With the boundaries between reality and cyberspace rapidly blurring, Lain is plunged into more surreal and bizarre events where identity, consciousness, and perception are concepts that take on new meanings.
10. Ranma  (1989 – 1992)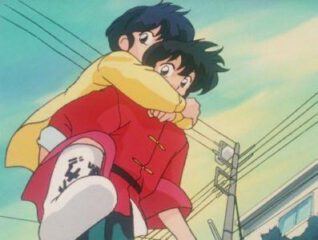 Ranma Saotome is a top-class martial artist and prodigy at the Saotome "Anything-Goes" school of martial arts. Now, Ranma is cursed to turn into a girl when splashed with cold water, and only hot water can turn him back into a boy.
The fathers Genma Saotome and Soun Tendo have Ranma immediately betrothed to the youngest daughter, Akane Tendo. Akane is a martial artist, a tomboy, and quite temperamental. Neither she nor Ranma has ever had a previous romantic relationship.
Ranma is an old 90s anime series that follows the hilarious adventures of Ranma and Akane as they encounter various opponents, meet new love interests, and find different ways to make each other angry, all while their engagement hangs over their heads.
Check Also: 20 Best Sad Anime Series that will Make you Cry
9. Slum Dunk  (1993)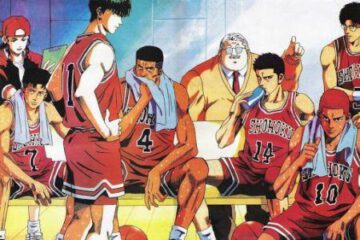 We all love sports anime series, specially basketball-themed ones, everyone knows about Kuroko no Basket, but just a few know about the 90s Slum Dunk anime series which is the best, the pioneer, and a masterpiece basketball ball tv show.
This 1993 anime series offers almost everything from action, comedy, and drama themes to romantic tensions, and badass moments. It has so many interesting characters and when possible, each character or group gets their chance to shine. The story is all About Sakuragi Hanamichi, a freshman at Shohoku High School who joins the basketball team because of the girl he has a crush on, Haruko. Although he is a newbie in this sport, he is no ordinary basketball player.
8. Great Teacher Onizuka  (1999)
Great Teacher Onizuka, is a hilarious classic anime!!! as known as GTO, this is a 90's school comedy anime series that tells the story of Onizuka, a former biker gang leader who now aims to become the world's greatest teacher… in order to get closer to the hottest high school girls.
However, the strict administrator and his class of ruthless bad students will stand between his ambition and they will use any legal or illegal means to send Onizuka away. So get ready to take some classes that won't bore you, language you'd be slapped for speaking, and biology that would make you blush… unless of course, you're the Great Teacher Onizuka.
7. Mobile Suit Gundam Wing  (1995)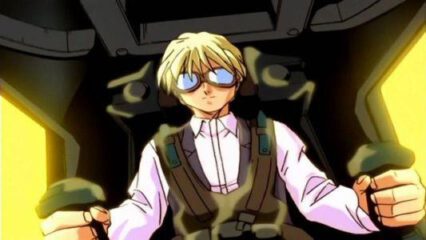 This is absolutely one of the top seasons from the Gundam Series. Yeah, this masterpiece mecha anime from the 90s is old but gold!! The story depicts the USA Sphere Alliance, ruling over Earth and space colonies with an iron fist for several decades.
Later space colonies will start to oppose the ruling system. As a result, their leader was assassinated. Therefore, a rebellious group will send five strong mobiles called "Gundams" to begin an assault against the Alliance and its sub-organization OZ.  Hence the epic story goes from there…
6. Trigun  (1998)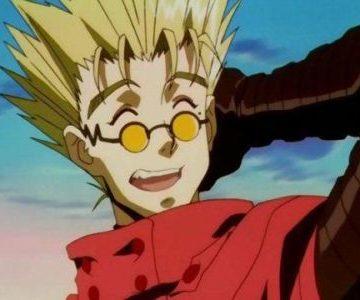 Trigun is another great old anime series that marked the years of 1990s. the series follows Vash who is known as a mighty assassin. But, In actuality, Vash is a huge softie who claims to have never taken a life and avoids violence at all costs.
With his crazy doughnut obsession and buffoonish attitude in tow, Vash traverses the wasteland of the planet Gunsmoke. all the while followed by two insurance agents, Meryl Stryfe and Milly Thompson, who attempt to minimize his impact on the public.
But soon, their misadventures evolve into life-or-death situations. So, a group of legendary assassins is summoned to bring about suffering to the trio. Vash's agonizing past will be unraveled and his morality and principles pushed to the breaking point.
5. Berserk  (1997)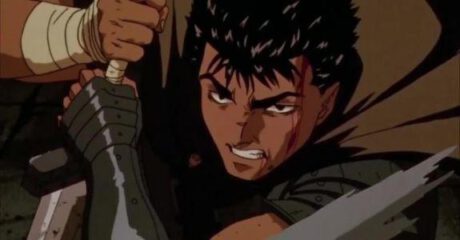 Behold, The best classic anime series from the 90s, where the story is depicting: Vengeance, love, and betrayal. this is Berserk, which probably all anime fans know about such an old anime masterpiece, that has 3 main themes medieval, gore, and philosophy.
Go watch the main character Guts, who is been branded for death and destined to be hunted by demons until the day he dies. He will embark on a journey to defy such a gruesome fate, as waves of beasts relentlessly pursue him; Steeling his resolve, his rage is on fire as he takes up the monstrous blade Dragonslayer and vows to exact revenge on the one responsible.
Read Also: The 23 Best Romance Anime Series With Lots of Kisses to Watch
4. Cowboy Bebop  (1998)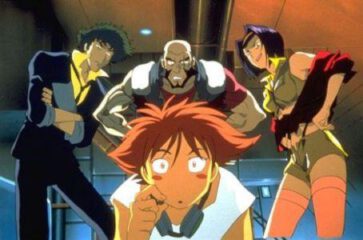 Cowboy Bebop is entering this top 90s anime list as a well-packed classic space-action TV show.
The series will offer you twenty-six epic episodes that are set in the year 2071, although the shows aired back in the 90s. The main story depicts the daily adventurous lives of a bounty hunter crew traveling in their spaceship called the Bebop.
Although it covers a wide range of genres throughout its run. Cowboy Bebop draws most heavily from science fiction, westerns, and noir films, and it is most recurring thematic focal points include adult existential ennui, loneliness, and the difficulties of trying to escape one's past.
3. Dragon Ball Z  (1989 – 1996)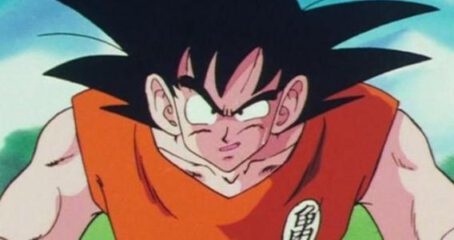 This old anime series is a legend of the golden generation and is still popular today, It was shown for the first time in the 80s and 90s.
Dragon Ball Z takes up the story of Son Goku several years after his marriage to Chichi. The couple has a son named Son Gohan in tribute to their great-grandfather of the same name.
One day, Raddatsu lands on Earth and declares that he is Son Goku's brother. It belongs to the people of the Sayajins, intersidereal warriors putting the universe to fire and blood. Their planet Vegeta has been destroyed and there are only four pure Sayajins left: Son Goku, Radditu, and his accomplices who left on a mission, Vegeta and Nappa.
2. Yu Yu Hakusho  (1992)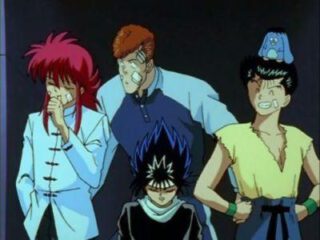 One of the most unique works up to now! yeah, Yu Yu Hakusho is a good 90's anime series that you will absolutely enjoy. because, it has everything: an mc that got reincarnated, isekai theme, well-packed action scenes, friendship, love, Etc.
The story focuses on the delinquent Yuusuke Urameshi, who did nothing good in his previous life, except for getting killed while he saved a young boy from an accident.
Hence, the authorities of the spirit realm offer Yuusuke an opportunity to regain his life through the completion of a series of tasks. With the guidance of the death god Botan, he is to thwart evil presences on Earth as a Spirit Detective.
To help him on his venture, Yuusuke enlists ex-rival Kazuma Kuwabara, and two demons, Hiei and Kurama, who have criminal pasts. Together, they train and battle against enemies who would threaten humanity's very existence.
1. Rurouni Kenshin
Rurouni Kenshin is a great action, adventure, and historical 90s anime series about a badass wandering samurai, Named Kenshin. Even though he is kind, seems soft, and is a friendly person, the truth is he is a former assassin of utmost skill in the Meiji restoration, who at the turning point of the war simply walked away while carrying a bloody dark past he wishes not to return to.
His travels lead him to Tokyo in the 11th year of the Meiji era, where he befriends a female Kendo master, a former thief, a brawler, and a doctor all with their own secrets. Together they fight off the enemies surfacing from the dark past that Kenshin cannot evade, nor ignore in any way.
See Also: The 44 Best Essential Anime for Fans to Watch Right Now