Hello fans! Here's a list of some good school anime with an OP MC where these characters spend their school lives ready to fight, protect, and save their friends and beloved ones from any harm.
These protagonists have all sorts of powers, be it magic, intelligence, or raw and incredible superpowers, making their time at school look incredibly cool and earning them the admiration of everyone.
Therefore, this article showcases a list of the top 29 school anime with OP MCs. We hope you find it to be a valuable source of information. So let's start our countdown!
29. Akashic Records of Bastard Magic Instructor
Rokudenashi Majutsu Koushi to Akashic Records is a harem magic school anime with op mc, and is set in The Alzano Empire, which is home to the rarest magic in the world. Here, ambitious young students undergo training to become competent magicians. Sistine Fibel, a noble girl, and her friend Rumia Tingel attend the Academy, determined to cultivate their skills.
Furthermore, their world is thrown on a loop when their favorite teacher surprisingly retires. Then the enigmatic Glenn Radars replaces him. His attitude towards life and magic puts him at odds with his class. additionally, nefarious forces hidden within the empire's walls became active. Rumia and Glenn find themselves caught up in their schemes.
The show follwos Sistine, who is captivated by a mysterious floating Sky Castle; Rumia, who is haunted by a troubled past; and Glenn, who may be more than meets the eye. Though completely different on the surface, they are inexplicably bound together by a thread of fate.
28. Mahou Sensou
Takeshi Nanase finds out abruptly one summer morning. On his way to kendo practice, Takeshi comes across an unconscious girl in a uniform he doesn't recognize. Takeshi saves her, and in return, the girl wakes up and accidentally turns him into a magic-user.
As Takeshi finds out, there is the world he lives in and the world of magic users. Most magic users just want to peacefully coexist with non-magicians, but there are some with bigger ambitions. Mui Aiba is a magician enrolled in the Subaru Magic Academy, where magic users can learn to control their powers.
Takeshi and his newly magician friends Kurumi Isoshima and Kazumi Ida decide to enroll in the Magic Academy as well. They must learn to harness in order to fight off the Ghost Trailers. A group of magicians who are willing to use violence to assert their superiority over humans.
Mahou Sensou is a school fantasy anime featuring an op op mc and his friends, as they must train to become stronger, face the leader of the Trailers, and prevent the beginning of the Second Great Magic War.
27. Absolute Duo
Next, we have Absolute Duo, a 12-episode harem romance magic school anime produced by studio 8bit, airing in Winter 2015. Here we have Tooru Kokonoe, the Op protagonist, who enrolls in Koryo Academy after a tragic accident takes a loved one.
This unique school empowers each student with a weapon representing their soul. Tooru's motivation for revenge drives him, but he soon learns that his soul manifests as a shield, not a weapon, which surprises and challenges him.
26. Seirei Gensouki
Seirei Gensouki is a 2021 isekai school anime featuring a really powerful main character. The series focuses on Rio, a tough orphan surviving in the slums. At just 7 years old, he discovers he's the reincarnation of Haruto Amakawa, a Japanese university student with a tragic history.
Alongside this revelation, Rio realizes he possesses incredibly strong magical powers. He uses these newfound abilities to solve a kidnapping case involving a young girl. His act of heroism doesn't go unnoticed, and he's granted admission into a prestigious academy for noble children.
25. Chivalry of a Failed Knight
Chivalry of a Failed Knight aired in 2015 and falls into the genres of action, ecchi, fantasy, and school life. The series takes place in a school, and follows an Op character named Ikki Kurogane. He belongs to a lineage of Blazers, individuals capable of manifesting weapons or devices from their souls.
Unfortunately, when it comes to magical powers, Ikki disappoints, earning the unfortunate nickname "Worst One" at Hagun Academy. However, everything changes for Ikki when Princess Stella Vermillion, a highly promising Rank-A Blazer, transfers to Hagun. Their unexpected duel sets off a chain of events that challenge societal norms and push boundaries.
24. Vermeil in Gold
Vermeil in Gold is a 2022 school anime featuring a strong main character. We follow Alto Goldfield, a student at a magical academy, striving to master all forms of magic. However, he faces a dilemma of potentially failing a critical summoning magic class, risking being held back a year. In a last-ditch effort, he stumbles upon an ancient summoning grimoire.
Abiding by its instructions, he inscribes a magic circle and successfully summons a potent demon named Vermeil, who had been sealed away for a long time. Alto forms a partnership with Vermeil, making her his magical companion. However, Vermeil occasionally requires magical energy from Alto, and she obtains it through a profound kiss.
23. Asterisk War
Asterisk War is a 2015 anime produced by a1 pictures studio, featuring genres like harem, action, and a strong male lead. The story starts off after an unprecedented disaster called Invertia struck the world in the 20th century, resulting in the destruction of numerous cities. Surprisingly, within the disaster's aftermath, a mysterious element called mana was discovered within a meteor.
This mana revolutionized human technology and gave birth to a new breed of humans with unique skills known as the Star Pulse Generation. The epicenter of battles, called the Festas, is in an academy city called Rikka or Asterisk, an elevated city surrounded by six academies.
22. Armed Girl's Machiavellism
Aired in 2017, Armed Girl's Machiavellism is a high school anime featuring a powerful protagonist. The story centers around rebellious Fudo Nomura, who is unexpectedly transferred to a school where girls wield weapons to control and discipline the boys.
At Private Aichi Symbiosis Academy, Nomura finds himself targeted by Rin Onigawara, the leader of the Five Ruling Swords, a group of five girls with significant influence in the school. Nomura's choices are limited: either get expelled from this unique school or endure the challenges posed by these cunning girls!
21. Tokyo Majin
Tokyo Majin is another good recommended school anime from 2007 with a powerful student. The story is set in Tokyo, where the city becomes dangerous when night falls. Lifeless demons called "Oni" roam the streets, attacking and harming innocent people.
Kyouichi and Tatsuma, high school students, have special powers that let them fight and defeat these demons at night. They keep battling, not fully aware of the true danger—a group orchestrating the Oni attacks, working behind the scenes.
20. Chrome Shelled Regios
Chrome Shelled Regios is an anime about a powerful main character in a supernatural school. The story is set in a world that's been through a disaster. Huge dangerous creatures called Filth Monsters roam the land. There's a unique city called Zuellni that moves and has a mind of its own. It's also a school where students learn to use special weapons.
They compete in battles to show their strength. Nina, a student leader, wants the best fighters in her team. When a mysterious student named Layfon with amazing skills joins, their adventure begins. But Layfon has secrets, and there are unknown powers interested in Zuellni, bringing more challenges.
19. Welcome to demon school Iruma-kun
Released in 2019, Welcome to Demon School Iruma-kun is an anime with a strong protagonist attending a monster school. It's about Suzuki Iruma, a 14-year-old human. One day, he's taken to the demon world against his will. To make things even more complicated, the head demon at his new school insists on being his guardian.
To survive, Iruma has to handle challenges from other students and even scary creatures. He's a pacifist, but he learns to win people over with his kindness as he navigates through these tough situations.
18. The Daily Life of The Immortal King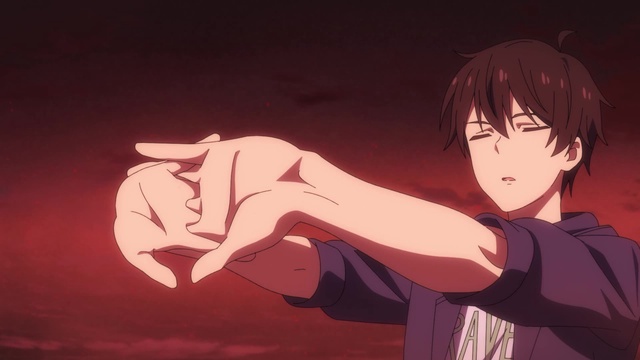 The Daily Life of The Immortal King is a Chinese school anime that started in 2020. It's a well-built tv show that features an op mc, action, fantasy, and school themes. The story follows Wang Ling, a genius in mastering skills, who's been reaching new levels of ability every two years since he was just a year old.
Now at sixteen, he's nearly unbeatable, but his biggest challenge is high school. Despite wanting a quiet and simple high school life, he faces unexpected hurdles and battles that make that wish increasingly difficult.
17. Quanzhi Fashi
Quanzhi Fashi is a great anime that features the magical, school themes, along with an op mc named Mo Fan. He woke up in a familiar world that has vastly changed. His school has become a school that teaches magic, encouraging everyone to become a mighty magician.
Outside the city, many wandering magical beasts and monsters attack and prey on humans. A world of advanced science changed into one of the advanced magic.
In spite this, his ambition in life, and his situation remain the same. One of the dregs of the society with a struggling father and a disabled step-sister that couldn't walk. However, Mo Fan found when everyone can only have one major element, he can do much more!
16. Seiken Tsukai no World Break
Seiken Tsukai no World Break is a harem school anime with op mc that takes place at Akane Private magic school where students possess memories of their previous lives. They train to use Ancestral Arts so that they can serve as defenders against monsters, called Metaphysics, who randomly attack.
Known as saviors, the students are broken up into two categories: The Kurogane who are able to use their prana to summon offensive weapons, and the kuroma who are able to use magic.
The story begins six months prior to the major climax of the series during the opening ceremonies on the first day of the school year. After the ceremony is over, Moroha Haimura, meets Satsuki Ranjou who reveals that she is Moroha's little sister in a past life.
Moroha was a heroic prince capable of slaying entire armies with his sword skills. He meets another girl, Shizuno Urushibara, who eventually reveals that she knew Moroha in a different past life.
Shizuno says that he was a dark lord capable of using destructive magic but saved her from slavery. Can those whose minds live in both the present and the past truly reach a bright future? Delve into the complex world of Seiken Tsukai no World Break to find out!
15. CubexCursedxCurious
Cubex Cursed X Curious is an anime adapted from the light novel series written by Minase Hazuki. This is a story of love, action, and school comedy that follows Yachi Haruaki, a high school boy who is naturally resistant to curses.
His father sends him a mysterious black cube, Haruaki awakes to find a nude girl named Fear standing in his kitchen. She's the human form of the black cube – and an instrument of torture!
Utilizing her special abilities, Fear fights alongside Haruaki to defeat other cursed, instruments and their owners.
14. Hagure Yuusha no Aesthetica 
Hagure Yuusha is an ecchi school anime with an op main character that you will like if you are into fanservice elements. The show highlights a story of the past, when some people from Earth transferred to other worlds only about half of them were able to return. One of the chosen is Akatsuki Ousawa, his mission is to defeat the Dark Lord Garius, and he succeeded in doing so.
Some of the successful chosen ones brought back little trinkets as souvenirs. While Akatsuki, went a different route—he brings back the Dark Lord's daughter, Miu, now she is like his lost little sister!
Upon returning, Akatsuki and Miu join a special school "BABEL" where they must train. So that one day master the powers they had in Alayzard, hopefully, will be able to serve mankind. Will Akatsuki and Miu be able to keep her true identity a secret or will their plan to live peaceful lives together go up in flames?
13. Dragon Crisis!
Kisaragi Ryuji's peaceful life turns into an adventure with the return of his second cousin Eriko. Ryuji and Eriko seize a relic box from a black broker. In the box, they find a red dragon girl Rose.
Dragon Crisis is a school comedy anime series that depicts the story of Op Mc Ryuji who, In order to protect Rose from the black organization, decides to fight using his power as a relic handler.
12. Qualidea Code
Qualdea Code is another magical school anime with overpowered mc that takes place in a world where people continue their war against the "unknown"—the enemy of humanity. Children evacuate to a cold sleep institution during the invasion by the "unknown"  wake up and learn that their bodies gain supernatural powers.
In order to protect the country from the "unknown" emerging from the Tokyo bay gate. The boys and girls wage battles in the defense of the cities of Tokyo, Kanagawa, and Chiba.
11. Trinity Seven 
Trinity Seven is an epic school magic anime that follows the op mc Arata who, one day, notices that the bright red sun stops shining, causing the destruction of his town and the disappearance of the people inhabiting it.
Additionally, by utilizing the magical grimoire, Arata's world became artificially reconstructed. In order to investigate the phenomenon, Lilith Asami appears before Arata, whose artificial world suddenly disintegrates. So, he had two choices: hand over the book, or die.
However, Arata chooses the third option—enrolling in the top-secret magic school Royal Biblia Academy, where six other magical users await him. Together with Lilith, these six form the Trinity Seven, the elite of the school who each bolster their own power and skill.
Hence, with the ambition to save Hijiri and the help of his newfriends, Arata stops at nothing to prevent the destruction of his hometown and to bring his best friend back.
10. Kenja no Mago 
For those who like powerful main characters set in a school setting, Kenja no Mago is a 2019 magic isekai anime that perfectly fits the bill. This series follwos a group of exceptionally strong wizards who effortlessly combat demons, overpowering them in the blink of an eye.
The storyline centers around a young man who tragically dies in a car accident and finds himself reborn in a mystical new world. The experienced yet sagacious Merlin discovers the boy, names him Shin, nurtures him from infancy, and imparts combat skills and formidable magic throughout his upbringing.
Fast forward 15 years, and Shin is prepared to journey across the world independently. However, there's a major oversight—Merlin forgot to teach him a crucial aspect—common sense!
9. Noblesse
Noblesse is a  anime based on the action-packed supernatural manhwa of the same title. It's a Korean anime created by Production IG in 2020. The story revolves around Rai, who awakens after an 820-year-long slumber and embarks on a new journey as a student in a high school established by his devoted servant, Frankenstein.
However, his tranquil days with fellow human students take a turn when enigmatic assailants referred to as the "Unions" disrupt the peace.
8. Classroom of The Elite
The MC in Classroom of the Elite is Ayanokouji Kiyotaka, who's not just smart but incredibly powerful. He starts attending Tokyo Koudo Ikusei Senior High School, a place known for all its students going on to college or getting good jobs. However, he ends up in Class 1-D, which is known for having troublesome students.
The school has this unique system where students earn points every month, and those points can be exchanged for money. Surprisingly, the school allows a lot of freedom during classes, like talking and even sabotaging each other. But amid all this, there's a student named Horikita Suzune, who doesn't agree with this carefree approach and chooses to stay on her own, avoiding socializing.
As time goes on, Ayanokouji, Horikita, and the students of Class D discover the truth about the school's system and how it impacts their lives.
7. Charlotte
If you're searching for a good school anime with overpowered characters, Charlotte should be at the top of your list. The concept of Charlotte is straightforward yet epic: a group of students possess extraordinary powers that will fade away as they grow older. Only a handful of teenagers experience the onset of these unique abilities.
Yuu Otosaka is one such individual who discreetly utilizes his power to ensure a fulfilling school experience. However, everything changes when Nao Tomori, a girl with powers, unexpectedly enters his life. This chance meeting unravels the fate that awaits those gifted with special abilities.
6. Beelzebub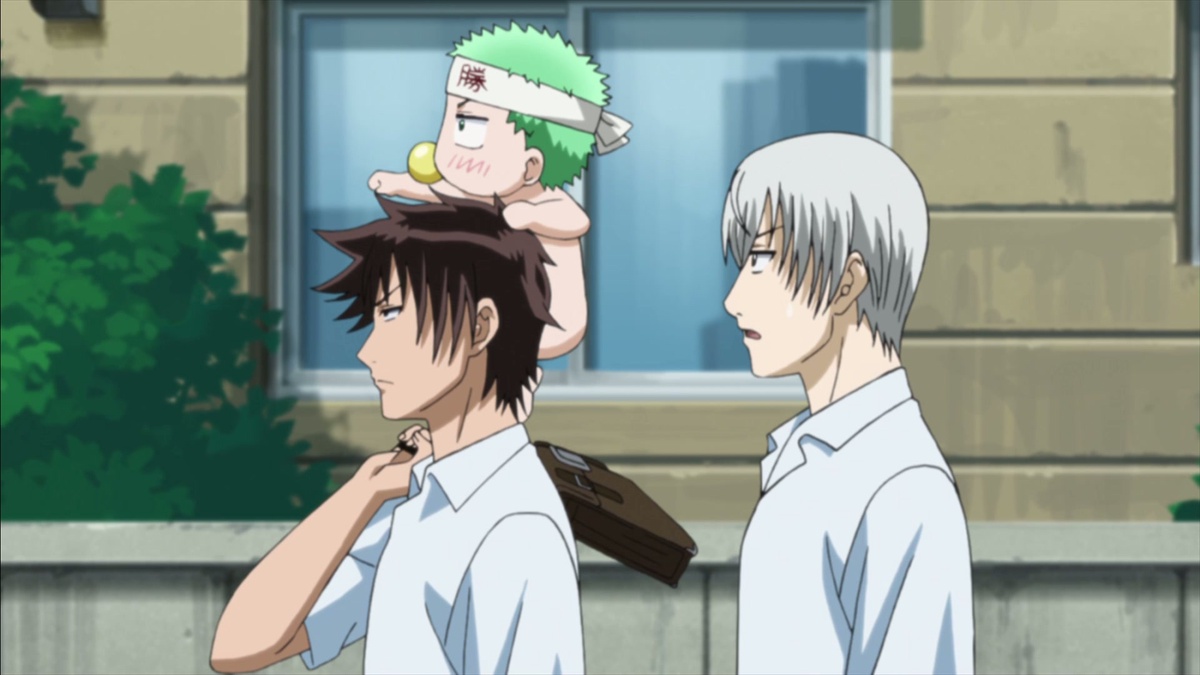 Beelzebub is an anime tv show from 2011 about action and school life, as well as featuring a super powerful main character that you'll really enjoy watching. Ishiyama High School is where you'll find a bunch of troublemakers, and one of them is Oga, a legendary tough guy with a devilish attitude. One day, Oga discovers a man floating down a river, and to his surprise, the man opens up to reveal a baby inside. But this isn't just any baby—it's Beelzebub, the future demon king!
Since Oga is known for being tough, Beelzebub latches on to him, making him the baby's "dad," much to the other demons' surprise. Now, besides dealing with rival gangs and striving to be the strongest delinquent, Oga also has to handle baby duties like buying diapers and taking care of a mischievous baby who's more of a troublemaker than he is!
5. The Fruit of Grisaia
In The Fruit Of Grisaia series, there is this strong guy, Yuuji, who is going to Mihama Academy,  a school that's kind of like a prison, meant for students who've had a rough time. In this academy, there are five girls, each with their own reasons for being there, and they live a quiet life.
But when Yuuji, the first male student, comes to the school, everything changes. He shakes things up and disrupts the routine at Mihama. Will Yuuji be the one to help the girls get their lives back on track, or will their difficult pasts be too much to overcome? Is his past even more challenging than theirs?
4. Assassination Classroom
Assassination Classroom is a humorous story with a twist. It revolves around an unusual class of outcasts whose mission is to assassinate their new teacher—an alien octopus possessing peculiar powers and incredible strength!
This teacher has obliterated the moon and now threatens to destroy the earth, unless the students can eliminate him first. He's also the best teacher they've ever had! In my opinion, it was a unique series that became one of my personal favorites.
The characters are incredibly interesting, and even the target of the assassination is so cool. So, if you enjoy school anime that's both amusing and action-packed, featuring overpowered characters, I absolutely recommend giving this one a try.
3. Sakamoto desu ga 
Sakamoto desu ga is a funny anime made by Studio Deen. It's about a super cool  and overpowered high school boy named Sakamoto. He's like a legend – everyone loves him, even animals!
He's amazing at solving problems and always looks stylish. Bullies can't beat him, teachers can't trick him, and nothing can stop him, not even strong winds. He's just too cool, always succeeding in the most fabulous way. Have you heard about Sakamoto?
2. Saiki Kusuo
The story of Saiki Kusuo No Psi Nan is about a high school boy named Kusuo Saiki. He has special powers that often lead to funny and awkward situations in his daily life. I really love this anime, because it's about psychic powers, action, comedy, and school life, which make it really fun to watch.
At first, it doesn't seem like having a clear story, but it later does develops and starts focusing on strong friendships and what comes in between. The humor is fantastic, and you will enjoy watching Saiki's funny experiences at school. Saiki is truly one of the all-time strongest characters.
1. Mahouka Koukou no Rettousei
In the dawn of the 21st century, magic, long thought to be folklore and fairy tales, became technological and is taught as a technical skill.
In First High School, the institution for magicians, students are segregated into two groups based on their entrance exam scores: "Blooms," those who receive high scores, are assigned to the First Course, while "Weeds" are reserve students assigned to the Second Course.
Mahouka Koukou no Rettousei is a fantasy anime with op mc Tatsuya, and his sister Miyuki Shiba, who are enrolled in First High School. Upon taking the exam, the prodigious Miyuki is placed in the First Course, while Tatsuya is relegated to the Second Course.
Though his practical test scores and status as a "Weed" show him to be magically inept, he possesses extraordinary technical knowledge, physical combat capabilities, and unique magic techniques—making Tatsuya the irregular at a magical high school.