The Best Magic School Anime with Overpowered Transfer Student
Magic anime series that takes place at school or academy, led by an Mc, who is an Overpowered Transfer Student This is a great combination of two or three anime genres, that no one can argue about its epicness.
Firstly, Magic in anime refers to the use of gestures, incantations, or rituals to control some kind of superpower. While transfer students in a magic school anime series, usually known as mages, witches, or wizards, they are often seen in anime as a trainee to be able to use these powers, search for magical items, and fight against strange foes… or other mages.
If you want a list of magic school anime with Op Transfer Student, then you should check out these Best recommendations!
Episodes:  22 / Two Seasons
Studio: Aic

Anime Genres:

 Action, Ecchi, Harem, Martial-Arts, School, SuperPower
This rom-com magic school anime with op transfer student follows Takeru Ohyama, a pervert boy. His new school doesn't require entrance exams, and it just became co-educational!
Unfortunately, his dreams of happy high school life are crushed when he figures out the school is much more than it seems. All of the students possess a special item called a Maken that allows them to unleash their magical powers in duels!
So, Can our op transfer student find a Maken that works for him? Even while trying to fit in at a new school and dealing with all kinds of girl problems?
See Also: Here are the Top Upcoming New Anime Series 2020
9. Hundred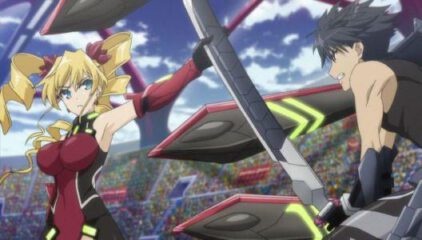 Episodes:

12 (Sub/Dub)

Studios:

 Production IMS

Anime Genres:

 Action, Sci-Fi, Harem, Romance, Ecchi, Mecha, School
Hundred series is a magic school anime that revolves around a weapon that can counter the mysterious Savage life from attacking mankind. Hayato Kisaragi is a Survivor of a savage attack, successfully he enrolls in the marine academy city ship Little Garden.
During the process of his intense training for the battle ahead, he immediately attracts the interest of multiple females. Also, gets drawn into a number of incidents as he tries to fight against the creatures that now live on Earth and threaten their safety.
Read Also: 10 Anime where MC Transfers To Another World And Becomes OP
8. Juuou Mujin no Fafnir (Unlimited Fafnir)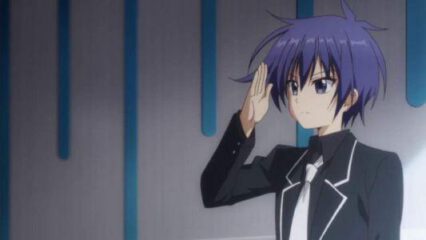 Episode: 12 (Sub)
Studio: Diomedea
Anime Genre: Fantasy, Harem, Romance, School
This anime series takes place at Midgar, which is an all-girl school, that recently accepts its first and only male student, Yuu Mononobe. But Midgar is not only an all-girl academy, it's also a school exclusive to a group of girls who have extremely powerful magic abilities in generating dark matter and manipulating it into powerful weaponry.
These types of girls known as D only appeared after the appearance of a number of mysterious, destructive monsters known as "Dragons". Some of these girls are born with symbols on their bodies and powers similar to Dragons. Yuu is the latest member and is so popular for being the only known male D in existence.
Check Also: 8 Best Romance Anime 2019 That'll Make Your Heart Flutter
7. Hagure Yuusha No Aesthetica (Aesthetica of a Rogue Hero)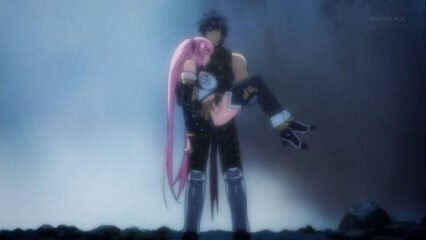 Episodes: 12 (Sub/Dub)

Studios:

 Arms

Anime Genres:

 Action, Super Power, Ecchi, Fantasy
This is a good magic school anime with an op transfer student that follows several young school girls and boys who regularly are transported to a world of sword and magic called Alayzard. Those who survive and return to their homeland are typically gifted with magic abilities. An international training organization known as Babel protects these youngsters and trains them to properly use their powers.
Akatsuki has come back to his world, along with the gorgeous girl Myuu who is the daughter of the Last Dark Lord whom he defeated in battle. As a result, Akatsuki and his new friends must protect Myuu while trying to hide her true identity.
See Also: Top 10 Anime Where MC Starts Off Weak And Becomes OP
6. Code Breaker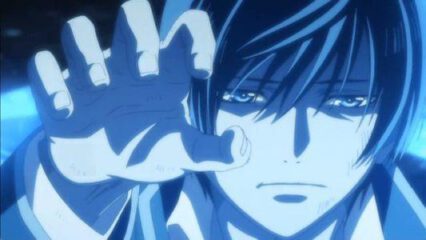 Episodes: 13 (Sub/Dub)

Studios:

 Kinema Citrus

Anime Genres:

Action, Comedy, School, Magic, SuperPower, Supernatural 
Here is a great magic school anime tv show that depicts: While Riding the bus one day, Sakurakouji Sakura looks out the window to see people being burned alive by a boy named Oogami. Oogami is a Code Breaker, one who "does not exist". He is a seemingly cold-blooded killer who follows the principle of "an eye for an eye", to "use evil against evil". Sakura will then focus on trying to stop supernatural assassins from killing morally corrupt people.
Read Also: The 22 Best Action Anime 2019 you Need to Watch
5. Koukaku no Regios (Chrome Shelled Regios)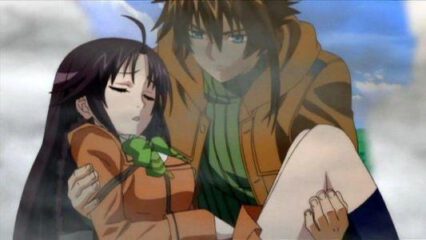 Episodes: (24 Sub/Dub)

Studios:

 Zexcs

Anime Genres:

 Action, Adventure, Fantasy, School, Sci-Fi
This is a school magic anime that depicts that The world of tomorrow is an arid wasteland. Humans live in large mobile cities called Regios to escape the threat of Filth Monsters. In the future, Humans must learn to use special weapons called Dite to counter this phenomenon. At the academy, The mysterious Layfon struggles to keep his violent past hidden from his fellow student soldiers. Unfortunately, his previous life might be impossible to still hide – and the truth could tear his team apart.
Check Also: 10 Awesome Romance Action Anime Series with Op Mc
4. Trinity Seven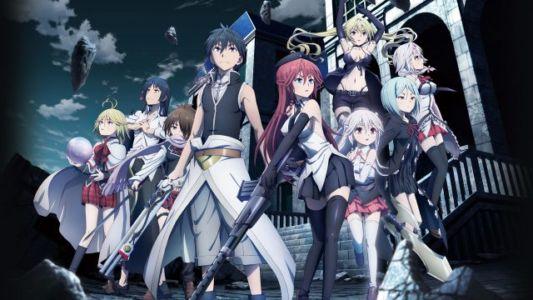 Episode: 12 (Sub/Dub)

Studios:

 Seven Arcs Pictures

Anime Genres:

Action, Harem, Comedy, Supernatural, Magic, Romance, Ecchi, Fantasy, School
In this romance school magic anime, the story focus on Arata Kasuga who suddenly sees his life wiped out by a bizarre incident known as the "Collapse Phenomenon,". This phenomenon causes worldwide destruction and takes his cousin Hijiri Kasuga to another world. To solve the mystery of the "Collapse Phenomenon" and bring back Hijiri, Arata enrolls in the Royal Biblia Academy. Hence, in this Academy, there are seven beautiful female magic users, who will help Arata in his mission.
3. (The Fruit of Grisaia) Grisaia no Kajitsu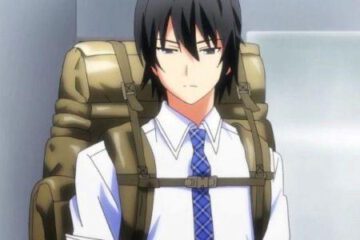 Episodes: 13 (Sub)

Studios:

 8bit

Anime Genres:

 Drama, Harem, Psychological, Romance, School
This is a good magic school anime with an op transfer student that takes place at the Mihama Academy, which is a prison-like school, It is home to five female students who each have their own reasons. One day, Yuuji Kazami is an overpowered transfer student who has just been admitted into Mihama Academy. Yuuji just wants to live an ordinary high school life, but this dream may not come true, as this Academy is quite the opposite. The institute's first male student arrives and throws the orderly rhythm of Mihama off balance.
Read Also: Top 10 Anime Where MC Is Unemotional And Careless
2. Isekai no Seikishi Monogatari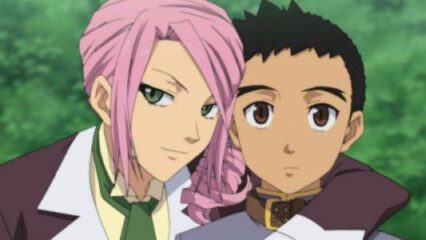 Episodes: 13 (Sub/Dub)

Studios:

 AIC, BeSTACK

Anime Genres:

 Action, Comedy, Ecchi, Fantasy, Harem, Mecha, School
This magical school anime depicts Kenshi Masaki as he Mysteriously teleported from Earth to a world called Geminar, where finding male mecha pilots is extremely rare. In order to return home, Kenchi must pilot a mecha suit called a Sacred Mechanoid and assassinate the ruler of the Shtrayu Empire, Lashara. However, Kenshi finds himself as a prisoner and an object of study by Lashara and her mates. After learning of Kenshi's situation, Lashara asks him to enter her employment. He will act as her servant, practically a slave, but also have a chance to pilot a mecha suit.
See Also: Top Isekai Anime with OP MC You Need To Watch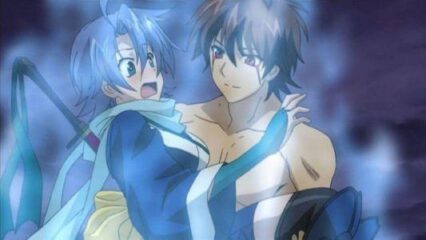 Episodes: 12 (Sub/Dub)

Studios:

 Artland

Anime Genres:

 Action, Harem, Comedy, Magic, Ecchi, Fantasy, School
This action magic school anime follows one of the most promising overpowered transfer students in the Wizard academy. His name is Akuto Sai who takes a career assessment test and the results say that he'll become a demon king. The students treat him differently after this, Moreover, he is surrounded by a harem of beautiful girls who each have their own plans for him. With his newly awakened powers, Akuto must cope with his constantly growing list of misfortune and fight to prove that his fate is not to be evil.
Don't Miss: