Anime about gaming, is a subgenre that refers to those anime series that takes place in a game world, where characters may be trapped in there, must survive, struggle, and try their best to log out safe and sound. While there are other series that simply focus on high-stakes games such as gambling, playing shogi, karuta, and so many other Japanese games.
Keep in mind, that there are so many other anime series based on video game themes, but here on Bakabuzz, our only focus is to make a compiled list of what we think are the best gaming-themed anime of all time that you will enjoy watching.
Now, let us go to uncover the best anime about a game in Japan that you should watch.
21. High Score Girl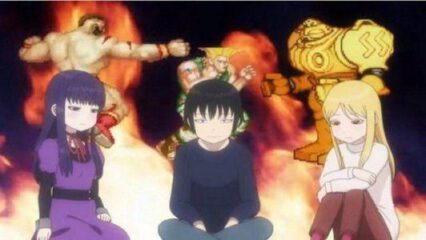 Episodes: 19 / Two Seasons

Studios:

 J.C.Staff

Genres:

 Game, Comedy, Romance, School, Seinen
Let's Kick off our list of the best anime with video games theme with High Score Girl, which depicts the story of the launching of arcade games, and people starts to dream of becoming professional gamer which seems so hard. Here we have Haruo Yaguchi who aims to be a professional gamer, he is already a good gamer, and he became famous on his too, that is, until one day he will be defeated by his pretty rich girl named Akira. Oh yeah, now someone has appeared who can compete with him, which will make Haruo have mixed feelings toward this new rival, as he both loathes and is happy to have met someone who can be his rival.
20. Chihayafuru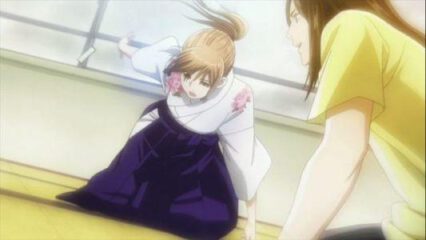 Episodes: 50 / Two Seasons

Studios:

 Madhouse

Genres:

 Drama, Game, Josei, School, Slice of Life, Sports
Chiyahafuru is a good game-themed anime that follows the story of Ayase, a kind anime girl who spent most of her life supporting her older sister's model career. So, when she meets a boy named Arata Wataya, he thinks Chihaya has the skills to become an amazing Karuta player.
Karuta is a card game that demands strong physical and mental skills. Furthermore, The game is influenced by a classic Japanese anthology of Hundred Poets. Hence, as Chihaya starts chasing her dream of becoming Japan's best player, she is now away from her Karuta-playing friends. Currently, she is in high school, and Chihaya still plays Karuta's game, hoping that she will meet up with her friends once again.
19. New Game!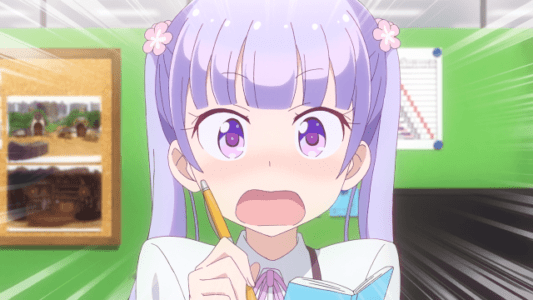 Episodes: 24 / Two Seasons

Studios:

 Doga Kobo

Genres:

 Game, Slice of Life, Comedy
Next up among the best anime that features the process of creating video games, we have New Game! This is a Japanese series that follows Aoba Suzukaze, who has usually been in love with the Fairies Story game series, and as soon as she graduates, she will start working in the same company behind her Favorited game. and luckily, On her first day, she is been chosen to work on a new installment of the series: Fairies Story 3.
New Game is an anime series that depicts the story of Aoba and her workmates, as they all adventure through the ups and downs of creating video games, from designing characters to fixing all the bugs that will inevitably arise in the process.
18. D-Frag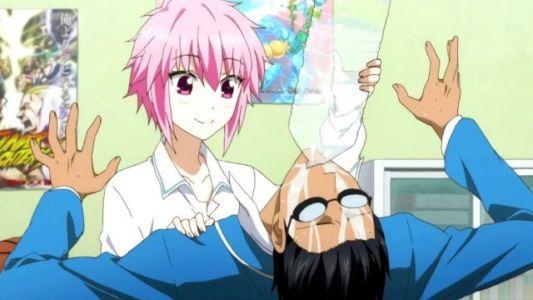 Episodes: 12

Studios:

 Brain's Base

Genres:

 Game, Comedy, School, Seinen
Here is another good comedy, school, and an anime that revolves around a gang of three wannabe delinquents and close friends, who will find themselves putting out a fire in the Game Development Club. So, instead of thanking them, the gang will be attacked, forcing the gang leader Kenji to fight for his life. Failing to escape, he is forced to become a member of the Game Development Club. Throughout the Game Development Club's constant shenanigans and his desperate attempts to leave the club, Kenji begins to realize that he may be actually enjoying himself.
17. Yu☆Gi☆Oh!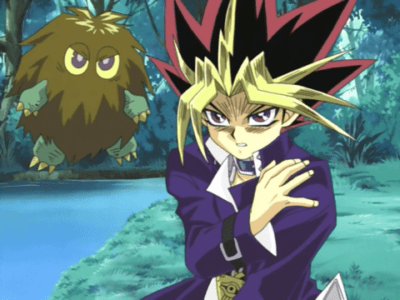 Episodes: 778 / 6 Seasons

Studios:

 Gallop, Toei Animation, 4kids entertainement

Genres:

 Action, Comedy, Fantasy, Game, Shounen
Yu-Gi-Oh! is a famous mainstream anime series that has gained immense popularity. If you haven't heard of it, this is your chance to delve into one of the best anime shows centered around a captivating card game. The series revolves around Yugi and his close-knit group of friends, Joey, Tristan, and Téa, who all share a deep passion for the latest gaming sensation sweeping the nation: Duel Monsters!
Duel Monsters is a card-battling game in which players put different mystical creatures against one another in creative and strategic duels! Packed with awesome monsters and mighty spell cards, Yugi and his friends are totally obsessed with the game. But there's more to this card game than meets the eye!
16. Summer Wars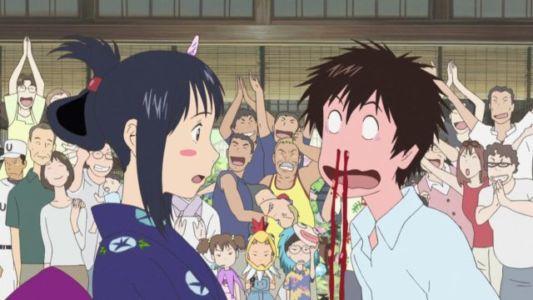 Episodes: Movie

Studios:

 Madhouse

Genres:

 Sci-Fi, Comedy
Summer Wars is a great anime movie about a vr game world. Set at OZ, a Popular virtual world connected to the internet, now it is a place for people to engage in also many activities, be it playing sports, games, or shopping, through avatars created and customized by the user. This virtual world has extremely impenetrable security due to its strong encryption. Kenji Koiso is a 17-year-old math genius and part-time OZ moderator, he is a young math genius, who will solve a complex equation and inadvertently puts the virtual world's artificial intelligence in a position to destroy Earth.
15. Hack//Sign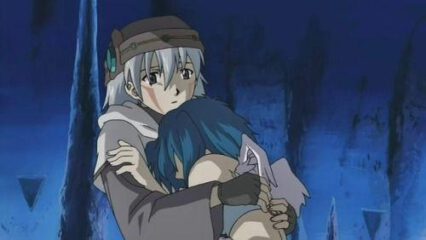 Episodes: 26

Studios:

 Bee Train

Genres:

 Game, Sci-Fi, Adventure, Mystery, Magic, Fantasy
Hack Sign is a kind of anime set in a game world where the characters are trapped and have to do their best in order to log out safely from it.
The story focuses on a young Wavemaster, only known by the alias of Tsukasa, who wakes up in an MMORPG called The World, with slight amnesia. He does not know what he has previously done before he wakes up. In The World, the Crimson Knights suspect him of being a hacker, as he was seen accompanying a tweaked character in the form of a cat. Unable to log out from the game, he wanders around looking for answers, avoiding the knights and other players he meets along the way.
As Tsukasa explores The World, he stumbles upon a magical item that takes the form of a "guardian," which promises him protection from all harm. Subaru, the leader of the Crimson Knights, along with several other players who became acquainted with Tsukasa, set out to investigate why Tsukasa is unable to log out and attempt to get to the bottom of the problem before it gets out of hand.
14. 3-Gatsu No Lion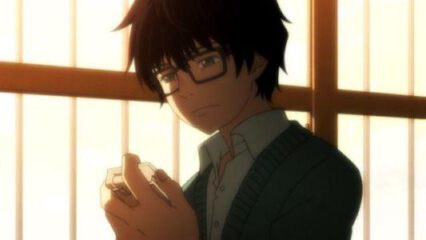 Episodes: 44 / Two Seasons

Studios:

 Shaft

Genres:

 Drama, Game, Seinen, Slice of Life
This anime is about the Shogi game and depicts the story of Rei Kiriyama, who is one of the few elite and professional Japanese players in the world. He usually lives under enormous pressure, both due to the shogi community and his family. So in order to ease himself, he moved from his adoptive family home and headed toward Tokyo.
However, not long after his arrival, Rei meets a trio of sisters living with their grandfather who owns a traditional wagashi shop. These sisters are coping with past tragedies, and also share with Rei a unique familial bond that he has lacked for most of his life. Hence, As he struggles to maintain himself physically and mentally through his shogi career, Rei must learn how to interact with others and understand his own complex emotions.
13. Net-juu no Susume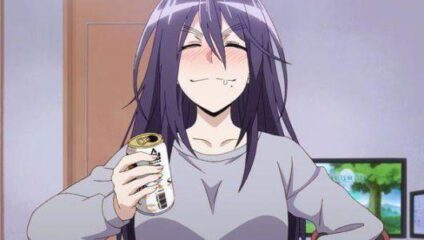 Episodes: 10

Studios:

Signal. MD

Genres:

 Game, Comedy, Romance
Next up we have another good romance game anime series that follows Moriko Morioka, a 30-year-old single NEET woman who is unemployed. After dropping out of reality, she has taken off to look for a different life and she ends up in an online game. Where she reinvents herself as the handsome and dashing male hero "Hayashi" in the MMO Fruits de Mer.
While starting out as a beginner, a pretty character named Lily reached out to help her. The two become inseparable just as Moriko herself becomes more and more engrossed in her new "life" as Hayashi. Meanwhile, in the real world, awaits a shocking encounter with a stranger good-looking elite company employee, a mysterious blue-eyed blonde. However, fate has more in store for them than they ever imagined.
12. Hai tou Gensou no Grimgar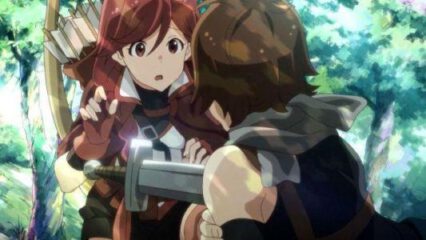 Episodes: 12

Studios:

 A-1 Pictures

Genres:

 Action, Adventure, Drama, Fantasy
This is among the best anime about surviving in a game realm. Yay! what an epic story that features the emotions of fear, survival, and instinct. Hai Tou Gensou No Grimgar is a series that follows some fictional characters who wake up in a foreign land with nothing but hazy memories and the knowledge of their name.
Living with only these three emotions dwelling inside their souls. These characters must accept the paying task in this game-like-world, and become soldiers who must eliminate anything that threatens the peace of this fantasy world. However, this is not an easy game, as its rule is to kill or be killed.
11. Accel World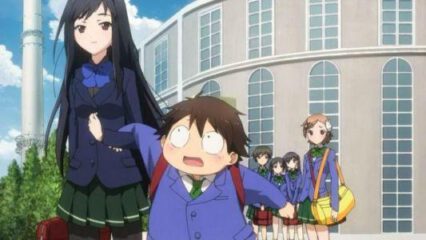 Episodes: 24

Studios:

 Sunrise

Genres:

 Action, Game, Sci-Fi, Romance, School
Among the best anime featuring game themes is Accel World. Set in the year 2046, The main character Haruyuki is an overweight boy who finds himself on the lowest social rungs of his school. Tired of his miserable life, Haruyuki can only seek refuge in virtual life.
The twist happens, when one day his life change when Kuroyukihime, the most popular and the prettiest girl in his school, introduces him to a mysterious program called Brain Burst and a deadly virtual reality Game called the Accel World.
10. Kakegurui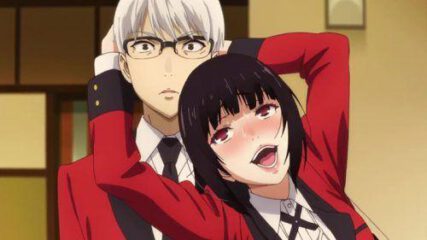 Episodes: 24 / Two Seasons

Studios:

 MAPPA

Genres:

 Drama, Game, Mystery, Psychological, School, Shounen
Kakegurui is one of the greatest anime about gambling games, which takes place in an unusual school "Hyakkaou Private Academy" which prepares students for their time in the real world. Since many of the students are the children of the richest people in the world, the Elite academy has quirks that separate it from all the others. By day, it is a normal school, educating its pupils in history, languages, and the like. But at night, it turns into a gambling den, educating them in the art of dealing with money and manipulating people.
Money is power; those who come out on top in the games stand at the top of the school. Yumeko Jabami, A gambling prodigy, naive and beautiful transfer student, is ready to try her hand at Hyakkaou's special curriculum. Unlike the rest, she doesn't play to win, but for the thrill of the gamble, and her borderline insane way of gambling might just bring too many new cards to the table.
9. Death Parade
Episodes: 12
Studios: Madhouse
Genres: Game, Mystery, Psychological, Drama, Thriller
Death Parade is one of my favorite anime that revolves around deadly games that determine fate and unravel the depths of the human soul. Well, this Japanese anime series will teach you the true nature of human beings. The story follow the aftermath of deaths, where dead people arrive at the Quindecim, a bar attended by the mysterious white-haired Decim.
After death, it is known that humans go to either heaven or hell! However, in Death Parade, some people, find theirselves facing a bartender who challenges them in random games, that will decide their fate later During these games, the true nature of humans pops out! be a good or bad person, everyone is welcomed to Quindecim, where Decim, decides your afterlife! In the Death Parade people receives a judgment, however, a strange, black-haired girl causes Decim to begin questioning his own rulings.
8. Kaiji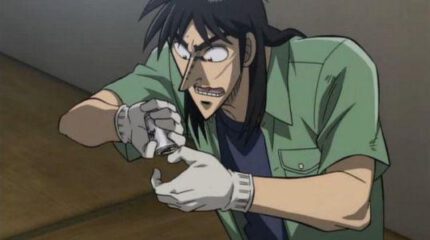 Episodes: 52 / Two Seasons

Studios:

 Madhouse

Genres:

 Game, Psychological, Thriller, Seinen
Kaiji is one of the best high stakes games anime of all time. The story follows Kaiji Itou, a good-for-nothing loiterer who spends his days drinking beer and stealing hubcaps. His life will change dramatically when he ends up being tricked by his former co-worker. Unable to repay his friend's huge debt all by himself, Kaiji participates in an illegal underground gamble on a cruise ship.
This turns out to be nothing more than the beginning of his new life of hell-thrown headlong into a life-threatening roller coaster of mind games, cheating, and deceit. Kaiji is forced to fight not only other people but also the mysteries of their psyches. As a result, Kaiji finds out that the worst sides of human nature surface when people's backs are against the wall, and that the most fearsome dangers of all are greed, paranoia, and the human survival instinct itself.
7. Btoom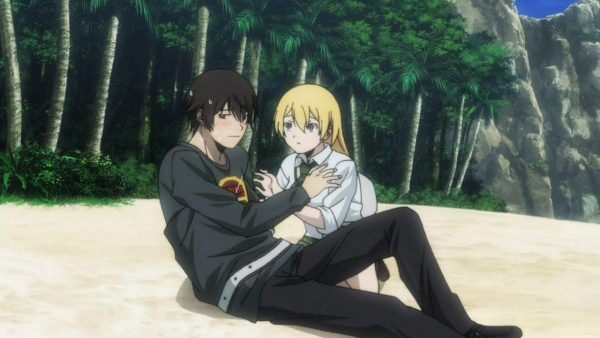 Episodes: 12

Studios:

 Madhouse

Genres:

Action, Sci-Fi, Psychological, Seinen
Coming up, we have one of the best anime about a survival game you will ever see! Btoom is a really good show that you will fall in love with! The story follows Ryouta Sakamoto, who suddenly finds himself moving from playing the Btoom! video game to being transported on a mysterious island.
He is carrying a day's worth of provisions, a bag of bombs, a strange crystal in his left hand, and a huge gaping hole in his memory. But it doesn't take him so long to find out what's going on, especially after the first person Ryouta meets indeed tries to kill him. Someone is attempting to recreate the ultra-violent Btoom! game in real life and the island has been filled with an army of other unwilling players, each armed with one of the multiple variants of explosive weapons called BIM.
6. Log Horizon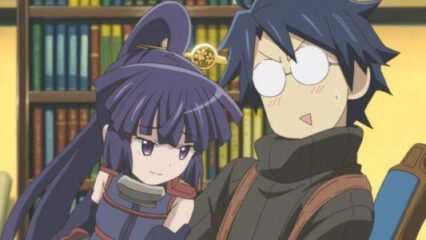 Episodes: 50 / Two Seasons

Studios:

 Studio Deen

Genres:

 Action, Game, Adventure, Magic, Fantasy
Here is another good anime about gaming themes called "Log Horizon". This is a refreshing game anime story that depicts: During the release of its twelfth expansion pack: Novasphere Pioneers, thirty thousand Japanese gamers are all logged on at the time of the update.
However, they suddenly find themselves transported into the game world and donning their in-game avatars. In the midst of the event, a socially awkward gamer called Shiroe, isn't very good at taming with others. Hence, he forms a guild called "Log Horizon" with an eclectic group of other players, In order to survive in this world full of monsters.
5. Persona The Animation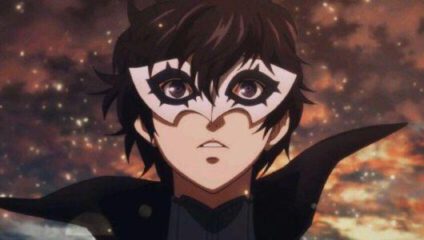 Episodes: 89 / Four Seasons

Studios:

A-1 Pictures, AIC A.S.T.A.

Genres:

 Sci-Fi, Adventure, Mystery, Super Power, Supernatural, School
This anime is adapted from the popular video game called Persona. This anime adaptation is taking place at Ayanagi City, a city near the Japan Sea. It is a futuristic city that was built to carry out the recovery from the calamity caused by the "Apathy Syndrome" ten years previous. High school student Shin Kanzato with his little brother Jun, meet with their elder brother Ryou, who is the chief of the Ayanagi City Police, again after ten years. At that time, a series of strange incidents happen in Ayanagi City such as the crew of a submarine that suddenly disappears while in their submarine, a spiritless symptom that disturbs the world after ten years, or the case of the inside-out corpse where a student took on a cruel appearance. Ryou tracks down the organization behind the string of incidents, and having become involved in the incidents, Shin awakens the "Persona."
4. Sword art Online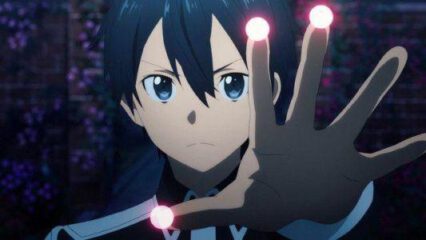 Episodes: 97 / Five Seasons

Studios:

 A-1 Pictures, 3Hz

Genres:

 Action, Adventure, Fantasy, Game, Romance
Sword Art Online is an anime about a virtual reality game that doesn't need promotion. This game-themed anime revolves around a Virtual Reality Massive Multiplayer Online Role-Playing Game (VRMMORPG), that has been released where players control their avatars with their bodies using a piece of technology called Nerve Gear.
One day, players discover they cannot log out, as the game creator is holding them captive unless they reach the 100th floor of the game's tower and defeat the final boss. However, when you die in-game, you die in the real world. Their struggle for survival starts now…
3. The King's Avatar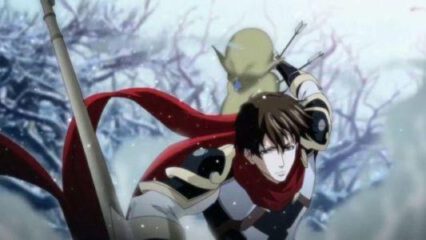 Episodes: 12

Studios:

 G.CMay Animation & Film

Genres:

 Action, Game
This is magnificent Chinese anime centering around an online game, while focusing on a badass professional player in the online multiplayer game Glory. Ye Xiu is an overpowered mc, who is dubbed the "Battle God" for his skills and contributions to the game over the years. However, when retiring from the team and leaving his gaming career behind, he finds work at a nearby internet café. So, he made a new career using a new character "Lord Grim."
Ye Xiu's early achievements on the new server immediately catch the attention of many players, as well as the big guilds, leaving them to wonder about the identity of this exceptional player. Therefore, while he possesses ten years of experience and in-depth knowledge, starting afresh with neither sponsors nor a team in a game that has changed over the years presents numerous challenges. Along with talented new comrades, Ye Xiu once again dedicates himself to traversing the path to Glory's summit!
2. Overlord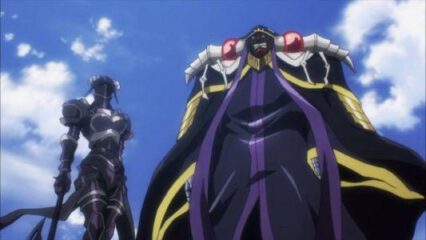 Episodes: 39 / Three Seasons

Studios:

 Madhouse

Genres:

 Action, Adventure, Fantasy, Game, Magic, Supernatural
Overlord is a cool anime in-game world. The series has a story that centers around Yggdrasil, a popular online video game that is shut down one day, and this is just like what happens in sword art online. While Momonga decides to log out as the server shuts down, he found himself trapped in the world of Yggdrasil as a powerful skeletal wizard.
The world continues to change, with non-player characters (NPCs) beginning to become emotional and becoming life-like. Momonga becomes cold and calculating while having his emotions suppressed as if he was not an actual human. Having no parents, friends, or place in society, this ordinary young man Momonga then strives to take over the new world the game has become.
1. No Game No Life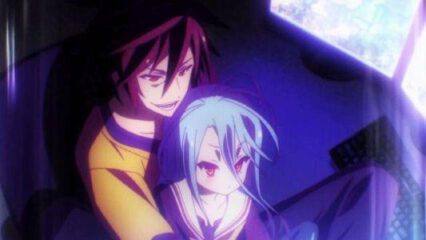 Episodes: 12

Studios:

 Madhouse

Genres:

 Game, Adventure, Comedy, Supernatural, Ecchi, Fantasy
Coming at Number 1 on our list of the best anime about gaming world, is No Game No Life, which depicts The story of two genius siblings: Sora and Shiro, a.k.a blank gamers, who have never filled in their names.
One day, they transfer to an alternate world. There, he prohibited war and declared this to be a world where "everything is decided by games" even national borders. Therefore, humanity has been driven back into one remaining city by the other races.
Don't Miss: