Here are the Best Anime Where The

Transfer Student Is Overpowered and Badass as hell

to Watch
Hey, anime fans; here is a compiled list of ten anime transfer student stories that revolve around the theme of being an exchange student, we picked only the tv shows that consist of a Badass, and Op MC (Main Character).
Hence, if you are in love with anime transfer student characters who are badass, op, and cool, just read this article and add what you think will quench your thirst for school life which consists of epic scenes led by some cool anime student
Here We Go!
10. Chrome Shelled Regios (Dub)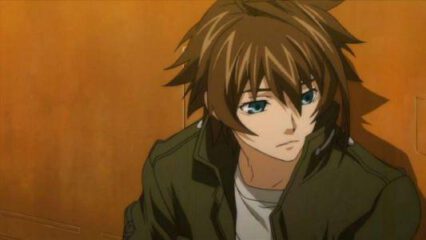 Genres: Action, Adventure, Fantasy, School, Sci-Fi
Studios: Zexcs
Episodes:  24
In a post-apocalyptic world, that consist of beasts, humans lives in large mobile cities a.k.a Regios, and learn to use special weapon. In the Academy City of Zuellni, Layfon Alseif is an anime transfer student who hopes to start a new life and forget his past.
However, his past has caught the attention of Karian Loss, the manipulative Student Council President, and Nina Antalk. Furthermore, a Military Arts student and Captain of the 17th Military Arts Platoon, instantly recognizes his abilities and decides he's the perfect candidate to join her group. However, with a secret past that won't leave him alone and unknown powers beyond normal, Layfon just might not take it.
9. Absolute Duo (Dub)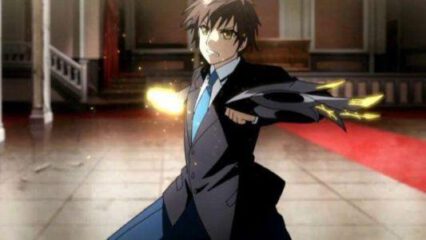 Genres: Action, Harem, Supernatural, Romance, Ecchi, School
Studios: 8bit
Episodes:  12
Next up among the best anime series with an op transfer student is Absolute Duo, a series that chronicles the story of Individuals who can materialize weapons from their souls called "Blazers,". They attend Kouryou Academy High School in order to harness their abilities.
Each student is required to partner with another, in the hopes that one day, the pair can attain the power of Absolute Duo. Tooru Kokonoe hopes to attend this academy in order to gain power after his sister and friends were slain by a mysterious man.
However, at the opening ceremony, he did duel the person sitting next to him by force, with the loser being expelled. As Tooru prepares to give the match his all, it is not a weapon that manifests from his soul, but a shield. This Shield is an irregularity that catches the attention of a foreign student named Julie Sigtuna.
8. Rakudai Kishi no Cavalry (Dub)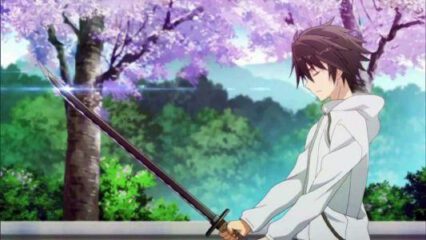 Genres: Action, Romance, Ecchi, Fantasy, Schoo
Studios:  Silver Link., Nexus
Episodes:  12
This ecchi romance and action anime series highlights the story of an op badass anime transfer student named  "Ikki Kurogane" as he tries to become powerful and defies the odds that everyone thinks he can't do. Ikki is the lowest of the low at his academy. While others have magical power and are high ranking.
Moreover, he is the only low ranker… a rank F.  But, At each and every turn he does the unthinkable from beating an A ranker to winning a tournament in order to graduate and achieve his dream of becoming strong when you have no chance of being able to. Hence, Ikki wants to prove that even the weak can be strong, all the while gaining new friends, wisdom, and experience.
7. Trinity Seven (Dub)
Genres: Action, Harem, Comedy, Supernatural, Magic, Romance, Ecchi, Fantasy, School
Studios: Seven Arcs Pictures
Episodes:  12
In this romantic comedy magic anime, the story focuses on Arata Kasuga who suddenly sees his life wiped out by a bizarre incident known as the "Collapse Phenomenon,". This phenomenon causes worldwide destruction and takes his cousin Hijiri Kasuga to another world.
To solve the mystery of the "Collapse Phenomenon" and bring back Hijiri, Arata enrolls in the Royal Biblia Academy. Hence, in this Academy, there are seven beautiful female magic users, who will help Arata in his mission.
6. Isekai no Seikishi Monogatari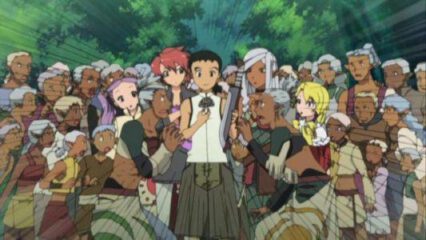 Genres: Action, Comedy, Ecchi, Fantasy, Harem, Mecha, School
Studios: AIC, BeSTACK
Episodes:  13
Next up among the best anime where mc is a badass op transfer student we have Tenchi Muyo! War on Geminar. The story revolves around Kenshi Masaki who finds himself in another world. To get back home, he agrees to help them assassinate the new empress of the Shtrayu Empire, Lashara Aasu XXVIII.
As her army fights them off, Lashara takes note of Kenshi's abilities and demands that her attacker is captured alive. Only to find out that the pilot is male which is extremely rare on Geminar. Believing it to be a waste to kill him, she makes Kenshi her attendant.
As the empress' new servant, Kenshi must accompany Lashara to the Holy Land, an academy where Mechanoid pilots hone their skills. His arrival attracts attention, but Kenshi is unaware that something sinister is brewing within the academy and it could plunge the entire world into war.
Read Also: The 10 Magic School Anime Series where The Mc is Op
5. Code Breaker (Dub)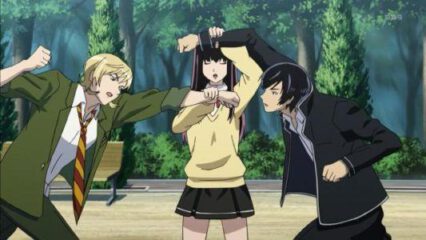 Genres: Action, Comedy, School, Shounen, Super Power, Supernatural
Studios: Kinema Citrus
Episodes:  13
Code Breaker is among the best and most good anime series to watch if you are looking for a badass, overpowered, and cool main character, as well as epic action scenes.
The story kicks off while riding the bus one day, Sakurakouji Sakura looks out the window to see a teenage boy burning people alive His name is Oogami, and he is a Code Breaker, one who "does not exist".
He is a seemingly cold-blooded killer who follows the principle of "an eye for an eye", to "use evil against evil". Sakura will then focus on trying to stop supernatural assassins from killing morally corrupt people.
4. World Trigger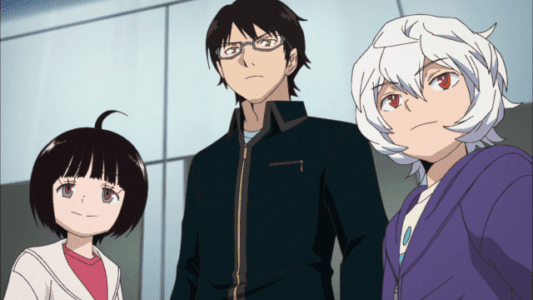 Genres:  Action, Sci-Fi, Supernatural, School, Shounen
Studios: Toei Animation
Episodes:  73
In the not-so-distant – or perhaps very distant – future, creatures with advanced technology known as "Neighbors" invade the human dimension.
However, humanity's only hope is an organization called Border, a small army wielding advanced, specialized weaponry in order to fight the encroaching threat.
3. Hagure Yuusha no Aesthetica (Dub)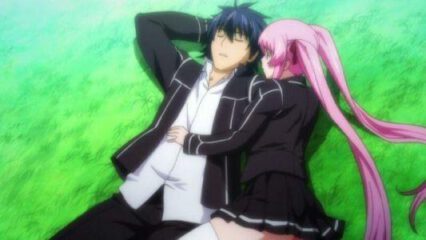 Genres: Action, Super Power, Ecchi, Fantasy
Studios: Arms
Episodes:  12
This is a good magic school anime tv show that follows several young men and women who regularly transfer to a world of sword and magic called Alayzard. Those who survive and return to their homeland are typically gifted with magic abilities.
An international training organization known as Babel protects these youngsters and trains them to properly use their powers. Akatsuki has come back to his world, along with the gorgeous girl Myuu who is the daughter of the Last Dark Lord whom he defeated in battle. As a result, Akatsuki and his new friends must protect Myuu while trying to hide her true identity.
2. Ichiban Ushiro no Daimaou (Dub)
Genres: Action, Harem, Comedy, Magic, Ecchi, Fantasy, School
Studios: Artland
Episodes:  12
This is another best-action comedy magic series that follows a promising overpowered anime transfer student in the Wizard academy. His name is Akuto Sai who takes a career assessment test and the results say that he'll become a demon king.
The students treat him differently after this, Moreover, he is surrounded by a harem of beautiful girls who each have their own plans for him. With his newly awakened powers, Akuto must cope with his constantly growing list of misfortune and fight to prove that his fate is not to be evil.
1. Mahouka Koukou no Rettousei

(Dub)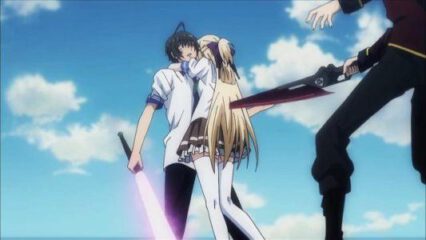 Genres: Action, Sci-Fi, Supernatural, Magic, Romance, School
Studios: Madhouse
Episodes:  26
In the 21st century, magic, long thought to be folklore, became technological and is taught as a technical skill. In First High School, the institution for magicians. Students are divided into two groups based on their entrance exam scores.
1." Blooms," those who receive high scores, are in the First Course.
2." Weeds" are reserved for students in the Second Course.
Mahouka Koukou no Rettousei is a magic anime series that follows the op mc, Tatsuya, and his pretty sister Miyuki Shiba, who are attending the First High School.
In short, Upon taking the exam, Miyuki is in the First Course, while Tatsuya is in the Second Course. Additionally, his practical test scores and status as a "Weed" show him to be magically inept.
This is a good anime where the mc is a badass and op transfer student who possesses extraordinary hidden technical knowledge, physical combat capabilities, and unique magic power.
See Also: