Today, we are shifting our focus away from the well-known isekai-themed anime, where characters transport from our world to mystical realms filled with creatures, magic, and fantastical adventures. Instead, we will explore the exact opposite: reverse isekai anime series.
In these anime shows, we witness characters from another world coming into our real world, creating unique and captivating storylines. Let's delve into the best reverse isekai anime that follow this plot formula, offering exciting and refreshing perspectives on the otherworldly genre.
21. Isekai Quartet
Let's kick off our reverse isekai anime list with the exciting crossover TV show known as Isekai Quartet! Imagine a series that brings together many beloved characters from various another world animes.
In this hilarious chibi anime, you'll find a mix of characters, from the fierce military girl Tanya Degurechaff of Youjo Senki and the witty isekai protagonist Satou Kazuma from Konosuba, to the mighty overlord Ainz Ooal Gown and the mischievous demon sisters Rem and Ram from Re:Zero.
All of them are going about their daily lives when suddenly, a mysterious red button appears before them, almost begging to be pressed.
Driven by curiosity, the characters can't resist pushing the button, leading them to an unfamiliar world with no way to return.
Now, they must navigate this new reality, attending school and making connections with one another. You can expect the classroom to be filled with fan-favorite eccentric personalities, making every moment an entertaining and unforgettable adventure!
20. Mirmo Zibang!
Mirmo Zibang! is a timeless classic among inverse isekai anime. This fantastical TV show, comprising 172 episodes, originally aired in 2002.
Mirumo, the self-centered and chocolate-loving prince of a magical kingdom. Though destined to succeed his kingdom, Mirumo has different plans in mind.
He resists his father's wish for him to travel to the human world and study. In response, the King makes a decree: Mirumo must marry his betrothed, the beautiful and clingy Ririmu. This adds more troubles to Mirumo's life.
In the human world, a shy girl named Minami Kaede has a crush on the charming Yuuki. Yearning for love, she makes a wish upon a magical cup for a fairy to grant her heart's desire, inadvertently pulling Mirumo into the human realm.
But Mirumo and Kaede are not alone in this journey. Ririmu follows to help Yuuki, and Yashichi the Ninja joins to assist Minami's romantic rival, Hidaka Azumi.
The result is a series of humorous and entertaining adventures as these friends and foes navigate their newly intertwined lives.
19. World Trigger
World Trigger is an excellent and underrated anime with a long list of episodes that offers everything you'd expect from a great show. Although it's not an isekai-themed anime, it still finds its place on this list due to its unique premise.
In World Trigger, the enemies, known as "Neighbors," and one of the main characters, are beings from another world who have invaded the real world with their advanced technology.
Humanity's last hope lies in the hands of Border, a specialized organization armed with advanced weaponry, dedicated to defending against the invading threat. This action-packed anime takes you on a thrilling journey as Border battles to protect the human dimension from the encroaching menace.
18. Isekai Izakaya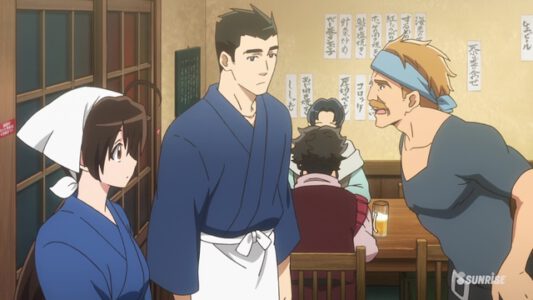 Isekai Izakaya: Japanese Food From Another World by Sunrise is a kawaii reverse another world anime that takes place on a deserted street in Kyoto.
There, hidden away, lies a humble Japanese style pub known as "Izakaya Nobu." But this seemingly ordinary pub holds a remarkable secret: its entrance is mysteriously connected to another world!
Led by the skilled Chief Nobuyuki Yazawa and his dedicated server, Shinobu Senke, the pub's owners have made the bold decision to establish their business in this distant and enigmatic land known as "Aitheria."
In this ancient city, inhabited by palace guards, craftsmen, merchants, and noblemen, Nobu's doors are wide open, welcoming all with the promise of a cold beer and a warm, comforting meal!
17. Restaurent To Another World
Restaurant to Another World is an episodic anime that presents a unique and heartwarming concept. The story revolves around a quaint and historic restaurant named "Western Cuisine Nekoya," tucked away in the basement of a multi-tenant building on a shopping street near the office district.
During the week, the restaurant appears like any other ordinary eatery. However, on Saturdays, a fascinating twist takes place as it opens its doors exclusively to a group of extraordinary guests from different races and cultures who come from another world.
These special hours create a portal through which various characters from parallel worlds can access the restaurant and enjoy the delicious delicacies it offers.
16. Otaku Elf
Otaku Elf is a heartwarming reverse isekai anime of 2023 that revolves around Koganei Koito, a teenager working as an attendant at the Takamimi Shrine.
While the shrine is rumored to house a deity, the real resident is an immortal elf who became stranded on Earth four hundred years ago.
However, there's a unique twist – this elf is a total shut-in, preferring the comfort of indoor life and developing a strong passion for video games!
Now, the shrine attendants must cater to the elf's love for modern gadgets, from handheld games to virtual reality headsets, in this delightful fantasy comedy.
15. Gabriel Dropout
Gabriel Dropout is an intriguing reverse isekai anime that follows the daily lives of four friends who struggle to adapt to their roles as demons or angels.
In this world, young angels from Heaven are sent to live and study among humans to become full-fledged angels. One such angel is Gabriel White Tenma, who is determined to bring happiness to mankind and be a great angel.
However, Gabriel's plans take a different turn when she becomes engrossed in video games on Earth and eventually becomes a hikikomori, distancing herself from others.
She starts to label herself as a "Fallen Angel" and loses interest in everything else, much to the annoyance of her friend Vignette April Tsukinose, a demon she had once befriended during her angelic early days on Earth.
14. Aesthetica of a Rogue Hero
Aesthetica of a Rogue Hero is a good magic isekai anime that follows young schoolgirls and boys who find themselves transported to a world of swords and magic called Alayzard.
Those who survive and return to their homeland gain magical abilities as a result of their journey. To protect and train these gifted individuals, an international organization called Babel takes charge.
After his adventure in Alayzard, Akatsuki returns to his world, accompanied by the stunning Myuu, who happens to be the daughter of the Dark Lord he defeated in battle. Now, Akatsuki and his new friends must safeguard Myuu while concealing her true identity.
13. Hinamatsuri
Hinamatsuri, first aired in 2018, is a captivating reverse isekai anime that brings together elements of lifestyle change, a person in a strange world, psychic powers, and unexpected situations.
The story revolves around Nitta Yoshifumi, a young and intellectual yakuza who enjoys his peaceful life surrounded by his cherished pots in Ashikawa.
However, his tranquil existence takes a sudden turn when a girl named Hina appears in a mysterious object with incredible telekinetic powers. Using her abilities, she forces Nitta to let her live with him, disrupting his leisurely lifestyle.
As Hina's powers tend to go out of control, chaos ensues both at school and in Nitta's organized crime group. Despite the trouble she brings, Nitta finds himself reluctantly taking care of her.
12. Dead Mount Death Play
Dead Mount Death Play is one of the latest and most exciting reverse isekai anime of 2023. The story revolves around a legendary hero facing off against a powerful corpse god necromancer in an epic showdown. However, as the dust settles after their intense battle, something unexpected happens.
In a surprising twist, the corpse god employs a final gambit – reincarnation magic. Through this powerful spell, the hero's soul is transported across space and time, awakening in the body of a boy named Polka Shinoyama. But something feels off as he wakes up, and he realizes that he is not quite himself anymore.
11. Suisei no Gargantia
Animated by Production I.G, Suisei no Gargantia is a thrilling mecha and reverse isekai anime set in a distant future where most humans have left Earth.
Now, the Galactic Alliance of Humanity leads the exploration and prosperity mission for mankind. However, an imminent threat emerges in the form of mysterious creatures known as "Hideauze," sparking an interstellar war.
Joining the battle against these monsters is 16-year-old lieutenant Ledo, armed with the autonomous robot Chamber.
However, during a fierce fight, Ledo loses control and finds himself cast out to the far reaches of space. Destiny brings him to the blue planet Gargantia, where he recovers Chamber from the ocean.
Initially seeing the inhabitants as hostile, Ledo takes a young messenger girl, Amy, hostage. But as he spends time among the people of Gargantia, he discovers they are not as dangerous as he thought.
Unable to communicate with his comrades in space, Ledo adapts to this new way of life, cherishing the peaceful days. However, the calmness won't last long as unexpected challenges lie ahead.
10. kore wa Zombie
Kore wa Zombie desu ka? Is a funny reverse isekai tale that begins with Ayumu Aikawa, a regular high school boy, who meets an unexpected fate one night, facing a serial killer.
However, his life takes a peculiar turn when a necromancer named Eucliwood Hellscythe, hailing from another world, brings him back to life. There's just one catch – Ayumu is no longer human; he's now a zombie!
To add to the chaos, Ayumu accidentally acquires the powers of a magical girl when he borrows her uniform. Now, under the orders of the ex-magical girl Haruna, he must fight evil creatures on her behalf until they can find a way to return her powers.
As strange events unfold, Ayumu's life takes an even more unusual path, making "Kore wa Zombie desu ka?" an anime full of quirky adventures and surprises.
9. Sengoku Collection
Sengoku Collection is an impressive anime that delves into the lives of numerous samurai inadvertently transported from a parallel world filled with popular historical figures. However, in this distinct world, all these individuals take the form of high school girls, offering a unique twist. 
As they arrive in modern-day Tokyo from the medieval era, they are utterly astonished by the unfamiliar surroundings and experiences.
Through their thrilling adventures and encounters, these samurai-turned-schoolgirls forge strong bonds of friendship that transcend time and history.
8. Beelzebub
Beelzebub is an action-packed reverse isekai anime that revolves around Tatsumi's extraordinary life with a demon child from another world.
At "Ishiyama High," a school for delinquents, Tatsumi Oga, a first-year student, stumbles upon a strange sight while dozing off by a river. He rescues a man who mysteriously splits in half, revealing a baby boy.
This baby happens to be the son of the demon king, and Tatsumi is unexpectedly chosen to be the one to raise him, alongside the baby's demon maid, Hilda.
With their powers combined, they embark on a thrilling journey to face the challenges that await them at the delinquent school.
7. Matantei Loki Ragnarok
Matantei Loki Ragnarok is a hidden gem in the world of anime, offering a unique reverse isekai theme. The story revolves around Loki, the mischievous lord, who finds himself exiled to the human world as a result of a seemingly unfortunate joke.
To survive in this unfamiliar realm, Loki takes on the disguise of a child. In a bid to return to the world of gods, he embarks on a quest to collect auras of evil that corrupt human hearts, and to aid him, he opens a detective agency.
As Loki pursues his mission, he encounters a curious human girl named Mayura, who happens to be a mystery enthusiast. Together, they form an unlikely duo, working to unravel the secrets hidden in the human world.
However, their journey takes an unexpected turn when mysterious creatures from the world of lords target Loki for unknown reasons.
6. HighSchool DxD
High School DxD is a spicy harem anime with a mix of comedy, demons, romance, and school life. The protagonist, Issei Hyoudou, is a notorious pervert, daydreaming about having his own harem one day.
His life takes a dramatic turn when a beautiful girl, who turns out to be a fallen angel, ends up killing him. But fate grants him a second chance as Rias, a top-class devil, revives him as her servant.
Now, Issei must navigate the dangerous world of angels and devils, undergoing training and engaging in fierce battles to survive. All the while, he must keep his newfound life as a devil a secret from his friends and family in High School DxD.
5. Fate Series
When discussing reverse isekai anime, let's not forget to mention the epic 'Fate' series! Produced by Studio Deen, this action-packed anime combines supernatural, magic, romance, and fantasy genres. With numerous sequels, seasons, and movies, 'Fate' has become a massive franchise loved by fans worldwide.
In this masterpiece anime, legendary warriors are summoned from another world into the real world through a master-servant contract.
These heroic spirits and their masters must now partake in the Fifth Holy Grail War, a fierce battle royale featuring seven Servants and their mages.
The ultimate prize at stake is none other than the almighty Holy Grail itself, a powerful artifact capable of granting any wish.
4. Gate
Gate is a good reverse otherwordly anime released in 2015 and produced by A1 Pictures. The anime brings to light the fascinating encounter between a medieval civilization and an advanced one.
It all begins when a mysterious gate appears in Tokyo's Ginza district on August 20XX. Through this portal, monsters, medieval knights, and other fantasy beings from another world start wreaking havoc in Tokyo.
To protect their city, the Japanese Defense Force springs into action, pushing the creatures back into the "Gate."
In response to the situation, the Third Reconnaissance Team, led by the otaku officer Youji Itami, is dispatched to explore the "Special Region."
During their journey, they are joined by a beautiful elf girl who survived a dragon's rampage and becomes their guide in this dangerous new world.
3. Re: Creators
Re: Creators, an action-packed fantasy anime produced by Troyca, delves into the boundless imagination of humans. Countless virtual worlds and games are created by individuals, each giving life to unique characters and stories.
Souta Mizushino, a high school student with dreams of becoming a creator, seeks inspiration for his own light novel by watching anime one day. However, he finds himself unexpectedly transported into the midst of an intense battle scene.
Upon returning to the real world, Souta notices something strange: The headstrong heroine from the anime, Celestia Yupitilia, has somehow crossed over into his world. Soon, he discovers that other fictional characters have also made their way into reality.
Among them are a princely knight, a magical girl, a ruthless brawler, and many more, all now strolling the streets of Japan. But the most enigmatic of all is a woman dressed in full military attire, possessing knowledge beyond what should be possible about the creators' world.
2. Kobayashi-san's Dragon Maid
Brought to you by Kyoto Animation? Kobayashi-san's Dragon Maid is a delightful fantasy anime with a reverse another world theme that you must watch.
The story begins with Kobayashi heading out for another typical day at work, but her routine takes a surprising turn when she finds a dragon's head at her apartment door.
To her astonishment, the fearsome dragon transforms into a cute, lively young girl dressed as a maid, introducing herself as Tooru.
As it turns out, Kobayashi had encountered the dragon the previous night during a drunken escapade in the mountains. Feeling compassion for the creature, she offered Tooru a place to stay in her home.
Soon after, Tooru arrives to fulfill the promise and repay Kobayashi's kindness by serving as her personal maidservant.
Though Kobayashi feels a mix of regret and hesitation over her offer, Tooru's extraordinary dragon abilities and a sense of responsibility push her to take in the enchanting girl.
1. Hataraku Maou Sama
Wrapping up our list with Hataraku Mou Sama, which is undoubtedly one of the best reverse isekai anime with an op mc you will ever see! The show is produced by White Fox, and spans genres of action, comedy, demons, and fantasy.
The story follows Devil King Sadao, who is only one step away from conquering the world when he is beaten by Hero Emilia and forced to get transported to our own world: modern-day Tokyo.
As "conquering the world" are the only skills the Devil King possesses—and is obviously unnecessary in his new situation. Hence, now Sadao must disguise himself in a human form while working as a freeter to pay for his living expenses!