If you think college life is boring and consists of only writing assignments and extracurricular activities, many anime series will prove you wrong.
The students there always come across many exciting adventures. Some of those adventures may even be surreal. If you want to get distracted from your busy student life, check out some of the most popular and interesting anime about college life.
It is easy to forget about your daily problems and get distracted for a while. Anime often focuses on the main characters' feelings, explaining their motivation. Therefore, you can relate to them.
It is always a good idea to write about something that interests you when it comes to academic assignments. If you are a fan of anime, you can dedicate your paper to one of the popular series.
Even though it is easier to write about something that excites you, you might still need some assistance. You can turn to a reliable college writing service to hire an assistant.
It will be easier to meet the short deadlines of your assignments and ensure they look polished and well-structured. Meanwhile, you can get inspired by this list of top anime about students and their adventures.
Best Anime About College Life Are:
6. Honey and Clover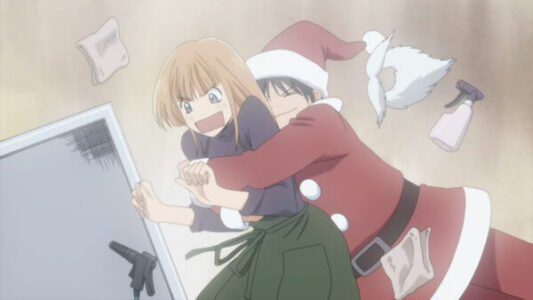 This anime follows the lives of several art college students. You can watch them become friends, fall in love with each other and other people, and try to make their dreams come true. 
Yuuta Takemoto, a sophomore at an arts college, lives in a low-rent apartment with two seniors: the quirky Shinobu Morita, who constantly fails to graduate, and sensible Takumi Mayama, who looks after Takemoto.
Takemoto gives little regard to his future until he meets the adorable Hagumi Hanamoto one day and falls in love with her at first sight. Hagumi, who is exceptionally gifted in the arts, enrolls at Takemoto's university. She becomes friends with another student, Ayumi Yamada.
Ayumi already knows the three flatmates and has a strong affection for one of them. It's a beautiful story of youth, love, soul-searching, and self-discovery intricately woven through five friends' complex relationships.
5. Genshiken 
A college club devoted to studying anime, manga, and gaming culture becomes a gathering place for like-minded otaku.
The series depicts the lives of a group of college students who stick together due to their common interests. The main character is Kanji Sasahara, a quiet, insecure freshman who decides to join Genshiken.
Sasahara learns to accept himself for who he is during his four years at Shiiou University. As the plot progresses, the spotlight shifts to Saki Kasukabe, who wants her partner to quit the club.
Throughout the series, you can see how the bonds between the main characters become stronger. They shift from just being club members to discovering real friendships.
4. Golden Time 
Golden Time is a story of Banri Tada, who has amnesia due to a horrible tragedy. He has no recollection of his past. He does not know where his house is or who his loved ones are. He even does not remember his best friend, Linda.
As a college freshman, Banri is eager to leave his past behind. He decides to start a fresh life at law school in Tokyo after becoming friends with Mitsuo Yanagisawa. However, the intriguing Koko Kaga appears just as he settles into his new life.
As Banri struggles to rediscover his true self and let go of the person that he was before the accident. The circle of people surrounding him alters and expands. It might be the beginning of a brighter future. The anime adaptation of the novel has 24 episodes. 
3. Nodame Cantabile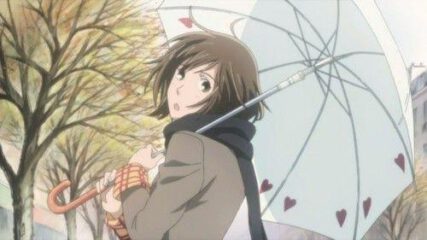 This anime revolves around the lives of music college students and the challenges they face while pursuing their musical aspirations. Shinichi Chiaki is a great musician who dreams about playing in Europe.
He comes from a respectable family and is a notorious perfectionist. He sets a high bar for himself and others as well. Shinichi's only obstacle to traveling to Europe is his phobia of flying. Therefore, he stays in Japan for now.
Shinichi meets Megumi Noda during his fourth year at Japan's renowned music academy. Shinichi hears Nodame play the piano and is amazed by her talent. Shinichi turns out to be his next-door neighbor, and you are about to witness a love story unfold.
2. The Tatami Galaxy (Yojouhan Shinwa Taikei) 
A surreal anime that explores different possibilities and outcomes in the life of a college student, emphasizing the importance of choices and their consequences.
It is an artistic and mind-bending anime that follows the misfortunes of a young man on a quest to make friends, discover love, and live the happy university life he has always desired.
In the beginning, you see a lonely third-year college student meeting a man with an eggplant-shaped head who claims to be a god of matrimony.
Meeting this man prompts the student to reminisce on his two years at college, which he spent miserably trying to break up couples on campus.
His only friend, Ozu, is determined to make his life as unpleasant as possible. Resolving to make the most of the remaining college experience, the student attempts but fails to ask out the unsociable, kind-hearted Akashi.
After this thought travels through his mind, he is hurled across time and space to the start of his college years and granted a second opportunity to live his life differently.
1. Princess Jellyfish (Kuragehime) 
This anime is full of adventures of young female students. Tsukimi Kurashita has been a big fan of jellyfish since her late mother took her to an aquarium as a child.
This 19-year-old social misfit lives with five other unemployed otaku women and spends her days without any social contacts and dreams of becoming an illustrator.
However, her life will dramatically change after a lovely woman unexpectedly assists her in saving a jellyfish in a local pet store. From then on, the stranger visits the girls' building regularly.
She is confident, trendy, and the complete opposite of Tsukimi and her roommates. She is full of secrets that you are about to learn.
Summary:
Enjoy watching these masterpieces. When you choose to write a paper on one of them, don't forget to proofread it using tools like Grammarly. You will be able to avoid all kinds of grammar mistakes.