Who doesn't have a favorite otaku character? And who doesn't have a favorite otaku anime? Well, these finest otaku anime series have the ability to resonate with a part of ourselves that we may keep hidden from others, or simply make us feel more confident and comfortable in our own unique quirks and personalities. Which anime series truly capture the essence of otaku culture? Look no further, as this list brings together the very best otaku anime of all time.
19. Keep Your Hands Off Eizouken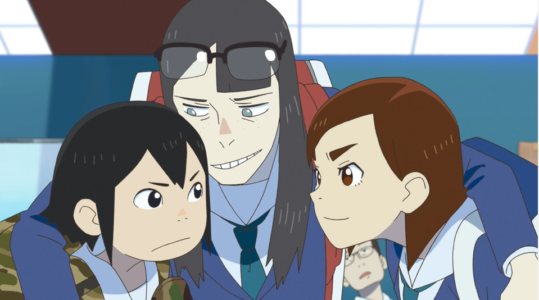 Kicking off the list of anime about otaku characters with Keep Your Hands Off Eizouken. The story revolves around Eizouken has Motion Pictures Club, which is all about anime. They never stop making it, talking about it, or thinking about it! You'll find that storyboards, animation, sound design, and voice acting are all intricately linked which will make your aching heart soar with joy! I learned so many valuable pieces of information from this best anime about otaku culture and the anime industry.
The story is about two young animators, Midori and Mizusaki, and their business-minded manager Kanamori. They seem to work well together. They each have their own distinctive design that reflects their inner personality, voice acting, and funny sketches. Eizouken is an amazing anime that pays homage to animation. It's wildly creative and provides some insight into the amazing things you can achieve in this medium!
18. Nogizaka Haruka no Himitsu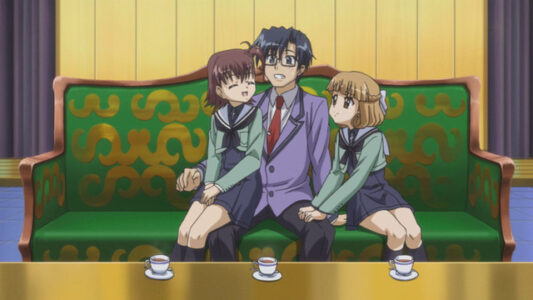 Nogizaka is an average anime with romance with comedy, light ecchi, and some more traditional harem scenes. There are also plenty of anime and manga references. The story starts out with Yuuto who stumbles upon the secret that the pretty girl Haruka hides. He ends up bumping into her in the library and discovers that she is as much of a vivid otaku. After Haruka gets confused and overreacts, Yuuta promises to keep her secret.
17. Chaos; Head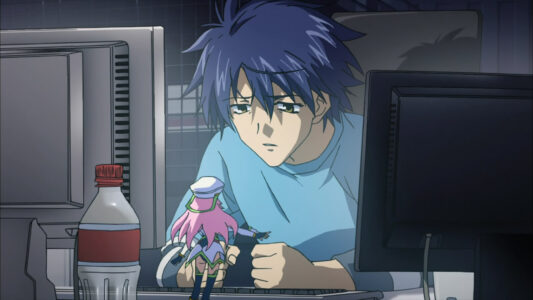 Takumi Nishijou is a high school otaku, who feels like he's being watched by people. He does the things in life like someone that has no concern for reality would, such as playing video games and watching anime all day.
However, his life will turn upside down when he receives an unsettling image of a man on a stake that was sent to him by his user called Shogun. After a while, he went to a cafe where he saw the same murderer he saw in the picture. He also saw a girl with pink hair covered in blood, calling out his name.
With a relatable otaku story, this anime follows Takumi, who is caught up in the "New Gen" murders, but it's difficult for him to clearly distinguish between fact and fiction as he doesn't know where he can place his trust anymore.
16. Otaku No Video
Otaku no Video is a modern anime in many ways and to a certain extent, it is not completely a tv series, nor completely a movie. However, this is an Ova that comes with a mix of some themes in this anime and provides relevant cultural information on the Otaku world.
This is a series based on how the Gainax studio was founded and it covers all sides of living as an otaku. It starts with Ken Kubo who has a normal life, but then everything changes when he is pulled into a group of otaku.
Eventually, he comes to a point where he happily decides to abandon his old ordinary life and set a goal of becoming the king of otaku. This is a good anime that is racially diverse and has some live interviews that cover all aspects of hardcore Japanese geeks' life. It's not just limited to anime or manga fans, but also some other otaku-related things.
15. Saekano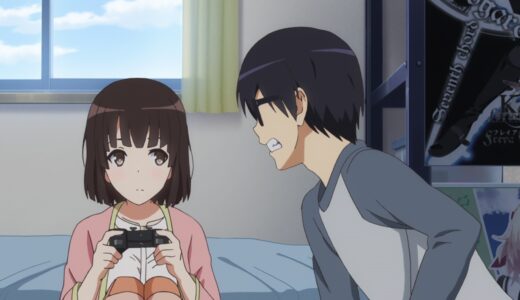 Saekano is an anime produced by animation studios A-1 Pictures. This is an anime where the mc is an otaku, it has a genre of comedy, romance, and ecchi, and follows the story of The Mc Tomoya Aki and his otaku friends and their quest to make his own video game. Tomoya Aki has been collecting anime, manga, and light novels for the past years, attaching himself to a couple of series and franchises with captivating stories and amazing fictional characters.
Using his past experiences, Tomoya manages to create a new video game company with the goal to touch people's hearts. However, he doesn't realize that other creators who touch people with their work are also experiencing the same emotions.
14. Genshiken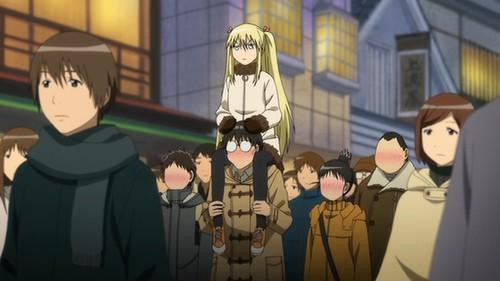 Genshiken is an otaku anime series from the studio Palm, that features 3 genres, comedy, and slice of life. The story follows Kanji Sasahara, who has always struggled to find a place he can call his own. One day though, he walks into an all-encompassing club for otaku, and suddenly, everything begins to change when he meets up with the club member Makoto and learns that he's an otaku girl.
Sasahara starts to get involved with the club activities. Showing his obsession with anime, doujinshi, and attending conventions. There, he meets other interesting people, like Makoto's girlfriend, the staunchly anti-otaku Saki. Saki is struggling with her boyfriend's otaku hobby, while Sasahara is finding a new home and making friends at Genshiken. He is warming up to the idea of being an otaku again and is proud of it.
13. Denpa Kyoushi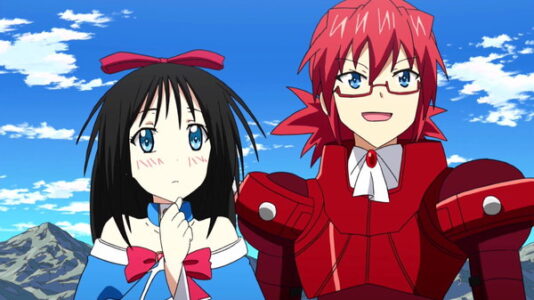 This is an anime series about an otaku main character who has become a teacher. It deals with themes of being different and doing something you don't like. The anime show also features all the usual otaku stuff. Kagami doesn't enjoy teaching, but if any of his students have an issue that he finds amusing, he will provide assistance.
That's the main premise of the show as there are many individual students who, as they are introduced in each episode, all have some sort of issue, but Kagami demolishes it with some wacky solution. Junichirou embarks on an unlikely journey with his class in tow, experiencing life lessons such as acceptance of others, making good friends, and living a better life by doing what you like.
12. Blood Lad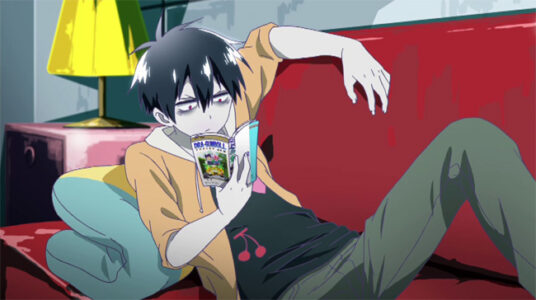 Blood Lad is the story of Staz Charlie, a powerful vampire who rules over the Demon World. He is rumored to be bloodthirsty and monstrous, but in reality, Staz is just a normal otaku obsessed with Japanese culture. He leaves control of his territory to his underlings, spending all his time immersed in the world of manga and anime.
When a Japanese girl named Fuyumi Yanagi, unexpectedly walks through a portal leading into the demon world, Staz is happy to finally meet someone from Japan. But just as he is starting to feel an unusual attraction to her, his territory is attacked and she's suddenly killed. Staz wants to resurrect her, as she is now a wandering ghost. Because his ultimate goal is to travel to the human world and see what it's like.
Produced by Brain's Base studio, Blood Lad spans genres of action, comedy, supernatural, and vampire. It follows Staz and Fuyumi, soon joined by a werewolf as they search for the magic that can bring Fuyumi back to life.
11. Eromanga sensei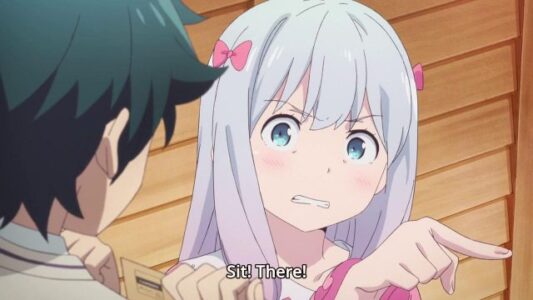 Produced by studio A-1 Pictures, this otaku anime is based on a light novel of the same name and spans genres of comedy, drama, romance, and ecchi. In brief, Eromanga-sensei takes a close look at the life of an aspiring light novel author in Japan and includes many references to other anime, manga, and light novels as well as the overall Japanese industry.
The characters here are quite eccentric and don't always follow standard anime tropes. It's a lighthearted, beautiful, and even oversimplified romance comedy that will probably turn off a lot of people because of its ecchi and fanservice themes. But for the people who like that kind of tv show, it has one thing going for it: It knows exactly what the audience wants to see, so you know if you're into this kind of anime or not.
10. Re: Creators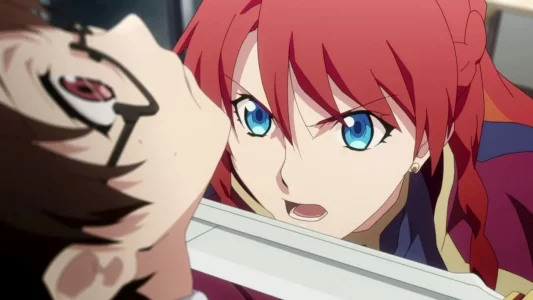 From Studio TROYCA with genres: action, fantasy, sci-fi, Re: Creators is the definition of a good anime about otaku and geeks. Everything about this anime is unique and special, especially the 22 episodes that don't disappoint. From mecha and magical girls to swordman and legendary warriors any type of character that you could think about it has its own moment to shine in this show.
This is one of the best popular anime using the "reverse Isekai" concept has characters from a fantasy world come to join the real world. This is the story of a high school student, who embarks on an unusual journey along heroes when he realizes that a villain has brought fictional characters into his world. The woman is using these heroes to complete her sinister plan.
9. Oreimo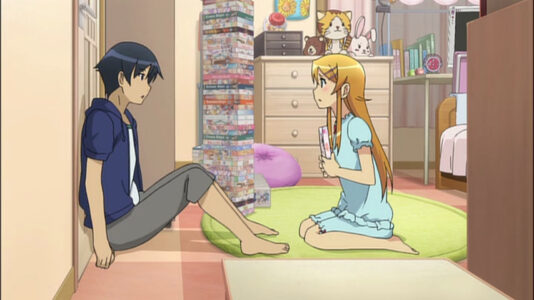 Oreimo is a harem anime with otaku characters that you will absolutely fall in love with. The story follows Kyousuke, a high school guy with a normal life, who suddenly finds himself tangled up in his sister's secret hobby of watching anime and playing eroge video games.
His sister, Kirino has been a stranger to him till now and both her secret and the sudden change in her behavior are shocking and perplexing. Now he finds himself helping his sister in her otaku mode, hiding her secret, helping her make new friends, and repairing their relationship. Seriously a pair of siblings find happiness through the power of the otaku culture!
8. Lucky Star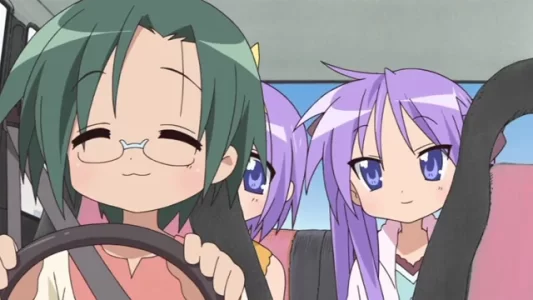 Lucky Star is a slice-of-life comedy series done in the otaku anime style. If you are more interested in jokes, then this is the best choice to watch.
The show comprises genres like comedy, otaku culture, and school and is produced by Kyoto Animation. Lucky☆Star is a story about four cute school girls including Konata Izumi, who's an otaku, the Hiiragi twins, Tsuka and Kagami, and Miyuki Takara, who's smart and well-mannered.
These girls go through hilarious moments in their school and in their lives, and their friendship strengthens as they make humorous observations about what is going on around them. Be it traditional Japanese culture, otaku, academics, or different culinary habits, and everything around–no subject is safe from their discussions.
7. Watamote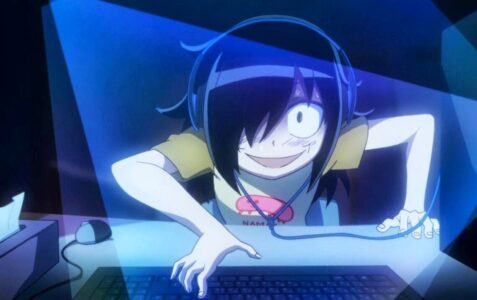 No matter how bored or depressed you are, this show will make you laugh harder than you have ever laughed before. This is a good anime story about an otaku girl who tries to overcome her social problems in high school and start living a fulfilling life.
Tomoko is a high school girl who wants to be popular and attractive. She's a loner and distant that even hearing a "goodbye" from a classmate is considered a trophy. She feels that her family doesn't care about her, no one notices she's having difficulties and the only friend she can talk to is not giving her the support she needs. Tomoko has nobody to turn to.
6. Outbreak Company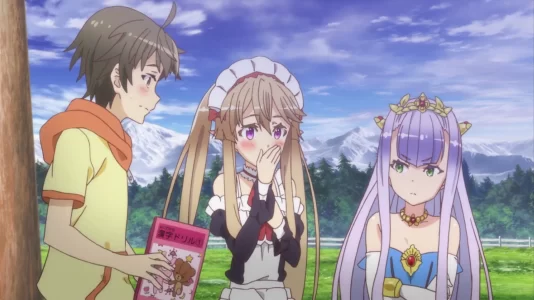 This anime is about themes of the harem, isekai, otaku culture, and parody that follow the story of Shinichi Kanou, who led a secluded lifestyle, consisting only of being a fan of anime, manga, and games. However, after deciding to get away from his shut-in mode, he ends up transported to the Eldant Empire. This new world features vast quantities of species and secrets Shinichi's never seen before.
In this world, Shinichi is given an unlikely task: to spread the culture of anime, manga, and Japanese culture by becoming an otaku missionary. To complete his mission, Shinichi has the support of Japanese authorities and Myucel the half-elf maid. Furthermore, Petralka – a Princess of the Eldant Empire – is also on his team. Along with his group, his aim is to unite all people from a variety of backgrounds in order to promote and celebrate otaku culture in this new world.
5. Shirobako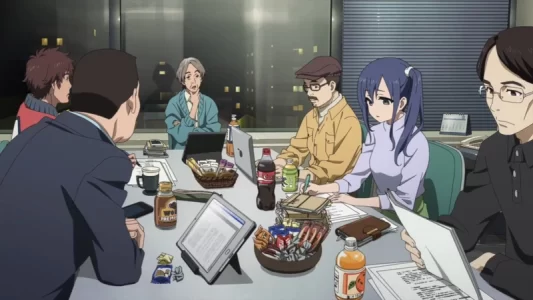 This is why I love Shirobako. It's about making anime and does an amazing job of capturing the real-life experiences of the people involved. If you are interested in otaku anime tv series but have never dived into it before, this show is a great starting point and I would recommend giving it a shot.
The studio behind this show is P.A. Works, and spans genres of drama and comedy, as well as the otaku culture, as it covers the process of how an anime is made – it follows a group of friends who move to Tokyo to work in the animation industry.
Such an approach to new-age information entertainment is both daring and an opportunity for creators to put in their passion associated with this kind of work, allowing them to tell a realistic story of the challenges that newbies in the anime industry are faced with.
4. Bakuman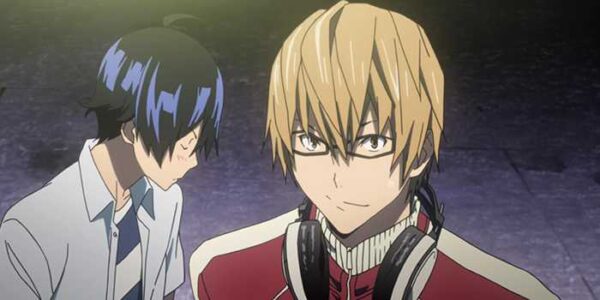 "Bakuman" is one of the most popular anime in Japan. It also has a man's dream, inspiration, and depth that can't be matched by other shows. It's also unique in being a show with laughs, tears, and humor that targets real otakus. Bakuman is an otaku anime series and a powerful coming-of-age story that follows two friends, Mashiro Moritaka and Tagaki Akito. The duo aspires to become Japan's greatest mangakas.
In this journey, there's laughter, cheers, tears, and courage too. It's also a story about romance and about twists that happens to Mangakas' personal life. These mangakas have gone through a lot of ups and downs, but they're still around to achieve their dreams. I was hooked from the beginning and the story is so immersive that I wish some of their fictional ideas were real.
3. Wotakoi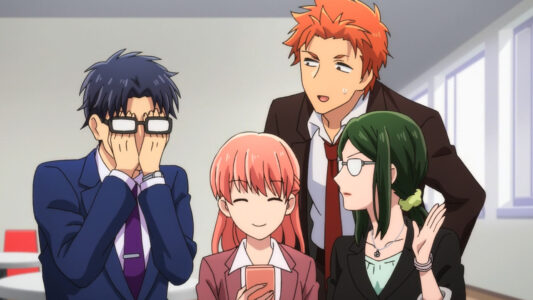 Wotakoi Love is Hard for Otaku, is a show that's really pushed the envelope in terms of exploring otaku culture and the lifestyle of nerds. If you're looking to get lost in a world filled with otaku romance and their daily antics, and all sorts of other cool geeky aspects, this should be right up your alley.
Wotakoi is a show about romance and relationships. It takes place in an office environment while showcasing characters that are Otakus. There are two couples, who are dating one another. The main four characters in this show are people that you can sympathize with and relate to as the series progresses.
Anime fans will see references to manga and games here and there. While this anime might also offer much of a comedy or romantic story.
2. World God Only Knows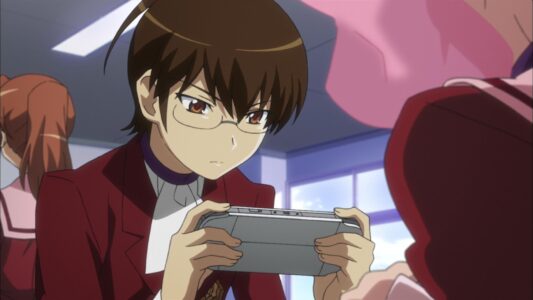 World God Only Knows is produced by Studio Manglobe and features a comedy, romance, and supernatural theme. The anime series also features a heavy harem and often approaches the subject of otaku in an imaginative way, though it is usually slightly humorous. The series follows Katsuragi Keima, a pro gamer dubbed the "capturing god" in the gaming world. He's at the top of his field and has impeccable seduction skills when it comes to dating girls in this bishoujo game.
He lives in the virtual world and finds it more desirable because he feels like reality is just another game and that real women are unattainable. But all of that changes when he answers a mysterious e-mail, addressed to the 'God of Conquest', and subsequently meets the demon girl Elucia.
1. Welcome to the NHK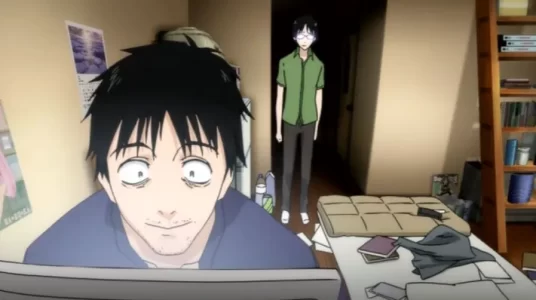 For almost four years now, 22-year-old Tatsuhiro Satou has been a hikikomori. He spends his days in isolation and this has given him time to come up with a lot of conspiracy theories. But there's one theory that he believes with absolute certainty: the claim that the NHK organization is the hands-on puppet master behind his NEET lifestyle. NHK is an organization that strives to widely introduce hikikomori culture to the public.
Welcome to the NHK! is an anime about an otaku that chronicles a psychological, dramatic story about Tatsuhiro, who strives to escape the NHK's manipulations and the disease of self-imposed isolation. While doing his best to get out of his apartment and find a job. His unforeseen meeting with the enigmatic Misaki Nakahara may mean a reversal of luck is coming his way, but he will have to face his greatest fear: society.