15 Best Manga That Need an Anime Adaptation
Many Successful Manga series are usually the source of many successful anime tv shows. however, some great manga series still breaking the records without having no Anime Adaptation at all !
Though, they still rank on the top of the rest!
Anyways, Today at BakaBuzz we will presents to you a list of the Best 15 Manga That you should red and also these comics Really Need an Anime Adaptation as soon as possible!
With No Further ado, Let's count down our Top 10 Best Manga to read and That Need an Anime Adaptation!
---
15. Psyren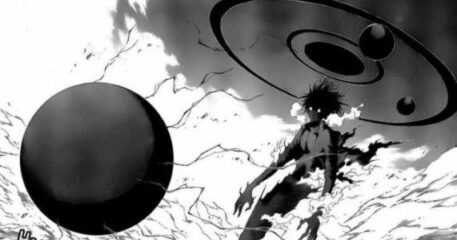 Psyren is one of the best korean manga i personnaly like, by Iwashiro Toshiaki in 2007 with 145 Chapters, this manga will really keeps you hooked.
Belonging to Genres like: Action, Game, Romance, and Psychological. the series tells the story of Ageha Yoshina, a self-confident high school student who helps others for a fee.
On his way back from a job, he finds a strange calling card with the word "Psyren" imprinted left behind in a phone booth and decides to keep it, unaware of its purpose.
The very next day, Ageha discovers that his classmate Sakurako Amamiya has the exact same calling card in her possession. When he questions her, Sakurako asks him to save her, signaling the day his troubles begin.
However, confused by the circumstances of this encounter, Ageha realizes something is wrong when Sakurako goes missing.
So in an attempt to figure out what is happening, he decides to call the number provided only to hear  "Would you like to go to Psyren?"
Thus begins two teenagers' participation in a game of life or death within a strange world inhabited by monsters called "Taboo."
---
14. 86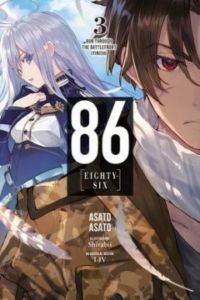 For a long time, the country of San Magnolia has been competing with its neighbor, the Empire, known for creating military vehicles called the Legion.
later, the Republic will successfully creates a similar technology and fights off the enemy's attack, having managed to do so without casualties.
But this is the official version. In fact, there were victims.
Outside of 85 districts of the Republic, there was actually another one—"the non-existent 86th district."
It was there that day and night continued the battles in which young men and women, fights in drones…
Shinn directs the actions of a detachment of young Eighty-Sixers while on the battlefield.
Lena is a "handler" who commands the detachment from the remote rear with the help of special communication.
The tragic struggle of these two begins! and a request for an anime adaptation for this amazing manga begins too.
---
13. Chikan Otoko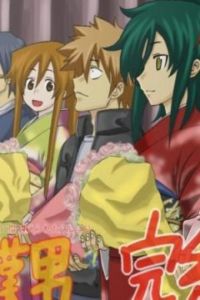 well, here another good best manga that need an anime as soon as possibile!
we all those characters that are perverted, highschooler, and otaku in the same time, yeah they looks like just us.
and the story of this manga is all about a perverted, socially with no skill, and just an otaku who spends most of his time on the textboard 2ch.
unluckily, he got mistaken for a stalker and gets arrested. But, After clearing his case, our perverted main character uncover that the girl is still traumatized by her stalker, so he offers his hand in the hope of dating her.
However, exceeding his own expectations, he gradually becomes closer to the girl and her friends, the cheerful Kansai and the guileless Loli Jugs.
---
12. Real
Tomomi Nomiya, a former basketball's captain, is now a delinquent, and a school dropout due to being the one who ruined the life of a girl in an accident.
Now he dedicates his free time to helping her, he meets up with a former sprinter who has lost his right leg and now plays wheelchair basketball.
Real is a good best sports manga that need an anime adaptation too, as it tells a touching story of those who struggle to overcome their disabilities and inner conflicts in order to achieve their dreams.
---
11. Holyland
Yuu Kamishiro constantly abused by his peers at school, he starts felling that he is so harrowed within the society, and finds that he does not fit anywhere.
Out of desperation, Yuu stops going to school and ventures into the night in search of a safe haven where he will be accepted.
As Yuu walks the streets, he figure outs that he has found his place in society and a way to gain recognition: in a world of violence and wild law.
Yuu starts training so hard in order to gain strength to protect himself.
as a result, Yuu now is capable of defending himself from street thugs, therefore, he builds a reputation as the "Thug Hunter," a name that will attracts all sorts of people seeking him out for a fight.
Fight after fight, Yuu feels that he belongs to this place in a twisted and dark society of the streets, all while battling the darkness welling up within him. The powerful he becomes, the closer he is to reach his "holyland."
---
10. Rookies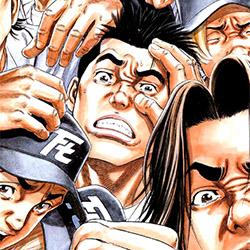 Professor Kawato is the new Japanese teacher in the ill-famed Futagotamaga high shool.
However, the baseball club is composed by thugs and bullies who are suspended for a year from all school competitions for causing a brawl during an official match.
Now that the suspension is over, the only club's members left are interested only in women, smoking and doing nothing.
Until, under professor Kawato guidance, they discover a new dream called Koushien.
Above all, the road to Koushien is far from easy, as they have to get back in shape, to learn how to play baseball and to win everyone else mistrust, with only a few months available.
---
9. Oyasumi Punpun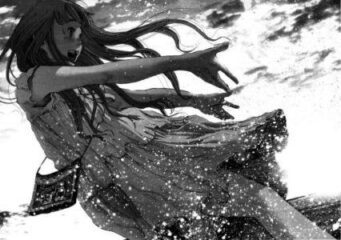 with 147 chapters, Goodnight Punpun is a another best manga to read and need an anime too in order to please our eyes.
Punpun Onodera is a normal 11-year-old boy living in Japan. he begins to see his life take a subtle turn to the adult when he meets the new girl in his class, Aiko Tanaka.
It is then that the quiet boy learns just how fickle maintaining a relationship can be.
Also the surmounting difficulties of transitioning from a naïve boyhood to a convoluted adulthood.
Moreover, Punpun realizes that the people he looked up to were not as impressive as he once thought.
As his problems increase, Punpun's once shy demeanor turns into voluntary reclusiveness.
Rather than curing him of his problems and conflicting emotions, this merely intensifies them, sending him down the dark path of maturity in this grim coming-of-age saga.
Read More: Best Magic Anime Where MC is Hated By Everyone at First