10. Bokura ga Ita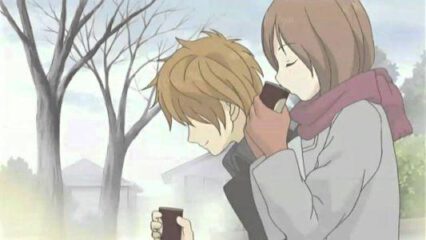 Genres:  Slice of Life, Drama, Romance, Shoujo
Bokura ga Ita is among the best anime about bad boys falling in love with good girls. This is a romance drama series that follows Nanami, who while going into her first year of high school, she hopes of making many new friends. Therefore, after meeting the shy Yuri Yamamoto, she hears about a popular yet bad boy in their class: Yano Motoharu.
Yuri cares little for Yano because of his past relationship with her older sister Nana, and at first, Nanami doesn't like his attitude either. However, Nanami soon begins to warm up to Yano and takes a liking to him. The two spend more of their time together and eventually decide to start dating.
But their love is not without challenges; Yano has trouble opening up to Nanami, since his first girlfriend, Nana, died in a car accident the year before, and she had been with one of her ex-boyfriends at the time.
Finding themselves living in the shadow of Yano's relationship with Nana, Nanami and Yano struggle to keep their relationship afloat amid misunderstandings and heartache with the certainty of their love for each other.
9. Paradise Kiss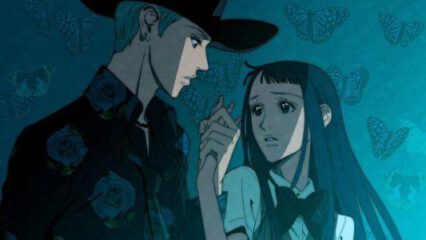 Genres:  Slice of Life, Comedy, Drama, Romance, Josei
Third-year high school student Yukari Hayasaka has no time for frivolous things. She needs to study hard and attend cram school so she can do well on her university exams. But she doesn't care which university she gets into; she just wants to leave the town she's grown bored of. Too bad her parents have other opinions on the subject.
One day, while Yukari is walking down the street, a guy with multiple piercings and bleached hair flags her down. Suspicious of the stranger, she tries to get away from him but fails and ultimately ends up meeting his friends: a group of third-year fashion design students at a prestigious art school.
They want her to be their model for their final project, but Yukari thinks it will only get in the way of her studies. But the more she gets to know them, the more she grows to admire the way they go after their dreams.
Will modeling for this eccentric group of would-be fashion designers give Yukari a much-needed push to strive for her own goals? And what about her attraction to the group's leader, George Koizumi? The Anime showcases the answer: Can a relationship between a good girl and a bad boy work? Watch Paradise Kiss to find out!
Read Also: Here Are The Best 10 Recommended Adventure Anime
8. Skip Beat!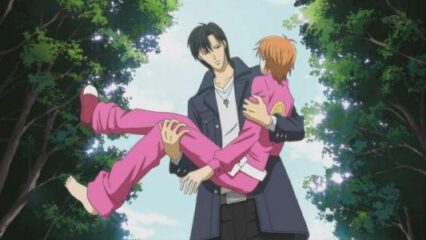 Genres:  Comedy, Drama, Romance, Shoujo
Bright, diligent, and yet naïve 16-year-old Kyouko Mogami works hard to support the career and dreams of her childhood friend, crush, and rising pop icon, Shoutarou Fuwa.
Toiling endlessly at burger joints and tea ceremonies, the innocent Kyouko remains unaware that day in and day out, all her tireless efforts have been taken for granted, until, one day, she finds out that her beloved Shou sees her as nothing but a free servant.
Shocked, heartbroken, and enraged, she vows to take revenge on the rookie star by entering the ruthless world of entertainment herself. As she steps into this new life, Kyouko will face new challenges as well as people who will push her out of her comfort zone.
Based on the good shoujo manga by Yoshiki Nakamura, the Skip Beat anime series showcases the progress of a cool girl who slowly learns how to not work for the satisfaction of others and takes her future into her own hands instead.
Read Also: Here Are The 10 Heartbreaking Drama Anime That Will Make Your Eyes Tear
7. Special A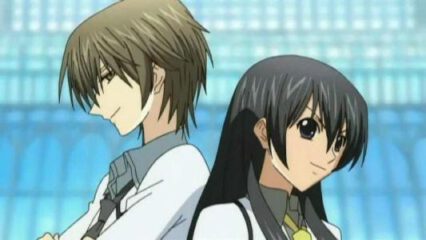 Genres:  Comedy, Romance, School, Shoujo
The story of this anime tv show revolves around Hikari Hanazono, who has always been able to do things that normal people cannot.
As a child, she assumed no one could beat her—until she met Kei Takishima. Thinking she would win, Hikari challenged him to a match. But things didn't go as planned; she lost not once but each time she rechallenged him. From that point on, she has sworn to best Kei at everything, ranging from academics to athletics. To achieve her goal, Hikari enrolls in the same school as Kei—Hakusenkan, a prestigious institute for the wealthy.
As a pair, they hold the top two rankings in school and are among seven of the academy's best students in a class known as Special A. While Hikari treats Kei as a rival, she is completely oblivious that he is hiding feelings for her. Together, the members of Special A deal with competition, friendship, and just a bit of love.
Read Also: The 10 Best Yandere Romance Anime Series
6. Kamisama Kiss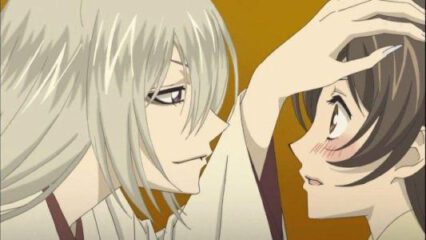 Genres:  Comedy, Demons, Supernatural, Romance, Fantasy, Shoujo
Here is a great supernatural romance anime with a bad boy main character falling in love with a good innocent girl. Kamisama Kiss is a show that you will absolutely like! the series depicts the story of Tomoe, who may be a fox yokai. Presently serving because the acquainted Nanami Her idealistic belief that humans and yokai will live and love along in peace may be a constant supply of competition between Nanami and Tomoe. It's uncertain that the pair's romantic attraction for each other would grow if he was a Tengu or a possessed pot.
Read more: Best Romance Anime 2019 That'll Make Your Heart Flutter
5. Toradora!
Genres: Slice of Life, Comedy, Romance, School
Ryuji Takasu lives in a falling-down house with his mother, and although to be a gentle guy is cursed with a delinquent face causing people to avoid him.
the anime's main characters are Taiga Aisaka, who is tiny, selfish, and unexpectedly strong yet perceived as a bad girl who lives in a new apartment next to Ryuji but doesn't know how to take care of herself.
Ryuji starts to look after her, and he discovers that Taiga actually has a sweet side. They reveal their crushes to each other, then they both attempt to help each other with their love life.
Read Also: Top 10 Japanese Romance Movies Based On Anime and Manga
4. Fruits Basket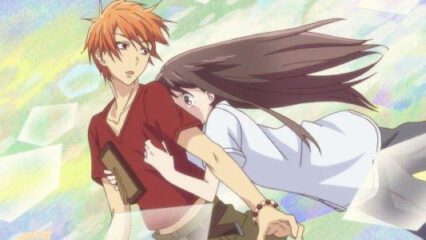 Genres:  Slice of Life, Comedy, Drama, Romance, Fantasy, Shoujo
The anime depicts that it's onerous to be a cat, you are typecast as a delinquent, bad, moody lone wolf for one. If you are the cat of the renowned Chinese Zodiac story then you've got the other bonus of being tricked by a jerk rat and missing out on the chance for pseudoscience high status.
This is the premise for Kyo, one of every the most 2 romantic interests of tireless college lady Tohru. Like all the members of the Sohma family, Kyo turns into his animal counterpart.
The cat, however, has an additional stipulation that is way more monstrous. And smelly, The cursed type are some things Kyo finds huge shame in, however sure as shooting it's one thing a touch "true love" will fix?
Read Also: Sci-Fi Anime for 2019. Best Anime Series To Watch Right Now
3. Code Breaker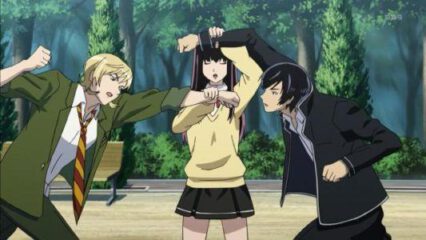 Genres:  Action, Comedy, School, Shounen, Super Power, Supernatural
Code Breaker is a pretty good anime that depicts the story of the collected good girl Sakurakouji Sakura While Riding the bus, she looks out the window to see a teenage bad boy burning people alive. His name is Oogami, and he is a Code Breaker, one who "does not exist". He is a seemingly cold-blooded killer who follows the principle of "an eye for an eye", to "use evil against evil". Sakura will then focus on trying to stop supernatural assassins from killing morally corrupt people.
Read Also: Top 10 Anime Where The MC Is Emotionless And Doesn't Give a Sh#t
2. School Rumble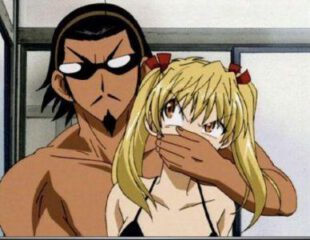 Genres: Comedy, Romance, School, Shounen
Just the words "I love you," and everything changes—such is the nature of the bittersweet trials of high school romance. Tenma Tsukamoto, a second year, is on a quest to confess her feelings to the boy she likes. While the anime character Kenji Harima is a bad boy, and a delinquent with a sizable reputation, is also in a similar situation, as he cannot properly convey his feelings to a good girl tat he actually loves.
Between school, friends, rivalries, and hobbies, these two will find that high school romance is no walk in the park, especially as misunderstandings further complicate their plight. School Rumble is a high-octane romantic comedy anime series full of relatable situations, as Tenma and Kenji both try to win the hearts of those they desire.
Read Also: The Best 10 Anime Where Boy Goes to All-Girl School
1. Earl and Fairy
Genres:  Adventure, Historical, Magic, Romance, Fantasy, Shoujo
In the nineteenth century, we find Lydia Carlton living in Scotland, making a living as a fairy doctor. She is one of those rare humans who can see and communicate with fairies. But no one believes her.
However, Edgar is in need of someone with a vast knowledge of fairy lore, and Lydia is just that person. After rescuing her, he becomes her employer, but there are many secrets and emotions that seem to follow Edgar. Besides Edgar claims to be the Blue Knight's Earl.
Check Also: