The Top English Dubbed Japanese Anime Movies To Stream Now.
Welcome to this list of 10 best English dubbed Japanese anime movies that have a perfect and good dub version to enjoy. So, if you are an English anime fan, or just in love with animated movies, BakaBuzz is the right place where you can dig up what to watch next!
Therefore, let's start our countdown of the best English dubbed anime movies to watch
10.

Summer Wars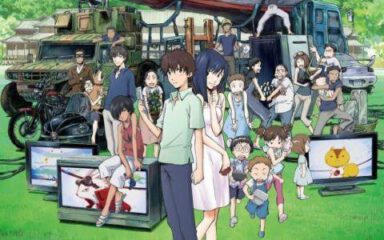 Release: 2009
Studio: Madhouse
Dub: Yes
Let's kick off our list of the best English dubbed anime movies with summer wars, a film that focuses on OZ, a virtual world on the internet, which became extremely popular worldwide as a spot for people to engage in a large variety of activities, such as playing sports or shopping. OZ also possesses nearly impenetrable security due to its strong encryption, which keeps any personal data transmitted through the networks safe in order to protect those who use it.
Because of its convenient applications, the majority of society has become highly dependent on the simulated reality, even going as far as entrusting the system with bringing back the asteroid explorer, Arawashi. Kenji Koiso is a 17-year-old math genius and part-time OZ moderator. His crush Natsuki Shinohara invite him on a summer trip. But unbeknownst to him, this adventure requires him to act as her fiancé.
Shortly after arriving at Natsuki's family's estate, which is preparing for her great-grandmother's 90th birthday, he receives a strange, coded message on his cell phone from an unknown sender who challenges him to solve it. Kenji is able to crack the code, but little does he know that his math expertise has just put Earth in great danger.
9.

Wolf Children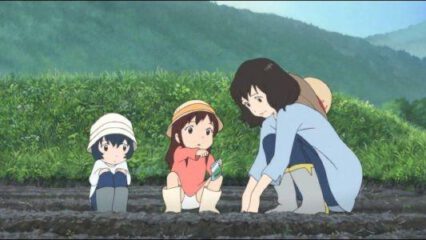 Release: 2012
Studio: Studio Chizu
Dub: Yes
Wolf Children is among the best-dubbed anime movies, that has a perfect English version made for western audiences. The synopsis follows Hana, a hard-working college student, who falls in love with a mysterious man who attends one of her classes though he is not an actual student.
As it turns out, he is not truly human either. On a full moon night, he transforms, revealing that he is the last werewolf alive. Despite this, Hana's love remains strong, and the two ultimately decide to start a family. Hana gives birth to two healthy children—Ame, born during rainfall, and Yuki, born during a snowfall—both possess the ability to turn into wolves, which they inherit from their fathers.
All too soon, however, the sudden death of her lover devastates Hana's life, leaving her to raise a peculiar family completely on her own. The stress of raising her wild children in a crowded city, all while keeping their identity a secret, culminates in a decision to move to the countryside, where she hopes Ame and Yuki can live a life free from the judgments of society.
Wolf Children is a heartwarming story about the challenges of being a single mother in an unforgiving modern world.
8.

Redline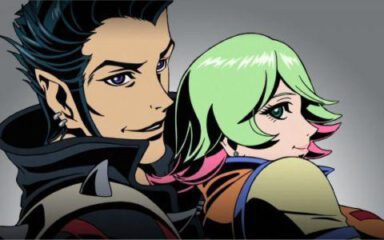 Release: 2009
Studio: Madhouse
Dubbed: Yes
If you loved the Fast and Furious franchise, then you will absolutely fall in love with Redline. This is a good anime movie about racing cars, where every five years, an exhilarating race "Redline" is held, and the universe's most anticipated competition has only one rule: that there are none.
Racers are pushed to their absolute limit—a feeling that daredevil driver JP knows all too well. Having just qualified to participate in Redline, he is eager to battle against the other highly skilled drivers, particularly the beautiful rising star and the only other human that qualified, Sonoshee McLaren.
But this year's Redline may be far more dangerous than usual—it announces to take place on the planet Roboworld with its trigger-happy military and criminals who look to turn the race to their own advantage. However, the potential danger doesn't stop the racers; in fact, it only adds to the thrill. Relying solely on his vehicle's speed, JP prepares for the event to come, aiming to take first place in the biggest race of his life.
7.

 

Ghost in the Shell
Release: 2009
Studio: I.G Production
Dub: Yes
Ghost in the Shell is one of the best Japanese anime movies of all time, and it is a well-known film worldwide, due to its good dubbed version.
The story is set in In the year 2029, and advances in Cybernetics allow people to replace nearly all of their body parts and organs with robotics. Through these prosthetics, the weak are made strong, and the dying are given new life. Public Security Section 9 of Niihama City (a fictional setting inspired by Hong Kong), a diverse team of AI, cyborgs, and unmodified humans, must investigate cases of corruption and terrorism.
Major Motoko Kusanagi has full-body prosthetics, owing to a childhood accident. She, her second in command Batou, and information specialist Ishikawa assigns an important task: to investigate a hacker known only as "The Puppetmaster." But as Motoko and her team discover, things are never so simple.
6.

Howl's Moving Castle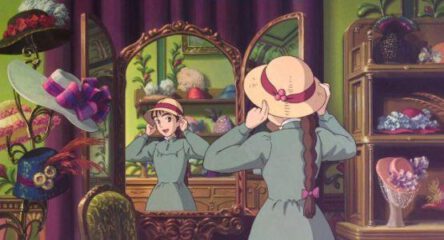 Release: 2004
Studio: Ghibli
Dubbed: Yes
That piece of architecture, that cacophony of hissing steam and creaking joints, with smoke billowing from it. That castle is home to the magnificent wizard Howl, infamous for both his magical prowess and for being a womanizer.
Sophie, the daughter of a hatmaker, does not expect much from her future and is content with working in the shop. However, Sophie's simple life takes a turn for excitement when she is in a disturbing situation, and the mysterious wizard appears to rescue her.
Unfortunately, this encounter, brief as it may be, spurs the vain and vengeful jealous Witch of the Waste, who put a curse on the maiden, turning her into an old woman. In an endeavor to return to normal, Sophie must accompany Howl and a myriad of eccentric companions—ranging from a powerful fire demon to a hopping scarecrow—in his living castle, on a dangerous adventure as a raging war tears their kingdom apart.
5.

The Disappearance of Haruhi Suzumiya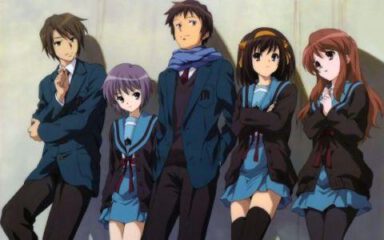 Release: 2010
Studio: Kyoto Animation
English Dub version: Yes
Haruhi Suzumiya is a good series adaptation that is considered among the top English dubbed anime movies in history.
The story kicks off one cold Christmas day. Kyon heads over to the school and the SOS Brigade's holiday celebration. Only to realize the disappearance of Haruhi Suzumiya. Moreover, no one even remembers her or the SOS Brigade; Mikuru Asahina knows nothing and is now afraid of him, and Itsuki Koizumi is also missing. An uncharacteristically shy Yuki Nagato forms The Literature Club and now occupies the old SOS club room. Kyon his life turns upside down like a bad joke, and maybe it's better that way.
4.

Princess Mononoke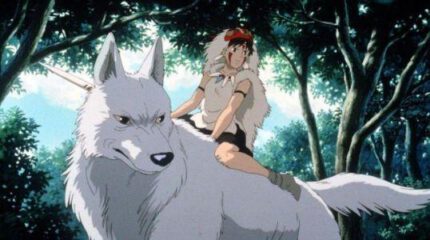 Release: 1997
Studio: Ghibli
English Dubbed: Yes
Princess Mononoke is not only of the best English dubbed anime movies, but also a film that has inspired many Hollywood movies. The story depicts: When a demonic boar attacks Emishi's village, the prince Ashitaka puts his life at stake to defend his tribe.
With its dying breath, the beast curses the prince's arm, granting him demonic powers while gradually siphoning his life away. Ashitaka arrives at Tatara, searching for a cure, where he finds himself embroiled in a fierce conflict.
Lady Eboshi of Tatara, promoting constant deforestation, stands against Princess San and the spirits of the forest, who are furious at the humans. As the opposing forces of nature and mankind begin to clash in a desperate struggle for survival. Ashitaka attempts to seek harmony between the two, all the while battling the latent demon inside of him.
3.

Your Name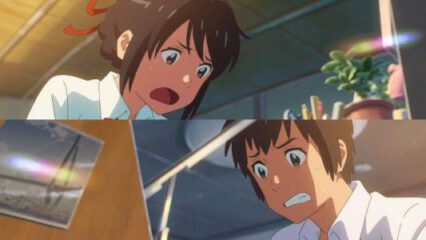 Release: 2016
Studio: CoMix Wave Films
Dubbed: Yes
Kimi No Na Wa as known in English as Your Name is one of the highest-grossing anime movies of all time; and due to its perfect English dubbed version, the film has met huge success outside of Japan too. The story revolves around Mitsuha Miyamizu, a high school girl, who yearns to live the life of a boy in the bustling city of Tokyo. A dream that stands in stark contrast to her present life in the countryside. Meanwhile, in the city, Taki Tachibana lives a busy life as a high school student while juggling his part-time job and hopes for a future in architecture.
One day, Mitsuha awakens in a room that is not her own and suddenly finds herself living the dream life. But in Taki's body! Elsewhere, Taki finds himself living Mitsuha's life in the humble countryside. In pursuit of an answer to this strange phenomenon, they begin to search for one another. Kimi no Na Wa. revolves around Mitsuha and Taki's actions, which begin to have a dramatic impact on each other's lives.
2.

 

Akira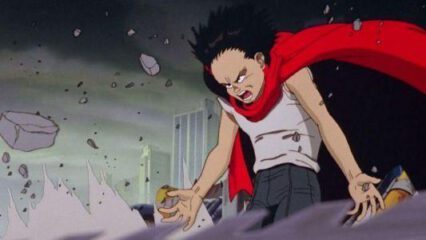 Release: 21988
Studio: Shinsha
Dubbed: Yes
Set in Japan, 1988. This is an epic anime film that follows a boy with psychic powers who causes an explosion, which tears and ignites the fuse that leads to World War III. In order to prevent any further destruction, they put him into custody.
Now, in the year 2019. The city Neo-Tokyo is an area rife with gang violence and terrorism against the government. Here, Shoutarou Kaneda leads "the Capsules," a group of misfits, which is in constant conflict  with "the Clowns." During one of these battles, Shoutarou's best friend Tetsuo Shima involves herself in an accident with an esper who finds himself in the streets of Tokyo after escaping confinement from a government institution. Through this encounter, Tetsuo begins to develop his abilities and the government wants to stop him.
1.

Sword of the Stranger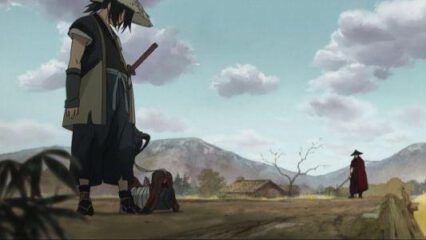 Release: 2009
Studio: Bones 
Dub: Yes
Coming at number one on the list of the best English dubbed anime movies we have Sword Of The Stranger. A magnificent anime movie that is set In the Sengoku period of Japan.
The story follows a young orphan named Kotarou and his dog Tobimaru stealing from unsuspecting villagers in order to make ends meet. However, Chinese assassins are hunting down Kotarou which forces him to remain on the run. Fortunately, the duo runs into Nanashi, a ronin who lives in a temple.
Although the samurai saves them, he feels that there is no need to help them further. But Kotarou offers a gem for his services as a bodyguard, and he reluctantly accepts. Just until the two reach their destination. As the three set out on a perilous journey, it soon becomes evident that their path is riddled with danger. The Ming Dynasty has now sent a terrifying swordsman after them to capture Kotarou and fulfill a certain prophecy.
---
Don't Miss: