---
⌈3⌋

Kuroko's Basketball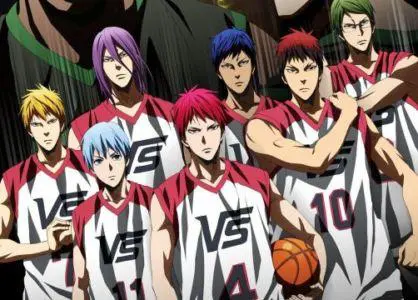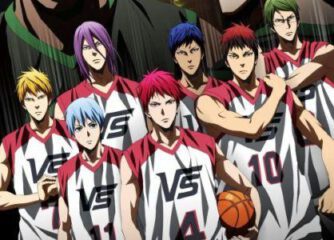 Kuroko no Basket is one of the best Sports Anime and is a 2012  I.G Production.
Genres:  Comedy, School, Shounen, Sports
⇓ Synopsis ⇓
Teikou Junior High School's basketball team is crowned champion three years in a row thanks to five outstanding players.
Who, with their breathtaking and unique skills, leave opponents in despair and fans in admiration.
However, after graduating, these teammates, known as "The Generation of Miracles," go their separate ways and now consider each other as rivals.
At Seirin High School, two newly recruited freshmen prove that they are not ordinary basketball players: Taiga Kagami, a promising player returning from the US, and Tetsuya Kuroko, a seemingly ordinary student whose lack of presence allows him to move around unnoticed.
Although Kuroko is neither athletic nor able to score any points, he was a member of Teikou's basketball team, where he played as the "Phantom Sixth Man," who easily passed the ball and assisted his teammates.
Kuroko no Basket follows the journey of Seirin's players as they attempt to become the best Japanese high school team by winning the Interhigh Championship.
To reach their goal, they have to cross pathways with several powerful teams, some of which have one of the five players with godlike abilities, whom Kuroko and Taiga make a pact to defeat.
---
⌈2⌋

Haikyuu!!
Haikyuu is one of the best Sports Anime and is a 2014  I.G Production.
Genres:  Comedy, Drama, School, Shounen, Sports
⇓ Synopsis ⇓
After watching a volleyball ace "Little Giant" in action, the small Shouyou Hinata revives the volleyball club at his school.
The newly-formed team even makes it to a tournament;
however, their first match turns out to be their last when they are brutally squashed by the "King of the Court," Tobio Kageyama.
Hinata vows to surpass Kageyama, and so after graduating from middle school.
So, he joins Karasuno High School's volleyball team—only to find that his sworn rival, Kageyama, is now his teammate.
Thanks to his short height, Hinata struggles to find his role on the team, even with his superior jumping power.
Surprisingly, Kageyama has his own problems that only Hinata can help with, and learning to work together appears to be the only way for the team to be successful.
---
⌈1⌋

Hajime no Ippo
Hajime no Ippo is one of the best Sports Anime and is a 2000  Madhouse Production.
Genres:  Comedy, Sports, Drama, Shounen
⇓ Synopsis ⇓
Makunouchi Ippo bulling his entire life.
Constantly running errands and his classmates beaten him, Ippo always dreams of changing himself.
One day, in the midst of yet another bullying, Takamura Mamoru saves Ippo, who happens to be a boxer.
Ippo faints from his injuries and is brought to the Kamogawa boxing gym to recover.
As he regains consciousness, he is awed at his surroundings in the gym, though lacks the confidence to attempt anything.
Takamura places a photo of Ippo's classmate on a punching bag and forces him to punch it.
It is only then that Ippo feels something stir inside him and eventually asks Takamura to train him in boxing.
Thinking that Ippo does not have what it takes, Takamura gives him a task deemed impossible and gives him a one-week time limit.
With a sudden desire to get stronger, Ippo trains relentlessly to accomplish the task within the time limit.
Thus Ippo's journey to the top of the boxing world begins.
---
source of anime series info: myanimelist