What are the top anime about cars with racing themes that are so good to watch?
With anime being one of the most popular forms of entertainment, it is no wonder that there are so many great anime with cars and racing themes out there. The first anime about cars that comes to mind is Initial D. However, there is much more anime with cars that you should know about.
Well, there are multiple Japanese anime tv shows that are known to depict various types of cars and often highlight the importance of vehicles in their given stories. So, If you love cars and want to learn more about them, here are some of the best anime about cars you need to know about:
23. Scan2Go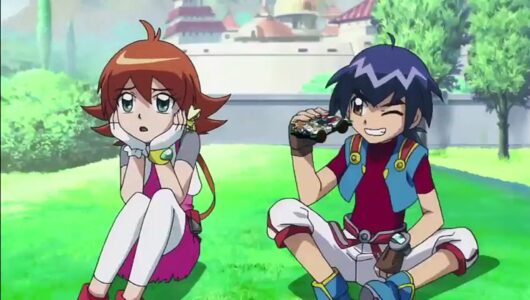 Kicking off the list of the best anime about cars with Scan2Go, which is series focusing on  new game from that has taken the world by storm. It gives racers of all ages and sizes the opportunity to compete against each other. Kazuya, the main character in the series, performed well with his blazing, innate power commanding his falconine beast spirit.
He competes in a tournament called "Pro-Racer Exhibition Race." where teams win their way through the competition by finishing first. He had no chance though because his team didn't make it through the Space Preliminaries. Kazuya and his friends leave Earth behind to train as warriors, but they encounter many difficult obstacles in their travel that will harness their skills.
23. Kandagawa Jet Girls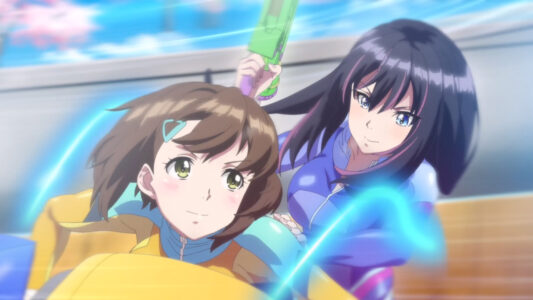 This anime is not about cars, but it is about jet skis. It's heartwarming, humorous, and enjoyable. It has sports and drama segments too but neither takes up much time in this show. It's mostly focused on girl characters and what they get up to!
The story itself is really simple! Following Girls who are competing against one another via a team of a driver and a shooter! Trying to shoot water at each other so they will lose their cloth or stop the jet ski dead in its tracks.
22. Oban Star-Racers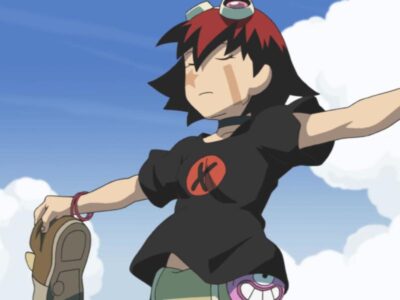 A huge detail that outlines many series is the driving desire to compete in a race. Oban Star-Racers happens in 2082 where an esteemed intergalactic race is one out of many competitors, with a prize at the end.
Sometimes you need something different to increase your focus. As well, anime about cars is sometimes a good way to do so. This anime might be perfect for that.
21. F-Zero: GP Legend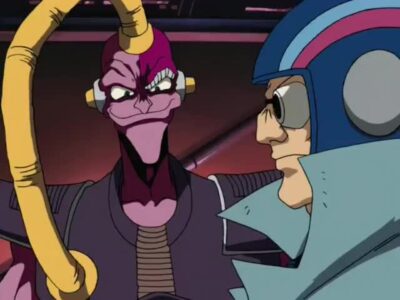 There will forever be that long line of people eagerly awaiting more F-Zero games. Thankfully, it appears this is a good anime series features cars and offers a taste of the same experience we got from shows that are engin-themed.
F-Zero: GP Legend is one of the best games I have ever played. It's also a great anime that features cars and will immediately hook you with a police procedural, and Captain Falcon strives to keep up with all the twists and turns.
Cars enthusiasts will be impressed with this anime adaptation. There are many racers and factions, and the anime introduces a few of them that will make fans want to take a ride next to them.
20. Blassreiter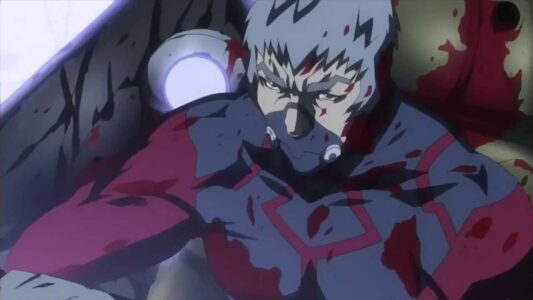 "Blassreiter", a series set in the future of an oppressive futuristic society, blends the class differences and hustling with science fiction elements.
Blassreiter is a series set in an alternate part of Germany where biomechanical beasts come from bodies and mislead the country. This anime is really fascinating in how Blassreiter gradually clarifies their setting. This is a recommended anime with cars that's not talked about too much but seems to have a cult following among car fans.
19. Race-Tin: Flash & Dash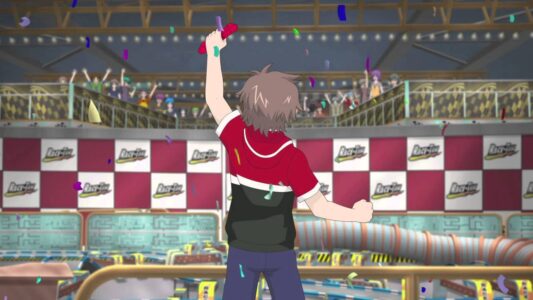 Twin brothers Frank and Karl live with Uncle Charles when their parents are away. They go to school and meet Mike and Sally. They also meet Norton, and Mike, who tells them all about R.C. Racing but Karl tells his friends it is just a game for babies.
After school, the guys go to the Race Tin club and race against each other. The controller is too complicated for Karl, so he just copies what Mike does. After that Mike starts analyzing and talking about the joy of the Rc Racing game.
He explains what he's driving and how it shows his personality. He talks about racing and then mentions the car. Frank and Karl are both competitive, so they're going to race against other people in the hopes of reaching the finals.
18. RideBack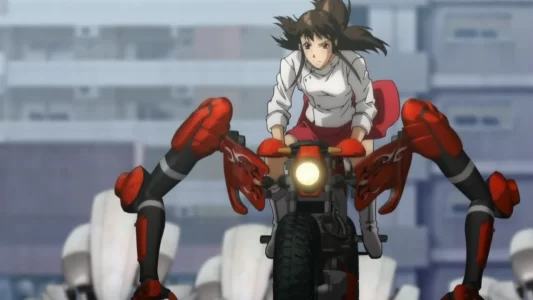 To help get over her physical injury, Rin stopped dancing, in a world where GGP controlled every aspect of society. The entire world turned upside down for her so she made an abrupt change to start focusing on other aspects of life.
A while later, Rin was captivated by an automated vehicle called Rideback. It was made specifically for performers like her to take easy routes and conserve energy. When she decided to put it to the test, she starts clashing with The GGP organization.
17. Appare-Ranman!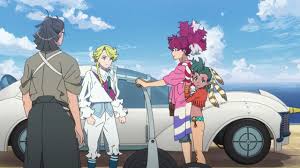 Appare-Ranman is one of the best car racing anime at the moment and it has a compelling if the dense, story to boot. The series has a lot of epic races between well-developed characters which make for a very interesting mix.
The anime is about racers from all over the world competing in a Trans-America race for an incredible prize. The way the characters are designed and the stories they tell make them very different from other anime. This is what keeps them so interesting and gives them a boost among the others.
16. What's Up Mechadoc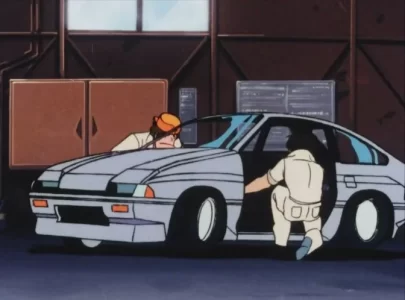 What's up, anime fans? You've never heard of this series, which is an 80s anime that was never popular outside of Japan and Italy. It's still a decent anime about cars that is worth watching.
This is an anime that uses authentic-looking automobiles from the era. Not only that, the sound creators really recorded genuine engine sounds for every vehicle. The accuracy of the show was even managed to account for small details such as tuning cars!
The show aims to deliver a challenging yet rewarding experience for all audiences. The cars of the show include some pretty cool movements that require careful timing and strategy.
15. Capeta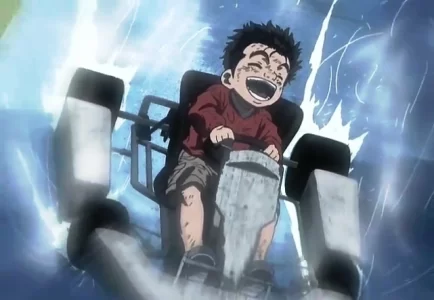 Capeta has a great ability to connect with people and their stories. That makes for a lot of great and lasting content that will make anime fans get hooked to this amazing anime about cars, racing, and engine sounds. If you're not quite sure what to look for when starting a new anime, I recommend you start with this one!
Capeta's motivation, and being a smartass allow him to effectively turn a ho-hum vehicle into a machine that is ready to compete with the absolute best. It's difficult not to root for Capeta as he gradually accomplishes amazing things!
14. Bakuso Kyodai Let's & Go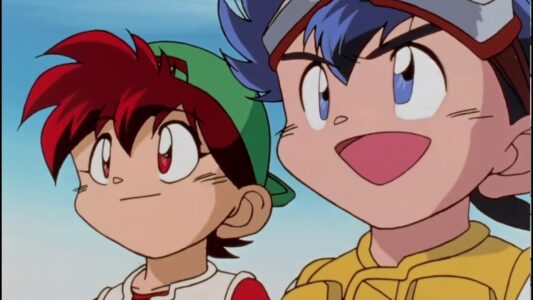 This series features two gamers and siblings, Retsu and Go Seiba. Their lives turn around in an amazing way when these two characters get dashing vehicles called "Smaller than expected 4WD" from Dr. Tsuchia.
The series progresses by covering two boys participating in the Japan Cup. The anime series then goes on to describe what it's like to get into racing, and how they fully customized their cars parts before they participated in the race.
13. Future GPX Cyber Formula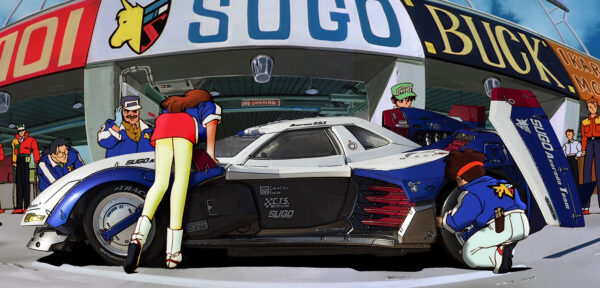 Next up, this is another good anime with cars that focuses on Kazami Hayato, who is the youngest driver of Cyber Formula, a Grand Prix in which racing cars has computers to aid in their performance. Hayato is racing to become the winner of the 10th Cyber Formula Grand Prix. With Hayato's help, Asurada navigates him through the race with ease.
While it might be easy to want to rely on the best machine and win with it, Hayato will have to learn what it means to race well before that. Kazami will also have to learn how to gain veteran racers' respect and avoid others who attempt something like stealing Asurada.
12. Goddamn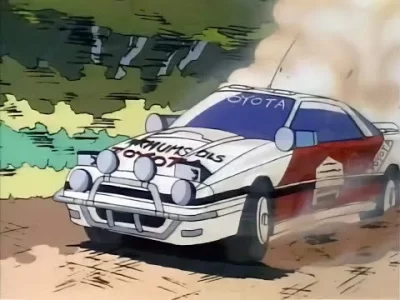 There is a lot of good anime about car races, with this one being no exception. This one takes place in the future but all the cars are very old-fashioned–only some date back to the 90s.
Before competing in the Safari Rally, Gen is forced to do a preliminary drive along a mountain road in France. The car Gen is given to drive for the rally is a Peugeot 205 T16 E2, a car that was banned from competition after the 1986 season.
11. Lupin the Third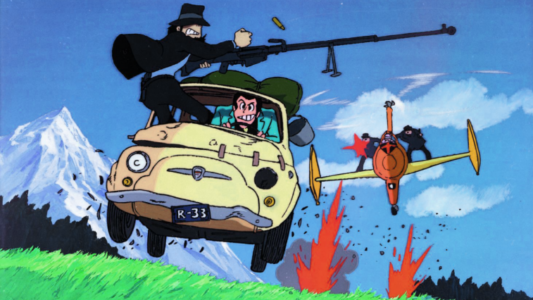 In Lupin the Third there are all sorts of classic car visual pleasures to enjoy. The car lineup has a lot of amazing vehicles in it, from classic convertibles and speedy tiny city cars to even an elegant Mercedes.
The progression of this show's anime cars is fun to watch as they get used by various characters. From detectives to thieves, there are so many different variations! Alright, so time to vote! Which car in Lupin is your favorite?
10. Next A-Class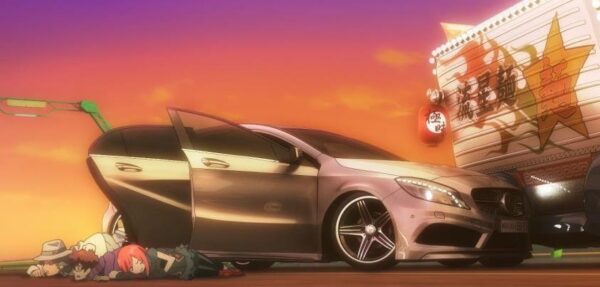 In the not-so-distant future, to cope with the increased traffic jams and verticalization due to the increased population, Tokyo was reconstructed under the theme of city sharing. By transforming roads where people share urbane space. A woman named Nico is walking in the city. She's been looking forward to getting away from her usual routine for a long time. Being stuck in a habitual mindset can be kind of boring sometimes, so she hopes that suddenly something exciting will happen soon.
Then a truck passes right in front of Nico. The loud music and flashy decorations on the car remind Nico that everyone is talking about it on the internet. When Nico sees it, she runs to catch up with it and then runs into her other two friends. She gets in their latest A-Class, and they chase after the truck that's changing its form rapidly.
9. IGPX: Immortal Grand Prix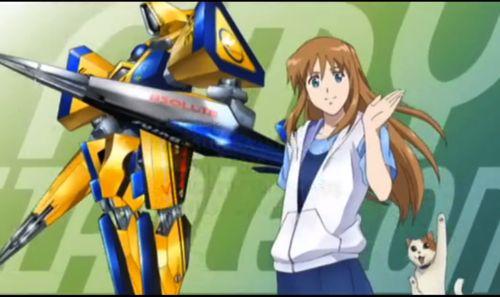 In 2048, people are talking about 'Immortal Grand Prix' racing, which is faster and more exciting than any other existing motorsport. It's so big that there is actually an entire city built for the sport, where the entire industry is focused on cultivating the next big thing in racing.
In an episode of The Immortal Grand Prix, a high-tech humanoid mech drives a car to race at speeds greater than 400km/h. These cars will have to complete all three laps with the help of humans, who are facing other racers and hoping for first place. The winning factor for these machines is the best pilot input, teams, and machine performance.
8. Mach GoGoGo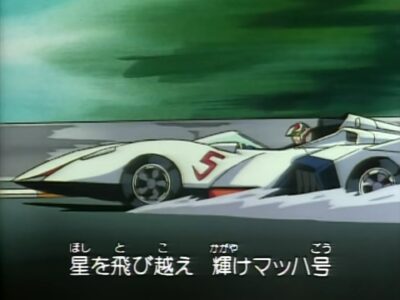 One of the most advanced race cars ever built is the Mach 5 is equipped with cutting-edge technology, amazing features, and an incredibly powerful engine. Even those who are up for a challenge will still find themselves struggling against this machine. The driver of this amazing vehicle is Gou Mifune. He dreams of breaking into the world of professional racing but his father, Daisuke Mifune, does not want him anywhere near racing with cars.
Despite some early setbacks, his girlfriend Michi, younger brother Kurio, and his monkey sidekick Sanpei became fans of Gou's as he set out to become the greatest racer of all time. Although becoming a professional racer is tough (Gou soon learns that this is not easy). From shady businessmen who are trying to do shady business to his rival, Racer X, Gou faces a lot of obstacles on the road ahead. He has a lot of proof that he can cross the finish line before he can win it all.
7. Riding Bean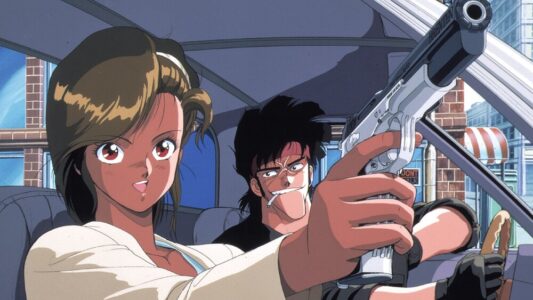 In this anime, cars racing scenes are a big part of the plot. It is a series that features some of the best iconic anime cars in history. It has an epic story that will keep you up all night.
There's a superhuman courier named Bean and his female Rally, a couple who must try to prove their innocence against the accusation that they kidnapped the daughter of one of the city's wealthiest men.
6. eX-Driver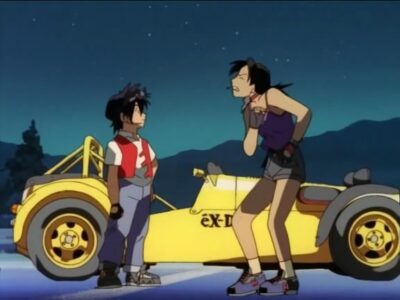 "Ex-Driver" is a sci-fi anime about cars. With all transportation being controlled by AI, the future isn't going to be nearly as perfect as it could be – due to accidents, mistakes, and things that break down.
Three teens are given the task of driving around the City to make sure the public is safe and never in danger. With their non-AI vehicles, they try their best to avoid trouble no matter what.
5. Wangan Midnight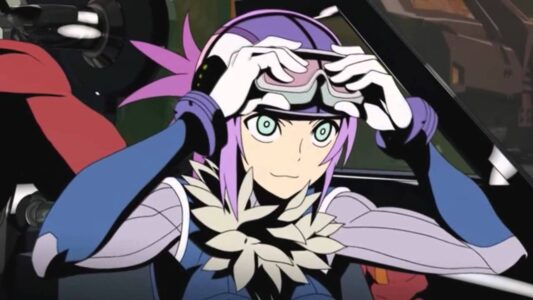 This is a car racing anime, and it has intense character exploration. I'm really into how the racing lifestyle and car obsession results in consequences to the normal lives of the characters, and in relation to those around them.
Some of the characters are also really attractive, and there's a character named Akio I particularly love in the show. The highlight is that in order for Akio to get a car, he decided to ditch school and make money so he could provide what he needed.
4. Tailenders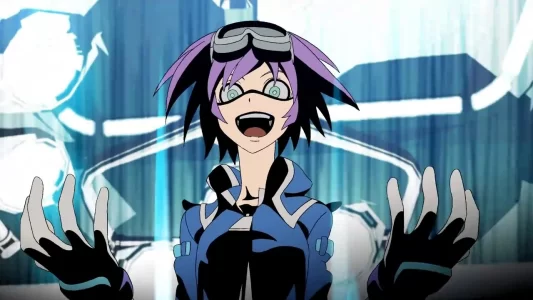 This is another cool anime about cars that follows Tomoe Shiro, a racecar driver with a really promising career, but he had an accident that put his life at risk. Luckily, he was able to overcome it by replacing his heart with the engine of his own racing car. But because of that very reason, he's relegated to the position of mechanic works, and this means that he's limited from races where pilots are allowed.
Only in a faraway cosmic competition, with countless other charismatic pilots also vetoed from participating in regular competitions, will he be given the opportunity to race for his pride and the money of the prize. And so this exciting rally puts him once again face-to-face with other skilled racers.
3. Formula-1 – Engines On The Track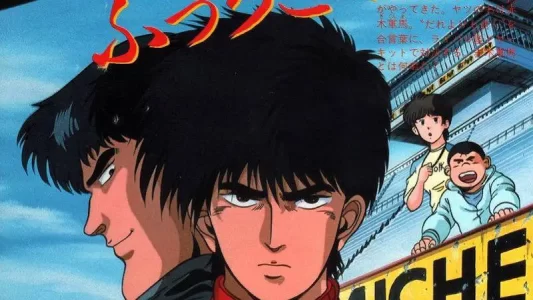 Gunma Akagi drives a turbocharged tractor, a vehicle that his dad, Dr. Souichirou Akagi, says has been negatively impacting the progress of his political ambitions. Dr. Akagi is continuously worried about Gunma's behavior endangers his success.
Gunma and Oishi are driving his tractor along the highway one night when they're suddenly overtaken by a speeding car. Gunma keeps trying to outpace the car, but it's too fast for him. Gunma's defeat makes him focused on winning against this foe. Then, he leaves his peaceful country lifestyle behind and moves to the hungry city. He is determined to become just as successful as Formula One drivers are!
2. Redline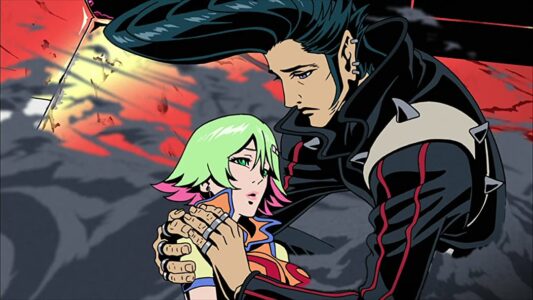 Redline is a cool anime about cars and epic fast vehicle moments that goes out of its way to showcase a high-stakes space race. JP, who is the protagonist in Redline, is always trying to prove that he's the best in anything he does and you won't convince him otherwise.
In the new Redline, JP and Sonoshee McLaren will race against other racers for safety. Another difference between the previous experiences of Redline and this present one is that it takes place in a world of Roboworld cars.
JP and McLaren are two members of the Robo-world Racing Team. These two have been ruthless in their race for cash and would stoop to any level necessary to gain the upper hand.
1. Initial D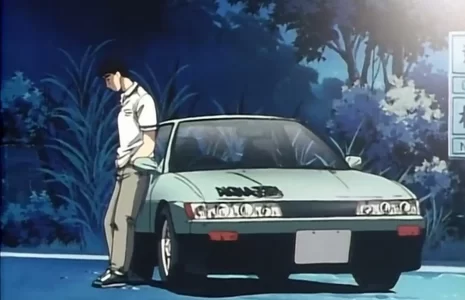 This is an anime about cars where on the surface, it might seem like a pretty boring high school boy who's got a bunch of car-crazy friends. But, it turns out he's the 2nd fastest driver in Akina–and that makes up for all that lack of story. Most of the anime is about a lot of people driving around and doing things with cars racing…
I know nothing about car racing, but watching the show took me right in. I'm intrigued by speed and pressure and tension because of the show's roller-coaster rides. The show has also some of your average sports anime details, such as competition and even maybe sticking out in the sport, rising to new challenges.
Don't Miss: