If you're into biking anime, here's a list of the best ones you should definitely watch! These anime feature characters who love riding their bikes, whether it's a casual ride or a competitive race. They have a deep passion for cycling and relish the exhilarating feeling of the wind rushing past as they ride. So, without any more delay, here are the top anime about biking that you should watch right now!
11. Golden Boy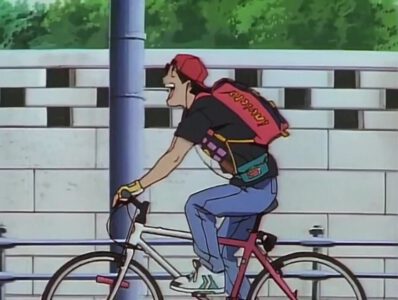 Kicking off the list of the best biking anime with Golden Boy, a unique anime that revolves around the lead character's adventures, and although it focuses mainly on his exploits, his bike, the Mikazuki 5, plays a significant role in the story.
The show centers on Kintarou Ooe, a specialist in part-time work, who traverses the highways and byways of Japan on his dependable steed, the Mikazuki 5. His mission is to find odd jobs wherever he can.
Throughout his journey, Kintarou encounters various situations that offer knowledge and experiences beyond what can be learned in a classroom.
From dealing with political corruption to understanding matters of the heart, his escapades are diverse and sometimes quite crazy.
As he embraces the open road and encounters many beautiful women along the way, Kintarou's pursuit of education never wavers, even if it means taking on seemingly undignified odd jobs.
With each task he undertakes, Kintarou learns and grows, and who knows what extraordinary possibilities await him. Maybe, just maybe, he might even have the chance to save the world one day. One thing is certain – "Golden Boy" is an adventure filled with valuable lessons that promise to be very educational!
10. 48×61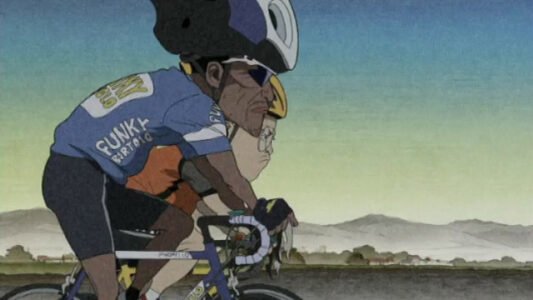 Thanks to the renowned animation studio Madhouse, "48×61" is a great 6-minute short film that beautifully portrays the essence of biking.
The movie is directed by Rintaro, who is famed for creating masterpieces such as Astro Boy and Metropolis.
The plot centres around the long-running rivalry of two professional cyclists, Rintaro and Katsuhiro, as they compete on the road.
Along with their gripping competition, the film includes an array of background events which add dimension to the story.
Regardless of its brief running duration, "48×61" presents an engaging bicycle story that is unlikely to be forgotten.
9. Hill Climb Girl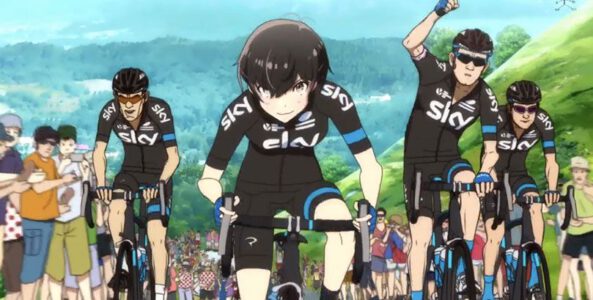 Hill Climb Girl is a web anime consisting of a single episode. The story revolves around Hinako, a high school girl who has a deep passion for biking and greatly admires a professional road racer.
Each morning, she competes with a boy from her class while riding her mama chari bicycle on their way to school, which involves climbing a hill. Unfortunately, Hinako always ends up losing the race.
Feeling frustrated with her constant defeats, Hinako comes across a video of her favorite cycle racer. Inspired and determined, she sees this as an opportunity to finally win the race.
With renewed enthusiasm, she prepares herself for the next morning's challenge, eager to take on her classmate and secure a well-deserved victory.
This is a sports anime that showcases Hinako's determination and growth as she strives to improve her biking skills and overcome the challenges that come her way.
8. Minami Kamakura High School Girls Cycling Club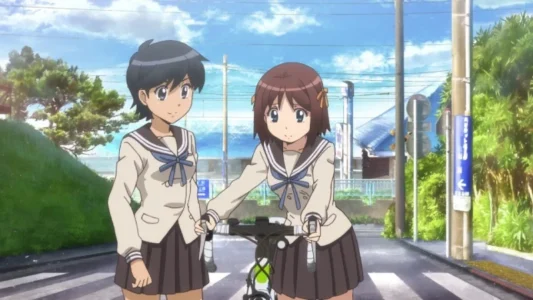 Minami Kamakura High School Girls Cycling Club is a feel good biking anime that aired in 2017. The anime spans across 12 episodes and is produced by A.C.G.T and J.C.Staff.
The story revolves around Maiharu Hiromi, who relocates from Nagasaki to Kamakura to attend high school.
With this move, she embraces a new school, new friendships, and a world of exciting encounters, all of which happen while she's on her beloved bicycle.
Kamakura becomes the backdrop for a group of high school girls who have dedicated their youth to the joy of cycling.
7. Nasu Summer in Andalusia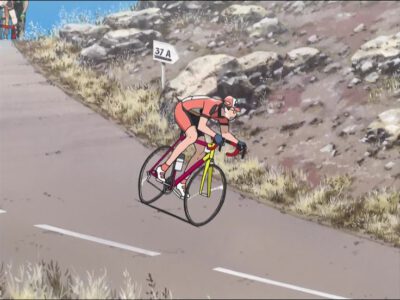 This is a biking anime movie produced by Madhouse in 2003. The story revolves around Pepe Benengeli during the Andalusian segment of the 'Vuelta a España,' a prestigious bicycle race that takes place around Spain.
However, Pepe finds himself facing a personal crisis as his brother is about to marry Pepe's former girlfriend. In the scorching heat of his hometown in Andalusia, Pepe embarks on a challenging and grueling ride.
Determined to prove himself, he pushes his limits through the sunbaked hills of his beloved region. The stakes are high for Pepe, not only concerning his cycling career but also his self-respect.
Amidst the captivating beauty of Andalusia's arid terrain, Pepe's journey unfolds, taking viewers through moments of passion, perseverance, and introspection.
Andalusia's majestic landscape becomes the backdrop for a story filled with tension, self-discovery, and a dash of humor, represented by pickled eggplants.
6. Ani x Para: Who is Your Hero?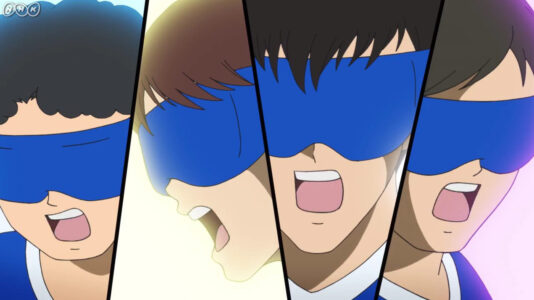 This is a unique anime created by multiple studios, including DLE, Gallop, Nippon Animation, and TMS Entertainment. It originally aired from 2017 to 2022.
Ani x Para: Who is Your Hero anime series consists of short episodes, each produced by different studios, with a common goal in mind.
It aims to showcase the allure of para-sports and to foster increased enthusiasm for the Paralympics and the Tokyo 2020 Paralympic Games.
Throughout the series, viewers are introduced to various para-sports, including cycling, martial arts, rugby, running, soccer/football, tennis, and track and field.
The focus lies on the athletes with disabilities who participate in these sports, showcasing their incredible determination, skills, and achievements.
5. Long Riders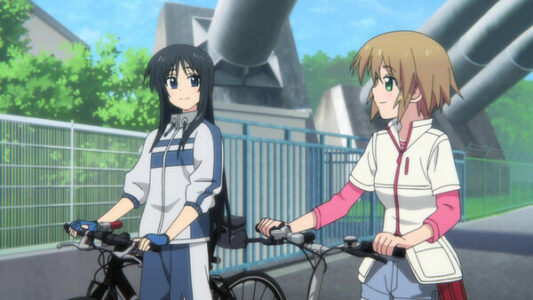 Long Riders is a kawaii anime that revolves around biking girls, and it's sure to capture your attention. The story follows Ami Kurata, a first-year college student, who becomes infatuated with a folding bike at first glance.
Driven by her passion, she diligently saves up money to purchase her very own folding bike and embarks on an exhilarating journey into the world of long-distance bicycling.
As Ami dives deeper into her newfound love for cycling, she forms a close-knit cycling team with four other like-minded girls on her college campus.
Together, they embark on a thrilling adventure, preparing themselves for an upcoming long-distance race that promises to be the ride of their lives.
4. Idaten Jump
Idaten Jump is a good biking anime from 2005 that follows the adventurous story of Sho Yamato and his friends. They enjoy mountain biking together, but during a race with rivals, they are suddenly transported to a mysterious place called the X-zone by thick black smoke.
In this realm, mountain bike racing takes a much more serious turn, becoming intense no-holds-barred competitions known as Idaten Battles.
In an Idaten Battle, participants must race through challenging obstacle courses, not only striving to win but also to survive the daunting challenges ahead.
The ultimate goal of these races is to collect emblems from the defeated opponents. Only by gathering enough emblems can they hope to escape the X-zone.
3. Nasu Suitcase no Wataridori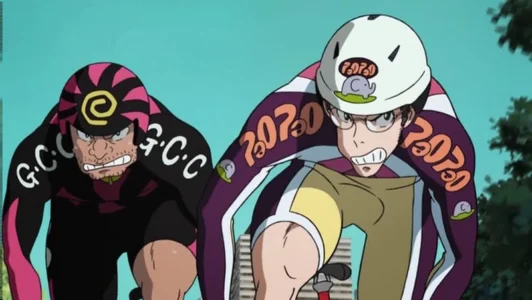 Nasu Suitcase no Wataridori is a good anime that follows the cycling journey of Pepe Benengeli and Team Pao Pao Beer.
The team travels to Japan to take part in the prestigious Japan Cup, a crucial race that could be their last one together as a team.
During their journey, Jean Luigi Ciocci, one of Pepe's teammates, finds himself questioning his decisions after the tragic suicide of their close friend and legendary cyclist, Marco Rondanini.
Even with  the emotional challenges they face, Pepe becomes the driving force that rallies the team together, urging them to keep moving forward.
The team, determined to make the most of the race, embarks on the challenging competition under the pouring rain, hoping to achieve yet another victory.
Animated by Madhouse, Nasu: Suitcase no Wataridori is an epic 2007 sports anime that centers on cycling and racing, and is a must-watch for fans of the genre.
2. Over Drive
One of the top biking anime worth watching is Over Drive by Studio Xebec, which originally aired in 2007.
The story revolves around Mikoto Shinozaki, a typical high school student facing the usual struggles of being mediocre in sports, lacking any outstanding talents, and dealing with bullies at school.
However, everything changes when Yuki, the girl he has had a crush on for a long time, invites him to join her brother's cycling team.
Eager to impress Yuki and win her heart, Mikoto decides to give cycling a try, despite having no prior experience. He puts in great effort to learn how to ride a bike and not embarrass himself in front of others.
Surprisingly, he finds himself genuinely enjoying the sport. This newfound passion ignites a spark in him, and he sets his sights on becoming the best cyclist in the world.
Throughout the episodes, Mikoto faces various challenges, hardships, and triumphs as he follows his dream of becoming a top-notch cyclist. 
1. Yowamushi Pedal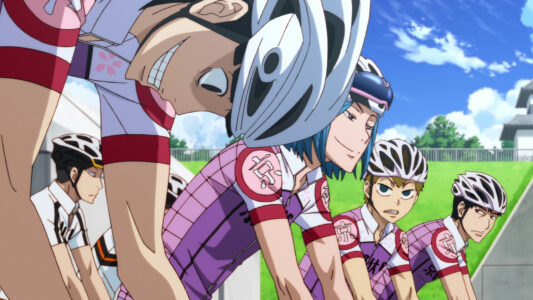 Yowamushi Pedal, produced by TMS Entertainment, is a popular anime series about biking that features many seasons and movies.
The overall story follows Sakamichi, an avid otaku who is passionate about anime and manga. Despite riding a clunky bicycle, he travels over 90 kilometers every week to Akihabara in search of the latest toys and games.
As Sakamichi enters high school, he is excited to find like-minded individuals who share his interests. However, he is disappointed to discover that the anime club at the school has disbanded and is in need of new members.
On the other hand, Shunsuke, a skilled cyclist and fellow classmate, is impressed by Sakamichi's impressive speed, even on his heavy "mom cycle."
Now faced with a decision, Sakamichi must choose between sticking with the potential revival of the anime club or joining Shunsuke and other newfound friends in the Competitive Cycling Club. The club promises thrilling races and exciting adventures in the world of competitive cycling.