Kawaii Anime: The Best 18 kawaii animes you should be watching if you like cute-themed series.
kawaii anime series: If you are a fan who likes kawaii and cute themes within the Japanese animation world, you'll likely love binge-watching these cute anime tv shows. However, finding an anime network in order to watch can result in many hours of scrolling through Netflix or streaming sites.
It can be difficult to choose the next kawaii anime tv shows to watch, especially when there is a lot to choose from. Therefore, in this cute list, we have narrowed down the top best kawaii anime series including new ones of 2021 which should definitely be a part of your animes' bucket list!
18. Gochuumon wa Usagi Desu ka?
This is the kind of kawaii anime that shows off kawaii girls doing cute things. No matter what type or genre of anime you like, this one has everything that fans will likely fall in love with.
The series chronicles the daily life routine of five pretty girls who will warm your heart while giving you a dose of humor with their smooth silliness and caffeinated fun.
Overall, Gochuumon wa Usagi Desu ka? is a heartwarming slice of life comedy about five young waitresses and their light-hearted adventures in the town they call home.
17. Yuru Camp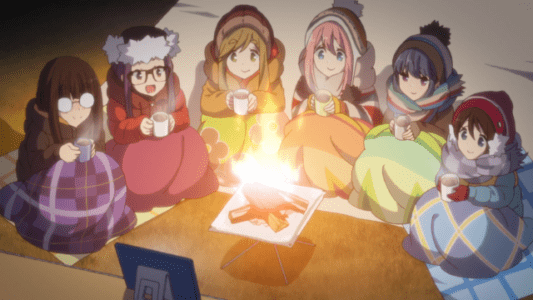 Yuru Camp is a really good kawaii anime to pick, for those fans who like watching amusing adventures of cute girls. First seen in January 2018, this 12-episode kawaii anime tv show, tells us that sometimes our plans don't always work out, But that doesn't necessarily mean that will result in bad things that are going to come out of it. Behold, and enjoy a trip story of our female main character Rin Shima who wants to spend her time off via camping by herself.
16. Barakamon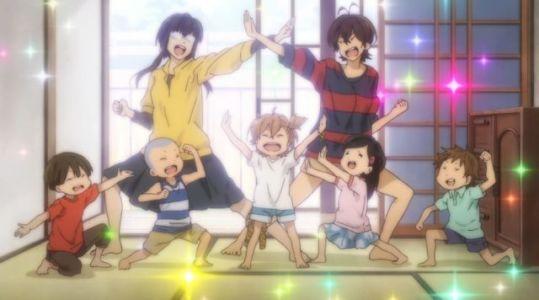 Barakamon is a decent slice of life kawaii anime, with some satire, and cute characters. Sees the skilled craftsman Seishuu Handa experience a change from being selfish and narcissistic, to at long last perceiving how loathsome he was, and figuring out how to alter his way of life. First seen in 2014, this is a short kawaii anime that shows us that a few people can change, all they need is to be away from everything in the center of no place.
15. Kakushigoto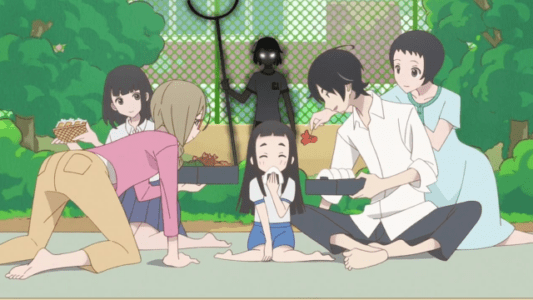 Next up among the top kawaii anime series is Kakushigoto, a tv show that depicts the story of A Mangaka who draws adult comic books and does his best to keep his pervert work secret from his kawaii daughter. Kakushigoto promises 12 episodes with loads of fun, and a circle of lies between the father and his daughter, which lead to hilarious moments, and so many weird situations that will make you enjoy the show.
14. Acchi Kocchi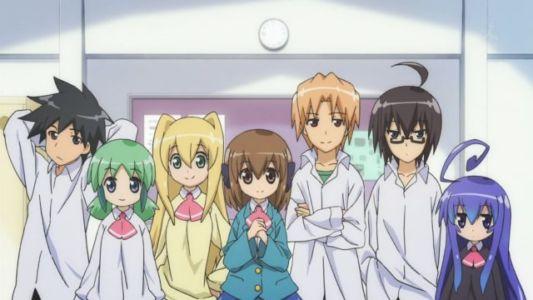 This is a kawaii anime that follows the petite cute Tsumiki Miniwa, who is infatuated with her dearest companion, Otonashi. As far as she might be concerned, admitting her love is almost impossible; yet to her friends, they appear to be the ideal match. Charming and unimposing, Tsumiki falls more in love as a friend, and her crash feeling toward her is more friendly than toward others.
Notwithstanding the steady teasing and clear clues that his friends have been dropping, Otonashi consistently appears to miss the signs.
13. Wataten!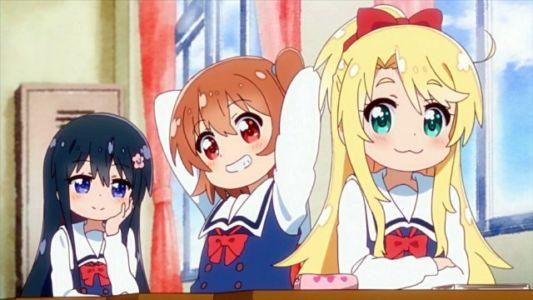 This anime chronicles the story of the kawaii schoolgirl Miyako Hoshino, who is very shy and reserved around others. She for the most part invests her energy in her room making cosplay outfits. At the point when her 5th-grade sister Hinata brings her schoolmate Hana Shirosaki home, Miyako immediately gets dazzled with Hana's cuteness.
Miyako attempts to do different things, going from making Hana wear cosplay dresses to giving her desserts. This gives Hana a terrible impression of her from the outset, however, Miyako will effectively get closer to the angel who has descended before her.
12. Kinmoza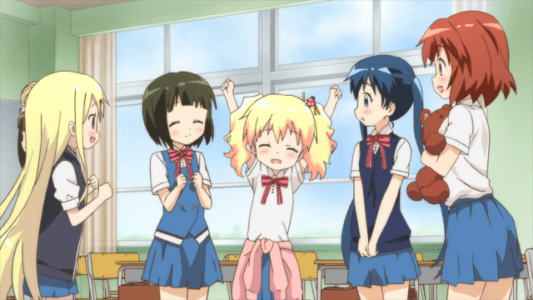 This is a series that features a cute art style, good-and-fun comedy, light-hearted romance, and a partridge in a pear tree. If you want something kawaii and easy to watch, without too many crazy laughs, check this anime out!
This is a 2013 kawaii anime series that follows Shinobu Omiya, a Japanese high school girl who, five years ago, had a homestay in England with a girl named Alice Cartelet.
One day, Shinobu receives a letter from Alice saying she is coming to Japan to live with her. Surely enough, Alice appears and joins Shinobu and her friends at her school.
11. Chuunibyou Demo Koi ga Shitai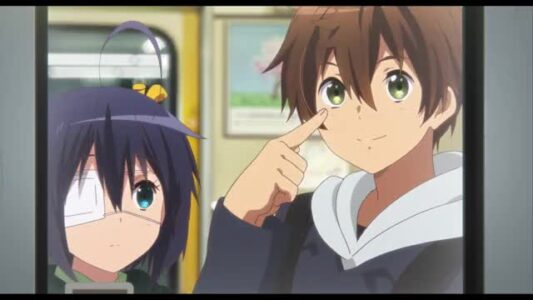 I cannot understand why this kawaii anime is underrated, unknown, and not so many fans have watched it.
Although everyday life can be satisfying, escaping the real world with dreams and visions can make it so much better. Also known by its English name "Love, Chuunibyo, and other disillusions", we see the main character go through his life rather awkwardly, and even though he tries to change that in high school, he is unsuccessful and continues to be awkward.
10. Non Non Biyori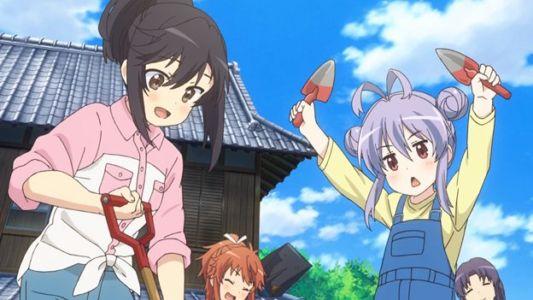 This slice of life Kawaii anime begins when Hotaru Ichijo, a cute girl who has lived in Tokyo all her life, moves to the countryside because of her parents' work. Then she begins to make friends with local children and moves to adapt her lifestyle there.
This anime does a great job showing the lives of people who live in counties or the countryside. The things that people on the show do every day are too wordy for words. One of the best things about this anime show is that each character has their own different traits and personality. Also, Character development is great here too as they live their lives in the countryside.
9. K-On!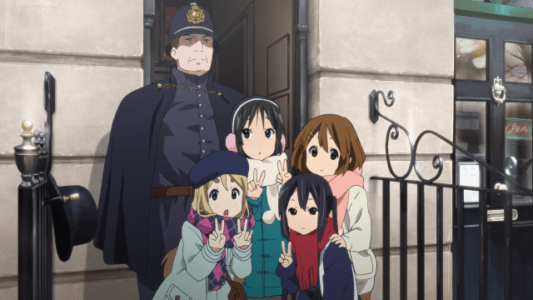 This anime is a story about this kawaii model girl named Hirasawa Yuei. Her only real problem is school, but that changed when she entered the light music club, where she learned to play the guitar because she thought it was cute. She has a band with three other characters called Ritsu, the drummer, Mew, the bassist, and the keyboard player Tsumoji.
The group found out that Hirasawa was really talented and became the lead guitarist and singer. Later on, another character named Nakano Azusa joins The story is unforgettable and the music itself is great. Every episode seems to be getting more and more ludicrous. The art is cute and will definitely be considered a kawaii anime combined with their cute voices.
To sum up! this is among the best kawaii anime tv shows, with a nice story with cute characters and a balance between comedic and fun music.
8. Engaged To The Unidentified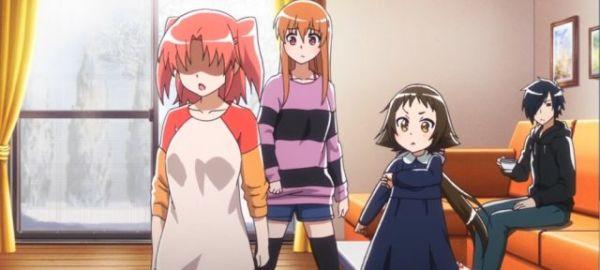 This anime takes place in the city, where The main character here is a 16-year-old cute high school girl named Kobeni Yunomori, and there is no better kawaii theme than following the life of Japanese high school girls. She learned that she was engaged to Hakuya Mitsumen. Because of that Hakiya and his sister came to live with Cobain and her family.
The story revolves around the past lives of Cobaini and Hakuya, but as time passes, the past begins to emerge and the story becomes more and more intense. One of the reasons why this anime is lovely is the kawaii characters. Especially the main characters Hakuya, Kobeni, and Mashiro. Not only do they look cute and sweet, but they also show off their personalities.
The beautiful appeal matches well with the story. Also, Mashiro is the cutest of all the given anime characters here. Absolutely, This is a top kawaii anime that has a high cuteness in general and a great development of the character in the story.
7. New Game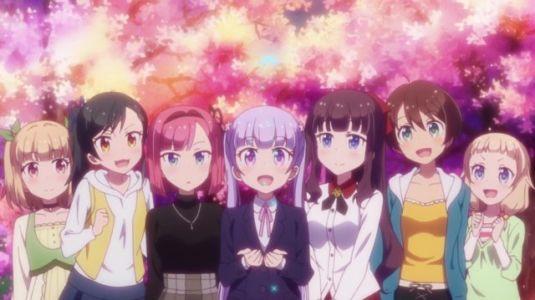 The main character here is Aoba Suzakaze, a pretty girl who just graduated from high school and started working for a gaming company. This is a nice kawaii anime that has a lot of cuteness and is a great combination of school creation and games.
The story revolves around the struggle of the main character in the game company as well as his colleagues. There is a lot of kawaii in the show that the way you interact with each other is a cute, more malicious style. Again, the most amazing part of this kawaii anime is the characters. Each of the four characters is shown to show off her charisma and her personality development helps increase her appeal in kawaii.
Another reason this is on the kawaii cute list of anime is its art. It's simple, nothing too complicated, but the style brings a whole level of sweet themes to the show. It's a balance between cute, funny, and more serious work-related moments. The audio tracks here are great and set the mood of the viewer just right.
6. Hanayamata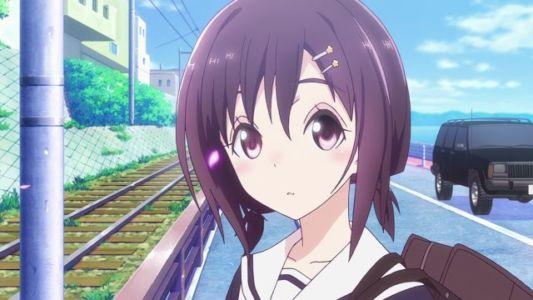 This kawaii anime tv show is all about cute girls being cute girls that will melt fans' hearts. The story is about five middle school girls who joined a club called Yosakoi dedicated to performing a modern Japanese dance. It's an anime about the friendship of these pretty girls named: Naru Sekiya, Hana N.Fountainstand, Yaya Sasame, Tami Nishimikado, and Machi Tokiwa.
One of the most kawaii things about this anime is the female characters. These girls are really cute and they do this without needing more details on the subject Hanayamata isn't focused on girls who just enjoy life and are cute, there is actually a story that still has those awesome overload scenes.
There is a lot of visual beauty with a huge development in character. It's a colorful treat that shows a lot of oomph but can still go very deep. The animation is shown in every scene and each character has a certain level of cuteness. This is a great show and the character development is great.
5. Hanamaru Kindergarten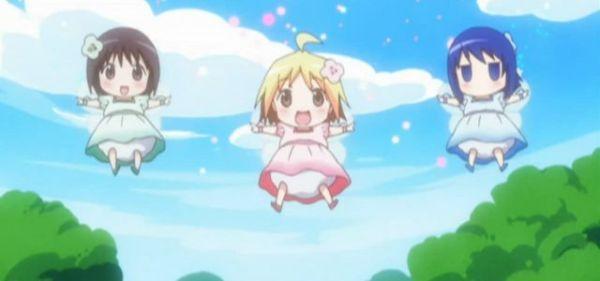 This anime revolves around a kindergarten where these young children compete to get the attention of their caretakers. The characters here are just the most beautiful you will ever see. I mean, how can kindergarten not be a cute theme?
This is among the most good kawaii anime that has a very high level of cuteness. It is a nice and somewhat romantic comedy anime. The main characters in kindergarten only spit comments that make you laugh out loud because of their appeal.
Kindergarten is the kind of place that made you wish you were enrolled in that school when you were five years old. It even has a slide that goes down the second floor. The episodes are full of random comedy moments and also full of sweet situations overload. It has a lot of funny and adorable moments that will make you wish you had cute kids like kindergarten here.
4. Himouto! Umaru-chan
Just like the other kawaii anime, it is about a teenage girl in her high school days. This is a good show about a cute girl named Umaru Doma What makes this different is that it is a perfect example that people are not always what they seem. Umaru Doma looks like the perfect high school girl until she comes home and that's when the real Umaru Doma comes out.
She puts on her hamster jacket and turns from a class student, into a messy, lazy, couch potato, who eats junk food and plays video games, and leaves all of her school chores to her responsible brother Taihe. It makes sense like Himouto! Umaru-chan is slang meaning "my two-faced little sister."
The series follows the adventures of Umaru and Taei's life as it is a very nice show. What makes this even more kawaii is how Umaru is this attractive girl who has blonde hair, pale skin, a small face, and rosy cheeks. This is among the best kawaii anime on our list, it is relaxing while giving you high-quality comic characters and cute characters to go along with.
3. Pokemon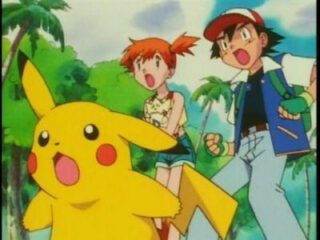 This may be the most famous Japanese anime to exist, and the Pokemon characters themselves are reason enough to be considered a Kawaii anime.
This show is about Ashe who dreams all his life to become the best Pokemon trainer. With the help of his friends and his Pokemon Pikachu, he travels the world to be the best and defeats all the gym leaders, and captures new Pokémons along the way while avoiding people like Team Rocket.
What makes this anime a good show is the kawaii aesthetic of it all, to discover the never-ending Pokemon and the story itself. Honestly, though, the Pokémons themselves bring enough joy and cuteness to be considered on our list. The storyline is cool, and it's no wonder how they're still making more episodes with new Pokémons to go along with them. It's a super amazing tv show that has dominated American pop culture.
2. Tsurezure Children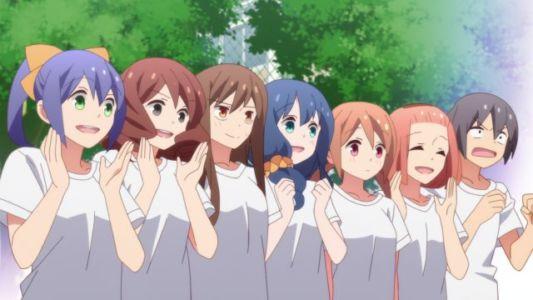 This story revolves around more than twenty characters in a high school setting. Each episode features two personalities and seems to perfectly show realistic puppy love situations that will keep you happy and laughing on the inside. Its art is awesome and this kawaii anime is just super fun and satisfying to watch. It's not your typical romantic comedy and every couple has different endings.
If you love romance and laughter, this is perfect for you. The show has a colorful cast of all kinds of characters, but they are not interconnected which makes it unique. Since there are so many of them, there are a lot of kawaii characters for you to see, and in each episode, they show something cute, which makes it one of the best anime on the list.
1. Nichijou My Ordinary Life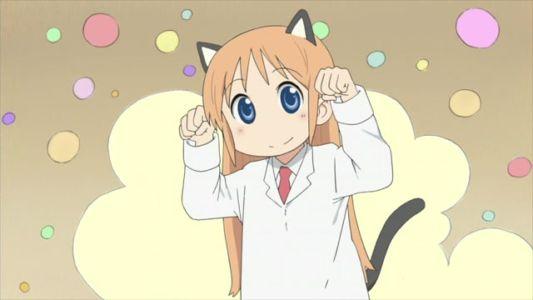 This good kawaii anime focuses on the daily lives of three high school friends who have known each other since they were kids. The names of these girls are Mio Naganohara, Yuuko Alioi, and Mai Minakami. Soon they intersect with three other characters: this genius, Hakase Shinonum, the caretaker of the robot Nano, and Sakamoto, the talking cat.
The series revolves around these cute characters as much as possible and they definitely deserve their place among the top 10 kawaii anime shows. There are so many ups and downs where one moment is just a normal day and then it gets crazy and messy. It's as random as it is cute. This is number one to me because the anime show's humor is great and there are a lot of kawaii overload scenes, that will definitely make you love and enjoy every scene in it.
---
Conclusion:
In this article, we have covered the best kawaii anime series with pretty girls and sweet heartwarming scenes to watch right now, in the year 2021.
Of course, this list is based on our personal favorites. So watch it and enjoy it, you will definitely like it.