Since it's summer and the weather is hot today, let's talk about the best swimming anime series and movies that are so good to watch.
These refreshing anime are known for focusing on various characters who swim as part of a school club or sports team, while some enjoy swimming as a hobby in the ocean, swimming pool, or other locations.
Now, let's dive in and explore the top 10 swimming anime that natation fans should watch.
10. Eikou Naki Tensai-tachi Kara no Monogatari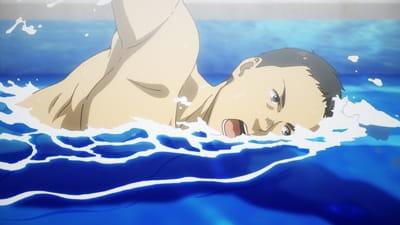 First on the list of the top swimming anime we have Eikou Naki Tensai-tachi Kara no Monogatari, a short web anime consisting of two longer episodes that center around natation and running sports.
Produced by J.C. Staff studio, the first episode is based on the biographical manga "Eikou Naki Tensai-tachi" (Geniuses Without Glory) by Tomoyoshi Itō and Shingo Morita.
It specifically tells the story of Hironoshin Furuhashi, a skilled swimmer known as "the flying fish of Fujiyama." The second episode, titled "Rikujou" (track and field), focuses on the journey of Japanese sprinter Takashi Yoshioka.
9. Bridgestone: Chase Your Dream – The Journey of Kosuke Hagino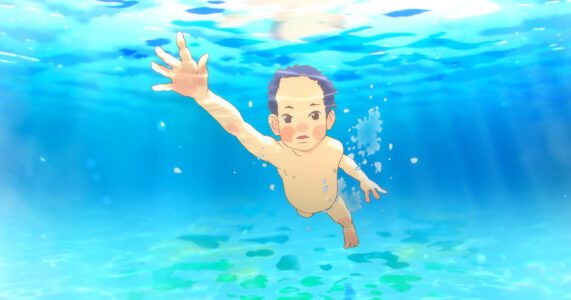 Moving on we have this web series about swimming, comprising three episodes that follow the inspiring journey of Kosuke Hagino.
As an Olympic swimmer, he carries the hopes and dreams of Japan on his back. However, the series delves into his past, showing that he didn't start as a fully-formed super athlete.
Instead, it explores his childhood and the path that led him to become an international swimming superstar, culminating in his breakthrough in 2012.
8. Pekkle in the Great Swimming Race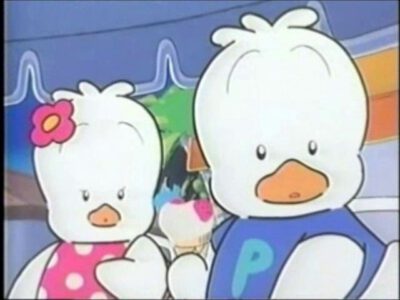 Pekkle in the Great Swimming Race is a 1993 OVA anime that tells the story of a new boy who arrives in Pekkle's town with the aim of impressing Lucy.
Unfortunately, Lucy doesn't show any interest in him. To make matters more complicated, Lucy exaggerates Pekkle's swimming abilities, making him out to be a better swimmer than he actually is.
This leads the new boy to challenge Pekkle to a swimming contest, setting the stage for an exciting and competitive race.
Will Pekkle be able to live up to Lucy's portrayal and win the swimming race? Find out in this heartwarming and entertaining OVA anime.
7. Ano Soshoki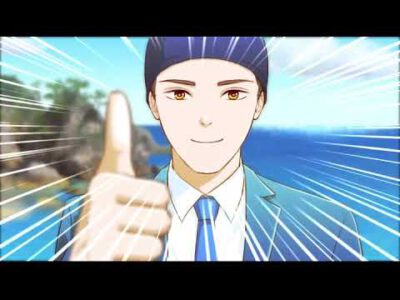 This is another short anime series with two episodes, focusing on a swimmer who leaves Tottori to compete but eventually decides to return to his home prefecture in search of a job.
The series highlights the swimmer's journey as he makes a "Tottori U-turn" to find employment. The show even points viewers towards a job placement agency to aid in the process.
6. Grand Blue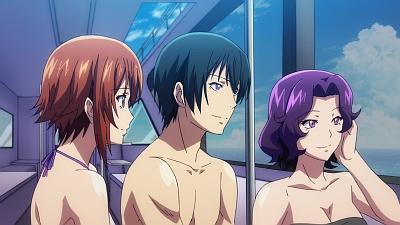 Iori Kitahara moves to a coastal town called Izu for his first year at university. He's excited to live above his uncle's scuba diving shop, Grand Blue, and looks forward to having an amazing college experience.
However, things take an unexpected turn when he enters the shop and gets swept into the lively and alcohol-fueled activities of the carefree Diving Club members who hang out there.
Even with his initial hesitation, Iori is convinced by the upperclassmen, Shinji Tokita and Ryuujirou Kotobuki, to join their peculiar gatherings.
But things get even more complicated when his cousin, Chisa Kotegawa, catches him in the middle of one of their wild parties, leading her to see him in a less than favorable light.
Based on the popular comedy manga by Kenji Inoue and Kimitake Yoshioka, "Grand Blue" is a good sports anime about swimming that follows Iori's humorous misadventures with his eccentric new friends as he tries to make his dream college life a reality, all while discovering the world of scuba diving.
5. Amanchu!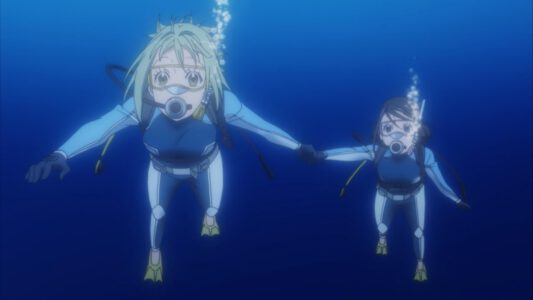 Amanchu follows the story of Futaba Ooki, who originally comes from a bustling city. She spends her days capturing memories through pictures on her phone.
However, her life takes a turn when she moves to a tranquil seaside town and is mesmerized by the vastness of the sea, which seems to hold endless opportunities.
Unbeknownst to her, her quiet contemplation catches the attention of Hikari Kohinata, a local enthusiast of diving.
The next day, Hikari ends up in the same class as Futaba and is drawn to her shy and reserved nature. Hikari lovingly gives her the nickname Teko, and thus begins a tender friendship.
Struggling to adjust to her new life, Futaba finds herself carried away by Hikari's boundless energy and passion for diving.
Together, they join the school's diving club, led by their homeroom teacher Mato Katori. With Hikari as her companion, Futaba embarks on a journey to obtain her diving certification while forming new friendships and exploring new possibilities.
If you're looking for an anime that revolves around swimming and scuba diving, "Amanachu" is a perfect choice to consider watching.
4. Dive!!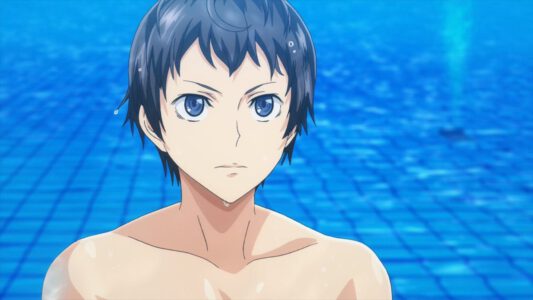 Dive is a sports school anime from 2017 that centers around the world of swimming and diving. The story revolves around Tomoki Sakai, a 14-year-old who has been passionate about diving since his early years.
His fascination with diving was sparked by meeting Yoichi Fujitani, a brilliant diver three years older than him.
Tomoki and his friends are members of the Mizuki Diving Club. However, their club faces a challenging situation when their new coach, Kayoko Asaki, reveals that the club will be shut down unless they produce an Olympian.
Determined to save their club, Tomoki and his friends embark on a journey where they put everything on the line, striving for that crucial moment that could change their fate forever.
3. Breakers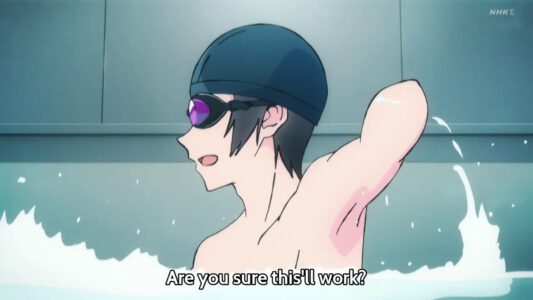 Breakers is a remarkable swimming anime that premiered in 2020, and it stands out as one of the best in its genre.
The story revolves around a group of para-athletes who cross paths with Ren Narita, an unconventional sports scientist.
Their encounters lead to heartwarming and uplifting narratives, with each story focusing on a different sport: wheelchair basketball, track and high jump, goalball, and paralympic swimming.
Throughout the anime, we witness the incredible journeys of these para-athletes as they overcome obstacles, showcase their determination, and achieve greatness in their respective sports
2. Umisho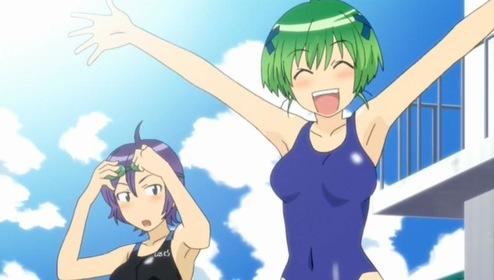 Umisho is a pretty good ecchi swimming anime that immerses us in the beauty of the ocean's blue waters. Aired in 2007 and produced by studio Artland, this 13-episode TV show follows the story of Kaname Okimura.
Regardless of his desire to learn how to swim, he has been held back by a childhood accident that left him fearful of water.
To confront his fear, he decides to join Umisho's swimming club, but not as a swimmer—instead, he takes on the role of the manager.
Initially, things progress slowly and smoothly for Okimura until an eccentric family arrives in town, arriving on a floating home!
Among them is Amuro Ninagawa, a hyper and playful girl who moves as gracefully as a fish in the sea she calls home.
Her unique swimming style catches the attention of the Umisho swimming club, and she is quickly recruited to join their ranks.
With her arrival, school life becomes more exciting and complicated for Okimura, adding a touch of spice to the story.
1. Free!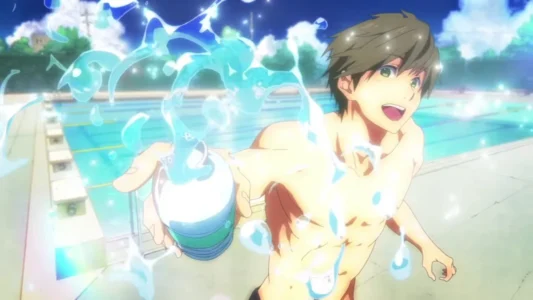 First aired in 2013, "Free!" is a Kyoto Animation anime that revolves around swimming. It has successfully shown that even an anime based on the sports genre can compete and surpass solid themes like isekai and action.
The story follows four hot male characters Haruka, Makoto, Nagisa, and Rin, frinds who swam together in a relay race and emerged victorious during their elementary school days.
Before Rin left for Australia to train for the Olympics, they buried their trophy in a time capsule with the plan to retrieve it when they grew up.
Now in high school, Haruka, Makoto, and Nagisa reunite and decide to dig up the prize. On their way, they unexpectedly meet Rin, who is determined to prove that he's the best.
This encounter sparks a fateful decision, and the three friends, along with their classmate Rei and Rin's little sister Gou as the team manager, start a swim club. They aim to show their skills at the Prefectural Tournament and compete against Rin.
Free! offers multiple seasons, specials, and movies, all themed around swimming, making it a must-watch for anyone seeking a refreshing and enjoyable anime.