Are you looking for the top anime series that you binge-watch and enjoy? Look no further! Our compiled list features the best anime of all time, spanning various genres such as action, comedy, horror, romance, and science fiction. With so many options to choose from, you'll be sure to find a new favorite show.
This anime list has some good TV shows for teenagers, some for adults, and some for a little bit more mature audiences. This list includes both old and new anime that you can watch on Netflix, Amazon, Crunchyroll, Funimation, and all streaming platforms.
With no further ado, let's start the countdown of the best anime to binge watch now!
23. Death Parade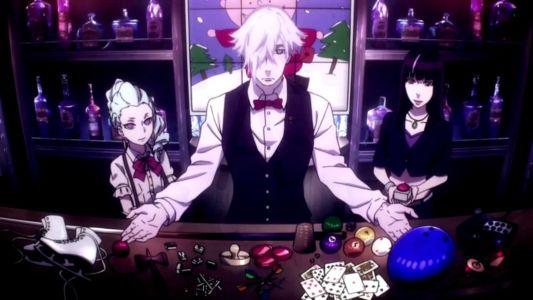 Kicking off the list of the best anime to binge watch with Death Parade, a good series that depicts what happens after death! well, humans are either sent to the void or reincarnated.
However, some dead people, at the instant of their death, arrive at Quindecim. Well the bar, is the Quindecim? Where there is a mysterious bartender who challenges customers to Death Games with the stakes being life and revealing their true natures.
Things can get interesting when the bartender is the one deciding what happens with these spirits. This is a series where you will witness who will win and lose, who is bad and good, who goes to the void, and who is reincarnated.
22. Canaan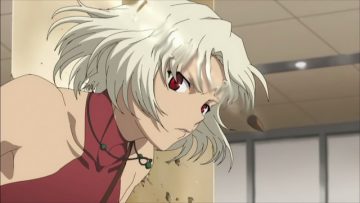 This is an underrated anime to binge watch, as it is undeniably a masterpiece. The story follows Oosawa Maria, a Japanese photographer currently working in Shanghai, China.
Maria and Mino are a two-person team that prowls the city to uncover events of interest. But, one day when they go on a hunt for tales at a local cultural event, something weird happens.
Maria and her partner are involved in a fight with two unknown men and a woman wearing strange, white hair – just when she's about to be caught in the crossfire, an old friend named Canaan appears and helps Maria run away.
A sinister plot develops over a deadly virus and Canaan decides to confront her past if she wants any hope of stopping the perpetrator and saving her friends.
21. Shiki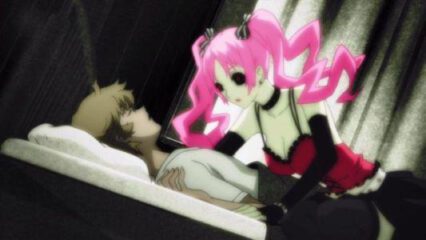 Shiki is among the top bingeable anime series to watch in a single day! The series aired back in the Summer of 2010. The story revolves around a Japanese village and its inhabitants who are plagued by a series of gruesome murders.
The anime was based on a manga series by Fujisaki Ryuu (Art), and Ono Fuyumi (Story). Shiki has been praised for its dark plot and the unique style of horror that it offers. It also has been praised for its psychological themes, which garnered it much critical acclaim.
Shiki is one of the most popular anime in Japan, and we think it deserves more promotion to the Western audience because it is simply one of the best horror anime to watch right now.
20. Darker Than Black
Darker than Black" is a must-see anime for marathons. This complex and thrilling series is so good, it follows the story of contractors, who possess supernatural powers and must carry out missions for the mysterious Syndicate organization.
With compelling characters and a fast-paced plot, "Darker than Black" is perfect for a marathon viewing session. Whether you're a long-time fan or new to the series, this is one dark anime series that you won't want to miss.
19. Psycho-Pass
The story of the series follows the protagonist, Akane Tsunemori, who is a member of Public Security which is responsible for apprehending criminals and focuses on solving crimes that cannot be solved by normal means.
Psycho-Pass is a top rated anime to watch if you like sci-fi themes, it takes place in a dystopian future where everyone's mental state is constantly monitored and controlled by an omnipresent computer system known as "The Sybil System."
This system uses information from the brain's electroencephalogram to measure mental stability and assigns each person a "Psycho-Pass" number based on their mental state.
If your Psycho-Pass number falls outside of the acceptable range, you are classified as having a criminal mind and are arrested by special police officers called Enforcers.
18. Angel Beats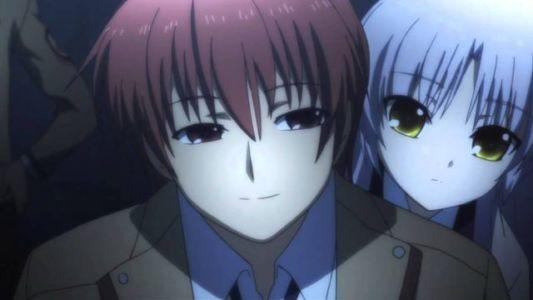 Angel Beats is a popular Stay-up-all-night anime that was released in 2010. It has a unique plot that revolves around the afterlife and the relationship between high school students who are all dead.
The story centers on Otonashi, a boy who wakes up in a strange world where death is the norm, and Yuri, an angel who has been tasked with guiding him to the "Land of the Dead".
Angel Beats is known for its thought-provoking premise and exploration of themes like death, love, and existentialism.
Its memorable ending song has also made it a fan favorite. If you're looking for a poignant and entertaining show to marathon, "Angel Beats" is definitely worth considering.
17. Your Lie In April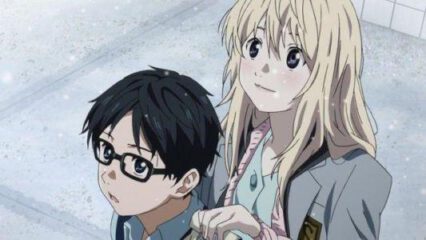 The story revolves around Kousei Arima, a young boy who lost his mother when he was young. Since then, he avoided playing piano until he was approached by a violin prodigy named Kaori Miyazono who will help him find the peace he needed through music.
This is an anime that worth binge-watching as it presents a story about Kousei's recovery as he discovers music is more than playing each note perfectly. He can find the fresh spring air in April by listening to and drawing out one simple melody.
Your lie in April is among the best anime to watch right now as it is a wonderful series that has received critical acclaim for its beautiful animation and emotional story of loss, grief, and love.
16. Violet Evergarden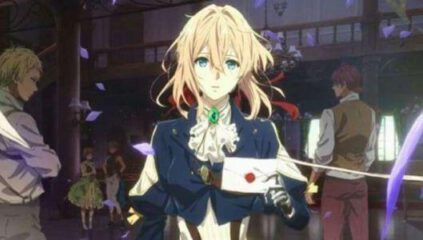 The Violet Evergarden anime is an adaptation of the manga and novel by Kana Akatsuki. The series is about a young woman who works as an automail in World War II-era Europe.
Sometimes after a big war, it can take some time to get used to the new normal. Violet is an emotionally detached soldier who found herself thrust into postwar life as a ghostwriter and begins to reconnect with people and with her feelings.
She has a lot of questions about what happened in the past, and she sets off on an emotional search for answers, and for meanings of some words, she still remembers. This is a recommended anime series for a binge-watching session.
15. Parasyte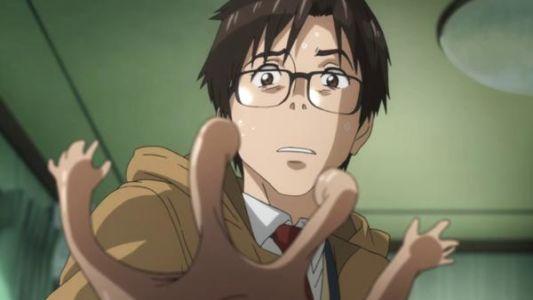 Parasyte is a good anime to watch on Netflix, Funimation, or Crunchyroll. The story focuses on Shinichi Izumi, a 17-year-old boy from Earth, who becomes infected with an alien parasite, which luckily didn't take control of his body. They began to live in symbiosis with each other and he began to harness the alien's powers.
These insatiable beings take over humans, grow and morph to get food, and somehow become ugly creatures. The story is one you won't want to put down as humans fall victim to this parasite and so does our main character.
The tension and the struggle that the protagonist goes through are going to keep you on the edge of your seats till the end of the show.
14. Vinland Saga
Vinland Saga is a Japanese manga series written and directed by Makoto Yukimura, set during the settling period in medieval Europe. This is among the best anime to binge watch over a weekend. It is available on various streaming services like Netflix, Hulu, and Amazon.
The setting of Vinland Saga really grabbed my attention because it is a more historical take on the adventures of Vikings. The anime production company Wit Studio had some amazing staff that put together a beautifully produced series offering an impressive performance style.
The story follows Thorfinn in pursuit of revenge for his father's murderer. He upholds the poor warrior tradition and desires a duel to pay his respects.
13. Mob Psycho 100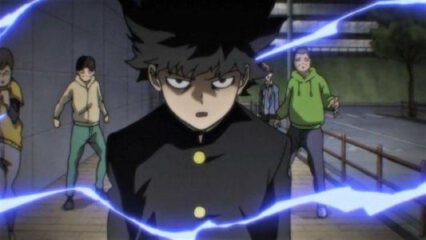 Mob Psycho 100 is a Japanese anime series that revolves around a young boy who possesses psychic powers. The series was created by the mangaka, One.
This anime has been widely praised for its uniqueness and originality among other similar shows on the market, and you can binge-watch it on most anime websites.
It's dark and often funny in its portrayal of a schoolboy with psychic powers called "Mob" who attempts to juggle school life and his job as an exorcist. However, "Mob" feels more and more unstable as he has to take off his emotions so as not to lose control over his destructive psychic power.
Mob Psycho 100 is among the best anime to watch that will keep you on the edge of your sit, as the show features a unique style of animation and storytelling.
12. Mahouka Koukou no Rettousei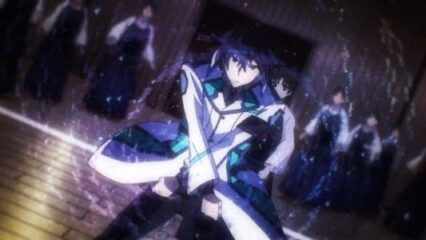 Magic has been around for a long time, but its use is becoming more mainstream. It wasn't always used by people; it was originally a technical skill that allowed people to perform supernatural things.
The technologies they developed through magic are also becoming increasingly commonplace in society. In this world, a superpower user can become a Magician.
Magicians are groomed in preparing for the professional work field through Magic colleges and schools. The story follows Miyuki and Tatsuya Shiba, who will be turning the National Magic University Affiliated First High School campus upside down.
This magic anime is very unique and stands out from the other shows, as it provides a great storyline, good setting, awesome animation, and well-developed characters.
11. One Punch Man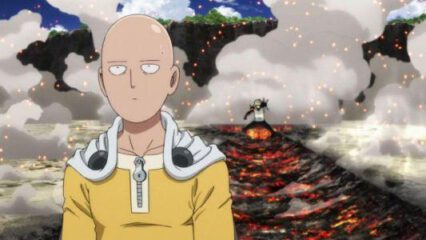 You should totally binge-watch One Punch Man it's an amazing anime series filled with lots of comedy, action, and adventure elements.
Saitama is a protagonist in the anime series "One-Punch Man" which follows him as he fights and defeats enemies with a single punch. He has super strength and stamina, and he is Bald.
The protagonist feels incredibly bored as Saitama's powers make it so no one is left to fight. The anime is about how the protagonist feels and what he does in his daily life. It's a fun watch if you're looking for something light to watch.
10. Steins; Gate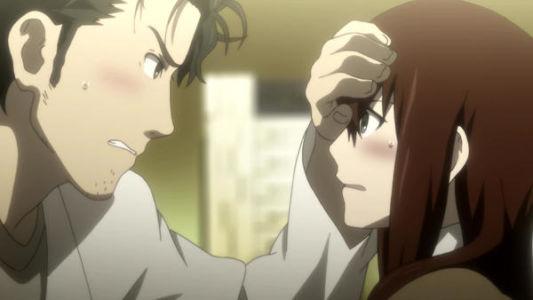 The series is set in the summer of 2010, about one year after the events that took place in Chaos; Head, a part of Akihabara. Steins; Gate is a show where a group of friends is working on enhancing the world in their own creative ways.
One way the group does this is by building devices that can send texts to the past. As they are doing different experiments, a company named SERN tracks them down. The characters have to find a way to avoid being captured by them.
While also falling into so many dark, deep, and dramatic circumstances that will make them question their moralities and relationships. A lot more happens in this series. It's very much like a roller coaster ride, but it is a delight, and among the best science anime to watch now!
9. Ghost in the Shell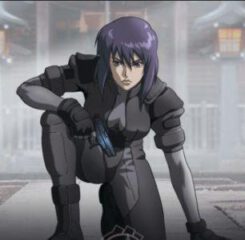 Among the best cyberpunk anime to watch is Ghost in the Shell, which is a popular anime that has been around for over 30 years. It is set in the year 2029 when the barriers of our world break down by the net and cybernetics.
However, this brings new vulnerabilities for humans because of brain hacking. When a highly-wanted hacker known as "The Puppetmaster" starts involving them in politics, a cyborg named "Motoko Kusanagi" enters and leads an elite task force called "Section 9" to investigate and combat cybercrime.
The pursuit will explore the difference between humans and machines as our world becomes increasingly complex.
8. Hellsing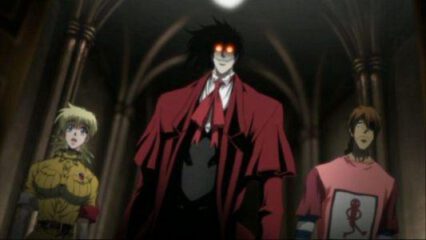 Hellsing is a dark, gothic manga and anime series about vampires and werewolves fighting for control of England. It is known for its complex story and detailed artwork, with a mixture of horror and action elements.
Hellsing follows the antiheroic vampire, Alucard, and a police girl-turned-vampire, Seras Victoria. The two vampires work at the vampire-extermination group of England, the Hellsing Organization.
Slowly but surely, through their active duty, they find a new breed of vampires beginning to arise. So if you like horror and vampires, Hellsing is another best anime to watch right now.
7. Tengen Toppa Gurren Lagann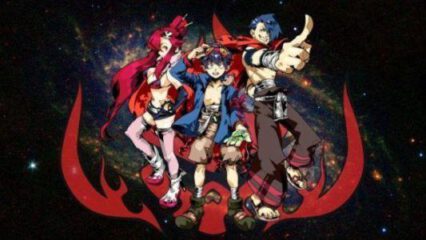 Next up, among the best anime to watch on Netflix, Funimation, or any other streaming platform, is Gurren Lagann.
Set in a future time where humans live underground in caves while their day-to-day life is based on digging without actually realizing there's an above world. One day, during excavation, Simon discovered a glowing object.
Few believe that the surface exists, but a man named Kamina befriends Simon and forms a small band of brothers to escape the village and break through the ceiling of the cave to reach the surface. The village elder won't hear of such foolishness and punished them.
However, when disaster strikes from the world above and the entire village is in jeopardy, it's up to Simon, Kamina, a girl with a big gun named Yoko, and the small yet sturdy robot, Lagann, to save the day.
6. Samurai Champloo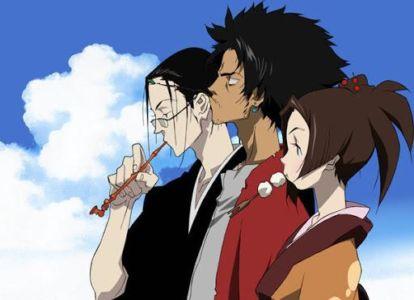 Samurai Champloo is one of the most popular sword fighting anime shows in Japan that everyone should binge-watch as soon as possible.
It has a unique style that combines elements of hip-hop, jazz, and various other genres. The story follows the Break-dancing but fierce swordsman Mugen, who has to deal with the cold, powerful, and badass Jin, a samurai who believes he is superior to everyone.
These sworn rivals are brought together by Fuu for a special task." This is among the best anime to watch on various streaming platforms, as it has been praised for its unique style that blends elements of samurai themes with hip-hop music and Japanese culture.
5. Attack On Titan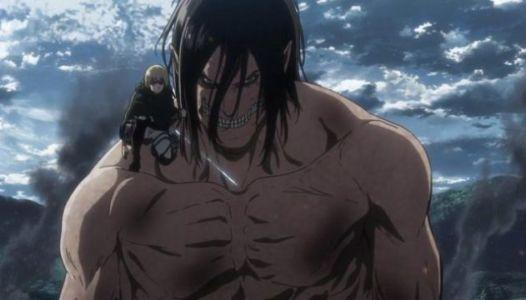 Attack on Titan, also known as Shingeki no Kyojin in Japanese, is a popular anime series that has received many positive reviews and has captured the hearts of many people around the world.
It is a story about how humanity must fight against the Titans, and humans are forced to live within a walled city in order to escape the threat of these giant humanoid creatures who devour humans. The anime is so popular that it has its own live-action movie and video game adaptations.
Attack on Titan is often called one of the best anime series ever made. It has won many awards and has been praised for its unique storytelling and characters. The show's success can be attributed to the fact that it creates an immersive world for its viewers to escape into.
4. Cowboy Bebop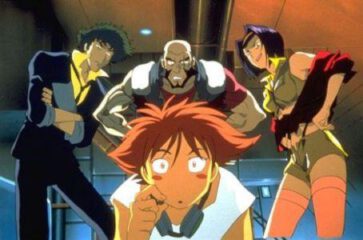 Cowboy Bebop is one of the most popular anime series in history. It has a cult following and is often credited with pioneering many aspects of modern anime, such as its use of jazz music, character designs, and space setting.
The show follows the adventures of a ragtag crew of bounty hunters in a futuristic time who travel the solar system to track down fugitives and turn them in for rewards.
Cowboy Bebop was created by Hajime Yatate and is available to watch on Netflix, Amazon Hulu, and Funimation. It has a cult following and has been dubbed as one of the most influential anime series of all time.
3. Code Geass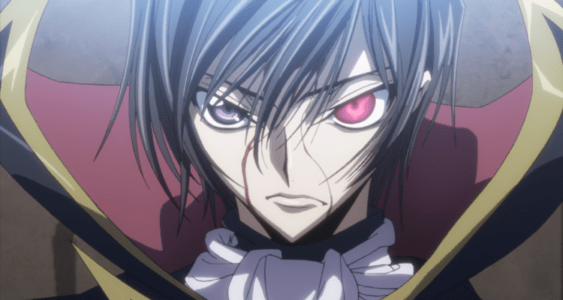 Geass is a popular sci-fi show that follows Lelouch as he tries to take on the role of the emperor in order to change history. The entire story is dramatic with some crazy world-altering goals. An alternative outcome to what we mentioned earlier.
Lelouch escapes from exile and leads a resistance movement to combat the Brittania regime, which he later refers to as the Black Knights. They are quickly able to rise in popularity, and their ultimate goal is still clear.
The politics and character interactions are very interesting at the end, which will keep your viewers entertained until the credits roll. Code Geass is another best anime to watch because it has a lot of action and suspense. It also has many references to the real world.
2. Fullmetal Alchemist Brotherhood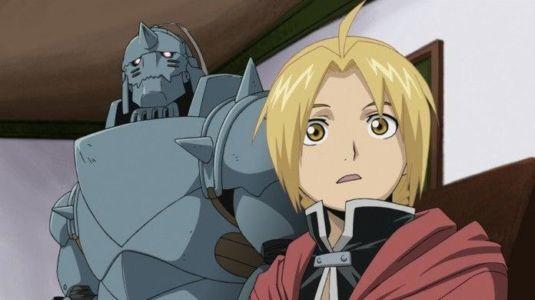 Fullmetal Alchemist is an exceptional anime to binge watch if you want to get into the mood for something exciting and dramatic.
The anime follows Edward and Alphonse Elric, two brothers who are trying to bring their mother back to life. In the process, Edward Elric lost his arm and leg, while Alphonse Elric lost his whole body.
Edward Elric and his brother Alphonse will set out on a journey in search of the Philosopher's Stone in order to bring their lost body parts back.
The Fullmetal Alchemist Brotherhood anime has gained popularity with its unique plot twists, exciting action scenes, and beautiful animation. It was first released almost a decade ago and its popularity seems like it will never fade away.
1. Death Note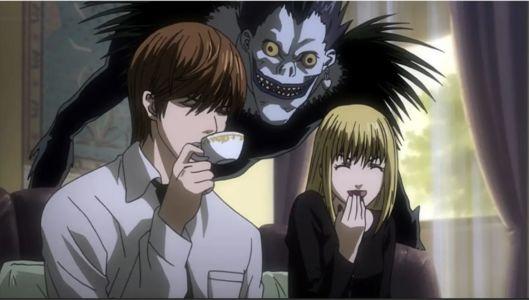 Death note is one of the most popular anime series in the world. It has been adapted into manga, live-action movies, and video games.
This Japanese manga and anime series tells the story of Light Yagami, a high school student who discovers a supernatural notebook that grants its user the ability to kill anyone whose name and written on it. Light decides to use this notebook as a tool for cleansing the society of criminals, terrorists, and corrupt politicians.
Death note is one of the best anime to binge watch because it has suspenseful moments, action-packed scenes, and an intriguing plot.