The Top Anime Crazy Girl is Obsessed With MC
4.

NetoYome

Synopsis
After being able to propose to a girl in an online game, Hideki Nishimura is shocked when she rejects him. To make matters worse, the girl reveals that she is actually an older man in real life. With his dreams crushed, Hideki decides he will never trust another girl in a game again.
Years later, Hideki is now in a guild with three other players, one of whom possesses a female avatar by the name of "Ako." Ako is deeply in love with Rusian and wants to marry him. Although he entertains the possibility that she might be a guy.
Hideki accepts her proposal, claiming that her gender doesn't matter as long as she is cute in the game. However, a discussion between guild members led to all of them having an offline meeting. He finds out that Ako, along with the other members, are not just girls, but also his schoolmates.
3.

Okusama ga Seitokaichou!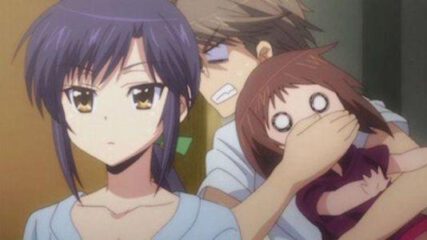 Synopsis
Here is a Comedy Romance anime crazy Girl is obsessed with Mc that showcases the story of Hayato Izumi, who is running for student council president.
He's studious, responsible, down to earth…and completely outmatched by his rival, Ui Wakana. Ui wins in a landslide after promising comprehensive $ex education, free condoms, and other exciting reforms.
Bloodied but not discouraged, Hayato licks his wounds and settles for vice president. Then Ui moves in with him. As it turns out, their parents made a drunken promise decades ago that their children would one day marry.
Ui and Hayato must now balance school life with matrimony. Also trying to keep their relationship secret from a prudish student body and learning to live with each other.
Can they keep the student council in line and find happiness together? Find out more by watching Okusama ga Seitokaichou on Crunchyroll!
Read Also: The 28 Best Cutest Anime Girls that will Melt your Heart
2.

Shomin Sample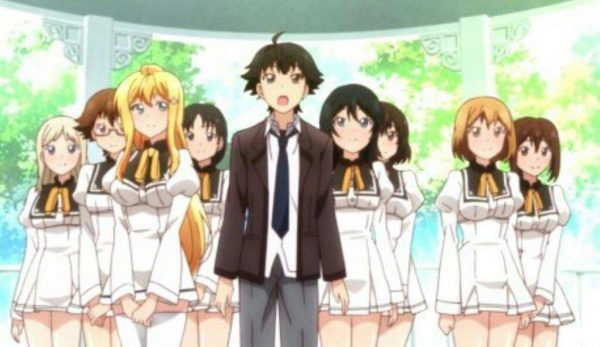 Synopsis
Kimito Kagurazaka is a commoner with a fetish for men's muscles, while must keep lying if he wants to stay out of trouble at the elite all-girls school, Seikain Academy.
Kidnapped by the school under the assumption that he prefers men Kimito maybe their "commoner sample," exposing the girls to both commoner and man so that the transition to the world after school is not jarring.
Threatened with castration should his $exual preferences not match the school's assumptions, Kimito keeps up the facade to protect his manhood. But there are eccentric individuals around every corner who begin to make Kimito's life even more difficult.
Among them is Aika Tenkuubashi, a social outcast who blurts out whatever comes to mind. Hakua Shiodome, a young genius; Karen Jinryou, the daughter of samurai who is obsessed and crazy about defeating Kimito. Plus, Reiko Arisugawa, the perfect student who has delusions of marrying Kimito.
Along with the commoner himself, these four girls make up the Commoner Club, which attempts to teach the girls more about life outside the school, while Kimito gradually learns about the odd girls surrounding him.
1.

Mirai Nikki

Synopsis
Here is the ultimate yandere girl you will ever come across, this romance action anime where Girl is obsessed with MC follows the Lonely high school student, Yukiteru Amano, who spends his days writing a diary on his cellphone, while conversing with his two seemingly imaginary friends Deus Ex Machina, who is the god of time and space, and Murmur, the god's servant.
Revealing himself to be an actual entity, Deus grants Yukiteru a "Random Diary," which shows highly descriptive entries based on the future and forces him into a bloody battle royale with 11 other holders of similarly powerful future diaries. With the last person standing designated as the new god of time and space, Yukiteru must find and kill the other 11 in order to survive.
Mirai Nikki follows the mc Yuki as He reluctantly teams up with his obsessed stalker anime crazy Girl "Yuno Gasai" (who also possesses such a diary), and she takes it upon herself to ensure his safety. But there's more to the girl than meets the eye, as she might have other plans for her unrequited love…
See Also:
Credit to: MyAnimeList