9 Anime Like Attack on Titan
welcome to this article about 9 anime like attack on titan, no one argues that Shingeki no Kyojin is undoubtedly one of the best anime series of all time!
Attack on titan focus on an amazing revenge story, caharcters developments, thrilling action, and beautiful art style. and with all these elemnets Attack on Titan makes the Anime lovers all over the world addicted to it.
So,  since the anime is a seasonal one that airs from time to time, you will be surprised to know that there are so many other anime similare to shingeki no kyojin.
With no further ado,  Here is a list of 9 anime like Attack on Titan that you must check out!
---
9
Knights of Sidonia
Synopsis
Here is another anime like attack on titan.
the story is set After the earth destruction many years ago.
The alien race Gauna has been pursuing the remnants of humanity, which narrowly escape.
In the year 3394.
Nagate Tanikaze surfaces from his lifelong seclusion deep beneath the seed ship Sidonia in search of food.
Only to find himself dragged into events unfolding without his knowledge.
When the Gauna begins their assault on Sidonia, it's up to Tanikaze—with the help of his fellow soldiers.
Also friends Shizuka Hoshijiro, Izana Shinatose, and Yuhata Midorikawa.
To help humanity's last hope for survival, and defeat their alien foes.
Sidonia no Kishi follows Tanikaze as he discovers the world that has been above him his entire life.
And becomes the hero Sidonia needs.
---
8
Dangan Ronpa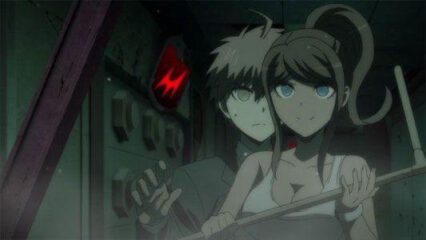 Synopsis
Hope's Peak Academy is an elite high school that accepts only elite students.
Individuals who successfully enroll receive their own unique titles, suitably reflective of their skills and traits.
Of the fifteen candidates admitted to the peculiar school that year. Makoto Naegi is the only one who enters the school by sheer chance.
Naegi and classmates are happy to study at this prestigious school.
But these feelings of happiness are short.
Later they will confront Monokuma, the principal and resident bear, who traps them inside the school.
in order to escape and graduate,  one of them must successfully murder one of their peers without being discovered.
However, if the killer is caught, he or she will be executed.
And the remaining survivors will be left to continue the deathmatch until only a single victor remains.
---
7
Seraph of the End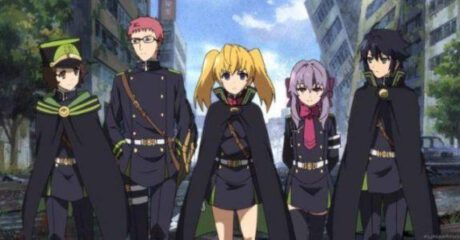 Synopsis
With the appearance of a mysterious virus that kills everyone above the age of 13.
mankind may become slaves, by the power-hungry vampires who emerge in order to subjugate society with the promise of protecting the survivors, in exchange for donations of their blood.
Among these survivors are Yuuichirou and Mikaela, two young boys who are taken captive from an orphanage.
Discontent with being like livestock under the vampires' cruel reign, Mikaela hatches a rebellious escape plan that is ultimately doomed to fail.
The only survivor to come out on the other side is Yuuichirou, who is found by the Moon Demon Company, a military unit dedicated to exterminating the vampires in Japan.
Many years later, now a member of the Japanese Imperial Demon Army, Yuuichirou wants to take revenge on the creatures who the responsible of his family slaughter, but at what cost?
Owari no Seraph is a post-apocalyptic supernatural anime that follows a young man's search for retribution, all the while battling for friendship and loyalty against seemingly impossible odds.
---