12. Hagure Yuusha no Aesthetica 
Anime Genres: Action, Super Power, Ecchi, Harem, Fantasy

Episodes:

 12

Studios:

 Arms
Here is a rare and refreshing dubbed harem Anime series that depicts the story of Hagure Yuusha no Aesthetica, where a number of people from Earth transfer to other worlds with only about half of them being able to make it home again.
One of them is Akatsuki Ousawa, who was sent to Alayzard to defeat the Dark Lord Garius, which he did, however, before returning to his original world. He takes back with him the Dark Lord's daughter "Miu".
So, will Akatsuki and Miu be able to keep her true identity a secret? Or will their plan to live peaceful lives together go up in flames?
See Also: The 10 Awesome Harem Anime Series Where the MC is OP
---
11. Seiken Tsukai no World Break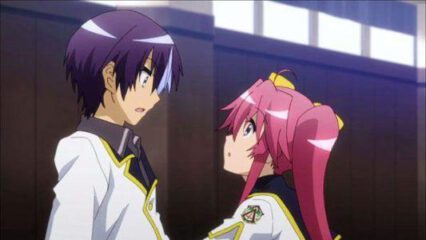 Anime Genres: Action, Fantasy, Harem, Dubbed, Romance, School, Supernatural

Episodes:

 12

Studios:

 Diomedea
Another one of the best-dubbed anime harem series, Seiken Tsukai no World Break revolves around Moroha Haimura who meets Satsuki Ranjou and reveals that she's his little sister from a past life.
Moroha is a former heroic prince capable of slaying entire armies with his sword skills
He meets a girl and soon finds out that she knows him in a past life. Moroha was once an enigmatic dark lord, who saved her. This shows that Moroha was really a powerful character.
So, Are those whose minds live in both the present and the past ever able to reach a bright future?
Check Also: The 10 Harem Anime Series Where the Main Character is Overpowered
---
10. Inou-Battle wa Nichijou-kei no Naka de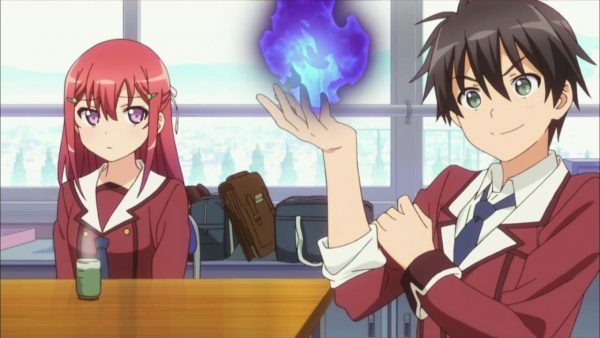 Anime Genres: Harem, Slice of Life, Comedy, Supernatural, Romance, School

Episodes: 12

Studios:

 Trigger
Coming up, this dubbed harem anime show starts off the story during a Literature Club meeting, where Four members suddenly find themselves with supernatural powers.
Chuunibyou Jurai Andou is really looking forward to his new abilities, but little does he know his ability cannot accomplish anything. It's only to show off. Moreover, he's outclassed by those around him.
The supernatural is introduced at the beginning of this anime and it follows the everyday lives of these superpowered students.
Read Also: The 22 Best Action Anime 2019 you Need to Watch
---
9. Trinity Seven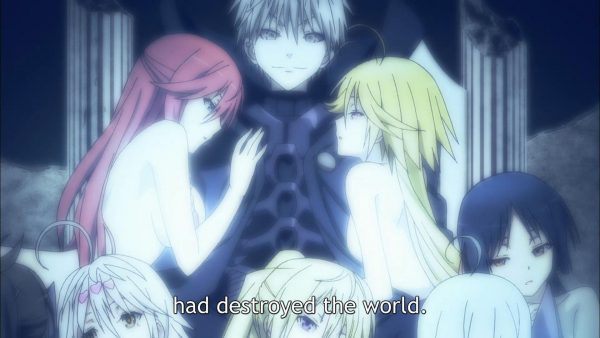 Anime Genres:

 Action, Harem, Comedy, Supernatural, Magic, Romance, Ecchi, Fantasy, School, Shounen
Episodes: 12

Studios:

 Seven Arcs Pictures
This Dubbed harem anime series is with a premise about the main character who experienced something horrific one day. The bright red sun suddenly stops shining, resulting in the destruction of his town and making people disappear.
Out of nowhere, a pretty girl appears before him. Now, he is given two choices: hand over the book, or be killed.
However, Arata chooses the third option – enrolling in the top-secret magic school Academy, where six other magical users await him!
Together with Lilith, these 6 elite warriors who possess supernatural power and skill will do everything they can to prevent the destruction of Arata's beloved hometown and bring his best friend back.
See Also: 10 Anime where the Mc Is Op and All Girls Loves Him
---
8. Date A Live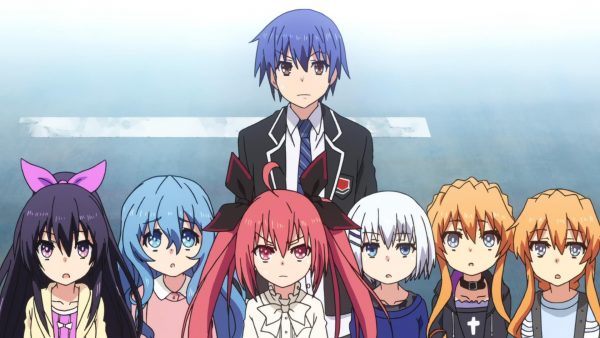 Anime Genres:

 Sci-Fi, Harem, Comedy, Romance, Mecha, School
Episodes: 34 / Three Seasons

Studios:

 AIC Plus+
Adapted from the Japanese Light Novel of the Same Title, Date A Live is a dubbed harem anime that starts off the story showing us the main character: One day, while rushing to save his sister from a sudden spacequake, Shidou is caught in the blast and, in the midst of the chaos, seems to find an unidentified girl.
So it's just been revealed that this girl is actually a powerful Spirit from another world who's come to destroy the surrounding area.
Surprisingly, the supernatural beings from the other world are now attracted to him! It'll be up to him to stop them and save the world by dating these coming spirits.
Check Also: The 10 Kawai Cute Blonde Hair Anime Girls
---