Anime Like High School DxD: What are the best anime that are similar to the High School DxD series?
High School DxD is one of the best ecchi harem anime of all time, therefore, many fans are looking for some anime like High School DxD, so they can experience the same enjoyment once again. The Highschool DxD franchise got 4 seasons in total, and all of those parts have proven that even fanservice tv shows, can be entertaining and successful. when combined with a fantastic plot, and captivating character development.
High School DxD Summary:
Genres: Comedy, Demons, Ecchi, Harem, Romance, Shounen.
Issei Hyodo is your average pervert high school student, whose one wish in life is to have his own harem, but he's got to be one of the unluckiest guys around. He goes on his first date with a girl, only to get brutally attacked, and killed.
Luckily, He will be saved by the
hot and sexy
girl Rias Gremory, and got reincarnated as a devil by his gorgeous senpai, who tells him that she is also a devil, and now she is his master!
One thing's for sure, his peaceful days are over. In a battle between devils and angels, so! who will win?
Now, Let's start off our recommended list of the 10 best anime like High School DxD:
10. Dakara Boku Wa, H ga Dekinai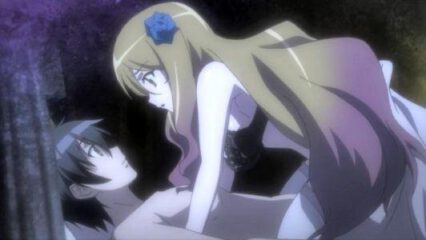 NEVER make a deal with a wet and sexy lady you've only just met. That's a lesson Ryosuke Kaga learns the hard way when he foolishly agrees to let Lisara Restole, use some of his "essence" to stay in this world. Because despite her smoking hot appearance, Lisara actually is a Shinigami and a messenger of death. However, she ends up not stealing years of his life as any decent Shinigami would do.
As you can see, both Dakara Boku Wa, and Highschool DxD are alike, as both series feature strong female protagonists who end up falling in love with ordinary boys, and band together to stand up against the issues they may actually face.
9. Shingetsutan Tsukihime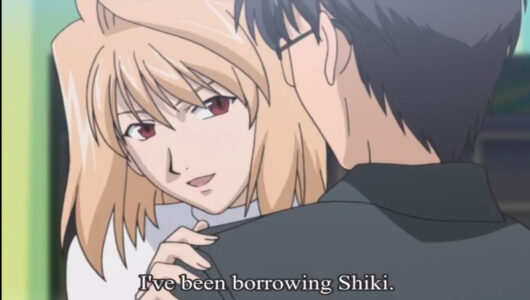 Another cool anime like High School DxD is Shingetsutan Tsukuhime, a series that focuses on Shiki Tohno, who sustained a life-threatening injury as a child, and due to that incident, they send him away from the Tohno household and end up raised by a relative.
Years later, when Shiki is in high school, the head of the Tohno household—his father—dies, and he must move back. However, Shiki holds a huge secret! Ever since that injury, he has been seeing lines on objects, and only with a special pair of glasses is he able to stop seeing them. Also, he is unable to remember anything well from the time before his accident… Wanna know more, check this tv show out!
8. Seirei Tsukai no Blade Dance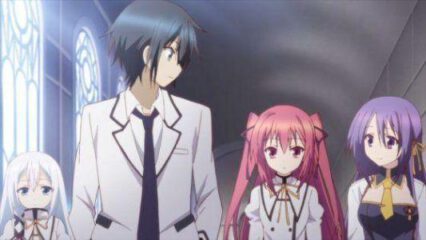 Next up is Seirei TsukaiNo Blade Dance, which is an anime series that spans genres of action, comedy, and harem. The story highlights that only a pure maiden can have the privilege to contract with a spirit. In the Areishia Spirit Academy, maidens of noble families are gathered and given an elite education to become spirit contractors.
A boy, Kamito, peeped by accident at a girl named Clair, while she was taking a bath and he ends up making a contract with the spirit she wants. Yes, Kamito is an irregular boy spirit contractor whose existence was thought impossible until now. The anime progresses from there!
7. Shinmai Maou no Testament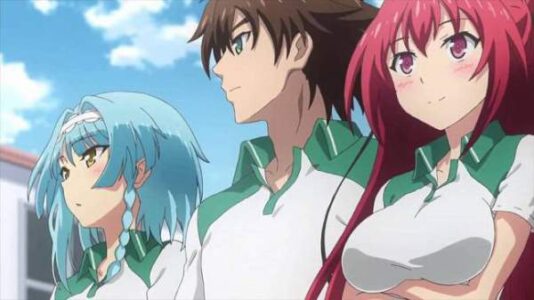 Shinmai Maou No Testament is an anime like High School DxD when it comes to themes of demons and human settings. Here is this series, you will be following a story that focuses on First-year high school student, Toujo Basara. Whose father out of nowhere suddenly tells him that he is gonna get two sisters, and he fell into a state of panic.
Toujo Basara's life was marked as a normal one, until his father remarries, and ends up gaining two stepsisters. Upon discovering that his two new sisters were actually daemons, Toujo Basara's life tragically changes forever.
6. Masou Gakuen HxH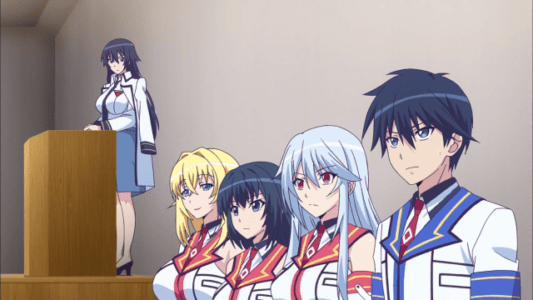 Masou Gakuen HxH is a nice anime to watch that is similar to High School DxD. Here is a story that depicts the adventures of Hida Kizuna, who possesses the HHG (Heart Hybrid Gear) ability, but it is not strong enough to make him particularly important. His older sister calls him to transfer to a strategic defense school, where many of the students, use their HHG abilities to fight invaders from another world while wearing extremely skimpy pilot outfits.
5. Sora no Otoshimono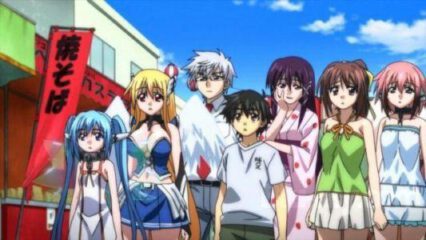 Sora No Otoshimono as known in English as (Heaven's Lost Property), is a Japanese anime tv show that spans genres of action, romance, and fantasy, as well as it is a series that has good scores on IMDb.
The story highlights: Ever since being a child, Tomoki Sakurai always wakes up with tears after a dream of an angel. His childhood friend Sohara Mitsuki worries about this and decides to seek the help of Eishirou Sugata, an eccentric sky maniac. He concludes that Tomoki's dream is undoubtedly connected to the New World, a floating anomaly that scientists fail to understand.
4. Trinity Seven
Trinity Seven is another good anime like High School DxD. Why? Because, the two anime series share the same themes: The protagonist is cast in a world of demons or angels, is given new abilities (that lead to clothes removal), and harem scenarios.
In Trinity Seven, the story highlights the aftermath of the bright red sun, that stops shining, causing the destruction of Arata Kasuga's town, and the disappearance of its citizens.
All, however, is not yet lost; by utilizing the magical grimoire given to him by his childhood friend and cousin Hijiri Kasuga, Arata's world gets artificially reconstructed.
In order to investigate the phenomenon, Lilith Asami appears before Arata, whose artificial world suddenly disintegrates. He is between two choices: hand over the book, or die.
3. Absolute Duo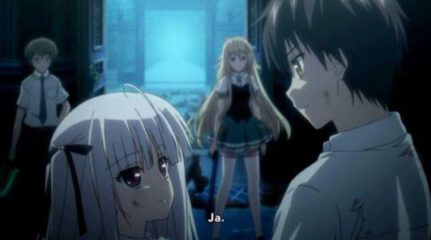 The story's main focus is on Blaze, a weapon that is the manifestation of a human's soul. Therefore, the main character Tooru Kokonoe happens to qualify for this, but for some reason, his Blaze is not a weapon, but a shield.
Hence, Tooru ends up enrolling in a popular school that teaches combat skills, and thanks to the school's Duo partner system, he ends up living with a beautiful silver-haired girl.
Absolute Duo is similar to High School DxD because they both have the same genres, a lot of fanservice, and epic action scenes. As well as this anime series has many "beautiful girls" like the High School DxD does.
2. Demon King Daimao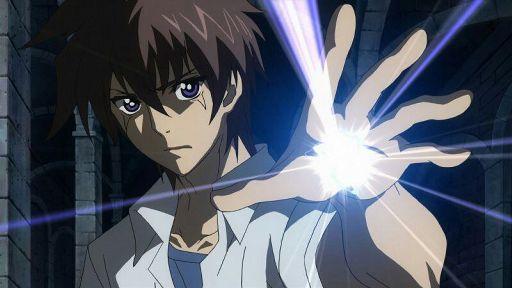 This is really a good action harem anime like High school DxD, with an epic story that highlights the dream of changing the world for good.
In Demon King Daimao, we have a student named Akuto Sai, who transfers to Constant Magic Academy, where he befriends a virtuous ninja clan member, Junko Hattori. On the way to the academy, they vow to make the world a better place together; however, the situation suddenly takes a turn for the worse upon his arrival, as it is prophesied that he will become the next Demon King!
1. Highschool of the Dead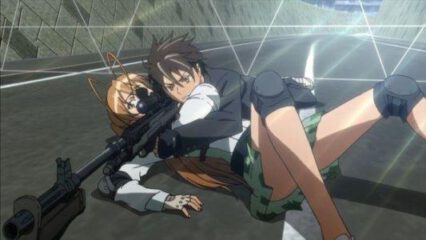 Highschool of the dead is not only an anime like High School DxD in terms of the title, but also both series are sharing more similarities!
Here the synopsis is following Takashi and Rei, who band together with other students on a dangerous journey, to find their family members and uncover what causes this overwhelming pandemic.
Joining them is Saeko Busujima, the beautiful president of the Kendo Club; Kouta Hirano, an otaku with a fetish for firearms; Saya Takagi, the daughter of an influential politician; and Shizuka Marikawa, their hot school nurse.
Don't Miss: