Top Anime Series to Watch: From Action to Romance and Everything in Between
Are you on the hunt for the best anime to watch right now? Look no further! Our list of top anime series covers a variety of genres, from action-packed adventure to heartwarming romance. Whether you're a long-time fan or new to the world of anime, there's something for everyone to enjoy. Discover the must-see anime of the year and immerse yourself in captivating stories, stunning animation, and unforgettable characters. Don't miss out on these must-watch anime series!
With no further ado! let's kick off the countdown of the 41 best anime tv shows that you should be watching.
41. AJIN: Demi-Human 
AJIN is one one the best anime of all time to watch, this is a Japanese series that uses a dark theme that explores real human nature. This story is about a high school student who goes on the run when he learns that he's an Ajin, a demi-human. He's running from the authorities because of his powers and they'll want to experiment on him. He discovers that there are some other Ajins who plan to fight back and now he is in a dilemma about whether to join them or the human side.
40. B: The Beginning
"B: The Beginning" is a good anime that tells a story set On the island of Cremona, a vigilante known as "Killer B" is taking justice into his own hands. he has superhuman abilities and a sharp blade, Some appreciate him and others fear him.
Keith Flick had a lot of experience in solving difficult cases but was stuck in an apathetic archival position. He is called upon by the Royal Investigation Service to solve the case of a serial killer on the loose. More and more crimes are happening in Cremona, including assassinations of wrongdoers and public figures.
This highlights that there is more than one person responsible for such crimes. Keith's journey begins with meeting the impulsive sidekick Lily Hoshina and an unexpected encounter with the elusive Killer B. As he unravels stories of conspiracies involving secret organizations, domestic terrorism, and human experimentation, he is swept along on a mission to save his world.
39. Castlevania
Netflix has been creating hit shows in the past years, with their most popular anime show being Castlevania, which is based on a video game of the same name. "Castlevania" follows Trevor Belmont, the last surviving member of the disgraced Belmont clan, as he tries to save Eastern Europe from extinction at the hands of Vlad Dracula Tepes.
As Dracula and his legion of vampires prepare to rid the world of humanity's presence, Trevor sets sail on a journey with his misfit comrades race to find a way to defeat Dracula and saves mankind. Well, this anime show has received very positive reviews from critics and viewers and is one of Netflix's most successful shows to date.
38. Kakegurui 
Among the best gambling anime series to watch is TKakegurui. This is a tv show that follows the main protagonist Yuma Jabami, who joins a school that ranks students on their gambling winnings of the game "Kakegurui" and the expected fortune they will earn. In terms of content, Kakegurui is a unique anime show that manages to be funny, dark, and suspenseful at the same time.
37. Blue Exorcist
Blue Exorcist is a dark fantasy anime series. It is created by studio A-1 Pictures and written and illustrated by Kazue Kato. It is one of the most popular anime series of all time that you should really watch. The story revolves around Rin Okumura, the protagonist of the series. He has discovered that he and his twin brother Yukio are sons of Satan and not completely humans. They are also the inheritors of Satan's powers that can wreak havoc easily.
36. Devil Man Crybaby
A fantasy story about Devils that cannot take physical form without a host. However, if these individuals struggle to overcome the demon and its power, they can transform into Devilman and take full control of themselves.
Devil Man Crybaby is an anime about a world where demons reawakened and humanity is in turmoil, the main character a sensitive demon-boy will be led into a brutal, degenerate war against evil by his mysterious friend, Ryo.
35. Erased
Known in Japan as Boku Dake ga Inai Machi, "Erased" is a Japanese manga series written and illustrated by Kei Sanbe. This is a well recommended anime to watch, it recounts the story of 29-year-old Satoru Fujinuma, who is sent back in time 18 years to prevent the circumstances leading to his mother's death, which began with a series of kidnappings while he was in 5th grade.
34. Magi: The Labyrinth of Magic
Magi: The Labyrinth of Magic is an the best magic anime to watch that was first released in Japan in 2012, it has since gained hype as one of the best animes ever. After spending time together in Sindria, Aladdin, Alibaba, and Morgiana go their separate ways. For them to develop their strengths individually while beginning to make new friends and prepare for what's coming up.
33. Ouran High School Host Club
If you wanna something refreshing and entertaing, then you can watch Ouran High School Host Club, which is a pretty good comedy school anime series. The story revolves around The Boys of Ouran Host Club, who please their clients in different ways. Haruhi Fujioka is the new Host who seems to have a knack for what girls want. As she is a real girl who hides her gender. the Hosts try to hide her secret, she's having a blast transforming their world upside down.
32. Little Witch Academia
Little Witch Academia is another popular anime to watch right now, for those who like anime with witches and magical girls. The series follows a witch, Akko, on her journey to become a full-fledged witch in an academy for witches.
In Little Witch Academia, Akko was so mesmerized and inspired by Shiny Chariot's performance that she dreamed of someday being a "cool" witch like her. Although the protagonist is still struggling and always failing and falling at first, she eventually learns how to fly and save the day and maybe will be the next greatest witch.
31. Inuyasha
Inuyasha is a great example of a popular classic tv show that is loved by worldwide fans. The show is about a half-demon, a half-human teenage boy named Inuyasha, and Kagome, a girl who is taken away to the feudal era of Japan met Inuyasha and falls in love with her.
This is an anime series that follows the adventure of Inuyasha with the help of a cute female companion and three other companions, trying to find a rare Jewel that can turn him into a complete human being.
30. Soul Eater
Soul Eater is another best anime on that you should check out, if you are looking for a light-hearted series to watch, this one is right up your alley. The Soul Eater anime series was created by Atsushi Ōkubo. "Death Weapon Meister Academy" is a school that teaches elite students who fight in teams with weapons that transform into humanoid forms. Maka Albarn, Soul Evans, and other teams are students of this series who work with their partners to go on adventures involving weapons and battles.
29. No Game, No Life
No Game No Life is a Japanese light novel series by Yū Kamiya. The anime adaptation is a surreal story that follows Sora and Shiro, shut-in NEET siblings who make up the world's most feared team of professional gamers, The Blank. They beat the powerful Lord in a game of chess when they are sent to another world where disputes are settled through games.
28. Kill la Kill
Kill la Kill is a good anime that features stylized action scenes, stylized humor, and a catchy soundtrack. The protagonist of the show is a girl named Ryuuko Matoi with an indestructible scissor-shaped weapon, who seeks revenge on the person who killed her father.
Satsuki Kiryuuin is the student council president of Honnouji Academy. rumor has it that she knows who killed Ryuuko's Father, Ryuuko transfers there intending to find out the culprit. Those who arrive at school are given a special powerful item "Goku uniform" and Satsuki uses this power to rule the school.
27. Gurren Lagann 
If you haven't seen Gurren Lagann, then this is a good time to starts binge-watching it. Gurren Lagann is the most famous mecha anime of all time that everyone should watch. The series is set in a fictional universe. It is an action-packed and suspenseful show that follows the protagonist, Simon, and his companions as they fight against the evil forces of the Anti-Spiral. The show's themes include courage, friendship, sacrifice, and love.
26. Haikyuu!!
Haikyuu!! is an anime about a high school boy named Shoyo Hinata who has been dreaming to become a pro volleyball player since his childhood. He joins the team at the beginning of the anime and despite being a new player, he quickly becomes a regular member of the team. The series follows Hinata's progression as a player and as a person. Hence, this is one of the best sports anime ever! that is volleyball-themed that will make viewers enjoy it from anywhere at any time.
25. Baki
Baki is one of the best martial arts anime to watch. The series follows Baki, the son of the King of Fighters, who trains his whole life to surpass his father in every way. When he finally does, five death row inmates show up to take him on.
Encountering these mighty fighters is an inevitable task for Baki, and he is not only their one target. overall the series focuses on capturing that theme by putting Baki face to face with challenges that he will not easily overcome.
24. Parasyte: The Maxim
Parasyte: The Maxim is another good Japanese supernatural anime series to watch. It follows Shinichi Izumi, a high school boy who becomes a host for an alien parasitic organism known as the Parasyte after being attacked. To survive, Shinichi did his best to stop the Parasyte to infiltrate his whole body and now it resides in his hand. As the series progresses, Shinichi will encounter different villain parasites and must fight them to survive and protect his loved ones in this new world of parasites.
23. Sword Art Online
Sword Art Online is an anime series that follows the adventures of players who are trapped in a video game world. This popular show was created by Reki Kawahara and has been adapted into light novels, video games, and an amazing anime series that is available on various streaming services like Hulu, Funimation, Crunchyroll, and of course on Netflix.
22. JoJo's Bizarre Adventure 
Jojo's Bizarre Adventure is a long-running manga and anime series that has been popular worldwide. The story follows the adventures of Jonathan's grandson Joseph Joestar must take up his grandfather's mission and master the abilities necessary to destroy the stone mask and its immensely powerful creators, the Pillar men, who threaten humanity's very existence. He battles evil and other supernatural threats in his quest.
21. March Comes In Like A Lion
Having reached professional status in middle school, Rei Kiriyama is an elite shogi player. Reiji faces a lot of stress and pressure from his adoptive family and the shogi community. He decided to move out and live on his own in Tokyo, where he'll meet The Kawamoto sisters.
The Kawamoto sisters promised to cure his loneliness and poor lifestyle, All while overcoming their tragic pasts, and sharing a unique family bond with Rei that he has never had before.
20. Neon Genesis Evangelion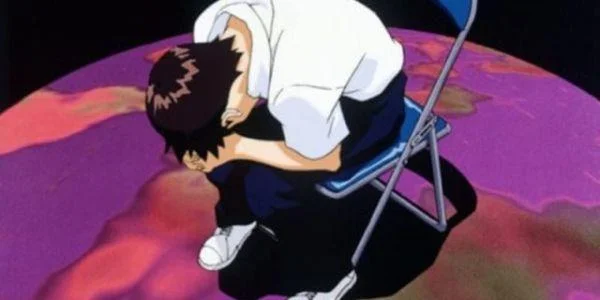 Neon Genesis Evangelion is one of the most popular anime series in the world and it is still popular today for its intricate story and interesting characters, it is a tv show that you should binge-watch in one day.
This good mecha anime depicts: When violent monsters descend upon Earth to destroy humanity, a reluctant boy joins a small squad of pilots under the command of his cold, dictatorial father to drive them back with robots that are so advanced that they seem to have minds on their own.
19. Violet Evergarden 
This is the best anime to watch in terms of art styles and character design. The story follows Violet Evergarden, who has left the battlefield to start a new life at CH Postal Service. There, she is deeply moved by the work of "Auto Memories Dolls", which carry people's thoughts and convert them into words.
Violet, a new Auto Memories Doll, learns about different emotions and feelings of love from the people she meets. There are some words she heard on the battlefield that she will never forget! Words were given to her by someone she holds dear more than anyone else. She has not yet grasped their meaning, but she is searching for their meanings.
18. Fate Series
The Fate franchise spans a huge variety of mediums, and some of its most well-known works are its various anime adaptations. Many titles portray different characters and plot lines. however, they all typically follow the events called Holy Grail Wars, which involve Masters summoning Servants and fighting each other for the prize of becoming King/Queen of the Holy Grail.
17. Food Wars
"Food Wars" is among the best anime about cooking and foods that you should watch if you are into culinary themes. Stars Soma Yukihira is a chef who wants to surpass his father's skills. One day, his father decides to close down their family restaurant and travel to Europe. He enrolls Soma in one of the most prestigious culinary schools, where Soma will follow his hot journey to become one of the best chefs in Japan.
16. My Hero Academia
My Hero Academia is the best shonen anime of all time to watch that truly showcases what it means to turn from zero to hero. The story is about a boy named Izuku Midoriya who dreams of being a hero to save people from harm. But he doesn't have any superpowers, he was usually bullied for being powerless in a world where almost all people are bestowed with quirks that gives them various kind of abilities.
One day, though, his life changes when he meets All Might "Number 1 Hero", who will grant him power that allows him to join the prestigious hero academy and learn what it means to be a hero.
15. Bleach
The hit anime series "Bleach" is being given life once again 2022. The anime series has been around since 2004 and remains popular because of the interesting storyline that keeps viewers entertained with action, suspense, and humor.
Bleach focuses on a high school boy named Ichigo with the ability to see spirits. He will become a Shinigami. So, follows the adventures of Ichigo Kurosaki and his friends as they battle powerful monsters known as Hollows.
14. The Disastrous Life of Saiki K 
Saiki K, or the Disastrous Life of Saiki K, is an anime series that follows the humorous life of high school student Saiki Kusuo.
The Disastrous Life of Saiki K on Netflix has become popular for its unique premise of following a high school student who has telekinetic powers. He tries to live his life with his abilities hidden, to live a peaceful ordinary school life and interact with the other quirky teens.
This is another pretty good anime that you should really watch, since it has received positive reviews from both Western and Asian audiences due to its uniqueness and humor.
13. Mob Psycho 100
Mob Psycho 100 is another must-watch anime, because the series has exceeded expectations by receiving high ratings. Kageyama is a young man who has trouble expressing himself. However, he is also a powerful esper who is determined to live a normal life and keeps his psychic powers suppressed.
Therefore, surrounded by evil-aligned espers, as well as mysterious organizations. Kageyama is struggling to keep the powers he now wields under control. Because, if it reaches the 100% level! he will turn the world into chaos. So, Will Kageyama keep his growing powers under control?
12. Gintama
Gintama is one of the best comedy-action anime to watch. The series has over 200 episodes long. The show takes place in an alternate version of Japan in which aliens have invaded the country, causing the creation of rebel samurai-like groups who don't stand the law that forces them to not use their swords anymore. The story follows the lives of samurai Gintoki Sakata, Kagura, Shinpachi Shimura, and the Shinsengumi force.
11. Cowboy Bebop
Cowboy Bebop is an anime series that made its debut in the year 1998. This sci-fi series is one of the best classic anime that you should absolutely check out. Set in the year 2071 when humanity colonized the solar system. It follows protagonist Spike Spiegel, a bounty hunter who travels aboard his ship, the Bebop. The main cast includes Spike's crewmates Jet Black, Faye Valentine, and Edward Wong.
10. One Piece
One Piece is a wildly popular manga and anime series created by Eiichiro Oda and it has been serialized in Weekly Shonen Jump. The series follows the adventures of Monkey D. Luffy, a young man who gained elasticity as a result of eating the Gum-Gum Fruit, and his crew of pirates as they search for the treasure called "One Piece", the treasure that will give them wealth, fame, and power. It is one of the most-watched anime of all time with an adventure story that features a lot of comedy and action to please your eyes.
9. Naruto Series
"Naruto" is one of the most popular and timeless anime series to come out so far. Watching this series will be an opportunity and a chance for you to delve deep into an epic ninja universe.
The series chronicles the life of Naruto Uzumaki, an orphan ninja who wants to be recognized as an equal. His ultimate dream is to become the Hokage (leader) of his village in Konoha. Along the way, Naruto meets and has many adventures with other characters such as Sasuke Uchiha and Sakura Haruno.
8. The Seven Deadly Sins
"The Seven Deadly Sins" anime series follows the adventures of Princess Elizabeth sets off on a quest to find the titular seven deadly sins, a group of warriors who were wrongly accused of a crime they didn't commit and went on a quest to vindicate themselves. But the real culprit turns out to be someone who took her Kingdom, meaning Princess Elizabeth must find them and seek their help to make things right once again. It's an action-packed, supernatural, and darkly comedic anime series that has become incredibly popular since its release.
7. Demon Slayer: Kimetsu No Yaiba
If you are looking for a  refreshing, unique, and fantastic best anime tv show to watch! look no further, because Demon Slayer will be the best choice.
Kimetsu no Yaiba is a manga and anime series following the adventures of an ordinary boy who struggles to become a demon slayer, get his revenge, and kill the demons that have killed his whole family, and find a cure for his cursed sister.
6. Code Geass 
There's a lot of anime out there that you should be watching. But if you want to enjoy quality for what it is, you should try Code Geass. It has everything – sci-fi, action and even drama! The series is set in an alternate timeline – a world where Japan's empire has been unified by the Holy Empire of Britannia after it conquered Europe and began the process of conquering the world.
Lelouch vi Britannia is a rebellious prince of Britannia who stands against the Holy Britannian Empire. He has the power of Geass which allows him to command people at his will and alter their memories. Lelouch's power turns him into the perfect anti-hero who can create a world of peace.
5. Hunter X Hunter 2011
Hunter X Hunter is among the best anime of all time to watch and enjoy to the fullest, this animated series is based on the Japanese manga series written and illustrated by Yoshihiro Togashi that has been running in Shueisha's Weekly Shonen Jump magazine since 1998. The story follows a young boy named Gon Freecs as he trains to become a hunter and searches for his father, who left him when he was a child.
4. One-Punch Man
One-Punch Man is a Japanese anime that was released in 2015 and has quickly become one of the most popular shows in the world. This masterpiece anime is a must-watch!
The story focuses on the life of Saitama, the strongest guy in the world", who begins to experience frustration from being so overpowered that powerful enemies of him are so weak. In his search for a challenge, he comes across Genos, a cyborg/human hunter who believes that Saitama is his sworn sensei – even though they have never met before.
3. Fullmetal Alchemist
Fullmetal Alchemist is one of the most popular anime series to stream. The story follows brothers Edward and Alphonse Elric, who upon trying to find a way to revive their mother who died, their experience went wrong, and they lost some of their body parts in the process. Then, the two alchemists will start their journey looking for the philosopher's stone, a powerful relic that can grant any wish.
2. Attack on Titan
"Attack on Titan" is a Japanese tv show that has gained popularity worldwide. This great anime series has become a cult masterpiece for many anime fans. Titan-sized Titans are the only known species in a closed world. The series focuses on Titans that prey on humans and how humanity would fight back to reclaim its territory and rebuild civilization, while also facing immense pressure from the Titans and revealing dark mysteries behind them.
1. Death Note
It's no surprise that Death Note is popular and has a good rating because it's worth all the hype and attention. 10/10 would recommend it for everyone to watching it.
Death Note is a Japanese manga series written by Tsugumi Ohba and illustrated by Takeshi Obata. The story follows Light Yagami, a high school student who finds the Death Note dropped by the Shinigami Ryuk, a supernatural being. With the Death Note in hand, Light decides to fight crime and criminals while using its power to kill all criminals.
Don't Miss: