Best 20 Anime streaming websites where you can watch your favorite Japanese TV series:
What are the best anime websites to watch your favorite series online and for free or paid?
Japan anime is gaining millions of fans across the globe watching it in Europe, America, and other parts of the world. But most of this series is only available via the Internet and you must know it and choose the best and most convenient one for you, as well as applications that can be downloaded and viewed via the phone or laptop.
There are many streaming anime websites for all your favorite Japanese anime series. Maybe you've been trying to find these websites to watch your favorite anime series and movies, and couldn't remember which ones they were. This article lists 20 of the biggest anime websites that offer the best Japanese movies and series streaming services, so you don't have to waste time trying to find them anymore.
20. AnimeHeros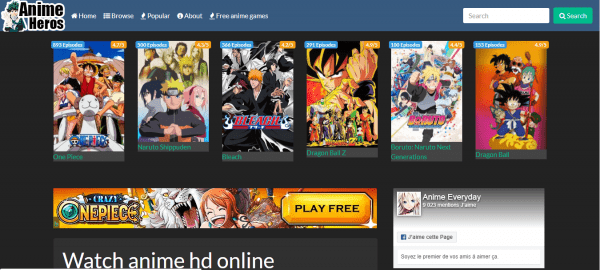 AnimeHeros is one of the best anime websites that allow you to stream and download famous and the latest anime series and movies for free. Also, dubbed anime series on this platform are available in different categories, seasons, genres, and languages.
The anime website lets you watch sub and dub versions of animes in Full HD or HD video quality, and it works on all devices, including smartphones and tablets.
Read Also: The Best 20 Anime on Funimation that You Should Really Watch
19. AnimeVibe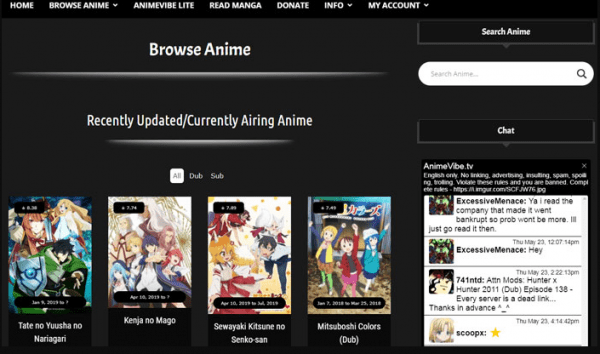 AnimeVibe is a good online streaming website that provides you with thousands of the latest anime episodes with high-quality. What I like most about in AnimeVibe is the thriving Discord community that loves to discuss anime and all things related to Japanese culture.
The anime website displays a few ads that don't really disturb the user experience, So you don't need to use ad-blocking software on mobile or on the computer.
18. MasterAni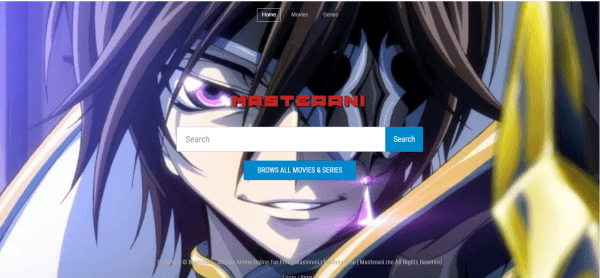 I like Masterani, as it is one of the best free anime websites where you can watch an unlimited number of anime streams online with high resolution. It provides the latest anime that can be accessed anytime, anywhere in the world. A support chat option is also available on the website just if you have problems with this anime streaming website.
Check Also: The Best 20 Anime Films to Watch if you are Bored!
17. AnimeXD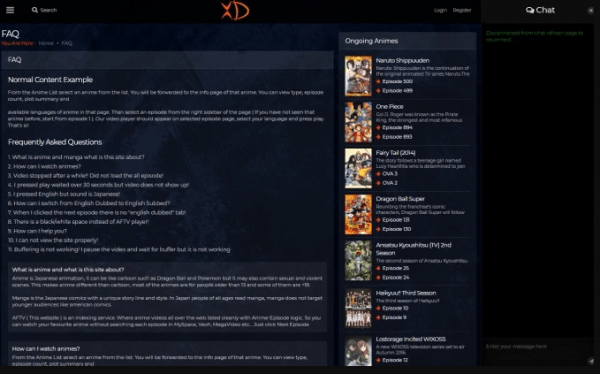 This streaming anime website "AnimeXD" is free, legal, and is among the best anime websites that give you access to thousands of popular movies and anime episodes with ease and hight-quality, plus little ads.
It has its own chat room-like anime-planet website, which allows users to interact with fellow anime enthusiasts from all around the world. You would have to create an account with an active email to enjoy their services and through it is done prompt notification about the latest release of anime.
16. AnimeLab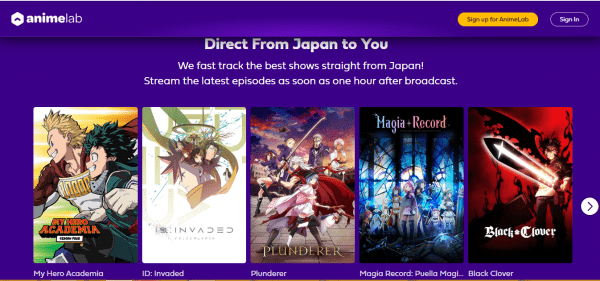 Oh Yeah! AnimeLab is one of the best streaming anime services that everyone loves. It provides you with thousands of episodes both new and old that you can watch in comfort on your mobile phone, or laptop by downloading the AnimeLab app.
It is a free streaming anime website that you can access when you sign up via Facebook or just right through your own email.
 See Also: The Top 21 Best Anime Series About a Game
15. AnimeSeason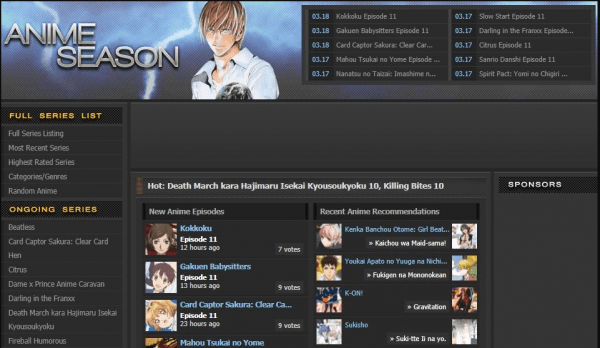 The AnimeSeason website is a very neat and organized anime streaming website, one of those unique free anime websites which sort their popular anime list based on user reviews and on the basis of the latest anime episodes, anime recommendations, and ratings of the anime shows, recently added section. AnimeSeason provides many anime titles and updated series with high-quality 480-1080p.
14. Tubi TV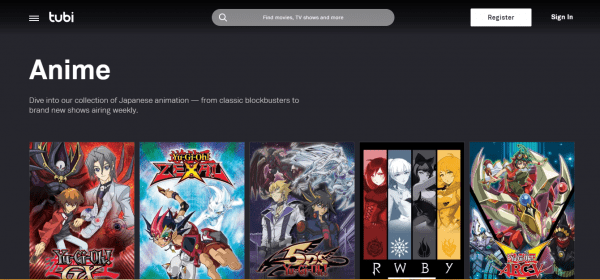 TubiTV is a free ad-supported TV and movie service based in San Francisco California, their library of 50,000 shows is now only second to Netflix, The subbed anime section is further categorized into "featured animes", "quality anime-media", "Streams", and "Daily updates".
They now offer more than 50 anime titles including some old classics and some new shows that air weekly to be TV is only available in the United States.
The platform supports free and premium membership plans. The free plan is cool but comes with a number of adverts which can be quite annoying to some people. The premium plan guarantees an ad-free watching experience.
Read Also: The Best 24 Magic Anime Series That You Need To See
13. Daisuki

DAISUKI is the official streaming service from Japan for anime, and It provides the latest anime that is rarely known or difficult to find in the highest quality. You can watch real, high-quality anime legally with a premium subscription.
12. AnimeDao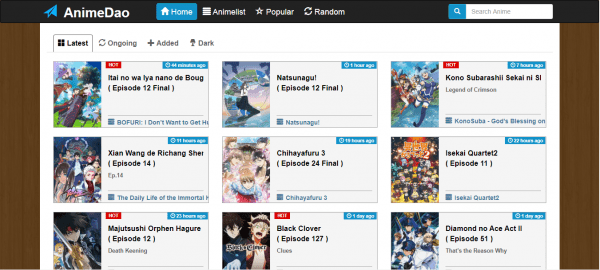 Here is AnimeDao, a new streaming service among the top-ranking websites to watch anime online. This anime website streaming service gives you multiple options for choosing anime resolution so that you can enjoy your movie in your chosen quality. What I like most is that there is no boycott of the ad, plus it is free being that it is still new.
For those who don't understand Japanese well, The AnimeDao website offers a dubbed anime section. but it misses the download option feature.
Check Also: Top 10 Good Anime Series with Insanely Overpowered Mc
11. Chia-Anime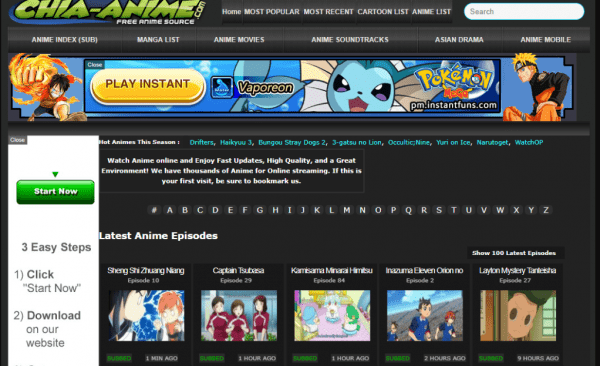 Chia-anime is another popular free anime website for streaming all anime releases. The best thing about the site is that the update frequency of the series is super fast.
Chia-anime is also available in both English dub and English sub versions hence you need not worry about the language barrier. It allows you to download many series or any episodes for free, but you may have to put up with numerous ads while you watch anime for free on this top-stream website.
10. AnimeHeaven
The AnimeHeaven Platform is one of the most popular anime websites for streaming Japanese animated movies and series old and latest alike, nicely arranged within categories.
Some of the most famous series they have are One Piece, Hunter X Hunter, and Naruto. You can also download any anime series to your local files to watch them later.
See Also: The Top 18 Dubbed Harem Anime Series Recommendations
9. AnimeFreak
AnimeFreak is ranked as one of the best anime websites because provides you with exclusive content that can't be found on another website and has a superb updating record that ensures that no episodes are left missing. In addition, enables you to access dubbed and original series versions. You can download the AnimeFreak app on your mobile phone, laptop, or TV to watch your favorite anime for free.
8. Anime-planet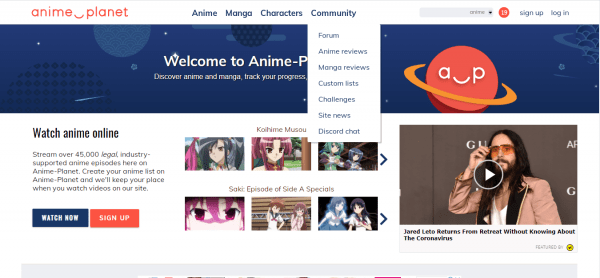 If you are getting bored and feel lonely, Anime planet brings and takes you away to another planet, users can get All kinds of anime and manga content, recommendations, reviews, and more… they have thousands of titles that can be streamed for free.
What distinguishes Anime-Planet from other anime websites is you can build a good relationships with other anime lovers in their large community. It is pertinent to know that not all of these websites can be accessed in all countries.
Read Also: The List of 20 Best High School Anime TV Series
7. HIDIVE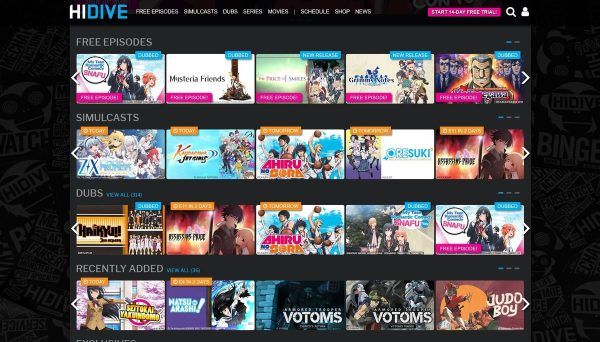 This is a based website in the US and available in more than a dozen countries is a subsidiary of the anime Network they feature more than 100 titles with partnerships with many of the top production studios, and they also feature a huge section of dub titles for those that don't want to read the subtexts the entire time.
This streaming anime website offers two plans for members free and premium: premium members get access to dubs HD quality streams and other exclusive content for 399 per month.
6. KissAnime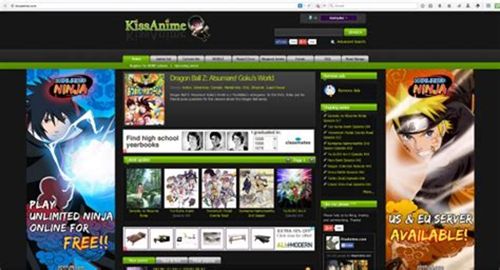 KissAnime is one of the biggest anime streaming websites, It provides everything about anime from all the categories of sci-fi, horror, drama, comedy, action, sports, and much more.
You can watch millions of high-definition anime for free on their website, for example, Naruto, Attack on Titans, and One Punch Man. It also allows you to watch both the English sub-version and the dubbed version of any anime.
The cool thing about all of this is the availability of services download any series through their application or watch them on TV. It also provides the option of offline viewing.
Check Also: 11 Best Romance Comedy Action Anime Series you Should Watch
5. GoGoAnime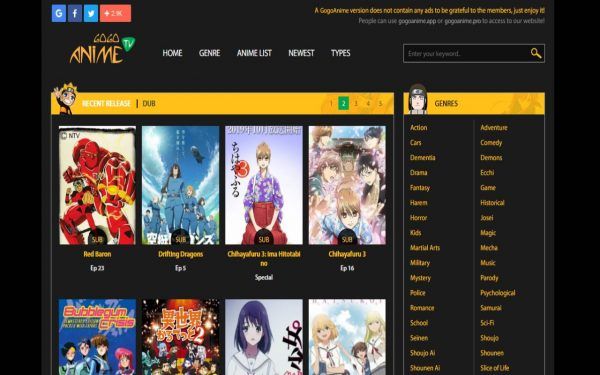 Here is GoGoAnime, which is the largest and most popular anime-watching website in the world due to its diversified content from Naruto to Monster Hunter to Sakura Internet to Satsuriku no Tenshi, it is also a free site.
Also, it lets you watch all the anime episodes that are in the Japanese language with English subtitles. Moreover, You can download the GoGoAnime app on both AppStore and google play.
4. Hulu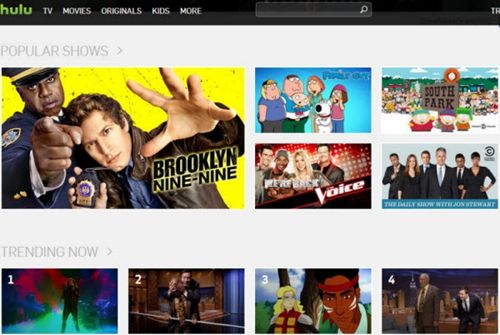 Hulu is an American subscription video-on-demand service. There are so many high-quality videos and a wide range selection of anime films or series available on Hulu.
But unfortunately, Hulu is not yet available in all parts of the world only in the US, UK, Europe, and some parts of Asia. If you are In other places, use VPN services.
It also features a 24/7 customer support team for all your anime-related queries. It is one of the few anime streaming websites that have a customer support team.
See Also: 10 Best Japanese Anime Movies with an English Dubbed Version
3. Funimation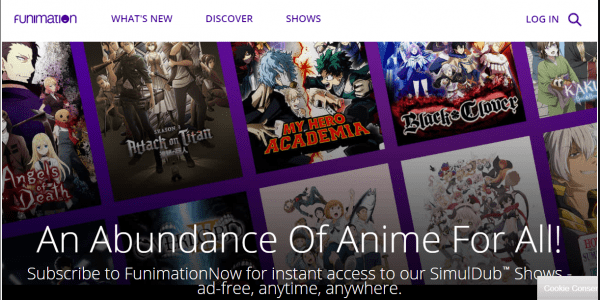 The site is a smart well-run business to challenge the capabilities, and the best legal anime streaming website, it is currently one of the biggest active anime websites streaming in the world, where has an impressive array of hard-to-find anime series and feature films.
There are two versions of Funimation: the free version, and the premium version which you must subscribe to view the dubbed version, and everyone can use it as long as they want. Hence, You might need a VPN because It cannot be accessed in some parts of the world.
2. 9anime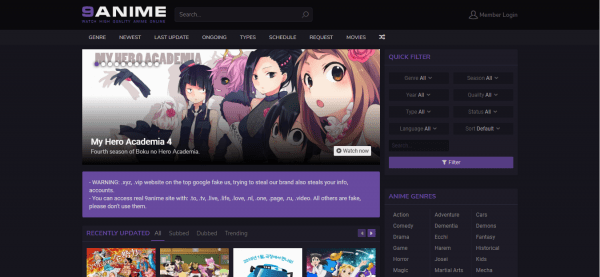 If you have been watching Japanese anime for a long time, and you are an otaku, then you need to know 9Anime. 9anime is an anime website that offers all the latest anime episodes from series, shows, and movies for free in HD, and a few ads and quick updates are among the reasons why fans choose it.
Hence, what will make you use 9ANIME, is that it has a great and organized search option. Therefore, You can search for the anime you choose by genre, release date, or name, and also remind you of the latest scheduled and upcoming releases.
Read Also: The 10 Best Romance School Anime You Must Really Watch
1. Crunchyroll
Crunchyroll is based in the United States and is available in more than 180 countries to have more than 850 titles available making it the largest website on this list in addition to the anime they also have Japanese dramas.
So, For you to watch Crunchyroll is free but if you want more features including high-definition and more content they do offer membership plans starting at $7.99/month +taxes.
but don't worry because it provides the latest updates and the latest episodes in every series or movie in high resolution and can be evaluated using your mobile phone in all countries of the world.
Read Also: