The Best Hottest Female Fitness Models: The prettiest fit Girls to Follow!
Female fitness models, specifically, are those fit girls who break stereotypes about women and resistance training and have had a great impact on the culture overall. If you're looking to find the best fit girls, we've put together a compiled list of the 20 most popular, renowned, or noteworthy fitness female models who will inspire and motivate all women to suit up and starts training.
Therefore we will be ranking some of the sexiest fit women's bodies on the planet, along with all of the proper diet and nutrition information these girls use in their day-to-day lives – alongside all of the high-intensity interval training and different whole-body compound exercises they do to achieve success.
So follow the list of the sexiest female fitness models and read it enthusiastically.
20. Steph Claire Smith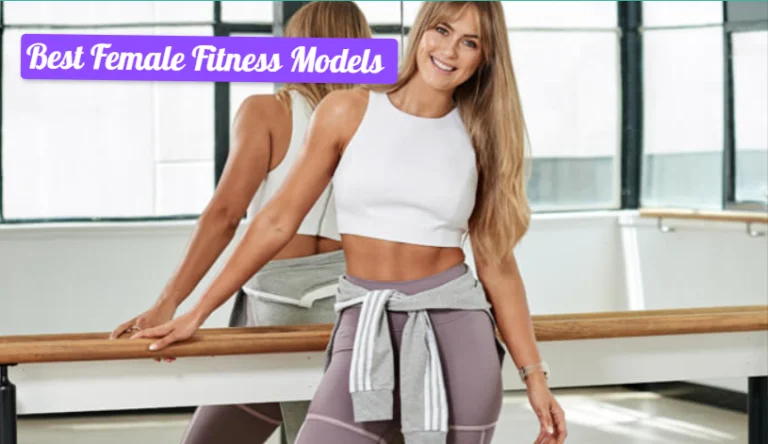 Kicking off the list of the best female fitness models with Steph Claire, a beautiful fit woman who after opening up about her struggles with disordered eating and body image issues, Steph Claire Smith has become an advocate for body confidence and healthy eating. In the other half of Keep it Cleaner, Steph encourages her followers to listen to their bodies and set realistic fitness goals in order to maintain their physique, She has also been signed to Chadwick Models, and is the female face of Bondi Sands tanning company.
19. Ana Cheri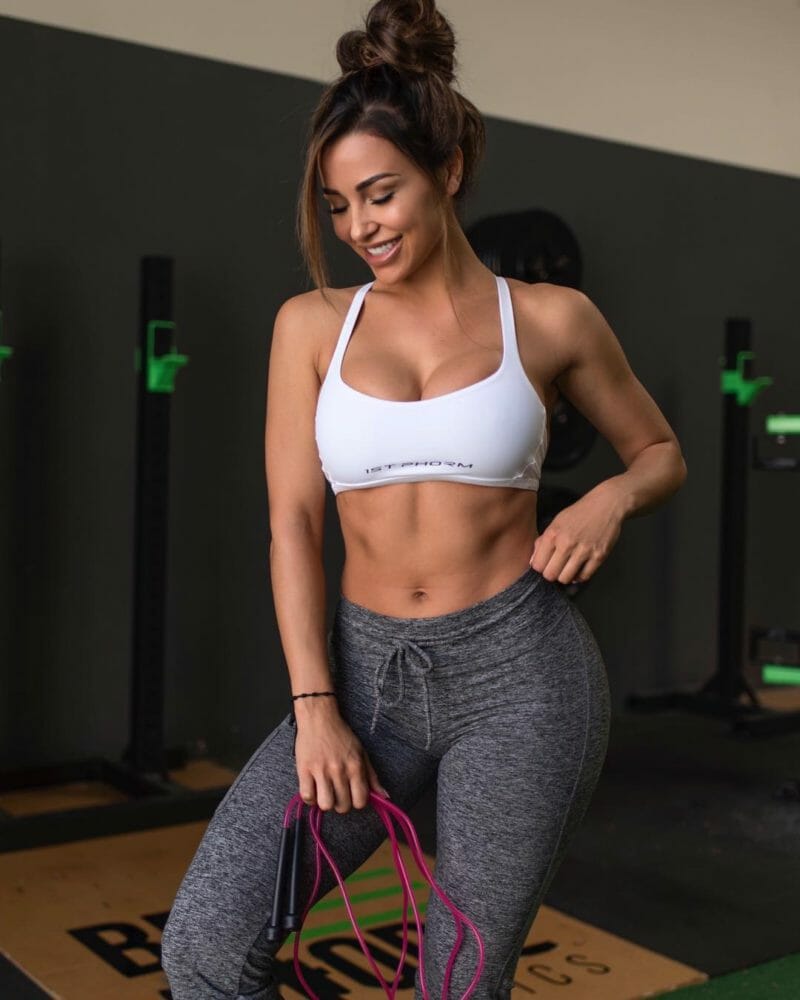 Ana Cheri obviously is a pretty fit girl carrying a lot of muscles in her upper and lower body, which you can't get by only doing light-intensity cardio. Ana is one of the hottest female fitness models that share a lot of tips on her Instagram account, in order to inspire her fans to get serious about improving their abs and the overall look of their body. She has 12..4 million followers.
Ana is a huge fan of "leg day," which you can clearly see from her photos. She says "I'm a huge fan of "leg day" and I'm always doing lower body. I can't get enough of it. And I also deadlift. My max was 205 lbs. and I'm like 125 lbs. I was really proud of myself on that one!" Ana also recommends doing the "Swiss Ball Leg Curl" exercise, which is great for toning and shaping your lower body muscles.
18. Brittany Perille Yobe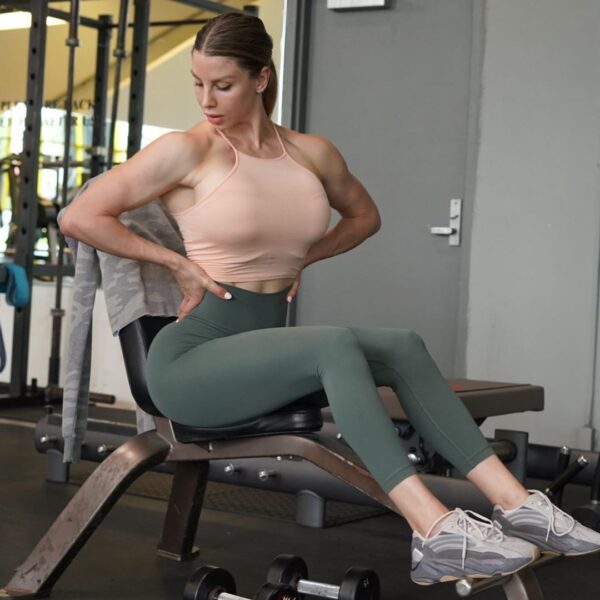 One of the hottest and top female fitness models is Brittany Perille Yobe, yeah, she is another sexy woman fitness model, with a 100% real incredible body. She has no plans to undergo any surgery in the future, Most of the time she is at the gym, she is doing various exercises to help her round up her butt.
About her training, Britany says "I train my glutes up to three times a week for up to an hour and fifteen minutes with about 10 different glutes exercises that isolate the muscles by working them from various angles." After her morning lifting, she says "I go back to the gym in the afternoon or evening to do 30 to 45 minutes of cardio, plus stretching, yoga, and foam rolling because it alleviates soreness and aids in muscle recovery."
17. Aurora Lauzeral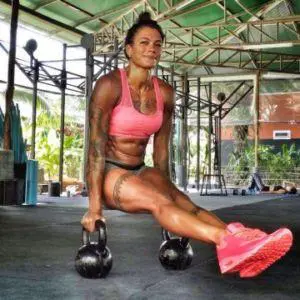 In comparison to the other featured fitness celebrities in today's story, Aurora is a French female fit model, a certified personal trainer, and a bodybuilder. She has a rather enviable body, and an awesome, positive, radiating smile. She is one of the best female models who uploads a lot of fitness-based images and videos to her Instagram account, which currently has over 579,000 followers and growing on a daily basis.
For warm-ups, Aurora likes to complete 5 minutes of jogging. She also likes to vary her routine, so she doesn't get stuck on the same training schedule. Monday is her shoulder/arms/abs training, which includes the Push jerks 4 x 10, dumbbell upright rows 4 x 10, cable rear delt fly's (superset), cable front raises 4 x 10, skull crushers 4 x 10 (superset and drag curls 4 x 10 exercise.
16. Paige Hathaway
Paige Hathaway is a female fitness cover model and entrepreneur who rose to prominence thanks to the power of social media. She amassed an Instagram following of 4 million and more than 5.5 million likes on Facebook, She grew up in Minnesota and was physically active since she was a child. Her life took a turn when she took part in a fitness show and ended up winning 2nd place.
This sexy fit girl wanted to pursue a career in athletics and set her foot among the best female fitness models right now.  Paige starts her mornings with a bean burrito and avocado, or plant-protein smoothie. She eats a lot of carbohydrates, the good ones, like the sort found in rice, sweet potatoes, and oats. Vegetables are always on the menu, usually in the form of tossed salad. Fish is also a very important part of her diet as a source of protein. She is a pescetarian.
15. Emily Skye
Emily Skye developed her online presence 8 years ago when she started posting fitness and workout tips on her BlogSpot account. Today, she is one of the most recognizable female fitness models and has developed a popular fitness program in her name. In recent years, Emily has been signed by Khloe Kardashian as a Good American denim fit model and has also landed the cover of Women's Health magazine.
14. Jennifer Nicole Lee
Jennifer Nicole Lee is a pretty woman, a fitness model, motivational speaker, and author who is known for losing 70lb and launching a career in fitness after bearing two children. Despite that, she decided to bring about changes in her life by taking up exercise and eating healthy food; Lee is one of those female fitness models who never gave up on her resolution, and that is why she went on to achieve great results.
She reached her goal and was crowned "Miss Bikini America" in 1996. Afterward, she launched a career as a "fitness guru". Lee had a successful career, she published several books and appeared on many famous shows: "Fox and Friends," "The Early Show," "Inside Edition" and others. She also appeared on 44 magazine covers.
13. Andreia Brazier
With a focus on healthy living, balance, and fantastic food inspiration, Andreia is a sexy female and one of the greatest fitness models for building muscle and relying on strength training to build a commanding physique.
As a competitor in women's physique, she is a great example of building significant muscle mass without worrying about becoming "bulky". Unsurprisingly, she looks great and has a lifestyle that incorporates a wide variety of training ideas and activities.
12. Angelica Teixeira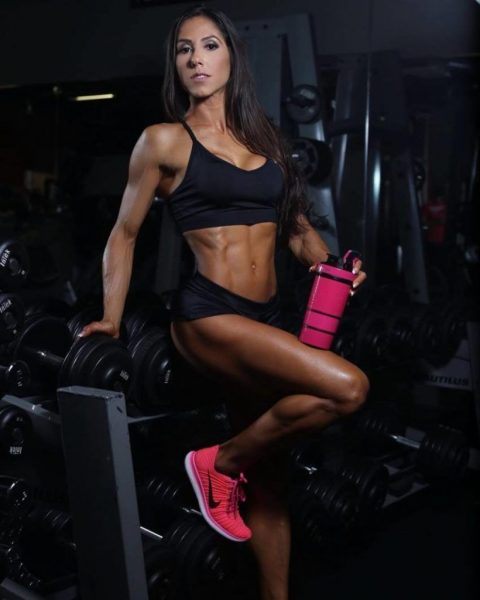 Sexy, hot, and beautiful Angelica Teixeira is the reigning Bikini Olympia champion, with an undeniable pedigree in competitive female physique training and one of the best female fitness models you should follow.
She works at the extreme of what the body can achieve, these lessons are all transferable to the goals of "regular", recreational women just looking to love their own bodies more.
Whether you want to get comp-ready or prefer the "off-season" look, Angelica's amazing physique inspires us and we're sure you'll find yourself amazed and inspired by her dedication and competitive 'package'.
11. Ana Delia
One of the most inspiring aspects of Ana Delia's story is overcoming adversity. As an individual dealing with a variety of medical conditions, her achievements are even more impressive than the added challenges.
Far from being a victim, becoming one of the best female fitness models will make you say wow! and her approach to fitness inspires the rest of us, With a focus on unilateral and rotational movements, her training videos provide fantastic inspiration for some of the more overlooked aspects of core training for fitness and health. If you're looking for a fit girl to inspire you with the way she deals with adversity and a combination of exercises that you should be doing more of, Ana Delia's account has you covered!
10. Michelle Lewin
This sexy female is Listed as one of the top fitness models of 2017 by Forbes Magazine, Michelle Lewin is one of the most influential people in the fitness modeling industry worldwide. Though she is a fit woman who has previously modeled for dozens of fitness and health magazines, her empire doesn't stop there- she is also the owner of her own line of fitness supplements and homework out equipment.
9. Christmas Abbott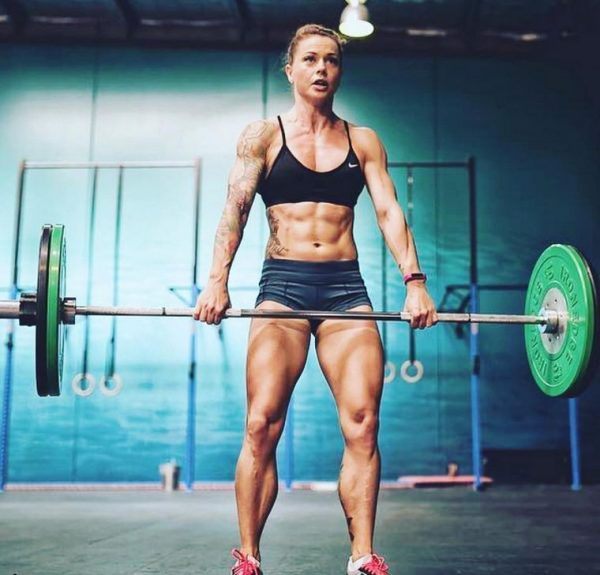 This fit girl knows how to lift extreme weights – you can see that just by looking at her body. All of her muscles are properly defined – in fact, her back and lateral muscles are bigger than what even some male athletes have. Her Instagram is currently sitting at around 391,000 followers, so do check it out.
To improve your diet, Abbott recommends that you only skip two types of products – alcohol and processed foods. Other than that, you can consume all of the healthy proteins, carbs, and fats. For exercise, Abbott recommends short, high-intensity training sessions that can easily melt your fat away, and improve your musculature.
8. Anllela Sagra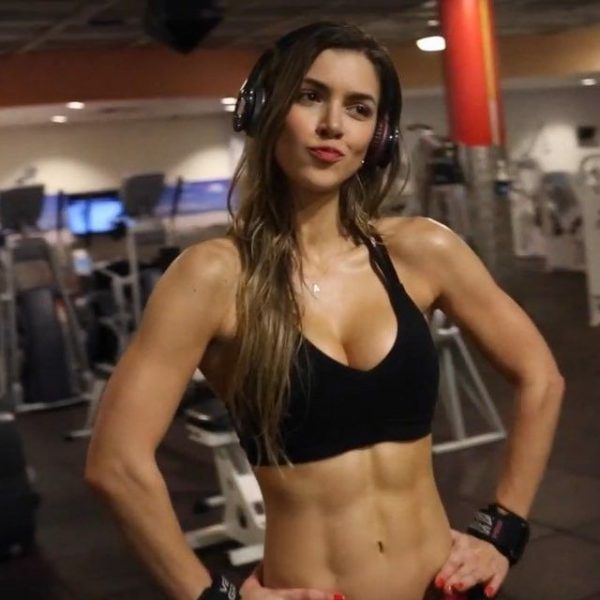 Anllela Sagra is a 24-year-old Colombian fitness female model and bodybuilder. One day she met a personal trainer at the gym who changed her outlook on life. Learning about the human body, and adopting new training styles she gained an interest in becoming a fitness model. She particularly enjoyed weight training.
Her change in interests and the muscle she had built as a result moved her away from traditional modeling. She entered a bikini competition, gaining third place. As a result, she made a conscious career change in the world of fitness modeling.
7.

Jen Esquer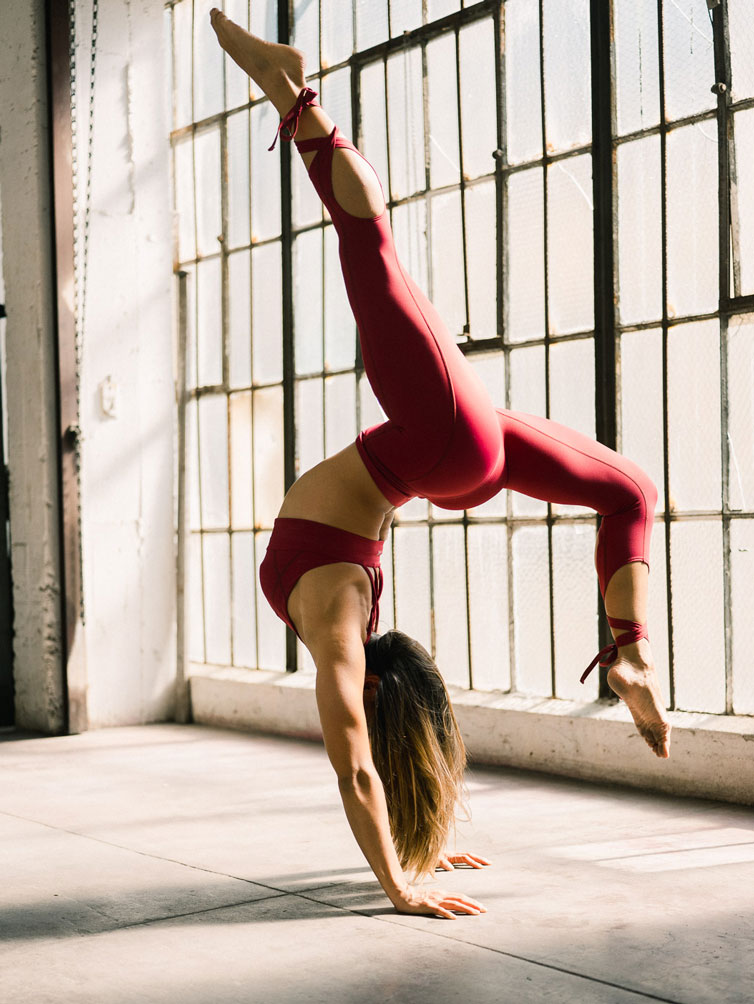 Fitness isn't just about lifting heavy weights and running for miles. Esquer, also known as @DocJenFit, is a fit girl whose life is all about mobility and flexibility. Her informational Instagram posts are your first step toward moving and feeling better.
also, she is a doctor of physical therapy and an upside-down enthusiast. Not only is she inspired to help people become more mobile in their own lifestyle, but she is also one of the greatest fitness female models that are constantly on the go!
6. Natacha Oceane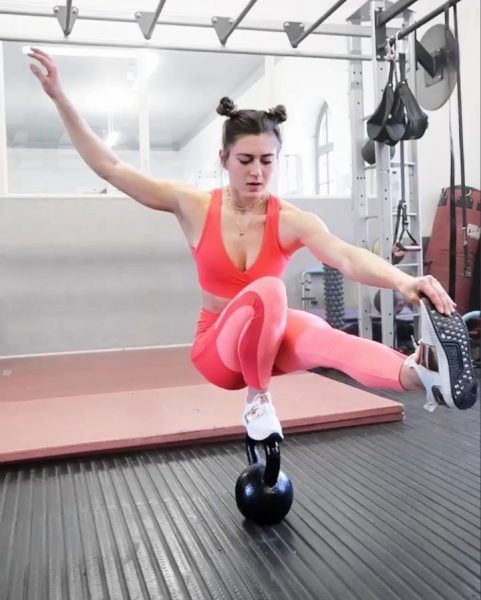 Oceane is a former Ironman championship competitor and has been an athlete all of her life. Natacha Oceane approaches health, fitness, and diet like a scientist Where she did study biophysics, after all, She posts snippets of her plyometric and strength-based workouts on her Instagram—but make sure you follow her on Youtube too, to see one of the best sexy female fitness models along with her all of her experiments, challenges, and vlogs.
5. Genevieve Ava
Do you wanna discover the hottest female fitness models out there? well with interests from fashion to fitness to golf, Genevieve Ava is the perfect fit girl for you, she's with a profile that reflects a variety of interests and moods. This is great for getting in touch with the personality behind the fitness – especially if you like seeing the lifestyle and interests that go into being a multi-million-follower fitness personality.
Sure, these are great for improving your golf-specific strength, but they provide a fantastic way of boosting your core stability in a way that many of us don't train enough. If you're going to be inspired to work out harder in 2019, it makes sense to change towards new and different exercises.
4. Valentina Lequeux
With a physique that focuses on conditioning and aesthetic appeal, Valentina has fantastic conditioning and is a great example of a female model of what can be achieved with a combination of strength training, fitness, dieting, and an active lifestyle.
There are some great exercises on her Instagram page, too, that provide a great perspective on her training. These range from hamstring-burners like the Nordic curl to the pistol squat and even truck pushes.
If you're looking for a role model in the fitness field that is going to provide inspiration to try new things and integrate them into an all-around active lifestyle, Valentina is a great example.
3. Kayla Itsines
Kayla Itsines is a 26-year-old South Australian personal trainer, author, and entrepreneur. Time Magazine named Kayla as one of the 30 most influential people on the internet in their March 2016 issue.
Kayla was not particularly healthy or into fitness as a child, but started working out in a gym in her mid-teens, She enjoyed her training so much that she changed her career plans and studied to be a personal trainer, and for us, she is also one of the top sexiest female fitness models that all women should follow to get inspired by.
In her early days of working in an Adelaide gym, she noticed that machine-based classes did not appear to help her clients. She created aerobic routines instead that became popular. This led to the creation of her Bikini Body Guides, and the expansion of her online presence. Across all of her social networks, she is very much a social media superstar.
2. Kelsey Wells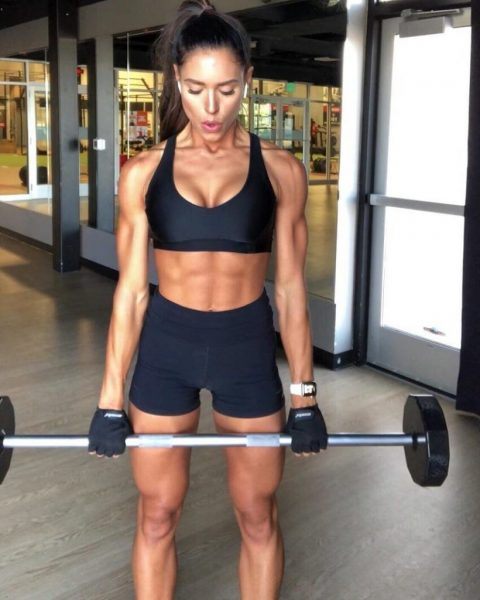 Specializing in low-impact and holistic fitness training, Kelsey Wells has a selection of studio-based workouts and exercises for you to try – or at least work towards. Working with her own clients in post-natal fitness, they say: we're a big fan of the trend of empowering mothers and helping women regain a sense of control over their body at one of the tougher times in life!
Whether you fall into this post-natal fitness category or not, it's hard to deny that positivism and empowering attitude is great for us all. So follow her, in order to learn precious advices! whether you're looking for healthy meals, sexy female fitness models, fit lessons, or snack ideas.
1. Lais Deleon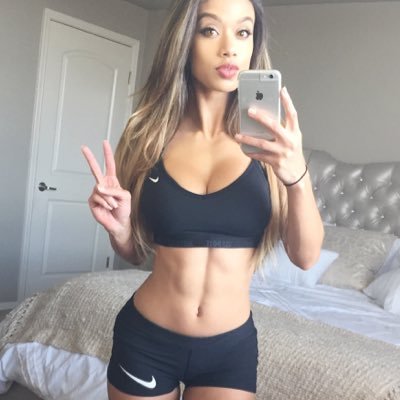 Lais DeLeon is another Brazilian on the list. She is one of the top female models and social media influencers, Lais began working out at the age of 19, She immensely enjoyed it as she witnessed her fitness plays a big role in the transformation of her body. Because she was blessed with good looks a career in modeling followed naturally. In 2013 she began posting pictures on Instagram, now she has almost a million followers.
Lais trains in the gym up to 5 days a week, resting for 2 days per week. She enjoys splitting her gym sessions into lower body, chest & shoulders, and back & arms – believing her body responds the best to this. She aims to eat 8 meals per day, to keep her metabolism high and body fueled to develop. She plans her diet around lean proteins, green vegetables, fruit, complex carbohydrates, and healthy fats.
Don't Miss: